Bye Bye Pinterest: China's Creatives Cry as Site Is Blocked in the PRC
After Instagram, Tumblr, Snapchat, and Picasa, popular image-sharing Pinterest is now also blocked in China. Chinese netizens are angry and disappointed, while some are outright devastated.
After Instagram, Tumblr, Snapchat, and Picasa, popular image-sharing Pinterest is now also blocked in China. Chinese netizens are angry and disappointed, while some are outright devastated.
"Pinterest is blocked, am I supposed to look for fashion pictures on Baidu now?! F*ck!", one girl named Cherry wrote on Sina Weibo today. She is not the only one who is disgruntled to discover the site is no longer accessible from within the People's Republic of China (PRC); since the popular image-sharing platform has been added to the list of blocked websites, many Chinese netizens have responded with anger and disappointment, while some are simply devastated.
"These days I suddenly can't access Pinterest anymore, I feel like crying!", one unhappy netizen said.
"A waterfall of tears now that Pinterest is blocked! Designers are crying in the toilet!"
Photo-sharing website Pinterest was launched in 2009 and became popular in mainland China in 2012, which was also around the time when Chinese clones, such as Huaban, Mogujie or Meilishuo, mushroomed in the PRC.
The website allows users to "pin" images from the internet, categorize them on different boards and place and share them with their followers. The site is especially popular among people in creative industries, such as fashion, design, or photography.
"Why are designer websites now also blocked?! Why Why Why!!! All my image material is on Pinterest, aaaaah! Go f*ck yourself!!!", one desperate commenter wrote on Weibo.
Others are also angered and unhappy with the site's sudden disappearance: "This is so sad. All my images, all my boards, all my source material…"
One blogger wrote: "A waterfall of tears now that Pinterest is blocked! Designers are crying in the toilet!"
"Can someone please explain why Pinterest is shut off?"
Besides the anger, there is also confusion among Weibo users on the motivations behind the blocking, as Pinterest is mainly focused on fashion, food, home design, etc, and is not a platform known for any controversial or political issues: "Why is Pinterest shut off? All my images are there!", one person said. "Why are good things like this shut down? Damn it!"
"Can someone please explain why Pinterest is shut off?", user @Kerwin德芙 said. "I simply can't understand why first Medium was blocked, and now Pinterest," another person wrote. Story-sharing site Medium was blocked in China in 2016.
Judging from Weibo's search suggestions, many people have entered the question "Why is Pinterest blocked?"; it was the number one suggestion. The number two search suggestion was "Pinterest won't open" (see image below).
Chinese netizens first noticed that Pinterest was unavailable in mainland China on March 9, when a user of online message board Douban said that the platform had suddenly become inaccessible without warning.
Although Pinterest is mainly a design and fashion-focused platform, it also has users who use it for more political purposes. Historical photos are also widely shared on the site – also those of events such as the Tiananmen demonstrations, that are usually censored in China.
According to Techcrunch, the blocking might have to do with the 'Two Sessions,' the annual gathering of China's governing classes, which is taking place in Beijing.
Many foreign websites have been blocked in China over the past decade. Twitter, Facebook, and YouTube were all blocked in 2009. Google and Instagram were blocked in 2014, along with Tumblr and many others.
Despite the angry reactions on Weibo, mainland media have not report anything on the blockage of Pinterest.
– By Manya Koetse
Follow @WhatsOnWeibo
©2017 Whatsonweibo. All rights reserved. Do not reproduce our content without permission – you can contact us at info@whatsonweibo.com.
16 Years Ago Today: The Lanjisu Fire That Changed China's 'Wangba' Era
The tragic Lanjisu fire led to a nationwide crackdown on internet cafes in China.
A Beijing internet cafe fire that killed 25 young people in 2002 has become part of China's collective memory: it was a shift in China's internet cafe era. Today marks the 16th anniversary of this tragic event.
On June 16, 2002, at 2:40 a.m., a devastating fire broke out at a second-story Internet cafe (wangba 网吧) in Beijing's Haidian, the city's university district.
News of the tragic fire shocked the entire nation. The fire had instantly killed twenty people and severely injured 17, of whom five later died in the hospital.
All of the dead and injured people were students; 12 of them were from the prep school of the Beijing University of Science and Technology (Wang 2009, 86).
Although it did not take long for firefighters to arrive that night, the fire at the Lanjisu (蓝极速, 'Blue speed') internet cafe was mainly so disastrous because windows were firmly secured with iron burglar-proof bars, leaving no option for people to escape. The only door was locked; it happened more often that wangba owners would (illegally) operate overnight behind locked doors (Qiu 2009, 33).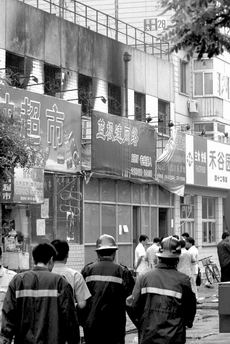 Investigators later ruled arson as cause of the fire at the cafe, which was located at Xueyuan Road 20. Traces of gasoline were discovered at the scene, and two teenage male suspects (13-year-old Zhang and 14-year-old Song) were arrested two days later.
The teenage boys were middle school students who used to play games at the internet cafe, but had gotten into a quarrel with other visitors and were not allowed to come in. To take 'revenge', they had purchased 1.8 liter of gasoline at a nearby gas station just 3-4 hours before they committed arson.
It was later revealed that the two boys both came from poor and shattered families, involving drugs and crime (Lifeweek 2003; Qiu 2015).
In August of 2002, a Beijing court sentenced the 14-year-old boy (Song X.) to life imprisonment, while the 13-year-old was sent to a juvenile re-education center as he was under the age of 14.
A third person, a 17-year-old female also named Zhang, was sentenced to 12 years in prison for being an accomplice; she gave the boys money to but the petroleum, and knew what they were up to. A fourth minor, a 14-year-old boy by the name of Liu, was sentenced to 18 years in prison for being part of the arson plan. The internet cafe owner was sentenced to 3 years in prison for breaching business and safety rules. The gas station was fined 50,000 yuan for selling gasoline to two minors (Lifeweek 2003; Sina 2008).
A turning point in the wangba boom
The Haidian Lansiju fire had a big impact on China's booming internet cafe culture. Internet cafes had been mushrooming in China since the mid and late 1990s. It was the time of Tencent's highly popular instant messaging software OICQ and multiplayer online games. By 2002 there were thousands of wangba across Chinese cities, many of them unlicensed and illegal, with no fire control equipment.
The Lanjisu fire made the problem of China's wangba a national concern. Not just the unsafe conditions were a reason for worry, but also the impact the internet cafes had on China's youth, with students spending days on end playing online games in these smoky rooms, leading to a rise in school absence and internet addiction. Beijing's vice mayor Liu Zhihua condemned internet cafes as "opium dens" for the country's youth.
The fire led to a huge crackdown on illegal internet cafes. The Beijing authorities launched a campaign that would stop the development of new internet cafes and that would screen all existing wangba one by one, and to close all unlicensed businesses immediately and to confiscate their operational tools (Wang 2009, 87). Across the country, approximately 400,000 internet cafes were closed (Sina 2008).
It also led to the implementation of new rules, such as that there could no longer be internet cafes within a 200-meter radius of schools, that minors were not allowed to enter, and that they had to be closed between midnight and 8 am (Venkatesh 2006, 55)
Since 2005, the remnants of the Lansiju internet cafe have been on display at the Haidian Safety Museum.
The fire is remembered in China as the "6.16 Wangba Big Fire" (6·16网吧大火), and is still being discussed on Chinese social media to this day.
By Manya Koetse
Follow @whatsonweibo
References
Qiu, Jack Linchuan. 2009. Working-Class Network Society
Communication Technology and the Information Have-Less in Urban China. Cambridge, MA: MIT Press.
Qiu, Jack Linchuan. 2015 (2009). "Life and Death in the Chinese Informational City: The Challenges of Working-Class ICTs and the Information Have-less." In: Living the Information Society in Asia, Erwin Alampay Alampay (ed), 130-157. ISEAS–Yusof Ishak Institute.
Sina. 2008. "北京蓝极速网吧老板今安在." Sina News, 29 Dec http://news.sina.com.cn/s/2008-12-29/100416941011.shtml [16.6.18].
Venkatesh, P. 2006. "China on the I-way." In: Strategic Management: Concepts and Cases, Hitt, Duane & Hoskisson (eds), chapter 2. Mason: Thomson Higher Education.
Wang, Xueqin. 2009. "Internet Cafes. What else can be done in addition to rectification?" In: Good governance in China–a way towards social harmony : case studies by China's rising leaders, edited by Wang Mengkui, Lchapter 8. London & New York: Routledge.
Zhuang, Shan 庄山, Ke Li 柯立, Li Wei 李伟, Wu Ang 巫昂. 2003 (2002). "两个纵火少年和25条生命" ["Two Minor Arsonists and 25 Lives"]. LifeWeek 2002 (26), online April 8 2003 http://www.lifeweek.com.cn/2003/0408/1594.shtml [16.6.2018].
Spotted a mistake or want to add something? Please let us know in comments below or email us.
©2018 Whatsonweibo. All rights reserved. Do not reproduce our content without permission – you can contact us at info@whatsonweibo.com.
Best VPNs for China Summer 2018
Just the two of them. The best VPNs for China in Summer 2018, recommended by What's on Weibo.
Earlier this year, we posted this top three of VPNs for China in January/February. We're planning to post our favorites every five to six months or so from now for our resources & recommendations section, so please let us know your experiences with VPNs in China and which ones you like best – we'll try it out and update our next list.
Most of our readers will know, but if you're not sure what a VPN is: websites detect your location due to the IP address that identifies your network connection. With a VPN you can "trick the system" by using a virtual network address located in another country. To be able to access many websites from within China (e.g. Google services, Facebook, Twitter, etc.), you'll need to download VPN services and install them on laptop/tablet/smartphone.
We've recommended multiple VPN's before, but for this time there are just two names we'd like to recommend for their overall stable connections from China from our personal experience: ExpressVPN and NordVPN.
Do note, however, that if you access a VPN from within the PRC, it is always possible that there are interruptions and that some locations and services do not work. This also goes for these two names. Having more than one VPN service installed on your devices is one way to stay safe – we've purchased multiple VPN services at different times and occasionally needed to shift between services to stay connected.
One of the main reasons why we decided to put this recommendation out here again, is actually because of NordVPN's Summer deal, which is very attractive.
NordVPN currently offers a three-year plan for only $2.75 per month, which saves 77% compared to its other packages. (Not sure how long they'll keep running this campaign, but here it is).
NordVPN is a well-trusted and easy-to-use VPN with great service. From our experience, the staff is always quick in replying and very friendly. The layout of the NordVPN application is also easy to use on desktop, mobile, and tablet.
Besides the current deal, NordVPN offers 1-month plans from $11.95 or 1-year plans from $5.75 per month. To purchase or read more about NordVPN click here.
Our other recommendation is ExpressVPN, which actually calls itself the "#1 Trusted leader in VPN." It is a reliable service with mostly steady connections depending on what location you select; ExpressVPN uses the 'smart location' button that helps you pick the best location to connect to from where you are. (From our experience, connections are often more stable on 4G than on a random bar wifi.)
ExpressVPN has excellent service and frequent updates for desktop, mobile, and tablet. They offer single month services starting from $12.95, 6-month plans from $9.99/month, and 1-year plans from $8.32/month.
The "30 Days Risk-Free" promise of ExpressVPN makes the barrier to try it out much lower. If you are not satisfied, they'll get you your money back without any questions asked.
To read more about ExpressVPN and purchase it, check here.
By Manya Koetse
Follow @whatsonweibo
NB: This post is not a sponsored post. These recommendations may, however, include an affiliate link that at absolutely no additional cost whatsoever to you allows What's on Weibo to receive a small percentage in case you purchase the service. (Which also helps a bit to keep our site going, so it's win-win!)
Do you think we should recommend another VPN and want to share your experiences? We're open to try it out and add to this list – feel free to contact us.
Feature image: By pelican from Tokyo, Japan – Adventure World, Shirahama, Japan, CC BY-SA 2.0, Link
Spotted a mistake or want to add something? Please let us know in comments below or email us.
©2018 Whatsonweibo. All rights reserved. Do not reproduce our content without permission – you can contact us at info@whatsonweibo.com.