Marble Floors, Gold Ceilings: This is China's Most Luxurious Horse Stable
Lavish chandeliers and marble floors are perhaps not the first things that come to mind when thinking about horse stables. Despite some media writing that "the world's most luxurious stable" is located in Dubai, this is the Heilan Equestrian Club in Jiangsu, China.
Lavish chandeliers and marble floors are perhaps not the first things that come to mind when thinking about horse stables. Despite some media writing that "the world's most luxurious stable" is located in Dubai, this is the Heilan Equestrian Club in Jiangsu, China.
"Only in Dubai would you see a marble-floored horse stable", a Redditor named Randvoo12 posted on Reddit on March 16. The post made it to the top trending posts on Reddit, but soon turned out not to be about Dubai at all. As one user (Leehomf) pointed out, the stables are actually located in Jiangsu, China.
Netizen Leehomf, who has visited the stables, shared on Reddit that the equestrian club is owned by the founder of the Heilan group, "a multi-billion corporation based in Xinqiao, China. This man bought many breeds of horses from all over the world and put them in a lavishly constructed hall to show off his wealth." The Redditor pointed out that despite all the glitter and glamour, "the place smelt just like a farm."
Jiangsu's Luxury Town
The Heilan Equestrian Club (飞马水城管理中心) in Xinqiao (Jiangyin) is to be part of a larger luxurious town (衣尚小镇) that will include an ecological tourism resort with a Venetian water park, a university campus, a cultural center and other projects – an initiative by the China Heilan Group.
According to a local Jiangsu Weibo account (@暨阳网), the completion of the whole project will cost over 8 billion RMB (±1.1 billion US$) in the coming three years.
"Horse Culture Museum"
As also pointed out by the Pickle website, the pictures of the impressive marble stable are taken at the Heilan Equestrian Club's so-called "Horse Culture Museum", where equine-related art and fancy horses are displayed in an area that covers approximately 260,000 square meters.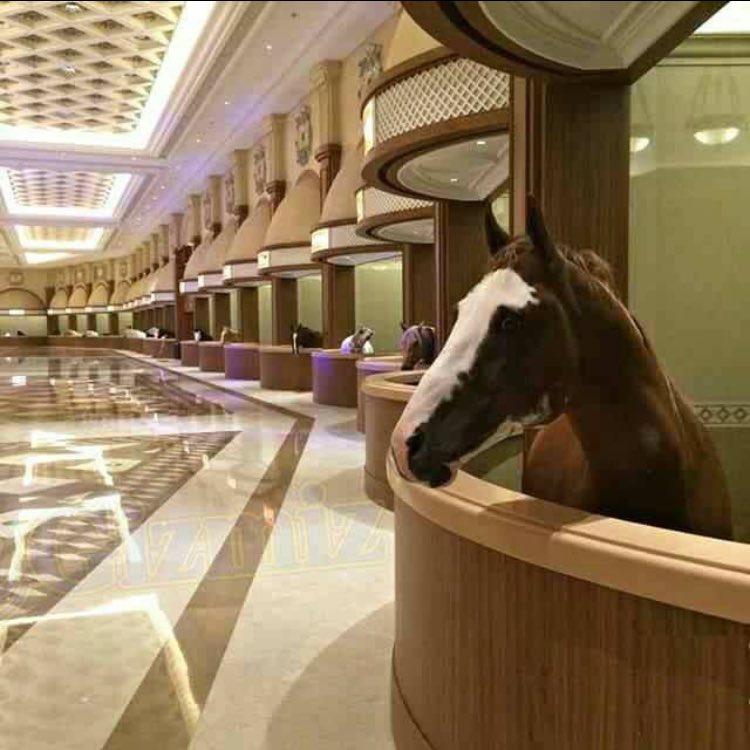 According to the official Heilan website, the horse center is located in the southern area of Xinqiao, and is China's "first-ever comprehensive equestrian facility", a place that offers equestrian training, performances, competition, and recreational services.
Some netizens (including @秋菘1676094607 and @共同的风景) also shared pictures of the Horse Center on Weibo.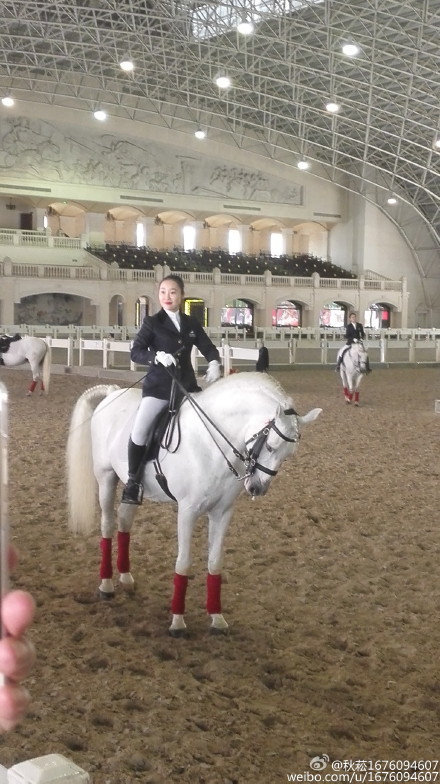 The Heilan Group bought more than 200 high-end horses from countries such as the Netherlands, Spain, and Germany for their equestrian center, which was formally established in 2009.
The center is also home to approximately 60 Chinese horses from Xinjiang, Beijing, and Inner Mongolia. According to China's Baike wiki, there are 36 specialized equestrian trainers from various countries.
Stuffed Horses
In 2015, the Heilan Equestrian Club's owner Zhou Jianping placed an order at a Dutch taxidermy company to have a total of 12 horses stuffed for his museum.
The owner of the Dutch taxidermy company, Maurice Bouten, told website Horses at the time: "They called me asking if I could stuff horses. They wanted a total of twelve. I first thought it was a joke, but the project really happened."
The Chinese director came up with four Frisian and eight Andalucian horses that were about to be slaughtered. It took Bouten approximately 150 hours per horse to finish the project (image by 1limburg.nl). The horses were then exported to China per airplane.
No, not Dubai!
Not just on Reddit, but also on Weibo, many netizens seem to think the marble-floored stables are located in Dubai. A post saying "look at these Dubai stables" attracted attention on Weibo today.
"I am from Jiangyin," one netizen clarified: "And this is definitely the Heilan Horse Club!"
Besides the many people confirming that these photos most definitely were not taken in Dubai, there were also those who were critical in different ways: "People who really know about horses would never approve of this. This is not a proper environment for a horse!"
"This might all be glorious splendor to you, but it doesn't mean anything to the horses" another Weibo user wrote: "They should be grazing the grassland."
– By Manya Koetse
Follow @WhatsOnWeibo
[showad block=1]

Images in this post from Reddit, Weibo, oldkids.cn/blog, and www.1limburg.nl.
©2017 Whatsonweibo. All rights reserved. Do not reproduce our content without permission – you can contact us at info@whatsonweibo.com.
Top 10: Overview of China's Most Popular TV Dramas of Summer 2018
These are the top-scoring TV dramas in China of this moment – and they are all produced in the PRC.
Turn on the airconditioning and get ready for some binge watching; these are the top trending TV dramas in China to watch this summer.
China still has one of the most booming TV drama industries in the world, with dozens of new dramas being released every month, drawing in millions of viewers through the country's most popular online video streaming platforms.
We've compiled a top ten of most popular Chinese TV dramas based on the current popular charts of the leading websites in Chinese online video, including Tencent Video, iQiyi, Sohu, Youku, LeTV, 360kan, Sogou Video, along with Baidu's and Weibo's popular TV drama charts.
Like fashion and music, TV drama trends constantly change with the times and seasons. This summer, Chinese viewers are mostly into dramas that are themed around (historical) love stories and suspense. What is noteworthy is that the often very popular fantasy & martial art series, Sino-Japanese war dramas, and the ever-popular South-Korean tv dramas are not making it to the list of top-watched series this time; the current top 10 series are all produced in mainland China.
This list has been compiled by combining the top ranking lists of this moment to make sure we have all the current top-scoring TV dramas in China included. Please note that some of these series are currently still airing and have no English subtitles available at this time. Some links we provide here (such as those to Viki) have content restrictions depending on location. To circumvent you could consider purchasing a vpn (read more).
These are the dramas Chinese netizens are watching the most right now:
#10. Shanghai Women's Manual (上海女子图鉴)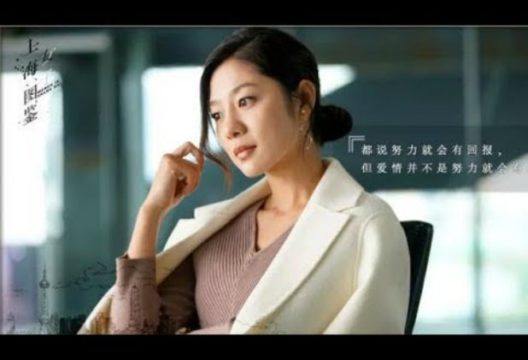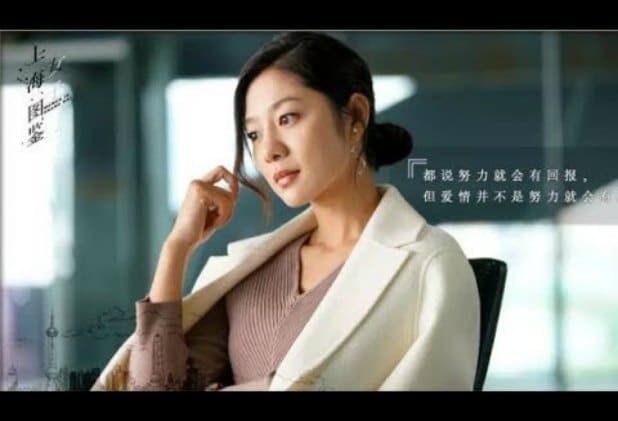 Mainland China
Genre: urban, romance
Directed by: Cheng Liang, 程亮
Episodes: 20, start May 8 2018, by Youku
Chinese video platform Youku released Shanghai Women's Manual (or Women in Shanghai) last May, following the series Beijing Women Manual; both series are adapted from 2016 popular Japanese drama series Tokyo Joshi Zukan.
This successful TV drama, that currently ranks number 5 in Youku top 30, stars actress Wang Zhen'er (王真儿) as Luo Haiyan – a small-town girl who tries to make it in the big city.
The series revolves around career and romance in Shanghai, following Luo's life from the days of university graduation to her first struggles and successes in the corporate world. Throughout Luo's career path, her university sweetheart Zhang Tianhao (played by Taiwanese actor Li Chengbin 李程彬) keeps on playing an important role in her life.
Two pluspoint aspects of this series; the scenery is enjoyable (nice images of Shanghai streets and aerial views), and some of the music used in the episodes is great. The TV drama can be watched here (no subtitles, if you know of where to watch with English subtitles please leave comment).
#9. On Fire (走火)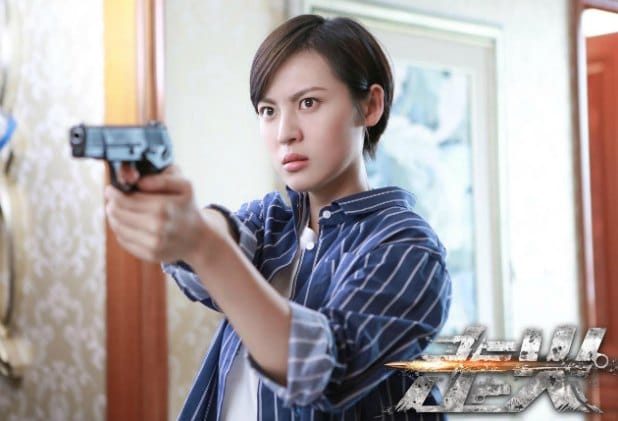 Mainland China
Genre: suspense, crime
Directed by: Li Xiaoping 李小平 and Li Xiaoting 李小亭
Episodes: 40, start June 6 2018, by Zhejiang TV
Ranking no.4 in Weibo's current most popular charts of the day and no.6 in Youku top 30, On Fire or Flame (走火) is a TV drama about a group of young police officers facing complicated and serious cases.
#8. White Deer Plain (白鹿原)
Mainland China
Genre: Contemporary historical drama
Directed by: Liu Jin 刘进
Episodes: 77, start July 16 2017
Currently ranking first in Baidu's popular drama charts and number two in LeTV top 10, White Deer or White Deer Plain is a succesful tv drama that is based on the award-winning Chinese literary classic by Chen Zhongshi (陈忠实) from 1993.
The preparation and production of White Deer Plain was certainly not rushed; it reportedly took 17 years before this TV drama finally went on air.
This work's success in China has previously been compared to that of One Hundred Years of Solitude by Gabriel García Márquez. White Deer Plain was previously also turned into a movie (2011).
The historical epic follows the stories of people from several generations living on the 'White Deer Plain,' or North China Plain in Shanxi province, during the first half of the 20th century. This tumultuous period sees the Republican Period, the Japanese invasion, and the early days of the People's Republic of China.
The series is great in providing insights into how people used to live, from dress to daily life matter. The scenery and sets are beautiful. Some Youtube channels work on providing subtitles for this show, but we couldn't find one channel with complete English subtitles yet.
#7. Great Expectations (远大前程)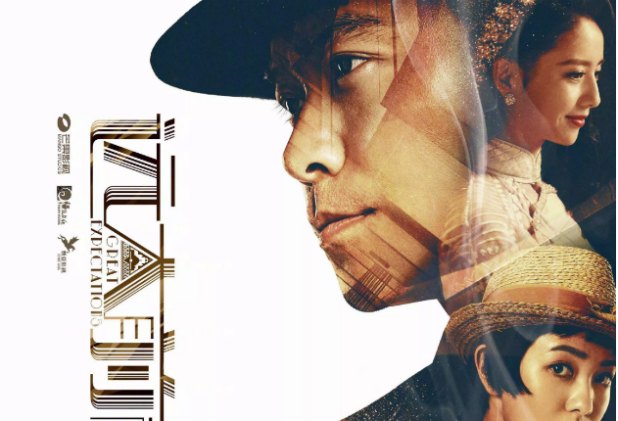 Mainland China
Genre: Period drama, romance
Directed by: Xie Ze and Chen Xitai 谢泽、陈熙泰
Episodes: 48, start April 1 2018, by Hunan TV
Scoring number one position in the LeTv popular dramas chart, Great Expectations is set in Shanghai in the early 20th century.
The drama follows the story of Hong Sanyuan (played by Chen Sicheng 陈思成), who has come to Shanghai from a small town in search for a better life together with his mother and close friend Qi Lin. The new life in Shanghai does not come easy, however, and Hong gets wound up in political affairs and power struggles as he transforms from a street hooligan to a revolutionary.
Fun fact: besides starring in this TV drama as the main actor, Chen Sicheng is also the screenwriter and producer of Great Expectations. Drama is available through Viki here.
#6. Dr. Qin Medical Examiner 2 (法医秦明2清道夫)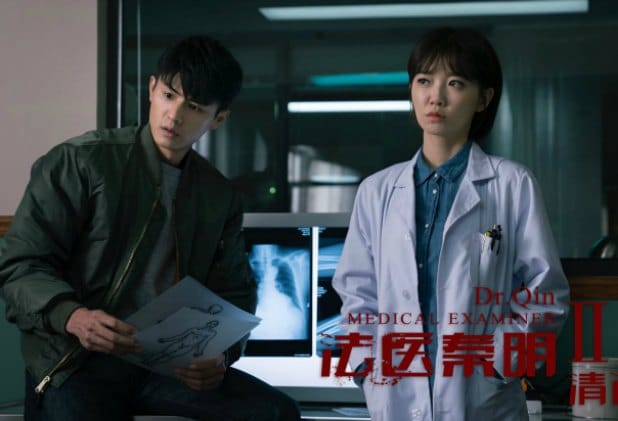 Mainland China
Genre: crime
Director: Li Shuang, Chen Jiahong 李爽、陈嘉鸿
Episodes: 20, June 15th 2018, Sohu TV
This series is currently ranking number one in the Sohu hot drama charts. It is the sequel to one of the most successful network dramas on Sohu TV: Medical Examiner Dr. Qin (法医秦明), an adaptation from best-selling novels by Chinese forensic expert Dr. Qin Ming.
The series sheds light on the profession of forensic doctors, following their hardships and professional working attitudes, and stars Eric Liu Dong Qin, Liu Chang, and Yu Shasha. The original series is now available on Viki with subtitles.
#5. Patriot (爱国者)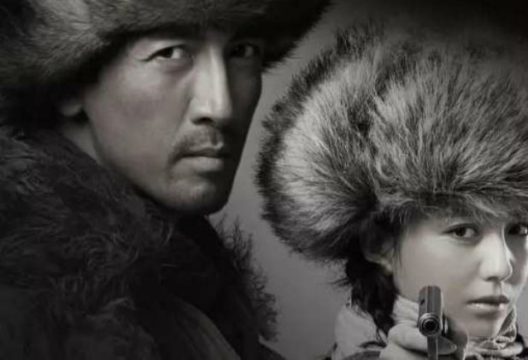 Mainland China
Genre: Historical drama
Directed by: Gong Chaohui (龚朝晖)
Episodes: 50, June 9 2018, Jiangsu
Zhang Luyi (张鲁一) and Tong Liya (佟丽娅) star in this 50-episode drama that is curerently number two in Weibo's popularity charts, getting a 7.1 rating at Sogou Video.
As the only series in this list, it is set at the time of the Second Sino-Japanese war (1937-1945), and tells the story of underground Communist party member Song Xiaqiao on a secret mission, who has to deal with spies and traitors. His love interest is played by the beautiful Tong Liya.
The marketing posters for this TV drama really stand out; they are original and quite stunning. Available to watch on YouTube (Chinese).
#4. Love Won't Wait (如果,爱)
Mainland China
Genre: Urban, family drama
Directed by: Zhang Zheshu (张哲书)
Episodes: 47, May 27 2018, Mango TV and others
After 40 years of hard work, Wan Shicheng (Zhng Shuangli 张双利) has succeeded in establishing the biggest restaurant in the city. Despite his success, his family and daughters are facing many struggles – one of them, played by Cecilia Cheung (张柏芝), is caught in an abusive relationship while the other becomes pregnant after a one-night stand.
Love Won't Wait is the top scoring tv drama in iQiyi charts at time of writing, and is ranking number 4 in Weibo's popularity charts. The series can be viewed here (no English subtitles, let us know if available.)
#3. The Way We Were (归去来)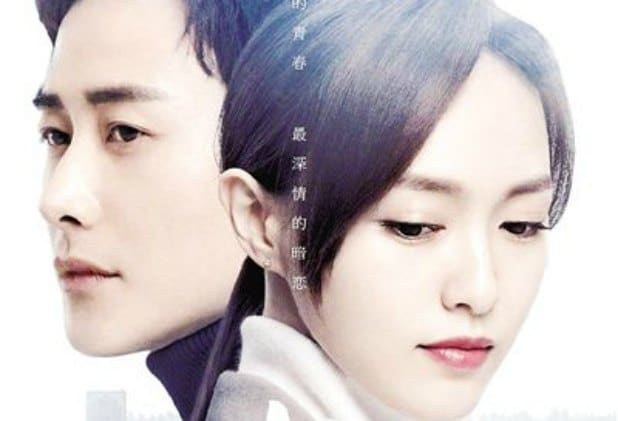 This is the number one show at 360kan and Youku, and top scoring show in Tencent Video this week.
Shu Che (Luo Jin 罗晋), Xiao Qing (Tiffany Tang 唐嫣), Liao Ying (Amelie Xu 许龄月) and Ning Ming (Tim Yu) are Chinese children from rich households living in the US. The TV drama follows the trials and tribulations of these students and their elite lives – facing challenges in love and legal battles.
The Way We Were is available for viewing on Viki or through Youtube (above) with subtitles.
#2. Summer's Desire (泡沫之夏)
Mainland China
Genre: Youth drama, romance
Directed by: Yu Zhonzhong (于中中)
Episodes: 36, May 8 2018, by Zhejiang TV, iQiyi and others
The number one hottest tv drama at Sogou at time of writing, also ranking number three at Weibo's weekly best-rated tv drama's, is "Summer's Desire."
The popular TV series is based on the 2007 novel Summer of Foam by Ming Xiaoxi. It stars Zhang Xueying (张雪迎), Qin Junjie (秦俊杰), Madina Memet, and Huang Shengchi (黄圣池) and focuses on the love story between female protagonists Yin Xiamo and Ou Chen and Luo Xi.
#1. Lost in 1949 (脱身)
Mainland China
Genre: Suspense, historical drama
Director: Lin Ke (林柯)
Episodes: 47, June 11 2018
Lost in 1949 is the number one TV drama on Weibo's popularity charts this week, along with the top scorer on iQiyi, and scoring a 8.8 rating on Tencent's Video.
The stars of this spy drama are Chen Kun (陈坤) and Wan Qian (万茜). Chen actually plays two different roles in this drama.
The story is set in early 1949 at the time of the Chinese Communist Revolution. Huang Liwen is on her way to Shanghai to mourn her lost husband when she runs into Qiao Zhicai, who has been released from prison and is on a mission to find the person who framed him. In a coincidence meting, the suitcases of Qiao and Huang get mixed up. Huang's suitcase contains an important item she needs to deliver to the underground organization of the communist party. It is the beginning of their adventure and lovestory, in which the protagonists's devotion to their country plays an important role.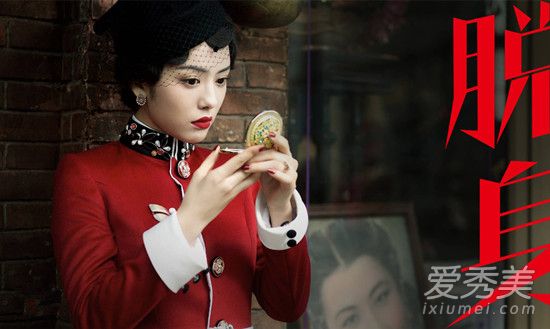 Want to read more? Check out:
– Top 10 of TV Drama in China 2017
– Top 5 of Best Drama Series Winter 2017/2018
– Best TV Dramas in China Summer 2017
– Most Popular Television Series in China in 2016
– Top TV Drama 2015
By Manya Koetse
Follow @whatsonweibo
Spotted a mistake or want to add something? Please let us know in comments below or email us.
©2018 Whatsonweibo. All rights reserved. Do not reproduce our content without permission – you can contact us at info@whatsonweibo.com.
16 Years Ago Today: The Lanjisu Fire That Changed China's 'Wangba' Era
The tragic Lanjisu fire led to a nationwide crackdown on internet cafes in China.
A Beijing internet cafe fire that killed 25 young people in 2002 has become part of China's collective memory: it was a shift in China's internet cafe era. Today marks the 16th anniversary of this tragic event.
On June 16, 2002, at 2:40 a.m., a devastating fire broke out at a second-story Internet cafe (wangba 网吧) in Beijing's Haidian, the city's university district.
News of the tragic fire shocked the entire nation. The fire had instantly killed twenty people and severely injured 17, of whom five later died in the hospital.
All of the dead and injured people were students; 12 of them were from the prep school of the Beijing University of Science and Technology (Wang 2009, 86).
Although it did not take long for firefighters to arrive that night, the fire at the Lanjisu (蓝极速, 'Blue speed') internet cafe was mainly so disastrous because windows were firmly secured with iron burglar-proof bars, leaving no option for people to escape. The only door was locked; it happened more often that wangba owners would (illegally) operate overnight behind locked doors (Qiu 2009, 33).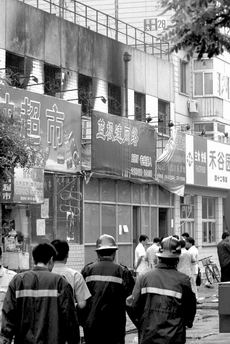 Investigators later ruled arson as cause of the fire at the cafe, which was located at Xueyuan Road 20. Traces of gasoline were discovered at the scene, and two teenage male suspects (13-year-old Zhang and 14-year-old Song) were arrested two days later.
The teenage boys were middle school students who used to play games at the internet cafe, but had gotten into a quarrel with other visitors and were not allowed to come in. To take 'revenge', they had purchased 1.8 liter of gasoline at a nearby gas station just 3-4 hours before they committed arson.
It was later revealed that the two boys both came from poor and shattered families, involving drugs and crime (Lifeweek 2003; Qiu 2015).
In August of 2002, a Beijing court sentenced the 14-year-old boy (Song X.) to life imprisonment, while the 13-year-old was sent to a juvenile re-education center as he was under the age of 14.
A third person, a 17-year-old female also named Zhang, was sentenced to 12 years in prison for being an accomplice; she gave the boys money to but the petroleum, and knew what they were up to. A fourth minor, a 14-year-old boy by the name of Liu, was sentenced to 18 years in prison for being part of the arson plan. The internet cafe owner was sentenced to 3 years in prison for breaching business and safety rules. The gas station was fined 50,000 yuan for selling gasoline to two minors (Lifeweek 2003; Sina 2008).
A turning point in the wangba boom
The Haidian Lansiju fire had a big impact on China's booming internet cafe culture. Internet cafes had been mushrooming in China since the mid and late 1990s. It was the time of Tencent's highly popular instant messaging software OICQ and multiplayer online games. By 2002 there were thousands of wangba across Chinese cities, many of them unlicensed and illegal, with no fire control equipment.
The Lanjisu fire made the problem of China's wangba a national concern. Not just the unsafe conditions were a reason for worry, but also the impact the internet cafes had on China's youth, with students spending days on end playing online games in these smoky rooms, leading to a rise in school absence and internet addiction. Beijing's vice mayor Liu Zhihua condemned internet cafes as "opium dens" for the country's youth.
The fire led to a huge crackdown on illegal internet cafes. The Beijing authorities launched a campaign that would stop the development of new internet cafes and that would screen all existing wangba one by one, and to close all unlicensed businesses immediately and to confiscate their operational tools (Wang 2009, 87). Across the country, approximately 400,000 internet cafes were closed (Sina 2008).
It also led to the implementation of new rules, such as that there could no longer be internet cafes within a 200-meter radius of schools, that minors were not allowed to enter, and that they had to be closed between midnight and 8 am (Venkatesh 2006, 55)
Since 2005, the remnants of the Lansiju internet cafe have been on display at the Haidian Safety Museum.
The fire is remembered in China as the "6.16 Wangba Big Fire" (6·16网吧大火), and is still being discussed on Chinese social media to this day.
By Manya Koetse
Follow @whatsonweibo
References
Qiu, Jack Linchuan. 2009. Working-Class Network Society
Communication Technology and the Information Have-Less in Urban China. Cambridge, MA: MIT Press.
Qiu, Jack Linchuan. 2015 (2009). "Life and Death in the Chinese Informational City: The Challenges of Working-Class ICTs and the Information Have-less." In: Living the Information Society in Asia, Erwin Alampay Alampay (ed), 130-157. ISEAS–Yusof Ishak Institute.
Sina. 2008. "北京蓝极速网吧老板今安在." Sina News, 29 Dec http://news.sina.com.cn/s/2008-12-29/100416941011.shtml [16.6.18].
Venkatesh, P. 2006. "China on the I-way." In: Strategic Management: Concepts and Cases, Hitt, Duane & Hoskisson (eds), chapter 2. Mason: Thomson Higher Education.
Wang, Xueqin. 2009. "Internet Cafes. What else can be done in addition to rectification?" In: Good governance in China–a way towards social harmony : case studies by China's rising leaders, edited by Wang Mengkui, Lchapter 8. London & New York: Routledge.
Zhuang, Shan 庄山, Ke Li 柯立, Li Wei 李伟, Wu Ang 巫昂. 2003 (2002). "两个纵火少年和25条生命" ["Two Minor Arsonists and 25 Lives"]. LifeWeek 2002 (26), online April 8 2003 http://www.lifeweek.com.cn/2003/0408/1594.shtml [16.6.2018].
Spotted a mistake or want to add something? Please let us know in comments below or email us.
©2018 Whatsonweibo. All rights reserved. Do not reproduce our content without permission – you can contact us at info@whatsonweibo.com.