Marble Floors, Gold Ceilings: This is China's Most Luxurious Horse Stable
Lavish chandeliers and marble floors are perhaps not the first things that come to mind when thinking about horse stables. Despite some media writing that "the world's most luxurious stable" is located in Dubai, this is the Heilan Equestrian Club in Jiangsu, China.
Lavish chandeliers and marble floors are perhaps not the first things that come to mind when thinking about horse stables. Despite some media writing that "the world's most luxurious stable" is located in Dubai, this is the Heilan Equestrian Club in Jiangsu, China.
"Only in Dubai would you see a marble-floored horse stable", a Redditor named Randvoo12 posted on Reddit on March 16. The post made it to the top trending posts on Reddit, but soon turned out not to be about Dubai at all. As one user (Leehomf) pointed out, the stables are actually located in Jiangsu, China.
Netizen Leehomf, who has visited the stables, shared on Reddit that the equestrian club is owned by the founder of the Heilan group, "a multi-billion corporation based in Xinqiao, China. This man bought many breeds of horses from all over the world and put them in a lavishly constructed hall to show off his wealth." The Redditor pointed out that despite all the glitter and glamour, "the place smelt just like a farm."
Jiangsu's Luxury Town
The Heilan Equestrian Club (飞马水城管理中心) in Xinqiao (Jiangyin) is to be part of a larger luxurious town (衣尚小镇) that will include an ecological tourism resort with a Venetian water park, a university campus, a cultural center and other projects – an initiative by the China Heilan Group.
According to a local Jiangsu Weibo account (@暨阳网), the completion of the whole project will cost over 8 billion RMB (±1.1 billion US$) in the coming three years.
"Horse Culture Museum"
As also pointed out by the Pickle website, the pictures of the impressive marble stable are taken at the Heilan Equestrian Club's so-called "Horse Culture Museum", where equine-related art and fancy horses are displayed in an area that covers approximately 260,000 square meters.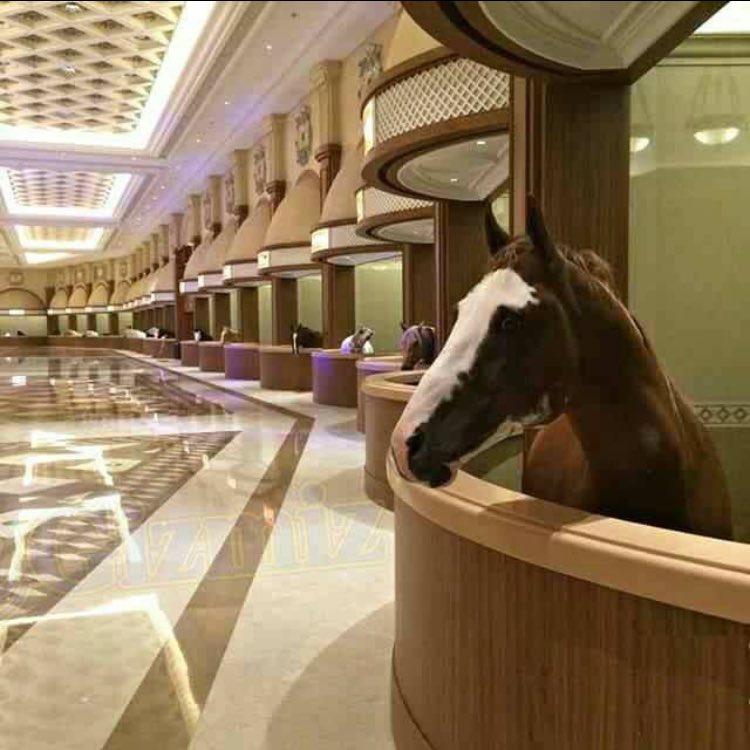 According to the official Heilan website, the horse center is located in the southern area of Xinqiao, and is China's "first-ever comprehensive equestrian facility", a place that offers equestrian training, performances, competition, and recreational services.
Some netizens (including @秋菘1676094607 and @共同的风景) also shared pictures of the Horse Center on Weibo.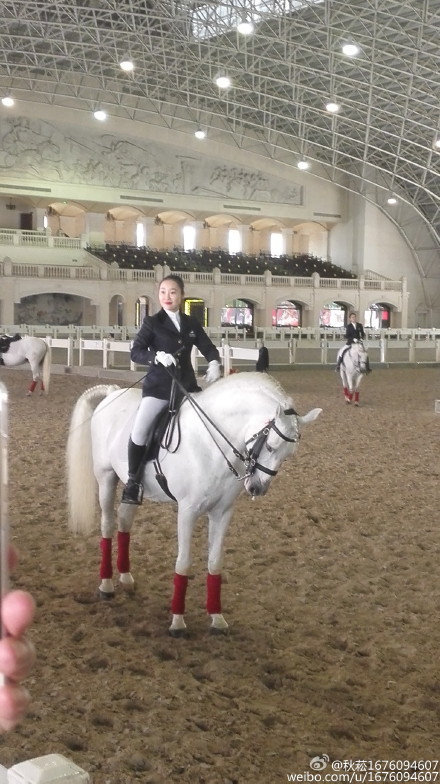 The Heilan Group bought more than 200 high-end horses from countries such as the Netherlands, Spain, and Germany for their equestrian center, which was formally established in 2009.
The center is also home to approximately 60 Chinese horses from Xinjiang, Beijing, and Inner Mongolia. According to China's Baike wiki, there are 36 specialized equestrian trainers from various countries.
Stuffed Horses
In 2015, the Heilan Equestrian Club's owner Zhou Jianping placed an order at a Dutch taxidermy company to have a total of 12 horses stuffed for his museum.
The owner of the Dutch taxidermy company, Maurice Bouten, told website Horses at the time: "They called me asking if I could stuff horses. They wanted a total of twelve. I first thought it was a joke, but the project really happened."
The Chinese director came up with four Frisian and eight Andalucian horses that were about to be slaughtered. It took Bouten approximately 150 hours per horse to finish the project (image by 1limburg.nl). The horses were then exported to China per airplane.
No, not Dubai!
Not just on Reddit, but also on Weibo, many netizens seem to think the marble-floored stables are located in Dubai. A post saying "look at these Dubai stables" attracted attention on Weibo today.
"I am from Jiangyin," one netizen clarified: "And this is definitely the Heilan Horse Club!"
Besides the many people confirming that these photos most definitely were not taken in Dubai, there were also those who were critical in different ways: "People who really know about horses would never approve of this. This is not a proper environment for a horse!"
"This might all be glorious splendor to you, but it doesn't mean anything to the horses" another Weibo user wrote: "They should be grazing the grassland."
– By Manya Koetse
Follow @WhatsOnWeibo
[showad block=1]

Images in this post from Reddit, Weibo, oldkids.cn/blog, and www.1limburg.nl.
©2017 Whatsonweibo. All rights reserved. Do not reproduce our content without permission – you can contact us at info@whatsonweibo.com.
Chinese Pilot Caught Secretly Filming in Women's Restroom
A viral video showed a group of flight crew members grabbing the man together.
WEIBO SHORT | Weibo Shorts are short articles on trending topics
A short video capturing a tense situation involving Chinese flight crew is gaining rapid popularity on Chinese social media platforms. In the video, one crew member can be heard exclaiming, "He secretly filmed, he secretly filmed!" (translated as "有人偷拍").
This video showing a tense situation involving Chinese flight crew is going viral. One crew member can be heard exclaiming: "He secretly filmed!", allegedly referring to a Xiamen Airlines pilot recording in the women's restroom. Waiting for an official statement to come out. pic.twitter.com/TnYOAD7Uck

— Manya Koetse (@manyapan) May 19, 2023
The video is allegedly related to a Xiamen Airlines (厦门航空) co-pilot getting caught secretly filming in the women's restroom on May 19.
On the evening of May 19th, Toutiao News reported that the incident was still being verified and that Xiamen Airlines was expected to come out with a statement soon.
Meanwhile, the incident was already triggering thousands of reactions on Chinese social media. On Weibo, where this topic went trending on Friday night, some already vowed to never fly Xiamen Airlines again.
On Saturday, a police statement confirmed that an airline staff member, a 26-year-old male, was detained for making illegal recordings (#警方通报航空公司工作人员偷拍#).
Xiamen Airlines also posted a statement on their Weibo account in which they confirmed that one of their staff members had been caught filming a female flight attendant in the women's restroom. The man was a pilot trainee. He has been immediately fired from his position.
Get the story behind the hashtag. Subscribe to What's on Weibo here to receive our newsletter and get access to our latest articles:
Spotted a mistake or want to add something? Please let us know in comments below or email us. First-time commenters, please be patient – we will have to manually approve your comment before it appears.
©2023 Whatsonweibo. All rights reserved. Do not reproduce our content without permission – you can contact us at info@whatsonweibo.com.
The Achilles Heel of Zibo: Why Zibo's Strength Is Also Its Weakness
As the entire country is watching how the Zibo BBQ hype has been unfolding, every little thing can create an online storm.
It's like a Shandong 'Disneyland,' but with more people and longer lines. The city of Zibo has become a major tourist attraction, filled with lively atmosphere, cheap BBQ, and friendly people. But local business owners also face the downsides of operating in a city that has become so extremely popular.
The city of Zibo just keeps trending. After the Shandong city – known for its BBQ – suddenly became an online sensation and a super popular destination among young Chinese travelers, there has been a lot of discussion surrounding it.
The trend basically started with viral videos showing festive party scenes from Zibo in early April. After spending time in Zibo during 'zero Covid' quarantine, groups of Shandong students had returned to the city, allegedly as a way to thank Zibo for their hospitality and to boost local economy.
As Zibo BBQ scenes went trending, the snowball effect had begun and more people flocked to the city, wanting to get in on the hype and experience a night of Zibo BBQ themselves.
Zibo's city marketing played a crucial role in promoting the trend, as they arranged special 'Zibo BBQ' high-speed trains (烧烤专列) and 'BBQ buses' – including souvenir gift bags – to enable convenient and fast travel for those coming to visit the city. They organized groups of volunteer service teams on the streets to assist and made sure police and medical teams are on standby at all hours of the day.
Chinese state media further boosted the Zibo trend by highlighting its success as a sign of post-Covid economic recovery of local tourism.
Initially, online discussions focused on the lively scenes from Zibo and on how the city had managed to become such a viral hit.
But over the past week, there have been trending discussions that focus more on the downside of Zibo's popularity. We previously translated a critical essay by Song Zhibiao which was (re)posted by Chinese professor Liu Yadong. The article condemned the Zibo hype for being superficial a sign of a greater societal problem.
Now, there is more focus on how the BBQ hype is affecting local business owners and residents. The "victims" ("受害者") of Zibo's sudden popularity are overworked BBQ sellers and those who lost their peaceful lifestyle in the industrial city due to tourists overcrowding the streets.
One of the reasons why Zibo's popularity has raised so many questions is because the city was actually never known as a tourist destination. Its history and food culture were not particularly famous.
Actually, Zibo's BBQ hype is not about a long-standing or renowned barbecue culture at all – it is about the lively atmosphere and social spectacle that comes with the BBQ scene, which mostly became a hit among domestic tourists due to the reputation of Zibo business owners being friendly and hospitable, and the prices being low.
But it is exactly those things, namely the city's hype and its reputation for being cheap and friendly, that are are also its Achilles heel.
Low Prices, High Expectations
On May 4th, one Weibo post by a blogger who visited Zibo attracted a lot of online attention (#24人吃淄博烧烤花760元#). The person, a Shanghai-based creator with 1,5 million followers, described how they had spent 760 yuan ($110) on a Zibo BBQ dinner with a group of 24 people, so spending just a little over 30 yuan (or $4.5) per person.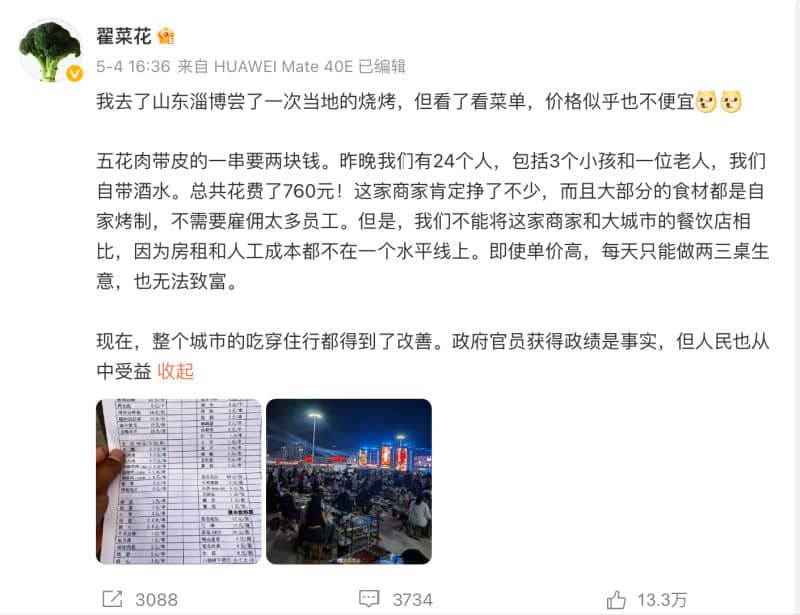 Despite the low price, the blogger suggested that the prices in Zibo were "expensive" and that "the business owner must have made a lot of money."
The post triggered a lot of discussion on the unrealistic expectations people have of Zibo. One top commenter wondered if the blogger had expected to receive money for having BBQ dinner with 24 people.
The blogger later apologized, saying that the sarcastic tone of the post had been misunderstood and the prices in Zibo actually are low and affordable.
The entire topic led to online discussions about people having unrealistic expectations about prices in Zibo, which then led to more people saying they would like to go to Zibo – only futher accelerating the trend.
Tempest in a Teapot
With all eyes on Zibo, it seems that any small issue can cause a social media storm these days.
One woman recently posted about finding a blade in her Zibo food, attracting a lot of attention. Although many netizens believed the post was fake and only done for clout, it did lead to local authorities investigating the case.
Another shop owner also became a victim of a blogger trying to smear her Lao Sun BBQ Restaurant business. On a night in April, a female tourist dined at the restaurant and took a drink and cookies from the restaurant without asking. When the boss charged her for it as part of the bill, she became upset and accused the shop of overcharging her for dipping sauce.
The issue became so big that the BBQ restaurant, that has been in business for three decades, started receiving thousands of harassing phone calls and abusive comments. Their shop was even temporarily blacklisted by local authorities before the owner could set the record straight (link).
Then there was a viral story about a local shop owner turning customers away due to limited capacity, and being accused of purposely discriminating against non-local visitors.
The owner broke down and apologized on his knees, allegedly because he felt he needed to uphold Zibo's reputation (video). According to Chinese media, he has only been sleeping four hours every night in light of the Zibo craze.
When Hype Goes Wrong
For some, the Zibo craze has gone so far that they can no longer safely operate their business.
One small BBQ shop in Zibo recently went viral after its owner was filmed enjoying some quiet time in a folding lounge chair while his restaurant was empty. As soon as the video spread on social media, the shop's name and location were shared, and people flocked to the location.
In a matter of days, the store found itself unable to cope with the influx of people, leading the owner to declare that the shop was swamped and incapable of servicing such a large number of customers. The neighboring streets were unable to accommodate the traffic.
If you now search for the store on Douyin, you'll find dozens of videos showing vloggers in front of the small restaurant and customers already lining up in front of it at 6.30 in the morning.
Another case that went particularly trending is that of a business owner named Yi Yang selling duck in Zibo. In late April, one female visitor made a video while visiting his shop in which she asked Yi Yang if she could touch his muscles. After Yi Yang nodded, the woman reached out and touched his muscles.
This video then went viral and turned Yi Yang into an overnight celebrity. Although his hit status initially boosted sales, the crowds of people coming to his shop soon became so overwhelming that he could no longer run his business as usual (see video). As thousands of people came by his shop at all hours of the day, some even started harassing and physically assaulting the small business owner to get a chance to take photos with him.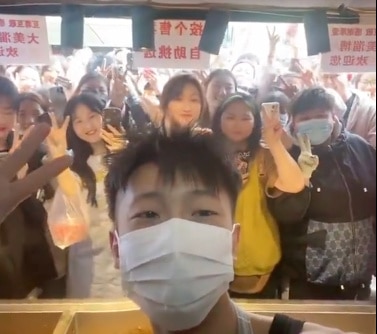 As Yi Yang's business temporarily closed, he is seeing significant losses and recently did a livestream in which he got choked up over his predicament (#淄博鸭头小哥直播中气到落泪#).
Party newspaper People's Daily even published an article about the issue, condemning the exploitation of those who suddenly go viral overnight.
Time for Zibo to Cool Down?
From blocked streets to overworked shop owners, there are many signs that it is time for Zibo's hype to cool down a bit. With the May day holiday behind us and the Zibo trend reaching its peak, this might inevitably happen anyway.
Some business owners have their own approach to making sure their shop is not hyped too much. One BBQ seller recently attracted attention for leaving 17 negative online reviews on his own business. It actually did not work: the system marked them as spam, deleted them, and it went viral anyway (#烧烤店老板为劝退游客自刷17个差评#).
Despite recent worries surrounding Zibo's popularity, there are also many people who hope that other cities in China can also replicate its success, calling the 'Zibo phenomenon' the "hope of China" and a sign of a promising future for other smaller cities.
Financial writer Wu Xiaobo (吴晓波) recently wrote an article ("The Metaphor of Zibo BBQ"/"淄博烧烤的隐喻") in which he stated that the popularity of Zibo represents a new model of democratic, free market governance that emphasizes public participation and shared responsibility, facilitated by the local government.
However, Weibo knowledge blogger 'PYGZ' (@平原公子赵胜) disagrees. In his recent Weibo post, he argues that people should not be naieve about Zibo's success. According to PYGZ, the city's popularity is not so much about the people and a free market, but about the government and strict oversight.
PYGZ points out that Zibo's success can be attributed to its government's implementation of special tourist transport, a ban on hotel price increases, police patrol teams, food quality control, countermeasures to an inflation in prices, ensuring fair treatment of tourists, and many other top-down measures. According to PYGZ, Zibo has flourished not because the government has let go of control, but because it has strongly overseen the latest developments.
Viewing Zibo's success in this light, the government is likely to guide and counter the overhype of the city. Eventually, the cooling down of the Zibo trend will result from a combination of factors, including the waning of social media frenzy, the government's efforts to control the hype and promote a more sustainable trend, and business owners taking necessary measures to get some much-needed rest.
By Manya Koetse, with contributions by Zilan Qian
Get the story behind the hashtag. Subscribe to What's on Weibo here to receive our newsletter and get access to our latest articles:
Spotted a mistake or want to add something? Please let us know in comments below or email us. First-time commenters, please be patient – we will have to manually approve your comment before it appears.
©2023 Whatsonweibo. All rights reserved. Do not reproduce our content without permission – you can contact us at info@whatsonweibo.com.
Subscribe to our newsletter
Stay updated on what's trending in China & get the story behind the hashtag
Sign up here to become a premium member of What's on Weibo today and gain access to all of our latest and premium content, as well as receive our exclusive newsletter. If you prefer to receive just our weekly newsletter with an overview of the latest, you can subscribe for free here.
Would you like to become a contributor, or do you have any tips or suggestions for us? Get in touch with us here.