Canceled Chinese TV Drama Gets Second Chance: Novoland Is Here!
Novoland, China's "Game of Thrones" was canceled just before its premiere six weeks ago.
First published
The Chinese fantasy drama Novoland: Eagle Flag is one of the most-anticipated series of the year. After the show was suddenly canceled twenty minutes ahead of its premiere in early June, it was announced on July 16 that it will broadcast anyway.
With 1,8 billion views, the hashtag Novoland: Eagle Flag (九州缥缈录, Jiǔzhōu piāomiǎo lù) is top trending on Chinese social media site Weibo today after the show suddenly announced it would broadcast its first series on July 16.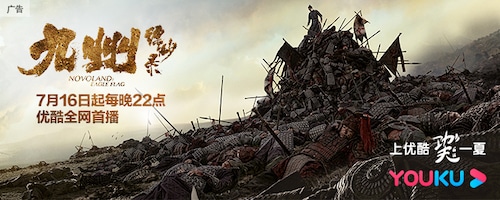 Over six weeks ago, on June 3rd at 21:40 CST, the show was suddenly canceled just twenty minutes before its much-awaited premiere on Tencent, Youku, and Zhejiang TV.
Novoland: Eagle Flag has been called China's answer to Game of Thrones. It is a 56-episode costume drama that tells a story of war, conspiracy, love, and corruption in a fantasy universe called 'Novoland.'
It is based on a popular web fantasy novel series by Jiang Nan (江南) and produced by Linmon Pictures. Production costs reportedly were as high as RMB 500 million ($72 million).
The drama features Chinese celebrities such as Liu Haoran, Lareina Song, and Chen Ruoxuan.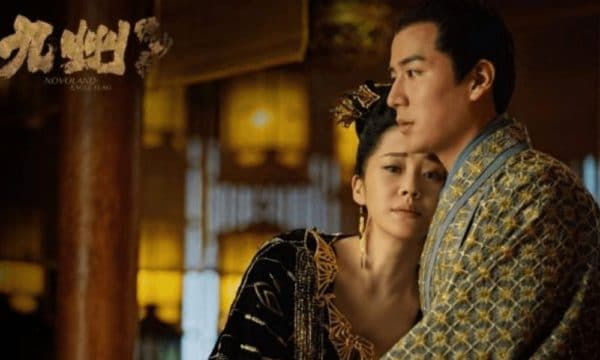 Why was the show's premiere suddenly canceled? The only reason given for it on June 3rd was that there was a 'medium problem' ("介质原因").
China's English-language state tabloid Global Times reported on June 4th that their official sources also did not know the reason for the withdrawal, although they did admit to having received an order from "higher level," which would come from China's National Radio and Television Administration (NRTA,国家广播电视总局).
China's regulatory body started to severely crack down on the rising popularity of Chinese costume dramas (古装剧) in March of this year.
Regulatory rules were supposedly issued for costume dramas with 'themes' (题材) such as martial arts, fantasy, history, mythology, or palace, stating that they should not air or were to be taken down from online video homepages. The strictest crackdown would allegedly last until July.
From early on in 2019, it was already rumored that Chinese costume dramas would face a tough year, after Chinese state media outlet Beijing Daily published a critical post listing negative influences of court-themed TV dramas (宫廷剧).
The critique included arguments such as that the imperial lifestyle was being hyped in these dramas, that the social situation of the dynastic era was being negatively dramatized, and that these productions are just aimed at commercial interests while weakening China's "positive spiritual guidance."
After the show's premiere was officially "postponed," fans are now overjoyed to hear that it will air anyway.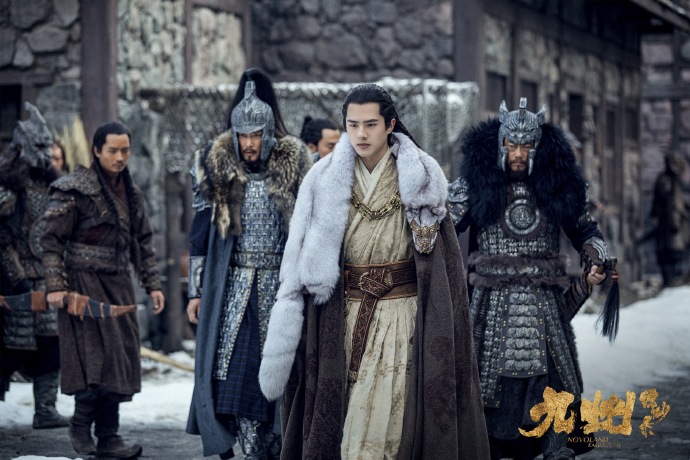 The first eight episodes are available for binge-watching now via Youku (Chinese only).
It is unclear if (ordered) changes were made to the show over the past six weeks.
By Manya Koetse
Follow @whatsonweibo
Spotted a mistake or want to add something? Please let us know in comments below or email us. Please note that your comment below will need to be manually approved if you're a first-time poster here.
©2019 Whatsonweibo. All rights reserved. Do not reproduce our content without permission – you can contact us at info@whatsonweibo.com
Chinese Social Media Reactions to The New York Times Bad Review of 'Wandering Earth 2'
A New York Times bad review of 'Wandering Earth II' has triggered online discussions: "China's gonna save the world, the US can't stand it."
This Chinese Spring Festival, it's all about going to the movies. After sluggish years for China's movie market during the pandemic, Chinese cinemas welcomed millions of visitors back to the theaters during the weeklong Spring Festival holiday.
Much-anticipated new movies attracted Chinese moviegoers this festive season, including Full River Red by Zhang Yimou, the suspenseful Hidden Blade, or the animated Deep Sea by Tian Xiaopeng.
But the undisputed Spring Festival box office champion of 2023 is Frant Gwo's Wandering Earth II (流浪地球II), the sequel to China's all-time highest-grossing sci-fi epic Wandering Earth (2019), which also became the fifth highest-grossing non-English film of all time.
The narrative of the follow-up movie Wandering Earth II actually takes place before the events of the first film and focuses on the efforts by the United Earth Government (UEG) to propel the Earth out of the solar system to avoid planetary disaster. This so-called Moving Mountain Project – which later becomes the Wandering Earth Project – is not just met with protest (the majority of Americans don't believe in it), it also bans the Digital Life Project, which supports the idea that the future of humanity can be saved by preserving human consciousness on computers (backed by an American majority). The film is all about hope and resilience, human destiny, and geopolitics at a time of apocalyptic chaos.
Outside of China, the sequel was also released in, among others, North American, Australian, and UK cinemas.
Although the film, featuring movie stars Wu Jing and Andy Lau, received an 8.2 on the Chinese rating & review platform Douban, a 9.4 on movie ticketing app Maoyan, dozens of positive reviews on Bilibili, and was overall very well-received among Chinese viewers, a bad review by The New York Times triggered discussions on Chinese social media this weekend.
Chinese media outlet The Observer (观察者网) initiated a Weibo hashtag about "The New York Times's completely sour review of Wandering Earth II" (#纽约时报酸味拉满差评流浪地球2#, 6.2 million views at time of writing).
The New York Times review of Wandering Earth II, titled "The Wandering Earth II Review: It Wanders Too Far," was written by Brandon Yu and published in print on January 27, 2023.
Yu does not have a lot of good things to say about China's latest blockbuster. Although he calls the 2019 The Wandering Earth "entertaining enough," he writes that the sequel is a movie that is "audaciously messy" and has lost "all of the glee" its predecessor had:
"(..) the movie instead offers nearly three hours of convoluted storylines, undercooked themes and a tangle of confused, glaringly state-approved political subtext."
The topic was discussed on Chinese social media using various hashtags, including "The New York Times Gave Wandering Earth II a 3″ (#纽约时报给流浪地球打30分#, #纽约时报给流浪地球2打30分#).
Instead of triggering anger, the bad review actually instilled a sense of pride among many Chinese, who argued that the review showed the impact the movie has made. Some commenters pointed out that the movie is a new milestone in Chinese cinema, not just threatening America's domination of the movie industry but also setting a narrative in which China leads the way.
"We're gonna save the world, and America just can't stand it," one commenter replied.
That same view was also reiterated by other bloggers. The author and history blogger Zhang Yi'an (@张忆安-龙战于野) argued that The New York Times review was not necessarily bad; it actually shows that Americans feel threatened by the idea of China's important role in a new international world order, and by the fact that China actually will have the capacity to lead the way when it comes to, for example, space technology innovation, robotics, and artificial intelligence.
Zhang argues that if a similar movie had been made by India as a Bollywood blockbuster – including exploding suns and wandering earths – The New York Times would have been more forgiving and might have even called it cute or silly.
But because this is China, the film's success and its narrative plays into existing fears over China's rise, and it clashes with American values about what the international community should look like.
Zhang writes: "The China in the movie doesn't boast itself as the savior of the world, but in reality, China really is capable of saving the world. The United States is no longer able to do so (电影里的中国没有把自己吹嘘成救世主,现实中的中国真的有能力做救世主。而美国却已经不能了)."
One popular Film & TV account (@影视综艺君) also summarized the general online reaction to the bad review in the American newspaper: "Whenever the enemy gets scared, it must mean we're doing it right. Our cultural export has succeeded." That post received over 120,000 likes.
On Zhihu.com, some commenters also attached little value to the review and showed how the overseas reviews of Wandering Earth II widely varied in their verdict.
Meanwhile, a state media-initiated hashtag on Weibo claimed on January 28 that Wandering Earth II has actually "captured the hearts of many overseas audiences" (#流浪地球2海外上映获好评#), and that the film's "imaginative" and "wonderful" visuals combined with its strong storyline were being praised by moviegoers outside of China.
On IMDB, the movie has received 5.9/10; it has gotten a 70% Rotten Tomatoes score. The Guardian gave it 2/5. Meanwhile, on Weibo, one reviewer after the other gives the film 5/5 stars.
Weibo blogger Lang Yanzhi (@郎言志) writes: "Recently, we've seen a lot of attacks and slander directed at the China-made science fiction movie Wandering Earth 2, especially coming from Western media and pro-Western forces, because the film's "Chinese salvation" narrative made them uncomfortable. This was already the case when the first film in the series was released. It is very clear that Wandering Earth is not just a movie: it is a symbol of great influence."
By Manya Koetse , with contributions by Zilan Qian
Get the story behind the hashtag. Subscribe to What's on Weibo here to receive our newsletter and get access to our latest articles:
Spotted a mistake or want to add something? Please let us know in comments below or email us. First-time commenters, please be patient – we will have to manually approve your comment before it appears.
©2022 Whatsonweibo. All rights reserved. Do not reproduce our content without permission – you can contact us at info@whatsonweibo.com.
Behind the Short Feature Film of the Spring Festival Gala
The first-ever 'mini film' of the Spring Festival Gala struck a chord with viewers for its strong storytelling and authentic production.
This precious and powerful short film by Zhang Dapeng has touched the hearts of Spring Festival Gala viewers. But there is more to the short film than meets the eye. Here's the noteworthy story behind the 7-minute Spring Festival Mini Film.
On January 21, 2023, China's Spring Festival Gala, hosted by China Media Group, kicked off the Year of the Rabbit. The annual show, which featured forty different acts and performances, lasted over four hours and attracted millions of viewers worldwide (see our liveblog here, and see a top 5 highlight of the show here).
Traditionally, the Spring Festival Gala always shows several short public service ad films in between the performances, but this year was the first time the Gala featured a "mini-film" or "micro film" (微电影).
Titled Me and My Spring Festival Night ("我和我的春晚"), the 7-minute film was praised among viewers. On Weibo, one hashtag dedicated to the short film received over nine million clicks (#我和我的春晚#).
The film was directed by the Beijing director Zhang Dapeng (张大鹏). Born in 1984, Zhang is a Beijing Film Academy graduate who previously attracted wide attention for directing the Peppa Pig Celebrates Chinese New Year movie and the brilliant ad campaign that came with it. Titled What Is Peppa, that short ad film featured a grandfather living in rural China who goes on a quest to find out what 'Peppa' is. The promotional video became an absolute viral hit back in 2019 (see/read more here).
This time, Zhang's latest Chinese New Year film is about a hard-working former military man from China's countryside named Zhang Jianguo (张建国), for whom coming on the show to play the trumpet has been a dream for many years. By featuring his story, the film takes us from the Chinese 1980s, 90s, 00s – as we see him change jobs, move around, and start a family – up to the present.
The main idea behind the film was to honor all the ordinary viewers who have written – and are still writing – to the Gala ever since it first aired in the early 1980s, and to tell a story inspired by these personal letters and ordinary viewers.
Short Summary of "Me and My Chunwan"
At the start of the film, we see Zhang Jianguo dusting off his military honorary awards (光荣军属), putting on his jacket, grabbing his thermos flask and trumpet, and setting out on a journey in the midst of winter.
Riding an electric tricycle in the icy cold, his driver (actor Huang Bo 黄渤) asks him where he is going. "Can you keep your mouth shut?" Zhang replies ("你嘴严实不严实"). "I can," the driver says, and Zhang then says: "So can I."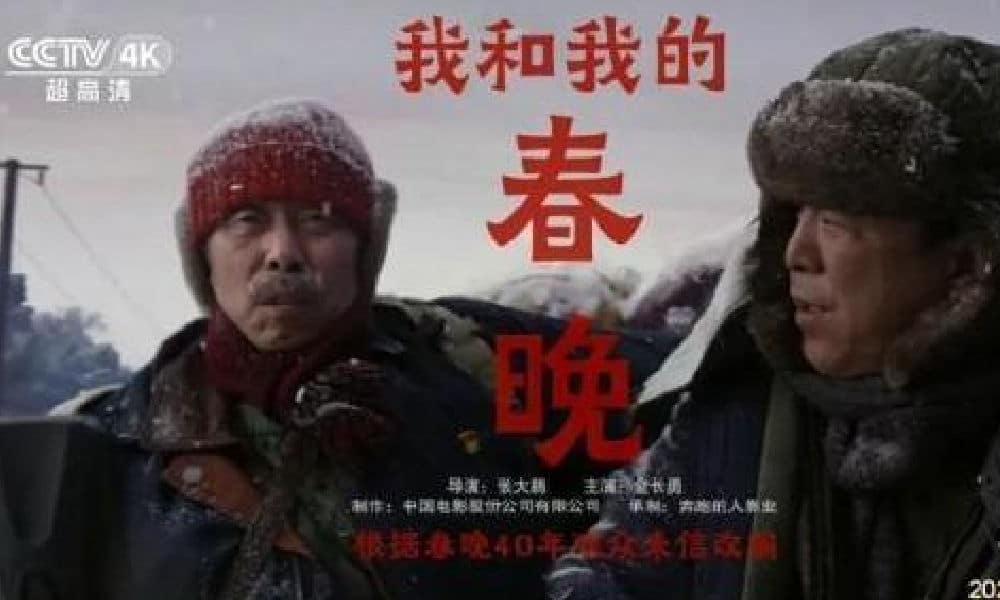 The voiceover narration, a first-person narrative by Zhang himself, explains that he has always been busy: "I never had time for the Spring Festival Gala. My Spring Festival fate is all because of something my captain said."
The film jumps to a scene showing Zhang as a young military man during the Chinese New Year's Eve, working outside while people are watching the Spring Festival Gala on a small black and white television inside. As his commander (played by Wu Jing 吴京) hands him his trumpet, he says: "Go and play your trumpet on the television."
"If the leader asks me to go on the Spring Festival Gala, it's a task I must complete," the voice-over says.
But in the military scene itself, duty calls and Zhang has to blow the trumpet to announce dinner time.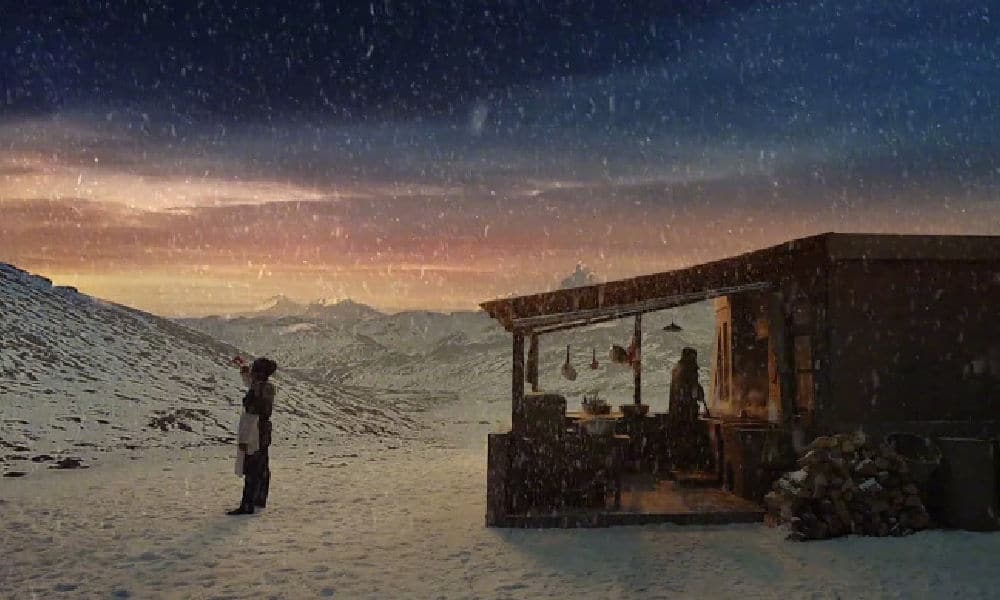 In the years that follow, Zhang is always busy during the Spring Festival Gala. Working in the factory, getting married, working on a train, farming cattle, taking care of his family, and always cooking. His trumpet is still there with him, to announce dinner time or hanging on the wall as a memory of times past.
As the years pass by, Zhang realizes that he has gradually forgotten about his commander's words. Time moves fast. First, he had a son, then his son grew taller than himself, and then his son had his own son. "And I still had never been to the Spring Festival Gala."
With his captain's words back on his mind, Zhang, now an older man, sets out on his journey without telling anyone. By foot, by electric tricycle, by bus, and by train, Zhang travels all the way to the famous Beijing Studio 1 to perform at the Spring Festival Gala after being "too busy" for forty years.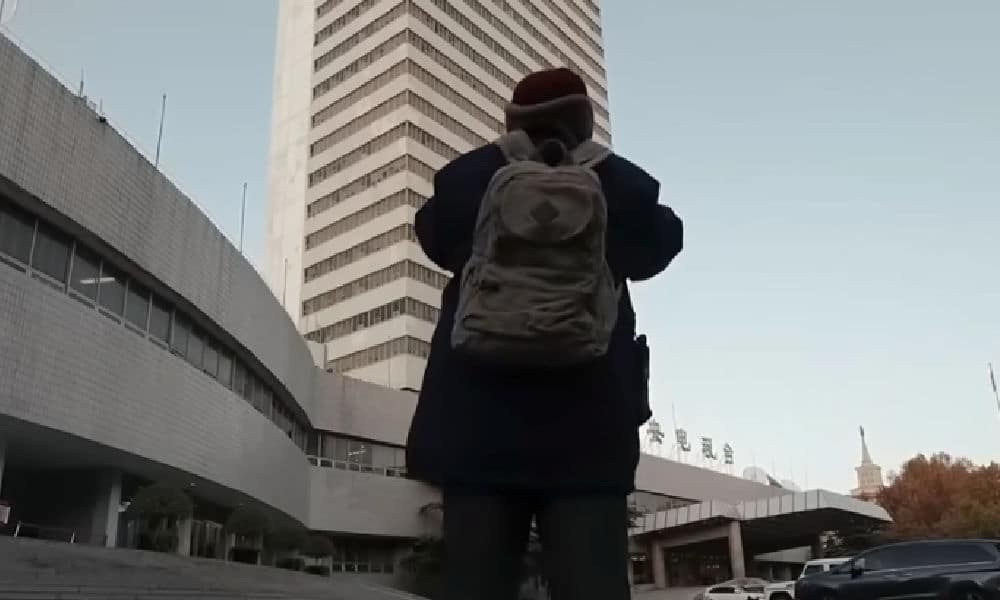 Backstage at the Spring Festival Gala, Zhang sits down with famous Chinese Spring Festival Gala performers (Ma Li 马丽 and Shen Teng 沈腾). While unpacking his lunchbox, he tells them he was finally not too busy to come on the show: "I wrote a letter and here I am." "It's that simple?" Ma Li wonders.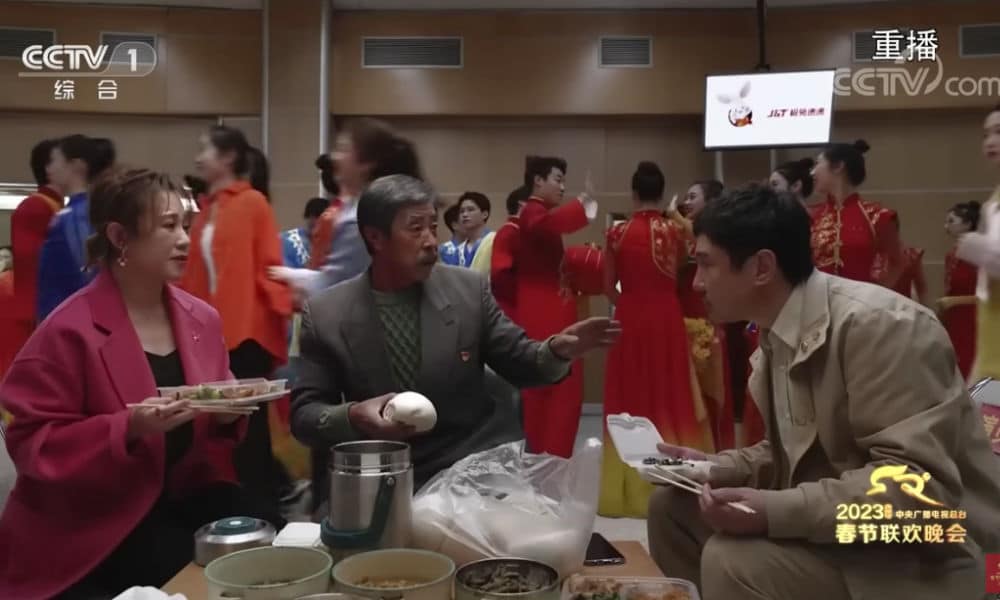 The producer then rushes to come and get Zhang, who bravely walks towards the stage with his old little trumpet.
A female voice-over then reads out a message, while we see various scenes throughout the years showing Zhang – from young to old – writing letters to CCTV from wherever he is.
The female narrator says: "Dear Uncle Zhang, we've received your letter regarding your hopes to realize your cherished stage dream. In this age of emailing, and knowing that you've been writing us for 39 years, we're moved and feel guilty. Our reply may be late, but not our sincerity.."
Meanwhile, we see a flashback to a mailman pulling up to old Zhang's home (the mailman is the actor Wang Baoqiang), and the old Zhang finally receives that much-anticipated letter from CCTV at his remote rural home.
The female narrator continues: "This year, we proudly invite you to be a guest at the Spring Festival Gala and to "ring the dinner bell" [play the sound announcing dinner]. Sincerely, the Spring Festival Director Committee."
In the final shot, we see Zhang blowing the trumpet at the Gala, with flashbacks showing him blowing that trumpet in all those decades before. He has finally made it to the big stage.
A Noteworthy Story
While Me and My Spring Festival Night received a lot of praise on Chinese social media, the story behind the film was not immediately clear to many viewers celebrating the Chinese New Year, but it was explained in several articles and interviews with director Zhang Dapeng.
During the live-televised Spring Festival Gala itself, the airing of Me and My Spring Festival Night was directly followed up by a shot featuring a person (a veteran) in the audience standing up and actually playing the trumpet.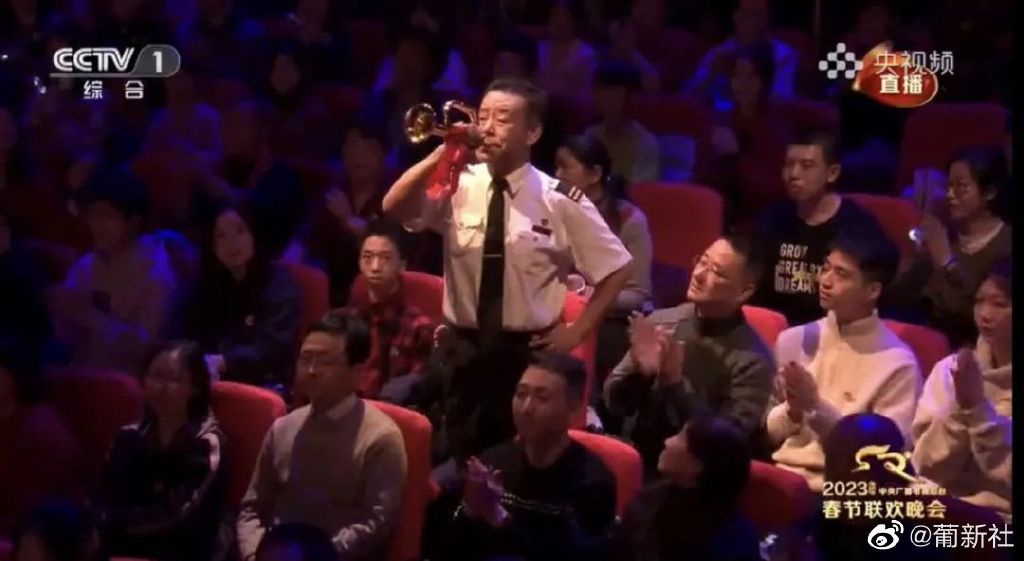 Directly after, the song "Goodmorning Sunshine" began, representing multiple people from all kinds of professions and social groups. About one minute into the song, the camera turns to another audience member: the person who plays 'Uncle Zhang' in the mini-film. Later in the song, we can see he is wiping away tears, visibly moved.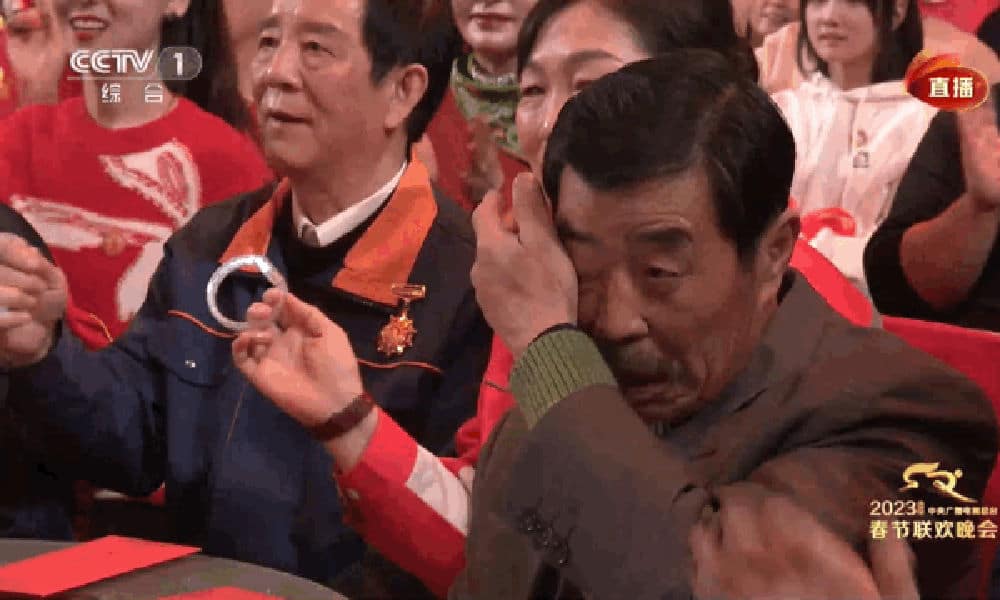 Why was he so moved? The older man in the audience, the main 'Uncle Zhang' actor in the film, is Jin Changyong (金长勇), and he actually is not a professional actor.
Somewhat similar to the character Zhang Jianguo, Jin Changyong or "Uncle Jin" (金叔) is a hardworking veteran from Hebei's Huailai County in Zhangjiakou.
Jin Changyong is a 63-year-old farmer who is also active at the Hebei Tianmo Film and TV Park doing security and logistics-related jobs. He served in the army for four years from the age of 19, as, among others, a military chef.
Director Zhang Dapdeng came across 'Uncle Jin' one day while shooting another film at the studio. While Jin was busy doing kitchen work, director Zhang saw him and, as he later recounts, was struck by his face that showed he had "lived through many changes" ("这种饱经沧桑的脸").
Zhang later invited Uncle Jin to star in the movie, and he also made sure Jin's own story played a role in the script.
This makes this short movie all the more special, something which has since been discussed on Chinese social media (#春晚微电影的主演是普通农民#).
The surprising twist in the story is how Zhang Jianguo tells other people he has just always been "too busy" to attend the Gala, while he had in fact already written to the show for 39 years with the hope of one day being invited.
Another noteworthy aspect of the film is how Zhang Dapeng chose to cast some of China's most celebrated actors as supporting roles to lift up the main character and actor, Jin, who was inexperienced and learnt from his fellow players.
In an interview, Jin expressed that the entire experience of playing in this short film left his overcome with emotion. After the filming had ended, he told reporters that he had sleepless nights because he had not received an actual invitation to the Spring Festival Gala yet, something which he so very much hoped for. Just one week before the show, that invitation finally came.
The fact that Jin, in a way, played a man like himself in the short movie has added to the film's popularity.
"I was sincerely moved by this film," one commenter wrote, with others saying: "This was the best program I've seen on the Gala over the past decade."
While some people also remarked that the short film seemed to have been influenced by The Grand Budapest Hotel by Wes Anderson, others praised it for its originality.
"This was just the best part of the night," several commenters said: "It made me cry."
"Zhang Pengda – a name to remember," others wrote.
You can watch the short film on Youtube here.
By Manya Koetse 
Get the story behind the hashtag. Subscribe to What's on Weibo here to receive our newsletter and get access to our latest articles:
Spotted a mistake or want to add something? Please let us know in comments below or email us. First-time commenters, please be patient – we will have to manually approve your comment before it appears.
©2023 Whatsonweibo. All rights reserved. Do not reproduce our content without permission – you can contact us at info@whatsonweibo.com.