"Opposing Dog Meat Consumption Is Hypocritical" – Weibo Discussions on Anti-Dog Meat Protests
Eating dog meat is a personal choice, many commenters argue.
WHAT'S ON WEIBO ARCHIVE | PREMIUM CONTENT ARTICLE

This article is more than 5 years old. The information in this article may not be up-to-date.
Last week's anti-dog meat protests in South Korea have triggered discussions on Chinese social media on the status quo of the dog meat industry in China. An overview of the sentiments on social media and the background of dog eating in the PRC.
South Korea's dog meat industry made headlines on Friday after protesters in Seoul, joined by actress Kim Basinger, called for an end to the decade-old dog meat trade in the country.
Not far from the protesters were farmers who raise dogs that are sold to restaurants. They brought steamed dog meat and ate it with kimchi.
In China, where the eating of dog meat has a long history, the Seoul protests triggered some discussions on social media.
Kim Basinger joins protest against the dog meat trade in Seoul https://t.co/tkW2rwkzbI pic.twitter.com/lVeqTUz4yA

— CNN International (@cnni) July 12, 2019
The hashtags "Hundred People Gather in South Korea to Stop the Eating of Dog Meat" (#韩国百人集会呼吁停食狗肉#) and "Big Protest in South Korea against Eating of Dog Meat" (#韩国大规模抗议吃狗肉#) received over 83 million views.
In South Korea, the overall demand for dog meat has plummeted over the years. Earlier this month, one of the largest dog meat markets in the country, the Gupo dog meat market, was shut down. In November of 2018, Seongnam city already demolished South Korea's largest dog slaughterhouse.
Friday's protesters hope to shut down dog meat trade in the country completely. The latest protests have put the thorny issue of the dog meat industry back in the limelight.
HYPOCRITICAL PROTESTS?
"I don't eat dog meat, but I don't oppose it."
On Chinese social media site Weibo, hundreds of netizens expressed their opinion on the matter, that has been a hot topic in China for years.
According to polls from the past and present, the topic of dog meat in China is clearly a divisive one.
But over the past few days a seeming majority of commenters on Weibo spoke out about the issue in a remarkably similar way, with thousands of netizens highlighting one issue in the matter: hypocrisy.
"I won't oppose to the eating of dog meat," one person writes: "Because if I support the anti-dog meat movement today, then tomorrow it will turn against the eating of cows, then the eating of pigs, and then the eating of fish.."
Many people on social media agree with this point of view, arguing that no matter one's personal ideas about dog meat, condemning the dog meat practice in specific would be hypocritical: "Pigs are so cute, why do we eat pigs then?" many say, with others arguing: "Aren't cows also spiritual animals?"
"I also raise dogs, I also love dogs," another commenter says: "But I think that if they legally breed dogs for the dog meat [industry], then we have no right to prevent them from doing so."
"I don't eat dog meat, but I don't oppose it, as long as it's legal it's ok," with others writing: "I am opposed to the eating of any living creature."
"Eating dog is not illegal, why all this sentimental nonsense? Why don't you also defend chickens, ducks, geese, pigs, sheep, and cows?!"
"As long as they're not abused, I don't see a problem with it."
"Dog meat is tasty," one commenter from Zhejiang writes: "I like it, although I rarely eat it. I don't see a problem with it, it's a personal choice."
SHORT OVERVIEW OF DOG EATING IN CHINA
"To them, dog meat was just like any other meat."
The tradition of dog eating in China can be traced back as far as the Shang Dynasty (ca. 1558 to 1046 BC), when dog meat was considered a delicacy for the upper class.
Later on in Chinese history, during the Han Dynasty (202 BC-220 AD), it became more and more common until the practice saw a general decline, especially in northern China, during and after the tenth century (Li et al 2017, 513-514).
Despite the rising and declining popularity of dog meat throughout China's history, the practice of eating dog has never completely disappeared, particularly in southern China.
In a book on China from 1878 by John Henry Gray, the author notes the popularity of restaurants serving dog and cat meat in 'Canton' (Guangzhou):
"I do not think (..) that I exaggerate in saying that there are no fewer than twenty such places in Canton. Each restaurant contains only one public apartment. The approach to this dining-room is generally through the kitchen, where cooks may be seen standing in front of slow fires over which the flesh of cats and dogs is being cooked. The flesh is cut into small pieces and fried with water chestnuts and garlic in oil. In the windows of the restaurant dogs' carcasses are suspended, for the purpose, I suppose, of attracting the attention of passengers" (75).
He further writes:
"The flesh of black dogs and cats is generally preferred because it is supposed to possess more nutriment than that of cats and dogs of any other color. At Ying-tong, a suburban district of Canton, a fair is held at which dogs are sold for food; and in one of the streets dogs and cats are daily exposed for sale. The dogs are put to death by strangling, stabbing, or felling with clubs" (76).
Something that has not changed since the days described in Gray's book is the belief in the medicinal benefits of dog meat.
Especially in summer, dog's flesh is believed to serve as an antidote against summer heat, and to be nutritious and beneficial as a source to enhance male virility or to boost the liver. Even at present, Chinese media promote the eating of dog meat to boost the immune system and help stimulate better blood circulation.
It should be noted that although China has a long history of dog meat consumption, it also has a long history of dog domestication and dog-human comradery. Dogs were pets, guarded the house, used in hunting, and also used in rituals of sacrifice.
Most of the 20th century (1900-1978) was a tough time for people in mainland China, and it was a tough time for dogs too. In many times, there was barely enough food to eat, and under Mao's rule, dogs were considered "parasites" and were outlawed as pets (Coren 2018; Li et al 2017, 514).
Those who kept pets were seen as part of the 'bourgeoisie,' and during the Cultural Revolution, pet dogs were reportedly seized and beaten to death in front of their owners (Coren 2008, ch. 21).
Much has changed since those days. Although (stray) dogs, as carriers of diseases and potentially aggressive, are often still considered a drain on society, having a dog as a pet has become much more commonplace in China since the late 1980s and early 1990s.
Eating dog meat has become less popular, especially among young people in China, who have grown up very differently from their parents and have different perceptions of dogs.
Chinese writer Bang Xiao looks back on the first time his mother served him dog meat during Chinese New Year, writing:
"For them, dog meat was just like any of the other meats, and coming from a generation who lived through famine and the Cultural Revolution, I was told I should be grateful. For me though, it meant I was eating my own pet Duo Duo. I cried."
Later on, he writes about his parents:
"They weren't "dog eaters". They were just people that happened to have a different history that led to different animals being on the menu."
THE YULIN DOG MEAT FESTIVAL
"Don't go, don't eat it, don't pay attention to it."
Despite the general unpopularity of dog meat in China, there is one time of the year when the discussions on the practice of dog eating flare up again, and that is during the Yulin Lychee & Dog Meat Festival, an annual event that's been held over the past decade in the Chinese city of Yulin intended to generate income from tourism (Brown 2018).
Some 10,000 to 15,000 dogs and cats are slaughtered during the 10-day event that starts on June 21st every year. The event attracts hundreds of people every day. There is a restaurant strip and a market where dozens of vendors cook various dog meat dishes in large woks and where live dogs are sold and slaughtered.
Although the voices of those people protesting the festival seem to grow louder year on year, the dog meat festival continues. It is not illegal, and its economic benefits have become of crucial importance for many in the city of Yulin.
A 2016 media survey held among 2000 people from various ages and places in China found that 64% of the people opposed to the festival, 52% thinks that dog meat should be banned in China, and 70% said they had never had dog meat themselves.
"Don't go, don't eat it, don't pay attention to it. When there's no business, the killing will stop," one Weibo commenter suggests.
A MURKY MARKET
"There does not seem to be a Chinese dog meat market that is both cruel-free and completely legal."
Apart from Yulin, the eating of dog meat is barely a celebrated tradition in China anymore.
For a What's on Weibo article from 2015, we could still find 122 restaurants listed as 'dog meat' specialty restaurants in the city of Beijing on restaurant site Dianping. But at present, Dianping no longer publicly lists any restaurants when searching for 'dog meat' specialty places (note that there still are restaurants serving dog meat, but they might not be listed due to controversy or for fear for activists).
China's biggest e-commerce websites sell different herb mixes for dog stews or dog meat hotpots (see tweet below), but the market could hardly be called thriving.
What to put on a package for spicy dog meat stew? A happy dog, of course🙄 #taobao #dubiousmarketing pic.twitter.com/XYsXBebYbB

— Manya Koetse (@manyapan) July 12, 2019
Yet, despite all those people on Chinese social media saying that eating dog meat should not be a problem for those who still want to eat it, China's dog meat market does actually have a problem.
China has no law that bans the eating of dogs; eating dog meat is a personal freedom. But what makes the issue murky and troublesome is that China actually has no large-scale legal dog farms, nor legal dog slaughterhouses.
The very few dog farms in existence in China would never be adequate to provide the meat for the industry in southern China, let alone for the estimated 10,000+ dogs slaughtered in Yulin every year.
It is therefore not clear where the dogs that are used for their meat in China come from. Are they stray dogs? Are they stolen from the streets? And if so, would this not be considered illegal (Brown 2018; Cao 2014; Yan 2015, 46)?
Every now and then scandals appear in the media of restaurants slaughtering and killing dogs that were actually people's pets (for example, this scandal in Jilin in 2018 or in Chengdu this year).
Another issue making the dog meat market a problematic one is the cruel treatment of the dogs.
China has seen countless of food scandals over the years, and some of them involve the selling of poisoned dog meat. As a result, many people have a general distrust in (frozen) meat products and want to make sure they are consuming good quality meat.
Dog meat markets such as Yulin, therefore, often sell living dogs. They are virtually like 'wet markets' for dogs, where those who want to eat dog meat can do so with the assurance that the meat they are eating is fresh and safe. The dogs are slaughtered at the spot or are sold alive for home consumption (Brown 2018).
The process of being transported, being displayed in tiny cases in the summer heat, and being killed in often cruel ways all add to the enormous stress and pain the animals at the live dog market are suffering.
China currently has no laws from the perspective of animal welfare to minimize the pain and suffering during transport, the selling, or at the point of slaughter (Brown 2018).
For the aforementioned reasons and more, festivals such as the Yulin Dog Meat one are getting more controversial year on year, with more and more Chinese calling for a boycott and a ban.
DISTORTED DISCUSSIONS
"If you eat dog meat of unknown origin, you might be participating in the killing of someone else's pet."
As the discussions on dog meat in China are ongoing following the South Korea protests, one blogger posted a survey asking netizens if they support the eating of dog meat.
Despite the many commenters who also defend the practice of dog eating, a majority of 67% percent among the 32.000 participants said they do not support it as "dogs are our friends."
A recurring sentiment expressed on Chinese social media on the issue is that there essentially is nothing wrong with eating dog meat – and that it would be hypocritical to only oppose to eating dog without also opposing eating sheep, cows, chickens, and so on – as long as it is legal, and as long as the dogs are not stolen, poisoned, or abused.
But that's the whole issue at hand: all those things are in fact happening in the dog meat industry today. It is difficult to discuss the eating of dogs based on the hypothetical assumption that these things are not occurring.
Consumers are not buying (frozen) meat from legal dog farms and certified dog slaughterhouses, they are mostly buying living dogs or dog meat from unknown origins, and the process of selling and slaughtering often goes hand in hand with cruel treatment.
"I don't oppose to eating dog, but I hate the dog trafficking market," one person says. Another commenter agrees, writing: "I don't oppose to the eating [of dogs] that are bred for it, but I do oppose to those who steal other people's dogs. Most of the dog meat I've seen comes from unknown origins. (..) If you eat dog meat that you don't know the origin of, you might be participating in the killing of someone else's pet."
For now, China and South Korea are very different when it comes to their dog meat industries and their (legal) changes. The countries do seem to have one thing in common, which is that the practice of eating dog meat is no longer popular among the younger generations.
This might suggest that as sales are dropping, the dog meat market will shrink and might eventually disappear altogether if there is no interest in it.
"Don't hype the dog meat festival," one Weibo commenter writes: "It's the hype that made it big and that led to more dogs being killed.
This basically reiterates the advice of one of the aforementioned commenters: don't go, don't eat it, don't pay attention to it, and the business will, eventually, die out.
Want to read more? Also see:
20 Facts About Dogs & Dog-Eating in China
The Yulin Dog Meat Festival: 10 Views From Chinese Netizens
Tradition or Abuse? Chinese Views on the Yulin Dog Meat Festival
By Manya Koetse
Want to see more articles such as these? Please donate to keep What's on Weibo going.
References
Brown. Hannah. 2018. "Yulin Lychee and Dog Meat Festival: A Shift in Focus." In: Tourism Experiences and Animal Consumption: Contested Values, Morality and Ethics, Carol Kline (eds), Chapter 15. London: Routledge.
Cao Yin. 2014. "Experts: Dog Meat Festival 'Illegal'." China Daily (June 16). Online at http://www.chinadaily.com.cn/china/2014-06/16/content_17589087.htm [6.23.16].
Coren, Stanley. 2008. The Modern Dog: A Joyful Exploration of How We Live with Dogs Today. New York: Free Press.
–. 2018. "What Is China's Current Attitude Concerning Dogs?" Psychology Today, Feb 21 https://www.psychologytoday.com/us/blog/canine-corner/201802/what-is-chinas-current-attitude-concerning-dogs [7.15.19].
Gray, John Henry. 1878. China: A History of the Laws, Manners, and Customs of the People (Volume II). London: MacMillan & Co.
Li, P. J., Sun, J., & Yu, D. 2017. "Dog "Meat" Consumption in China: A Survey of the Controversial Eating Habit in Two Cities." Society and Animals, 25(6), 513–532. http://doi.org/10.1163/15685306-12341471
Xiao, Bang. 2018. "Chinese New Year: Remembering how I first ate dog meat, and how differences bring us together." ABC, February 17 https://www.abc.net.au/news/2018-02-17/chinese-dog-meat-eating-linked-to-history-of-famine/9454394 [7.15.19].
Yan Wei. 2015. "Dog Meat Festival: Traditional Custom or Abuse?" Beijing Review (29): 46-47.
Spotted a mistake or want to add something? Please let us know in comments below or email us. Please note that your comment below will need to be manually approved if you're a first-time poster here.
©2019 Whatsonweibo. All rights reserved. Do not reproduce our content without permission – you can contact us at info@whatsonweibo.com
Explainer: Ten Key Terms and Concepts of the 20th CPC National Congress
Take a look at the essential keywords and concepts surrounding the 20th Party Congress.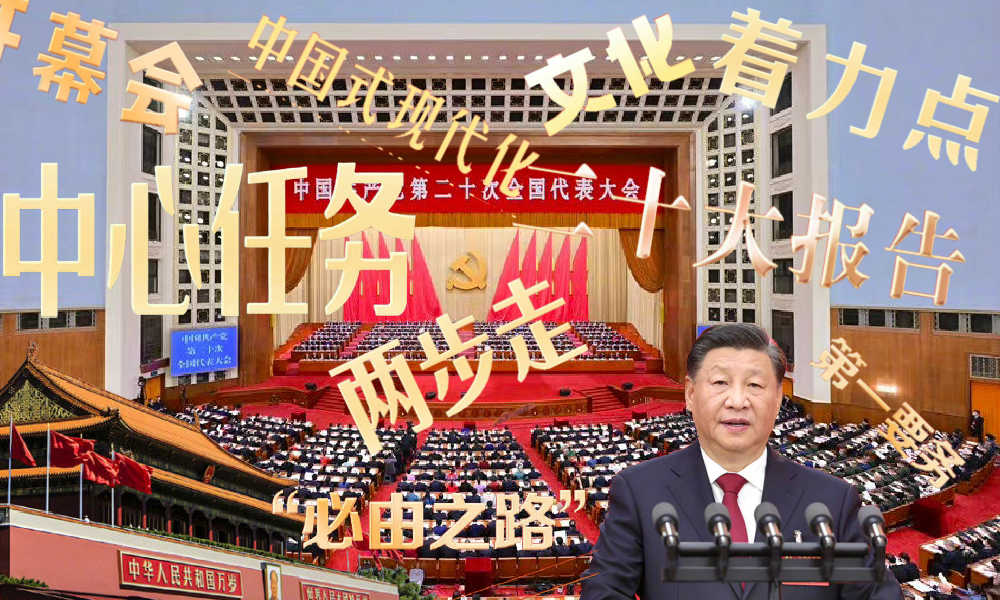 What are the key terms and concepts mentioned in Xi Jinping's speech that are propagated all over Chinese social media this week? Here, we explain ten important concepts and keywords that you are probably going to see much more of in the coming five years.
It is the week of the 20th CPC National Congress, China's quinquennial major political event that is all about discussing and deciding on important Party issues, appointing Party leadership and officially announcing new governance concepts, thoughts and strategies proposed by the CPC Central Committee.
The Party Congress opened on Sunday, October 16, when Chinese leader Xi Jinping delivered his nearly two-hour-long speech reflecting on the recent past and the future of the Communist Party and the country at large, signalling the direction China will be heading.
In our earlier article covering Xi Jinping's speech, we focused on how Chinese official channels turned parts of the work report into hashtags that were promoted on social media and then became trending topics.
Here, we will go over some of the terms and words that were used in the political report delivered by Xi and were propagated on Chinese social media as 'key terms' through general hashtags such as "Understanding These Key Terms from the 20th Party Congress Report," "Studying the Essence of the 20th Party Congress" or "The New Era and Journey of the 20th Party Congress" (#看懂二十大报告中这些关键词#, #学习二十大精神#, #党的二十大新时代新征程#).
During the 19th CPC National Congress in 2017, Party newspaper People's Daily published a vocabulary list containing 100 relevant words and terms. That list included terms such as "5G Era" (5G时代), "Sharing Economy" (分享经济), "The 20th anniversary of Hong-Kong's return to China" (香港回归祖国20周年), "Made in China 2025" (中国制造2025), and other key terms that were deemed relevant in 2017 for China's nearing future.
This Congress, there has not been a comparable official vocabulary list, but there have been various shorter lists and hashtags encouraging netizens to study key terms that are important to this year's Congress and the Party goals. Many of these terms are visualized in infographics or explained in online posts and articles.
We've gathered some of these key terms from Xi's speech here that are important to understand, not just for the fact that they are mentioned in Xi's speech but also because they are specifically highlighted by various official channels.
1. Modernizing the Chinese Way 中国式现代化
This concept was mentioned at least five times throughout Xi Jinping's address and it is one of most important themes of this Party Congress: "Chinese modernization" or "Chinese-style modernization" (中国式现代化 Zhōngguóshì xiàndàihuà).
While the 19th Party Congress was all about China's 'new era' (新时代), this 20th Party Congress term grasps the idea of further modernizing the country in a 'Chinese way,' meaning a type of modernization in which typically Chinese features and characteristics ("中国特色") are maintained.
This is a relatively new term. A tool that shows searches on the Chinese search engine Baidu indicates that it did not receive any significant amount of searches before spiking during the week 20th Party Congress.
The concept, however, did pop up in Chinese official media discourse since late 2021, such as in one article published by Xinhua News on September 27 in 2021 titled "Grasping the Main Features of the New Path of Chinese-Style Modernization" (把握中国式现代化新道路的主要特征)
The idea of Chinese-style modernization is closely related to other key concepts such as "common prosperity for all" (全体人民共同富裕 quántǐ rénmín gòngtóng fùyù) and "harmony between humanity and nature" (人与自然和谐共生 rén yǔ zìrán héxié gòngshēng).
2. The Central Mission 中心任务
The term "central mission" (中心任务 zhōngxīn rènwù) was mentioned at least once in Xi Jinping's address to convey how the central task of the CPC is to "unite and lead the people of all nationalities to build a strong socialist modern country," and to "promote the great rejuvenation of the Chinese nation with Chinese-style modernization."
Although the term "central mission" itself is not particularly tied to the 20th Party Congress at all, it is now because of how it is being used in the new context of the Party's 'main goal' in China's 'new era.' People's Daily also promoted a hashtag including this term: "The Communist Party of China's Central Task from Now On" (#从现在起中国共产党的中心任务#").
3. Top Priority 第一要务
The key term 'top priority' (第一要务 dì yī yàowù) refers to the Party pursuing the kind of "high-quality development" ("高质量发展") that will lead to the further modernization of the country.
"High-quality development" was also mentioned in the 19th Party Congress report in 2017 to indicate a shift and a new phase in China's economic development from a focus on high-speed growth to a focus on more high-quality development, which is also outlined in the 14th Five-Year Plan (2021-2025).
This means, among others, that there will be more focus on innovation-driven industries and technological advancement.
4. The "Two-Steps" Strategy "两步走"战略安排
In the segment of Xi's speech where he addresses China-style modernization in the new era, he also mentions the "two steps" strategy ("两步走"战略安排 "liǎng bù zǒu" zhànlüè ānpái). This is not a new term and it has been previously introduced as part of China's journey to becoming a strong, rejuvenated country – making China great again.
The two steps of this strategy are to realize 'socialist modernization' by 2035 and then to enter the next phase from 2035-2050 to build China into a "strong, democratic, civilized, harmonious and beautiful socialist modernization country." The year 2049 will mark the 100th anniversary of the People's Republic of China, and this is the moment when China's "great rejuvenation" should be completed.
5. The Road to Follow 必由之路
At the end of Xi Jinping's speech, he mentioned "the road to follow" (必由之路, bìyóuzhīlù) five times. On social media, the "road to follow" has been reiterated multiple times as well by official channels, including in a propaganda video published by CCTV.
The five 'roads to follow' mentioned in the Party Congress and in the state media videos are the following that are together presented as "the only road" the country and the Party must take. They are all linked together and are actually somewhat circular, namely:
– to develop socialism with Chinese characteristics, they must adhere to the overall leadership of the Party
– to achieve the "great rejuvenation" of China they must stick to socialism with Chinese characterics
– to reach this historic undertaking, they must be united in struggle
– to allow China to grow and develop in the 'new era,' they must implement the new concepts for development
– to be able to take this new road together & keep the Party full of vitality, they must follow the way of comprehensive and strict Party governance
6. Building Beautiful China 建设美丽中国
In the 20th CPC National Congress report, the idea of "building beautiful China" (建设美丽中国, jiànshè měilì Zhōngguó) was mentioned in the segment dedicated to the "green development" of China as part of its overall modernization. This includes environmental protection, pollution control, carbon reduction, and climate change awareness.
'Beautiful China' as a concept was first introduced during the 18th Party Congress in November of 2012 as part of China's long-term environmental protection plan within the context of people's welfare and the future of China.
7. Whole-process People's Democracy 全过程人民民主
This concept of 'whole-process people's democracy' (全过程人民民主, quán guòchéng rénmín mínzhǔ) is mentioned at least five times in Xi Jinping's 20th Party Congress speech and it is one of the political concepts and terms proposed by Xi himself as part of Xi Jinping's Socialist Thought with Chinese Characteristics for a New Era. It was mentioned in the speech Xi gave during the celebration of the Party's 100-year anniversary in 2021.
This so-called 'whole-process people's democracy' is officially presented as a 'process-oriented' democracy that, despite being different from Western democracy, supposedly "covers all aspects of the democratic process and all sectors of society" through a combination of elections, consultations, decision-making, management and oversight.
This idea of China having its own particular kind of democracy – or perhaps having invented a Chinese version of what 'democracy' actually means – also suits the idea of Chinese-style modernization, in which China's path to the future will not be like the route Western countries are taking, but instead combining modernization with Chinese features.
8. Socialist Culture 社会主义文化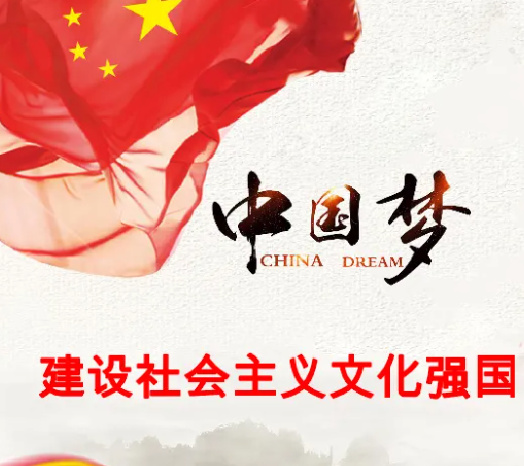 'Socialist Culture' (社会主义文化, shèhuì zhǔyì wénhuà) comes up at least four times in the 20th Party Congress report. The term represents a cultural side of China's modernization, and emphasizes that, in order to build a strong socialist country, there must also be a strong socialist culture.
Although not explicitly stated, official media propaganda inescapably plays an important part in the cultivation of a strong 'socialist culture' that is all about cultural self-confidence, cultural innovation, creativity, and 'spiritual energy.'
At time of writing, the Baidu Trends tool did not have enough information to show any relevant data on the search engine interest in this particular term, but the idea of 'socialist culture' is by no means a new one. "Socialist culture with Chinese characteristics" was already proposed by Jiang Zemin (江泽民) at the 15th CPC National Congress in 1997.
The idea that building a strong socialist culture is important for the further development of China has been further cultivated over the past few years under Xi's leadership. Also read this article in English titled "How to build a strong socialist culture" in Qiushi, the CPC Central Committee bimonthly.
9. Improve the Distribution System 完善分配制度
This phrase comes up once in the part of the 20th Party System report that disusses a fairer economic system with more equal employment & income opportunities and regulated wealth accumulation, encouraging hard work to get rich.
Although it is the first time that a regulation of wealth accumulation has come up in this way (and it is not explained what this actually means), the idea behind these concepts of the distribution system and wealth accumulation standardization is that of 'common prosperity,' one of the most important concepts guiding China's recent policymaking.
'Improve the distribution system' (完善分配制度, wánshàn fēnpèi zhìdù) was explicilty mentioned as one of the key concepts for this week's meeting by various channels, but it mainly is 'the regulation of wealth accumulation' that is featured in social media hashtags (#中国将规范财富积累机制#).
10. Focus 着力点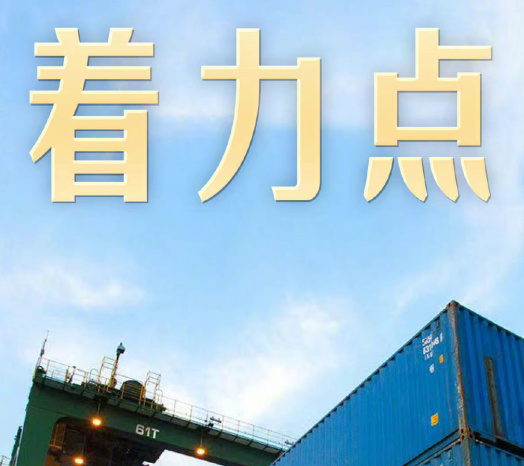 Many of the words or phrases propagated as 'key terms' for this 20th Party Congress are insignificant by themselves but are merely used to represent a bigger body of thoughts. The aforementioned "Top Priority," "Central Mission," and "Road to Follow" are all just words that only mean something within the context of Xi Jinping's speech.
Another example is "Major Principles" ("重大原则" zhòngdà yuánzé) which is also included by CCTV in this list of most important keywords, but which actually just goes back to the same ideas that are referred to in the other terms, namely strengthing the overall leadership of the Party, adhering to the road of socialism with Chinese characteristics, emphasizing people-centered ideology, etc. – which is similar to the idea behind the "Road to Follow" (必由之路) keyword.
Then there is the keyword "focus," 着力点 (zhuólìdiǎn), which is about the focus of China's economic development.
In China's coming years, the economic focus should be placed on the real economy (实体经济). This literally is also a hashtag promoted on Weibo by CCTV this week ("Put the Focus of Economic Development on the Real Economy" #把发展经济的着力点放在实体经济上#).
Different from the Financial Economy, the Real Economy is the realm of economy that is about businesses, production, and the direct exchange/purchase of goods or services.
Also part of this 'focus' is China's new industrialization, manufacturing, product quality, aerospace, transportation, new technology, and digital China. Another related term that is proposed as one of the keywords of this Party Congress is 'innovation' (创新, chuàngxīn).
Please check in with us again this week as we will keep an eye on social media trends surrounding the CPC National Congress. Don't forget to subscribe. For previous posts on the Party Congress, check here.
By Manya Koetse 
Get the story behind the hashtag. Subscribe to What's on Weibo here to receive our newsletter and get access to our latest articles:
Images via Weibo account of Communist Youth League, CCTV, and People's Daily.
Spotted a mistake or want to add something? Please let us know in comments below or email us. First-time commenters, please be patient – we will have to manually approve your comment before it appears.
©2022 Whatsonweibo. All rights reserved. Do not reproduce our content without permission – you can contact us at info@whatsonweibo.com.
"Guarding the Green Horse" – How China's Health Code System Provided Solutions and Generated Problems
The Health Code system and the 'Green Horse' meme have become part of everyday life in a zero-Covid China.
Since 2020, China's Health Code apps have become utterly ingrained in everyday life as a pivotal tool in the country's ongoing fight against Covid-19. What is the health code system, what are its implications, and why have so many Chinese netizens become obsessed with holding on to their 'green horse'?
This is the "WE…WEI…WHAT?" column by Manya Koetse, forthcoming publication in German by Goethe Institut China, visit Yì Magazin here.
There is the Grass Mud Horse,1 the River Crab,2 and now another mythical animal is living in China's social media jungle: the Green Horse. The Green Horse is a cute bright green horse-like animal, a treasured creature that will protect you during your travels and keep you safe from quarantines and lockdowns at a time of China's zero-Covid policy. The Green Horse will watch over you, but in return, you have to do everything you can to defend it.
'Green Horse' in Chinese is 绿马 lǜmǎ, which sounds exactly the same as the word for 'green code' (绿码), referring to the green QR code in China's Covid health apps, which have become a part of everyday life in China since 2020. In a social media environment where homophones and online puns are popular and ubiquitous, it did not take long for the 'green code' to turn into the 'green horse.'
China's health code system was designed as a solution to resume work and daily life during the pandemic and is widely praised in the country as a pivotal tool in combating the spread of the virus. But it has also given rise to new problems and has triggered resistance against a new kind of digital governance.
A SHORT INTRODUCTION TO CHINA'S HEALTH CODE SYSTEM
In February of 2020, when China was in the midst of the fierce battle against the novel coronavirus, the country's tech giants competed over who would be the first and the most efficient in providing digital solutions to aid the anti-epidemic fight.
Within eight weeks after the start of the initial Wuhan Covid outbreak, Alibaba (on Alipay) and Tencent (on WeChat) developed and introduced the 'Health Code' (jiànkāngmǎ 健康码), a system that gives individuals colored QR codes based on their exposure risk to Covid-19 and serves as an electronic ticket to enter and exit public spaces, restaurants, offices buildings, etc., and to travel from one area to another.
Hangzhou, Alibaba's hometown, and Shenzhen, Tencent's home base, were the first cities in China to introduce the Health Code in early February of 2020, and other cities soon followed in collaboration with either Tencent or Alipay. By late February, a nationwide health code system was first embedded in WeChat (Chen et al 2022, 619).
Now, people can receive their Covid-19 QR codes via 'mini programs' in Alipay or WeChat, or via other provincial government service apps. Apart from the personal health code apps, there is also the 'Telecommunications Big Data Travel Card' (通信大数据行程卡), better known as the 'green arrow code,' which tracks users' travel history and is also available inside WeChat or can be downloaded as a standalone app. Its goal is to track if you've been to any medium or high-risk areas over the past 14 days.
The health code system is not as centralized as you might expect it to be. Instead, it is fragmented and sometimes complicated. There are basically two kinds of Health Codes in China. One is the 'Health Information Code' (防疫健康信息码) provided by China's national government service platform (link) which can also be used by those without mainland ID cards (including people from Hong Kong, Macao, and Taiwan).
The other kind of Health Code, which is the one that is most used across China, is the local version of the health code system provided by each province/municipality. There are at least 31 different regional health code applications, from Beijing's 'Health Kit' (北京健康宝) to Shanghai's 'Suishenma' (随申码), from Jiangsu's 'Sukang Code' (苏康码) to Anhui's 'Ankang Code' (安康码). There are sometimes also separate health code apps being used within one province (e.g. in Shenzhen both the local Shen-i-nin 深i您 app as well as the Yuekang Code 粤康码 are being used).
These local Covid health apps are developed by different provinces and cities, and they are not always compatible with each other. This means that those traveling to different provinces or municipalities need to go through the inconvenient process of applying for different local health code apps depending on where they go. Although one single centralized system has been proposed ever since 2020, the process to unify the system is not easy since the various apps have varying functions and are managed by different local government departments (JKSB 2022; Lai 2022). In early September of 2022, China's National Health Commission announced that it was working with relevant departments to improve the interoperability and mutual recognition of health apps across the country.
Do you get a Green, Yellow, or Red QR code? That all depends on personal information, self-reported health status, Covid-19 test results, travel history, and more – the health code system operates by accessing numerous databases. The Green color means you're safe (low-risk) and have free movement, the Yellow code (mid-risk) requires self-isolation and the Red color code is the most feared one: it means you either tested positive or are at high risk of infection. With a red code, you won't have access to any public places and will have to go into mandatory quarantine. Once the quarantine is finished and you've consecutively tested negative, the code will switch back to green again.
By the end of 2020, around 900 million Chinese citizens were using Health Code apps and although there are no official records of the latest numbers, virtually anyone visiting or traveling anywhere within China will now use the health code system. Besides keeping records of your latest nucleic acid test results, the Health Code app also includes Covid vaccination records since 2021.
LEAVING THE ELDERLY BEHIND
Despite the efficiency of China's health code system, it has not been without controversy. One major issue is that it basically forces Chinese citizens to have a smartphone and to download and properly use these apps. This creates a problem for younger children, those without access to smartphones, or those with lower levels of digital skills, including senior citizens.
Although the use of smartphones, the internet, and QR codes are widespread in China, where mobile payments are far more common than cash, more than 60% of Chinese aged 60 years and over still did not use the internet in June of 2020. In China's 'Zero-Covid' era, it is becoming almost impossible for China's digital illiterate to live a 'normal' life.
Chinese authorities have attempted to simplify things for Chinese seniors by making platforms more user-friendly and introducing alternative ways to enter venues, such as offline codes. But at a time when systems differ per region and some venues do not have the tools to check offline (paper) codes, many elderly still struggle (see Gu & Fan 2022).
"They did nucleic acid testing in my grandma's community compound today," one woman from Shanxi writes on Weibo: "There are many elderly people in my grandma's area, and I saw that so many of them had no smartphones, just senior mobile phones, but now they have to swipe a code to make an appointment for testing. One grandpa asked a staff member what to do without a smartphone, they just said it would be better to bring your son or daughter to do it for you. But all results also are processed digitally, so there's no way for them to see it, and it's really not easy for them to go to public places."
On Chinese social media, there are many stories showing the difficult situations that some senior residents are caught up in because they do not have a smartphone or do not know how to get a Health Code.
In August of 2022, there was one viral story about an elderly man from Shandong walking ten kilometers every day because he could not take the bus without a health app. There was also another story about a visually impaired Hengyang resident who was unable to set up the code and was barred from using public transport. In May, a 70-year-old man got stuck inside the Wuxi train station for three days because he had no smartphone and had to scan a code in order to leave.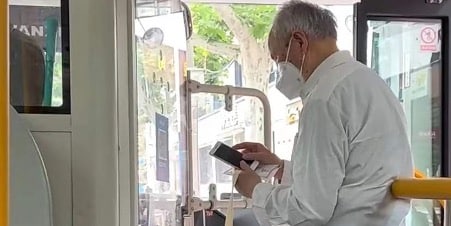 In another video that went viral, an old man got on a bus in Shanghai but had a hard time using his mobile phone to do the 'venue check-in' (场所码). When the bus driver got impatient, the man eventually got off the bus, saying he felt bad about delaying the other passengers.
"Heartlessness is scarier than the epidemic," some Weibo commenters wrote in response.
RED CODE: CONTROVERSIAL DIGITAL GOVERNANCE
Another problem that concerns netizens in this Health Code era is that the code could pose an infringement of privacy and could be abused to limit citizens' freedom of movement for reasons that are unrelated to Covid-19. There are still unclarities surrounding the app, such as what kind of information is exactly being collected, who is authorized to access the data, and how the data is processed and stored (Zhang 2022, 2).
Some people complain on social media that they do not understand why their Health Code is changing colors: "After I did a Covid test the other day, my Health Code was green. The day after, I woke up to a yellow code and after I had done my nucleic acid test again, it was still yellow. On the third day, it turned green. In the afternoon it turned yellow again. On day four, it was green again. Besides doing tests, I've been at home all this time. I'm stupefied."
One incident where people who came to the city of Zhengzhou to protest suddenly saw their Health Codes turn red sparked major outrage on Chinese social media in June.
Earlier this year, thousands of Chinese depositors struggled to recover their savings in light of a major banking scandal in Henan Province. When dozens of affected depositors traveled to the provincial capital of Zhengzhou in June of 2022 to demand their money back, they suddenly saw their Health Codes turn red. The red code was unexpected and strange, considering that there were no new reported Covid cases in their vicinity. Accompanying family members who made the exact same journey reportedly did not see their Health Codes change, raising suspicions that the duped depositors were specifically targeted and that their Health Codes were being manipulated.
"Who is in charge of changing the Health Code colors?" became a much-asked question on social media platform Weibo, with many blaming local Henan authorities for abusing their power and trying to stop rural protesters from raising their voices in Zhengzhou. Although Henan authorities claimed they did "not understand" what had happened, five local officials were later punished for their involvement in assigning red codes to bank depositors without authorization (Wu 2022).
The incident sparked more discussions on the legal and privacy risks surrounding the health code system. Although many people in China support the use of Health Code apps (also see Chen et al), there is also a fear that a lack of transparency and management could allow the health code system to turn into a surveillance tool used by the wrong people for the wrong reasons.
The influential media commentator Hu Xijin also gave his view on the matter, saying that Health Codes across the country should only be used for "pure epidemic prevention purposes."
"The fact that Henan can make the health codes turn red of people who come to the city to protest says a lot about the power of the IT," one Weibo tech blogger wrote. Another Weibo user wrote: "As ordinary people, we have voluntarily given up too much of our personal privacy and rights in order to cooperate with the epidemic prevention. The current abuse and misuse of health codes have caused serious infringement on the legal rights of citizens (..) The state should quickly incorporate health codes into a unified system and place it under strict management, and once the epidemic is over, the health code system should stop running immediately."
A GREEN HORSE FUTURE?
But will the Health Code and the 'Green Horse' ever disappear from daily life in China? And if so, how would the collected data be handled? Although the pandemic era is not over yet (and the question remains what would qualify as 'the end'), local Chinese governments and tech firms are already looking to see how the health code system could be implemented and how its uses could be expanded in a post-pandemic future (Chen et al 2022, 619).
Back in 2020, the China Healthcare platform (健康界) already published an article exploring the post-pandemic use of the health code system as a digital health passport and information system that could continue to play a significant role in medical care, social security, public transportation, and tourism.
On social media, some people worry that the health code system – and everything that comes with it – is here to stay indefinitely. One Henan-based blogger wrote: "In the future, I hope my son will visit my grave and tell me, 'dad, now we no longer need our Health Code, nucleic tests or masks when we go to the malls and take trains or airplanes.'"
"If I would wake up tomorrow in a world without health codes, travel codes, Covid tests, lockdowns, wouldn't that be great," another person wrote on Weibo, another netizen adding: "My health code is normal. My nucleic acid test is normal. It's just my mental state that has become abnormal."
The fears of receiving a 'Red Code' are also palpable. Earlier in summer, videos showed people in Shanghai fleeing out of a local mall once they heard that someone in the building had received notice of an abnormal test result.  The same happened at a local IKEA store. Afraid of Health Codes turning red and getting locked in, people rushed to get out as soon as possible. Some even compared the scenes to a 'zombie apocalypse.'
Although there are serious concerns regarding the health code system, social media users also make light of it through the 'Green Horse' meme. The phrase "Bàozhù lǜmǎ" (抱住绿码/马) is often used on Chinese social media, a wordplay meant to mean both "Keep your code green" as well as "Hold on to your Green Horse."
Following the trend, Wuhan set up a giant green horse at a public square in the city, which soon became a popular place for people to take selfies. The meme is also a profitable one for businesses. On Chinese e-commerce sites, you'll find there are 'Green Horse' keychains, stickers, toys, mooncakes, and coffee mugs.
As cases of Covid surged again in Chengdu, Shenzhen, and elsewhere in late August and September, worries over 'keeping the green code' grew again among those living in affected regions. One local Weibo blogger wrote: "I just couldn't sleep the past few days, I kept checking my green code and latest Covid test results. It makes me anxious."
"I feel safest at home," others write: "This is where I can guard my Green Horse."
"I hope this epidemic will go away soon," one netizen wrote: "I hope we can all have our Green Horse and just keep it."
By Manya Koetse
Follow @whatsonweibo
1 Grass Mud Horse or Cǎonímǎ (草泥馬) is one of China's social media 'mythical creatures' and an online meme. It is a word play on the vulgar Mandarin term càonǐmā (肏你媽), which literally means "f*** your m*m."
2 River Crab is another 'mythical creature': Héxiè (河蟹) is literally 'river crab' but sounds the same as héxié (和谐),"to harmonize," referring to online censorship.
References (other sources linked to inside the text)
Chen, Wenhong. Gejun Hang, and An Hu. 2022. "Red, Yellow, Green, or Golden: The Post-Pandemic Future of China's Health Code Apps." Information, Communication & Society 25 (5): 618-633.
China Healthcare 健康界. 2020. "国家卫健委推行"一码通"健康码未来不止于"通行."" CN Healthcare, 21 December https://www.cn-healthcare.com/article/20201221/content-547951.html [Accessed 22 Aug, 2022].
Gu, Peng and Yiying Fan. 2022. "In 'Zero-COVID' China, the Elderly Are Becoming Ever More Marginalized." Sixth Tone, 9 Aug https://www.sixthtone.com/news/1010908/in-zero-covid-china-the-elderly-are-becoming-ever-more-marginalized [Accessed 22 Aug, 2022].
JKSB 健康时报网 [Health Times]. 2022. "国家健康码和地方健康码区别何在?专家:国家平台更接近理想状态." JKSB, August 27 http://www.jksb.com.cn/html/redian/2022/0827/177853.html [Accessed 1 Sep, 2022].
Lai, Xianjin. 2022. "Unified Health Code Can Bring More Convenience, Efficiency." China Daily, April 6 https://global.chinadaily.com.cn/a/202204/06/WS624ccc73a310fd2b29e55269.html [Accessed 31 August].
Liang, Fan. 2020. "COVID-19 and Health code: How Digital Platforms Tackle the Pandemic in China." Social Media + Society (Jul-Sep): 1-4.
Wu, Peiyue. 2022. "Zhengzhou Officials Punished Over Red Health Code Saga." Sixth Tone, 23 June https://www.sixthtone.com/news/1010627/zhengzhou-officials-punished-over-red-health-code-saga- [Accessed 22 Aug, 2022].
Zhang, Xiaohan. 2022. "Decoding China's COVID-19 Health Code Apps: The Legal Challenges." Healthcare 10 (1479): 1-14.
Featured image by Ama for Yi Magazin.
This text was written for Goethe-Institut China under a CC-BY-NC-ND-4.0-DE license (Creative Commons) as part of a monthly column in collaboration with What's On Weibo.
Spotted a mistake or want to add something? Please let us know in comments below or email us. First-time commenters, please be patient – we will have to manually approve your comment before it appears.
Subscribe to our newsletter
Stay updated on what's trending in China & get the story behind the hashtag
Sign up here to become a premium member of What's on Weibo today and gain access to all of our latest and premium content, as well as receive our exclusive newsletter. If you prefer to receive just our weekly newsletter with an overview of the latest, you can subscribe for free here.
Would you like to become a contributor, or do you have any tips or suggestions for us? Get in touch with us here.