China's Noodle War Has Just Begun
An issue over noodles in the south of China has gotten so out of hand, that the government has to intervene. China's most famous noodles, Lanzhou Beef Noodles, are at the center of this dispute. The main question: who's the boss in the world of Chinese Noodles?
An issue over noodles in the south of China has gotten so out of hand that the government has now stepped in. China's most famous noodles, Lanzhou Beef Noodles, are at the center of this dispute. The main question: who's the boss in the world of Chinese noodles?
Lanzhou Beef Noodle (州牛肉面) is one of China's most famous dishes. It originated in Lanzhou, the largest city of China's northwestern province of Gansu. The dish is also simply called 'lamian', the Chinese word for 'noodle' (the Japanese 'ramen' is based on this word). In 1999, Lanzhou Noodles were identified as one of China's three major 'fast foods', together with Beijing Quanjude Roast Duck and Tianjin Goubuli steamed buns.
Recently, a feverish debate has erupted over Lanzhou Beef Noodles. Who is entitled to use its name and have a monopoly position within its business? The topic became trending on Sina Weibo under the hashtag of "the factional struggle over Lanzhou Noodles" (#兰州拉面派系之争#), after a big Lanzhou Noodle chain in Shenzhen called 'Oriental Palace' was boycotted by locals, who literally blocked customers from entering the restaurant.
Breaching the 'noodle norms'
On June 8, Weibo blogger Li Shu Shirin (李舒shirin) posted pictures of a protest outside a newly-opened Oriental Palace Lanzhou Noodle restaurant. The blogger described how several men sat outside the restaurant door, preventing customers from coming in. Others stood near the entrance holding up signs saying things like "this restaurant breaches the noodle norms!", while some used loudspeakers to tell the shop owners to go away. The pictures quickly attracted the attention of Weibo's netizens.
The Oriental City restaurant, blocked by protesters.
The protesters blocking the store are Qinghai people; a group of noodlemakers that originally is from the northwestern province of Qinghai, bordering on Tibet. The people from Qinghai are famous for setting up Lanzhou Noodle shops all over China, supposedly regarding themselves as the 'true' Lanzhou noodlemakers. In their perspective, China's new big noodle franchise stores, such as Oriental City, take away their customers. More importantly: they breach the long-standing tacit agreement in China's world of noodles that a new Lanzhou Noodle shop shall not open its doors within 400 meters an existing one. Along with other franchise stores, the Shenzhen Oriental Plaza neglected this 'norm', and opened its restaurant near another (Qinghai-owned) Lanzhou Noodle shop, much to the dismay of local noodleshop owners.
Oriental Palace (full name: Oriental Palace China Lanzhou Beef Noodles,东方宫中国兰州牛肉拉面) was first opened in 2010 and has been rapidly expanding ever since. Especially in the southeast, home to many Qinghai 'Lanzhou Noodle' shops, Oriental Palace has not received a warm welcome. Ma Jun, CEO of the Oriental Palace Lanzhou Group, told reporters: "Our shops have been boycotted ever since we started, but we are doing nothing wrong – we always operate according to the laws." He also revealed that the Lanzhou government has now stepped in to resolve the issue, and that it will help to find a solution for Qinghai and Lanzhou noodle companies.
Will the real Lanzhou noodlemaker please stand up?
So what is this connection between Qinghai and Lanzhou noodles? Since the 1980s, Qinghai peasants were the first to start their own noodle shops businesses in the southeast of China. Throughout the decades, more and more people from Qinghai started to sell beef noodles in different cities all over China. According to research, about 60 to 70 percent of all Lanzhou Noodle Shops across China are now run by people from Qinghai. People from the Qinghai muslim Salar ethnic group approximately have 30,000 beef noodles shops in over 100 Chinese cities. Without the influence of Qinghai's noodlemakers, Lanzhou Noodles would arguably not have been as famous as they are today – its popularity has also spread to Singapore and Malaysia.
Although the Qinghai- and Lanzhou-made noodles are practically the same, and both call themselves 'Lanzhou noodles', there are some subtile differences according to specialists. The main difference lies in how the broth is cooked. Traditionally, the Qinghai broth needs to be cooked three times. The noodles are supposed to be hand-made. And, originally, they use over 30 different ingredients; from yak meat to butter and ox bones.
Relying on the 'noodle economy'
Qinghai noodlemakers now face fierce competition from China's upcoming big noodle chains. Major companies such as Jin Ding, Oriental Palace, Malan Noodles or Master Huang have spread over the entire country, with over 20,000 restaurants nationwide. Generally, Qinghai noodle shops are run privately, and do not operate as chain stores. Since about half of Qinghai peasant rely on the "noodle economy" revenue for their income, the rise of China's big noodle stores is a nightmare for many. The fact that these big chains do not stick to their gentleman's agreement of not opening new shops nearby existing ones only adds fuel to the fire.
Left: Oriental City chain, right: a small-scale Qinghai shop.
Many Weibo netizens do not agree with the Qinghai protesters, and speak out in support of Oriental City. Netizen Qinlong Fu Hanjun (秦陇复汉军) says that as long as restaurants operate according to the law, other groups have no say in their business – that would be against the principle of a free market economy. Another user says: "You simply cannot call Qinghai-made noodles 'Lanzhou Noodles' – to do so is actually fake."
But there are also other netizens who think that if there truly is a norm for noodle shops to not open up new stores within 400 meter of another, then companies should adhere to it.
"The Lanzhou government should take responsibility for this issue," one netizen says on Sohu: "The people from Qinghai have been opening up so many restaurants under the banner of 'Lanzhou', but Lanzhou has only started to promote their own noodles over the past few years."
"Why don't you just call your own noodles 'Qinghai noodles' instead of 'Lanzhou noodles'?" another Sohu commenter says: "In that way, other Lanzhou Noodle Shops can just open up nearby without any problems. If you don't like other noodle shops opening up, just stick to your own noodles!".
The unrest near China's big noodle chains and the disagreement amongst netizens shows that this noodle war has only just begun. For noodle lovers, it's nothing but good news; Lanzhou-made and Qinghai-made noodles will soon be on even more corners of China's cities.
By Manya Koetse
Follow @WhatsOnWeibo
©2015 Whatsonweibo. All rights reserved. Do not reproduce our content without permission – you can contact us at info@whatsonweibo.com.
Another Hotpot Controversy: Famous Food Critic Wants Hotpot Gone
Hotpot discussions are getting heated.
One of China's most famous food critics would rather see hotpot disappear, but hundreds of Chinese netizens do not agree at all.
After a hotpot restaurant became top trending on Weibo yesterday for recruiting 'Ivy League' graduates as waiters, another hotpot controversy has hit Chinese social media.
This time, the renowned Hong Kong food critic and cookbook writer Chua Lam (蔡瀾, Cai Lan) has stirred discussions among Chinese netizens over comments he made during an appearance on the Hunan TV talk show Day Day Up (天天向上/Tiantian Shangtian), SupChina and The Guardian reported on January 3rd.
When asked by one of the hosts of the show what dishes he would love to see disappear from the world, Chua answered: hotpot.
"Hotpot is the cooking style that lacks culture the most," the food critic added: "You just throw the ingredients in there, there's nothing tasty about it." Because the hotpot allegedly has no cultural significance and because the cooking style is so easy, the critic suggested it might as well disappear altogether.
Chua Lam is a popular personality on social media. On his Weibo account, he has more than ten million fans.
Read the full story at Hotpot Ambassador here.
By Manya Koetse
Follow @whatsonweibo
Spotted a mistake or want to add something? Please let us know in comments below or email us.
©2019 Whatsonweibo. All rights reserved. Do not reproduce our content without permission – you can contact us at info@whatsonweibo.com
Hotpot Restaurant with High Standards Goes Viral: Waiters Required to Have 'Ivy League' Diploma
Top-notch hotpot restaurant asks for top-notch waiters – stirring controversy online.
Marketing stunt or serious job requirement? This new Zhengzhou hotpot restaurant, that seeks to recruit ten 'Ivy League' graduates as waiters, has become the talk of the day on Chinese social media.
The job announcement of a new Chinese hotpot restaurant has gone viral on Weibo, as the new establishment requires that persons who apply to work as a server to have a degree at a "985" ('Ivy League') university.
The job requirements of the restaurant, which is located in Zhengzhou, Henan province, started attracting online attention on December 30. By January 2nd, the hashtag 'Hotpot Restaurant Requires 985 Diploma in Recruiting Waiters' (#火锅店招服务员要求985#) had received over 290 million views (!) on Sina Weibo.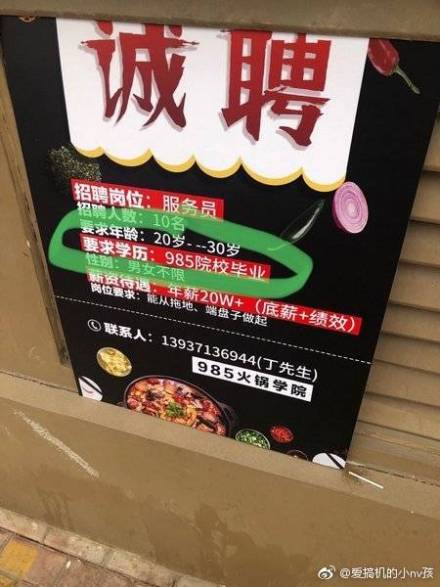 Some Weibo netizens said the recruitment announcement was an "insult" to those who have graduated from one of China's top universities, while others denounced the hotpot restaurant for purposely building hype to drive more customers to the new establishment.
"What does being a '985' graduate have to do with being a waiter?", one popular comment said: "To be kind-hearted and responsible is what matters." Others sarcastically comment that home delivery staff might be required to hold a PhD degree in the future.
The so-called "985 Project" was launched in 1998 by former President Jiang Zemin at the 100th anniversary of Peking University on May 4th of that year (985 refers to 1998, May). It was meant to raise the number of (internationally recognized) first-rate universities within China. China's '985' universities include, among others, Fudan University, Peking University, and Tsinghua.
The job announcement of the new Zhengzhou hotpot restaurant does not completely come out of the blue. The restaurant itself is also called "985 Hotpot College" (985火锅学院), and its outside appearance seems to be themed around the '985' idea.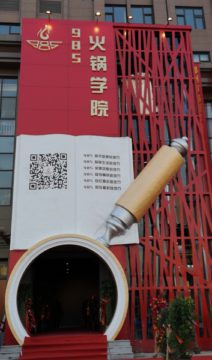 The restaurant's job advertisement states that the establishment is looking to recruit ten graduates between the ages of 20 and 30. The annual salary is approximately 200,000 RMB (±US$29,000), which is almost 2,5 times more than the local average pay and up to 8 times more than what waiters in Zhengzhou usually make, according to this Beijing Evening News article.
On January 2nd, the restaurant responded to all the commotion its job advertisement has caused, saying that "every person and organization has the right to pursue their dreams" and that they were hoping to find the right talents to "grow [the business] together."
Despite the fact that hundreds of netizens condemn the restaurant's call for 'Ivy League' waiters, there are also those who do not see a problem: "The business has the freedom to choose their own standards, and graduates also have the freedom to apply there or not," some write.
Hotpot restaurants are incredibly popular and common in China. The ubiquity leads to hotpot establishments becoming more and more competitive. In recent years, 'themed' hotpot restaurants have popped up like mushrooms in China's bigger cities, trying to attract customers with their unique concepts, such as revolution-themed hot pot restaurants, robot-themed hotpot places, or even classroom-themed hotpot.
The "985 Hotpot College" will have its highly educated waiters as a unique selling point. Whether or not their hot pot is tasty or not, however, is still unsure – despite the recent hype around the restaurant, its Dianping rating page is still awfully empty.
Want to know more about hotpot? Visit our sister site Hotpotambassador.com here.
By Manya Koetse
Follow @whatsonweibo
Spotted a mistake or want to add something? Please let us know in comments below or email us.
©2019 Whatsonweibo. All rights reserved. Do not reproduce our content without permission – you can contact us at info@whatsonweibo.com