China's Twenty Trending Covid Rule Changes and One Big Red Map
These are China's new rules regarding the "further optimization of the Covid-19 epidemic prevention and control."
The Covid-19 tracking map of China is turning red: Xinjiang, Gansu, Qinghai, Inner Mongolia, Shanxi, Henan, Hubei, Guangdong, and Heilongjiang are among the provinces that have turned into 'high-risk' provinces where more than 100 new Covid cases have been detected around November 10-11, nearly three years after the start of China's Covid-19 outbreak.
There currently are 3930 'high risk regions" in mainland China, and the epidemic situation keeps dominating discussions on Chinese social media.
"My entire Weibo timeline is just filled with complaints about the epidemic situation," one Zhejiang-based Weibo user wrote on 11 November.
Xinjiang is the province in China that is currently seeing the highest number of new Covid cases. On November 10, the topic of Xinjiang detecting 657 new asymptomatic cases of Covid triggered online discussions on Weibo (#新疆新增无症状657例#).
Xinjiang has seen various lockdowns throughout the region since the summer of this year, but the harsh measures could not prevent the further spread of the virus. In October, residents were banned from leaving Xinjiang over more Covid-19 outbreaks, just weeks after restrictions were eased. Many areas of Ürümqi, the capital of Xinjiang Uyghur Autonomous Region, were placed back under lockdown again.
"We've been in lockdown for so long, and cases are still rising?! Where is the root of the problem? Is there no control? How come there are still hundreds of new cases? I don't know what to say anymore. The people of Xinjiang have already gone through so much," one popular post on Weibo said.
At the same time, newly announced measures to further optimize Covid prevention and control work also went trending on Weibo on November 11, receiving over fifty million views (#进一步优化防控工作的二十条措施公布#).
The Twenty Trending Covid Measures
On November 11, China's National Health Commission published an official notice regarding the "further optimization of the Covid-19 epidemic prevention and control measures."
As emphasized in state media reports on the notice and the meeting of the Standing Committee of the Political Bureau of the CPC Central Committee preceding it, China will unwaveringly stick to its dynamic zero-COVID policy and the measures are therefore not presented as a 'relaxation' of Covid-19 measures but rather as a way to make existing rules more efficient.
In short, these are the 20 announced measures (this is not a literal translation, just an explanation):
1. For close contacts of someone who has Covid-19, the "7-day centralized isolation + 3 days home health monitoring" measures have been adjusted to "5+3," meaning 5 days of centralized isolation and 3 days home isolation.
2. Although close contacts will still need to go to centralized isolation, the close contacts of close contacts ('secondary contacts') will no longer be identified.
3. The 7-day centralized quarantine for people who return from a 'high risk area' will be turned into a 7-day home isolation.
4. Instead of 'high' – 'medium' – 'low' risk categories, zones will now be labeled as either 'high' or 'low' risk. High risk zone will be automatically downgraded to low risk zone after 5 consecutive days of no positive cases.
5. High-risk people who come from a closed loop working system will need to stay at home for 5 days and monitor their health, instead of being isolated for a week.
6. Nucleic acid testing should generally not be carried out for the entire population by administrative area, but instead the testing campaigns should be more local and precise.
7. The so-called "circuit breaking mechanism" under which China-bound flight routes were suspended for two weeks if an airline was found to carry a certain number of passengers testing positive for Covid will be abolished. Inbound travelers will need to have one certificate of a negative Covid test within 48 hours, instead of two.
8. Important business personnel or athlete groups etc. will not need to undergo an isolation period, but instead they will enter a 'closed-loop bubble' system for their business meetings, trainings or other activities; they will be transferred from place to place and cannot exit their bubble (the Winter Oympics in Beijing also had this system in place).
9. The Ct (cycle threshold) value of nucleic acid tests of international travellers will need to be less than 35. Those travelers showing a Ct value of 35-40 have to undergo further evaluation on virus transmission risk.
10. There will be a shortened quarantine period for international arrivals, going from a total of ten days to a total of eight days: instead of seven days of centralized quarantine and three days of health observation at home, in-bound travellers will be able to do five days of quarantine and three days of health observation at home.
11. There will be more focus on increasing resources for treatment of Covid patients, from ramping up stockpiles of Covid-19 drugs and medical equipment, to a further training of medical staff and a better preparation of inpatient and IC beds.
12. There will be more focus on further speeding up China's vaccination and booster campaign, especially for the elderly population.
13. Research and development of Covid vaccines and drugs to treat Covid patients needs to be accelerated, especially to protect the elderly and the most vulnerable populations in China.
14. The overall protection of vulnerable groups in society, including senior citizens, pregnant women, immunocompromised patients, etc. will be further strengthened through health safety programs and effective Covid management of places where more vulnerable populations reside, including care homes and psychiatric hospitals.
15. There will be an increased focus on the effective implementation of the principle of the 'four early' measures to avoid large breakouts (early detection, early reporting, early isolation, early treatment).
16. Excessive Covid measures are not the way: there should be no 'one-size-fits-all' approach to local outbreaks, which also means no arbitrary lockdowns of schools or entire cities.
17. Local communities are required to improve the food supplies/distribution for residents who are isolated amid local lockdowns. Communities must have certain relevant information about local residents regarding their status; who lives alone, who is pregnant, who is elderly, or otherwise more vulnerable? Residents should always have access to emergency help.
18. On-campus epidemic control must be consistent, precise, and in accordance with science. There can be no unnecessarily long lockdowns of campuses.
19. The bigger enterprises/industrial parks should be consistent, clear, and precise about their epidemic prevention and control measures from the grassroots up, making sure the system of checking who gets in & out gets properly checked, etc. is in order. Basically, these companies should do all they can to ensure the smooth flow of logistics and to make sure production can safely continue.
20. People, or groups of people, who are left stranded amid a local outbreak should get timely help and receive assistance in getting evacuated.
Online sentiments
After the announcement of the twenty measures, questions linger on Weibo. Many people ask when these measures will be implemented.
"The joy after the release of the twenty measures was subdued by the grievances on Weibo," one Weibo user wrote, while some Ürümqi locals wrote: "So when will our lockdown be lifted? I can't tell black from white anymore."
Besides Xinjiang, people in other regions are also concerned about the epidemic situation. There are a lot of complaints from Chongqing, for example (#重庆新增本土感染者783例#), but also from Zhengzhou, Guangzhou, and other cities and areas in high-risk provinces.
"These cities all did a good job in their anti-epidemic control but it's now all gone to ruins, this shows that the virus can't be controlled, and there is no way to eliminate it. We need to be ready for it and to live with it," one Weibo commenter wrote.
"Of all the twenty measures announced, I think number 11 is most important," one Weibo user wrote: "We need to increase medical resources."
Another commenter said: "The Dynamic Zero Covid policy isn't changing. Just because you're updating the software doesn't mean you have a new computer."
One Shanghai blogger wrote: "I found that the so-called 'anti-epidemic fans' are two types of people. They are either those who are carefree, either children or those whose work has not been affected by the pandemic; and then those who have not experienced a lockdown themselves, they do not understand the difficulties of a lockdown and how they prevent you from making a living. For them, Covid is far removed from their reality, so they just do not get it."
Despite all criticism from those who think nothing is going to change, some also express worries about the things that might now change. As one Weibo user wrote on November 12:
"To be honest, I wasn't anxious at all at the beginning of the epidemic, because I knew the government would control everything. But yesterday and today I began to be very worried because we are actually already easing [measures]. Once we let go, the epidemic will really break out. There will be mass infections and deaths. I'm not necessarily afraid of getting infected, I can take some Chinese medicine and I'm sure I'll be ok, but we don't know the long-term effects."
Overall, there is a sense of anxiousness in the online responses to China's current Covid outbreaks and the new Covid measures. There are those who are anxious about when their current lockdowns will finally come to an end, and then there are those who are worried about what a possible 'easing' of measures might actually mean.
The majority of people at least agree on one thing: there is no easy way 'out.' This might just become a long, long winter.

By Manya Koetse
Follow @WhatsOnWeibo

Get the story behind the hashtag. Subscribe to What's on Weibo here to receive our newsletter and get access to our latest articles:
Spotted a mistake or want to add something? Please let us know in comments below or email us. First-time commenters, please be patient – we will have to manually approve your comment before it appears.
©2022 Whatsonweibo. All rights reserved. Do not reproduce our content without permission – you can contact us at info@whatsonweibo.com.
Chinese Commentator Hu Xijin Expects to "Get Covid Within a Month" (and Why It Matters)
This Hu Xijin commentary can be seen as part of a wider trend of normalizing Covid in the Chinese online media sphere.
Hu Xijin (胡锡进), the Beijing-based retired editor-in-chief of the state-run Global Times, recently published a post on the Chinese social media platform Weibo about him getting mentally ready to be infected with Covid-19 soon.
The former journalist Hu, whose posts and statements often go trending and influence public opinion, also made a few other noteworthy comments.
On Sunday (Dec 4), Hu posted: "Over the past week, China has essentially ended widespread lockdowns, with places like Beijing and others beginning to allow home quarantine for many positive individuals, while reducing the scope of nucleic acid testing. These are amazing changes."
Four weeks ago, right before China introduced its twenty new Covid measures, Hu already argued that strict lockdowns are no longer sustainable and that China should aim for a more relaxed and local approach (which is exactly what happened).
Now, Hu Xijin says that he is "mentally preparing to be infected with Covid within the coming month" ("做好了在一个月之内被感染上的思想准备"), further writing:
"In order for young people to have a colorful young era, in order to save the livelihood of so many service industry workers, in order for people from all walks of life to avoid seeing their wages cut, in order for so many companies to get out of their predicaments, this 62-year-old 'Old Hu' is willing to participate in the risk of getting [a virus that] degenerated to only 2.5 per 10,000 rate of getting seriously ill."
Hu's post was published on December 2nd in the context of Hu Says, a regular video column by Hu Xijin.
A few months ago, such a comment coming from such a big account would have been unthinkable.
In May of this year, those who tested positive still complained about suffering from stigmatization in society.
But Hu's comments come at a time when there are more discussions about getting Covid and sharing the experiences of having Covid.
In the second week of November, shortly after Chinese authorities launched their updated Covid rules, the hashtag "What Is It Like to Catch Covid-19?" (#感染新冠是什么体验#) already went trending on Weibo, along with other hashtags informing Chinese netizens about what it's like to get Covid – a virus that so many in China never experienced first hand.
Since Hu Xijin (1960) ended his career as the editor-in-chief of Global Times in 2021, his role as a political commentator has arguably become even more important and more visible on Weibo than before, especially in China's challenging Covid times of 2021.
Some find him overly nationalistic, for others he is not nationalistic enough; there are those who find him reasonable, and then some say he is repetitive and just dancing to the tune of Party propaganda. But then there have also been some discussions – in light of Pelosi's controversial Taiwan visit – about Hu misleading public opinion by not matching the official stance.
Whichever it is, some things are certain: Hu has some 25 million followers on Weibo, and he is often the first major media account that is allowed to discuss in detail some major sensitive social topics, even if these online discussions are otherwise being tightly controlled (think of the Tangshan BBQ Restaurant incident, the future of zero Covid, the Urumqi fire, and the 11.24 protests across China.)
Hu's comments about 'catching Covid soon' can be seen as part of a wider trend of normalizing Covid in the Chinese online media sphere, preparing people to face a virus they are still unfamiliar with since 'zero Covid' has always been the main goal.
On December 3, Hu further clarified his comments about preparing to getting Covid. He explained he expects to catch the virus because he is active in the media environment, through which he unavoidably is in touch with many different people. He also promised that if he might get infected, he would share his Covid experience with all of his readers.
As the idea of catching Covid is becoming more normalized (there are more and more trending hashtags informing what to expect after getting Covid, e.g. #新冠发病7天内身体会发生什么变化#), people are also exchanging non-scientifical advice on how to prevent catching Covid, such as drinking licorice ginger soup, holding Sichuan peppercorns inside your mouth when going out, or getting silicon covers for the drains in the bathroom to prevent the virus coming through via neighboring apartments.
Some express their worries about catching the virus. "I'm really scared. I've already replaced all of my masks with K95 ones," one Weibo user wrote: "My immune system has been weak since I was little, and I have allergies. I have the feeling that if I get infected I might lose half my life, if I don't die (..) I'm in a state of panic."
Even though China is still far from 'opening up', some people are already preparing to 'live together with the virus,' reminding others that getting vaccinated, keeping social distance, and washing hands are all measures that will help in preventing getting Covid.
"I am worried about getting Covid but I also want to open up," some on Weibo said.
"As much as I wanted it all to end, this feels abrupt," one social media user from Inner Mongolia wrote: "It won't be the same as before. The thorough 'zero Covid' [policy] has gone. The country's protection of our health has gone up to this point. I hope everyone can now take care in prevention themselves, and protect themselves and their families. I hope the epidemic situation will end soon, that the world will be ok, and that we can have our freedom."
Meanwhile, Hu Xijin informed netizens on Saturday that he had some milk, boiled eggs, pastry and pickled mustard greens for breakfast. While working on his condition and nutrition, he says that if his Covid positive time comes, he will not get any VIP treatment. If allowed, he'll either recover from home or go to a centralized Covid location.
He will just have to wait and see what happens, just as millions of other Chinese citizens are waiting to see what this winter is going to bring.
By Manya Koetse , with contributions by Miranda Barnes
The featured images are all images that went viral recently in light of China opening up (including nucleic acid testing booths being taken away).
Get the story behind the hashtag. Subscribe to What's on Weibo here to receive our newsletter and get access to our latest articles:
Spotted a mistake or want to add something? Please let us know in comments below or email us. First-time commenters, please be patient – we will have to manually approve your comment before it appears.
©2022 Whatsonweibo. All rights reserved. Do not reproduce our content without permission – you can contact us at info@whatsonweibo.com.
Announced Changes in Nucleic Acid Testing and Further Easing of Covid Measures Across China
Bus and subway operators in Beijing will no longer refuse entry to passengers without a 48-hour negative nucleic acid certificate.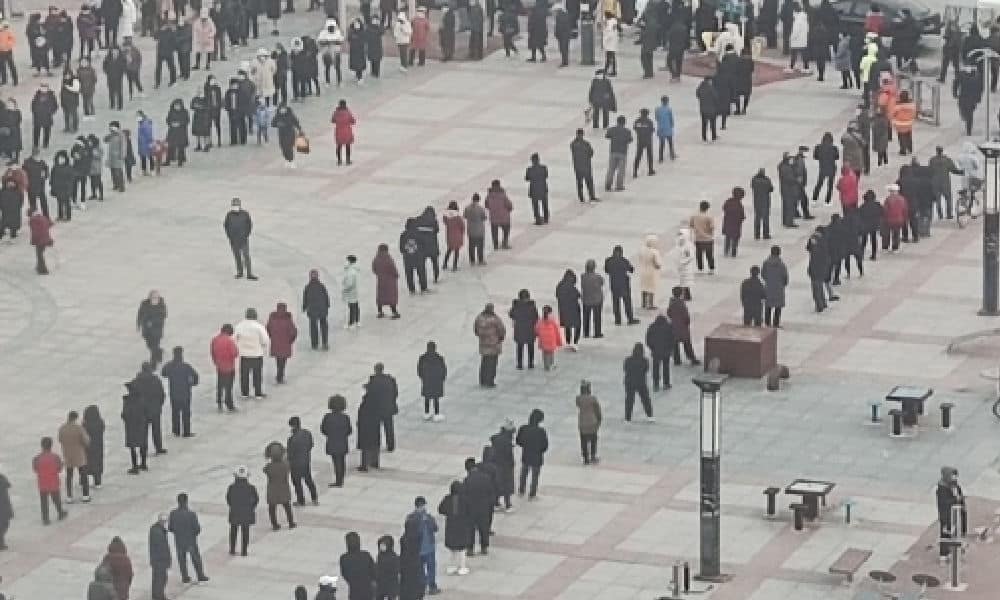 On Monday, directly after that noteworthy unrest-filled weekend, the hashtag "Multiple Locations Announce Nucleic Acid Testing Changes" (#多地核酸检测通知发生变化#) went trending on Chinese social media, receiving over 660 million clicks by Monday evening.
Immediately following demonstrations in Beijing and a second night of protests in Shanghai and elsewhere, various Chinese media reported how different areas across the country are introducing changes to their current Covid19 testing measures.
On Wednesday, November 30, China's vice-premier Sun Chunlan made remarks at a meeting on epidemic prevention, underlining the importance of "constantly optimizing" China's Covid-19 response and talking about a "new stage and mission" – without ever mentioning "zero Covid."
This is what we know about easing Covid measures thus far:
▶ Strict lockdowns have been lifted in Guangzhou, Zhengzhou, and Chongqing.
▶ On November 28, Guangzhou announced that people who do not actively participate in social life will no longer need to participate in continuous nucleic acid screening. This includes elderly people who stay indoors for long periods of time, students who take online classes, and those who work from home. The change will apply to residents in seven districts, including Haizhu, Panyu, Tianhe, and Baiyun (#广州7区无社会面活动者可不参加全员核酸#).
▶ Guangzhou, according to Reuters, also scrapped a rule that only people with a negative COVID test can buy fever medication over the counter.
▶ Harbin will follow the example of Guangzhou, and will also allow people who are mostly based at home to skip nucleic acid test screenings.
▶ Same goes for Shenyang, and Taiyuan.
▶ In Chongqing, various districts have done widespread Covid testing campaigns, but the local authorities announced that those communities that have not had a positive Covid case over the past five days do not need to participate in nucleic acid screening anymore. This means an end to district-wide testing.
▶ On November 30, Beijing also announced that it will start exempting some people from frequent Covid testing, including those elderly residents who are bound to home and other people who do not go out and have social interactions. This also includes younger students who are following classes online.
▶ Starting from December 5, bus and subway operators in Beijing will no longer refuse entry to passengers without a 48-hour negative nucleic acid certificate (announced on December 2nd).
▶ Although not officially announced, there have been various social media posts and reports about Covid-positive people in Beijing being allowed to quarantine at home if they meet conditions.
▶ Chengdu Metro announced on December 2nd that it will no longer check passengers' nucleic acid test reports. Passengers still need to scan their travel code and those with a green code can enter. Other public places will reportedly also start to accept the 'green code' only without a time limit on nucleic acid testing.
▶ Tianjin metro announced that the 72-hour nucleic acid certificate check will be also be canceled for passengers on the Tianjin metro lines. As in other places, people will still need to wear proper face masks and undergo temperature checks.
▶ In Hangzhou, except for at special places such as nursing homes, orphanages, primary and secondary schools, people's nucleic acid tests will no longer be checked in public transportation and other public places. They will also stop checking people's Venue Codes (场所码).
By Manya Koetse , with contributions by Miranda Barnes
Get the story behind the hashtag. Subscribe to What's on Weibo here to receive our newsletter and get access to our latest articles:
Spotted a mistake or want to add something? Please let us know in comments below or email us. First-time commenters, please be patient – we will have to manually approve your comment before it appears.
©2022 Whatsonweibo. All rights reserved. Do not reproduce our content without permission – you can contact us at info@whatsonweibo.com.