Chinese Arts Students into Panic Mode after Failing to Register for Exams Amid Announced Reforms
"The collapse of one app is affecting our entire future."
Thousands of Chinese arts students have been unable to register for their upcoming exams this week, leading to great anger on social media. Now that China's examination system is undergoing changes that will affect students majoring in arts, many fear that this was their last chance of ensuring a place at the higher education system they were aiming for.
This week, thousands of Chinese art undergraduates have gone into full panic mode for not being able to register for their upcoming exams.
The college enrollment procedures for students planning to major in 'arts' (covering fields of music, painting, dancing, design, film & TV, etc.) is different from students within other fields; those majoring in arts have to complete a college-level exam along with a provincial-level exam before taking the National College Entrance Examination (NCEE), commonly known as Gaokao.
On January 6th, allegedly around 700,000 students who tried to register for their college-level exam through the Yishisheng (艺术升) registration app found the system unresponsive, making the issue a trending topic on Chinese social media.
The hashtag "700,000 Arts Exam Candidates Lose Registration Qualification" (#70万艺考生丧失报名资格#) received more than 150 million views on Weibo at time of writing, with many students being angered and stressed, saying that "the collapse of one app is affecting our entire future." At time of writing, it is not sure how the reports have come up with the 700,000 number, although it is probable that this is based on numbers of previous years, or based on the number of people taking the provincial-level exams (this link for reference).
What's the Deal with Chinese Art Students?
The Gaokao (高考) or China's National Higher Education Entrance Examination is well-known for being notoriously tough and super competitive. Every summer, millions of Chinese undergraduates take the exams for two days in a row or longer, depending on the major they are applying for and the provinces they are registered in. The result of this annual exam is set as the common entry criterion reference for university admission.
For students specializing in arts, their journey to the Gaokao examinations already starts earlier in the year. Arts students take the college-level supplementary exam (known as xiaokao 校考 or jiashi 加试), for which they have to register separately. All art students are also required to participate in the provincial exams (liankao 联考 or tongkao 统考), where their understanding of basic art knowledge and relevant art skills will be tested.
Only students who have passed these provincial exams will receive the certification that is needed in order to take the exams in June.
The extra challenge also provides extra opportunities for art students. Different from other students, art students' final score is based on multiple grades, namely that of the aforementioned (1) supplementary university exam (校考), (2) the combined arts exam (联考), and (3) the gaokao (高考). Every art student is required to pass the combined arts exam, but have the benefit that most universities set relatively lower requirements for their gaokao scores once they have passed.
Once these art students are admitted to universities, their department choices, however, are not limited to arts per se. Arts students are thus sometimes labeled as being 'opportunists,' who allegedly take an 'easy route' to enter top-level universities.
But the idea that the arts route is the easy route is often debunked in Chinese media and on social media, where it is argued that arts students have to work harder to invest in their field of specialty, and therefore are doing anything but taking the 'easier' road into their higher education career.
Announced Reforms in the Exam System
The controversial 'shortcut,' however, may disappear in the nearby future. On December 29, 2018, the Ministry of Education issued an article on art exams, suggesting that the general knowledge gaokao score will become more important and decisive in the future.
After the proposed reform, there will allegedly be a limit on the supplementary arts exams at educational institutions, meaning that art students with a lower gaokao score will no longer be admitted.
On the discussion boards of Chinese Q&A site Zhihu, various pages are discussing the upcoming reforms. Some commenters wrote that they support changes to the system, believing it will filter out 'the opportunists' from art education and keep the 'real art lovers' in.
Others voice different opinions, arguing that the reform is unfair to talented arts students and that it will lead to art schools being dominated by 'bookworms.' One current arts student (named @乔贰乔) questions the importance for art students to have a high general knowledge course score, and quotes a Chinese proverb, saying: "People master different fields" (术业有专攻).
If the reform is implemented, 2019 will be the last year for arts students to enjoy the lower gaokao score advantage. Previously, undergraduates who were not satisfied with their gaokao scores could go back to high school and try again the next year. The reform, however, would ban comprehensive universities from holding individual arts exams after 2019, making this year's exams a pivotal one for many arts undergraduates who hope to get into their dream university.
Registration Chaos at 'Yishusheng' App
Besides the extra stress caused by the reform, this year's arts students find themselves facing an unexpected difficulty: not being able to register for their college-level exams (xiaokao 校考).
The exam registration app Yishusheng (艺术升), the only authorized arts exam registration system for the top arts educational institutions, was not capable of handling the large data flow this week and broke down shortly after opening the registration.
The app is also being accused of promoting its 598 yuan (90 USD) VIP membership, with which the registration process would allegedly be accelerated.
By now, thousands of art students have shared their disappointment and anger over not being able to register at such a crucial moment. Some netizens commented that they have tried to register for the Art Academy of Xi'an's entrance exam for over three hours, but never succeeded. Others say they have been up all night together with their parents, desperately trying to get a spot for their examinations.
Sina News also reported that some students succeeded in registering in Jiangsu province, but then later discovered their examination would allegedly take place in Lanzhou, Gansu province, according to the app.
On January 7, Beijing News reported that, according to the Yishusheng app, part of the problem is that there is a decrease in art institutions across the nation and that examination sites have been reduced, suggesting that simply "too many people" were registering for the exams.
On its official Weibo account, the Yishusheng app briefly apologized for the recent crisis, and thoroughly explained the efforts the app has put into making their system better. They also state that the system is "back to normal," while in the various comments sections, people still complain that they cannot enter the registration page.
For now, it does not seem that the storm has blown over yet, especially because Weibo netizens are also angered about the fact that this topic, although receiving so many views, did not appear in the 'hot search' or 'top trending' lists, with many people suspecting the issue is purposely being kept under the radar.
"I am just so disappointed, so incredibly disappointed," one disgruntled commenter writes.
By Boyu Xiao, with contributions by Manya Koetse
Spotted a mistake or want to add something? Please let us know in comments below or email us.
©2018 Whatsonweibo. All rights reserved. Do not reproduce our content without permission – you can contact us at info@whatsonweibo.com.
Prohibited to Promote Top Students, Chinese Schools Are Praising their Excellent 'Fruit' Instead
Who knew Chinese schools were so good at harvesting fruit?
It is that time of the year again: China's gaokao results are in. Chinese schools that are proud of their top-scoring students would like to scream it from the rooftops, but they are banned from doing so. So they are now posting about their very successful fruit production instead.
This week, the scores came out for China's gaokao (高考), the National Higher Education Entrance Examinations that took place earlier this months.
The exams are a prerequisite for entering China's higher education institutions and are taken by students in their last year of senior high school. Scoring high grades for this exam can give high school students access to a better college, which enlarges their chances of obtaining a good job after graduation.
Those who succeed in becoming top scorers in their field and area are known as the gāokǎo zhuàngyuán (高考状元, 'gaokao champions'). Gaokao champions are usually widely praised, not just by families and friends, but also by their hometowns and schools for which the top-scoring students are their pride and unique selling point.
But since 2018, as explained in this article, it is prohibited for Chinese media and schools to give publicity to gaokao top scorers. The Chinese Ministry of Education banned the promotion of top achievers in line with Xi Jinping Thought, emphasizing the value of equality and sociability instead.
This year, local authorities again reiterated the message that in order to set the right example and "establish the correct orientation of education," the hyping up of school exam results and publishing top score rankings are strictly prohibited.
Because of the Ministry of Education guidelines, schools can not openly flaunt the successes of their top scorers, but some have found creative ways to do so anyway.
"Of a batch of 1320 ripe mango's, there are over hundred weighing more than 600 grams," one school in Guangxi's Nanning wrote. The 'weight' refers to the score, with 600 being a very high score (the maximum score is usually 750, depending on the field and area). ""[We] picked a mango weighing as much as 696 grams, the king of Qinzhou fruit. Two fruit dealers in the capital have already heard of it and are eager to take it."
Besides mango's, there were also other schools mentioning their successful production of 'plums or peaches.'
One blog by Jiangchacha (姜茶茶) listed various examples of schools boasting about their 'fruit harvest' in social media posts.
The blog explained that some schools in Guangxi used the mango metaphor because Guangxi has some of the country's largest mango-producing regions. Meanwhile, the word for 'peaches and plums' in Chinese (桃李) also refers to one's pupils or disciples.
Another school's post said: "It is harvest season (..), and the campus is fragrant with peaches and plums, and fruitful results!", adding that "a total of 2400 high quality peaches and plums have been harvested, and over 93% are of high quality!"
There was also one school that mentioned other schools were below them in scores, writing that its "excellence rate" was "clearly ahead of the three other big gardens on the east coast."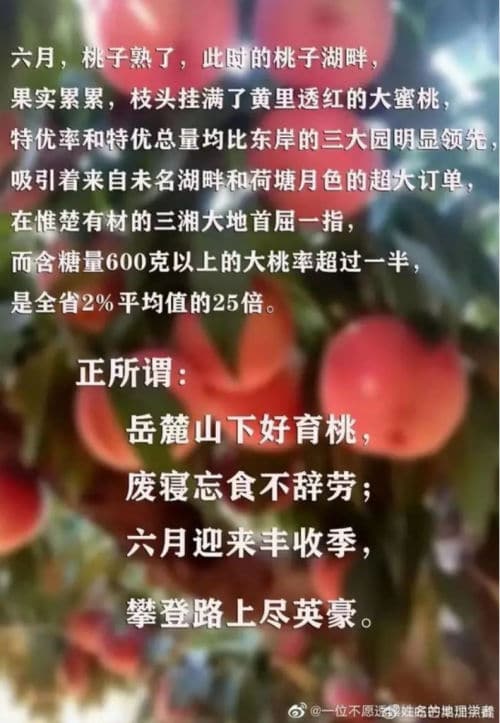 "Our king peach weighs no less than 689 grams," another school announced. There were also schools that did not discuss fruit but were making references to fish, trees, and high-speed trains instead.
The issue of schools reporting their 'harvest' became a trending topic on Weibo, where some found it very funny. But others also voiced criticism that schools cannot publish about some of their students being gāokǎo zhuàngyuán, top scorers.
"There is nothing to hide, the exam scores are the result of hard work by both the teachers and students," one popular comment said, with others replying: "Why wouldn't you announce the scores? It might inspire other students!"
"This entire guideline is just nonsense," another typical comment said.
Meanwhile, some netizens suggested that Sichuan schools could use pandas as a metaphor for their top scorers, while Chongqing could use chili peppers next year, with others suggesting other types of fruit that could be used in these 'covered-up' gaokao score publications. It's bound to be another fruitful year in 2023.
Want to read more about gaokao? Check out more related articles here.
By Manya Koetse
With contributions by Miranda Barnes
Get the story behind the hashtag. Subscribe to What's on Weibo here to receive our weekly newsletter and get access to our latest articles:
Photo by Bangyu Wang on Unsplash
Spotted a mistake or want to add something? Please let us know in comments below or email us. First-time commenters, please be patient – we will have to manually approve your comment before it appears.
©2022 Whatsonweibo. All rights reserved. Do not reproduce our content without permission – you can contact us at info@whatsonweibo.com.
From Teacher to Livestreamer: Ecommerce Move is Game Changer for China's New Oriental Education
New Oriental is going from classroom to e-commerce. Online shopping has never been more educational.
After laying off 60,000 staff last year, Chinese private education company New Oriental is now offering unexpected new employment opportunities for teachers in the livestream market. Changing e-commerce channels into virtual classrooms, New Oriental has hit the sweet spot with Chinese netizens.
Last year, an unprecedented crackdown on China's private education sector left many teachers unemployed and worried about their future.
China's so-called 'double reduction' (双减) policy was announced in August of 2021 and targeted "excessive homework" and off-campus tutoring for students in the mandatory nine-year education system. The new regulations imposed strict sanctions on existing private education institutions, forcing them to register as non-profit organizations. Foreign investment in the private tutoring sector was also banned.
One of the companies that was hit particularly hard by this policy is New Oriental (新东方), the largest provider of private educational services in China. Following the crackdown, the company suffered huge losses and dismissed 60,000 employees.
Facing the new regulations, including the ban on for-profit tutoring in subjects on the school curriculum, New Oriental tried to keep its head above water by exploring new markets and ideas within the private education sector. For example, the company launched a special program to train parents on how to tutor their K-12 children themselves. New Oriental called it their "excellent parenting" (优质父母) training class.
Now, nearly a year later, another initiative by New Oriental has become an online hit. Inspired by the success of livestream e-commerce in China, the tutoring company started its own livestream channels. Although New Oriental already introduced its e-commerce business in late 2021, with founder Yu Minhong (俞敏洪) sometimes hosting the sessions himself, it had not been as much of an online success until it recently introduced bilingual livestream e-commerce sessions.
Now, tutors-turned-sellers are teaching viewers English – or sometimes other subjects – while selling (agricultural) products via the Douyin app. Whether they are selling fruit, rice, or even shrimp, New Oriental's livestream hosts are grabbing every opportunity to teach their viewers a new word or concept, often using a whiteboard to introduce new vocabulary.
One reason for New Oriental becoming a viral hit is because of Dong Yuhui (董宇辉), who is one of the experienced teachers now selling products online. Dong's bilingual livestreams are particularly successful among viewers because of his enthusiasm, fluency in English, witty jokes, personal stories, and talent for singing.
Teacher Dong recently had a breakthrough moment with his June 10th livestream, during which he sold bags of rice using English. He has since attracted over nine million viewers. While thanking all viewers for their support in a recent Weibo post, Dong described himself as a "ordinary peasant boy."
Besides Dong, there are also other popular hosts. English teachers Ming Ming, Yoyo, and Dun Dun are all loved by viewers for their charm and wit.
Although various kinds of social e-commerce categories are particularly popular in China, this new phenomenon of combining education + e-commerce + livestream is appreciated by many netizens who like to learn something while being entertained and perhaps also buying something. "I don't know whether to place an order or to make notes," has become a popular comment. Another commenter said: "As a kid I took your class, and now I buy your goods."
Others say that they like the calm way in which the livestreams are presented, posing a stark contrast to other livestreams where the hosts are hyping up products and urging people to buy fast and buy more.
On June 15th, news came out that New Oriental's stocks had surged by more than 25% following its livestreaming success.
Although some Weibo users predict that this is just a temporary trend, others think that the educational livestream model is here to stay: "New Oriental really started a new business venture, and I'm learning a lot through their livestream sessions."
By Manya Koetse
With contributions by Miranda Barnes
Read related article: China's Crackdown on Tutoring Schools: Concerned Parents and Teachers on Weibo
Get the story behind the hashtag. Subscribe to What's on Weibo here to receive our weekly newsletter and get access to our latest articles:
Spotted a mistake or want to add something? Please let us know in comments below or email us. First-time commenters, please be patient – we will have to manually approve your comment before it appears.
©2022 Whatsonweibo. All rights reserved. Do not reproduce our content without permission – you can contact us at info@whatsonweibo.com.