Chinese Arts Students into Panic Mode after Failing to Register for Exams Amid Announced Reforms
"The collapse of one app is affecting our entire future."
Thousands of Chinese arts students have been unable to register for their upcoming exams this week, leading to great anger on social media. Now that China's examination system is undergoing changes that will affect students majoring in arts, many fear that this was their last chance of ensuring a place at the higher education system they were aiming for.
This week, thousands of Chinese art undergraduates have gone into full panic mode for not being able to register for their upcoming exams.
The college enrollment procedures for students planning to major in 'arts' (covering fields of music, painting, dancing, design, film & TV, etc.) is different from students within other fields; those majoring in arts have to complete a college-level exam along with a provincial-level exam before taking the National College Entrance Examination (NCEE), commonly known as Gaokao.
On January 6th, allegedly around 700,000 students who tried to register for their college-level exam through the Yishisheng (艺术升) registration app found the system unresponsive, making the issue a trending topic on Chinese social media.
The hashtag "700,000 Arts Exam Candidates Lose Registration Qualification" (#70万艺考生丧失报名资格#) received more than 150 million views on Weibo at time of writing, with many students being angered and stressed, saying that "the collapse of one app is affecting our entire future." At time of writing, it is not sure how the reports have come up with the 700,000 number, although it is probable that this is based on numbers of previous years, or based on the number of people taking the provincial-level exams (this link for reference).
What's the Deal with Chinese Art Students?
The Gaokao (高考) or China's National Higher Education Entrance Examination is well-known for being notoriously tough and super competitive. Every summer, millions of Chinese undergraduates take the exams for two days in a row or longer, depending on the major they are applying for and the provinces they are registered in. The result of this annual exam is set as the common entry criterion reference for university admission.
For students specializing in arts, their journey to the Gaokao examinations already starts earlier in the year. Arts students take the college-level supplementary exam (known as xiaokao 校考 or jiashi 加试), for which they have to register separately. All art students are also required to participate in the provincial exams (liankao 联考 or tongkao 统考), where their understanding of basic art knowledge and relevant art skills will be tested.
Only students who have passed these provincial exams will receive the certification that is needed in order to take the exams in June.
The extra challenge also provides extra opportunities for art students. Different from other students, art students' final score is based on multiple grades, namely that of the aforementioned (1) supplementary university exam (校考), (2) the combined arts exam (联考), and (3) the gaokao (高考). Every art student is required to pass the combined arts exam, but have the benefit that most universities set relatively lower requirements for their gaokao scores once they have passed.
Once these art students are admitted to universities, their department choices, however, are not limited to arts per se. Arts students are thus sometimes labeled as being 'opportunists,' who allegedly take an 'easy route' to enter top-level universities.
But the idea that the arts route is the easy route is often debunked in Chinese media and on social media, where it is argued that arts students have to work harder to invest in their field of specialty, and therefore are doing anything but taking the 'easier' road into their higher education career.
Announced Reforms in the Exam System
The controversial 'shortcut,' however, may disappear in the nearby future. On December 29, 2018, the Ministry of Education issued an article on art exams, suggesting that the general knowledge gaokao score will become more important and decisive in the future.
After the proposed reform, there will allegedly be a limit on the supplementary arts exams at educational institutions, meaning that art students with a lower gaokao score will no longer be admitted.
On the discussion boards of Chinese Q&A site Zhihu, various pages are discussing the upcoming reforms. Some commenters wrote that they support changes to the system, believing it will filter out 'the opportunists' from art education and keep the 'real art lovers' in.
Others voice different opinions, arguing that the reform is unfair to talented arts students and that it will lead to art schools being dominated by 'bookworms.' One current arts student (named @乔贰乔) questions the importance for art students to have a high general knowledge course score, and quotes a Chinese proverb, saying: "People master different fields" (术业有专攻).
If the reform is implemented, 2019 will be the last year for arts students to enjoy the lower gaokao score advantage. Previously, undergraduates who were not satisfied with their gaokao scores could go back to high school and try again the next year. The reform, however, would ban comprehensive universities from holding individual arts exams after 2019, making this year's exams a pivotal one for many arts undergraduates who hope to get into their dream university.
Registration Chaos at 'Yishusheng' App
Besides the extra stress caused by the reform, this year's arts students find themselves facing an unexpected difficulty: not being able to register for their college-level exams (xiaokao 校考).
The exam registration app Yishusheng (艺术升), the only authorized arts exam registration system for the top arts educational institutions, was not capable of handling the large data flow this week and broke down shortly after opening the registration.
The app is also being accused of promoting its 598 yuan (90 USD) VIP membership, with which the registration process would allegedly be accelerated.
By now, thousands of art students have shared their disappointment and anger over not being able to register at such a crucial moment. Some netizens commented that they have tried to register for the Art Academy of Xi'an's entrance exam for over three hours, but never succeeded. Others say they have been up all night together with their parents, desperately trying to get a spot for their examinations.
Sina News also reported that some students succeeded in registering in Jiangsu province, but then later discovered their examination would allegedly take place in Lanzhou, Gansu province, according to the app.
On January 7, Beijing News reported that, according to the Yishusheng app, part of the problem is that there is a decrease in art institutions across the nation and that examination sites have been reduced, suggesting that simply "too many people" were registering for the exams.
On its official Weibo account, the Yishusheng app briefly apologized for the recent crisis, and thoroughly explained the efforts the app has put into making their system better. They also state that the system is "back to normal," while in the various comments sections, people still complain that they cannot enter the registration page.
For now, it does not seem that the storm has blown over yet, especially because Weibo netizens are also angered about the fact that this topic, although receiving so many views, did not appear in the 'hot search' or 'top trending' lists, with many people suspecting the issue is purposely being kept under the radar.
"I am just so disappointed, so incredibly disappointed," one disgruntled commenter writes.
By Boyu Xiao, with contributions by Manya Koetse
Spotted a mistake or want to add something? Please let us know in comments below or email us.
©2018 Whatsonweibo. All rights reserved. Do not reproduce our content without permission – you can contact us at info@whatsonweibo.com.
Exchange Student to Be Deported from China for Harassing Young Woman at University
An exchange student studying at the Hebei University of Engineering has been expelled and will soon be deported after harassing a female student.
An exchange student from Pakistan who was studying at the Hebei University of Engineering (河北工程大学) has been expelled and detained after harassing a female student at the same university.
The incident, that is attracting much attention on Chinese social media this week, adds to the wave of recent controversies over the behavior and status of overseas students in mainland China.
On July 31, a female student at the Hebei university filed a police report against a Pakistani student who allegedly harassed her and attempted to forcefully kiss her and touch her breasts.
Screenshots of a supposed WeChat conversation between the exchange student and the female student, in which the man apologizes and claims the interaction is a "requirement for friendship," are being shared on social media.
According to various reports, the police initially tried to mediate between the two students, which the female student refused.
Together with the school principal, the police then further investigated the case and found ample evidence of harassment after examining the university's surveillance system.
On August 1st, the Hebei University of Engineering announced that they had expelled the student and that he will be deported from China. The announcement received more than 14,000 reactions and 150,000 'likes' on Weibo.
The student is now detained at the local Public Security Bureau and is awaiting his deportation.
A photo of two officers together with a man in front of the detention center in Handan is circulating on social media in relation to this incident.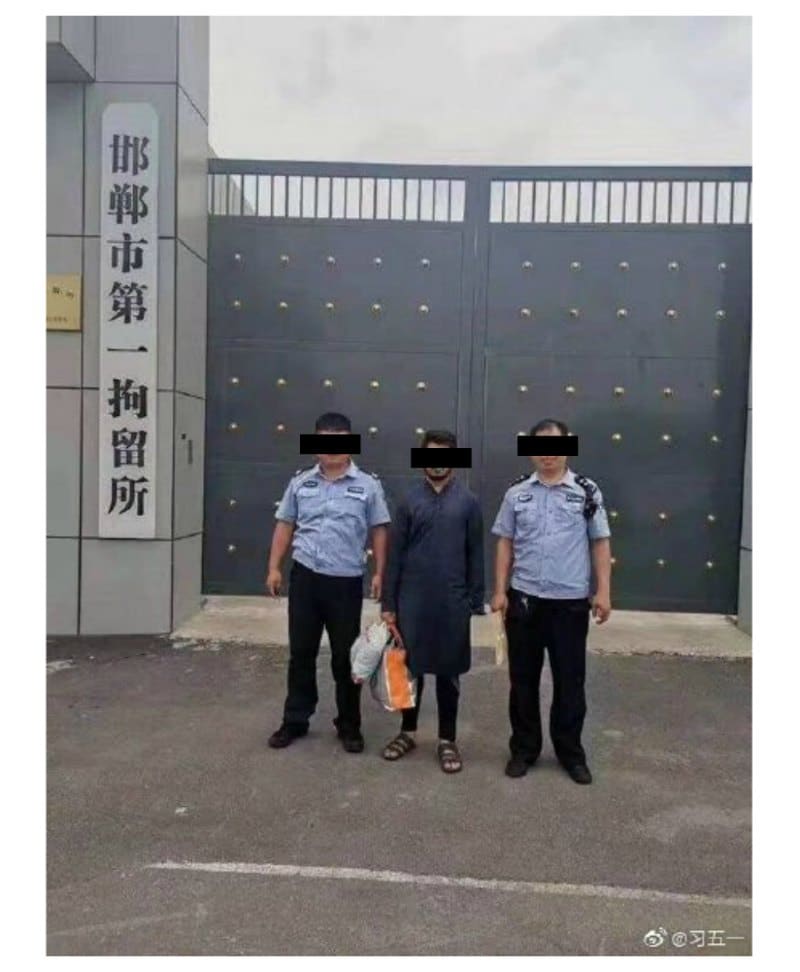 At time of writing, the hashtag page "Exchange Student to Be Deported after Molesting Female Student" (#留学生猥亵女学生将被遣送出境#) has been viewed over 310 million times on Weibo.
Among thousands of reactions, there are many who praise the Hebei university for supporting the female student after she reported the exchange student to the police.
"This may not be the best university, but at least they stand behind their students!", some say, with others calling the university "awesome."
Many say that the Hebei university should serve as an example for other Chinese universities to follow, with Shandong University being specifically mentioned by Weibo users.
Shandong University was widely criticized earlier this summer for its "buddy exchange program," which was accused of being a way to arrange Chinese "girlfriends" for male foreign students.
Another incident that is mentioned in relation to this trending story is that of an exchange student who displayed aggressive behavior towards a Chinese police officer in July of this year. The student was not punished for his actions, which sparked anger on Chinese social media.
By Manya Koetse
Follow @whatsonweibo
Spotted a mistake or want to add something? Please let us know in comments below or email us. Please note that your comment below will need to be manually approved if you're a first-time poster here.
©2019 Whatsonweibo. All rights reserved. Do not reproduce our content without permission – you can contact us at info@whatsonweibo.com
Holiday Homework: Take a Picture with Five Foreigners
Is "take a photo with a foreigner" an appropriate homework assignment? This Zhuhai school teacher thinks it is.
An elementary school in Guangdong's Zhuhai city has become a target of online banter this week for a special holiday homework assignment given to its pupils.
The school's English teacher told students to take a picture with five foreigners this holiday. The pupils' parents were not too happy with this 'homework' and questioned its purpose and validity.
In the eyes of many netizens, the assignment is inappropriate as it supposedly teaches pupils to look up to (or 'worship') foreigners.
Others think the assignment is simply not practical, saying that Zhuhai does not have that many foreigners walking around and that not all foreigners speak English.
With over 110 million views on the hashtag "Holiday Homework to Take Photo with Five Foreigners" (#暑假作业与五个外国人合影#), the topic has blown up on Weibo.
"Just take a photo with the neighbor and tell them they're from Singapore," some people suggested: "Take some photos with Chinese people and say they were from South Korea!"
In an online poll about the issue, initiated by China Daily, nearly 65% of respondents said they did not agree with the assignment.
The school principal responded to the controversy, saying that the assignment was an "optional" one.
The class head also stated that the assignment was not obligatory, but that it was merely meant as an "encouragement" so that students could practice their conversational English by having a short conversation with a foreigner.
Many commenters side with school and condemn all the criticism and banter: "Of course an English teacher would want to tell its pupils to interact with foreigners in English!"
Another person mentions that many Chinese students have high grades in their English exams without actually being able to hold a conversation in English: "Our English education is not focused enough on speaking English."
"This teaches students to take the initiative to start a conversation in English, what's not good about it? You're all too sensitive!"
By Manya Koetse , with contributions from Miranda Barnes
Follow @whatsonweibo
Spotted a mistake or want to add something? Please let us know in comments below or email us. Please note that your comment below will need to be manually approved if you're a first-time poster here.
©2019 Whatsonweibo. All rights reserved. Do not reproduce our content without permission – you can contact us at info@whatsonweibo.com