Chinese Arts Students into Panic Mode after Failing to Register for Exams Amid Announced Reforms
"The collapse of one app is affecting our entire future."
Thousands of Chinese arts students have been unable to register for their upcoming exams this week, leading to great anger on social media. Now that China's examination system is undergoing changes that will affect students majoring in arts, many fear that this was their last chance of ensuring a place at the higher education system they were aiming for.
This week, thousands of Chinese art undergraduates have gone into full panic mode for not being able to register for their upcoming exams.
The college enrollment procedures for students planning to major in 'arts' (covering fields of music, painting, dancing, design, film & TV, etc.) is different from students within other fields; those majoring in arts have to complete a college-level exam along with a provincial-level exam before taking the National College Entrance Examination (NCEE), commonly known as Gaokao.
On January 6th, allegedly around 700,000 students who tried to register for their college-level exam through the Yishisheng (艺术升) registration app found the system unresponsive, making the issue a trending topic on Chinese social media.
The hashtag "700,000 Arts Exam Candidates Lose Registration Qualification" (#70万艺考生丧失报名资格#) received more than 150 million views on Weibo at time of writing, with many students being angered and stressed, saying that "the collapse of one app is affecting our entire future." At time of writing, it is not sure how the reports have come up with the 700,000 number, although it is probable that this is based on numbers of previous years, or based on the number of people taking the provincial-level exams (this link for reference).
What's the Deal with Chinese Art Students?
The Gaokao (高考) or China's National Higher Education Entrance Examination is well-known for being notoriously tough and super competitive. Every summer, millions of Chinese undergraduates take the exams for two days in a row or longer, depending on the major they are applying for and the provinces they are registered in. The result of this annual exam is set as the common entry criterion reference for university admission.
For students specializing in arts, their journey to the Gaokao examinations already starts earlier in the year. Arts students take the college-level supplementary exam (known as xiaokao 校考 or jiashi 加试), for which they have to register separately. All art students are also required to participate in the provincial exams (liankao 联考 or tongkao 统考), where their understanding of basic art knowledge and relevant art skills will be tested.
Only students who have passed these provincial exams will receive the certification that is needed in order to take the exams in June.
The extra challenge also provides extra opportunities for art students. Different from other students, art students' final score is based on multiple grades, namely that of the aforementioned (1) supplementary university exam (校考), (2) the combined arts exam (联考), and (3) the gaokao (高考). Every art student is required to pass the combined arts exam, but have the benefit that most universities set relatively lower requirements for their gaokao scores once they have passed.
Once these art students are admitted to universities, their department choices, however, are not limited to arts per se. Arts students are thus sometimes labeled as being 'opportunists,' who allegedly take an 'easy route' to enter top-level universities.
But the idea that the arts route is the easy route is often debunked in Chinese media and on social media, where it is argued that arts students have to work harder to invest in their field of specialty, and therefore are doing anything but taking the 'easier' road into their higher education career.
Announced Reforms in the Exam System
The controversial 'shortcut,' however, may disappear in the nearby future. On December 29, 2018, the Ministry of Education issued an article on art exams, suggesting that the general knowledge gaokao score will become more important and decisive in the future.
After the proposed reform, there will allegedly be a limit on the supplementary arts exams at educational institutions, meaning that art students with a lower gaokao score will no longer be admitted.
On the discussion boards of Chinese Q&A site Zhihu, various pages are discussing the upcoming reforms. Some commenters wrote that they support changes to the system, believing it will filter out 'the opportunists' from art education and keep the 'real art lovers' in.
Others voice different opinions, arguing that the reform is unfair to talented arts students and that it will lead to art schools being dominated by 'bookworms.' One current arts student (named @乔贰乔) questions the importance for art students to have a high general knowledge course score, and quotes a Chinese proverb, saying: "People master different fields" (术业有专攻).
If the reform is implemented, 2019 will be the last year for arts students to enjoy the lower gaokao score advantage. Previously, undergraduates who were not satisfied with their gaokao scores could go back to high school and try again the next year. The reform, however, would ban comprehensive universities from holding individual arts exams after 2019, making this year's exams a pivotal one for many arts undergraduates who hope to get into their dream university.
Registration Chaos at 'Yishusheng' App
Besides the extra stress caused by the reform, this year's arts students find themselves facing an unexpected difficulty: not being able to register for their college-level exams (xiaokao 校考).
The exam registration app Yishusheng (艺术升), the only authorized arts exam registration system for the top arts educational institutions, was not capable of handling the large data flow this week and broke down shortly after opening the registration.
The app is also being accused of promoting its 598 yuan (90 USD) VIP membership, with which the registration process would allegedly be accelerated.
By now, thousands of art students have shared their disappointment and anger over not being able to register at such a crucial moment. Some netizens commented that they have tried to register for the Art Academy of Xi'an's entrance exam for over three hours, but never succeeded. Others say they have been up all night together with their parents, desperately trying to get a spot for their examinations.
Sina News also reported that some students succeeded in registering in Jiangsu province, but then later discovered their examination would allegedly take place in Lanzhou, Gansu province, according to the app.
On January 7, Beijing News reported that, according to the Yishusheng app, part of the problem is that there is a decrease in art institutions across the nation and that examination sites have been reduced, suggesting that simply "too many people" were registering for the exams.
On its official Weibo account, the Yishusheng app briefly apologized for the recent crisis, and thoroughly explained the efforts the app has put into making their system better. They also state that the system is "back to normal," while in the various comments sections, people still complain that they cannot enter the registration page.
For now, it does not seem that the storm has blown over yet, especially because Weibo netizens are also angered about the fact that this topic, although receiving so many views, did not appear in the 'hot search' or 'top trending' lists, with many people suspecting the issue is purposely being kept under the radar.
"I am just so disappointed, so incredibly disappointed," one disgruntled commenter writes.
By Boyu Xiao, with contributions by Manya Koetse
Spotted a mistake or want to add something? Please let us know in comments below or email us.
©2018 Whatsonweibo. All rights reserved. Do not reproduce our content without permission – you can contact us at info@whatsonweibo.com.
Chinese Students Are Making Their Voices Heard, from Nanjing to Xi'an
"Tonight is the night when students are flooding the internet," some on Weibo said during a dark night filled with students' bright lights.
The Communication University of China in Nanjing (南京传媒学院, abbr. CUCN) is trending on Weibo on Saturday night, with one hashtag receiving over 180 million views on Weibo before 23:00 local time.
Students at the university gathered on Saturday evening, chanting slogans such as "long live the people" and turning on the lights on their phone as a tribute to victims of the fire in Urumqi.
Over the past few days, there has been ongoing unrest in various parts of China. The fire that occurred in Urumqi on November 24 triggered waves of anger online (read here), and at the same time there have also been other incidents that further intensified the anger, which some also took to the street.
Another incident that attracted a lot of online attention this week happened in the Shunde District of Foshan, Guangdong, on November 24. Online, the incident was referred to as a "stampede," but the hashtag "Foshan Stampede" (#佛山踩踏#) was soon taken offline. According to China Daily, the incident happened when a crowd of people gathered at a Covid testing place in the Xincheng community of Leliu subdistrict at about 8:30 am. The situation became chaotic when people fell down due to the slippery ground, but nobody reportedly was injured.
Nevertheless, the incident surely did not help to calm the growing tensions, especially this week when we also saw protests and unrest at Foxconn in Zhengzhou and the third consecutive daily record for new Covid cases in mainland China following by local (semi-) lockdowns across the country.
Meanwhile, on Saturday night, Weibo flooded with comments in support of the students who stood up to make their voices be heard.
"I'm not there with you, but I'm there with you," one commenter wrote, with others posting: "Brave young people. This society is no longer giving them a way to live. History is repeating itself. If we don't do this now, it's our children who will have to struggle."
"CUCN come on!" some cheered, while others wrote: "We're proud of you."
Some screenshots claiming to come from people at the scene said that it was the students' intention to show solidarity with the people who passed away in the Urumqi fire and those in Xinjiang who were treated unfairly in light of the ongoing lockdowns the region saw since August of this year.
An anonymous poster warned people not to believe rumors regarding the protest being a conflict between the school leadership and the students: "The school is protecting its students, although some on the internet would like you to believe otherwise."
Lights at the CUCN scene were allegedly turned off to prevent students from being identifiable on videos and photos.
As soon as the live commenting section on the CUCN protests was shut down by Weibo, another topic came up before midnight.
Students at the Xi'an Academy of Fine Arts (西安美术学院) were also taking their anger to the campus streets, where they allegedly demanded for freedom amid Covid lockdowns.
One commenter wrote: "Tonight is the night when students are flooding the internet, their fire [torch] will burn forever, what a magnificent night!"
"The students are very brave, they are the first to stand up. I hope the workers will stand up, and finally, all people will stand up."
Many people on Chinese social media posted references to La Jeunesse (New Youth), a Chinese literary magazine that was founded in 1915 by Chen Duxiu and also influenced China's May Fourth Movement (sometimes referred to as the Chinese Enlightenment), which was all about the Chinese youth being the catalyst for transformation.
"You are the heroes of the awakening,' others wrote.
Read more about the "11.24" unrest in China here.
For more articles on the Covid situation in China, check here. If you appreciate what we do, please support us by subscribing for just a small annual fee.
By Manya Koetse , with contributions by Miranda Barnes
Get the story behind the hashtag. Subscribe to What's on Weibo here to receive our newsletter and get access to our latest articles:
Spotted a mistake or want to add something? Please let us know in comments below or email us. First-time commenters, please be patient – we will have to manually approve your comment before it appears.
©2022 Whatsonweibo. All rights reserved. Do not reproduce our content without permission – you can contact us at info@whatsonweibo.com.
"Let's Do Nucleic Acid Tests Together": Chinese Children's Song Combines Classical Poetry with Covid-Testing
A new nursery rhyme to fit Covid time? "Determined to fight the epidemic, let's do nucleic acid tests together," the children sing. "We've entered a new phase of madness," Chinese netizens say.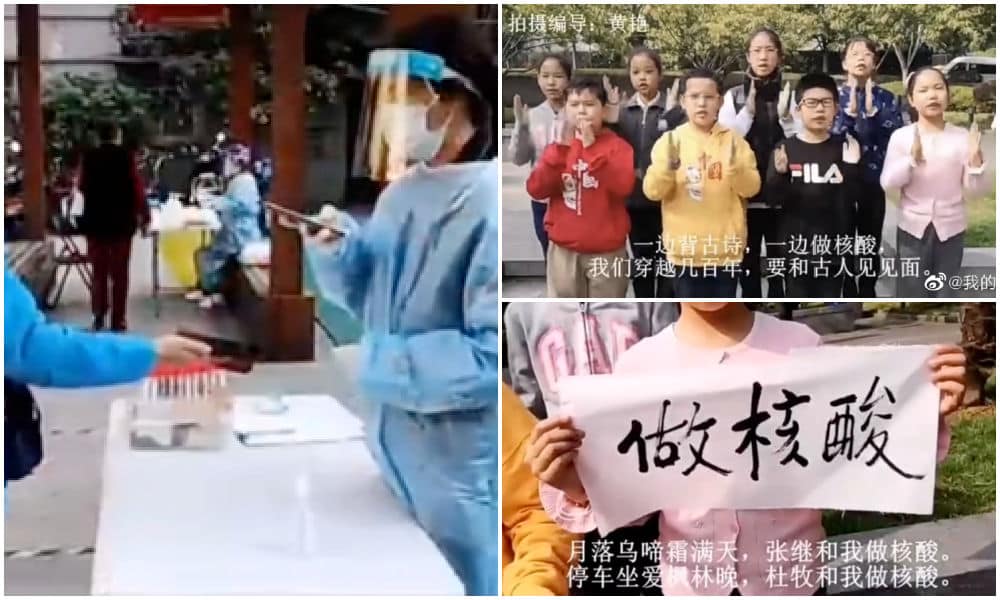 A new Chinese children's song, produced by local officials in Jiangsu, recites classical poems and invites China's great poets to do nucleic acid tests together. As the video is going viral, it is getting ridiculed online for being excessive and 'over the top.'
A a Chinese children's song titled "Doing Nucleic Acid Tests While Reciting Ancient Poems" (背古诗做核酸) is making its rounds on Chinese social media on Wednesday due to its unusual lyrics and video clip.
In the song's video clip, a group of masked-up children starts singing: "Determined to fight the epidemic, let's do nucleic acid tests together. While reciting ancient poems, we're doing nucleic acid tests."
The children then continue to sing phrases from famous Chinese classical poetry, after every phrase emphasizing that they are doing nucleic acid tests together with great Chinese poets such as Li Bai, Lu You, Luo Yin, Du Mu, or Wang Anshi.
"'From a distance the waterfall looks like a hanging stream' [遥看瀑布挂前川], Li Bai is doing nucleic acid tests with me;
'When will the bright moon shine on the way back' [明月何时照我还], Wang Anshi is also doing tests."
Meanwhile, the video shows a Covid19 testing booth where anti-epidemic workers are taking samples and people are standing in line to do a nucleic acid test. Some children are holding calligraphy rolls in their hands with the characters "doing nucleic acid tests" on it.
The song, written by Xu Zhong (徐众), is said to be a joint initiative by a Jiangsu province local branch of the China Democratic League (one of the legally recognized minor political parties in the People's Republic of China), together with a local community Communist Party committee. It was allegedly produced to "enrich the cultural life within the community" and bring some "positive energy" to China's ongoing fight against Covid19.
The video quickly went viral in various WeChat groups, after which it was also shared on other platforms including Weibo under the title "Let's Do Nucleic Acid Tests Together" ("我们一起做核酸").
"Let's do nucleic acid tests together 🎶" A new Chinese children's song that was released by a local Jiangsu community is being shared a lot on WeChat today, the video shows kids reciting ancient poems while doing Covid19 tests. "We've entered another level of madness," some say. pic.twitter.com/4PIFGfofID

— Manya Koetse (@manyapan) October 26, 2022
"It's just so over the top," some commenters said, "It's like the nucleic acid test has become China's Fifth great invention." "I'm shitting myself laughing," others write.
There were also those who used the song to criticize China's Zero Covid policy for being "excessive", writing: "How about we also dig up the bones of our forefathers and do a nucleic acid test?"
Under Xi Jinping, the idea of combining Chinese tradition with modernity and promoting ancient culture in China's 'New Era' is part of the journey of the 'great rejuvenation' of the Chinese nation. Perhaps the producers of the video thought it would be a fruitful idea to mix Chinese poetry with the country's strict Covid19 testing campaigns.
One Weibo blogger commented that the local Chinese officials who made the song must be suffering from an epidemic-related 'Stockholm Syndrome' in order to create such a "phenomenal work" where kids are reciting ancient poems while doing Covid-19 tests.
"We've just entered a new level of madness," another commenter said, soon receiving over 400 likes.
As the video was on its way to go viral, it was quickly taken down after receiving criticism and ridicule.
"I'm glad we've still got the screen recordings," some said. "I'm still trying to find a link of the video that wasn't taken down yet," another person wrote: "I could use a good laugh today."
By Manya Koetse and Miranda Barnes
Get the story behind the hashtag. Subscribe to What's on Weibo here to receive our weekly newsletter and get access to our latest articles:
Spotted a mistake or want to add something? Please let us know in comments below or email us. First-time commenters, please be patient – we will have to manually approve your comment before it appears.
©2022 Whatsonweibo. All rights reserved. Do not reproduce our content without permission – you can contact us at info@whatsonweibo.com.