Chinese Arts Students into Panic Mode after Failing to Register for Exams Amid Announced Reforms
"The collapse of one app is affecting our entire future."
Thousands of Chinese arts students have been unable to register for their upcoming exams this week, leading to great anger on social media. Now that China's examination system is undergoing changes that will affect students majoring in arts, many fear that this was their last chance of ensuring a place at the higher education system they were aiming for.
This week, thousands of Chinese art undergraduates have gone into full panic mode for not being able to register for their upcoming exams.
The college enrollment procedures for students planning to major in 'arts' (covering fields of music, painting, dancing, design, film & TV, etc.) is different from students within other fields; those majoring in arts have to complete a college-level exam along with a provincial-level exam before taking the National College Entrance Examination (NCEE), commonly known as Gaokao.
On January 6th, allegedly around 700,000 students who tried to register for their college-level exam through the Yishisheng (艺术升) registration app found the system unresponsive, making the issue a trending topic on Chinese social media.
The hashtag "700,000 Arts Exam Candidates Lose Registration Qualification" (#70万艺考生丧失报名资格#) received more than 150 million views on Weibo at time of writing, with many students being angered and stressed, saying that "the collapse of one app is affecting our entire future." At time of writing, it is not sure how the reports have come up with the 700,000 number, although it is probable that this is based on numbers of previous years, or based on the number of people taking the provincial-level exams (this link for reference).
What's the Deal with Chinese Art Students?
The Gaokao (高考) or China's National Higher Education Entrance Examination is well-known for being notoriously tough and super competitive. Every summer, millions of Chinese undergraduates take the exams for two days in a row or longer, depending on the major they are applying for and the provinces they are registered in. The result of this annual exam is set as the common entry criterion reference for university admission.
For students specializing in arts, their journey to the Gaokao examinations already starts earlier in the year. Arts students take the college-level supplementary exam (known as xiaokao 校考 or jiashi 加试), for which they have to register separately. All art students are also required to participate in the provincial exams (liankao 联考 or tongkao 统考), where their understanding of basic art knowledge and relevant art skills will be tested.
Only students who have passed these provincial exams will receive the certification that is needed in order to take the exams in June.
The extra challenge also provides extra opportunities for art students. Different from other students, art students' final score is based on multiple grades, namely that of the aforementioned (1) supplementary university exam (校考), (2) the combined arts exam (联考), and (3) the gaokao (高考). Every art student is required to pass the combined arts exam, but have the benefit that most universities set relatively lower requirements for their gaokao scores once they have passed.
Once these art students are admitted to universities, their department choices, however, are not limited to arts per se. Arts students are thus sometimes labeled as being 'opportunists,' who allegedly take an 'easy route' to enter top-level universities.
But the idea that the arts route is the easy route is often debunked in Chinese media and on social media, where it is argued that arts students have to work harder to invest in their field of specialty, and therefore are doing anything but taking the 'easier' road into their higher education career.
Announced Reforms in the Exam System
The controversial 'shortcut,' however, may disappear in the nearby future. On December 29, 2018, the Ministry of Education issued an article on art exams, suggesting that the general knowledge gaokao score will become more important and decisive in the future.
After the proposed reform, there will allegedly be a limit on the supplementary arts exams at educational institutions, meaning that art students with a lower gaokao score will no longer be admitted.
On the discussion boards of Chinese Q&A site Zhihu, various pages are discussing the upcoming reforms. Some commenters wrote that they support changes to the system, believing it will filter out 'the opportunists' from art education and keep the 'real art lovers' in.
Others voice different opinions, arguing that the reform is unfair to talented arts students and that it will lead to art schools being dominated by 'bookworms.' One current arts student (named @乔贰乔) questions the importance for art students to have a high general knowledge course score, and quotes a Chinese proverb, saying: "People master different fields" (术业有专攻).
If the reform is implemented, 2019 will be the last year for arts students to enjoy the lower gaokao score advantage. Previously, undergraduates who were not satisfied with their gaokao scores could go back to high school and try again the next year. The reform, however, would ban comprehensive universities from holding individual arts exams after 2019, making this year's exams a pivotal one for many arts undergraduates who hope to get into their dream university.
Registration Chaos at 'Yishusheng' App
Besides the extra stress caused by the reform, this year's arts students find themselves facing an unexpected difficulty: not being able to register for their college-level exams (xiaokao 校考).
The exam registration app Yishusheng (艺术升), the only authorized arts exam registration system for the top arts educational institutions, was not capable of handling the large data flow this week and broke down shortly after opening the registration.
The app is also being accused of promoting its 598 yuan (90 USD) VIP membership, with which the registration process would allegedly be accelerated.
By now, thousands of art students have shared their disappointment and anger over not being able to register at such a crucial moment. Some netizens commented that they have tried to register for the Art Academy of Xi'an's entrance exam for over three hours, but never succeeded. Others say they have been up all night together with their parents, desperately trying to get a spot for their examinations.
Sina News also reported that some students succeeded in registering in Jiangsu province, but then later discovered their examination would allegedly take place in Lanzhou, Gansu province, according to the app.
On January 7, Beijing News reported that, according to the Yishusheng app, part of the problem is that there is a decrease in art institutions across the nation and that examination sites have been reduced, suggesting that simply "too many people" were registering for the exams.
On its official Weibo account, the Yishusheng app briefly apologized for the recent crisis, and thoroughly explained the efforts the app has put into making their system better. They also state that the system is "back to normal," while in the various comments sections, people still complain that they cannot enter the registration page.
For now, it does not seem that the storm has blown over yet, especially because Weibo netizens are also angered about the fact that this topic, although receiving so many views, did not appear in the 'hot search' or 'top trending' lists, with many people suspecting the issue is purposely being kept under the radar.
"I am just so disappointed, so incredibly disappointed," one disgruntled commenter writes.
As this story is still developing, we'll update when more news comes up.
By Boyu Xiao, with contributions by Manya Koetse
Spotted a mistake or want to add something? Please let us know in comments below or email us.
©2018 Whatsonweibo. All rights reserved. Do not reproduce our content without permission – you can contact us at info@whatsonweibo.com.
Are Douyin and TikTok the Same?
China's popular "Douyin" app is known as "TikTok" in markets outside of China. But is it really one app?
TikTok, known as the international version of the Chinese successful short video app Douyin, is a global hit. Despite Bytedance's efforts to present Douyin and TikTok as being the same product, they are actually two separate entities.
Douyin, (抖音, literally "shaking sound" in Chinese) is a short video media app owned by China's young tech giant Bytedance (字节跳动). The app allows users to create, edit, and share short videos as well as livestreams, often featuring music in the background.
Douyin's international name is TikTok, an app that looks the same as Douyin, while in fact, the two are not one and the same, despite Bytedance's efforts to brand it as such.
This is not the first time a Chinese tech company presents one app as being the same everywhere, while it actually is not. Tencent's super app Weixin (微信), also known as WeChat, runs two different systems for its Chinese and international version, as explained here.
When downloading either WeChat or Weixin, both being the same app, the app determines what features you can use and what information you can see based on the telephone number you register your account with.
In practice, this means that when you are a non-Chinese resident, you will be using the 'international version,' meaning you will have access to (international-specific) content that a user registered with a Chinese telephone number will not be able to see. The overseas version also does not have the same Wallet functions the Chinese version has.
Two apps, two systems
The difference between WeChat vs Weixin and TikTok vs Douyin, however, is not the same. Whereas the first is basically one app with two different modes, Douyin and TikTok are two completely separate entities.
Depending on the app store you use, you will either be able to download Douyin or TikTok. Users of Chinese app stores can only find Douyin, whereas users of the overseas Apple store or Google Play will only find TikTok available for download.
That the apps are actually separate systems becomes clear when running the same search words in both apps. As shown below, both apps provide different content for the same search words.
For example, one of TikTok's most popular channels of this moment is called 'LisaandLena,' a verified account by two German twins which has over 32 million fans. However, when you enter 'LisaandLena' in Douyin, the only result is an unverfied account which only has 102 fans and shows seven videos.
Results are the same the other way around. One of Douyin's most popular accounts is that of Chinese actor Chen He (陈赫), who has over 52 million fans features 62 videos at this week. However, when running the same name search in TikTok, several unverified accounts come up, all showing some similar videos like those on Chen He's Douyin account.
This suggests that, although Tiktok and Douyin have the same functions, layout, and logos, its users in China and overseas are kept completely separate and are not able to interact with eachother, something that a recent Chinese blog also discusses in detail.
The Rise of Douyin and TikTok
Ever since its launch in September 2016, Douyin has grown immensely popular. Just one year after its release, Douyin had more than 100 million users and became the second most downloaded app in the Chinese Apple store.
In September 2017, ByteDance took its app overseas; branding Douyin as TikTok for the international market, while keeping the app's original name, Douyin, for its Chinese market.
Similar to Douyin, TikTok appeared to strike the right chord among internet users right away. In the first quarter of 2018 (note: within half a year after release), TikTok was the 6th most downloaded non-game app in the Apple app store and Google play store combined. In the Apple app store, it was even the most downloaded app. With its 45,8 downloads in the first quarter, TikTok beat apps such as Facebook, Youtube, or Instagram in the popularity rankings.
But that is not where TikTok's short-video craze halted. In August 2018, TikTok merged with short video app Musical.ly (founded in 2014), that had over 100 million monthly active users at the time. In October last year, after receiving several investments, ByteDance Ltd. officially became the worlds most valuable private start-up, valued at 75 billion dollars.
By summer, ByteDance announced that TikTok, (meaning both apps combined) had more than 500 million monthly active users worldwide. About 300 million of these 500 million monthly active users are China's domestic users.
Why does ByteDance separate Douyin and TikTok?
Why would Bytedance go through the effort to create two apps running on different systems? The answer partly lies in China's strictly controlled online environment, where (social) media companies have to adhere to local policies on what is and what is not allowed to be published on their (user-generated) platforms.
In 2018, Bytedance was already criticized by authorities for hosting 'inappropriate content' on its news platform Jinri Toutiao. The joke app Neihan Duanzi, also run by Bytedance, was forced to shut down. Afterward, the company vowed to hire 4,000 additional censors, clearly not taking any risks in getting more warnings from authorities.
Tik Tok doesn't allow Chinese users to download the international version, as this blogger found out. Strict firewall separating the two apps (Douyin and Tik Tok). Obviously, it has to be done this way to comply with censorship. https://t.co/bCFfTd0Ukm

— Rui Ma (@ruima) 7 januari 2019
By separating Tiktok from Douyin, ByteDance can closely regulate the contents uploaded to Douyin, as they will be disseminated within China, while leaving overseas TikTok and its users relatively free to share whatever content they want to share (do note that the app also set up a team of 20 censors in Indonesia to monitor and 'sanitize' content from the platform there, after receiving complaints from Indonesian authorities).

New regulations for online video content

In light of tighter control on online video platforms, it seems that Bytedance's monitoring team will have to work around the clock. On January 9, China's Netcasting Services Association (中国网络视听节目服务协会), an association directly managed by the Ministry of Civil Affairs, issued new regulations that online short video platforms in China should adhere to. One of the new guidelines requires all online video service providers to carefully examine content before it is published.
Tech Sina reports that the new stipulations require that all online video content, from titles to comments and even the use of emoticons, has to be in accordance with regulations, which prohibit any content that is 'vulgar,' is offending to the Chinese political system, puts revolutionary leaders in a negative light, or undermines social stability in any way.
On Weibo, the newest regulations became a topic of discussion, with many netizens wondering how short video apps such as Douyin are going to comply, and how its users will be affected.
Although Douyin has not responded to how and if its platform will change in light of the latest regulations, we can expect that TikTok will not be affected – it will be marching to the beat of his own app.
By Gabi Verberg, with contributions by Manya Koetse
Interested to know more about Bytedance and TikTok? We recommend listening to this podcast by Techbuzz China.
Spotted a mistake or want to add something? Please let us know in comments below or email us.
©2019 Whatsonweibo. All rights reserved. Do not reproduce our content without permission – you can contact us at info@whatsonweibo.com
When Ad Breaks Get Weird: Branded Content in Chinese TV Dramas Is Ruining It For the Viewers
China's ubiquitous inserted ad marketing is alienating viewers from their favorite TV drama characters.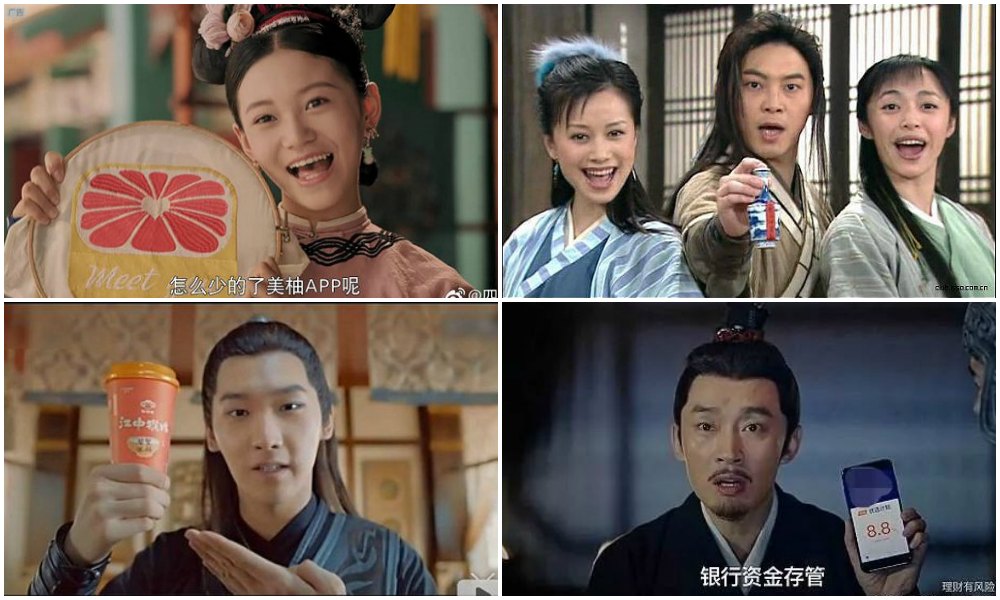 Ad breaks can be annoying, but when it's the main character of your favorite historical drama promoting the latest smartphone, it can actually ruin the viewer experience. In recent online discussions, China's ubiquitous 'Inserted Ad Marketing' (中插广告), that goes beyond product placement, is being attacked by netizens and media.
A 2017 Ad Age article on the high levels of branded content in China's online TV argues that Chinese viewers generally do not mind embedded marketing. They have allegedly become so used to to all kinds of branded distractions in TV shows, dramas, and films, that it is just "another part of the entertainment" (Doland 2017). But recent discussions on Chinese social media signal that the general sentiments regarding inserted sponsored content are changing.
On January 6, Chinese author Ma Boyong (@马伯庸, 4.5 million followers) posted an article on Weibo in which he criticized the phenomenon of inserted ad content in Chinese television series, saying the marketing style often does not suit the characters and is making the actors less credible.
Although Ma does not oppose to embedded marketing per se, he argues it hurts the credibility of TV dramas and the viewer's experience when it does not blend in with the style of the TV drama and its characters.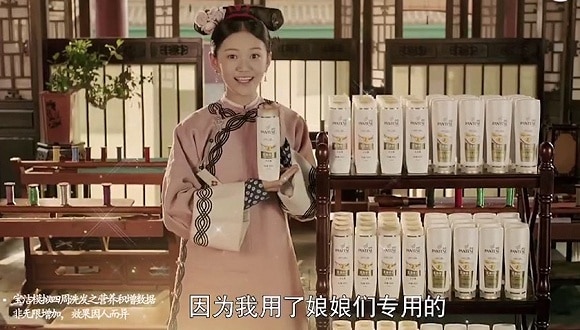 One of the TV dramas where the sponsored segments 'hurt' the show, according to Ma, is Mystery of Antiques (古董局中局, 2018) that is based on one of the author's novels. The actor Qiao Zhenyu (乔振宇), who plays the leading role, allegedly "looks like a fool" because of the inserted ad.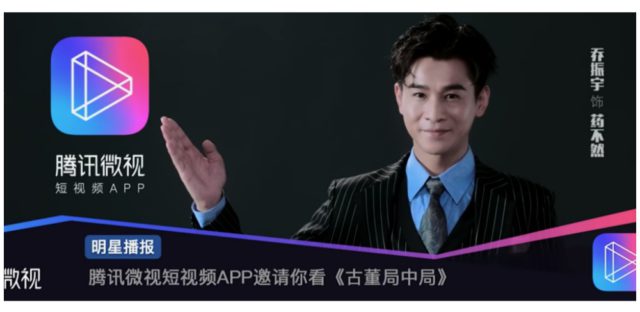 The type of advertising, that is central to this recent discussion, goes beyond product placement; it is the type of ad that appears inside (online) TV shows in which the actors, in character, straightforwardly promote a certain brand and product, sometimes in a scene dialogue ('storyline ads'), but also often while looking directly into the camera (see example here or here, Chinese term: zhōngchā guǎnggào 中插广告).
The hashtag 'Ma Boyong Roasts Inserted Ad Marketing' (#马伯庸吐槽中插广告#) had received more than 50 million views on Weibo by Sunday night, with the overall majority of people supporting the author's stance.
"Finally someone says this," one commenter said: "When it just started out, it was new, and I could endure it, but now it just really annoys me." "It is really disruptive," others agree.
A New Kind of Money-Making Machine
China's history of TV advertisement is not a long one; it wasn't until 1979 that China's first TV commercial was aired. Since then, the industry has blossomed, and branded content has become ubiquitous; the first TV drama incorporating product placement was broadcasted in 1991 (Li 2016).
Product placement is known as a powerful marketing tool since it is inescapable, has a long shelf life, is inexpensive, and unobtrusive (Huan et al 2013, 508). But as China's product placement has been turning into 'branded entertainment' within the settings of the show, it is losing its 'unobtrusiveness.'
Unsurprisingly, this is not the first time this type of advertising receives criticism. In 2017, various Chinese media, such as People's Daily, noted the rise of inserted product ads, stating that TV dramas were "shooting themselves in the foot" with these ad campaigns.
When the protagonist of a dynastic costume drama suddenly promotes a new smartphone app during an inserted ad break, he falls out of character, and the entire drama loses credibility. Do you remember those weird ad breaks in the famous American movie The Truman Show? Even Truman did not fall for that!
In China, this particular type of advertising can be traced back to the 2006 TV drama My Own Swordsman (武林外传), in which the characters suddenly turn to the camera in promoting a "White Camel Mountain" medicinal powder (watch the famous segment here).
Although that scene was for entertainment purposes only (the product was non-existent), it became reality in 2013, when the TV series Longmen Express (龙门镖局) first started using this kind of 'creative' advertising. Many online dramas then followed and started to use these inserted ads, especially since 2015 (Beijing Daily 2017). The promoted products are often new apps or money lending sites.
In the beginning, many people appreciated the novel way of advertising, and as the online video industry rose, so did the price of such advertisements. In a timeframe of roughly two years, their price became ten times higher. These type of 'ad breaks' have become an important and relatively easy money-making machine for drama productions (Beijing Daily 2017). In 2016 alone, Chinese TV drama productions made 800 million rmb (±116 million USD) through this marketing method – a figure that has been on the rise ever since.
The V-Effect: From Vips to Verfremdung
In China's flourishing online streaming environment, one of the problems with inserted ad campaigns is that even 'VIP members' of popular video sites such as iQiyi cannot escape them, nor 'skip' them, even though they pay monthly fees to opt out of commercials (similar to YouTube Premium).
"The reason I signed up for a VIP membership is to avoid ads, and now we get this," many annoyed netizens comment on Weibo.
Although that is one point that many people are dissatisfied with, the biggest complaint on social media regarding the inserted ad phenomenon is that it breaks down audience engagement in the show they are watching, and alienates them from the character, which is also known as verfremdungseffekt, distancing effect, or simply the 'V-effect,'  a performing arts concept coined by German playwright Bertolt Brecht in the 1930s.
The Brechtian "direct address" technique, one of the characteristics that made the American TV series House of Cards so successful, is employed to "break the fourth wall" – the imaginary wall between the actors and audience  – and serves a clear purpose: it makes viewers less emotionally attached to the characters and the narrative, it makes them more conscious and less likely to 'lose themselves' in the show they are watching, and is meant to provoke a social-critical audience response.
But this is exactly the faux pas China's ubiquitous 'creative inserted ads' make in letting popular TV drama characters promote a new app or soda; it is not meant to provoke a social-critical response, it is meant to advertise a product. But by alienating audiences from the show for a commercial and non-meaningful purpose, they actually reach the opposite effect of what their marketing objective is. Audiences become annoyed, less engaged, and 'exit the show' (in Chinese, the term '出戏' [disengage from the performance] is used).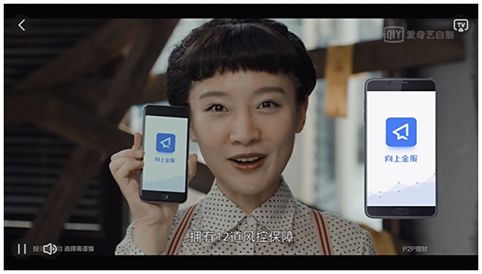 "These kind of ads make the entire drama seem so low," a typical comment on Weibo says. "What can we do? As long as people pay for it, they'll do it," others say.
Despite the recent attack on China's 'branded entertainment,' there is no sign of a change in these marketing techniques. Perhaps, if critique persist, this might change in the future. For now, disgruntled viewers turn to social media to vent their frustrations: "These ads completely make me lose interest in the story, they need to be criticized. I'm happy someone stood up to say it."
By Manya Koetse
Follow @whatsonweibo
References
Beijing Daily (北京日报). 2017. "创意中插广告泛滥,唯独缺了创意" [The Overflow of Creative Inserted Ads, Only They're Lacking Creativity] (in Chinese). Beijing Daily, Oct 18. Available online http://bjrb.bjd.com.cn/html/2017-10/18/content_183998.htm [Jan 6th 2019].
Doland, Angela. 2017. "China's online TV pushes product placement to crazy levels. Even crazier: Viewers don't mind." Ad Age, May 16. Vol.88(10), p.0030.
Huan Chen , En-Ying Lin , Fang Liu & Tingting Dai. 2013. "'See Me or Not, I Am There': Chinese White-Collar Moviegoers' Interpretation of Product Placements in Chinese Commercial Movies." Journal of Promotion Management, 19:5, 507-533.
Li, Hongmei. 2016. Advertising and Consumer Culture in China. Cambridge: Polity Press.
Spotted a mistake or want to add something? Please let us know in comments below or email us.
©2019 Whatsonweibo. All rights reserved. Do not reproduce our content without permission – you can contact us at info@whatsonweibo.com