Chinese Arts Students into Panic Mode after Failing to Register for Exams Amid Announced Reforms
"The collapse of one app is affecting our entire future."
Thousands of Chinese arts students have been unable to register for their upcoming exams this week, leading to great anger on social media. Now that China's examination system is undergoing changes that will affect students majoring in arts, many fear that this was their last chance of ensuring a place at the higher education system they were aiming for.
This week, thousands of Chinese art undergraduates have gone into full panic mode for not being able to register for their upcoming exams.
The college enrollment procedures for students planning to major in 'arts' (covering fields of music, painting, dancing, design, film & TV, etc.) is different from students within other fields; those majoring in arts have to complete a college-level exam along with a provincial-level exam before taking the National College Entrance Examination (NCEE), commonly known as Gaokao.
On January 6th, allegedly around 700,000 students who tried to register for their college-level exam through the Yishisheng (艺术升) registration app found the system unresponsive, making the issue a trending topic on Chinese social media.
The hashtag "700,000 Arts Exam Candidates Lose Registration Qualification" (#70万艺考生丧失报名资格#) received more than 150 million views on Weibo at time of writing, with many students being angered and stressed, saying that "the collapse of one app is affecting our entire future." At time of writing, it is not sure how the reports have come up with the 700,000 number, although it is probable that this is based on numbers of previous years, or based on the number of people taking the provincial-level exams (this link for reference).
What's the Deal with Chinese Art Students?
The Gaokao (高考) or China's National Higher Education Entrance Examination is well-known for being notoriously tough and super competitive. Every summer, millions of Chinese undergraduates take the exams for two days in a row or longer, depending on the major they are applying for and the provinces they are registered in. The result of this annual exam is set as the common entry criterion reference for university admission.
For students specializing in arts, their journey to the Gaokao examinations already starts earlier in the year. Arts students take the college-level supplementary exam (known as xiaokao 校考 or jiashi 加试), for which they have to register separately. All art students are also required to participate in the provincial exams (liankao 联考 or tongkao 统考), where their understanding of basic art knowledge and relevant art skills will be tested.
Only students who have passed these provincial exams will receive the certification that is needed in order to take the exams in June.
The extra challenge also provides extra opportunities for art students. Different from other students, art students' final score is based on multiple grades, namely that of the aforementioned (1) supplementary university exam (校考), (2) the combined arts exam (联考), and (3) the gaokao (高考). Every art student is required to pass the combined arts exam, but have the benefit that most universities set relatively lower requirements for their gaokao scores once they have passed.
Once these art students are admitted to universities, their department choices, however, are not limited to arts per se. Arts students are thus sometimes labeled as being 'opportunists,' who allegedly take an 'easy route' to enter top-level universities.
But the idea that the arts route is the easy route is often debunked in Chinese media and on social media, where it is argued that arts students have to work harder to invest in their field of specialty, and therefore are doing anything but taking the 'easier' road into their higher education career.
Announced Reforms in the Exam System
The controversial 'shortcut,' however, may disappear in the nearby future. On December 29, 2018, the Ministry of Education issued an article on art exams, suggesting that the general knowledge gaokao score will become more important and decisive in the future.
After the proposed reform, there will allegedly be a limit on the supplementary arts exams at educational institutions, meaning that art students with a lower gaokao score will no longer be admitted.
On the discussion boards of Chinese Q&A site Zhihu, various pages are discussing the upcoming reforms. Some commenters wrote that they support changes to the system, believing it will filter out 'the opportunists' from art education and keep the 'real art lovers' in.
Others voice different opinions, arguing that the reform is unfair to talented arts students and that it will lead to art schools being dominated by 'bookworms.' One current arts student (named @乔贰乔) questions the importance for art students to have a high general knowledge course score, and quotes a Chinese proverb, saying: "People master different fields" (术业有专攻).
If the reform is implemented, 2019 will be the last year for arts students to enjoy the lower gaokao score advantage. Previously, undergraduates who were not satisfied with their gaokao scores could go back to high school and try again the next year. The reform, however, would ban comprehensive universities from holding individual arts exams after 2019, making this year's exams a pivotal one for many arts undergraduates who hope to get into their dream university.
Registration Chaos at 'Yishusheng' App
Besides the extra stress caused by the reform, this year's arts students find themselves facing an unexpected difficulty: not being able to register for their college-level exams (xiaokao 校考).
The exam registration app Yishusheng (艺术升), the only authorized arts exam registration system for the top arts educational institutions, was not capable of handling the large data flow this week and broke down shortly after opening the registration.
The app is also being accused of promoting its 598 yuan (90 USD) VIP membership, with which the registration process would allegedly be accelerated.
By now, thousands of art students have shared their disappointment and anger over not being able to register at such a crucial moment. Some netizens commented that they have tried to register for the Art Academy of Xi'an's entrance exam for over three hours, but never succeeded. Others say they have been up all night together with their parents, desperately trying to get a spot for their examinations.
Sina News also reported that some students succeeded in registering in Jiangsu province, but then later discovered their examination would allegedly take place in Lanzhou, Gansu province, according to the app.
On January 7, Beijing News reported that, according to the Yishusheng app, part of the problem is that there is a decrease in art institutions across the nation and that examination sites have been reduced, suggesting that simply "too many people" were registering for the exams.
On its official Weibo account, the Yishusheng app briefly apologized for the recent crisis, and thoroughly explained the efforts the app has put into making their system better. They also state that the system is "back to normal," while in the various comments sections, people still complain that they cannot enter the registration page.
For now, it does not seem that the storm has blown over yet, especially because Weibo netizens are also angered about the fact that this topic, although receiving so many views, did not appear in the 'hot search' or 'top trending' lists, with many people suspecting the issue is purposely being kept under the radar.
"I am just so disappointed, so incredibly disappointed," one disgruntled commenter writes.
By Boyu Xiao, with contributions by Manya Koetse
Spotted a mistake or want to add something? Please let us know in comments below or email us.
©2018 Whatsonweibo. All rights reserved. Do not reproduce our content without permission – you can contact us at info@whatsonweibo.com.
Meet Sister Zhang and the Heilongjiang College Room Inspection Gang
The "six cadre members" of the dorm inspection team take college standards for cleanliness very seriously.
This scene featuring a room inspection team at a vocational college could be straight from a Tarantino movie – but these girls from Heilongjiang apparently just like to go about their duties in gang style.
A video showing the arrogant and authoritarian way in which a team of female students inspects the dorms at a vocational college in Heilongjiang, China, has gone viral on Chinese social media.
In the video, several girls wearing black suits can be seen stepping into one of the female students' dorms as 'the room inspection team' and announcing their arrival like army inspectors, giving a special mention to their leader Zhang.
"Clearly look at the faces of the six of us, we've come to inspect the beds," one of the young women says.
The team leader Zhang then brushes some of the other inspection members aside as she steps forwards and critically glances around the dorm room.
They then begin to give instructions to the female students in the room who stand by in their pajamas and humbly reply "OK," and "understood."
The snobbish room inspection 'tyrants' comment on the dust bins, the walls, telling the students they need to adhere to the "highest standards" of dorm cleanliness before exiting the dorm room again.
Some online commenters thought that all that was missing from the scene was a cigarette dangling from the team leader's mouth.
After the video leaked online on social media, as it was secretly recorded by one female students, it caused somewhat of a social media storm focused on the "six cadre members" of the dorm inspection team.
It did not take long before the first illustrations were created to ridicule the 'dorm sisters.'
One of the reasons the scene caused such a viral storm was because it perfectly illustrated the hierarchy within the dorm inspection team, with lady A first appearing, without much to say, and lady B being most familiar with all the guidelines relating to bed-checking, and 'Sister Zhang' having the final say in all of it, having the power to silence everyone else in the room.
After the video became a viral hit, the Heilongjiang Vocational College issued a statement saying that the video was actually recorded in October of last year and that the six student members involved have since been informed of all the criticism and corrected their behavior.
The video also led to some media articles diving deeper into the history of student unions in Chinese college campus life, with student-led organization becoming more professional and more rigorous throughout the decades; some even require written tests and interviews before fresh students are allowed to join.
Sometimes, students in certain leadership positions feel a sense of superiority and self-righteousness.
In this case, leader Zhang displayed the most extreme and dramatic 'bad boss behavior,' turning her into an overnight internet celebrity.
According to one entertainment blog (金牌娱乐) on Sohu.com, team leader Zhang Meiyu (张美玉) has temporarily left the campus and went home to escape all the attention.
Meanwhile, some hashtags related to the video (#黑龙江职业学院回应查寝视频#) have already received 150 million views on Weibo.
By Manya Koetse, with contributions by Miranda Barnes
Spotted a mistake or want to add something? Please let us know in comments below or email us. First-time commenters, please be patient – we will have to manually approve your comment before it appears.
©2021 Whatsonweibo. All rights reserved. Do not reproduce our content without permission – you can contact us at info@whatsonweibo.com.
Zhang Xifeng's "Countryside Pig" Speech Still Lingers on Social Media
"I was born to be a rural pig, but I'm determined to snatch cabbages in the city."
Ever since Zhang Xifeng delivered his emotional speech on a Chinese TV show, he has remained a hot and controversial topic on Chinese social media.
"I was born to be a rural pig, but I'm determined to snatch cabbages in the city" ("我就是一只来自乡下的土猪,也要立志去拱大城市里的白菜").
This is the sentence that took Chinese social media by storm after the 17-year-old student Zhang Xifeng (张锡峰) first said it during his ten-minute speech for the Super Orators (超级演说家) TV show in late May of this year (see video here).
In Zhang's passionate and emotional speech, titled "Small World, Big You" (小小的世界大大的你), the high school student talks about his childhood in the countryside, the wide gap between China's urban and rural areas, and educational inequality.
He also mentions his experiences as a student at the prestigious Hengshui High School (衡水中学) in Hebei province, and how he and his fellow classmates were feverishly preparing for the gaokao, the National College Entrance Exam, in order to "change their fate."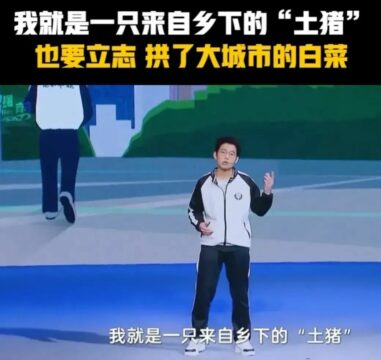 One point made by Zhang is how he believes that rural people like himself are destined to lead an average life and how they are behind children from middle-income and rich families with access to better educational resources.
This summer, Zhang's speech generated a series of popular hashtags on Chinese social media, and the student even became a so-called 'super topic' on Weibo – an online community where fans post daily updates about Zhang and why they admire him.

Inspirational or Selfish?

Zhang's speech left netizens divided. There were those who found his speech to be truthful and inspirational. One fan (@是冰羽啊) wrote: "I want to become someone like you who dares to chase one's dream. You are a beam of light that shines through the darkness for me." Another fan wrote: "I will work hard and try to become just like him!"
But there were also many who criticized Zhang, blaming him for having "distorted values" and actually looking down on people from the countryside. Others said Zhang was wrong for measuring one's success in life solely based on whether or not they attended a well-known school.
Some comments point out that Zhang is essentially selfish, as his main aspiration is to climb the social ladder. Hengshui High School is also being blamed: "This school's education is really a failure. Maybe students achieve high grades, but they fail at making valuable contributions to society."
Zhang studies at Hengshui High School, a high school notorious for its regimented and even militaristic style of preparing students to get high scores in the gaokao – the school is even called "a gaokao factory." In his speech, Zhang refuted the stereotype of Hengshui High School students: "We are not gaokao machines, we're just kids from poor households who want to make their parents proud!"
Another point of criticism is that the really poor families in China would not be able to send their children to a famous school such as Hengshui High School, making people doubt the veracity of Zhang's story.
These doubts became stronger when Zhang was spotted getting into an expensive car at the school entrance on the last day of his exams.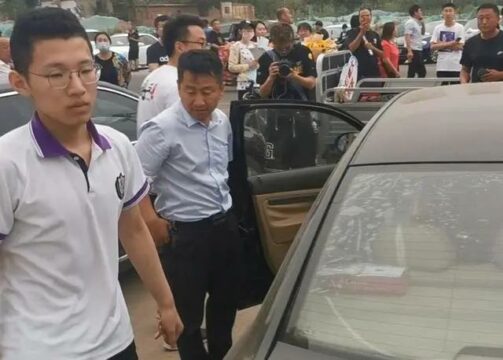 After his speech went viral and Zhang went famous overnight, he reportedly succeeded in obtaining a relatively high score for the National College Entrance Exam and was accepted into Zhejiang University. He did not make it into the more prestigious Tsinghua or Peking University.

The Countryside Pig Controversy

By now, Zhang's speech and his "countryside pig" comment have become one of those trends that seem to stick around on Chinese social media.
The "countryside pig" comment especially managed to become a recurring sentence in the online media spheres because of how Zhang used it.
As explained by Alice Yan in SCMP, the saying "good cabbages snatched by pigs" (好白菜被猪拱了) can refer to resources being destroyed, but more often refers to good girls being ruined by bad boys – this was one of the reasons why that part of his speech was particularly controversial.
In the context of Zhang's speech, however, the student used the sentence to convey the meaning of rural people trying to find a way to the (educational) resources and capital offered in China's cities.
One Weibo blogger (@历史冷幽默) recently also wrote about how Zhang's comments triggered controversy, but perhaps should be viewed in another light.
By mockingly comparing himself to a "pig from the countryside," going into the city to "snatch the cabbage," Zhang had actually wanted to express that even a poor and common student can achieve the results he wants through his own efforts.
He meant to encourage students not to give up on their dreams, and to take their fate into their own hands. But because his "countryside pig" metaphor was considered inappropriate, he was subjected to a wave of criticism.
"It's not fair to describe poor people as 'pigs'," one Weibo commenter said: "This is just full of disdain for ordinary people."
Other netizens however seem to take Zhang's comment more lightly, and jokingly refer to themselves as "countryside pigs."
"He only used symbolism to express how desperate he hopes for success," another Weibo user wrote: "If you misinterpreted his words, it's just because you don't understand what that feels like."
By Susanna Sun & Manya Koetse
Follow @whatsonweibo
Spotted a mistake or want to add something? Please let us know in comments below or email us.
©2021 Whatsonweibo. All rights reserved. Do not reproduce our content without permission – you can contact us at info@whatsonweibo.com.