Chinese Arts Students into Panic Mode after Failing to Register for Exams Amid Announced Reforms
"The collapse of one app is affecting our entire future."
Thousands of Chinese arts students have been unable to register for their upcoming exams this week, leading to great anger on social media. Now that China's examination system is undergoing changes that will affect students majoring in arts, many fear that this was their last chance of ensuring a place at the higher education system they were aiming for.
This week, thousands of Chinese art undergraduates have gone into full panic mode for not being able to register for their upcoming exams.
The college enrollment procedures for students planning to major in 'arts' (covering fields of music, painting, dancing, design, film & TV, etc.) is different from students within other fields; those majoring in arts have to complete a college-level exam along with a provincial-level exam before taking the National College Entrance Examination (NCEE), commonly known as Gaokao.
On January 6th, allegedly around 700,000 students who tried to register for their college-level exam through the Yishisheng (艺术升) registration app found the system unresponsive, making the issue a trending topic on Chinese social media.
The hashtag "700,000 Arts Exam Candidates Lose Registration Qualification" (#70万艺考生丧失报名资格#) received more than 150 million views on Weibo at time of writing, with many students being angered and stressed, saying that "the collapse of one app is affecting our entire future." At time of writing, it is not sure how the reports have come up with the 700,000 number, although it is probable that this is based on numbers of previous years, or based on the number of people taking the provincial-level exams (this link for reference).
What's the Deal with Chinese Art Students?
The Gaokao (高考) or China's National Higher Education Entrance Examination is well-known for being notoriously tough and super competitive. Every summer, millions of Chinese undergraduates take the exams for two days in a row or longer, depending on the major they are applying for and the provinces they are registered in. The result of this annual exam is set as the common entry criterion reference for university admission.
For students specializing in arts, their journey to the Gaokao examinations already starts earlier in the year. Arts students take the college-level supplementary exam (known as xiaokao 校考 or jiashi 加试), for which they have to register separately. All art students are also required to participate in the provincial exams (liankao 联考 or tongkao 统考), where their understanding of basic art knowledge and relevant art skills will be tested.
Only students who have passed these provincial exams will receive the certification that is needed in order to take the exams in June.
The extra challenge also provides extra opportunities for art students. Different from other students, art students' final score is based on multiple grades, namely that of the aforementioned (1) supplementary university exam (校考), (2) the combined arts exam (联考), and (3) the gaokao (高考). Every art student is required to pass the combined arts exam, but have the benefit that most universities set relatively lower requirements for their gaokao scores once they have passed.
Once these art students are admitted to universities, their department choices, however, are not limited to arts per se. Arts students are thus sometimes labeled as being 'opportunists,' who allegedly take an 'easy route' to enter top-level universities.
But the idea that the arts route is the easy route is often debunked in Chinese media and on social media, where it is argued that arts students have to work harder to invest in their field of specialty, and therefore are doing anything but taking the 'easier' road into their higher education career.
Announced Reforms in the Exam System
The controversial 'shortcut,' however, may disappear in the nearby future. On December 29, 2018, the Ministry of Education issued an article on art exams, suggesting that the general knowledge gaokao score will become more important and decisive in the future.
After the proposed reform, there will allegedly be a limit on the supplementary arts exams at educational institutions, meaning that art students with a lower gaokao score will no longer be admitted.
On the discussion boards of Chinese Q&A site Zhihu, various pages are discussing the upcoming reforms. Some commenters wrote that they support changes to the system, believing it will filter out 'the opportunists' from art education and keep the 'real art lovers' in.
Others voice different opinions, arguing that the reform is unfair to talented arts students and that it will lead to art schools being dominated by 'bookworms.' One current arts student (named @乔贰乔) questions the importance for art students to have a high general knowledge course score, and quotes a Chinese proverb, saying: "People master different fields" (术业有专攻).
If the reform is implemented, 2019 will be the last year for arts students to enjoy the lower gaokao score advantage. Previously, undergraduates who were not satisfied with their gaokao scores could go back to high school and try again the next year. The reform, however, would ban comprehensive universities from holding individual arts exams after 2019, making this year's exams a pivotal one for many arts undergraduates who hope to get into their dream university.
Registration Chaos at 'Yishusheng' App
Besides the extra stress caused by the reform, this year's arts students find themselves facing an unexpected difficulty: not being able to register for their college-level exams (xiaokao 校考).
The exam registration app Yishusheng (艺术升), the only authorized arts exam registration system for the top arts educational institutions, was not capable of handling the large data flow this week and broke down shortly after opening the registration.
The app is also being accused of promoting its 598 yuan (90 USD) VIP membership, with which the registration process would allegedly be accelerated.
By now, thousands of art students have shared their disappointment and anger over not being able to register at such a crucial moment. Some netizens commented that they have tried to register for the Art Academy of Xi'an's entrance exam for over three hours, but never succeeded. Others say they have been up all night together with their parents, desperately trying to get a spot for their examinations.
Sina News also reported that some students succeeded in registering in Jiangsu province, but then later discovered their examination would allegedly take place in Lanzhou, Gansu province, according to the app.
On January 7, Beijing News reported that, according to the Yishusheng app, part of the problem is that there is a decrease in art institutions across the nation and that examination sites have been reduced, suggesting that simply "too many people" were registering for the exams.
On its official Weibo account, the Yishusheng app briefly apologized for the recent crisis, and thoroughly explained the efforts the app has put into making their system better. They also state that the system is "back to normal," while in the various comments sections, people still complain that they cannot enter the registration page.
For now, it does not seem that the storm has blown over yet, especially because Weibo netizens are also angered about the fact that this topic, although receiving so many views, did not appear in the 'hot search' or 'top trending' lists, with many people suspecting the issue is purposely being kept under the radar.
"I am just so disappointed, so incredibly disappointed," one disgruntled commenter writes.
By Boyu Xiao, with contributions by Manya Koetse
Spotted a mistake or want to add something? Please let us know in comments below or email us.
©2018 Whatsonweibo. All rights reserved. Do not reproduce our content without permission – you can contact us at info@whatsonweibo.com.
"Brainless" Local Policy to Boost Birthrates: Bonus Points for Kids from Bigger Families
Having a second or third baby? Zhezhou County will give you bonus points for that.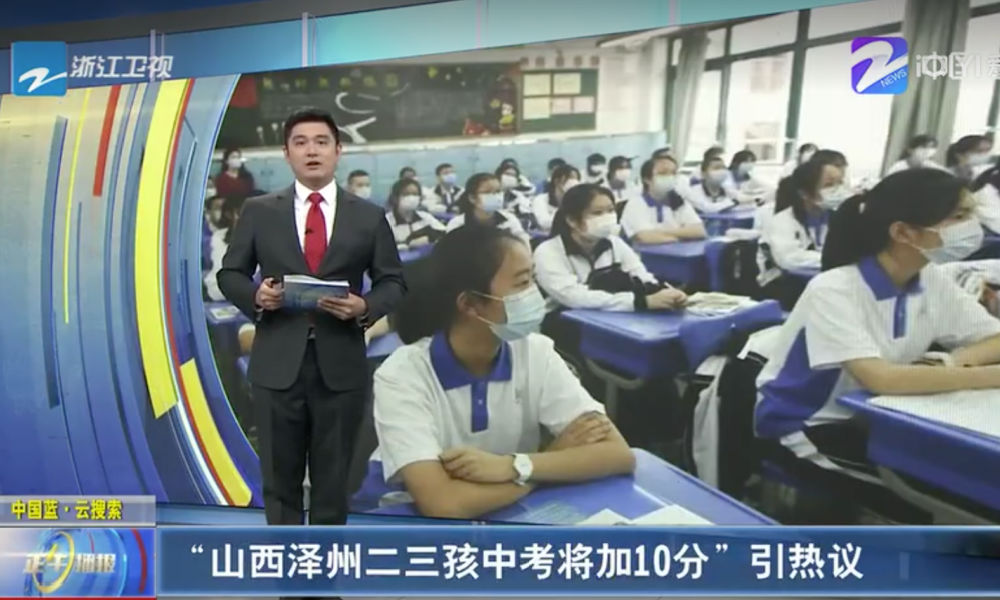 As Chinese experts and local authorities across the country are thinking of new ways to encourage couples to have more children in light of China's dropping birth rates, this latest measure announced by Shanxi's Zhezhou County has sparked controversy.
Dropping birth rates have been a major concern for Chinese authorities for years now, and in light of the recent Two Sessions and its aftermath, it has become a bigger topic of discussion on Chinese social media.
To encourage young people to marry and have more children, various initiatives have been suggested or implemented, with a particular focus on the role education plays in this matter.
One recent proposal from an expert has been to shorten the education period as a means to promote China's birth rates. This includes the idea of eliminating the middle school entrance exam to reduce two years of elementary and middle school education to allow young people to start their post-graduate life at an earlier age.
Earlier this month, another measure that also focuses on education in the context of boosting birth rates sparked heated debates on Weibo.
The measure was introduced by the local government of Zezhou County, a county in the southeast of Shanxi province. The idea entails that families of two children or more will receive benefits in education; their second or third child would get ten additional points in their senior high school exams (zhongkao 中考).
The related hashtag, titled "Second or Third Children from Shanxi's Zezhou County Will Receive an Additional 10 points in the Senior High School Entrance Exam" (#山西泽州二三孩中考将加10分#) received over 120 million views in less than two days.
On Chinese social media, most netizens responded to this proposed measure with indignation, arguing that it violates the basic principle of exam equality.
In response, one popular legal blogger on Weibo called 'Lawyer Zhuang Zhiming' (@庄志明律师) published an article titled: "Shanxi's Zezhou County Giving Families with Two/Three Kids Extra Zhongkao Points – How Did Such a Brainless Policy Come About?" ("山西泽州二、三孩家庭中考加分,如此弱智政策是怎么出台的?")
In the article, the author vehemently criticized the policy, stating that it goes against the basic spirit of education equality and describing it as a "devilish measure against the times" ("逆时代的魔鬼之操作").
In addition to being unfair to one-child families, the author argues that the policy also treats the first child of two or three children families unequally since they cannot receive the extra bonus points while their younger siblings can.
Many users on Weibo also agree with this argument, stating that the policy creates a situation where the first-born child is "inherently placed at a disadvantage," "starting one step behind the others."
Other netizens also criticized this policy, viewing it as an extreme family planning policy. One Weibo post under the hashtag suggests that this policy is similar to measures taken during the one-child policy era and creates inequality to compel people to realize the state's birth rate goals.
Another Weibo user stated: "When we were young, our parents were fined for having multiple children, while we watched families with one child or two daughters receive bonus points. Now that we've grown up and can't afford to have more children, we're watching those with two or three children receive bonus points."
Some also expressed anger and frustration in the comments sections, saying these kinds of policies make them feel pressured to have children and actually makes them feel like not having kids altogether.
"Just don't have babies at all," one person wrote, while another comment said: "If we would treat humans as actual humans, we could avoid strange occurrences like this."
In mid-March, Sina News reported that the local government responded that the policy is not active yet and is being implemented in "one or two years."
In addition to the extra points for the senior high school entrance exam, the local authorities have come up with other measures that benefit families with two or three children, including exemption from outpatient registration fees in the county's public hospitals, an additional sixty days of maternity leave for the third child, 50% off (second child) or no fees (third child) for county public kindergartens, and free after-school childcare services.
Although these local initiatives have drawn a lot of criticism, some people also applaud them.
Phoenix Weekly's Weibo account posted about all the measures taken by the local government, and one person replied: "This is the most effective policy I have seen so far. If Shanghai were to implement such measures, the birth rate would increase very quickly."
Other netizens also suggested that the policy may not be as harmful as some claim it is. In response to concerns about the policy's impact on education equality, some point out that the extra points are only added if students take the zhongkao for high schools located within the county. They, therefore, suggest the measure could actually decrease competition for urban schools, since there will be no bonus points for those entrance exams.
Another Weibo user trivialized the policy's impact by suggesting that "there are no good high schools in the county, so [the policy] won't have much of an influence [on education equality] at all."
While the policy's scope is limited to the county level and may not significantly affect the lives of most individuals, most commenters in these online discussions still see it as a challenge to the fundamental values of equality, merit-based education, and individual autonomy over family planning.
Many people doubt the effectiveness of manipulating the education system to boost birth rates and argue that addressing the broader socio-economic context is the only viable solution: "The government's priority should be to ensure high-quality basic services for children and to maintain these standards. When people feel happy, they may be more willing to have children. Improving the quality of child-rearing and education is more crucial than increasing the quantity of children."
By Zilan Qian
Get the story behind the hashtag. Subscribe to What's on Weibo here to receive our newsletter and get access to our latest articles. Follow us on Twitter here.
Spotted a mistake or want to add something? Please let us know in comments below or email us. First-time commenters, please be patient – we will have to manually approve your comment before it appears.
©2023 Whatsonweibo. All rights reserved. Do not reproduce our content without permission – you can contact us at info@whatsonweibo.com
Chen Hongyou Controversy: Anger over Professor's Speech and Chinese Media Reports on the Incident
The student who grabbed Chen's mic shouted: "We study for the Great Rejuvenation of the Chinese nation – not to breed with Americans!"
A professor from Anhui who has given hundreds of speeches is at the center of controversy on Weibo, where many denounce the teacher for a 'warm-up talk' he did on Saturday. They also criticize Chinese media outlets for not reporting on what Chen Hongyou actually said.
The Chinese associate professor Chen Hongyou (陈宏友) has stirred major controversy this week for remarks made during a speech at a school in Hefei, Anhui.
Chen Hongyou, a well-known Hefei Normal University pedagogy teacher who reportedly has given over 1000 speeches, was invited to give a motivational speech at the Lujiang Middle School (庐江中学) on Saturday, February 18. Founded in 1903, the Lujiang Middle School is a locally acclaimed school with approximately 4000 students.
Just before Chen's talk, he apparently improvised a short, informal speech since it was still taking some time for the PowerPoint presentation to load. This small speech, intended to warm up the audience, would soon grab nationwide attention.
The key to this story, namely what did Chen Hongyou actually say during his speech, is not specifically reported in Chinese media. This is something that was questioned by Chinese social commentator Sima Nan (司马南) in his most recent video, in which he wondered why an outline of Chen's speech was not available to the public despite the major media attention for the incident.
According to various blogs and social media posts, Chen basically talked about how the goal of studying is to make money, as money brings power. Chen allegedly also argued that the better the university, the more chances of finding a partner from a bigger pool of people. This is important, because Chen apparently believes that mixing races – 'the further apart partners live, the better' – would provide better genes for the next generation.
Chen's brother and his wife allegedly were born and raised in the same region, and their kids made it to college. Chen and his wife were born 100 km apart from each other, and their kid made it into a better university. Then he mentioned his son, who is now living in the US with his American girlfriend, and how their future children must have even better genes.
Chen presumably also made negative remarks about same-sex relations and encouraged students with high grades to find foreign partners in order to 'produce' children with better genes.
One student was so offended by the speech that he came up to the stage and seized Chen's microphone, shouting out:
"He only has money on his mind. He is studying for money. He worships foreign things and bows to foreign powers [崇洋媚外]. [Applause] Why are we studying so hard? For the Great Rejuvenation of the Chinese nation! And not to breed with Americans. We are Chinese. Fellow students, study earnestly. For the rise of the Chinese people."
A video of that moment also went viral on Chinese social media.
After the student's comments, the audience cheers and applauds. Chen gets the mic back and the students walks off stage.
On February 19, the official Weibo account of Hefei (capital of Anhui province) published a statement saying the incident was being investigated. That same day, staff members at the school stated that the student who came on stage and took the mic away from Chen would not be punished (#庐江中学称不会处理抢话筒学生#).
Chen Hongyou himself later also responded to the issue saying that he has temporarily been suspended from his function and that he regrets that his words were "misunderstood" by the students, for which he takes responsibility. Chen's name and resume were also removed from his university's website.
On social media, both the teacher and Chinese media outlets are getting attacked for their words and deeds.
Criticizing Chinese Media Reports
The Chen Hongyou incident went viral shortly after it happened. As mentioned, the exact context of what was actually said during Chen's controversial speech was missing from Chinese media reports.
On Chinese social media, many netizens along with some major bloggers (including Sima Nan) criticized Chinese media outlets for seemingly 'siding' with Chen and not clearly reporting on what it was that was so upsetting to the students attending Chen's talk.
Chinese news outlet The Paper (澎湃) is among the main outlets being criticized for their reports on the incident.
The Paper initiated a hashtag on social media about Chen Hongyou responding to the incident (#陈宏友回应讲座引不满被高中生反呛#), as their reporters had interviewed Chen by phone. In that interview, Chen stated that he had been misunderstood and that the goal of his speech had been to get the message across that the youth has the power to single-handedly change their destiny and to navigate their place in the country and in the world.
The report triggered criticism, as many commenters wondered why The Paper had not interviewed any of the students.
"Why aren't you reporting what Chen said?" a common reply said.
"Right now, all the media, led by The Paper, are avoiding the important issues and are dwelling on the trivial things to defend this 'professor,'" one commenter (@吴知山) wrote, claiming that Chinese media purposely left out the teacher's remarks regarding race and 'improving' genes by choosing a foreign partner.
As online discussions heated up, several hashtags related to the incident and its aftermath were taken offline.
Supporting Zhang Zhenfei
Meanwhile, the student who came on stage is widely praised on Chinese social media, where many call him a "role model."
Chinese political commentator Hu Xijin (胡锡进) responded to the Chen Hongyou incident via Weibo on Tuesday and sided with the student, calling him "courageous" for coming up on stage to make it clear that Chen was "out of line."
Many people agreed with Hu, and soon the student, named Zhang Zhenfei (蒋振飞), was praised on Weibo and beyond for having the courage to speak out against the professor.
"I'm touched, I'm grateful, I'm extremely moved," one person wrote about him.
But there are also people who are more critical of the student, suggesting that Chen was giving a speech – he was not teaching – and that he should have been able to express his ideas without his microphone being grabbed away like that.
The Chen Hongyou controversy comes at a time when there is, again, more attention for Chinese education and teaching material in Chinese schools. Last week, the topic of "poisonous teaching material" also went trending on Weibo (#毒教材必须引发全社会反思#) as various bloggers expressed concerns over 'harmful' textbooks being used in schools.
In pointing out harmful content in textbooks, concerned bloggers and parents also often mention content that is seen as being unpatriotic and "worshipping the West." For example, in the 2022 controversy over the "ugly maths schoolbooks," one point of concern – among many others – was about the cartoon kids in the book wearing clothes showing the American flag.
Many commenters also connect the current controversy surrounding teacher Chen with existing concerns over 'poisonous' text books, calling for a "clean-up" of China's education system.
One Weibo user wrote: "Our kids can't be taught this kind of talk that the goal of studying is to go to the U.S. and earn money and marry an American in order to 'optimize' our race! He is suggesting the Chinese people aren't good enough. It's criminal, and he should be punished according to law."
By Manya Koetse 
with contributions by Miranda Barnes
Get the story behind the hashtag. Subscribe to What's on Weibo here to receive our newsletter and get access to our latest articles:
Spotted a mistake or want to add something? Please let us know in comments below or email us. First-time commenters, please be patient – we will have to manually approve your comment before it appears.
©2023 Whatsonweibo. All rights reserved. Do not reproduce our content without permission – you can contact us at info@whatsonweibo.com.