Chinese Arts Students into Panic Mode after Failing to Register for Exams Amid Announced Reforms
"The collapse of one app is affecting our entire future."
Thousands of Chinese arts students have been unable to register for their upcoming exams this week, leading to great anger on social media. Now that China's examination system is undergoing changes that will affect students majoring in arts, many fear that this was their last chance of ensuring a place at the higher education system they were aiming for.
This week, thousands of Chinese art undergraduates have gone into full panic mode for not being able to register for their upcoming exams.
The college enrollment procedures for students planning to major in 'arts' (covering fields of music, painting, dancing, design, film & TV, etc.) is different from students within other fields; those majoring in arts have to complete a college-level exam along with a provincial-level exam before taking the National College Entrance Examination (NCEE), commonly known as Gaokao.
On January 6th, allegedly around 700,000 students who tried to register for their college-level exam through the Yishisheng (艺术升) registration app found the system unresponsive, making the issue a trending topic on Chinese social media.
The hashtag "700,000 Arts Exam Candidates Lose Registration Qualification" (#70万艺考生丧失报名资格#) received more than 150 million views on Weibo at time of writing, with many students being angered and stressed, saying that "the collapse of one app is affecting our entire future." At time of writing, it is not sure how the reports have come up with the 700,000 number, although it is probable that this is based on numbers of previous years, or based on the number of people taking the provincial-level exams (this link for reference).
What's the Deal with Chinese Art Students?
The Gaokao (高考) or China's National Higher Education Entrance Examination is well-known for being notoriously tough and super competitive. Every summer, millions of Chinese undergraduates take the exams for two days in a row or longer, depending on the major they are applying for and the provinces they are registered in. The result of this annual exam is set as the common entry criterion reference for university admission.
For students specializing in arts, their journey to the Gaokao examinations already starts earlier in the year. Arts students take the college-level supplementary exam (known as xiaokao 校考 or jiashi 加试), for which they have to register separately. All art students are also required to participate in the provincial exams (liankao 联考 or tongkao 统考), where their understanding of basic art knowledge and relevant art skills will be tested.
Only students who have passed these provincial exams will receive the certification that is needed in order to take the exams in June.
The extra challenge also provides extra opportunities for art students. Different from other students, art students' final score is based on multiple grades, namely that of the aforementioned (1) supplementary university exam (校考), (2) the combined arts exam (联考), and (3) the gaokao (高考). Every art student is required to pass the combined arts exam, but have the benefit that most universities set relatively lower requirements for their gaokao scores once they have passed.
Once these art students are admitted to universities, their department choices, however, are not limited to arts per se. Arts students are thus sometimes labeled as being 'opportunists,' who allegedly take an 'easy route' to enter top-level universities.
But the idea that the arts route is the easy route is often debunked in Chinese media and on social media, where it is argued that arts students have to work harder to invest in their field of specialty, and therefore are doing anything but taking the 'easier' road into their higher education career.
Announced Reforms in the Exam System
The controversial 'shortcut,' however, may disappear in the nearby future. On December 29, 2018, the Ministry of Education issued an article on art exams, suggesting that the general knowledge gaokao score will become more important and decisive in the future.
After the proposed reform, there will allegedly be a limit on the supplementary arts exams at educational institutions, meaning that art students with a lower gaokao score will no longer be admitted.
On the discussion boards of Chinese Q&A site Zhihu, various pages are discussing the upcoming reforms. Some commenters wrote that they support changes to the system, believing it will filter out 'the opportunists' from art education and keep the 'real art lovers' in.
Others voice different opinions, arguing that the reform is unfair to talented arts students and that it will lead to art schools being dominated by 'bookworms.' One current arts student (named @乔贰乔) questions the importance for art students to have a high general knowledge course score, and quotes a Chinese proverb, saying: "People master different fields" (术业有专攻).
If the reform is implemented, 2019 will be the last year for arts students to enjoy the lower gaokao score advantage. Previously, undergraduates who were not satisfied with their gaokao scores could go back to high school and try again the next year. The reform, however, would ban comprehensive universities from holding individual arts exams after 2019, making this year's exams a pivotal one for many arts undergraduates who hope to get into their dream university.
Registration Chaos at 'Yishusheng' App
Besides the extra stress caused by the reform, this year's arts students find themselves facing an unexpected difficulty: not being able to register for their college-level exams (xiaokao 校考).
The exam registration app Yishusheng (艺术升), the only authorized arts exam registration system for the top arts educational institutions, was not capable of handling the large data flow this week and broke down shortly after opening the registration.
The app is also being accused of promoting its 598 yuan (90 USD) VIP membership, with which the registration process would allegedly be accelerated.
By now, thousands of art students have shared their disappointment and anger over not being able to register at such a crucial moment. Some netizens commented that they have tried to register for the Art Academy of Xi'an's entrance exam for over three hours, but never succeeded. Others say they have been up all night together with their parents, desperately trying to get a spot for their examinations.
Sina News also reported that some students succeeded in registering in Jiangsu province, but then later discovered their examination would allegedly take place in Lanzhou, Gansu province, according to the app.
On January 7, Beijing News reported that, according to the Yishusheng app, part of the problem is that there is a decrease in art institutions across the nation and that examination sites have been reduced, suggesting that simply "too many people" were registering for the exams.
On its official Weibo account, the Yishusheng app briefly apologized for the recent crisis, and thoroughly explained the efforts the app has put into making their system better. They also state that the system is "back to normal," while in the various comments sections, people still complain that they cannot enter the registration page.
For now, it does not seem that the storm has blown over yet, especially because Weibo netizens are also angered about the fact that this topic, although receiving so many views, did not appear in the 'hot search' or 'top trending' lists, with many people suspecting the issue is purposely being kept under the radar.
"I am just so disappointed, so incredibly disappointed," one disgruntled commenter writes.
By Boyu Xiao, with contributions by Manya Koetse
Spotted a mistake or want to add something? Please let us know in comments below or email us.
©2018 Whatsonweibo. All rights reserved. Do not reproduce our content without permission – you can contact us at info@whatsonweibo.com.
'Auntie Goose Legs' Goes Viral after Becoming Sensation in Beijing's Student Scene
She has become all the rage in Beijing's student district, but Auntie Goose Legs just wants to run her roasted goose leg stall in peace.
A Beijing food vendor, affectionately known as 'Auntie Goose Legs,' has become a viral sensation after becoming super popular among the city's student community. However, this beloved 'auntie' has caused quite a commotion recently after relocating her stall, triggering debates among local students over which university she truly 'belongs' to.
This winter, students at Peking University, Tsinghua University, and Renmin University are all craving hot, roasted goose legs. This snack has gained quite the reputation in the Beijing's Haidian District, where 'Auntie Goose Legs' has been selling her food near the dorms and entrances of the various local universities.
The food vendor, who is known for wearing a pink helmet, initially sold her goose legs near the entrances of Peking University and Renmin University, not too far from Haidian South Street. All went well for years. She would let students know when she would be setting up her stall near what entrance, and the neighbourhood kids could come and enjoy her roasted goose legs.
Although her business was doing well, Auntie Goose Legs still found it necessary to remind students she was coming and promoted her goose legs through WeChat to ensure sufficient sales.
Then, one day, Auntie made a sudden decision to relocate further north, near the entrance of Tsinghua University. This move stirred conversations in many Beijing students' WeChat groups.
While the Peking University student community mourned the loss of convenient access to their beloved goose legs, the Tsinghua crowd welcomed Auntie with enthusiasm. Besides eagerly buying her goose legs, they went a step further by assisting her in professionalizing her business, setting up special Goose Legs WeChat groups, and implementing online queuing and payment systems.
As reported by WeChat account Meishaonv023 (美少女挖掘机), the students at Peking University pleaded for the return of their beloved Auntie. Meanwhile, concerns arose among Tsinghua students, as the Auntie's skyrocketing popularity made it increasingly challenging to secure their goose leg snacks. Perhaps their campaign to promote her business had become a little bit too successful?
According to Meishaonv023, Auntie Goose Legs has become so famous locally that among Beijing's university students and in Wudaokou circles (Wudaokou is the famous student hub in Beijing's Haidian), there are now only two groups: those who have tasted her goose legs and those who have not.
Roasted goose, with is deep flavor and golden skin, is a dish that is commonly enjoyed in various international cuisines, especially during winter seasons. According to some people who have tasted the Beijing food vendor's goose legs, they are the perfect mix of juicy and tender, sweet and spicy.
Amidst the hype surrounding the goose leg food stall, Auntie decided to raise her prices by 1 yuan, increasing from 15 yuan ($2.12) per goose leg to 16 yuan ($2.26). Unexpectedly, some people also decided to make some extra money by becoming 'Goose Leg scalpers' and adding another 2 yuan to the price of one goose leg when reselling it to other students.
And there were more developments in the Auntie Goose Legs saga. When she decided to announce that she would no longer set up her stall at Tsinghua on Sundays, the students argued that she then should not set up her stall anywhere else on that day, either. If they can't have goose legs on Sundays, then the Peking Uni students certainly shouldn't have goose legs on Sunday either?
Then, the canteen manager at Renmin University suddenly made a surprising move on November 27 and introduced roasted goose legs in the university's canteen, selling them for just 15 yuan. Some people, however, argued that they lacked the 'soul' of Auntie's food. Meanwhile, the people at the nearby Forestry University also showed their interest in joining the Goose Leg battlefield.
One of the reasons why this story has blown up on Chinese social media is because the universities involved are among the most prestigious of the entire country. It strikes people as amusing that instead of focusing on applied mathematical problems, these top academics are actually engaged in bickering over roasted goose legs.
A Covid test line? New bubble tea shop? No, these Beijing students are lining up for the roasted goose legs by 'Auntie Goose Legs.' The local food vendor has gone viral after becoming a sensation in Beijing's student scene, from Beida to Tsinghua 🍗 Read: https://t.co/fCPjFaiaqA pic.twitter.com/VeUVVhD0VP

— Manya Koetse (@manyapan) November 29, 2023
As the success of her business blew up, Auntie Goose Legs, seemingly overwhelmed, announced that she was going to take a short break from her food stall on November 28, writing: "It's all too messy now." One day later, she seemed emotional in a Douyin video, in which she said she felt too much pressure because of how the situation was unfolding, and that she just wanted to sell her goose legs in peace ("只想平平安安做烧烤").
Her story shares some resemblance to that of the duck head seller in Zibo (鸭头, duck head, is a Chinese snack). Earlier this year, when the Shandong town of Zibo became all the rage, a local duck head seller became an online sensation after a video showing how a female tourist touched his muscles went viral overnight. What do you do when you suddenly see 180,000 visitors a day passing by your small duck's head shop?
Although his hit status initially boosted sales, the crowds of people coming to his shop soon became so overwhelming that he could no longer run his business as usual. As some even started harassing and physically assaulting him, he could no longer do his work and had to temporarily close his shop. In a live stream, he tearfully talked about how his business, ironically, was facing difficulties due to his viral success.
"It's not always good to go viral like this," one Weibo commenter wrote about Auntie Goose Legs. "If she wants some peace, just let her." While many share the sentiment, suggesting that the food vendor deserves a break after becoming a local sensation, others just want to try out her food. One thing is certain; goose legs are the trending snack for this Beijing winter.
By Manya Koetse, with contributions by Miranda Barnes
Get the story behind the hashtag. Subscribe to What's on Weibo here to receive our newsletter and get access to our latest articles:
Spotted a mistake or want to add something? Please let us know in comments below or email us. First-time commenters, please be patient – we will have to manually approve your comment before it appears.
©2023 Whatsonweibo. All rights reserved. Do not reproduce our content without permission – you can contact us at info@whatsonweibo.com.
The Story of Li Jun & Liang Liang: How the Challenges of an Ordinary Chinese Couple Captivated China's Internet
"Liang Liang and Li Jun are just the tip of the iceberg; there are thousands of couples facing similar challenges."
Two years after they first started sharing their story on Chinese social media, millions of netizens are engrossed in the struggles of the Chinese young parents Li Jun and Liang Liang, whose journey of starting a family and buying an apartment in the city at a time of economic downturn turned into an emotional rollercoaster.
The struggles faced by an ordinary young Chinese couple have recently become a major topic on Chinese social media.
For some, their story has unfolded like a compelling movie, "starring Li Jun and Liang Liang." Others think they could be protagonists in a novel, perhaps one written by Victor Hugo or Lao She.
Here, we explain their story thus far and why it has become such a big topic of discussion on Chinese social media.
A PROMISING FUTURE
"Among tens and thousands of lights in the city, finally there's a light that only shines for me."
In 2022, the couple, Zhang Liliang (张艺亮, the husband, also called 'Liang Liang') and Dong Lijun (董丽君, the wife, referred to as Li Jun), first became popular on Chinese social media as they shared their journey of buying a property and building a life in Zhengzhou, Henan Province, on their account 'The Couple Liang Liang & Li Jun' (亮亮丽君夫妇).
Their first social media post had appeared in November of 2021. In this video, they shared their excitement about buying an apartment and starting their new life as home owners.
They previously put a deposit on an off-planned apartment, eagerly anticipating its delivery in 2024. They regularly updated their progress on Douyin, showcasing their savings efforts and monthly visits to the construction site. "Among tens and thousands of lights in the city, finally there's a light that only shines for me," they said ("从此万家灯火,终有一盏只为我而亮").
The couple took out a mortgage amount of 1.02 million RMB ($143.660) for the Zhengzhou apartment, which had a total floor area of 1,055 sqft / 98 sqm. They made a downpayment of 450k RMB ($63.370), and agreed to a monthly – relatively high-interest rate – payment of 6293 RMB ($886), while also paying the monthly rent for their apartment (1500 RMB/$211). This meant the budget for other expenses was very tight already, since the couple had an approximate monthly combined income of only 9000 RMB ($1267).
They mainly paid for the downpayment with money that Liang Liang had been saving over the past five years, along with monetary gifts from their wedding and some support from their parents. In order to generate some extra income, Liang also became a taxi driver (Didi) at night.
As the couple gained more popularity online, mainly on Douyin and Bilibili, some Chinese media outlets also began taking notice. In July of 2022, Sanlian Life Weekly (三联生活周刊) featured an interview with the couple, bringing their story to the attention of a wider audience.
THE SPARK IS GONE
"This is our life now, the life of mortgage slaves."
However, things did not go as planned. Months into the construction process, the developer, Sunac China Holdings Limited (融创中国), encountered financial difficulties. In May of 2022, Sunac made headlines as it didn't meet its payment obligations on a dollar bond, making it one of the major Chinese property companies failing to fulfill its financial commitments.
Li Jun and Liang went to check on how the construction was going every month, and found that Sunac's financial woes were causing a standstill in construction. Their apartment was located on the 22nd floor of a 33-story-building, but the construction was suspended from the 13th floor up.
Their daughter was also born during this tumultuous time, in October 2022, adding to the financial strain of rent and mortgage payments without a clear move-in date. "This is our life now, the life of mortgage slaves," they said in one of their videos.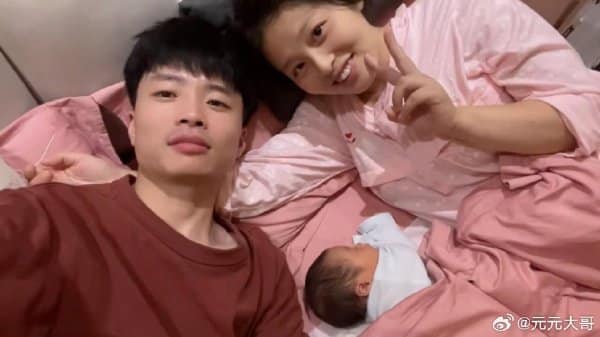 Adding to their challenges, Li Jun experienced a pay cut, reducing their monthly income by 2000 RMB ($282). With the cut leaving them with insufficient funds for essential expenses, they resorted to using their credit card.
In later Douyin videos, fans noticed how frustrated and disillusioned the couple now looked. Some made comparisons to their earlier videos, concluding that the "spark" they previously had in their eyes was gone.
Li Jun and Liang Liang feared that their house might join the ranks of millions of homes in China categorized as "烂尾楼" (làn wěi lóu), referring to 'rotting' unfinished buildings. In such cases, apartments that have been sold are abandoned and are not delivered due to financial struggles or other challenges faced by the developers.
After the pay cut they desperately needed more money to get by. They started doing some e-commerce on Douyin and tried to get the rebate that was promised to them when purchasing their apartment-the initial contract included a 20,000 RMB ($2775) special rebate for buyers, which they qualified for.
But no matter how many times they went back and forth to the sales center, the couple faced rejection and insults when demanding their payment. Desperate, Li Jun and Liang Liang turned to their social media fans and livestream followers to put more pressure on the company, but the staff just shut down the lights, closed the doors, and refused to pay them the money that was promised to them.
SILENCED ON SOCIAL MEDIA
"Instead of pursuing justice, I'd rather have a peaceful life."
In November 2023, the story of Li Jun and Liang Liang gained prominence as they shared dramatic details of their struggles to retrieve their money. On November 15, the couple claimed to have been physically assaulted by staff members of the sales center while demanding their money. Liang ended up in the hospital with minor injuries, and Li, attempting to record the incident, had her phone snatched and the livestream was cut off.
The couple later posted a video later explaining what happened, but that video was soon taken down. Strange things kept happening, and people suspected the couple might have been threatened and bribed.
Because two days later, Li Jun and Liang Liang suddenly shared that the police were now involved, stating that "everything was sorted" and that they were content with the solution provided. This claim of police involvement was confirmed on November 19 by local authorities, who announced penalties for those responsible for beating the couple.
Yet, the last video they posted suddenly became unavailable, and their Douyin account was blocked from updating. Additionally, their other social media accounts on Weibo and Bilibili were both banned from posting (@亮亮和丽君夫妇).
Li Jun still had her personal social media account, revealing on November 22 that the couple had chosen to return to their hometown with their daughter. Liang expressed his desire for justice, but Li Jun emphasized, "But now we have our daughter. I'd rather have a peaceful life." (#亮亮丽君决定离开郑州回老家#)
The idea that Li Jun and Liang Liang felt defeated enough to (temporarily) give up their dream of building their life in the city saddened and angered many netizens, and their story went viral.
But through all their trials and tribulations, the story of Li Jun and Liang Liang may not conclude with an unhappy ending after all.
Their Zhengzhou apartment is apparently not destined to remain an 'unfinished building' — the government has intervened to ensure the delivery of the building. In November of 2023, news also came out that Sunac had met conditions for a long-awaited debt restructuring deal, reportedly reducing its total debt by $4.5 billion. The construction of the building has resumed.
In late November, the story of Li Jun and Liang took another unexpected turn when a new video surfaced, suggesting that the couple – despite saying they would relocate to their rural hometown – would give it another shot in Zhengzhou by starting their own business.
Many online users found this twist confusing, suspecting that local authorities might have intervened to reshape the couple's narrative, possibly to ensure a positive outcome in the public eye (#亮亮丽君决定在郑州创业#).
"Perhaps I should become an internet sensation too," one commenter responded. "Maybe then my unfinished three-room apartment will finally be delivered to me as well."
ORDINARY CHINESE DUPED
"Three years of Covid did not break our spirit; it's our unfinished property that brought us down."
There are numerous reasons why so many people are invested in the story of Liang Liang and Li Jun. Their journey, documented on social media, deeply resonated with millions who are dealing with similar struggles or are finding it hard to start a life in the city, build a family and pay a mortgage.
Their Douyin videos reflected the emotional rollercoaster of an ordinary Chinese couple facing setbacks despite diligently following the conventional path of education, hard work, marriage, savings, property ownership, and family-building.
Many wondered if their lives would have taken a different turn if they had chosen to 'lie flat' or go against the norm. Who is responsible for the fact that, despite their hard work and dedication, their pursuit of the 'Chinese dream' seemed unattainable?
Beyond this issue of ordinary families struggling to get by and pay for a mortgage, a central issue in Li Jun and Liang's story was also the problem with their unfinished apartment.
Concerns about Chinese real estate developers grappling with substantial debts have have consistently dominated headlines in recent years, sparked by the difficulties faced by Evergrande Group and other Chinese property developers, such as Country Garden, Kaisa Group, Fantasia Holdings, Sinic Holdings, Modern Land, and Sunac – the property owner from whom Li and Liang purchased their apartment.
Regular people like Liang Liang and Li Jun are the ones most affected by this ongoing property crisis, often facing severe consequences. For many, this once hopeful young couple, now disillusioned, represents a larger social and economic problem within China's real estate industry.
"Liang Liang and Li Jun are just the tip of the iceberg; there are thousands of couples facing similar challenges," one Weibo blogger (@鸿蒙钊哥) wrote.
Another Weibo user wrote: "We all know the story of Liang Liang and Li Jun, and we want to help them because they represent numerous urban residents. Three years of Covid did not break our spirit; it's our unfinished property that brought us down. So far I did not see official media speaking up for them, is it that they do not know or that they are worth helping? Or, perhaps, they feel ashamed?"
Despite this aspect of Li Jun and Liang's story, which highlights both the trap of mortgage slavery and the problem of ordinary Chinese duped by the country's property woes, the young couple has become a subject of public contention. Not everyone agrees with the choices they made.
Some bloggers, such as Lao Liang (老梁不郁闷), argue that their story was exaggerated for clout, and that their apartment actually never qualified as a 'rotten' unfinished building (烂尾楼 làn wěi lóu) since construction was only temporarily halted but never really abandoned.
While many express sympathy for the couple, others deem it unwise for them to have purchased an apartment with an already strained monthly budget, let alone to have a child under such uncertain circumstances. Critics suggest the couple lacked a proper life plan, didn't assess risks, and ended up in this situation through their own fault.
These critics also view the couple's recent change of plans as evidence that they may have fabricated parts of their story to garner attention and financial support.
However, there are widely different opinions on this issue. Some label these critics as proponents of Social Darwinism (社会达尔文主义), accusing them of being selfish and cold-hearted. They argue that the blame should not be on the couple, striving for a better life, but on the developer who breached the contract and made life so hard for them.
The couple's chosen path, moving from small towns to study and work in big cities, reflects a common value not only in China but worldwide. They argue that society should appreciate those working hard despite facing challenges and insecurities, instead of condemning them for the bold choices they make.
Those supporting the young couple seemingly also do not care if their story has somehow become entwined with (local) propaganda efforts. As their narrative is now shifting from representing defeated Chinese youth in a complex economic situation to showcasing the strength of Chinese urban workers in a revitalized nation, many people simply wish them the best.
As one commenter writes: "If they want to start a business in Zhengzhou now, let them go for it. They've made positive use of the attention they've received. They don't need to live up to the expectations that others have them. All the luck to you!"
By Manya Koetse & Miranda Barnes
Get the story behind the hashtag. Subscribe to What's on Weibo here to receive our newsletter and get access to our latest articles:
Spotted a mistake or want to add something? Please let us know in comments below or email us. First-time commenters, please be patient – we will have to manually approve your comment before it appears.
©2023 Whatsonweibo. All rights reserved. Do not reproduce our content without permission – you can contact us at info@whatsonweibo.com.
Subscribe to our newsletter
Stay updated on what's trending in China & get the story behind the hashtag
Sign up here to become a premium member of What's on Weibo today and gain access to all of our latest and premium content, as well as receive our exclusive Weibo Watch newsletter. If you prefer to only receive our free newsletter with an overview of the latest articles, you can subscribe for free here.
Would you like to become a contributor, or do you have any tips or suggestions for us? Get in touch with us here.