Chinese Musician Song Dongye Canceled (Again) after Complaining about China's Cancel Culture
Song Dongye was shut down by Weibo after airing his grievances at being shut out from China's entertainment circles.
Five years after being caught with drugs, Chinese singer Song Dongye went on Weibo to share his grievances on still being 'canceled' and asking for another chance to restart his career. Instead, he got criticized and blocked.
Chinese folk singer Song Dongye (宋冬野) has become a major topic on Chinese social media site Weibo this week after he posted a lengthy statement on his account airing his grievances regarding how he was shut out from China's entertainment world after being caught with drugs.
In Song's Weibo post of October 11 titled "I Need to Say Something" ("我需要说一些话"), the singer complained that one of his performances was canceled and that he has not been able to perform since he was detained for drug use five years ago.
The Beijing singer was scheduled to hold a concert in Chengdu on October 16th, but local authorities eventually canceled the show after receiving reports about Song being a drug addict.
According to Song, it is not the first time that one of his concerts is suddenly canceled for no apparent reason. In his post, the Beijing artist shared how disappointed he is that yet another performance was called off, even though it was previously approved and was organized in compliance with all strict regulations.
It seems that Song Dongye just cannot get rid of his tainted reputation.
The 34-year-old Song Dongye started his career as a musician in 2009 and signed with the Modern Sky record label in 2012. One of his biggest hits is the 2013 song 'Miss Dong' (董小姐) (link), after which Song's career further flourished.
Things went sour in 2016, when Song was arrested for smoking marijuana in Beijing after someone allegedly tipped off the police. Not long after news on his arrest made the rounds, Song himself posted a statement on his Weibo account on October 25th of 2016, apologizing to everyone for violating the law and promising to better himself.
Song is not the first Chinese celebrity to have been caught with drugs. There is an entire list of celebrities who were caught doing drugs, especially in the 2014-2016 years – including names such as Jaycee Chan, Kai Ko, and Zhang Mo.
In Song's most recent Weibo post, the solo artist explains how his former drug abuse deeply affected him and his family, and that he has never touched drugs again since his ten-day prison sentence five years ago in 2016.
Despite the fact that Song complied with court orders and became an anti-drug advocate, he apparently is still not able to perform – even though the prescribed three-year ban on performing (in accordance with regulations provided by the Ministry of Culture) has officially ended two years ago.
The musician writes that he feels wronged. As a former drug abuser, he feels it was right for him to be punished, but he also says that drug users are actually the victims, claiming that drug trafficking is the real crime. Song argues that it is very difficult to be in the entertainment industry and that it is not easy to say no to drugs when you are down, depressed, and pressured.
In his Weibo post, the artist actually suggests he has been victimized in two ways: firstly, as a depressed artist lured into taking drugs, and second, as a canceled celebrity who keeps on being shut out from China's entertainment circles.
"I can't understand it, I'm confused," Song writes: "I've violated the law, but I've been punished! I've been detained and then I also received five years of verbal abuse! I've been educated! I understand! I never messed up again! I got up again, and I changed! I became a better person! Is that still not enough for me to be able to make a living? Why? I'm not doing anything but playing some small offline gigs in order to get by! I'm just a singer-songwriter! What else do you want me to do? (..) Shouldn't society give people who have broken the law another chance?"
Song concludes his post by saying that, regardless of the challenges he is facing, he will not give up on his work.
Song's Post Backfires
Soon after Song Dongye posted his short essay on Weibo, thousands of reactions started flooding in. Many netizens did not feel sorry for the artist, but instead blamed him for "playing the victim."
The issue triggered a major discussion on Chinese social media on whether or not artists with a bad reputation should be allowed back into the limelight.
A recent article by What's on Weibo on 25 'tainted celebrities' in China (25 'Tainted Celebrities': What Happens When Chinese Entertainers Get Canceled?) shows that Chinese entertainers who previously got 'canceled' generally do not return to the big stage, either because they have simply fallen out of favor with most people or because they are being shunned and sidelined in the entertainment industry (or a combination of both).
Many people felt that Song Dongye was being a hypocrite, not just because they felt he was excusing his former drug use by saying drug traffickers are the real offenders, but also because Song allegedly did do multiple commercial shows over the past five years and has been actively setting up new businesses since his 2016 arrest.
For official media accounts, in the meantime, this apparently seemed to be a good moment to highlight their anti-drug informational posts.
State newspaper People's Daily posted a series of photographs on October 12th featuring police officers who got injured while doing their work combating drug trafficking and drug use, stating that over thirty staff members of the law enforcement against drugs were killed since 2017.
The post's message was clear: these Chinese officers in drug law enforcement were unable to get a second chance in life – why would Song, as a drug abuser, be allowed to get another chance to restart his career as a performer?
That idea resonated with many, who wrote: "We should have a zero-tolerance policy [towards drugs]. We can't ever revive these police officers!"
Another image circulated on social media with the tagline "taking drugs and selling drugs is the same crime," showing a musician offering money for drugs and a law enforcement officer being shot on the job (image below).
On that same day, Song's Weibo account was temporarily suspended. The hashtag "Song Dongye's Weibo Suspended" (#宋冬野微博被禁言#) received over 620 million views in the days following the ban.
Many people on Weibo share the view that those who chose to take illegal drugs for their own pleasure can never be a public figure again, earning money from commercial appearances.
Others wrote that Song should have never posted his essay at all since it only caused him to be labeled as a 'tainted celebrity' again, even though many people had already forgotten about his former drug use. They think that Song's real problem hindering his future career now is not his 2016 offense, but his 2021 Weibo post.
Song Dongye's post did not just affect him, it indirectly also affected other Chinese 'tainted celebrities.'
A planned concert by Chinese singer Li Daimo (李代沫), a previous contestant of The Voice of China (中国好声音), was also canceled this week following the Song Dongye controversy.
Li Daimo was arrested in 2014 for possession of drugs and was later sentenced to a fine and nine months in prison. After being released from prison, Li resumed his music career. Although his tainted past was still sometimes discussed on social media, he was one of the few artists who seemed to have made some sort of a comeback to the entertainment industry after such a major controversy.
The Song Dongye situation, however, also made people (and authorities) reflect on Li's current career.
Over the past year, Chinese celebrities have become a target of authorities and state media have consistently been reporting on the importance of Chinese stars setting a good example for their fans.
But amid all controversy, there are also people who come to Song's defense: "If an artist has been punished for three years, we should give people the opportunity to reappear. It might [even] be more beneficial to the anti-drug campaign."
"I really like his songs," one person wrote about Song: "But he did drugs, and I can't forgive him for that."
At this time, it is not clear when or if Song Dongye will be allowed to post on his Weibo account again. Although his Weibo page is still there, it currently says: "This account has temporarily been suspended for violating Weibo guidelines." It is not clarified which specific guidelines Song violated with his post.
By Manya Koetse
Spotted a mistake or want to add something? Please let us know in comments below or email us. First-time commenters, please be patient – we will have to manually approve your comment before it appears.
©2021 Whatsonweibo. All rights reserved. Do not reproduce our content without permission – you can contact us at info@whatsonweibo.com.
King of Workout Livestream: Liu Genghong Has Become an Online Hit During Shanghai Lockdown
Liu Genghong (Will Liu) is leading his best lockdown life.
With their exercise livestreams, Liu and his wife are bringing some positive vibes to Shanghai and the rest of China in Covid times, getting thousands of social media users to jump along with them.
On Friday, April 22, the hashtag "Why Has Liu Genghong Become An Online Hit" (#为什么刘畊宏突然爆火#) was top trending on Chinese social media platform Weibo.
Liu Genghong (刘畊宏, 1972), who is also known as Will Liu, is a Taiwanese singer and actor who is known for playing in dramas (Pandamen 熊貓人), films (True Legend 苏乞儿), and releasing various music albums (Rainbow Heaven 彩虹天堂). He is a devout Christian.
Besides all of his work in the entertainment business, Liu is also a fitness expert. In 2013, Liu participated in the CCTV2 weight loss programme Super Diet King (超级减肥王, aka The Biggest Loser) as a motivational coach, and later also became a fitness instructor for the Jiangsu TV show Changing My Life (减出我人生), in which he also helped overweight people to become fit. After that, more fitness programs followed, including the 2017 Challenge the Limit (全能极限王) show.
During the Covid outbreak in Shanghai, the 50-year-old Liu Genghong has unexpectedly become an online hit for livestreaming fitness routines from his home. Together with his wife Vivi Wang, he streams exercise and dance videos five days of the week via the Xiaohongshu app and Douyin.
In his livestreams, Liu and his wife appear energetic, friendly, happy and super fit. They exercise and dance to up-beat songs while explaining and showing their moves, often encouraging those participating from their own living rooms ("Yeah, very good, you're doing well!"). Some of their livestreams attract up to 400,000 viewers tuning in at the same time.
The couple, both in lockdown at their Shanghai home, try to motivate other Shanghai residents and social media users to stay fit. Sometimes, Liu's 66-year-old mother in law also exercises with them, along with the children.
"I've been exercising watching Liu and his wife for half an hour, they're so energetic and familiar, they've already become my only family in Shanghai," one Weibo user says.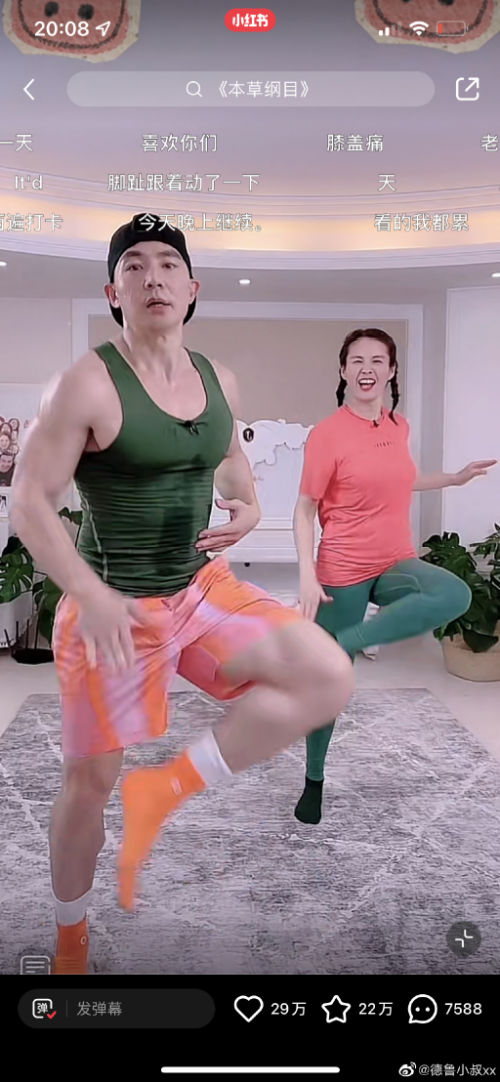 "I never expected Liu Genghong to be a 'winner' during this Covid epidemic in Shanghai," another person writes.
Along with Liu's online success, there's also a renewed interest in the Jay Chou song Herbalist's Manual (本草纲目), which is used as a workout tune, combined with a specific dance routine. Liu is also a good friend and fitness pal to Taiwanese superstar Jay Chou.
This week, various Chinese news outlets such as Fengmian News and The Paper have reported on Liu's sudden lockdown success. Livestreaming workout classes in general have become more popular in China since the start of Covid-19, but there reportedly has been no channel as popular as that of Liu Genghong.
The channel's success is partly because of Liu's fame and contagious enthusiasm, but it is also because of Vivi Wang, whose comical expressions during the workouts have also become an online hit.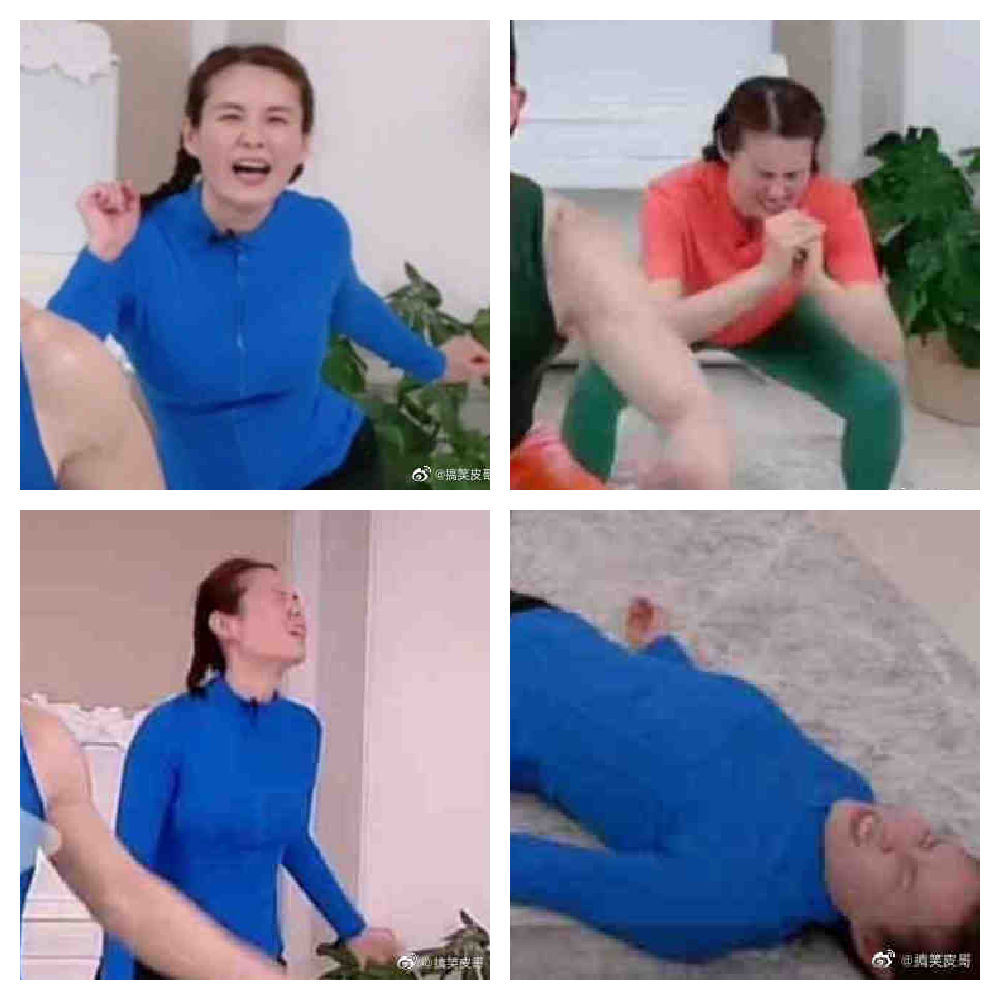 While many netizens are sharing their own videos of exercizing to Liu's videos, there are also some who warn others not to strain themselves too quickly.
"I've been inside for over 40 days with no exercise" one person writes: "I did one of the workouts yesterday and my heart nearly exploded." "I feel fine just watching," others say: "I just can't keep up."
Will Liu (刘畊宏) has become an online sensation in China together with his wife for their livestreamed workout sessions from Shanghai, especially inspiring those in lockdown to break a sweat. This routine to Jay Chou's song Herbalist's Manual (本草纲目) is the hit of the moment. pic.twitter.com/X4VvEBWvFU

— Manya Koetse (@manyapan) April 22, 2022
Watch one of Liu's routines via Youtube here, or here, or here.
For more articles on the Covid-19 topics on Chinese social media, check here.
By Manya Koetse
Get the story behind the hashtag. Subscribe to What's on Weibo here to receive our weekly newsletter and get access to our latest articles:
Spotted a mistake or want to add something? Please let us know in comments below or email us. First-time commenters, please be patient – we will have to manually approve your comment before it appears.
©2022 Whatsonweibo. All rights reserved. Do not reproduce our content without permission – you can contact us at info@whatsonweibo.com.
Weibo is Watching the DJs & Sports Presentation Team at the Winter Olympics Venues
Chinese netizens are not just closely following the athletes, they are also paying more attention to the "atmosphere enliveners" at the 2022 Beijing Winter Olympics.
Chinese netizens are not just closely watching the athletes at the 2022 Winter Olympics – the DJs who are performing at the various venues and their noteworthy song selections have also become a popular topic on social media.
On Feb 8th, the US-born freestyle skier Eileen Gu (谷爱凌, Gu Aling) became the youngest ever gold medalist in freestyle skiing, winning the big air event for China. The American-born Gu has become a superstar in China, and everything related to her is going viral these days, including the songs that were playing when Gu had won gold.
The hashtag "When Gu Ailing Won the Gold, Jay Chou's Song Huo Yuan Jia is Played" (#谷爱凌夺冠现场放周杰伦的霍元甲#) has received more than 29 million on Weibo. Chinese netizens praised the DJs for the song selection, saying it perfectly captured the scene as the song has a strong rhythm, and is also known as 'Fearless.'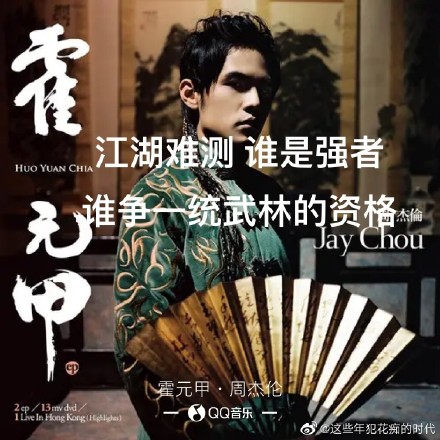 Before the hashtag about Gu went trending, the DJ team already attracted attention on Chinese social media for the interesting and noteworthy music selection at various events.
During the Ice Hockey Women's Preliminary Round Group A, when Team US competed against Team ROC, there was a conflict between the two teams and the DJ played a remixed version of Katyusha, a Russian song that became famous during World War II. The dramatic effect of the scene and wartime song pairing made the song's name (#喀秋莎#) and a video of the DJ trying to 'make some noise' on the venue go trending on Weibo with over 53 million views. Many netizens thought the music selection was humorous, with some joking that the DJ was adding oil to a burning fire.
Xie Xiao (@篮球DJ小牛), the ice hockey stadium music director for the 2022 Beijing Winter Olympics who played the song that day, later clarified on Douyin that the selection of Katyusha was not a response to the conflict. Before that game, he allegedly had already planned to use it because it is a famous song in Russia, and he already played a lot of well-known American songs.
Another creative song choice by this DJ team that resonated with Chinese netizens occurred during another ice hockey match between Team China and Team Japan, when an American DJ performed Defending the Yellow River on a keyboard. In China, Defending the Yellow River is a famous patriotic song. It was the seventh chapter of the classic Yellow River Cantata, written in 1939 to praise the fighting spirit of the Chinese people (#美国DJ现学后现场弹奏保卫黄河#).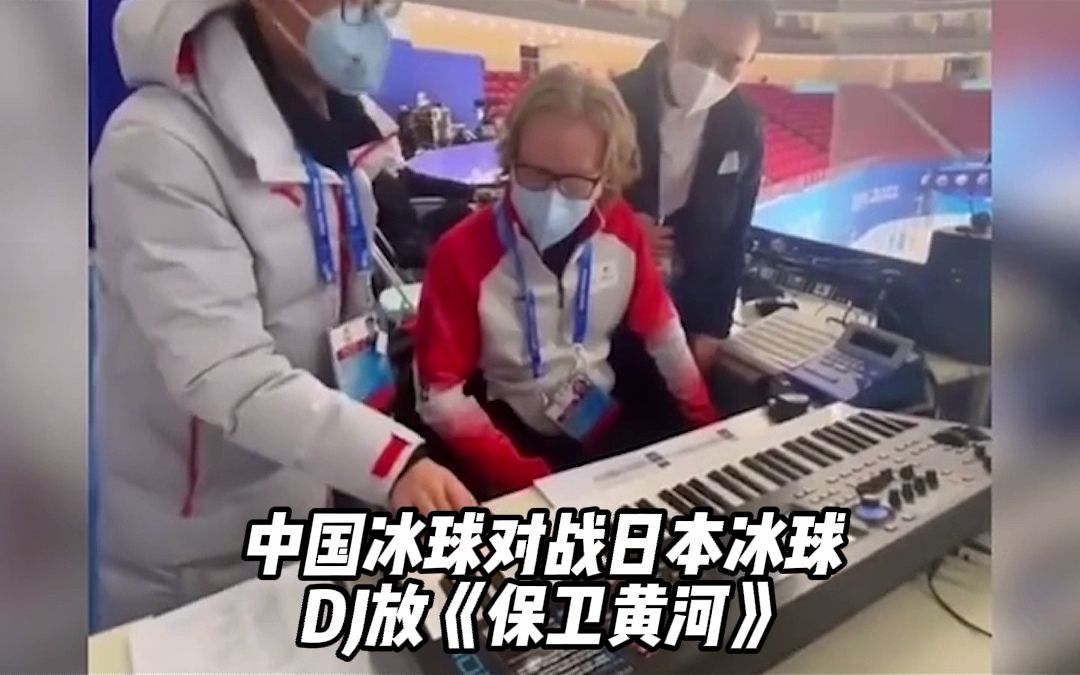 A list of popular hashtags on Weibo relating to which songs are played at the venue of the Winter Olympics also demonstrates that music has become a more relevant and popular part of the Olympics, and is also an attractive component of the event that is encouraging more people, especially younger generations, to watch and participate in the Games.
Xie also said that the team is only allowed to select songs from a specific Winter Olympics music library due to copyright and licensing. The library includes 16000 musical tracks divided into various (sub)categories based on music styles, language, and themes, covering many hit songs and different music from all across the world. On the first event day of speed skating, for example, Adele's Rolling in the Deep blasted through the speakers.
The pandemic has made the role of so-called 'atmosphere enliveners' or 'vibe teams' (气氛组, 氛围组) more important. This already became clear during the Tokyo Olympics, where we saw empty stadiums due to coronavirus measures, with DJs creating playlists to motivate athletes in the absence of cheering fans. This shift has also brought more online attention for DJs and other crew members, who would usually stay behind the scenes.
On the venues, the atmosphere is raised by Olympic mascots walking, jumping, and running around the venues interacting with smaller audiences. Meanwhile, the DJs are playing energetic tracks or are creating remixes and mash-ups while producers use different elements at the venue to enhance the audience's experience.
Li Helin, the deputy manager of the venue operations team at Beijing National Speed Skating Oval, takes care of the event presentation at the venue. He also worked as an MC at the volleyball stadium during the 2020 Tokyo Olympics. Li has also been in charge of some popular music selections played by the DJs during events involving the China team, including Calorie (卡路里) by the Chinese idol girl group Rocket Girls 101 and Immortal Sound Above Cloud Palace (云宫迅音), the opening theme of Journey to the West, a 1986 TV series that is still considered one of China's most popular TV dramas. These song selections also were popular on Weibo.
Li previously said he believed that using DJs to connect with the audiences and to enliven the atmosphere at the venues will become a bigger trend for big sports events in the future. As the standard of sports presentation and fan engagement rises, more new elements, such as spectacular lighting, drones, 3D projects, etc. will also be included: "Sports presentation serves the game, but also adds fresh elements to it."
Meanwhile, many social media users praise the music crew: "This time, the DJs at the Olympics are really awesome and their song selection is on point."  "If you don't know what kind of work you want to do, becoming an Olympic DJ is a good choice," one Weibo user writes, with others agreeing: "Seriously, if I cannot be an Olympic athlete, then I'll strive to be an Olympic DJ."
By Wendy Huang
Follow @whatsonweibo
Spotted a mistake or want to add something? Please let us know in comments below or email us. Please note that your comment below will need to be manually approved if you're a first-time poster here.
©2022 Whatsonweibo. All rights reserved. Do not reproduce our content without permission – you can contact us at info@whatsonweibo.com