Chinese Netizens Are Seeking the Truth Behind the Mysterious Death of a Chengdu High School Student
The "Chengdu 49 Middle School Incident" has been dominating discussions on Chinese social media.
First published
The death of Lin, a student from Chengdu, has become a national issue this week, leading to a wave of online rumors and theories on what might have happened to him. Some even claim the protests that erupted in response to the student's death were set up by "foreign forces."
The mysterious death of a high school student in Chengdu has been trending on Chinese social media and in mainstream media over the past few days, with bloggers and netizens looking for the truth behind the incident.
The 16-year-old Lin Weiqi (林唯麒), a student of Chengdu No. 49 Middle School, fell to his death around 18:40 on Sunday, May 9.
Lin's parents allegedly were not notified about their son's death until over two hours later, at 21:00, and were not allowed to enter the school, see their son, nor talk to teachers. And where was the surveillance video showing how this incident took place?
The case started getting major attention on social media after Lin's mother (later switching to username @四十九中林同学妈妈) posted about her son's death and the dubious circumstances surrounding it on Weibo on Monday morning. In the post, the mother suggested it took over an hour for an ambulance to reach her son's school.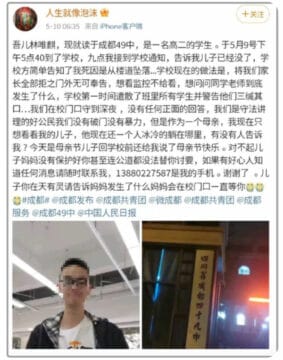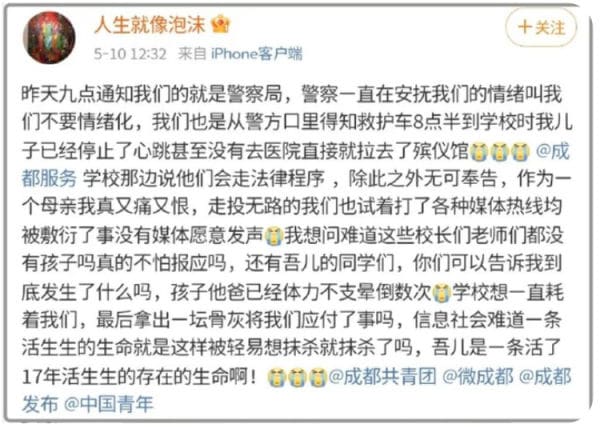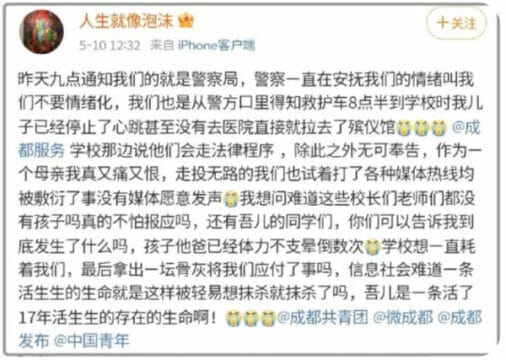 The case set off a stream of wild rumors. There was online speculation about corporal punishment and abuse taking place in the school, with one theory suggesting Lin had been pushed to his death by a chemistry teacher. Netizens speculated that the school was trying to cover up the incident.
The school responded to the issue on May 10, confirming that a student from their school fell "from height" in their school's 'Zhixing' building. According to the school, they immediately called the police after the incident, and have now set up a special team to assist in any ongoing investigations.
The official Weibo account of Chenghua district of the city of Chengdu (@平安成华官方微博) issued a statement on the evening of May 11, ruling out any criminal elements to the death of Lin.
As reported by South China Morning Post, a joint statement by the district propaganda department, the police and the education bureau then stated that investigators had come to the initial conclusion that "the student took his own life due to personal problems."
On the night of May 11, students gathered at the school and protested for the truth to come out. Videos shared on social media show dozens of students carrying flowers and chanting "Truth! Truth!"
Other videos show chaotic scenes of the rare demonstration, where protesters and police guards clashed.
成都49中的學生們,聚集在學校,高喊著"真相真相"! pic.twitter.com/97k1DZuixy

— 新聞看點 (@MuYangLee_XWKD) May 12, 2021
On May 12, the popular Wechat blogging account 'Yi Jie' (熠杰) published a lengthy post about the incident and its aftermath. The article claims that Lin committed suicide by jumping after an argument with his girlfriend. The reason Lin's parents were not allowed to enter the school after their son's death, Yi Jie writes, is because the forensic investigation was still ongoing.
Any rumors of teachers pushing students down the stairs or abusing students are false, the article says. Although the school could surely improve its crisis communication, the fact that it did not handle the communication about the incident in a professional way does not mean there is a 'cover up' going on.
The article, that was soon spread around on Weibo, also questioned the authenticity of the mother's account, writing that three different cell phones were used to log in to Weibo and publish various posts, suggesting that the mother either has three different mobile phones or that there are different people in charge of her account.
Although he does not believe there is anything concealed behind the death of Lin, the blogger Yi Jie does have a theory about the ensuing protests, claiming those who demonstrated belonged to an "organized group" linked to "hostile forces." Yi Jie even connects the protests to the CIA, claiming the protesters were paid to be there.
By Wednesday, many netizens were unsure of what to believe anymore. The hashtag "Chengdu 48 Middle [School]" (#成都49中#) had 1.6 billion views on Weibo at the time of writing.
"No wonder many people do not believe [what happened], I don't believe it either. It's always that the news is blocked once it comes out, it's always that the surveillance camera records were lost, it's been like that for many years. It's not a method to protect social stability anymore," one Weibo user writes.
Others blame Lin's mother for causing all rumors: "After reading so much, I get the feeling we were cheated by that parent. This is not the first time that a victim's family has gone crazy with public opinion, and it's not the first time that I've fallen for it."
There are also many who sympathize with Lin's parents: "The loss of a child, it's something that needs so many years to recover from. There's so much pain. I just hope they'll find answers."
Update May 13
On May 13, Chinese media published a reconstruction of the May 9 incident, which attracted much attention online, with one page about the news (#监控还原成都49中学生坠亡前轨迹#) getting 1,3 billion views.
People's Daily's post including the video received over 100,000 comments and 2,7 million likes.
The reconstruction is based on surveillance camera videos and police investigation, starting at 18:16 on Sunday night when Lin leaves a classroom on the 4th floor of the school building, going down the stairs to the 3rd floor on 18:17.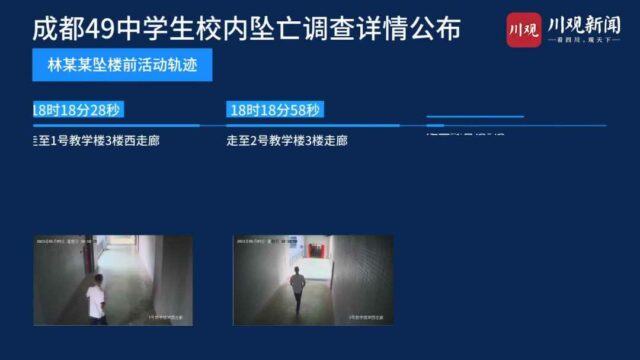 Surveillance cameras captured Lin leaving the 4th floor via the stairs and recorded how he was heading down the western hallway on the 3rd floor, walking on through various parts of the school, reaching the basketball court at 18:23, and then walking on to the building's water pump room, where he stayed for over ten minutes.
A security camera recorded how Lin stayed in the corner of the room, holding a knife in his right hand and cutting himself in his left wrist.
After Lin leaves the room, he keeps on walking through the school's hallways, reaching the fifth floor by 18:39. The next ten minutes have not been captured by security cameras, since Lin was located in blind spot areas outside of the vision of the installed security cameras. One camera from another building does capture a person's silhouette falling from the building at 18:49.
"There are blind spots in the surveillance footage. I don't think it's unreasonable for the parents to initially doubt [the incident]. I think it's the duty of the public security authorities to explain the course of the events of the incident and the crucial time points to the public," one popular comment on Weibo said.
Others think the record has been set straight by this reconstruction, and are hoping Lin can now rest in peace.
The idea that the death of Lin was used by 'evil forces' for their own agenda, which was previously also raised by the Yi Jie blogger, is still circulating on Chinese social media – a theory that is supported by many.
The term "color revolution" is recurring in these discussions, with some netizens suggesting that foreign forces, such as the CIA, are trying to get local people to cause unrest through riots or demonstrations to undermine the stability of the government. There are people who believe those demonstrating in front of the Chengdu school were paid to do so.
"Certain hostile countries are watching all the time. Be alert," one person wrote on Weibo.
By Manya Koetse, with contributions by Miranda Barnes

For information and support on mental health and suicide, international helplines can be found at www.befrienders.org.

Spotted a mistake or want to add something? Please let us know in comments below or email us. First-time commenters, please be patient – we will have to manually approve your comment before it appears.
©2021 Whatsonweibo. All rights reserved. Do not reproduce our content without permission – you can contact us at info@whatsonweibo.com.
Fangcang Forever: China's Temporary Covid19 Makeshift Hospitals To Become Permanent
China's temporary 'Fangcang' shelter hospitals are here to stay.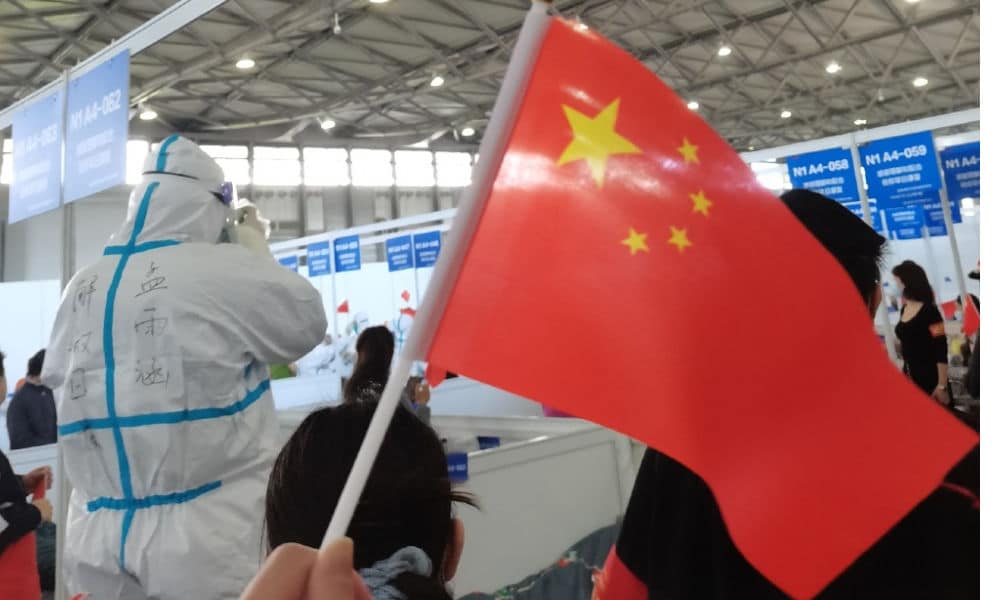 A new term has been added to China's pandemic lexicon today: Permanent Fangcang Hospital. Although China's 'Fangcang' shelter hospitals are, by definition, temporary, these healthcare facilities to isolate and treat Covid patients are now becoming a permanent feature of China's Zero-Covid approach.
Over the past few days, Chinese authorities have emphasized the need for China's bigger cities to build or renovate existing makeshift Covid hospitals, and turn them into permanent sites.
So-called 'Fangcang hospitals' (方舱医院, square cabin hospitals) are large, temporary makeshift shelter hospitals to isolate and treat Covid-19 patients. Fangcang shelter hospitals were first established in China during the Wuhan outbreak as a countermeasure to stop the spread of the virus.
They have since become an important part of China's management of the pandemic and the country's Zero-Covid policy as a place to isolate and treat people who have tested positive for Covid-19, both asymptomatic and mild-to-moderate symptomatic cases. In this way, the Fangcang hospitals alleviate the pressure on (designated) hospitals, so that they have more beds for patients with serious or severe symptoms.
On May 5th, Chinese state media reported about an important top leadership meeting regarding China's Covid-19 situation. In this meeting, the Politburo Standing Committee stressed that China would "unswervingly adhere to the general Zero-Covid policy" and that victory over the virus would come with persistence. At the meeting, chaired by Xi Jinping, the seven-member Politburo Standing Committee also declared that China would fight against any words or acts that "distort, doubt, or deny" the country's dynamic Zero-Covid policy.
Following the meeting, there have been multiple official reports and statements that provide a peek into China's 'zero Covid' future.
On May 13, China's National Health Commission called on all provinces to build or renovate city-level Fangcang hospitals, and to make sure they are equipped with electricity, ventilation systems, medical appliances, toilets, and washing facilities (Weibo hashtag ##以地级市为单位建设或者改造方舱医院#).
On May 16, the term 'Permanent Fangcang Hospital' (Weibo hashtag #永久性方舱医院) became a trending topic on Weibo after Ma Xiaowei (马晓伟), Minister of China's National Health Commission, introduced the term in Qiushi (求是), the leading official theoretical journal of the Chinese Communist Party.
The term is new and is somewhat contradictory as a concept, since 'Fangcang hospitals' are actually defined by their temporary nature.
Ma Xiaowei stressed the need for Chinese bigger cities to be ready for the next stage of China's Covid control. This also includes the need for some central 'Fangcang' makeshift hospitals to become permanent ones.
In order to 'normalize' the control and monitoring that comes with living in Zero-Covid society, Chinese provincial capitals and bigger cities (more than ten million inhabitants) should do more to improve Covid testing capacities and procedures. Ma proposes that there should be nucleic acid sample collection points across the city within a 15-minute walking distance radius, and testing frequency should be increased to maximize efficient control and prevention.
Cities should be prepared to take in patients for isolation and/or treatment at designated hospitals, centralized isolation sites, and the permanent Fangcang hospitals. The recent Covid outbreak in Shanghai showed that local authorities were unprepared to deal with the outbreak, and sites that were used as Fangcang hospitals often lacked proper facilities, leading to chaotic scenes.
The hashtag "Permanent Fangcang Hospitals" received over 140 million views on Weibo on Monday.
One of the Weibo threads by state media reporting on the Permanent Fangcang hospitals and the publication by Ma Xiaowei received nearly 2000 comments, yet the comment section only displayed three comments praising the newly announced measures, leaving out the other 1987 comments.
Elsewhere on Weibo, people shared their views on the Permanent Fangcang Hospitals, and most were not very positive – most commenters shared their worries about China's Covid situation about the stringent measures being a never-ending story.
"We're normalizing nucleic acid test, we're introducing permanent fangcang hospitals, [but] why isn't the third Covid vaccination coming through?" one person wondered.
"If there was still a little bit of passion inside me, it was just killed by reading these words 'Permanent Fangcang Hospital,'" another commenter writes, with one Weibo user adding: "I feel desperate hearing the words 'Permanent Fangcang Hospital.'"
"Building permanent Fangcang? Why? Why don't you use the resources you're now spending on normalizing testing to create more hospital beds, more medical staff and more medications?"
Another commenter wrote: "China itself is one giant permanent Fangcang hospital."
"The forever Fangcang are being built," one Weibo user from Guangdong writes: "This will never end. We'll be locked up like birds in a cage for our entire life."
For more articles on the Covid-19 topics on Chinese social media, check here.
By Manya Koetse, with contributions by Miranda Barnes
Get the story behind the hashtag. Subscribe to What's on Weibo here to receive our weekly newsletter and get access to our latest articles:
Featured image via user tongtong [nickname] Weibo.com.
Spotted a mistake or want to add something? Please let us know in comments below or email us. First-time commenters, please be patient – we will have to manually approve your comment before it appears.
©2022 Whatsonweibo. All rights reserved. Do not reproduce our content without permission – you can contact us at info@whatsonweibo.com.
'Hard Isolation' is Shanghai's New Word of the Day
In line with a new 'hard isolation' measure, the entrances of some Shanghai residential buildings were fenced up.
While some Shanghai households have already endured weeks of isolation, a new word was added to their epidemic vocabulary today: 'hard isolation' or 'strong quarantine' (yìng gélí 硬隔离)
The word popped up on Chinese social media on April 23rd after some Shanghai netizens posted photos of fences being set up around their community building to keep residents from walking out.
"New word: hard isolation. Shanghai is rotten to the core," one commenter wrote.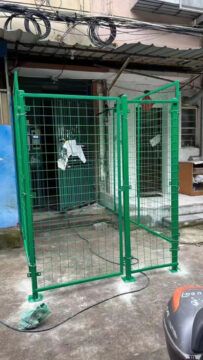 The word soon turned into a hashtag page where people started commenting on the issue of fences being placed around residential buildings, voicing concerns on what a fence around buildings would mean for fire safety, especially after online rumors suggested that there had been a fire at one community in Pudong on Saturday night.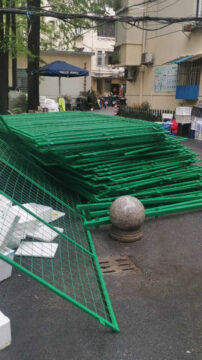 An official document regarding the 'hard isolation' measure was also shared online on Saturday. It is dated April 23, 2022, and its source is the Pudong New Area Office for Epidemic Control.
The document states that in line with the guidelines for the city's epidemic prevention and control, the division between areas or zones that are in certain risk categories should be 'optimized,' with those in the high-risk category requiring a 'hard isolation.' Security guards should also be on duty 24 hours a day at the entrance of the buildings.
Earlier this month, Shanghai adopted "3-level control measures" after its initial phased lockdown. It means that local areas will be classified as "locked-down," "controlled" or "precautionary," based on their Covid19 risk.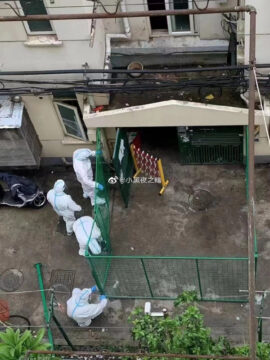 "Could we also put fences around the homes of Shanghai leaders?", one person suggested, while others posted images from the Walking Dead to mock the situation.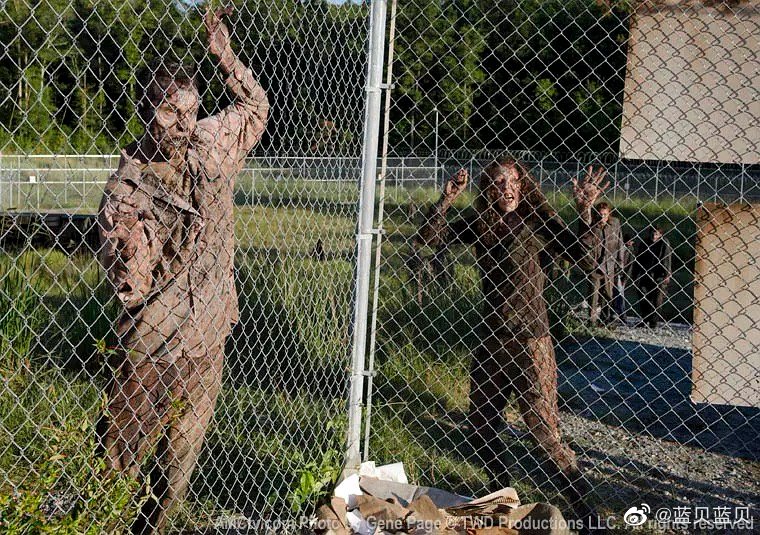 In the hope of Shanghai soon tackling the Covid situation, not everybody disagreed with the decision to fence some buildings or communities in the Pudong area: "I don't disagree with it, as long as there is always someone there to open the fence in case of fire," one person stated.
Although having a fence around their building is currently not a reality for most in Shanghai, the online photos of some communities seeing their buildings being fenced up is a reason to worry for some: "It's been 40 days, and now they start hard isolation? This actually scares me. Before we know it, it's June."
One Weibo user asked: "Why is it possible to implement this hard isolation now? Was this created by the same persons who also implemented the rule to separate children from parents at isolation sites?"
"I truly can't imagine why some people thought this is a good idea," others wrote.
For more articles on the Covid-19 topics on Chinese social media, check here.
By Manya Koetse
Get the story behind the hashtag. Subscribe to What's on Weibo here to receive our weekly newsletter and get access to our latest articles:
Spotted a mistake or want to add something? Please let us know in comments below or email us. First-time commenters, please be patient – we will have to manually approve your comment before it appears.
©2022 Whatsonweibo. All rights reserved. Do not reproduce our content without permission – you can contact us at info@whatsonweibo.com.