Chinese Netizens Are Seeking the Truth Behind the Mysterious Death of a Chengdu High School Student
The "Chengdu 49 Middle School Incident" has been dominating discussions on Chinese social media.
First published
The death of Lin, a student from Chengdu, has become a national issue this week, leading to a wave of online rumors and theories on what might have happened to him. Some even claim the protests that erupted in response to the student's death were set up by "foreign forces."
The mysterious death of a high school student in Chengdu has been trending on Chinese social media and in mainstream media over the past few days, with bloggers and netizens looking for the truth behind the incident.
The 16-year-old Lin Weiqi (林唯麒), a student of Chengdu No. 49 Middle School, fell to his death around 18:40 on Sunday, May 9.
Lin's parents allegedly were not notified about their son's death until over two hours later, at 21:00, and were not allowed to see enter the school, see their son, nor talk to teachers. And where was the surveillance video showing how this incident took place?
The case started getting major attention on social media after Lin's mother (later switching to username @四十九中林同学妈妈) posted about her son's death and the dubious circumstances surrounding it on Weibo on Monday morning. In the post, the mother suggested it took over an hour for an ambulance to reach her son's school.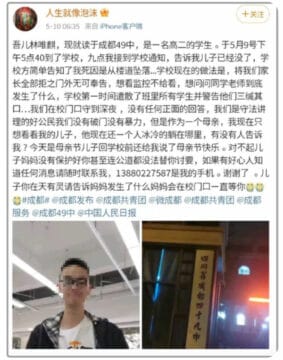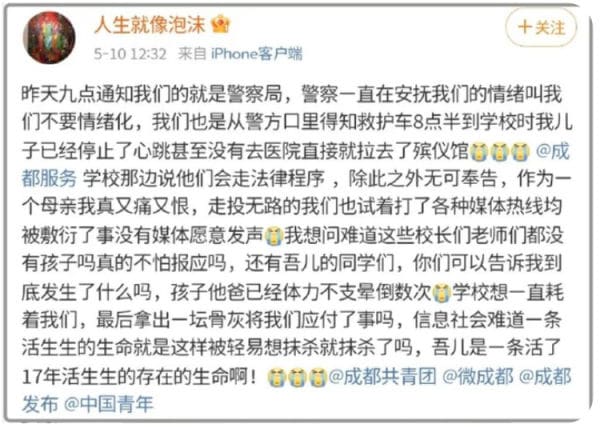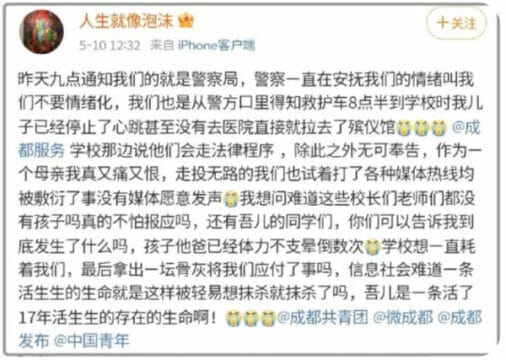 The case set off a stream of wild rumors. There was online speculation about corporal punishment and abuse taking place in the school, with one theory suggesting Lin had been pushed to his death by a chemistry teacher. Netizens speculated that the school was trying to cover up the incident.
The school responded to the issue on May 10, confirming that a student from their school fell "from height" in their school's 'Zhixing' building. According to the school, they immediately called the police after the incident, and have now set up a special team to assist in any ongoing investigations.
The official Weibo account of Chenghua district of the city of Chengdu (@平安成华官方微博) issued a statement on the evening of May 11, ruling out any criminal elements to the death of Lin.
As reported by South China Morning Post, a joint statement by the district propaganda department, the police and the education bureau then stated that investigators had come to the initial conclusion that "the student took his own life due to personal problems."
On the night of May 11, students gathered at the school and protested for the truth to come out. Videos shared on social media show dozens of students carrying flowers and chanting "Truth! Truth!"
Other videos show chaotic scenes of the rare demonstration, where protesters and police guards clashed.
成都49中的學生們,聚集在學校,高喊著"真相真相"! pic.twitter.com/97k1DZuixy

— 新聞看點 (@MuYangLee_XWKD) May 12, 2021
On May 12, the popular Wechat blogging account 'Yi Jie' (熠杰) published a lengthy post about the incident and its aftermath. The article claims that Lin committed suicide by jumping after an argument with his girlfriend. The reason Lin's parents were not allowed to enter the school after their son's death, Yi Jie writes, is because the forensic investigation was still ongoing.
Any rumors of teachers pushing students down the stairs or abusing students are false, the article says. Although the school could surely improve its crisis communication, the fact that it did not handle the communication about the incident in a professional way does mean there is a 'cover up' going on.
The article, that was soon spread around on Weibo, also questioned the authenticity of the mother's account, writing that three different cell phones were used to log in to Weibo and publish various posts, suggesting that the mother either has three different mobile phones or that there are different people in charge of her account.
Although he does not believe there is anything concealed behind the death of Lin, the blogger Yi Jie does have a theory about the ensuing protests, claiming those who demonstrated belonged to an "organized group" linked to "hostile forces." Yi Jie even connects the protests to the CIA, claiming the protesters were paid to be there.
By Wednesday, many netizens were unsure of what to believe anymore. The hashtag "Chengdu 48 Middle [School]" (#成都49中#) had 1.6 billion views on Weibo at the time of writing.
"No wonder many people do not believe [what happened], I don't believe it either. It's always that the news is blocked once it comes out, it's always that the surveillance camera records were lost, it's been like that for many years. It's not a method to protect social stability anymore," one Weibo user writes.
Others blame Lin's mother for causing all rumors: "After reading so much, I get the feeling we were cheated by that parent. This is not the first time that a victim's family has gone crazy with public opinion, and it's not the first time that I've fallen for it."
There are also many who sympathize with Lin's parents: "The loss of a child, it's something that needs so many years to recover from. There's so much pain. I just hope they'll find answers."
Update May 13
On May 13, Chinese media published a reconstruction of the May 9 incident, which attracted much attention online, with one page about the news (#监控还原成都49中学生坠亡前轨迹#) getting 1,3 billion views.
People's Daily's post including the video received over 100,000 comments and 2,7 million likes.
The reconstruction is based on surveillance camera videos and police investigation, starting at 18:16 on Sunday night when Lin leaves a classroom on the 4th floor of the school building, going down the stairs to the 3rd floor on 18:17.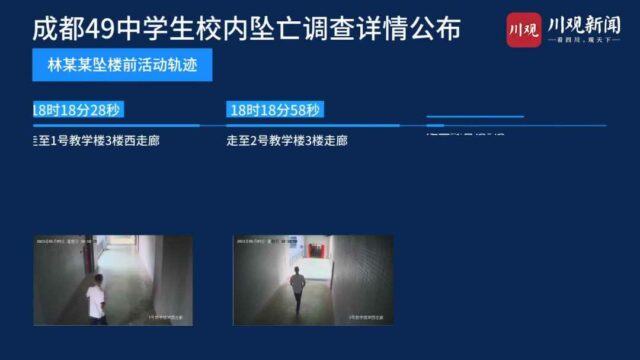 Surveillance cameras captured Lin leaving the 4th floor via the stairs and recorded how he was heading down the western hallway on the 3rd floor, walking on through various parts of the school, reaching the basketball court at 18:23, and then walking on to the building's water pump room, where he stayed for over ten minutes.
A security camera recorded how Lin stayed in the corner of the room, holding a knife in his right hand and cutting himself in his left wrist.
After Lin leaves the room, he keeps on walking through the school's hallways, reaching the fifth floor by 18:39. The next ten minutes have not been captured by security cameras, since Lin was located in blind spot areas outside of the vision of the installed security cameras. One camera from another building does capture a person's silhouette falling from the building at 18:49.
"There are blind spots in the surveillance footage. I don't think it's unreasonable for the parents to initially doubt [the incident]. I think it's the duty of the public security authorities to explain the course of the events of the incident and the crucial time points to the public," one popular comment on Weibo said.
Others think the record has been set straight by this reconstruction, and are hoping Lin can now rest in peace.
The idea that the death of Lin was used by 'evil forces' for their own agenda, which was previously also raised by the Yi Jie blogger, is still circulating on Chinese social media – a theory that is supported by many.
The term "color revolution" is recurring in these discussions, with some netizens suggesting that foreign forces, such as the CIA, are trying to get local people to cause unrest through riots or demonstrations to undermine the stability of the government. There are people who believe those demonstrating in front of the Chengdu school were paid to do so.
"Certain hostile countries are watching all the time. Be alert," one person wrote on Weibo.
By Manya Koetse, with contributions by Miranda Barnes

For information and support on mental health and suicide, international helplines can be found at www.befrienders.org.

Spotted a mistake or want to add something? Please let us know in comments below or email us. First-time commenters, please be patient – we will have to manually approve your comment before it appears.
©2021 Whatsonweibo. All rights reserved. Do not reproduce our content without permission – you can contact us at info@whatsonweibo.com.
How Social Media Is Speeding Up Zhengzhou Flooding Rescue Efforts
Chinese social media are speeding up local rescue efforts after Zhengzhou saw the heaviest rain in 1,000 years.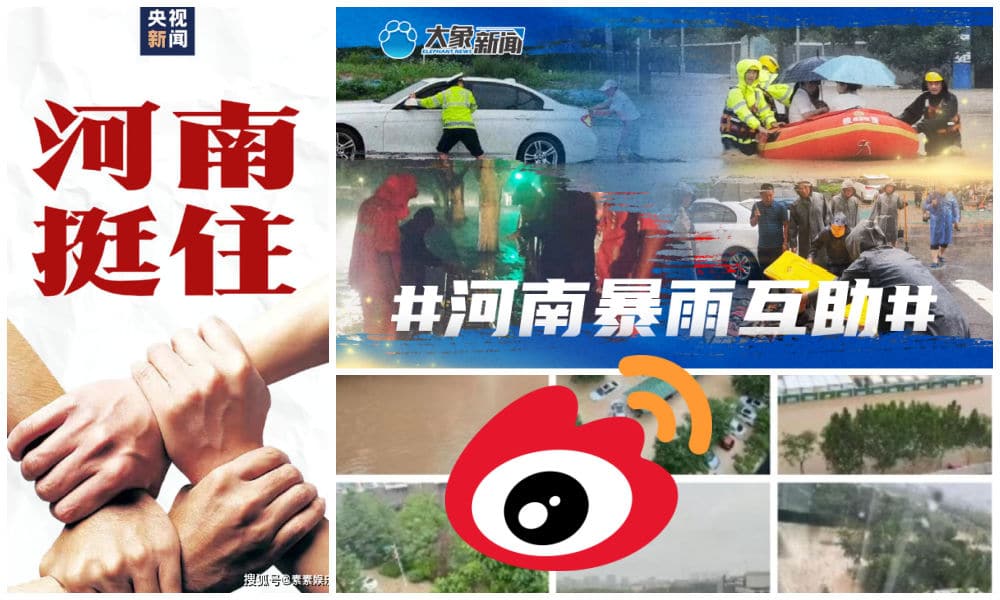 Social media is utilized as a tool in the response to the floodings in Henan province. Once again, Weibo facilitates active public participation to provide immediate assistance to the people facing this natural disaster. 
On Tuesday, July 20, heavy rainfall caused major disruptions in the central province of Henan. The amount of rain over the last three days in Zhengzhou is reported to be the same as what it would usually receive in an entire year.
It is reported that Henan Province has initiated the highest-level emergency response to floods, and China's State Flood Control and Drought Relief Bureau has dispatched a workgroup to Henan, initiating level III emergency response rescue work.
Since the evening of July 20, news and information streams on the heavy rains and floods have been dominating Chinese social media. In the midst of the disastrous events, Weibo has become an online space for people seeking help, those disseminating information on available resources, and for other related activities that help netizens engage in emergency management and accessing information.
The volume of such messages is huge, with thousands of netizens seeking ways to help speed up rescue work and actively contribute to the emergency relief efforts.
The organically improvised response protocol on social media includes the following guidelines:
Verify, summarize, highlight, and spread online help requests posted by people from different locations
Remind people to delete help-seeking posts once they have been rescued or have found assistance.
Disseminate relevant knowledge relating to emergency care and response, and public health information, such as how to deal with different disaster scenarios, warning people about the safety of drinking water during floods, etc.
Share information regarding mental health and psychosocial support during the different phases of the disaster.
When posts of people trapped by the heavy rain started to be published on Weibo, many online influencers, no matter what subject they usually focus on, participated in spreading help-request posts that were not getting a lot of online attention.
Erdi 耳帝, a music influencer with nearly 15 million fans on Weibo, has been retweeting the online posts of people asking for help since the night of July 20.
An example of such an online emergency help request (求助贴) is the following post of July 21st, 17:15 local time:
"Our entire neighborhood is cut off from water and electricity, the water level is rising to chest level, and we currently have no drinking water at the moment. Need help urgently.
Status: Verified, pending rescue.
Seeking help: Wu M**, phone 13*****27
Number of people to be rescued: five or six thousand
Location: Zhengzhou City, Henan Province, Zhengdong New District, Shangdu / Xuzhuang Street intersection, east courtyard of Shangdu Jiayuan Muzhuang district (we can't exit the building, there is no water, no electricity, no supplies, and it's been 24 hours)"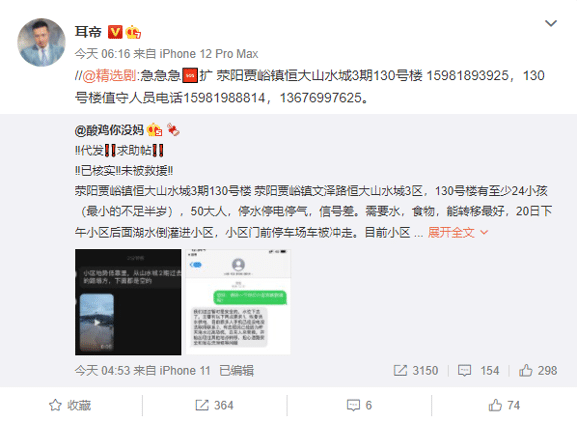 Some Weibo users engage in organizing scattered online information in one single post, e.g. posts regarding local electricity leakage, making this information more accessible and easier to understand.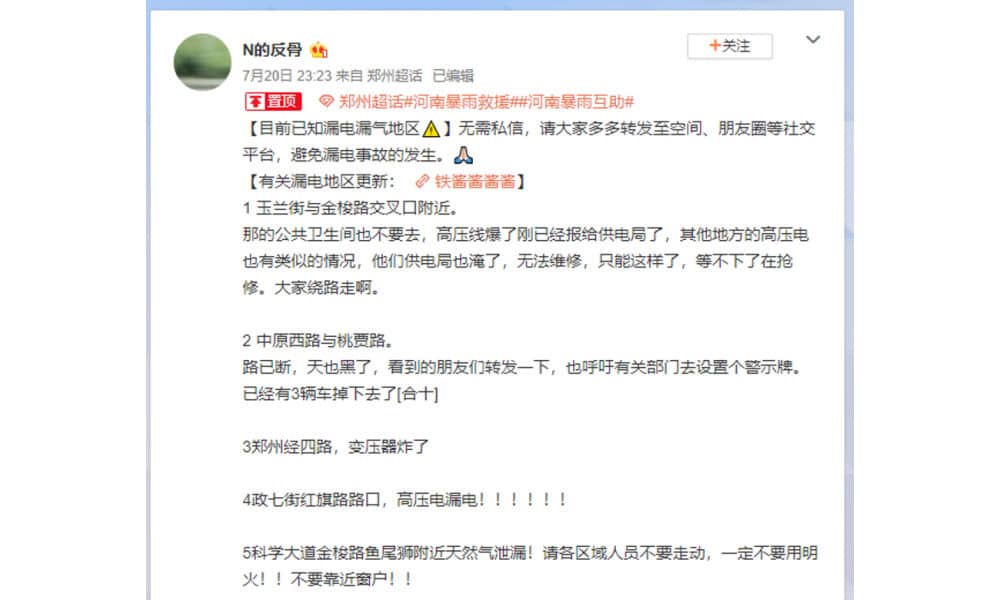 One post that was among the top-shared ones this week, is a picture that includes contact information of rescue teams of both officials and civilians. When realizing that some people were unable to upload the picture due to poor internet connections caused by the heavy rain, an up-to-date and full-text version was quickly shared by netizens.
Some Weibo users listed various methods to get assistance for hearing-impaired and deaf-mute people affected by the floods, advising people to download various apps to help to communicate and translate.
Besides the more general practical advice and emergency action plans shared by Chinese social media users, there are also those who pay attention to the importance of personal hygiene during these times. Some are sending out information about menstrual hygiene needs during floods, reminding women to frequently change sanitary pads and try to keep the genital area clean and dry due to the risk of infection. A hashtag related to menstruation during the flooding momentarily ranked fifth in the top search lists (#河南暴雨 如果你出在经期<).

Information on mental health support is disseminated all across social media.
People also try to provide mental support in other ways. A student orchestra spontaneously performed at the Zhengzhou station, where dozens of passengers were left stranded in the night. The video clips of the performance went viral, with the young musicians playing two widely-known songs, "My People, My Country" (我和我的祖国) and "Ode to the Motherland" (歌唱祖国). Many social media users shared the clips and expressed how the performance moved them to tears.
A kind gesture in these terrible times. This youth orchestra pulled out their instruments and performed for all those other passengers who are stranded at the Zhengzhou East Station tonight ❤️ All trains were suspended after 2am on the 21st. pic.twitter.com/50THGOhy6O

— Manya Koetse (@manyapan) July 20, 2021
Some video clips that show how ordinary people save ordinary people amid such a natural disaster have also been widely shared. One video shows citizens of Zhengzhou standing in a line and use a rope to pull people from an underground floor where they were trapped by the water flooded.
Earlier in this thread there was a video of people helping those trapped in lower levels. There is more footage showing other places in Zhengzhou where citizens also joined forces to help those trapped by the water to get out safely. pic.twitter.com/1R9q1JcUtY

— Manya Koetse (@manyapan) July 20, 2021
In all the aforementioned ways and many more, Weibo has become a public platform for Chinese people to respond to the Henan disaster, efficiently communicate and keep track of help requests, organize and disseminate related information, and provide access to timely knowledge and relevant advice.
With so many online influencers and ordinary netizens voluntarily joining in, the online information flows are quickly circulating, allowing for necessary public communication channels while other resources and communication methods are still overwhelmed or in the making. The last time Weibo was used as an efficient emergency communication tool was during the early days of the COVID19 outbreak in Wuhan.
"Please stand strong, Zhengzhou" and "Hang on, Henan," many commenters write: "Help is underway!"
Also see our previous article on the situation in Zhengzhou here.
By Wendy Huang
Follow @whatsonweibo
Spotted a mistake or want to add something? Please let us know in comments below or email us. Please note that your comment below will need to be manually approved if you're a first-time poster here.
©2021 Whatsonweibo. All rights reserved. Do not reproduce our content without permission – you can contact us at info@whatsonweibo.com
"Zhengzhou, Stand Strong!" – Devastating Henan Floods Send Shockwaves on Social Media
The devastating floodings in China's Henan province are dominating Chinese social media platforms.
On Tuesday, July 20, heavy rainfall caused major disruptions in the central province of Henan. The provincial capital of Zhengzhou was hit especially hard, with footage and images circulating on social media showing people trapped in underground malls and on the subway.
The city already saw heavy rain for the past days and was then hit with a rainfall of over 20cm (7.8in) in one hour – comparable to three days of heavy rain in the flooded areas in Germany earlier this month.
On Tuesday night (7.20) and Wednesday morning (7.21), countless of videos and images circulated on Chinese social media showing the severity of the situation in various parts across the region, where more than 10,000 people were evacuated to shelters.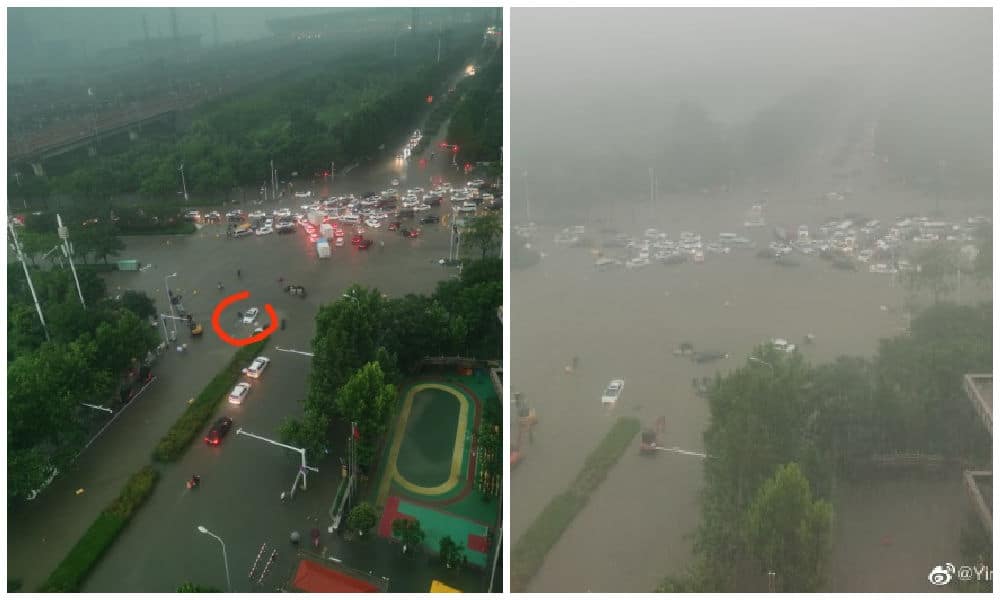 Thousands of people expressed their shock and sadness on social media regarding the unfolding tragic events in Zhengzhou and the surrounding regions. "Zhengzhou, Stay Strong" soon became a social media hashtag, receiving over 120 million views on Weibo alone (#郑州挺住#). The "Henan, Stay Strong" hashtag (#河南挺住#) received over 170 million clicks at the time of writing.
The Twitter thread below shows a collection of some of the flood-related footage that made its rounds on Weibo and WeChat.
The videos shared on Chinese social media about the floodings in Henan following the heavy rain really show the severity of the situation. These are some of them. pic.twitter.com/zZMKxvAGAX

— Manya Koetse (@manyapan) July 20, 2021
In Zhengzhou, dozens of subway passengers were trapped by the water on Tuesday night, shortly after city's line 5 stopped operating at 18:10. Footage showed passengers standing on line 5 with water reaching up to their shoulders.
According to Chinese state media outlet Global Times, the people trapped in Zhengzhou Metro Line 5 were rescued on Tuesday night, with local firefighters evacuating the passengers one by one. Other local news outlets reported that over 500 people were evacuated.
Other footage shared on social media showed how some passengers seemed to be unresponsive once the rescue teams had arrived. Current news reports do not mention how many people died due to the flooding of the subway.
Shortly after midnight, hundreds of people were stranded at Zhengzhou East Station as all train services were suspended.
During the night, more social media posts suggested an emergency situation at the First Affiliated Hospital of Zhengzhou University (郑州大学第一附属医院) regarding a power outage due to floods. The hospital is among the largest hospitals in the world.
In the early morning of July 21st, emergency power supply vehicles kept critical patients stable according to official sources, with more power sources needed to stabilize other patients.
According to the latest reports, at least 12 people have died in the city of Zhengzhou since the flooding began.
Meanwhile, local businesses and facilities are providing food, drinks, and shelter to those in need. A hashtag dedicated to netizens helping each other during the disastrous flooding has attracted nearly two billion views on Weibo (#河南暴雨互助#).
"Please be safe and look after each other!", many people on Weibo write: "Come on, Zhengzhou! Be safe!"
For more on this, also see our article on social media during the Zhengzhou floods and check our Twitter thread.
By Manya Koetse (@manyapan)
With contributions by Miranda Barnes
Spotted a mistake or want to add something? Please let us know in comments below or email us. First-time commenters, please be patient – we will have to manually approve your comment before it appears.
©2021 Whatsonweibo. All rights reserved. Do not reproduce our content without permission – you can contact us at info@whatsonweibo.com.