Messages of Sympathy Flooding Weibo after Death of Young Bilibili Blogger 'Mo Cha Official'
Mo Cha was just another Bilibili user until his tragic death triggered a flood of condolence messages and tributes on Chinese social media.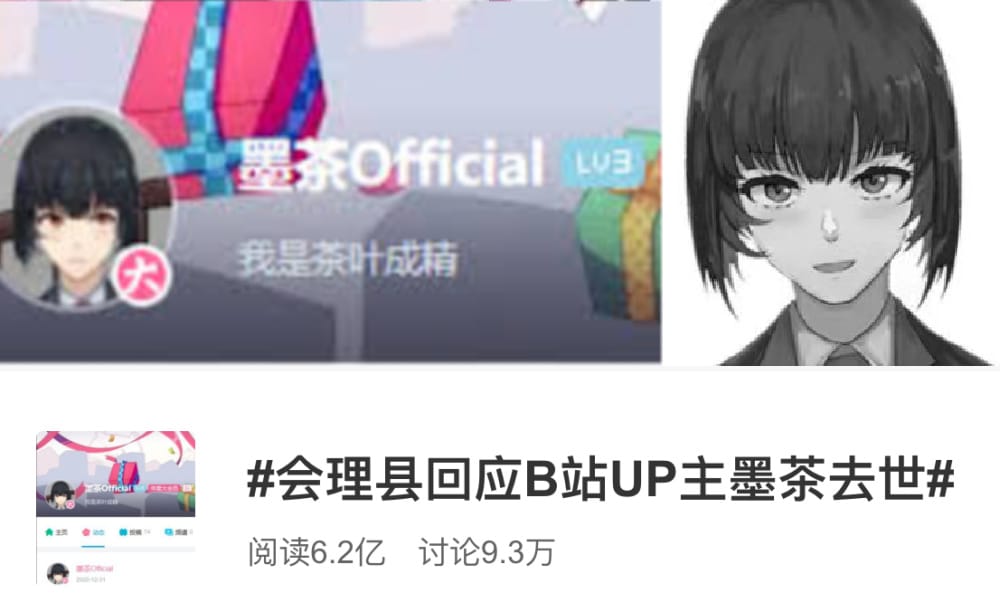 The anonymous and rather unknown blogger 'Mo Cha Official' became famous after he died. His death casts light on young Chinese people living in extreme poverty.
On 21 January, the name of a Bilibili content creator called Mò Chá Official (墨茶Official) first appeared on the hot search list of Weibo, shortly after news of his death made its rounds on Chinese social media.
Thousands of netizens started empathizing with this young anonymous blogger after background information about his unhappy and difficult life surfaced online.
Mo Cha Official was a rather unpopular content creator on Bilibili, a Chinese video-sharing site that is mainly themed around animation, comics and games.
Before the news of his death went viral, Mo Cha Official's channel, which focused on gaming and anime-related content, only had a few hundred fans.
Over the past week, much has become clear on Mo Cha Official and his mysterious death as other Bilibili users and media outlets shared more information on the circumstances leading up to his passing.
Mo Cha Official was a young man, born in 1998, who lived in Huili County in Sichuan province. He first started uploading content to Bilibili about a year ago, sharing his passion for games with other netizens, but also sharing details about his life.
According to other Bilibili users, Mo Cha suffered from nasal tumors and other health problems. Although doctors advised that he needed to be hospitalized, he could not afford the treatment and surgery he needed.
As his health problems grew worse, some of his online friends suggested that Mo Cha could do online fundraising to pay for his surgery. However, since the blogger could not afford to get an official diagnosis on his condition, he could not get the documents needed to organize such online crowdfunding.
On 29 December 2020, he posted: "I'm craving strawberries. Recently, tortured by illness, I vomited out everything that I have eaten. I really want to eat strawberries, but strawberries are too expensive."
His last post was on the last day of 2020, in which he wrote "I'm still lying on my sick bed, sigh."
Chinese news outlet The Paper reports that the blogger and his family slipped into poverty after his grandmother became ill and the family had to pay for high medical bills. After the grandmother passed away, the family faced high levels of debt.
Mo Cha moved to Chengdu where he worked as a longshoreman, making 800 yuan ($123) per month of which 500 yuan ($77) was spent on rent, leaving only 300 yuan ($46) for food and other expenses.
According to online friends, Mo Cha developed stomach problems due to malnutrition, and the blogger complained about his stomach hurting in online posts.
Mo Cha's situation went from bad to worse when he lost out on wages, became a victim of online fraud, and developed symptoms of diabetes.
He was last seen online on January 4th. Media reports claim the young man passed away around January 10, after which his body was found in his room by his landlord. It took about ten days before his death started to be discussed by former fellow Bilibili users.
Over the past week, many netizens empathized with Mo Cha and noted the calm way in which he talked about his life despite his suffering. "I hope your next life is better than this one," many commenters wrote.
By now, the hashtag "Mo Cha Official" (#墨茶official#) has reached 600 million views on Weibo; the hashtag "Huili County Responds to Mo Cha Official's Passing" (#会理县回应B站UP主墨茶去世#) – which relates to the official confirmation of Mo Cha's death – received 620 million views.
"Really sorry I got to know about you like this," one popular comment said.
On video site Bilibili, the 墨茶Official account now has over 1.7 million followers, with many Bilibili users uploading videos and art dedicated to the blogger. Bilibili has officially verified his death and turned his Bilibili account into a memorial account.
Besides the stream of sympathy messages flooding social media, there are also other responses to Mo Cha's passing.
Firstly, the blogger's story triggered online discussions on various social issues including China's poverty alleviation policies. Many online commenters express their shock that young people such as Mo Cha could die unnecessarily due to poverty and untreated illness.
Although some think better poverty alleviation policies could have prevented the blogger's death, others think it would take more than that. One Weibo user wrote that changing poverty policies would not have helped his situation, writing: "To get subsidies he would also need to have the right channels and have a certain level of knowledge. He probably really didn't know."
Then there was also speculation on the degree of exaggeration in the news regarding Mo Cha's death, especially after stories surfaced in the media that Mo Cha's parents' financial situation was not too bad and that Mo Cha allegedly had a criminal record.
But one of the things that's most-discussed on social media is the mere fact that Mo Cha could not afford to eat strawberries when he craved them most – a detail in his story that strikes a chord for many.
And so, many people express their wishes for Mo Cha to find strawberries forever in an afterlife. One of the most popular comments on Weibo in one of the threads on this story said: "Hope that you can have many, many strawberries over there."
By Christopher Yong
edited for clarity by Manya Koetse
Follow @WhatsOnWeibo
Spotted a mistake or want to add something? Please let us know in comments below or email us. First-time commenters, please be patient – we will have to manually approve your comment before it appears.
©2021 Whatsonweibo. All rights reserved. Do not reproduce our content without permission – you can contact us at info@whatsonweibo.com.
Meet Ren Xiaorong, People's Daily AI Virtual News Anchor
Although their functions are still limited, AI news anchors such as Ren Xiaorong are a sign of the future.
Ren Xiaorong (任小融) joined the Chinese state media outlet People's Daily as a virtual presenter/news anchor this week.
Ren Xiaorong is the AI-powered host of an app allowing users to ask questions related to the Two Sessions, the annual plenary sessions of the National People's Congress and of the Chinese People's Political Consultative Conference that have been taking place this week.
Through the People's Daily app, you can ask Ren Xiaorong to tell you more about various topics covered during the Two Sessions, including education, epidemic prevention, housing, employment, environmental protection, and many other issues.
According to the introduction video launched by People's Daily, Ren is also available to discuss other news topics people would like to know more about.
Ren Xiaorong is interactive to a certain (very limited) extent; users can select the topics they want to learn more about, but the app does not yet allow to ask specific questions.
A related hashtag went viral on Weibo on Sunday (#人民日报AI虚拟主播#), triggering discussions on the use of virtual news presenters.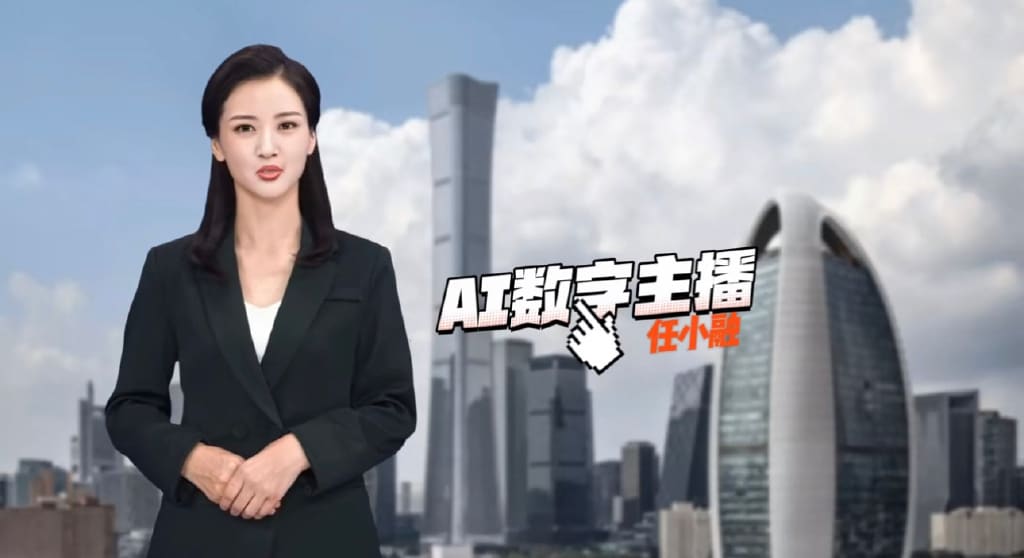 Ren Xiaorong is not the first People's Daily virtual news anchor. In 2019, the very first AI-powered presenter was unveiled at the 2019 Big Data Expo (#人民日报首位AI虚拟主播#). Guo Guo (果果), aka Little Guo Guo (小果果), was based on the real-life Chinese reporter Guo Xinyu (果欣禹).
China's state media outlets Xinhua, Beijing TV, Hunan TV, and CCTV previously also unveiled their own AI-powered virtual news anchors at a time when China's virtual idol market started to explode.
During the 2022 Winter Olympics in Beijing, there was also a virtual host and China's first AI sign language presenter.
Although news media outlets have started experimenting with virtual presenters for some time now, some netizens are still not convinced about the actual purpose of having virtual TV hosts and news anchors, especially when their AI-driven interactive functions are still limited.
Weibo blogging account 'Media People Online' (@传媒人在线) writes: "I've never really understood this, is there a shortage of broadcasting talent, or are AI anchors better at it? Why would you use a robot to broadcast the news? Are you spending so much money on an AI presenter just to show technological progress?"
But other bloggers (@夏日之阳新闻传播考研) think that virtual anchors could improve the quality and availability of news, since they could broadcast around the clock while saving on manpower, alleviating the pressure on newsrooms.
Whether people approve of virtual news readers or not, most agree Ren Xiaorong, along with her virtual colleagues, is a harbinger of the digitalization of the media at a time when artificial intelligence has already come to play a pivotal role in everyday activities.
Want to see Ren Xiaorong at work? Click this link on mobile.
By Manya Koetse 
Get the story behind the hashtag. Subscribe to What's on Weibo here to receive our newsletter and get access to our latest articles:
Spotted a mistake or want to add something? Please let us know in comments below or email us. First-time commenters, please be patient – we will have to manually approve your comment before it appears.
©2023 Whatsonweibo. All rights reserved. Do not reproduce our content without permission – you can contact us at info@whatsonweibo.com.
U.S. Embassy Launches WeChat Stickers Featuring Cartoon Eagle
A Weibo hashtag about the eagle stickers, that feature some phrases previously used by China's Foreign Ministry, has now been taken offline.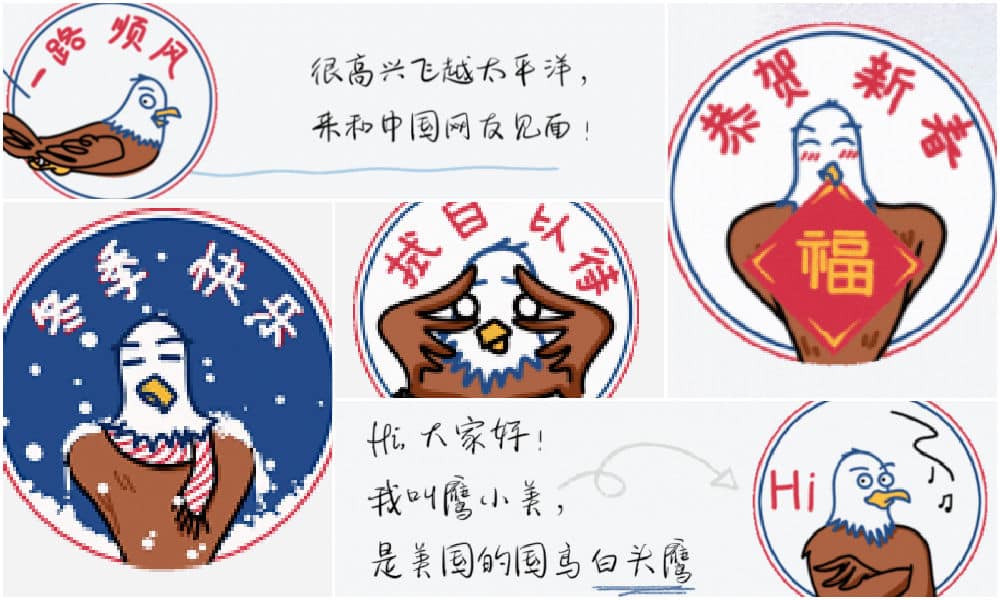 On January 30, the American Embassy in China announced the launch of its very own series of social media gifs, a special 'emoticon collection' (表情包), featuring a little, somewhat silly cartoon eagle.
The U.S. Embassy launched the eagle series on WeChat and also announced the series on their Weibo account, writing that the eagle made its first public appearance in light of the festivities surrounding the Chinese New Year.
The eagle is called "Xiaomei" or "Little Mei" (鹰小美). The 'mei' is part of 美国 Měiguó, Chinese for the 'United States,' but měi also means beautiful and pretty.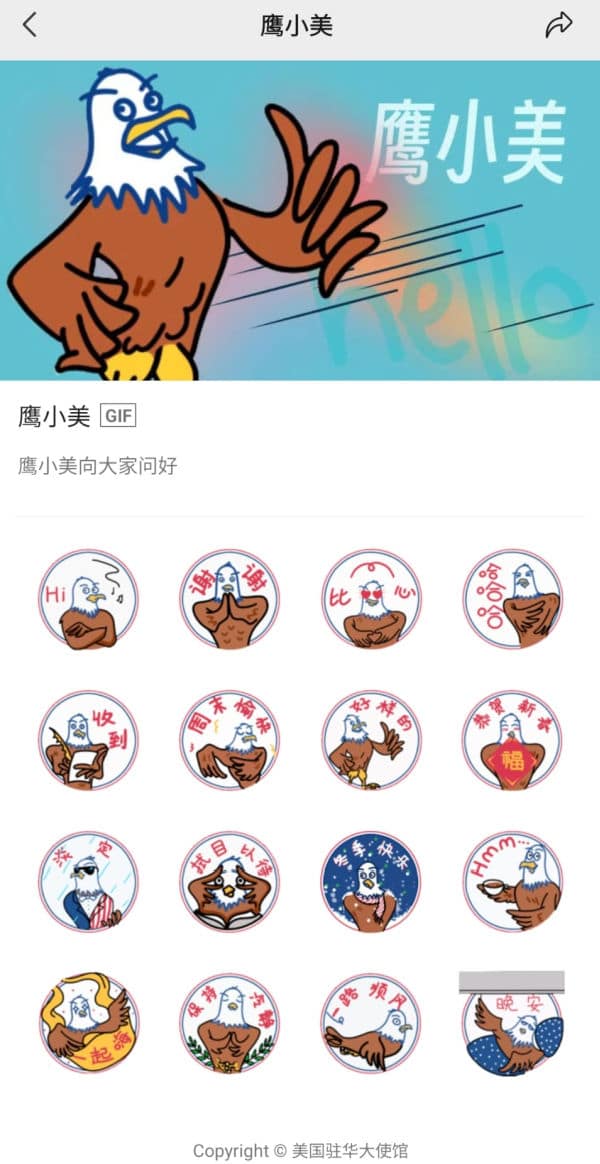 The American embassy issued a total of 16 different animated stickers, and they're intended to be used on Tencent's WeChat, where users can download all kinds of different emoticons or stickers to use in conversations.
WeChat users often use many different animated stickers in conversations to express emotions, make jokes, or increase the festive mood (by sending out celebratory New Year's or birthday etc gifs). Users can download new and preferred sticker packages through the app's sticker section.
One sticker shows Xiaomei with a festive decoration with 福 (fú) for blessing and prosperity, wishing everyone a happy start to the Chinese Lunar New Year. There are also stickers showing the texts "happy winter," "hi," and "thank you."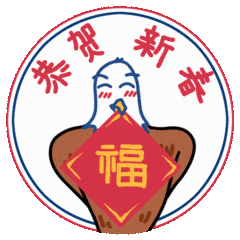 Another sticker in the series that has triggered some online responses is one that shows the eagle with a surprised look, wiping its eyes, with the words "wait and see" written above. The Chinese expression used is 拭目以待 shìmù yǐdài, to eagerly wait for something to happen, literally meaning to wipe one's eyes and wait.
This same expression was often used by the Chinese Foreign Ministry spokesperson Zhao Lijian (赵立坚) during press conferences, and he also used it in 2022 when responding to questions related to Nancy Pelosi's controversial visit to Taiwan and how the Chinese military would respond (e.g. he first used "wait and see" in the context of waiting to see if Pelosi would actually dare to go to Taiwan or not). But Zhao also used "please wait and see" (请大家拭目以待) when foreign reporters asked him how China would respond to the announced U.S. boycott of the Winter Olympics in 2021.
The Little Mei emoji triggered the most responses as some netizens felt it was meant as a sneer to the Chinese Foreign Ministry.
One of Little Mei's quotes is also "remain calm" (保持冷静 bǎochí lěngjìng), which was – perhaps coincidentally – also often used by Zhao in the context of the war in Ukraine and to refer to other international conflicts or tensions ("all parties should remain calm"). The animated sticker also has olive branches growing behind the eagle.
It recently became known that Zhao, who became known as the 'Wolf Warrior' diplomat, was removed as the Foreign Ministry spokesperson and was moved to the Department of Boundary and Ocean Affairs.
Especially in the context of Zhao leaving his post, some wondered why the U.S. Embassy would use phrases related to his press conferences for their new emoticons.
Although some people suggested the WeChat stickers were not launched in China with good intentions, others appreciated the humorous visuals and felt it was funny. Some also joked that America was infiltrating Chinese social media with its cultural export ("文化输出"), and others wondered if they could not also introduce some other stickers with more Chinese Foreign Ministry popular phrases on them.
A hashtag related to the topic made its rounds on Weibo on Tuesday (#美驻华大使馆上线鹰小美表情包#), but the topic suddenly was taken offline on Tuesday evening local time, along with some of the media reports about the remarkable WeChat series.
The WeChat stickers are still available for downloading by scanning the QR code below through WeChat.
By Manya Koetse , with contributions by Miranda Barnes
Get the story behind the hashtag. Subscribe to What's on Weibo here to receive our newsletter and get access to our latest articles:
Spotted a mistake or want to add something? Please let us know in comments below or email us. First-time commenters, please be patient – we will have to manually approve your comment before it appears.
©2023 Whatsonweibo. All rights reserved. Do not reproduce our content without permission – you can contact us at info@whatsonweibo.com.