Chinese Netizens Infuriated by "Live Animal Mystery Box" Industry
The business of live animals being sold online as 'reveal pet surprises,' transported through regular courier services, has caused outrage on Weibo.
The cruel business of living pets being transported through regular courier services as 'surprise boxes' has caused outrage on Chinese social media.
"This just makes me furious!" A popular Chinese food blogger posted about China's "live animal mystery box" on May 4th. The blogger, who goes by the name of 'Snake Rose' or 'Snack Girl' (@零食少女), has over seven million followers on social media platform Weibo.
In her post, 'Snack Girl' addresses the problematic industry of 'pet blind boxes' (宠物盲盒) which are for sale on various Chinese e-commerce platforms. "I've seen this since about six months ago on all sorts of platforms from Pinduoduo to Taobao, offered for various prices, including those of 9.9 yuan [$1.5] and 19.9 yuan [$3]," the blogger writes.
'Pet blind boxes' are offered online as surprise deliveries containing an actual pet. Usually advertised with photos showing attractive and expensive breeds of dogs or cats, online shoppers are lured into buying a small and cute pet at an extremely low price. The fact that these customers do not know what pet they are buying is supposed to add to the 'charm' of these blind boxes, since the moment of unboxing is one of anticipation.
In reality, the business is anything but cute or charming. A recent incident exposed the terrible conditions in which these animals are sold and transported as regular goods by standard courier services.
On the evening of May 3, a courier business vehicle containing over 160 small cats and dogs was discovered by local animal rescue volunteers in the city of Chengdu, Sichuan province. The animals were being transported as express delivery goods, with the seller selling them as 'blind box' pets. After alerting the authorities, on-site rescue volunteers found several of the animals in the boxes to already have died. Other animals were taken to a local shelter, where they can later be put up for adoption (video of the rescue operation).
Mystery boxes are especially popular among young people, who enjoy the surprise element of not exactly knowing what they are buying. Mystery boxes usually contain beauty products or candy but have also come to contain other things. In May of last year, when the pandemic lockdowns had boosted the domestic pet market, there was also a trend of mystery boxes for pets – containing various pet snacks and care products for cats or dogs.
Reports on the trend of actual live animal mystery boxes started to come out in January of 2021, when Weibo bloggers discovered the online sale of 35 yuan [$5.5] 'small breed dog' surprise boxes. Other variations include turtle and cat boxes. One blogger called the service, where these pets are sent to customers through standard courier services, a "deadly game." The lack of ventilation, long-distance freight, and the violent handling of packages is called "a torture" for these animals, that can barely survive being squeezed and tossed around in such a confined space with a lack of oxygen – sometimes for days.
According to Weibo blogger 'Snack Girl,' many pets do not make it out alive. If they have not already died by the time they come out of the box, many do not survive for more than a week, which is also called the "week dog / cat" ("星期狗/猫").
A "week dog" (星期狗) is a term that was originally used for dogs sold by roadside dog dealers in busy shopping areas. When people see these little dogs they are lively and cute, but once they take them home, many of these dogs, carrying contagious illnesses, become ill and die within a week. Along with China's rapid digitalization, many roadside vending businesses have shifted to the e-commerce environment. In this process, the phenomenon of "week dogs" has now also become an e-commerce problem.
Another story that was previously shared online is that of a 9.9 yuan [$1.5] package containing a dog that was rejected by the customer and ended up at the post office. Once opened, the small dog was malnourished, shivering, and near to death. An attempt to rescue the pup failed, and it died the same day.
By Tuesday night, the post by 'Snack Girl' and her call on Weibo netizens to never buy these live animal mystery boxes was shared over 47,000 times and liked more than 340,000 times. Many people express their anger and sorrow over this online business.
One artist on Weibo (@ARCS-嘎法) said that in the end, it is humanity that is hurting itself by engaging in these sorts of inhumane practices, sharing a drawing in response (image below).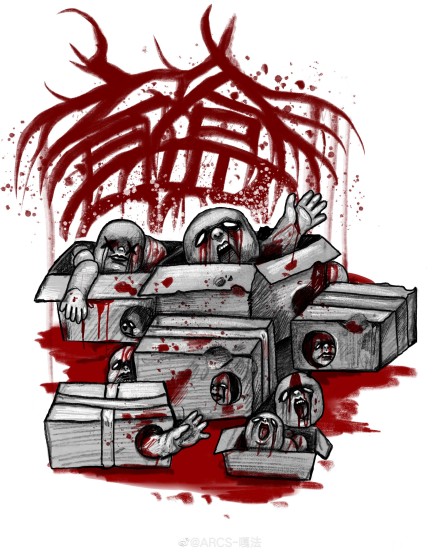 "The buyers and sellers of these boxes don't even regard these little cats and dogs as living creatures," some people say: "When can we finally have an animal protection law?!"
Although China currently has no law against animal cruelty, the live animal blind box industry is still officially illegal since it is not in accordance with Article 33 of the Postal Law in China, which prohibits the posting and delivery in postal materials of various species of live animals.
By Manya Koetse
Spotted a mistake or want to add something? Please let us know in comments below or email us. First-time commenters, please be patient – we will have to manually approve your comment before it appears.
©2021 Whatsonweibo. All rights reserved. Do not reproduce our content without permission – you can contact us at info@whatsonweibo.com.
The Concept of 'Involution' (Nèijuǎn) on Chinese Social Media
Nèijuǎn (involution) has become a commonly used term on Chinese social media, but what is it?
Chinese TV drama A Love for Dilemma ("小舍得") has reignited an ongoing debate about the problem of 'involution' in Chinese society today.
A scene from the Chinese TV drama A Love for Dilemma ("小舍得") has reignited online discussions on the concept of nèijuǎn 内卷, "involution," which was also a top buzzword in China in 2020.
A Love for Dilemma is a 2021 TV drama directed by Zhang Xiaobo (张晓波), who also worked on other hit series including Nothing But Thirty. This season's popular TV drama A Love for Dilemma is themed around family, parenting, and China's competitive education system.
In the series, two stepsisters compete against each other over the school results of their children. The family's 'grandpa', played by famous actor Zhang Guoli (张国立), tries to create harmony around the dinner table between his daughter and stepdaughter, but the rivalry between the two and how they raise their children intensifies nevertheless.
While stepsister Tian Yulan urges her little son to work hard in school and focus on his grades so that he can go to the best high school and university, sister Nan Li places more emphasis on the general development of her children and wants them to enjoy their childhood. Both mothers, however, question their own choices when facing challenges with how their children perform at school.
The specific scene that has ignited current discussions is a dialogue between the husbands of the sisters, who sit outside to talk about the education system and how it sometimes feels like everyone is in a theatre watching a show together until one person stands up from their seat. This makes it necessary for other members of the audience to also stand up, until everybody is standing.
The dialogue continues, with the two talking about how it does not stop at the people standing up. Because then there are those who will take it a step further and will stand on their seats to rise above the others. And then there are even those who will grab a ladder to stand higher than the rest. But they are still watching the same show and their situation has actually not changed at all – except for the fact that everybody is now more uncomfortable than they were before.

Many netizens found it striking how this dialogue explains how the term 'involution' is used in China nowadays. After the show aired, the hashtag "How to commonly explain involution" (#如何通俗解释内卷#) became a trending topic in the week of April 19, receiving 260 million views in a few days.

What Is 'Involution'?

As explained by Jialing Xie in this top buzzword article on What's on Weibo, involution describes the economic situation in which as the population grows, per capita wealth decreases. Since recently, this word has come to be used to represent the competitive circumstances in academic or professional settings in China where individuals are compelled to overwork because of the standard raised by their peers who appear to be even more hardworking.
The term 'involution' and how it is used today comes from a work by American anthropologist Clifford Geertz titled Agricultural Involution – The Processes of Ecological Change in Indonesia (1963). In this work, Geertz explores the agricultural dynamics in Indonesia during the colonial period's Cultivation System, where a radical economic dualism existed within the country: a foreign, Dutch economy and a native, Indonesian economy (p. 61-62).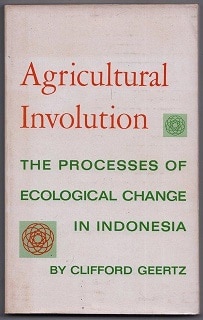 Geertz describes how the Javanese faced a deepening demographic dilemma as they saw a rapidly growing population but a static economy, while the Dutch, who organized Javanese land and labor, were only growing in wealth (69-70). Agricultural involution is the "ultimately self-defeating process" that emerged in Indonesia when the ever-growing population was absorbed in high labor-intensive wet-rice cultivation without any changing patterns and without any progress (80-81).
When Geertz used the term 'involution' to describe the dynamics in Indonesia, he built on the work of another American anthropologist, namely Alexander Goldenweiser, who also used the term to describe "those culture patterns which, after having reached what would seem to be a definitive form, nonetheless fail either to stabilize or transform themselves into a new pattern but rather continue to develop by becoming internally more complicated" (Geertz 1963, 81).

The Involution Concept in the Chinese Context

The popular use of the Chinese translation of 'involution', nèijuǎn 内卷, started to receive attention in Chinese media in 2020. It is deviating from the original use of the term and is meant to explain the social dynamics of China's growing middle class.
As suggested in the article "'Involution': The Anxieties of Our Time Summed Up in One Word" by Zhou Minxi (CGTN), the popularity of the term comes from "a prevalent sense of being stuck in an ever so draining rat race where everyone loses."
China's ever-growing middle class is now facing the question of how they and their children can remain in the middle class in a situation where everyone is continuously working harder and doing all they can to rise above the rest. Xiang Biao, a professor of social anthropology at Oxford University, is quoted by Zhou:
"The lower class still hopes to change their fate, but the middle and upper classes aren't so much looking upward, and they are marked by a deep fear of falling downward. Their greater fear is perhaps losing what they already have."
The term 'involution' often comes up together with criticism on China's '996' work system (working from 9am-9pm, 6 days a week). Although Alibaba founder Jack Ma once called the 12-hour working day a "blessing," the system is a controversial topic, with many condemning how Chinese (tech) companies are exploiting their employees, who are caught in a conundrum; they might lose their sanity working such long hours, and might lose their job and future career prospects if they refuse to do so.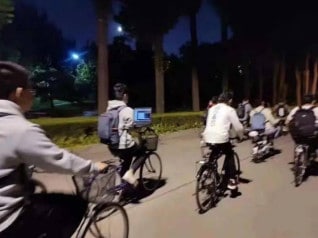 But the term also comes up when discussing China's education system, where competition starts as early as kindergarten and the pressure on children to succeed in the 'gaokao' college entrance exam starts many years before it takes place.
This discussion also came up with a now-famous image of a student riding his bike while also working on his laptop, using every moment to study. This was then also called "Tsinghua Inversion" (清华内卷), referring to one of China's top universities, where competition is so vicious that students must double their efforts to catch up with others.

'Involution' Discussions on Chinese Social Media

By mid-2020, 'involution' attracted the attention on Weibo when popular academic accounts started discussing the term. Recently, 'involution' is used so often on Chinese social media that it has already gone beyond its original context, leading to many people discussing its meaning.
"We are forced to work overtime and are unable to resist, and yet it seems that everyone is doing it out of free will," one Weibo user says, with another person adding: "The abnormal state of inversion has already become our normal state."
A popular legal blogger (@皇城根下刀笔吏) on Weibo writes:
"It is an internal bottomless vicious cycle of competition. For example, everyone used to work eight hours per day, five days per week. Then one company comes up where people work twelve hours per day, six days per week. Then this company will have major competitive strength in the market economy. But the outcome is that other companies are also compelled to do the same in order to compete. As time goes by, all companies will shift to a twelve-hour workday, six days a week, and job applicants entering the market can't find any eight-hour workday positions for five days a week anymore. So, if another company wants to beat its competitors, it will have to introduce a seven-day workweek. And then other companies will need to follow in order to make a living. That is involution."
By now, there are various images and memes that have come to represent the meaning of 'involution' in present-day China, such as one cram school sign saying: "If you come we will train your kids, if you don't come, we will train the competitors of your kids."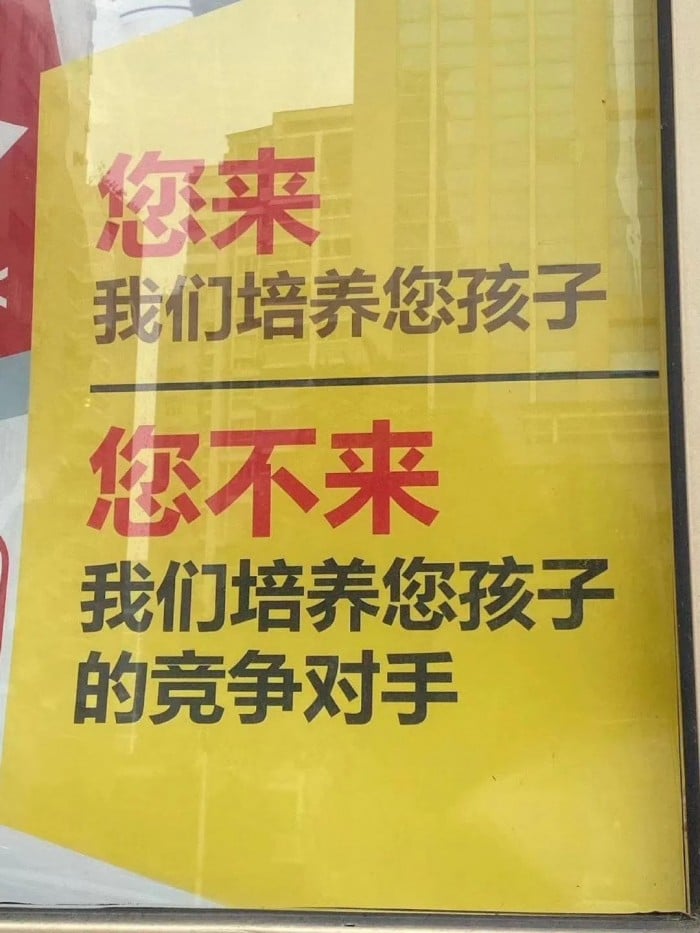 "The society's resources are in short supply and to obtain the limited supplies, people are all madly practicing their skills to obtain them – regardless if they need them or not," another Weibo user says.
Most comments relating to the discussion of 'involution' on Chinese social media express a sense of fatigue with an ongoing rat-race in the education and employment market.
On the interest-based social networking platform Douban, there are even some support groups for people who feel stuck in 'involution' and are looking for a way out. The "Center for Victims of Involution" (内卷受害者收容中心) group has over 3000 members, with smaller groups such as "Let's Escape Involution Together" (我们一起逃离内卷) having a few dozen participants.
The generation that is mostly affected by this sense of socioeconomic stagnation is the post-90 generation. In 2020, a record high of 8.74 million university graduates entered the job market, but their chances of finding a job that suits their education and personal expectations are slim; many industries are recruiting fewer people than before in an employment market that was already competitive before the COVID19 pandemic. It leaves them facing a troubling Catch 22 situation: they will be stressed and pressured if they do not find that top job, but when they do, they are often also stressed and pressured.
It is a recurring topic on social media. Five years ago, a song by the Rainbow Chamber Singers (彩虹室内合唱团) titled "The Sofa Is So Far" immediately became a hit in China. Many young Chinese recognized themselves in the hardworking and tired people described in the lyrics, which started with: "My body feels empty / I am dog-tired / I don't want work overtime."
How to get away from the involution rat race is also a much-discussed topic on Weibo, where the hashtag page "How can young people resist involution" (#年轻人如何反内卷#) has received over 280 million views.
Some suggest the answer to ending the vicious cycle is to find a way to get rich fast, others suggest that not getting married and staying child-free is also a way to alleviate the pressure to participate in this zero-sum game.
Tech blogger Sensai (@森赛), who has over 2 million followers on Weibo, advises young people to find their true interest and to invest in it before the age of 30. Doing something that sparks joy, such as learning a new language or working on art, might start as a hobby but could turn into a valuable side business later, Sensai says.
For some, however, that goal seems unattainable. "I am already working 15 hours a day, how could I ever do that?!"
"This is just bringing us into a whole other level of involution," others write.
In order to watch A Love for Dilemma (小舍得), the show that started so many of these discussions this month, you can go over to iQiyi or YouTube.
By Manya Koetse
References
Geertz, Clifford. 1963. Agricultural Involution: The Processes of Ecological Change in Indonesia. Berkeley & Los Angeles: University of California Press.
Zhou Minxi. 2020. "'Involution': The anxieties of our time summed up in one word." CGTN, Dec 4 https://news.cgtn.com/news/2020-12-04/-Involution-The-anxieties-of-our-time-summed-up-in-one-word-VWNlDOVdjW/index.html [20.4.2021].
Spotted a mistake or want to add something? Please let us know in comments below or email us. First-time commenters, please be patient – we will have to manually approve your comment before it appears.
©2021 Whatsonweibo. All rights reserved. Do not reproduce our content without permission – you can contact us at info@whatsonweibo.com.
Censorship of Chinese 6B4T & Feminist Groups Prompts Wave of Support for "Douban Sisters"
Even those who don't agree with '6b4t' views condemn Douban's recent crackdown on 6b4t and feminist groups.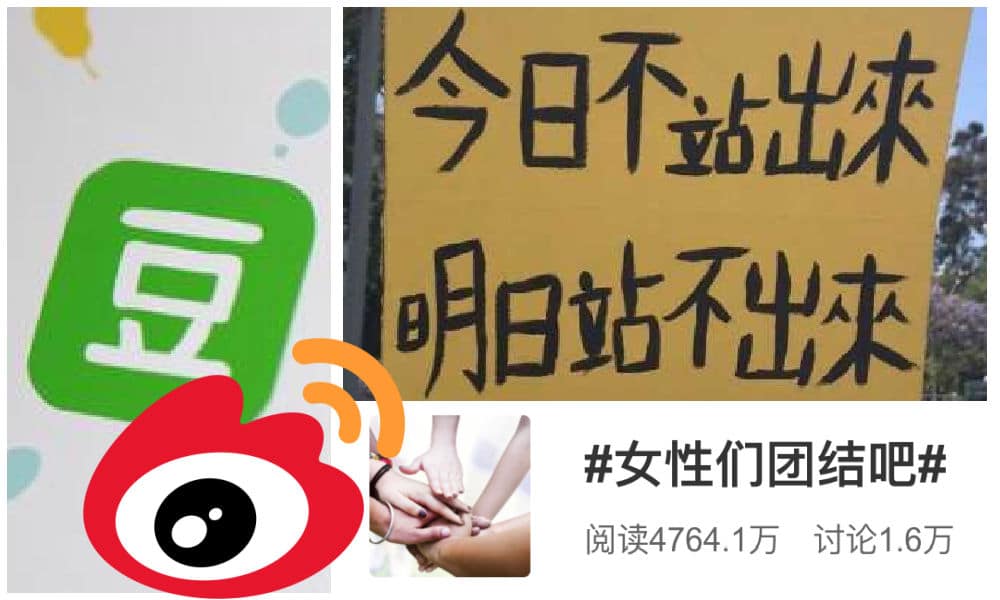 What is 6b4t? That is the question popping up in several places on Chinese social media this week after the popular networking platform Douban closed down several feminist groups and targeted the keyword '6B4T.'
Douban (豆瓣) is an influential Chinese social media platform that allows users to discuss and review books, music, films, and other topics. The platform has a 'group' (小组) function, with groups being like online forums revolving around a particular topic where Douban users can subscribe, post, and interact.
On the night of April 12, Douban closed down more than ten Douban feminist groups, of which some were linked to '6b4t' views.
6b4t is an online movement that originated in South Korea and is about female empowerment and independence that shifts away from patriarchal society and male-dominated fields in popular culture and beyond.
The '6B' stands for no husband, no children, no boyfriend, no male sex partner, not buying any products/brands that are unfriendly to women, and offering support to single women. The movement received some media attention earlier in 2019, when it was still about '4B' or the '4 no's' (no marriage, no kids, no boyfriend, no sex; the 'single women support' and 'refusal of buying misogynistic products' were added later). The '4T' stands for the rejection of shapewear (corsets), religion, otaku culture, and idols.
"A devastating blow for Chinese radical feminists"
The censorship of 6b4t-related groups on Douban sparked sharp criticism and anger online. On Twitter, 'HAL 10000' (@dualvectorfoil) called the crackdown "a devastating blow" for Chinese radical feminists.
Chinese radical feminists just suffered a devastating blow. On April 12, the Chinese government disbanded all radical feminist groups on Douban, a popular social networking website. Those are the only discussion forums that Chinese feminists could find.

— HAL 10000 (@dualvectorfoil) April 13, 2021
The Twitter account FreeChineseFeminists (@FeministChina) posted a screenshot of Douban's notification that the '6B4T' group had been removed, with the platform calling it an "extreme" and "radical" "ideology."
Douban, a social media site used by Chinese urban youth, closed more than 10 feminist groups and banned the keyword 6B4T, a feminist view from South Korea that advocates women not getting married and having no children. Douban calls 6B4T an "extreme" and "radical" "ideology." pic.twitter.com/o9QxhIZoqj

— FreeChineseFeminists (@FeministChina) April 13, 2021
On Weibo, many commenters also spoke out against the removal of the feminist Douban groups.
"I am 6b4t and although it might seem extreme in the eyes of some, I am not harming anyone at all," one person wrote, with another commenter adding: "This is completely limited to myself, I do not influence others."
"I've been 6b4t for years without even realizing," one Weibo user jokingly wrote: "I've been single forever!"
Another person admitted: "I don't really look at Douban, and I don't really understand 6b4t, but blowing up those groups like this goes too far."
"We have to firmly support our Douban sisters"
The account of Xianzi, the woman who became famous for the Xianzi versus Zhu Jun court case, also commented on the Douban censorship on April 13:
"I am not a follower of 6b4t at all, but I firmly support my Douban sisters and oppose how the feminist Douban groups have been shut out. First, 6B4T clearly is an important branch of contemporary online feminism – shutting these groups out is shutting out discussions on female topics. Seconds, the viewpoint of 6B4T is not radical at all, it just asserts that women do not need to enter heterosexual relationships and can break away from masculine control. This is completely up to women themselves and has nothing to do with anyone else. When even such a viewpoint is banned, and women insisting on being single are still seen as rebellious — this is the fundamental reason why we have to firmly support our Douban sisters."
Many people support Xianzi's statement, and meanwhile, the hashtag "Women Let's Unite" (#女性们团结吧#) also took off on Weibo, with many commenters calling on women to let their voices be heard.
"If someone is covering your mouth to try and silence you – scream louder," one person wrote.
The hashtag was also used to address issues of domestic abuse, a topic that has received a lot of attention on Chinese social media over the past year. In October of 2020, the death of the female vlogger Lamu, who was burnt by her ex-husband, also sparked an online movement that called on authorities to do more to protect and legally empower female victims of domestic abuse.
The 'Women Unite' hashtag page had received over 47 million views by late Tuesday night. Another relating hashtag, 'Douban Feminism' (#豆瓣女权#) was viewed over 40,000 times.
"You can disagree, but you can't silence them"
While the search for '6b4t' gave few new results on the Douban site at the time of writing, there were still some older posts on the topic.
One noteworthy one is that by user *Blossom*, who took the time earlier this year to explain what 6b4t means to her, saying "6b4t is an act of struggle, it is not a discipline."
In the post of February 2nd of this year, 'Blossom' explains that 6b4t is a way of resistance where the keyword is "sovereignty," namely the female sovereignty over her own body. 6b4t is a way to fight for radical feminism, Blossom claims:
"In the context of patriarchal society, women are sexually objectified while male sexuality equals power. Under this premise, marriage, childbearing, romantic love, and sexual activity are all about reinforcing the power of men and benefiting them. So we advocate 4b, which essentially is a non-violent and non-cooperative struggle mode, with the same characteristics as workers' and slaves' strikes."
Although there are also people expressing disagreement with the 6b4t movement, many defend their right to have online discussion groups about their ideas.
"You can disagree, you can call them into question, but you can't cover their mouths to silence them," one Weibo user wrote.
"We can have groups advocating marriage and childbirth, why can't we have groups advocating being single and childfree?", another person asked, with one commenter stating: "I do not advocate 6B4T, but I will defend to the death the right of these women to advocate 6B4T."
Throughout the years, feminist movements have often become a target of censorship on Chinese social media. Douban previously also censored content relating to the Zhu Jun sexual harassment case, and in the case of demanding justice for Lamu, some hasthag pages were also removed from Weibo. The renowned feminist Weibo account 'Feminist Voices' (@女权之声) was permanently banned in 2018, along with other feminist accounts.
"A new era of witch-hunting has started," one top comment in a thread of 2200 comments said: "Get ready to fight, let your voice be heard!"
A somewhat ironic consequence of Douban's latest censorship is that many people who had never heard about this 'radical feminism' now know what 6b4t is because it became a 'banned term.' "I've learnt a new word today," some commenters say, with others vowing to support their silenced 'Douban sisters.'
By Manya Koetse
Spotted a mistake or want to add something? Please let us know in comments below or email us. First-time commenters, please be patient – we will have to manually approve your comment before it appears.
©2021 Whatsonweibo. All rights reserved. Do not reproduce our content without permission – you can contact us at info@whatsonweibo.com.