Guangzhou Metro Security Guard Posts X-ray Images of Passengers' Adult Toys
Chinese netizens are annoyed by a Guangzhou Metro security guard posting the X-ray images of the private contents of passenger bags.
Gender issues, privacy awareness, and complaints by commuters about time-consuming regular security checks at Chinese subway stations – on May 7, these widely-discussed issues in today's China all came together in a Weibo post that soon went viral.
A screenshot posted to a group chat by a security guard nicknamed 'Crush' showed X-ray images of bags and suitcases of commuters, in which adult toys can be discerned.
"There are many beautiful girls in Guangzhou," the security guard said: "..but the problem is that they are not serious." He added: "My purity is tarnished as I see more and more adult toys."
These remarks, circulating around social media, prompted privacy concerns. As Weibo blogger @三千院雨Official wrote: "Why can you play with your smartphone while you're at work? How can these kinds of bad-mannered individuals be qualified as security guards? What gives you the right to take photos of passengers' personal belongings, spread them to other platforms, and make personal comments?"
The Weibo post regarding the X-ray images has received over 280.000 likes and more than 21.000 reposts so far. The blogger stated that the incident has now been reported to the authorities.
Many netizens voice their concerns over privacy rights violations under the post: "Every citizen hands over their privacy to the security guard out of trust. If the security guard not only fails to work for the people, but even violates their privacy, then public trust will be lost in the long run."
Some commenters are more emotional: "Is there something wrong with this guy? This is equivalent to disclosing personal information!"
The post thread has seemingly also become a battleground for gender issues. Recently, the feminist movement in China has been pressing for the destigmatization of sexual desire and adult toys. The remarks of the security guard that link adult toys to 'impurity' became a target of criticism. "Sexual fetishes that don't harm anyone are not wrong," one comment said, receiving over 2000 likes.
Discussions on sexism and gender discrimination, which have seen a rise on Chinese social media recently, also flared up again over this incident.
The last time these kinds of discussions flooded Weibo was in March, when Intel severed ties with its ambassador Yang Li, a female stand-up comedian. Yang Li is controversial for her jokes mocking men ("men are adorable, but mysterious. After all, they can look so average and yet be so full of confidence"), with some blaming her for being "sexist" and "promoting hatred against all men." Many women rallied behind Yang Li, promoting a more inclusive and safe environment for females.
Under the post on the Guangzhou metro incident, a comment that received two thousand likes said: "This is why girls feel disgusted with men. They want to interfere with everything, not just limited to their own duty." Some commenters, however, question how the security guard's gender can be determined simply based on the screenshot, and whether this in itself is a gender bias.
According to the Counterterrorism Law of China, which went into effect in 2016, the subways are required to do security checks on passengers entering the stations. Guangzhou Metro has rolled out comprehensive security checks since late 2017. The policy was met with opposition from residents, especially from commuters who believed these security checks were useless and time-wasting. Also, since railway companies typically outsource security tasks to external firms, the lack of professionalism on the part of security guards and the lack of accountability became a source of discontent ever since.
The ongoing dissatisfaction towards these mandatory checks might have heightened current discussions on the Guangzhou security guard, leading some people to question the efficiency of the checks in general: "If they wanted to, terrorists could simply target the long line of passengers awaiting security check outside the subway station."
Others complained about the time wasted waiting in line: "People's patience is limited. I'll wait and see when the tension [between passengers and security guards] will deteriorate into physical conflicts." Then there are those who are dissatisfied with the attitudes exhibited by the security guards: "I saw some security guards who looked like they were middle school students, but they were super arrogant. They should really thank Guangzhou Metro for creating jobs for them."
Yet there are also people who defend this practice of security checks at stations: "Security checks indeed are unable to eliminate the occurrence of accidents, but just like locking your door, they can pose an obstacle to those who are looking to break the law."
Following the online controversy, Guangzhou Metro issued a statement in the afternoon of May 7, stating the security guard involved, who worked at the Guangfo Line within Foshan's jurisdiction, has been identified. The company claimed to have terminated the contract with the guard and reported him to the police.
Later, the blogger posted a few screenshots that showed the security guard apologizing to her, saying that this incident has "created tremendous pressure" for him. The authenticity of the screenshots has not yet been verified at the time of writing.
This isn't the first time security guards working for Guangzhou Metro are involved in a controversy. Previously, Guangzhou Metro had apologized for asking a girl to remove her Gothic makeup before entering the station. Another security guard was previously dismissed for taking upskirt photos of a woman.
By Bobby Fung (@bobbyfungmr)
Spotted a mistake or want to add something? Please let us know in comments below or email us. First-time commenters, please be patient – we will have to manually approve your comment before it appears.
©2021 Whatsonweibo. All rights reserved. Do not reproduce our content without permission – you can contact us at info@whatsonweibo.com.
"Brainless" Local Policy to Boost Birthrates: Bonus Points for Kids from Bigger Families
Having a second or third baby? Zhezhou County will give you bonus points for that.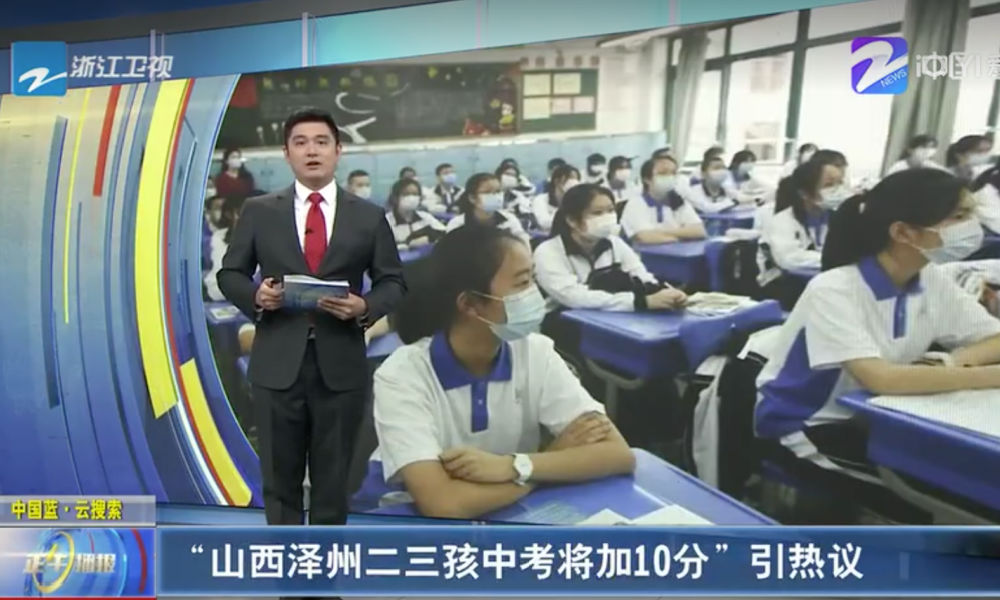 As Chinese experts and local authorities across the country are thinking of new ways to encourage couples to have more children in light of China's dropping birth rates, this latest measure announced by Shanxi's Zhezhou County has sparked controversy.
Dropping birth rates have been a major concern for Chinese authorities for years now, and in light of the recent Two Sessions and its aftermath, it has become a bigger topic of discussion on Chinese social media.
To encourage young people to marry and have more children, various initiatives have been suggested or implemented, with a particular focus on the role education plays in this matter.
One recent proposal from an expert has been to shorten the education period as a means to promote China's birth rates. This includes the idea of eliminating the middle school entrance exam to reduce two years of elementary and middle school education to allow young people to start their post-graduate life at an earlier age.
Earlier this month, another measure that also focuses on education in the context of boosting birth rates sparked heated debates on Weibo.
The measure was introduced by the local government of Zezhou County, a county in the southeast of Shanxi province. The idea entails that families of two children or more will receive benefits in education; their second or third child would get ten additional points in their senior high school exams (zhongkao 中考).
The related hashtag, titled "Second or Third Children from Shanxi's Zezhou County Will Receive an Additional 10 points in the Senior High School Entrance Exam" (#山西泽州二三孩中考将加10分#) received over 120 million views in less than two days.
On Chinese social media, most netizens responded to this proposed measure with indignation, arguing that it violates the basic principle of exam equality.
In response, one popular legal blogger on Weibo called 'Lawyer Zhuang Zhiming' (@庄志明律师) published an article titled: "Shanxi's Zezhou County Giving Families with Two/Three Kids Extra Zhongkao Points – How Did Such a Brainless Policy Come About?" ("山西泽州二、三孩家庭中考加分,如此弱智政策是怎么出台的?")
In the article, the author vehemently criticized the policy, stating that it goes against the basic spirit of education equality and describing it as a "devilish measure against the times" ("逆时代的魔鬼之操作").
In addition to being unfair to one-child families, the author argues that the policy also treats the first child of two or three children families unequally since they cannot receive the extra bonus points while their younger siblings can.
Many users on Weibo also agree with this argument, stating that the policy creates a situation where the first-born child is "inherently placed at a disadvantage," "starting one step behind the others."
Other netizens also criticized this policy, viewing it as an extreme family planning policy. One Weibo post under the hashtag suggests that this policy is similar to measures taken during the one-child policy era and creates inequality to compel people to realize the state's birth rate goals.
Another Weibo user stated: "When we were young, our parents were fined for having multiple children, while we watched families with one child or two daughters receive bonus points. Now that we've grown up and can't afford to have more children, we're watching those with two or three children receive bonus points."
Some also expressed anger and frustration in the comments sections, saying these kinds of policies make them feel pressured to have children and actually makes them feel like not having kids altogether.
"Just don't have babies at all," one person wrote, while another comment said: "If we would treat humans as actual humans, we could avoid strange occurrences like this."
In mid-March, Sina News reported that the local government responded that the policy is not active yet and is being implemented in "one or two years."
In addition to the extra points for the senior high school entrance exam, the local authorities have come up with other measures that benefit families with two or three children, including exemption from outpatient registration fees in the county's public hospitals, an additional sixty days of maternity leave for the third child, 50% off (second child) or no fees (third child) for county public kindergartens, and free after-school childcare services.
Although these local initiatives have drawn a lot of criticism, some people also applaud them.
Phoenix Weekly's Weibo account posted about all the measures taken by the local government, and one person replied: "This is the most effective policy I have seen so far. If Shanghai were to implement such measures, the birth rate would increase very quickly."
Other netizens also suggested that the policy may not be as harmful as some claim it is. In response to concerns about the policy's impact on education equality, some point out that the extra points are only added if students take the zhongkao for high schools located within the county. They, therefore, suggest the measure could actually decrease competition for urban schools, since there will be no bonus points for those entrance exams.
Another Weibo user trivialized the policy's impact by suggesting that "there are no good high schools in the county, so [the policy] won't have much of an influence [on education equality] at all."
While the policy's scope is limited to the county level and may not significantly affect the lives of most individuals, most commenters in these online discussions still see it as a challenge to the fundamental values of equality, merit-based education, and individual autonomy over family planning.
Many people doubt the effectiveness of manipulating the education system to boost birth rates and argue that addressing the broader socio-economic context is the only viable solution: "The government's priority should be to ensure high-quality basic services for children and to maintain these standards. When people feel happy, they may be more willing to have children. Improving the quality of child-rearing and education is more crucial than increasing the quantity of children."
By Zilan Qian
Get the story behind the hashtag. Subscribe to What's on Weibo here to receive our newsletter and get access to our latest articles. Follow us on Twitter here.
Spotted a mistake or want to add something? Please let us know in comments below or email us. First-time commenters, please be patient – we will have to manually approve your comment before it appears.
©2023 Whatsonweibo. All rights reserved. Do not reproduce our content without permission – you can contact us at info@whatsonweibo.com
Pregnancy Discrimination in the Workplace: Three Major Problems Faced by Chinese Female Workers
Weibo discussions about a woman from Wuhan who was fired after sharing news of her pregnancy for "inability" to do her job.
Workplace pregnancy and maternity discrimination is a deep-rooted problem that has recently triggered online discussions in China, where netizens highlight common ways in which companies still try to avoid dealing with pregnant workers.
The official Weibo account of Legal Daily (法治日报), a Chinese state-owned newspaper, recently launched a social media hashtag about employers not being allowed to terminate female employees because they are pregnant (#不得因怀孕辞退女职工#).
Legal Daily reported that a female employee in Wuhan was fired from her job due to her pregnancy earlier this year (#武汉一女子怀孕后遭公司辞退#). After returning to work after the Spring Festival break, the woman informed the company about her pregnancy. In early February, the company asked her to accept a demotion and salary reduction, which she declined. Later that month, she received a termination letter from the company, stating that the employee was being terminated due to her "inability to do her job."
Legal Daily's Weibo account cited Article 5 of the "Special Provisions on Labor Protection for Female Employees," which prohibits employers from reducing the wages of female employees or terminating their employment contract due to them being pregnant, giving birth, or breastfeeding. It also stipulates a basic maternity leave of 98 days.
The female employee in question is currently suing the company for terminating her job. While this case may have a positive outcome, the issue of workplace discrimination against female employees due to pregnancy is more complicated than it appears, regardless of the Chinese laws designed to protect female workers.
Despite legal prohibitions against pregnancy discrimination in employment, some employers still circumvent the rules in various ways and in doing so, continue to engage in discrimination against female workers. This topic has recently also generated discussions on Chinese social media about the problems women face in the workplace.

Problem #1: Companies Not Hiring Female Workers At All

"It [the law] is not very useful," one Weibo user wrote under the related hashtag: "Companies do not usually fire female workers who are pregnant. They will solve the problem from the beginning by not hiring female workers at all."
Some smaller private companies do not want to take the risk of dealing with potentially prolonged maternity leave and pregnant workers that they cannot fire nor reduce their wages.
They also fear that workers who are pregnant or are taking care of young children will have reduced energy and might face challenges in the workplace. To avoid the presumed risk that comes with hiring a female worker, Weibo commenters discuss how many companies would "rather hire men directly" to evade the issue of dealing with pregnant workers altogether.
Some voices note how female job-seekers are facing gender discrimination in hiring, regardless of their marital status or the number of children they have.
Another post under the same hashtag (#不得因怀孕辞退女职工#) mentioned:
"It is so hard for females to find jobs. [From the company's perspective:] 1. Unmarried female: they're here for the marriage leave; 2. Married but no children yet: they're here for the pregnancy leave; 3. Married and have one child: here to have their second child (and the maternity leave); 4. Married and have two children: here to have their third child (and the maternity leave); 5. Married and have three children: they have no time for work because need to take care of the family; 6. Do not want to marry: they are having problematic thoughts [思想有问题]."

Problem #2: Going to Extremes to Avoid Paying for Maternity Leave

Despite Chinse labor law prohibiting companies from reducing wages or terminating the contracts of pregnant employees, some companies still attempt to circumvent paying for maternity leave through various means, as was the case with the Wuhan company.
One extreme way to avoid dealing with maternity leave pay is to cancel the company's registration altogether, which is also called "dying together" ("同归于尽", also: "to perish together with one's foe").
A recent news story about a boss who canceled his company's registration overnight due to a female employee's pregnancy received widespread attention on the internet.
According to a March 5 report by Netease (网易), the woman informed her boss that she was three months pregnant right after signing her work contract. The boss was so afraid of the potential costs for maternity leave pay and other benefits that he decided to immediately cancel the company's registration.
While the boss claimed that the cancellation was due to the fact that the company was operating at a loss for the past two years, he reportedly spoke with each employee and compensated them accordingly. However, the pregnant female employee in question refused to leave. After the cancellation, the boss formed a new company including all the former employees – except for the pregnant one.
While some netizens expressed concerns over the extreme actions of the company, others also blamed the woman for "blackmailing" the company into supporting her pregnancy and childbirth. Additionally, many netizens argued that the woman's actions also make it more difficult for other job-seeking females to find employment, especially with small companies that may become more cautious about hiring female workers.

Problem #3: Maternity Harassment on the Workfloor

"Dying together" is not the only way for companies to get rid of "troublesome" pregnant workers. There are many other low-cost ways to avoid dealing with pregnant employees and working mothers, such as making life in the workplace so difficult for them that they will voluntarily resign.
In Chinese, this kind of 'maternity harassment' is also called "chuān xiǎo xié" (穿小鞋), which literally means giving someone tight shoes to wear and making them uncomfortable. The phenomenon is also widespread in Japan, where the word 'matahara' was coined as an abbreviated form of the words 'maternity' and 'harassment' to describe the unfair treatment of pregnant women and young mothers in the workforce.
By pushing employees to resign voluntarily, the company not only saves on the costs of female workers' maternity leave pay but also avoids paying for a severance package.
Under the report by Jingshi Live-Streaming (经视直播) about the woman in Wuhan who was fired from her job due to her pregnancy, one Weibo user commented that many companies fire female workers who are pregnant, but they usually do not state it upfront and instead secretly force them to leave.
This comment received over 1500 likes, with many sharing their own similar experiences. One person wrote: "I was in that situation. The company explicitly persuaded me to resign and covertly marginalized me."
Another person shared: "After I announced my pregnancy, my year-end bonus was reduced by more than half, and my colleagues immediately treated me with coldness." One woman mentioned that "companies overtly use polite language while covertly giving the lowest performance evaluation to force employees to resign."
One Weibo user complained about how female workers first face nagging questions about their future plans to have children, then face criticism from employees and colleagues after announcing their pregnancy and then have to worry about getting fired or seeing their salary reduced after giving birth.

No Way Out?

Despite laws and regulations requiring companies to provide maternity leave for female employees, there are still loopholes that are used by businesses to avoid responsibility. This leaves women in a vulnerable position in the workplace and limits economic opportunities. Weibo users come up with several suggestions in recent online discussions on how to solve the problems female workers face.
Some suggest that women should "just be realistic" and settle for a second-best option ("退而求其次"). One Weibo post argued that since it is difficult for women to secure permanent positions in both government institutions and big private companies, they should consider becoming temporary workers in government departments as a secondary option.
Others disagreed with this hot take, stating that the average wages and benefits for temporary workers in government departments are not enough to make a living.
Another suggestion raised to combat pregnancy discrimination is to offer equal parental leave to both men and women. However, this proposal was also met with resistance from some who argued that it does not solve anything since fathers have the option to forgo paternity leave, but women do not have that choice. They also cited examples of male colleagues who voluntarily waived their 15-day paternity leave.
Some are skeptical about finding a solution to the problem of women facing pregnancy discrimination in the workplace, and also raise the issue of this problem decreasing women's willingness to have babies at all. Some netizens jokingly comment: "Do women need to provide their certificate of sterilization from the hospitals?" or "I suggest females just remove the uterus [as a solution]."
Facing low fertility rates and a large aging population, boosting birthrates is a priority for Chinese authorities. While Chinese experts look for ways to motivate couples to have (more) children at an earlier age, combating pregnancy discrimination in the workplace is also more important than ever.
One Weibo user bitterly joked about the apparent contradiction of boosting national birth rates while also promoting equal positions in the workplace:
"Women say: "If I get pregnant, I will face workplace discrimination."
The government says: "How dare companies discriminate against women? I will fine them."
Companies say: "You're good at playing tricks. I won't hire women anymore."
Women say: "If I have a child, I can't even find a job. I won't have children in the future."
Society says: "China is getting old before it gets rich. What should we do?"
The media says: "There is news every day. It's great!"
By Zilan Qian
Get the story behind the hashtag. Subscribe to What's on Weibo here to receive our newsletter and get access to our latest articles. Follow us on Twitter here.
Relevant Vocabulary
◼︎ 同归于尽 Tóng guī yú jìn
Dying together; suffering a downfall together; perishing together with one's foe
◼︎ 穿小鞋 Chuān xiǎo xié
Giving someone tight shoes to wear; making things hard for someone by abusing one's power
◼︎ 退而求其次 Tuì ér qíu qí cì
To settle for the second best thing
Images in featured image:
http://www.xinqtech.com/startup/201806/291055.html
https://www.maxlaw.cn/n/20220316/10379852097730.shtml
https://www.maxlaw.cn/n/20180823/923419931554.shtml
https://www.sohu.com/a/325722786_120156585
http://k.sina.com.cn/article_2090512390_7c9ab00602000n007.html
Spotted a mistake or want to add something? Please let us know in comments below or email us. First-time commenters, please be patient – we will have to manually approve your comment before it appears.
©2023 Whatsonweibo. All rights reserved. Do not reproduce our content without permission – you can contact us at info@whatsonweibo.com