Chinese Netizens Respond to 'Uplifting' Covid News: "We're Not That Dumb"
A viral WeChat blog criticizes Chinese journalists for 'dumbing down' and exaggerating Shanghai Covid news.
Weibo commenters say they do not know "whether to laugh or to cry" about some state media news items that are desperately trying to turn news about Shanghai's Covid situation into something 'uplifting.'
This week, a WeChat article criticizing 'uplifting' news about Shanghai's Covid situation has been making its rounds on Chinese social media.
"Sometimes, I really doubt the intelligence of some institutionalized journalists, I really don't know whether to laugh or cry about it," the author (大松子哟) of the Wechat article titled "Please Guys, Give Us Less Retarded News" ("求求你们了,少整点弱智新闻吧") writes.
One of the recent news stories that is mentioned as an example of Shanghai blowing its own horn while also dumbing down news readers, is that of state media outlet Xinhua News about a drone flying over the Huangpu River to deliver priority life-saving medication to a cancer patient.
According to the state media report, the Shanghai local Committee of the Communist Youth League in Xuhui District received a help inquiry on April 27th from an elderly patient with advanced liver cancer who needed their emergency medicine from Shanghai's Pudong District.
With the help of the fire and emergency department, the Committee immediately arranged for two drones to go on a mission over the Huangpu River to pick up and deliver the medicine, a journey of about 20 kilometers. The mission was reportedly accomplished in thirty minutes and the entire ordeal was filmed by the second drone for a Xinhua video.
So some officials went through an awful lot of trouble to get medications to a cancer patient in Shanghai, with two drones crossing the Huangpu River and flying 20 km to deliver them. But netizens aren't buying it: "They could've just delivered them by car. There is no traffic." pic.twitter.com/OXKTIZnTTu

— Manya Koetse (@manyapan) May 4, 2022
"Such positivity," one popular blogger wrote: "But what about just putting these medications in a car for transportation – they won't go bad, and there are no traffic jams in Shanghai now. Transportation by car is a bit safer than flying them over the Huangpu river don't you think?"
Another Weibo user wrote: "Shanghai bridges aren't bombed, are they? The tunnels aren't blocked, are they? Couldn't the firemen just drive a car and deliver the medicine?" The idea that the two drones needed to fly out because the bridges and tunnels were bombed or blocked then became somewhat of a running joke on Weibo.
"This is all just to fit the propaganda messages, did you think people are stupid or something?" others wrote, with many commenters repeating the sentence: "I don't know whether to laugh or cry about it."
"I'm laughing so hard over this, all this trouble with a drone delivering medication and then another drone following it to film it, they're making things so difficult."
Following online criticism, a hashtag page related to the news was temporarily disabled and later only eight comments praising the video were displayed below the Xinhua thread, which actually received nearly 5000 replies.
Grateful Sick Man in Wheelchair
Another example raised is a news story about an elderly sick man with an amputated leg living on the fourth floor of an apartment building (without elevators) who had to go downstairs for a mandatory Covid test. Unable to leave his apartment by himself, the old man was helped by five anti-epidemic workers who carried him all the way down in his wheelchair.
According to the original news report, the old man was moved and thanked the workers for helping him get downstairs.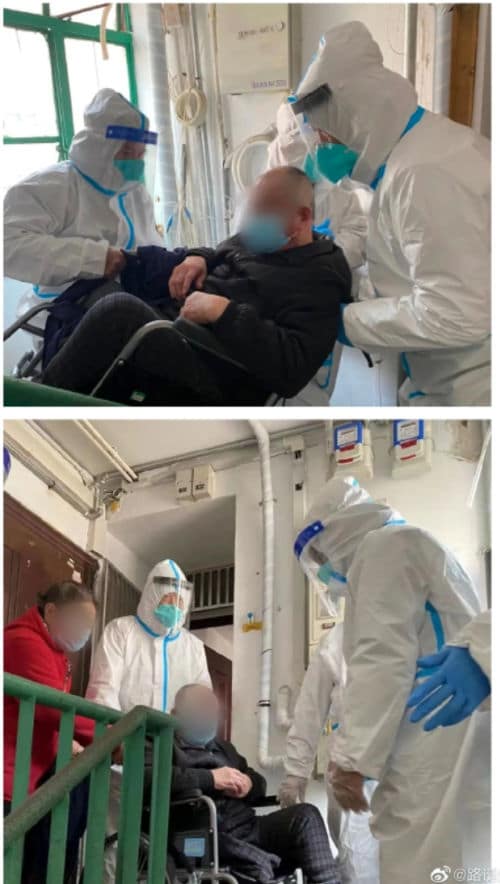 "Wouldn't it have been easier to bring the test upstairs?" many people wondered. "Wasn't the news editor a bit entertained about this news himself?"
Others also wondered how and if the man in the wheelchair ever got back to his fourth-floor apartment again.
"So you think it's not a good idea for one person to go to the house to do the nucleic acid test, but you do think it looks good for five people to carry the old man down with a wheelchair and take pictures of it?" the WeChat article author wrote: "And he was moved and actually thanked you? Are you sure he didn't call you idiots?"
The blogger also wrote: "I understand the goal of these kinds of articles is to express positivity and to convey a feeling of urgency that 'every second counts,' but could you please also take our IQ into considering when setting the atmosphere?"
Adding: "I once heard a story as a kid about an Arab who had won a camel at a competition. When he got home, he wanted to slaughter the camel but discovered his knife was on the third floor, so he asked three of his neighbors to help him get the camel up to the third floor…" I always thought this story was just fabricated, but now I've come to realize I was just too naive."
A Life or Death Mission
Another news story mentioned was originally published by Jiefang Daily (解放日报), the official daily newspaper of the Shanghai Committee of the Chinese Communist Party. It is a personal narrative of a Shanghai official who is going back to work 'in the field' for the first time in a decade.
This is how the story begins:
"On the evening of April 12, close to 10pm, I received a call from my unit that I would be part of a team of ten people as the first batch of cadres to get into the village. Actually, I felt afraid, I didn't know what the situation would be like in the place where we were heading. What challenges would we face? Also, I have two sons in junior high school, I always help them in their schoolwork, I worried their studies would be delayed."
"I told my sons to go up to the attic to get the biggest suitcase. They were stupefied, asking me: 'Mum, how long will you be gone for? Why do you need such a big suitcase?' I told them: 'You can never be over-prepared. I don't exactly know how long.' I could see the panic in their eyes."
"The next day, when my sons carried my luggage to the car, I turned around and hugged them both. I had never been so sad to part with them, and tears started welling up in my eyes. I held myself back and told myself: 'You can't cry, you need to be a good role model for your sons, when facing a catastrophe someone must stand up and bravely step forward. Besides, I'm not the one who is suffering the most – if others can do it, so can I."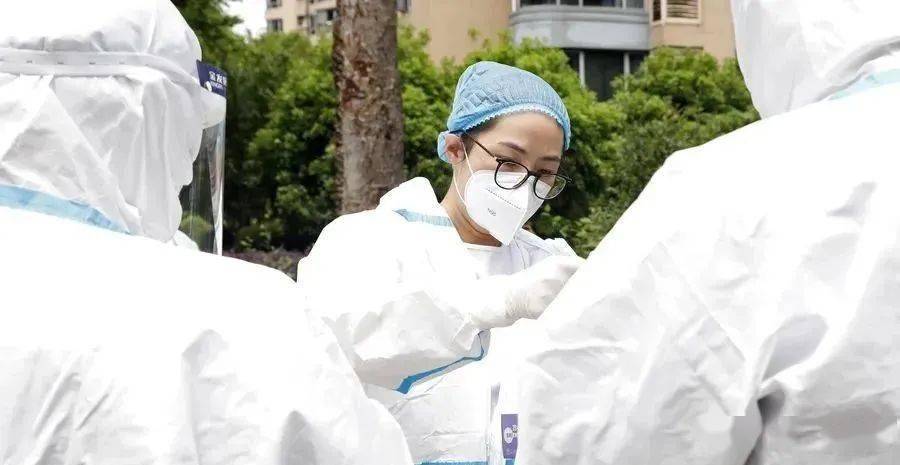 The WeChat blogger responds to the news article, writing: "I first thought the protagonist was leaving their family to go abroad for some secret all or nothing mission, moving heaven and heart, between life and death,.. but then I read on and, oh, my dear, it turns out to be an official who's going to work at a neighborhood committee!"
The author criticizes the article for presenting the work of a local cadre at a neighborhood committee – doing simple work such as scanning QR codes and collecting PCR tests – as some life or death mission.
"Where does this kind of 'self-moving' ['自我感动', like stroking one's own ego] come from? Isn't it embarrassing?"
Meanwhile, on Weibo, the banter continues: "I remember someone saying that the person in charge of the Shanghai propaganda line came back from North Korea."
This is not the first time that this kind of 'positive' reporting in times of Covid is deemed out of place and exaggerated.
In February 2020, Chinese media reports praised female nurses as true heroes for having their heads shaved before going to Wuhan to help in the fight against Covid-19. The reports and videos showed some women crying while having their hair completely shaved, and the media segment caused anger among Weibo and Wechat users who thought it was all about propaganda.
Many wondered why the women needed to shave off all of their hair while male nurses could keep their hair. Some experts chiming in claimed that having a bald head would not be helpful in the fight against the virus, as (short) hair also has a protective function, reduces irritation from wearing hats and masks, and prevents sweat from dropping into the eyes.
More recently, a CCTV video report on the situation in Shanghai went viral on WeChat after people thought the part showing a supposed Shanghai supermarket was "too fake," with many suggesting it was filmed inside a film studio instead of inside an actual Shanghai supermarket in times of lockdown and grocery problems.
Afterward, a video made by social media users edited a Joker Xue song into the state media video, in which he sings about a relationship in which one person is faking it and the other just plays along and pretends not to notice for the sake of their relationship.
Official media then reported that the supermarket scenes were "authentic." The very fact that state media outlets apparently felt the need to convince netizens that the state news program was legitimate, instead of being staged as some netizens suspected, says a lot about the current relationship between state media and Chinese netizens amid tensions surrounding the situation in Shanghai.
"These kind of news reports are an insult to my brain," one commenter wrote.
For more articles on the Covid-19 topics on Chinese social media, check here.
By Manya Koetse, with contributions by Miranda Barnes
Get the story behind the hashtag. Subscribe to What's on Weibo here to receive our weekly newsletter and get access to our latest articles:
Spotted a mistake or want to add something? Please let us know in comments below or email us. First-time commenters, please be patient – we will have to manually approve your comment before it appears.
©2022 Whatsonweibo. All rights reserved. Do not reproduce our content without permission – you can contact us at info@whatsonweibo.com.
Residents in Locked Down Lhasa Say Local Epidemic Situation is a "Giant Mess"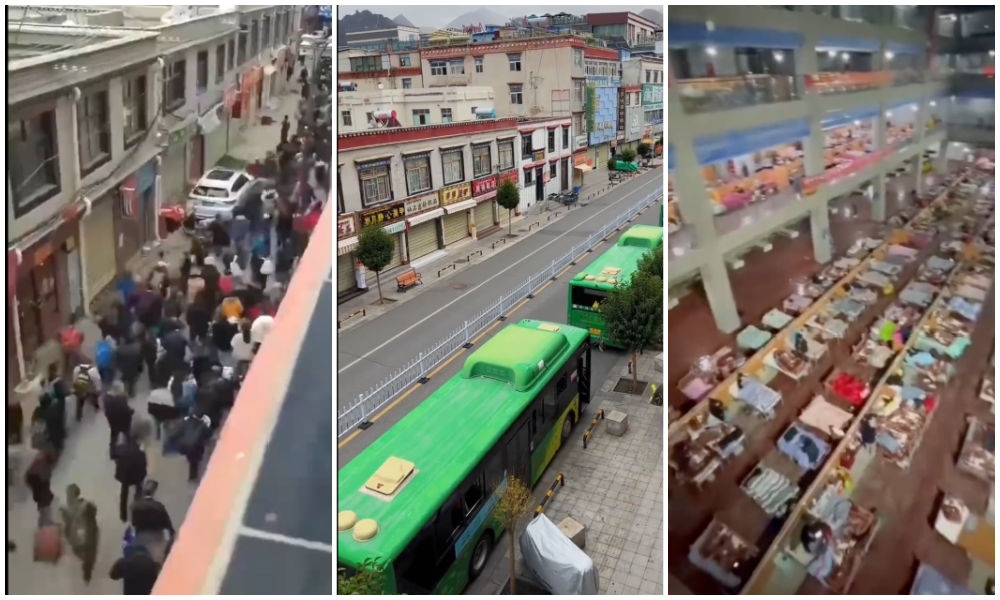 They've been in lockdown for 42 days already, but according to some Lhasa-based bloggers, there have been no improvements in the local epidemic situation. They say there is a stark difference between what officials are reporting and the daily reality they are dealing with in Tibet.
"The epidemic situation is bad in Lhasa, please pay attention," one netizen wrote on Weibo on September 15, pointing to many new posts surfacing on Chinese social media about the difficulties people are facing in Lhasa city in Tibet.
Over the past week, many Tibet-based bloggers have posted on social media about the local circumstances, and hundreds of Chinese social media posts talk about similar problems in the region. Despite the ongoing lockdown, they say, there are still a growing number of positive cases within Lhasa communities; buses are allegedly going back and forth to bring people to quarantine sites where those testing positive and negative are mixed; they claim that there is an absolute lack of management and control; and many locals suggest that the official reports do not reflect the actual number of Covid cases at all.
According to the official numbers, Tibet saw its peak in Covid cases on August 17 and has since reported fewer new cases, reporting a total of 118 new cases on Thursday.
"I am a bit shocked!" one local social media user wrote: "What I saw was a total of 28 buses lined up outside Lhasa Nagqu No. 2 Senior High School, and then still more [buses] were coming. One bus can fit around 50 people, so there must have been around 1400 positive cases. There was a blind man, there were elderly people in wheelchairs, there were swaddled-up babies, from getting on the bus at 9.30 pm up to now, we've been waiting for 5 hours and we're still waiting now. It's just pure chaos at the school entrance, there is no order. I won't sleep tonight."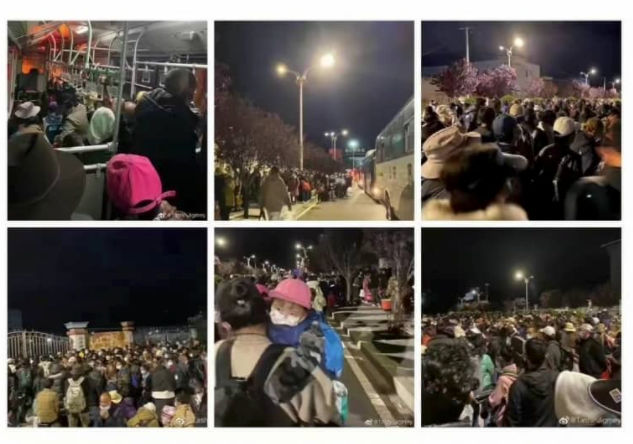 On the 14th of September, another netizen wrote:
"In order to welcome central government leaders to Lhasa and to demonstrate the "excellent" epidemic prevention capabilities of the local government & the "outstanding" results of the fight against the epidemic to them, they moved citizens to the rural areas and let them all stay crowded together in unfinished concrete buildings, with all kinds of viruses having free reign."
On a Lhasa community message board, one Weibo user wrote: "Lhasa has already been in lockdown for over a month, yet our little community has so many infected people that I'm wondering how effective a lockdown actually is? Has Tibet been forgotten? When other places in China have a few positive cases it becomes a hot topic. But what about Tibet? And what about Lhasa?"
Another anonymous poster writes: "Regarding the Lhasa epidemic situation, the numbers were already a bit fake before, but I can understand it was also to take the public sentiment into consideration. I personally don't care how you report the data, as long as the epidemic prevention and control work is properly managed, then the lockdown can be lifted soon and nobody will say anything about it. But a month has passed already, and in a town with some hundred thousands of people, the epidemic work is increasingly getting worse. Many people around me have never even left the house and inexplicably turned out to test positive. Meanwhile those who tested positive are quarantined together with people who still tested negative, it's a giant mess."
"Lhasa hasn't had a Covid outbreak for the past three years, the city doesn't have enough experience in controlling the epidemic."
"It's the 42nd day of lockdown," another person wrote on Friday: "People are lining up to go to centralized isolation, Lhasa has been in lockdown longer than Chengdu, but it doesn't make it to the hot topic lists. People who tested negative again and again suddenly turn out to be positive. Lhasa hasn't had a Covid outbreak for the past three years, the city doesn't have enough experience in controlling the epidemic. It's going to be hard to restore tourism here before the end of the year. Before, big crowds would come to visit.
Over the past few days, following a heightened focus on the situation in Xinjiang, there has also been more attention for the epidemic situation in Tibet.
"Please pay more attention to the topic of the Lhasa epidemic," one person wrote, repeating a similar message sent out by many others: "Lhasa doesn't need your prayers, we need exposure."
On Friday, one popular gamer with more than a million followers wrote on Weibo:
"Many have been reaching out to me via private messages, saying that the epidemic situation in Tibet's Lhasa is very serious. If it's really like this, I hope matters can be settled as soon as possible. I don't know if this post can stay up or not, but I want to try my best to speak up and generate more attention to this epidemic trend. I experienced two months of lockdown in Shanghai myself and understand what it feels like. I have faith in our nation, and I believe the country will definitely take action. Everyone in Tibet, jiayou [come on]."
Many of the comments and posts coming from Lhasa are similar to those we saw last week, coming from Yining in Xinjiang. Social media users based in these places complain that many of their posts have been deleted and that it is very difficult for local residents to make their voices heard.
This is different from the previous lockdown situations in, for example, Xi'an, Shanghai, or Chengdu, where people posted videos, photos, and shared their lockdown experiences, either from home, from the Covid testing lines, or from the makeshift hospitals.
A Weibo hashtag on Tibet's covid outbreak (#西藏疫情防控#) has repeatedly surged up Weibo's trending searches only to be batted down again. It purports to show now-familiar but still grim scenes: haphazardly arranged quarantine centers, barely edible food, no potable water

— Alexander Boyd (@alexludoboyd) September 15, 2022
On the one hand, the reason why people in places such as Lhasa or Yining have more difficulties in making their stories heard in China's hectic social media environment relates to the fact that these places have a relatively small population size – while Yining and Lhasa have approximately 542,00 and 465,000 inhabitants respectively, there are 21 million people in Chengdu and some 26 million in Shanghai.
But a bigger barrier to posting about their circumstances is formed by the social media censorship that is extra strict when it comes to Xinjiang and Tibet as these places are considered sensitive political subjects, which is why topics related to these regions see far more aggressive online censorship – even for seemingly innocuous posts.
One Weibo user with over 600,000 followers wrote: "In such a sensitive place as Tibet, I really needn't worry about whether they're gonna see my post or not. I posted to vent my anger and scolded the leadership for a bit and within 24 hours the police came to my hotel and asked me to delete my posts. Now that everyone is asking for help like this, they will definitely see it, but they are determined to do this and do so on purpose, it's clear they don't care about people's lives."
Meanwhile, Chinese official media reporting on the epidemic situation in Tibet stress the collective effort to fight the virus in Lhasa. On September 15, People's Daily reported how 18 sister provinces and cities across China sent their best teams to Tibet to help with local anti-epidemic work and to bring supplies.
The Tibet-based military blogger ZhufengZhengrong (@珠峰峥嵘) writes: "It's been over a month and my comrade-in-arms are still fighting on the front line (..). I just hope the epidemic will end soon, and that I will be able to meet my family and hold my children and weep."
By Manya Koetse 
Get the story behind the hashtag. Subscribe to What's on Weibo here to receive our weekly newsletter and get access to our latest articles:
Spotted a mistake or want to add something? Please let us know in comments below or email us. First-time commenters, please be patient – we will have to manually approve your comment before it appears.
©2022 Whatsonweibo. All rights reserved. Do not reproduce our content without permission – you can contact us at info@whatsonweibo.com.
Happiest Lockdown in China: Guests Undergo Mandatory Quarantine at Shanghai Disneyland Hotel
"I wish I could be quarantined at Disney too!" The Shanghai Disney hotel apparently is the happiest place to get locked in.
While many cities across China are experiencing new (partial) lockdowns and millions of people are confined to their homes, there was also a group of people that had to undergo mandatory quarantine at a very special place: the Shanghai Disneyland Hotel.
On September 7, social media posts started surfacing online from people who said they were required to quarantine while they were at the Shanghai Disneyland hotel. Disneyland reportedly had received a notification from the local health authorities that a visitor who previously stayed at the Disneyland hotel was found to be a close contact of a newly confirmed Covid case.
In line with the Center for Disease Control requirements, Disney created a 'closed loop system' by locking in all hotel residents and staff members and doing daily Covid tests. While the Disneyland theme park was open as usual, the hotel became a temporary isolation site where people's health would be monitored for the next few days while all staff members would also be screened.
During their mandatory quarantine, guests stayed at the hotel for free and did not need to pay for their rooms. Room prices at the Shanghai Disneyland hotel start at around 3000 yuan/night ($433).
Some guests shared photos of their Disneyland quarantine stay on social media, showing how Disney staff provided them with free breakfast, lunch, a surprise afternoon tea, delicious dinner, fun snacks, and Disney toys and stickers.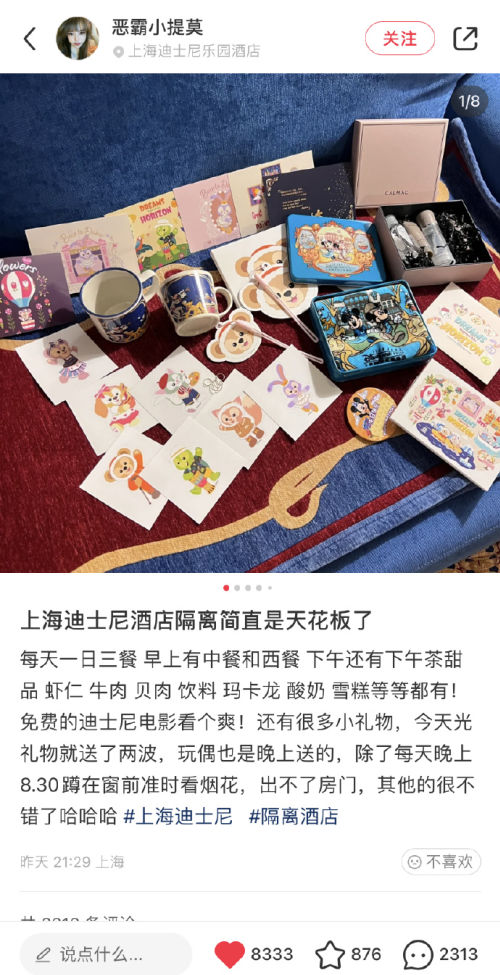 On the Little Red Book (Xiaohongshu) app, one Shanghai Disney visitor (nickname @恶霸小提莫) wrote: "We have three meals a day, there is both Chinese and Western-style breakfast, we also get afternoon tea and desserts, they have shrimp, beef, scallops, drinks, French macarons, yogurt, ice cream, and much more. We watched so many Disney movies for free. We are given so many little gifts, they brought us gifts twice today as they also brought us toy figures at night. We watch the fireworks from our windows every night at 8.30 pm. Although we weren't allowed to go out, we really had a pleasant stay."
Another Disney guest named Zoea (Xiaohongshu ID: yiya0313) also shared many photos of the mandatory quarantine and wrote: "When the staff knocked on the door to tell me they were bringing dinner, I even wondered how it was possible that they brought food again. Afternoon tea during quarantine, can you believe it? And fruit before dinner? And midnight snacks brought to us after dinner? And it was so nice to watch all the Disney movies on tv. Disney really is the most magical place."
"I'm just so happy," another locked-in Disney guest posted on social media, sharing pictures of Mickey Mouse cakes.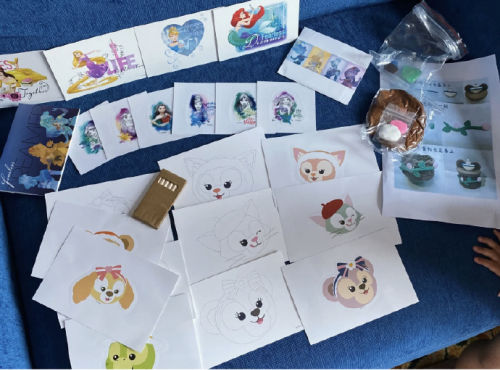 Other guests also posted about their experiences on social media. "They probably feared we would get bored so they brought us glue, stickers, and painting brushes, the kids loved it and so did we!"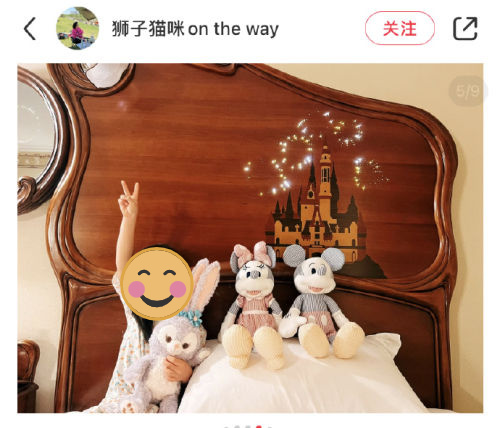 Reading about the happy quarantine at Disney, many Weibo users responded that they envied the guests, writing: "I wish I could be quarantined at Disney too."
"I need to find a way to get in, too," others wrote.
Earlier this year, one Chinese woman shared her story of being quarantined inside a hotpot restaurant for three days. Although many people also envied the woman, who could eat all she wanted during her stay, she later said she felt like she had enough hotpot for the rest of her life.
By Manya Koetse 
Get the story behind the hashtag. Subscribe to What's on Weibo here to receive our weekly newsletter and get access to our latest articles:
Spotted a mistake or want to add something? Please let us know in comments below or email us. First-time commenters, please be patient – we will have to manually approve your comment before it appears.
©2022 Whatsonweibo. All rights reserved. Do not reproduce our content without permission – you can contact us at info@whatsonweibo.com.