Weibo Has Still Blocked 'Shanghai Buy Groceries' Hashtag
"It's easier to get a Shanghai license plate than groceries around here."
While Shanghai is promising to improve food supplies for locked-down residents, many households are still struggling to get their groceries and complain about high prices for basic food items. Over the past week, Weibo has blocked a hashtag page about the issue.
On April 8, during the seventh day of Shanghai's phased citywide lockdown, the Chinese social media platform Weibo removed the 'Shanghai Buy Food' or 'Shanghai Groceries' (#上海买菜#) hashtag while many in the city were facing difficulties in getting food delivered to their house and were venting their anger online. Getting daily necessities has become a problem for millions of residents not allowed to leave their homes due to the city's coronavirus prevention measures.
The hashtag censorship coincided with state media news reports about Shanghai ensuring life supplies for residents and improving delivery capacities at a time when most stores, restaurants, supermarkets, and wet markets have shut down normal operations. Shanghai has registered over 253,000 Covid-19 infections since March 1st of this year, reporting another daily record of 26,330 confirmed cases on Wednesday.
Some joked that just censoring the problem was also a way of dealing with it. "Oh great, they solved the grocery shopping problem," popped up as a recurring joke on Weibo after the hashtag page was removed.
The hashtag 'Shanghai Buy Groceries' first started trending on Chinese social media on March 23, when Shanghai residents started worrying about an impending lockdown amid spiking Covid19 cases.
Although Chinese state media reported on March 24 that Shanghai health authorities reiterated they had no plans to impose a citywide lockdown – and two people accused of spreading rumors about an alleged citywide lockdown were even placed under police investigation -, the city announced its phased lockdowns three days later and scenes of panic buying at local supermarkets ensued.
So stressful to have to think about getting enough food for the family, having to line up and struggle to buy whatever you can and then dealing with this kind of violence erupting too. "is this really 2022?", one commenter said 😔 #shanghai pic.twitter.com/0XF9eIseyf

— Manya Koetse (@manyapan) March 27, 2022
But around April 8, the moment when the hashtag's popularity surged, many residents faced food shortages as their home supplies ran out and grocery orders did not come through. While some residents started receiving food boxes issued by the local government, most compounds and buildings also set up their own community WeChat group to place bulk orders at certain food vendors which then deliver the group purchase to the community, where it is distributed by volunteers or property management employees.
Earlier this week, Shanghai implemented a new measure that divides residential units into three risk categories depending on whether or not there have been any cases of Covid in their communities for a stretch of two weeks. For at least 15 million residents, their locked-down status remains unchanged – and for those in the 'precautionary' communities, their status could also be downgraded to the 'locked down' level the moment a positive case pops up again.
E-commerce and food delivery platforms such as Ele.me and JD have been sending more staff to Shanghai from other parts of China to help ensure quicker and smoother sorting and delivery processes. On April 13, many households also received their first (free) food boxes.
By Wednesday, hashtags such as "Shanghai Residents Are One by One Receiving Supplies" (#上海市民陆续收到物资#) and "Delivery Drivers Increased to Help Shanghai" (#多地快递小哥增援上海#) were circulating on social media. But on Weibo, the hashtag page for "Shanghai Groceries" still comes up with no results.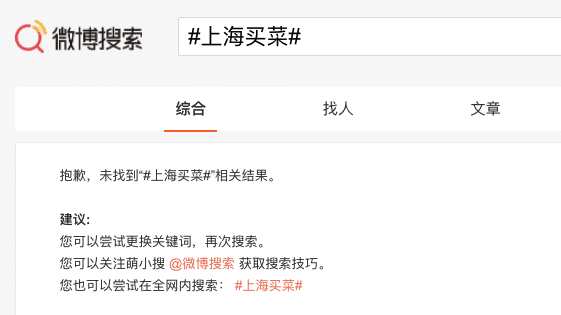 For some Shanghai residents, the pace of food delivery, even with improved delivery logistics, hasn't been quick enough to alleviate their current food shortages. Others are also complaining about the costs of their ordered groceries, some spending 285 yuan ($45) or more on some basic groceries including noodles and vegetables.
One Weibo user asks: "Please, where can I buy reasonably priced meat, eggs, and green onions?"
"It's easier to get a Shanghai license plate than groceries around here," another netizen complained.
For some, doing online groceries has become an Olympic game; netizens are posting videos of setting a 5AM alarm clock, jumping out of bed, and entering their online orders as fast as they can. One video showed a wife cheering on her husband while his thumb was going as fast as possible to place grocery orders via his smartphone e e-commerce app.
Remember that viral game where you had to tap the screen endlessly to "applaud" Xi Jinping's speech at the 19th Party Congress? This is like that. Except totally different. This guy is getting cheered on and even has a support tool while grabbing online groceries during lockdown. pic.twitter.com/Qeh8In3AJZ

— Manya Koetse (@manyapan) April 13, 2022
"If I have to keep grabbing groceries like this, I'm gonna have a nervous breakdown," one thirty-something lady from Shanghai wrote on Weibo: "I really hope the situation in Shanghai gets better soon. What happened to the city I grew up in?"
For more articles on the Covid-19 topics on Chinese social media, check here.
By Manya Koetse
Get the story behind the hashtag. Subscribe to What's on Weibo here to receive our weekly newsletter and get access to our latest articles:
Spotted a mistake or want to add something? Please let us know in comments below or email us. First-time commenters, please be patient – we will have to manually approve your comment before it appears.
©2022 Whatsonweibo. All rights reserved. Do not reproduce our content without permission – you can contact us at info@whatsonweibo.com.
Chinese Tourism Bureau Chiefs Go Viral for Trying Really, Really Hard to Attract More Post-Covid Domestic Tourists
It's a Culture & Tourism Bureau social media battle: China's local tourist offices are fighting to go viral to attract more visitors.
Hoping to attract more domestic tourists in the post-Covid-era, Chinese local government officials are trying really hard to promote their hometowns. Various tourism bureau chiefs from across China are going viral on Weibo, Douyin, and beyond for dressing up in traditional outfits and creating original videos with low to zero budget.
Another local Chinese tourism bureau chief went viral today – it's an entire trend by itself. Tourist department offices under several local governments in China are trying really hard to promote their hometowns these days in hopes of attracting more domestic tourists in China's post-Covid era.
Government officials are showing their best side – and their most creative one – on social media to convince tourists to visit their region. In doing so, these local bureau chiefs have been attracting online attention for appearing in promo videos in various creative ways (#为了让你去玩儿文旅局长们能有多拼#).
Since early 2020, China's tourism industry has been heavily impacted by the pandemic and China's strict Covid measures and lockdowns. At various moments during the pandemic, China's domestic tourism saw an increase in holiday bookings as tourists still wanted to travel but could not easily travel abroad.
Now that China has lifted blockades on foreign travel, the post-zero-Covid itch to travel is back in full swing. As travel to other countries is seeing a boom again (while tourist visas to mainland China are still halted), local tourist offices are doing all they can with a minimal budget to encourage domestic travel to their lovely hometowns.
The trend of China's tourist bureau chiefs finding innovative ways to promote their regions or towns via social media has been going on for some time already, but it wasn't until recently that they really gained nationwide attention for their efforts.
The recent viral trend is not only generating more attention for the specific towns and regions promoted in the videos, it is also bringing more recognition for the drive of China's Culture & Tourism Bureau chiefs – officials who usually rarely get the limelight. Many Chinese netizens agree that it must take a lot of talent and creativity to become a local tourism bureau chief nowadays.
1. TOURISM BUREAU DIRECTOR OF ZHAOSU COUNTY (XINJIANG)
Riding a horse through a windy snowy country, He Jiaolong (贺娇龙) was the first local official to feature in a social media video to promote the Yili region. The video of the vice-county head of Zhaosu, all dressed up, went viral in the winter of 2020.
Chief He later told reporters that she did not expect the video to go as viral as it did. According to Shine, He Jiaolong said: "I invited two horse lovers to help us promote local tourism on social media. We borrowed the costume from a local art troupe. They posted my horse-riding videos on Douyin and received enthusiastic responses."
A 'behind the scenes' video later published on Douyin showed He falling over and battling the cold during the filming, only making the local official more popular for her dedication.
2. TOURISM BUREAU DIRECTOR OF SUIZHOU (HUBEI)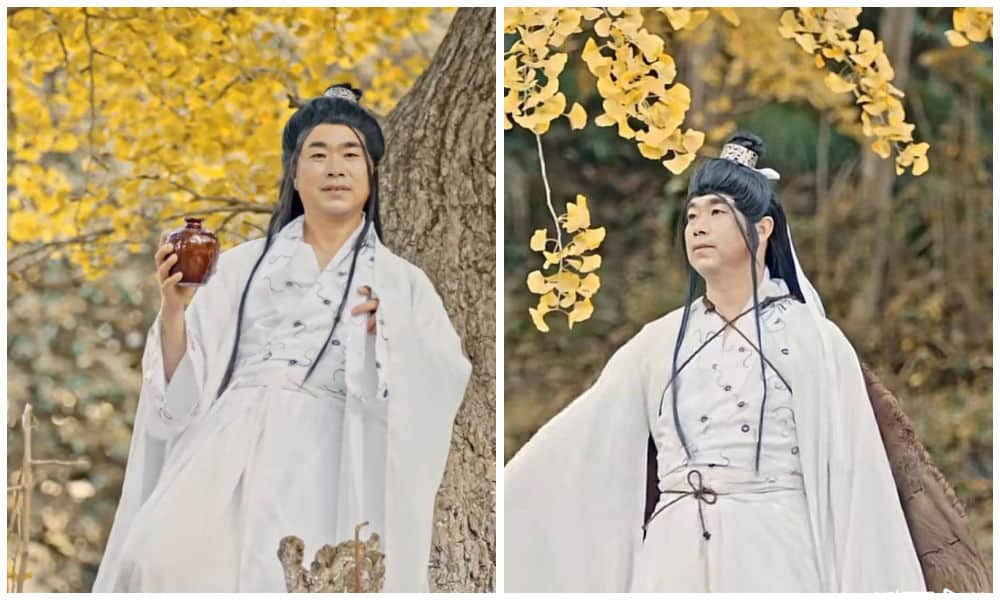 In October of 2022, Xie Wei (解伟), director of the Suizhou Municipal Bureau of Culture and Tourism in Hubei province, made headlines for his performance in videos produced and directed by himself.
As reported by South China Post, Xie made the videos himself because the local tourism bureau did not have the budget for a professional production. Although the videos made by Xie went viral, they also received some criticism because of how Xie was role-playing and dressing up as an ancient knight.
Nevertheless, Xie Wei did breathe new life into this creative approach to destination marketing, inspiring other Culture and Tourism Bureaus across China to take a similar social media strategy and join on the battleground to win over the hearts of domestic travelers.
3. TOURISM BUREAU DIRECTOR OF TIBETAN AUTONOMOUS PREFECTURE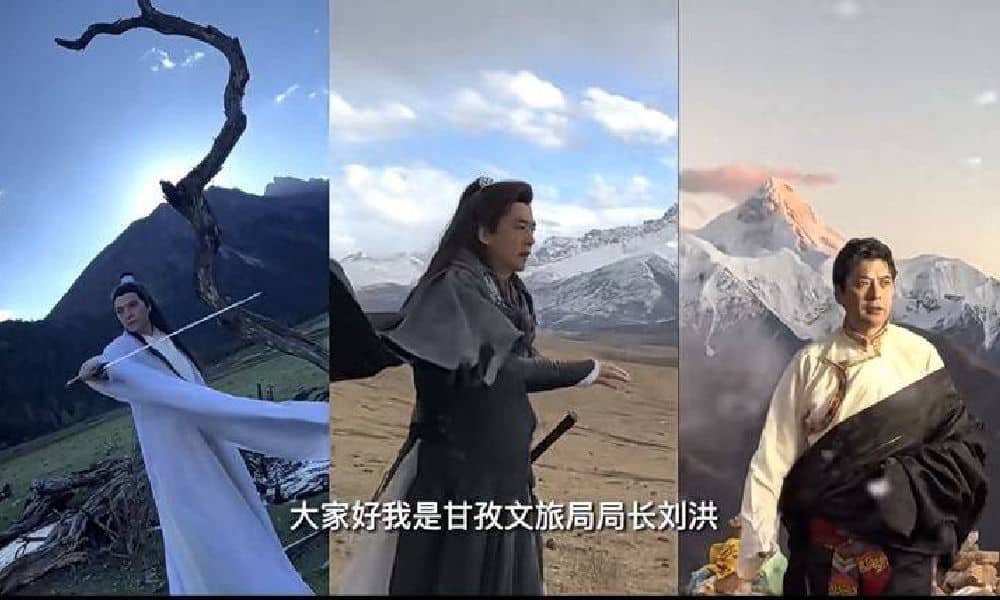 In February of 2023, it was the bureau chief of the Garzê Tibetan Autonomous Prefecture Tourism Office, Liu Hong (@甘孜刘洪), who went viral with various videos featuring him in traditional clothing, which earned him the nickname of "most handsome bureau chief" ("最帅局长").
It was not the first time for Liu to star in his own tourism promotion video, as there was another video in 2022 in which he also did some cosplay to promote the Garze region (Sichuan).
Liu Hong is now known as one of China's "celebrity tourism bureau chiefs" (网红文旅局长). The videos actually helped to promote the region but also turned Liu into a celebrity.
4. TOURISM BUREAU DIRECTOR OF DAWU COUNTY (SICHUAN)
On February 10 of 2023, it was the Cultural Tourism Bureau chief Jiangze Duoji (@降泽多吉) of Dawu County who professionalized the social media video trend and featured in a super slick 3-minute video with beautfiul shots and a creative idea.
In the intro of the video, Jiangze Duoji speaks English when he talks about his life question of "Who am I?" The video then shows the local official dancing in an astronaut's costume in Moshi Park, one of the area's most beautiful scenic spots that will make you feel like you're in outer space.
The local official is then dressed as a Tang emperor at the Daowu dwellings, moves on to be a an old painter in the Yuke grasslands and King Gasar while galloping over the Longdeng prairie.
The video did not just go viral, it was also promoted by several state media outlets, making it among the most famous videos in this list. It's also on Youtube here.
5. TOURISM BUREAU DIRECTOR OF TAHE COUNTY (HEILONGJIANG)
On February 27, the Heilongjiang Tahe Culture and Tourism Bureau (Daxing'anling prefecture) released a video in which a team of 34 people simulated a rocket launch in the snow.
Du Bo (都波), director of the Tahe County Bureau of Culture and Tourism, told reporters that the decision to shoot the video like this was made during lunch, with the position plan drawn out on a napkin.
With this original video, the local tourist office literally took the social media battle to another level (#塔河县文旅局长卷出新高度#). But Du Bo also stated that other tourist offices in China should not hold back and be scared to join the social media battle, saying they were all in this together to recover China's domestic tourism industry ("不要怕卷,这种卷是一件好事,大家凝聚在一起,共同期待文旅行业的复苏").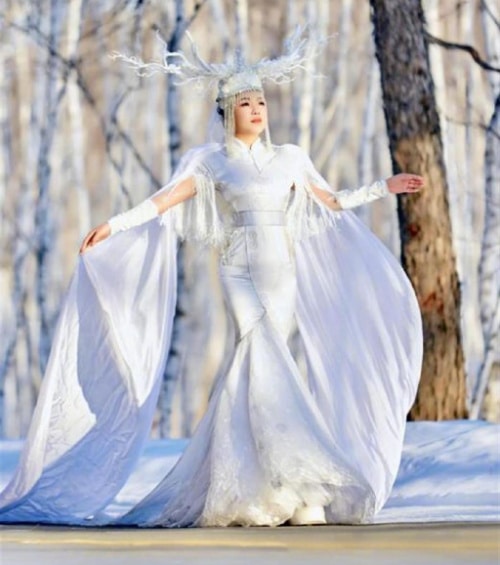 The tourist office also released a second video that gained popularity online, featuring a 'snow queen' in beautiful snowy landscape.
6. TOURISM BUREAU DIRECTOR OF MEISHAN (SICHUAN)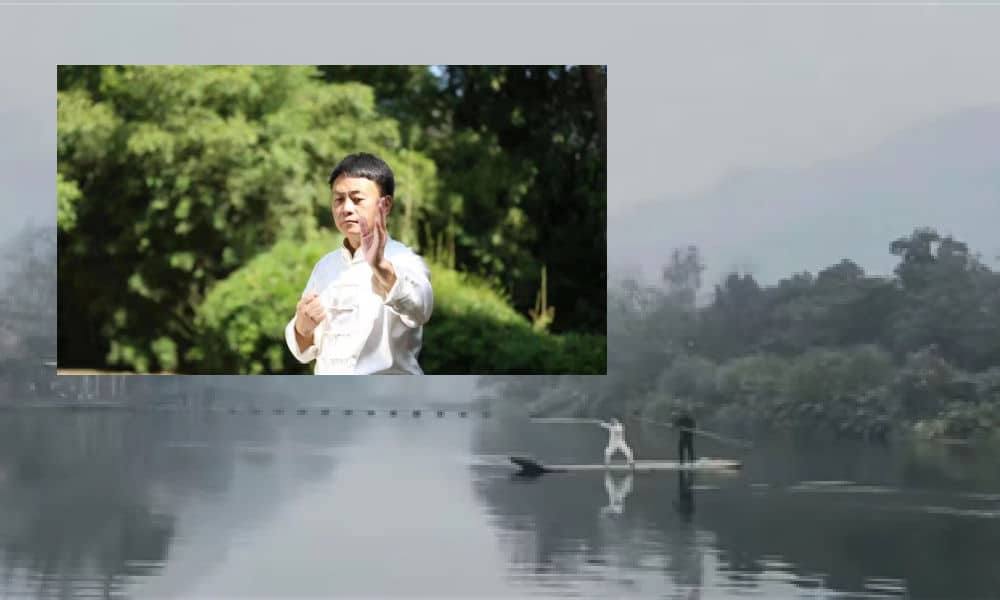 This video, which premiered late February of 2023, is also professionally made, with the Meishan Tourism Office taking the video trend very seriously.
The bureau chief demonstrates the beauty of kung fu in this short film, which also received many thumbs up on social media (#文旅局长用功夫带你游眉山#).
7. TOURISM BUREAU DIRECTOR OF GAOPING (SHANXI)
On March 7, a video from the tourist office in Gaoping, a county-level city in Shanxi's Jincheng, also went viral on Chinese social media as "yet another tourist office chief joining the war" (#又一文旅局长申请出战#).
The video shows the local tourist bureau chief "going to war" in traditional costume to promote Gaoping as the hometown of Emperor Yan (#文旅局长戏服代言炎帝故里#).
8: TOURISM BUREAU DIRECTOR OF HUANGGANG (HUBEI)
The video posted on social media 'on behalf of' the Tourism Bureau of Huanggang, Hubei, also attracted a lot of attention online since many people believed the cosplaying bureau chief had suddenly turned into a handsome young idol.
It later turned out that this video was actually not an official one and was posted on social media without the permission of the tourist office by enthusiastic locals.
9. TOURISM BUREAU DEPUTY DIRECTOR OF SUQIAN (JIANGSU)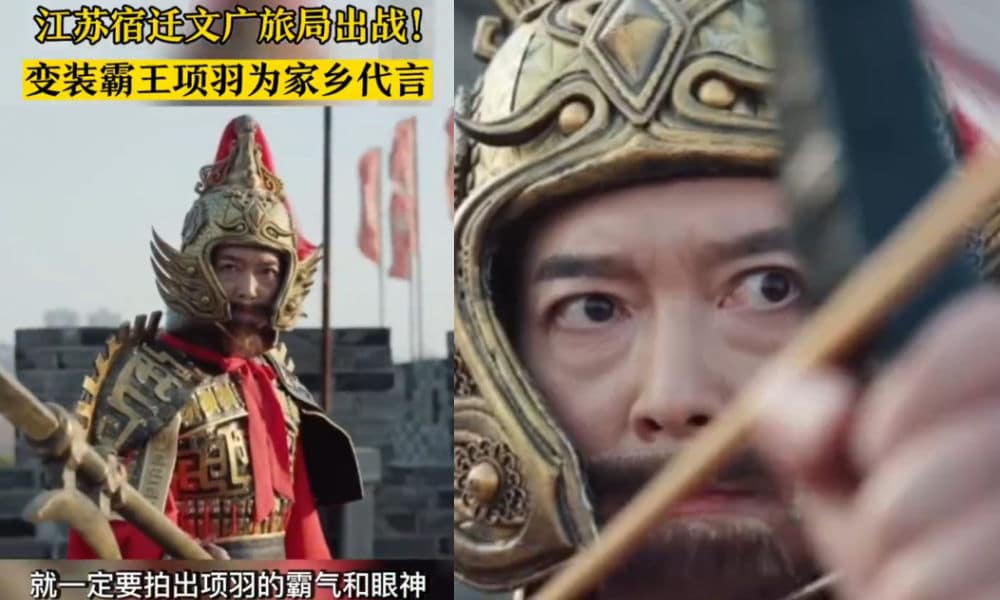 The hashtag is "Jiangsu's Culture and Tourist Office Bureau Chief Joins the Battle" (#江苏文旅局长卷起来了#). Liu Bing (刘冰), the deputy director of the Tourism and Culture Bureau in Suqian, Jiangsu, is another local official who is going viral these days for his appearance in a self-produced promo video on social media (#江苏一文旅局长变装项羽代言家乡#).
In the video, Liu Bing is dressed as Xiang Yu (项羽), Hegemon-King of Western Chu, to endorse Suqian tourism. Suqian is the hometown of Xiang Yu (232–202 BC), who is considered one of the greatest military leaders in ancient China.
Although Suqian is one of the later Tourism Bureau hypes to join the hype, the video – published on March 9 – is still welcomed by netizens and is actually putting some pressure on other Chinese cities and regions to come up with their own videos featuring their own historical local heroes.
10. TOURISM BUREAU STAFF OF FUJIAN
Fujian might be a bit late in "going to war" and joining the social media battle between the Chinese Tourism and Culture Bureau chiefs, its new video (March 9) obviously took a lot of effort, as it features different members of staff in various tourist spots in Fujian province.
The hashtag "Fujian Culture and Tourism Bureau Joins the Battle" (#福建的文旅局长卷起来了#) circulated on Thursday, attracting nearly five million views on Weibo in one day.

By Manya Koetse 
with contributions by Miranda Barnes
Get the story behind the hashtag. Subscribe to What's on Weibo here to receive our newsletter and get access to our latest articles:
Spotted a mistake or want to add something? Please let us know in comments below or email us. First-time commenters, please be patient – we will have to manually approve your comment before it appears.
©2023 Whatsonweibo. All rights reserved. Do not reproduce our content without permission – you can contact us at info@whatsonweibo.com.
Chinese Online Discussions on the Origins of Covid-19 after FBI Statement on Wuhan Lab Leak
After the FBI suggested it is likely that Covid-19 originated in a Wuhan lab, commentator Hu Xijin posted about "the United States of Rumors."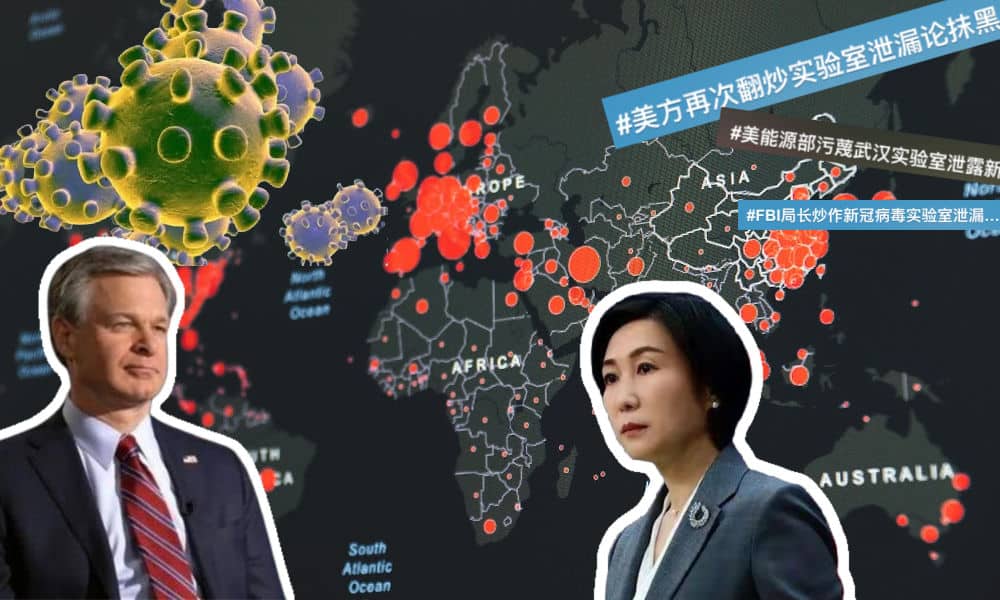 Is it a political issue or a scientific problem? The recent FBI statements on the origin of Covid-19 have brought the lab leak theory back on the table and, once again, triggered political blameshifting and online discussions about the roots of the pandemic.
Over three years since Covid-19 was first discovered in Wuhan and was linked to the local Huanan Seafood Market, the debate on the roots of the Covid-19 pandemic is still ongoing and has again made headlines this week as FBI director Christopher Wray endorsed a theory that the Covid pandemic was a result of a laboratory leak in China.
Wray's remarks came after a Wall Street Journal report about an updated classified intelligence report from the United States Department of Energy. That report concluded that the pandemic probably – with "low-confidence" assessment – started with an unintentional lab leak in Wuhan.
China's Foreign Ministry responded to the issue during a regular press conference earlier this week, blaming the Americans for using the problem regarding the origins of SARS‑CoV‑2 (the strain of coronavirus that causes Covid-19) for "political manipulation" ("政治操弄"). Spokesperson Mao Ning (毛宁) also said that the claims lacked credibility and were simply politicizing the issue instead of taking a scientific approach.

LAB LEAK THEORIES
"Although many lab leak conspiracy theories started in the U.S., some also began on the Chinese internet."
Over the past years, discussions over the origins of SARS-CoV-2 have become increasingly politicized and both American and Chinese sides have pointed the finger at each other and shifted blame for the spread of the virus and the pandemic response on both sides.
Speculations, rumors, and theories that Covid-19 may have emerged from a laboratory in Wuhan were first raised in early 2020. Although many of these lab leak conspiracy theories started in the U.S., some also began on the Chinese internet.
In February of 2020, a rumor circulated on Chinese social media that a postgraduate named Yanling Huang from the high-security lab Wuhan Institute of Virology was the "Patient Zero" of Covid-19 (Wang et al 2021, 73). This was determined to be false, and other similar rumors making their rounds were also refuted and sidelined as a "conspiracy theory" by many scientists.1
A statement in The Lancet published in February of 2020 condemned any rumors on the virus origins, claiming that scientific research "overwhelmingly" concludes that the new coronavirus originated in wildlife.
The World Health Organization (WHO) research team investigating the origins of Covid-19, and which visited China in January of 2021, also called it "extremely unlikely" that the virus leaked from a lab in China. At the same time, all hypotheses on the origin of the virus remained on the table, and later on in 2021, the debate intensified after American President Biden called for a next phase study into the origins of the virus.
Dr. Fauci, director of the American National Institute of Allergy and Infectious Diseases, had been among scientists who originally refuted the 'lab leak' theory, but in May of 2021, he changed his tune and said he was "no longer convinced" that the Covid-19 pandemic originated naturally.
The Chinese official side has consistently refuted claims that Covid-19 might have come from a Chinese laboratory leak, saying it is all about "political manipulation" and "blame shifting."
China's Foreign Ministry has turned the tables on the U.S. multiple times, demanding a thorough investigation into the source of the epidemic in the United States and a further probe into safety concerns at Fort Detrick and other American biological labs.

COVID-19 ORIGINS: HARDER TO TRACE
"The Covid-19 origin debate remains to be both a political and a scientific conundrum."
Important keys to the SARS-CoV-2 origin question seem caught in a web of strategic narratives, political games, and colored perspectives.
Despite the recent U.S. Department of Energy report, there is still consensus among scientists – supported by a substantial body of research – that SARS-CoV-2 is of zoonotic origin, although the specific animal host has not been identified.
A study published in Science in July of 2022 concludes that SARS-Cov-2 most likely jumped from animals to humans at the Huanan Seafood Wholesale Market back in December 2019 (Worobey et al 2022).
Other recent studies that have come out on the research surrounding the origins of the Covid-19 pandemic argue that the complexity of the virus and the lack of harmonious international cooperation are making it harder to draw definite conclusions. Since the research requires international data from 2019 and is time-sensitive, the delays are also making it more tricky to identify the source of SARS-CoV-2 (see Hao et al 2022, 3189-3190).
The official Chinese stance (August 2021) is that the virus is of zoonotic origin and that China supports scientific research into the sources of the virus, as long as this does not become a political tool. The Chinese side also stresses that the fact that the virus was first discovered in Wuhan does not mean that the "Patient Zero" was also in Wuhan, as some studies indicate that there were positive Covid-19 cases before December 2019 in America, Brazil, and Italy (Hao et al 2022, 3185-3186).
In May of 2022, Chinese researchers published a blood-donors study analyzing samples supplied to the Wuhan Blood Center before December 2019, researching if there were SARS-Cov-2 antibodies in the blood provided between Sept-Dec of that year. That study reportedly did not find antibodies amid over 88,000 samples, showing the virus was not widespread in Wuhan in late 2019 (Chang et al 2023; Mallapaty 2023).
With so many questions left unanswered, a second phase study by the WHO into the origins of Covid-19 was much-anticipated. But it recently became known that the WHO shelved this investigation. According to Nature, the stalling of the research relates to ongoing challenges over attempts to conduct crucial studies in China.
And so the Covid-19 origin debate remains to be both a political and a scientific conundrum. Some scientists have voiced concerns that the FBI statement could lead to a renewed wave of harassment against scientists, with such statements only further clouding the debate instead of contributing to it (Euronews).

WEIBO DISCUSSIONS
"As long as politics and science cannot operate independently of each other, there is no conclusion in sight."
Although the Chinese side supposedly condemns blame-shifting and finger-pointing in the Covid-19 origins issue, the media-led and official online discourse regarding the 'origins problem' is mostly accusing the U.S. of hyping the issue and making China the scapegoat. Various Weibo hashtags that are used in posts about the topic literally include the words "hyping" and "politicizing" (#美方应该停止搞政治溯源情报溯源#, #美方再次翻炒实验室泄漏论抹黑不了中国#, #有关方面应停止对新冠溯源政治化#, #FBI局长炒作新冠病毒实验室泄漏论#).
Well-known political commentator Sima Nan (@司马南) accused the American side of dredging up and repeating the same old issues again and that the U.S. is "increasingly becoming the world's laughingstock" for spreading rumors via its official and media channels.
On March 3rd, another Chinese political commentator, Hu Xijin (@胡锡进) also published about the issue, again raising the issue of how Fort Detrick and a lab leak may be connected to the roots of the pandemic:
"In China, there are also many people who think that Covid-19 could come from a laboratory, but that it is America's Fort Detrick lab. The WHO experts have already visited the Wuhan lab, but the expert group still has not visited the Fort Detrick lab despite the serious doubts about a Covid lab leak there. If the U.S. has nothing to hide, then it should do what China did in 2021 and open the doors of Fort Detrick to the WHO. The biggest lie in human history is that of former U.S. Secretary of State Colin Powell holding a bottle of washing powder at the United Nations and saying it was an Iraqi chemical weapon. That lie was used as pretext to launch a bloody war. The United States should change its name to "the United States of Rumors" ("谣言合众国")."
One of the top replies on Hu's post mentioned the American "vaping disease" that broke out in 2019 and peaked in September of that year. "It must have been the Yankees," another commenter wrote.
The claim that Fort Detrick is related to the start of the pandemic or that the U.S. army brought Covid-19 to Wuhan has already been circulating since 2020, and these speculations were strengthened by Chinese official sources, including Foreign Ministry spokesperson Zhao Lijian, that pointed the finger at the U.S.
Many online discussions on Chinese social media, including those on Q&A platform Zhihu.com, still accuse the United States for covering up Covid-related facts and for putting the blame on China to cover their own tracks.
In light of the recent balloon controversy, some called the latest statements "another balloon." By now, it seems impossible to separate the problem of Covid-19 origins from the bilateral relationships between China and the U.S. anymore.
In this regard, the online discussions surrounding the origins of Covid-19 have not changed a lot since 2020. It is a bit of a Catch-22, since these discussions are politicized as they are focused on how the U.S. is politicizing the issue. As long as (international) politics and science cannot operate independently of each other, there is no conclusion in sight that will bring the discussion on the exact origin of Covid-19 to a definitive end.
By Manya Koetse 
1 Besides the Wuhan Institute of Virology, the Wuhan-based Chinese Center for Disease Control has also been considered a possible source of a lab leak – the latter is also the one mentioned in the U.S. Department of Energy report.
References
Chang, Le, Lei Zhao, Yan Xiao, Tingting Xu, Lan Chen, Yan Cai, Xiaojing Dong et al. 2023. "Serosurvey for SARS-CoV-2 among blood donors in Wuhan, China from September to December 2019." Protein & Cell 14 (1): 28-36.
Hao, Ying-Jian, and Yu-Lan Wang. 2022. "The origins of COVID-19 pandemic: A brief overview." Transboundary and Emerging Diseases (69): 3181–3197.
Khatsenkova, Sophia. 2023. "China COVID lab leak: What we know and what we don't know about the origins of the virus." Euronews, # March https://www.euronews.com/next/2023/03/02/china-covid-lab-leak-what-we-know-and-what-we-dont-know-about-the-origins-of-the-virus [4 March 2023].
Mallapaty, Smriti. 2023. "WHO abandons plans for crucial second phase of COVID-origins investigation." Nature, 14 February (Updated 3 March) https://www.nature.com/articles/d41586-023-00283-y#ref-CR1 [4 March 2023].
Wang, Xin, Fan Chao, Guang Yu. 2021. "Evaluating Rumor Debunking Effectiveness During the Covid-19 Pandemic Crisis: Utilizing User Stance in Comments on Sina Weibo." Frontiers in Public Health (9): 70-87.
Worobey, Michael, Joshua Levy, Lorena Serrano, Alexander Crits-Christoph, Jonathan Pekar, Stephen Goldstein, Angela Rasmussen, Moritz Kraemer, Chris Newman, Marion Koopmans, Marc Suchard, Joel Wertheim, Philippe Lemey, David Robertson, Robert Garry, Edward Holmes, Andrew Rambaut, Kristian Andersen. 2022. "The Huanan Seafood Wholesale Market in Wuhan was the early epicenter of the COVID-19 pandemic." Science 377 (6609): 951-959.
Featured image:
Background image by Martin Sanchez.
Get the story behind the hashtag. Subscribe to What's on Weibo here to receive our newsletter and get access to our latest articles:
Spotted a mistake or want to add something? Please let us know in comments below or email us. First-time commenters, please be patient – we will have to manually approve your comment before it appears.
©2023 Whatsonweibo. All rights reserved. Do not reproduce our content without permission – you can contact us at info@whatsonweibo.com.