14-Year-Old Murder Case Becomes Trending: Chinese PhD Students Hacked to Death by Father over Money
A 2002 Shandong murder case where a father murdered his own daughter and her husband has been brought back to public attention after Chinese writer Chen Lan (陈岚) wrote about it in a recent blog titled 'Daughter or slave?'
A 2002 Shandong murder case where a father murdered his own daughter and her husband has been brought back to public attention after Chinese writer Chen Lan (陈岚) wrote about it in a recent blog titled 'Daughter or slave?'
A gruesome 10-year-old murder case has become the talk of the day on Chinese social media after it was mentioned by writer Chen Lan (陈岚) in a Weibo blog post about daughters being treated as slaves.
Zhao Qingxiang (赵庆香) was a PhD student at an American university who was visiting family in her hometown village in China's Shandong province together with her husband Wei Tao (魏涛) in 2002. During the family visit, they were both hacked to death with an axe by Zhao's father after an argument about money.
According to the Beijing Morning Post, Zhao and her husband were both hard-working and bright students. Although Zhao was struggling to fund her studies in America, she regularly sent money home to her family in rural China to help them build a house. Zhao and Tao had a child together that was raised by Tao's parents.
As described by Chen Lan, Zhao's father disagreed with Zhao's academic career, and allegedly wanted her to get a job so she could buy a house in her hometown and care for her parents. He did not like her husband, who was also in academics and had two master degrees. Zhao's only brother was epileptic and unmarried, and Zhao's father wanted his daughter to move back to her hometown and take care of the family, but more importantly, to give him money to buy a house.
Zhao and her husband traveled from America to the small village in Shandong to visit Zhao's parents when the discussion about money flared up again. Zhao allegedly explained to her father that she and her husband were in a difficult financial situation. They relied on scholarships and Tao's parents for money, and were saving up to bring their child back with them to America. They had already sent Zhao's father money many times, and even gave 1500 US$ during their trip this time.
But the money issue had the father in hysterics, and during the night of March 26, 2002, he came into his daughter's bedroom with an axe. He first hacked into the forehead of his son-in-law and then killed his daughter the same way.
Zhao's father, picture from KdNet forum
When he was put on trial for the double murder, he allegedly stated he had "no regrets" about killing his daughter and her husband. He was later sentenced to death.
The news from 2002 has become a trending topic today, with thousands of netizens commenting on the case. As the writer who brought the news story to the surface again titled her blog post "Daughter or Slave?", netizens mostly discuss the ill-fated role of the daughter, her ambitious career and the pressure she suffered from her family: "It's really not easy for a village girl to become a doctor," one netizen writes: "but her father did not agree with it. What a f*cked up tragedy." "Killing a bright and promising young woman who is loyal to her parents because the son has epilepsy – what a rotten 5000-year-old culture, China." "This is the situation in China," one other netizen responds: "No respect for life and no respect for women."
The original 2002 news story can be found on this Xinhua News page, that also shows the picture of the victims as featured in this article.
– By Manya Koetse
Follow @WhatsOnWeibo
©2016 Whatsonweibo. All rights reserved. Do not reproduce our content without permission – you can contact us at info@whatsonweibo.com.
'Welcome Home, Molly' – Chinese Zoo Elephant Returns to Kunming after Online Protest
One small step for animal protection in China, one giant leap for Molly the elephant.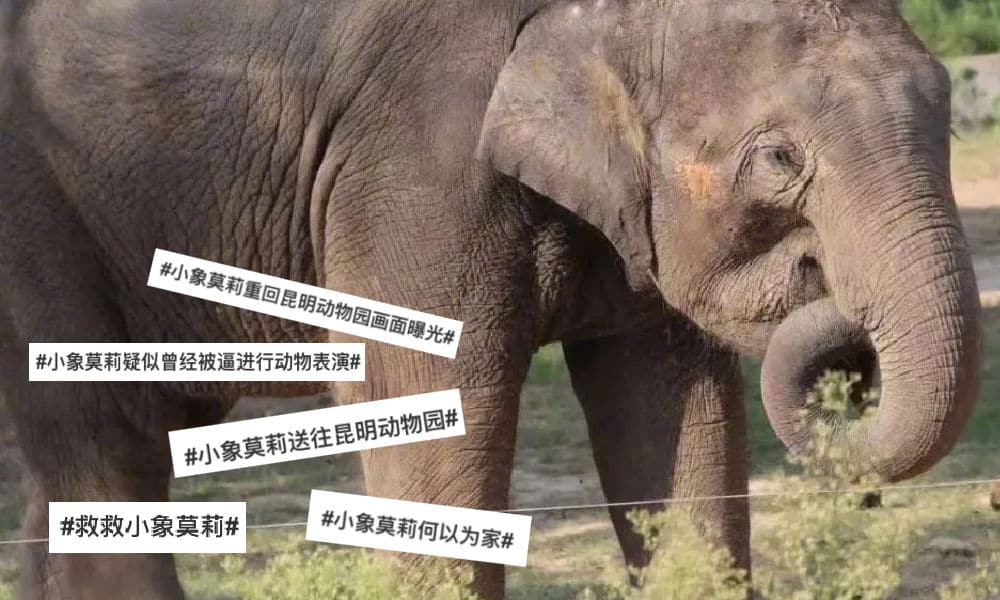 Following online protest and the efforts of animal activists, Molly has returned to the Kunming Zoo where she was born and where mother elephant Mopo is.
The little elephant named Molly is a big topic of discussion on Chinese social media recently.
The popular Asian elephant, born in the Kunming Zoo in 2016, was separated from her mother at the age of two in April of 2018. Molly was then transferred from Kunming Zoo to Qinyang, Jiaozuo (Henan), in exchange for another elephant. Over the past few years, fans of Molly started voicing their concerns online as the elephant was trained to do tricks and performances and to carry around tourists on her back at the Qinyang Swan Lake Ecological Garden (沁阳天鹅湖生态园), the Qinyang Hesheng Forest Zoo (沁阳和生森林动物园), the Jiaozuo Forestry Zoo (焦作森林动物园), and the Zhoukou Safari Park (周口野生动物世界).
Since the summer of 2021, more people started speaking out for Molly's welfare when they spotted the elephant chained up and seemingly unhappy, forced to do handstands or play harmonica, with Molly's handlers using iron hooks to coerce her into performing.
Earlier this month, Molly became a big topic on Chinese social media again due to various big accounts on Xiaohongshu and Weibo posting about the 'Save Molly' campaign and calling for an elephant performance ban in China (read more).
Due 2 pandemic prevention measures in China, Molly's zoo had been closed for long. It was just re-open & a Molly Group friend went to see her 2 days ago, shared a video and photos. The zoo was under much pressure from netizens, so no 🐘 shows, rides, at the moment. #FreeMolly pic.twitter.com/4BjoVk2DBC

— Diving paddler (@KU09814701) April 25, 2022
Although zookeepers denied any animal abuse and previously stated that the elephant is kept in good living conditions and that animal performances are no longer taking place, Molly's story saw an unexpected turn this week. Thanks to the efforts of online netizens, Molly fans, and animal welfare activists, Molly was removed from Qinyang.
On May 15, the Henan Forestry Bureau – which regulates the holding of all exotic species, including those in city zoos – announced that Molly would return to Kunming in order to provide "better living circumstances" for the elephant. A day later, on Monday, Molly left Qinyang and returned to the Kunming Zoo where she was born. In Kunming, Molly will first receive a thorough health check during the observation period.
Good news. After many people's working together for months, Molly's going back to Kunming Zoo to stay with her mom. Though Kunming Zoo has a very dark history, we will keep monitoring it to ensure Molly living in good condition. We will save other performing 🐘. #FreeMolly https://t.co/kC1uByyVpG pic.twitter.com/KhFlLpQgaa

— Diving paddler (@KU09814701) May 16, 2022
Many online commenters were happy to see Molly returning home. "Finally! This is great news," many wrote, with others saying: "Please be good to her" and "Finally, after four years of hardship, Molly will be reunited with her mother."
Besides regular Weibo accounts celebrating Molly's return to Kunming, various Chinese state media accounts and official accounts (e.g. the Liaocheng Communist Youth League) also posted about Molly's case and wished her a warm welcome and good wishes. One Weibo post on the matter by China News received over 76,000 likes on Monday.
Although many view the effective online 'Save Molly' campaign as an important milestone for animal welfare in China, some animal activists remind others that there are still other elephants in Chinese zoos who need help and better wildlife protection laws. Among them are the elephant Kamuli (卡目里) and two others who are still left in Qinyang.
For years, animal welfare activists in China and in other countries have been calling for Chinese animal protection laws. China does have wildlife protection laws, but they are often conflicting and do not apply to pets and there is no clear anti-animal abuse law.
"I'll continue to follow this. What are the next arrangements? What is the plan for Molly and the other elephants? How will you guarantee a safe and proper living environment?"
Another Weibo user writes: "This is just a first step, there is much more to be done."
To follow more updates regarding Molly, check out Twitter user 'Diving Paddler' here. We thank them for their contributions to this article.
To read more about zoos and wildlife parks causing online commotion in China, check our articles here.
By Manya Koetse
References (other sources linked to within text)
Arcus Foundation (Ed.). 2021. State of the Apes: Killing, Capture, Trade and Ape Conservation. Cambridge: Cambridge University Press.
China Daily. 2012. "Animal Rights Groups Seek Performance Ban." China Daily, April 16 http://www.china.org.cn/environment/2012-04/16/content_25152066.htm [Accessed May 1 2022].
Li, Peter J. 2021. Animal Welfare in China: Culture, Politics and Crisis. Sydney: Sydney University Press.
Get the story behind the hashtag. Subscribe to What's on Weibo here to receive our weekly newsletter and get access to our latest articles:
Spotted a mistake or want to add something? Please let us know in comments below or email us. First-time commenters, please be patient – we will have to manually approve your comment before it appears.
©2022 Whatsonweibo. All rights reserved. Do not reproduce our content without permission – you can contact us at info@whatsonweibo.com.
Shanghai 'Dead Man' Taken Away to Morgue, Found to Be Alive
An incident in which a man taken to a morgue turned out to be alive doesn't really help to restore residents' trust in Shanghai.
An incident in which a Shanghai man, who was thought to be dead, was taken to a funeral home before he was found to be alive has become a big topic on Chinese social media.
The incident happened on the afternoon of May 1st at the Shanghai Xinchangzheng Nursing Home (上海新长征福利院) in the city's Putuo District.
A video of the incident went viral on Chinese social media in which a body bag can be seen put into a vehicle by three people, two members of staff from the nursing home and one funeral home worker. Shortly after, the body bag is taken out again and put back on a trolley. One of the nurses zips open the bag, pulls a cover from the man's face, and apparently finds him to be alive.
"He's alive," one of the workers says in shock: "He's alive, I saw it, he's alive. Don't cover him any more."
The man is then transferred back into the nursing home, still inside the body bag.
The video that is making its rounds on social media was filmed from two different angles, the person filming can be heard calling the incident "a disgrace for human life" and "irresponsible."
This is the video everyone's talking about today, showing how a Shanghai nursing home resident is taken away to the morgue in a body bag. At around 38 sec in the video, the staff member backs away and says: "He's alive. He's alive, I saw it. Don't cover him anymore." pic.twitter.com/Y3HzRRpxUl

— Manya Koetse (@manyapan) May 2, 2022
On May 2nd, the Chinese state media outlet People's Daily posted about the incident on Weibo, saying the city district is currently investigating the case. The man was hospitalized and his vital signs are stable.
Meanwhile, multiple people are held accountable for the incident. The head of the nursing home has been dismissed and will be further investigated, along with four district officials. The license of the doctor involved will also be revoked.
The Shanghai Xinchangzheng Nursing Home has also apologized for the incident (#上海一福利院就未死亡老人被拉走道歉#).
On social media, many people are angry about the incident, wondering why the old man was transported to the funeral home in the first place, and why the members of staff seemed to be indifferent after finding out he was still alive.
In the video, the member of staff standing next to the man can be seen covering the patient's face again after finding out he is still alive, leaving the body bag zipped up. Many also see this as a cold and incomprehensible way to respond.
After weeks of online anger about the chaotic and sometimes inhumane way in which Shanghai authorities have been handling the Covid outbreak in the city, this incident seems to further lower the public's trust in how patients and vulnerable residents are being treated.
"Shanghai is such a terrifying place!", some on Weibo write.
"Just think about it," one person responded: "This incident took place in one of China's most prosperous cities and happened to be filmed. How much is happening in other cities that is not caught on camera? Today, it's this man, in the future, it's us."
For more articles on the Covid-19 topics on Chinese social media, check here.
By Manya Koetse, with contributions by Miranda Barnes
Get the story behind the hashtag. Subscribe to What's on Weibo here to receive our weekly newsletter and get access to our latest articles:
Spotted a mistake or want to add something? Please let us know in comments below or email us. First-time commenters, please be patient – we will have to manually approve your comment before it appears.
©2022 Whatsonweibo. All rights reserved. Do not reproduce our content without permission – you can contact us at info@whatsonweibo.com.