Why Is Want Want So Popular in China? The Remarkable Revival of an Iconic Brand
We explain why the 60-year-old Want Want brand became the 'hot kid' on the block on Chinese social media this year.
Want Want – you probably know their rice crackers with the cute kid icon – is celebrating its 60th anniversary this year. How did this decades-old brand become all the rage recently in China? From Pelosi to pickles, there is more to it than nostalgia and its cute 'Hot Kid' alone.
Wang Wang (旺旺), better known as 'Want Want' in English, has become all the rage in China in recent months. In its September issue, the Chinese magazine China Marketing (销售与市场) listed Want Want as the number one brand on its marketing noticeboard hot brand list, referring to it as "'Lonely Warrior' Want Want" ('孤勇者'旺旺). 
The Want Want Group (旺旺集团) is the most well-known rice cracker maker in China and one of the largest food and beverage makers in the region.
Want Want is a brand that many Chinese millennials grew up with. The Taiwanese company behind Want Want has a history that dates back to 1962. After becoming the dominant rice cracker maker in Taiwan with a market share as high as 95%, founder Tsai Eng-meng (蔡衍明) looked across the Strait and officially ventured into the mainland market in 1992. 
Why is the Want Want brand still so popular in mainland China today? The brand's success directly goes back to Tsai Eng-meng, who undeniably is a marketing genius with a peculiar style. The Want Want company icon, officially named Wang Zai (旺仔) in Chinese and 'Hot Kid' in English, was created in 1979 and depicts a kid with wide open arms and legs, rolling his eyes (fun fact: Hot Kid never looks straight at you).
With its catchy name and distinctive icon, Want Want soon became a household brand in China. Adding to the brand's popularity are the many commercials throughout the years that show the brand's style, standing out due to their simplicity and fun energy.
Some of these advertising campaigns have become part of the collective popular memory of Chinese millennials. On the Chinese video site Bilibili, old Want Want commercials bring up nostaligc feelings and still receive millions of views today (see this famous one, or see a collection of classic Want Want commercials on Bilibili here). 
Ingenious strategies brought great success to the company from the start and subsequently ushered in "the golden decade" for Want Want from 2004 to 2013, making Tsai the richest man in Taiwan for three consecutive years.
Apart from Want Want's signature rice cracker products, products such as Hot Kid Milk (旺仔牛奶), Lonely God Potato Chips (浪味仙), and QQ Gummies (旺仔QQ糖) also became household names in the mainland. 
However, facing more competition and failing to keep up with Chinese customers' evolving consumption habits and preferences, Want Want was stuck in a bottleneck period and its sales slowed down after 2014. Its recent comeback and sudden social media success have everything to do with Nancy Pelosi's controversial Taiwan visit in August of 2021.
A 'GOOD' TAIWANESE COMPANY
On July 28, Tsai Wang-Chia (蔡旺家), Tsai Eng-meng's second son and Want Want's Chief Operating Officer and executive director, posted three single words on his Weibo account (@Matt旺家): "YOU GO AWAY." 
The text was accompanied by a photo of an old witch, which just so happens to be the nickname Chinese netizens gave to Pelosi, and the timing of the post was right when reports about the U.S. House Speaker's potential Taiwan visit were coming out. Want Want soon became a hot topic afterward.
People had already been paying more attention to Tsai Wang-chia's Weibo account in light of the then-ongoing calls to boycott Taiwanese companies on Chinese social media following rumors regarding Pelosi's controversial visit.
Someone claiming to be an employee at Want Want then posted on the popular Red (Xiaohongshu) app, defending Want Want for being a "good Taiwanese company," asking people to "please don't hurt us by mistake." This triggered a public campaign of digging into Tsai's previous posts, and netizens soon discovered that the Want Want executive director had published similar posts before. 
In March of 2022, when a U.S. delegation visited Taiwan, Tsai bluntly posted: "The American pigs have arrived in Taiwan" ("美国猪到台湾了").
Because of his consistent patriotic and pro-unification stance, coupled with a down-to-earth personality and plain-spoken style despite being an heir of a multibillion dollar family, Tsai Wang-chia soon won the hearts of millions of Chinese netizens.
The hype got so so big that people started claiming that the figure of Want Want, the iconic Hot Kid, was actually based on Tsai Wang-chia as a child – despite the fact that 'Hot Kid' was created in 1979 while Tsai Wang-Chia was born in 1984. 
PATRIOTIC 'PRESIDENT WANT'
Tsai's pro-unification sentiments seem to run in the family. Want Want founder Tsai Eng-meng, who is also commonly referred to as 'President Want' (旺董), has long been a unification supporter. This is also reflected in his business empire, which includes the Want Want China Times Group (旺旺中时媒体集团) that owns dominant pan-Blue (pro-China) media outlets in Taiwan.
Various videos, which soon widely circulated online, also showed 'President Want' expressing gratitude for the "great market of the mainland" ("因为有大陆这个伟大的市场,才造就了我旺旺的今天") and proudly declaring that all Want Want employees are "impressive and dignified Chinese people" (堂堂正正的中国人).
To the delight of many Chinese netizens, more events and incidents showing Want Want's patriotic stance were brought to light one after another.
The company filed for IPO on the HK Stock Exchange in 2008 with the name "Want Want China Holdings Limited" (中国旺旺控股有限公司); its Want Want Hospital in Hunan (湖南旺旺医院) was among the first private institutions to send a medical aid team to Wuhan during the initial COVID outbreak in the city; in 2019, when a Taiwanese celebrity mockingly said on a local program that "mainlanders cannot afford to eat pickles", its newspaper Want Daily (旺报) published a conspicuous headline on its August 18 frontpage saying "MAINLANDERS CAN AFFORD TO EAT PICKLES!" ("大陆人吃得起榨菜!"), noting on the side: "Taiwanese are Chinese. We are from the same country and therefore should support each other." ("台湾人就是中国人. 我们都是同一国的,所以当然要相挺.")
In early August of this year, Want Want soared to the top of Weibo's trending list, and netizens swarmed its live stream channel on Taobao, vowing to "consume wildly" ("野性消费") and "empty their stock" ("清空库存") in support of the brand.
According to the Time Weekly (时代周报), a government-owned newspaper from Guangzhou, the number of viewers on the channel that day reached almost 100,000 – up to ten times more than what the channel usually received in viewers, – and sales of its online shop spiked as many new customers came in after following the trending hashtag.
THE OTHER SIDE OF THE COIN
In contrast to Want Want's fervent popularity in mainland China, the brand has become more controversial on the other side of the Taiwan Strait, especially in light of its ownership of multiple leading media outlets, with many expressing worries that its dominant position might impact press freedom.
In June of 2019, a predominantly young mass rallied against so-called "red media" (Taiwanese media in favor of Beijing), with Want Want-owned newspapers (China Times 中国时报 and Want Daily 旺报) and TV channels (China Television 中国电视公司 and CTiTV 中天电视台) being among the main targets.
The following month, the Financial Times published an article, quoting anonymous journalists working for these outlets, saying that their editorial managers took direct instructions from Beijing's Taiwan Affairs Office, a claim that the Want Want China Times Group later responded to as "malicious slander."
In late 2020, the Tsai Ing-wen administration stripped CTiTV of its broadcast license upon renewal out of concerns about editorial interference by President Want Tsai Eng-meng. Such a ruling was a first since the founding of Taiwan's National Communications Commission in 2006, a government body that regulates the industry, and evoked opposition from the 'Blue Camp' and controversy among the public.
SUCCESSFUL ON ALL FRONTS
Despite receiving criticism in Taiwan, Want Want has continued its success in mainland China. This year, Want Want is celebrating the company's 60th anniversary, as well as the 30th year anniversary of the opening of its first factory in mainland China.
China Marketing wrote about Want Want's 2022 success that "consistency is key" in marketing. Not only did the brand stick with its original logo and traditional products such as rice crackers and its dairy drink, it has also focused on nostalgic or playful ad campaigns throughout the years (think of its successful slogan "You Want, I Want, Everyone Wants" "你旺、我旺、大家旺.")
At the same time, the company is not afraid to launch new products and stay active in the world of Chinese social media and e-commerce.
But what has really become an essential point in its regained success this year is the brand's consistency in delivering a patriotic message through multiple channels that resonated with Chinese consumers at a time of deteriorating US-China relations and more focus on cross-strait relations.
Erke, the Chinese sportswear brand by Hongxing Erke Group (鸿星尔克), was also brought back into the limelight in 2021 after they donated 50 million yuan ($7.7 million) to the Henan flood efforts. When people found out that the relatively low-profile brand donated such a high amount of money to help the people in Henan despite its own losses, its online sales went through the roof – everyone wanted to support this generous 'patriotic brand.'
While nationalistic consumer sentiments matter, being a 'patriotic brand' alone is not enough; it eventually is the combination of being consistent and authentic, delivering popular products, and having a strong marketing campaign. When it comes to the mainland market, Want Want tackled all fronts this year.
In October of 2022, Want Want celebrated China's National Day by using drones to project netizens' hopes and wishes for the future all over the Great Wall, including a projection of a giant Want Want drink (#旺旺把爱国刻进了DNA#).
For now, Want Want has practically made 'loving China' a part of its brand. Mixing rice crackers with some nationalism is turning out to be a recipe for success – at least in the mainland.
By Tucker Jiang, with contributions by Manya Koetse
Get the story behind the hashtag. Subscribe to What's on Weibo here to receive our weekly newsletter and get access to our latest articles:
Spotted a mistake or want to add something? Please let us know in comments below or email us. First-time commenters, please be patient – we will have to manually approve your comment before it appears.
©2022 Whatsonweibo. All rights reserved. Do not reproduce our content without permission – you can contact us at info@whatsonweibo.com.
Chinese Tourism Bureau Chiefs Go Viral for Trying Really, Really Hard to Attract More Post-Covid Domestic Tourists
It's a Culture & Tourism Bureau social media battle: China's local tourist offices are fighting to go viral to attract more visitors.
Hoping to attract more domestic tourists in the post-Covid-era, Chinese local government officials are trying really hard to promote their hometowns. Various tourism bureau chiefs from across China are going viral on Weibo, Douyin, and beyond for dressing up in traditional outfits and creating original videos with low to zero budget.
Another local Chinese tourism bureau chief went viral today – it's an entire trend by itself. Tourist department offices under several local governments in China are trying really hard to promote their hometowns these days in hopes of attracting more domestic tourists in China's post-Covid era.
Government officials are showing their best side – and their most creative one – on social media to convince tourists to visit their region. In doing so, these local bureau chiefs have been attracting online attention for appearing in promo videos in various creative ways (#为了让你去玩儿文旅局长们能有多拼#).
Since early 2020, China's tourism industry has been heavily impacted by the pandemic and China's strict Covid measures and lockdowns. At various moments during the pandemic, China's domestic tourism saw an increase in holiday bookings as tourists still wanted to travel but could not easily travel abroad.
Now that China has lifted blockades on foreign travel, the post-zero-Covid itch to travel is back in full swing. As travel to other countries is seeing a boom again (while tourist visas to mainland China are still halted), local tourist offices are doing all they can with a minimal budget to encourage domestic travel to their lovely hometowns.
The trend of China's tourist bureau chiefs finding innovative ways to promote their regions or towns via social media has been going on for some time already, but it wasn't until recently that they really gained nationwide attention for their efforts.
The recent viral trend is not only generating more attention for the specific towns and regions promoted in the videos, it is also bringing more recognition for the drive of China's Culture & Tourism Bureau chiefs – officials who usually rarely get the limelight. Many Chinese netizens agree that it must take a lot of talent and creativity to become a local tourism bureau chief nowadays.
1. TOURISM BUREAU DIRECTOR OF ZHAOSU COUNTY (XINJIANG)
Riding a horse through a windy snowy country, He Jiaolong (贺娇龙) was the first local official to feature in a social media video to promote the Yili region. The video of the vice-county head of Zhaosu, all dressed up, went viral in the winter of 2020.
Chief He later told reporters that she did not expect the video to go as viral as it did. According to Shine, He Jiaolong said: "I invited two horse lovers to help us promote local tourism on social media. We borrowed the costume from a local art troupe. They posted my horse-riding videos on Douyin and received enthusiastic responses."
A 'behind the scenes' video later published on Douyin showed He falling over and battling the cold during the filming, only making the local official more popular for her dedication.
2. TOURISM BUREAU DIRECTOR OF SUIZHOU (HUBEI)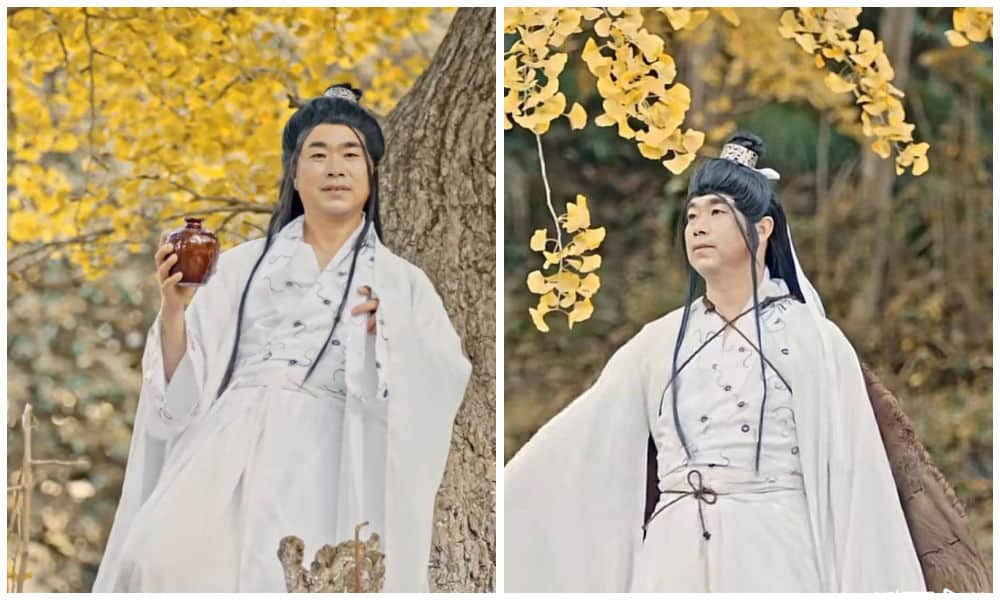 In October of 2022, Xie Wei (解伟), director of the Suizhou Municipal Bureau of Culture and Tourism in Hubei province, made headlines for his performance in videos produced and directed by himself.
As reported by South China Post, Xie made the videos himself because the local tourism bureau did not have the budget for a professional production. Although the videos made by Xie went viral, they also received some criticism because of how Xie was role-playing and dressing up as an ancient knight.
Nevertheless, Xie Wei did breathe new life into this creative approach to destination marketing, inspiring other Culture and Tourism Bureaus across China to take a similar social media strategy and join on the battleground to win over the hearts of domestic travelers.
3. TOURISM BUREAU DIRECTOR OF TIBETAN AUTONOMOUS PREFECTURE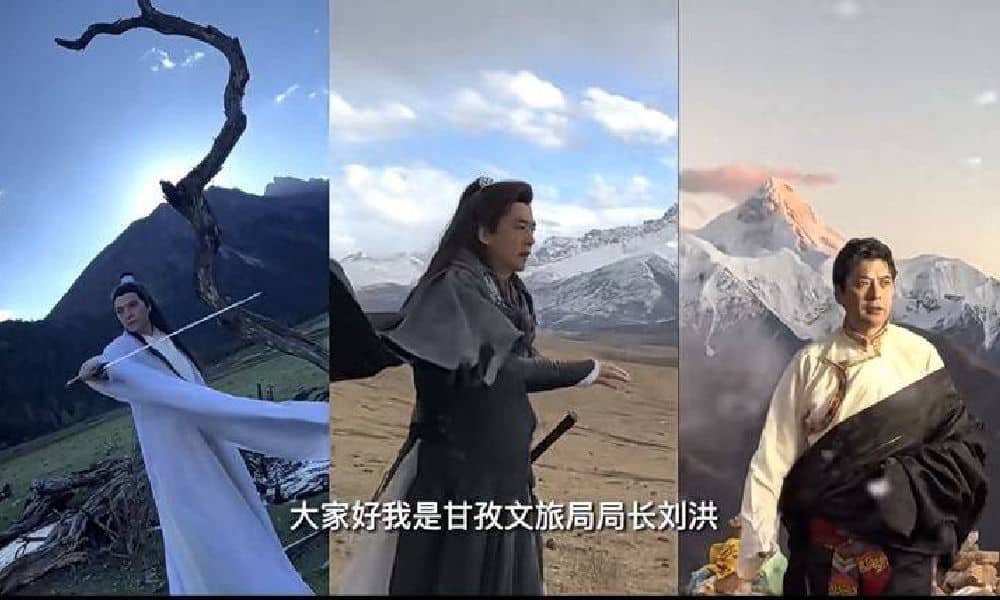 In February of 2023, it was the bureau chief of the Garzê Tibetan Autonomous Prefecture Tourism Office, Liu Hong (@甘孜刘洪), who went viral with various videos featuring him in traditional clothing, which earned him the nickname of "most handsome bureau chief" ("最帅局长").
It was not the first time for Liu to star in his own tourism promotion video, as there was another video in 2022 in which he also did some cosplay to promote the Garze region (Sichuan).
Liu Hong is now known as one of China's "celebrity tourism bureau chiefs" (网红文旅局长). The videos actually helped to promote the region but also turned Liu into a celebrity.
4. TOURISM BUREAU DIRECTOR OF DAWU COUNTY (SICHUAN)
On February 10 of 2023, it was the Cultural Tourism Bureau chief Jiangze Duoji (@降泽多吉) of Dawu County who professionalized the social media video trend and featured in a super slick 3-minute video with beautfiul shots and a creative idea.
In the intro of the video, Jiangze Duoji speaks English when he talks about his life question of "Who am I?" The video then shows the local official dancing in an astronaut's costume in Moshi Park, one of the area's most beautiful scenic spots that will make you feel like you're in outer space.
The local official is then dressed as a Tang emperor at the Daowu dwellings, moves on to be a an old painter in the Yuke grasslands and King Gasar while galloping over the Longdeng prairie.
The video did not just go viral, it was also promoted by several state media outlets, making it among the most famous videos in this list. It's also on Youtube here.
5. TOURISM BUREAU DIRECTOR OF TAHE COUNTY (HEILONGJIANG)
On February 27, the Heilongjiang Tahe Culture and Tourism Bureau (Daxing'anling prefecture) released a video in which a team of 34 people simulated a rocket launch in the snow.
Du Bo (都波), director of the Tahe County Bureau of Culture and Tourism, told reporters that the decision to shoot the video like this was made during lunch, with the position plan drawn out on a napkin.
With this original video, the local tourist office literally took the social media battle to another level (#塔河县文旅局长卷出新高度#). But Du Bo also stated that other tourist offices in China should not hold back and be scared to join the social media battle, saying they were all in this together to recover China's domestic tourism industry ("不要怕卷,这种卷是一件好事,大家凝聚在一起,共同期待文旅行业的复苏").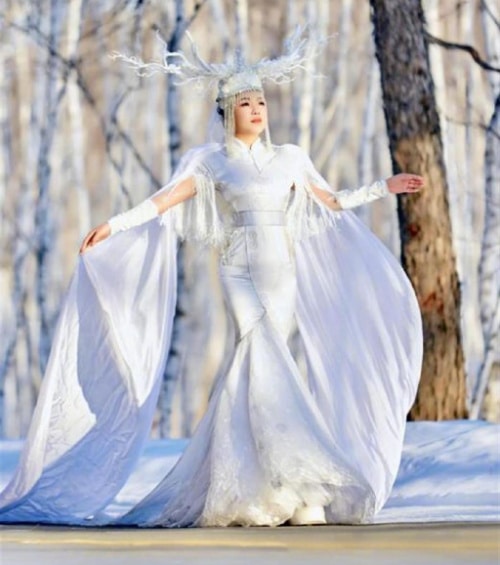 The tourist office also released a second video that gained popularity online, featuring a 'snow queen' in beautiful snowy landscape.
6. TOURISM BUREAU DIRECTOR OF MEISHAN (SICHUAN)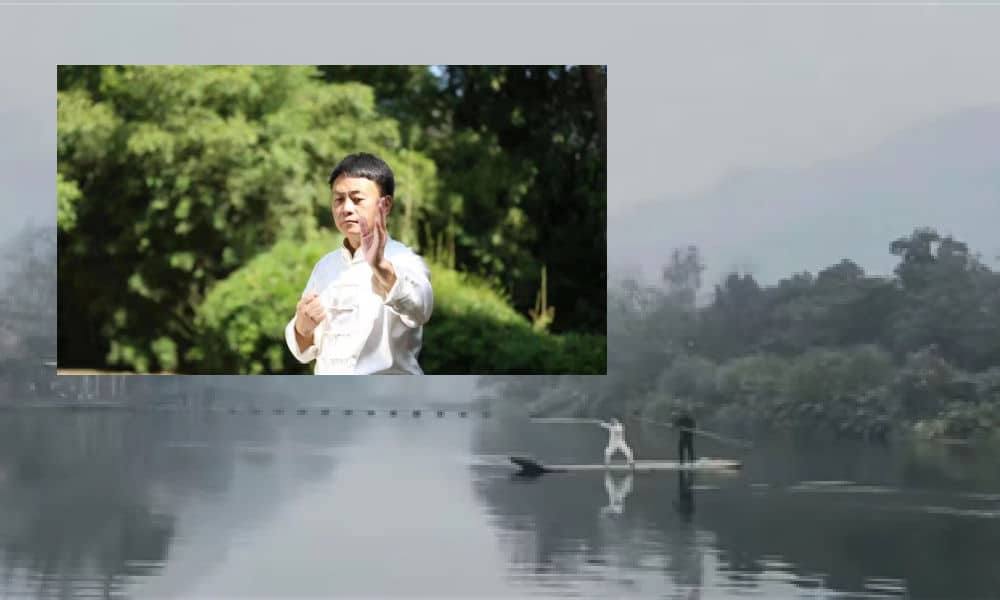 This video, which premiered late February of 2023, is also professionally made, with the Meishan Tourism Office taking the video trend very seriously.
The bureau chief demonstrates the beauty of kung fu in this short film, which also received many thumbs up on social media (#文旅局长用功夫带你游眉山#).
7. TOURISM BUREAU DIRECTOR OF GAOPING (SHANXI)
On March 7, a video from the tourist office in Gaoping, a county-level city in Shanxi's Jincheng, also went viral on Chinese social media as "yet another tourist office chief joining the war" (#又一文旅局长申请出战#).
The video shows the local tourist bureau chief "going to war" in traditional costume to promote Gaoping as the hometown of Emperor Yan (#文旅局长戏服代言炎帝故里#).
8: TOURISM BUREAU DIRECTOR OF HUANGGANG (HUBEI)
The video posted on social media 'on behalf of' the Tourism Bureau of Huanggang, Hubei, also attracted a lot of attention online since many people believed the cosplaying bureau chief had suddenly turned into a handsome young idol.
It later turned out that this video was actually not an official one and was posted on social media without the permission of the tourist office by enthusiastic locals.
9. TOURISM BUREAU DEPUTY DIRECTOR OF SUQIAN (JIANGSU)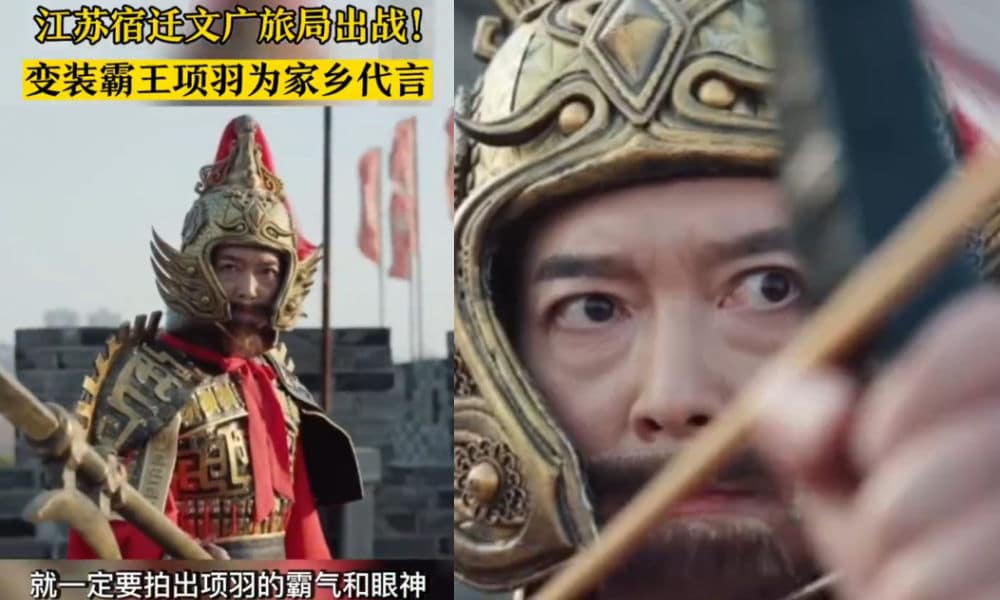 The hashtag is "Jiangsu's Culture and Tourist Office Bureau Chief Joins the Battle" (#江苏文旅局长卷起来了#). Liu Bing (刘冰), the deputy director of the Tourism and Culture Bureau in Suqian, Jiangsu, is another local official who is going viral these days for his appearance in a self-produced promo video on social media (#江苏一文旅局长变装项羽代言家乡#).
In the video, Liu Bing is dressed as Xiang Yu (项羽), Hegemon-King of Western Chu, to endorse Suqian tourism. Suqian is the hometown of Xiang Yu (232–202 BC), who is considered one of the greatest military leaders in ancient China.
Although Suqian is one of the later Tourism Bureau hypes to join the hype, the video – published on March 9 – is still welcomed by netizens and is actually putting some pressure on other Chinese cities and regions to come up with their own videos featuring their own historical local heroes.
10. TOURISM BUREAU STAFF OF FUJIAN
Fujian might be a bit late in "going to war" and joining the social media battle between the Chinese Tourism and Culture Bureau chiefs, its new video (March 9) obviously took a lot of effort, as it features different members of staff in various tourist spots in Fujian province.
The hashtag "Fujian Culture and Tourism Bureau Joins the Battle" (#福建的文旅局长卷起来了#) circulated on Thursday, attracting nearly five million views on Weibo in one day.

By Manya Koetse 
with contributions by Miranda Barnes
Get the story behind the hashtag. Subscribe to What's on Weibo here to receive our newsletter and get access to our latest articles:
Spotted a mistake or want to add something? Please let us know in comments below or email us. First-time commenters, please be patient – we will have to manually approve your comment before it appears.
©2023 Whatsonweibo. All rights reserved. Do not reproduce our content without permission – you can contact us at info@whatsonweibo.com.
Haidilao No Longer Allows Customers to Bring Their Own Food
While Haidilao is banning its bring-your-own-food option, customers can still bring their own drinks.
It was listed as one of the most popular topics on Weibo on Thursday, February 23: Chinese hotpot chain Haidilao bans customers from bringing their own food (#海底捞禁止自带菜#).
Starting from Feb. 21, 2023, the popular hotpot restaurant strictly enforces its policy of not allowing guests to bring outside food.
Previously, some Haidilao locations did allow customers to bring small amounts of their own food or ingredients, as long as they would sign a waiver. Haidilao stated that the recent ban on bringing in own food is in line with the restaurant's food management and safety policies.
Haidilao has hundreds of restaurants across China, and people often line up to get a table. Dining at Haidilao is known to be an experience in itself, as the hospitality of Haidilao staff is widely praised; staff members are thoroughly trained to give customers the best possible service. Throughout the years, the chain has introduced many new concepts to enhance customer experience.
Haidilao is all about hotpot, where you put fresh ingredients in a big pot filled with simmering broth. The pot is placed in the middle of the table, accompanied by plates of various meats, vegetables, noodles, condiments, dipping sauces, etc. The ingredients are to be cooked in the broth – Haidilao offers many different options from spicy to mild -and then taken out and dipped into the chosen sauce before eating. Because of this dining style, it would be relatively easy for people to bring their own ingredients as they could just cook them at the table.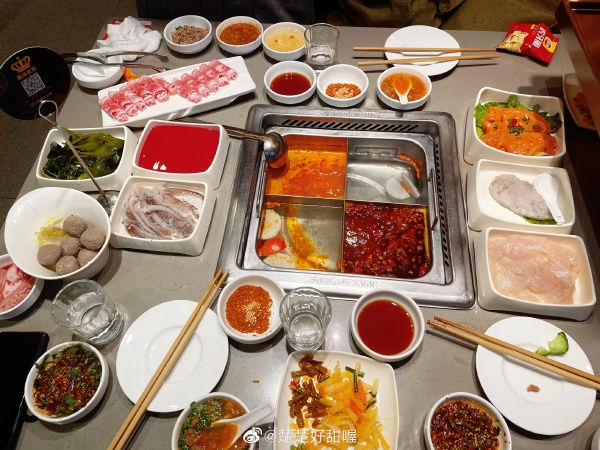 Although most commenters on Weibo think it is only reasonable for Haidilao to prohibit people from bringing in their own food, there are still many discussions about the topic. On Thursday night, the topic had over 260 million views on Weibo. By Friday, the hashtag had over 420 million clicks.
The most recurring comments are from those people who did not know that it was previously allowed to bring some of your own food. They wonder why people would do that in the first place. "If you go out for hotpot and bring your own food, why would you not just have hotpot at home?"
Haidilao's 'bring your own food' option was reportedly introduced in 2017 as part of the restaurant's 'customer always comes first' marketing concept, allowing people to bring an ingredient or dish they especially liked to the restaurant.
Some people say they appreciated the option. One commenter posted a photo showing how they brought their own seafood to Haidilao, writing: "Bringing your own food can be so delicious (..), we did it and we still ordered from the restaurant. They made us sign a waiver."
Another Weibo user (@王铜根) wrote: "I've been going to Haidilao for many years and only this year did I bring my own food on two occasions. Once, I bought a very nice beef at the supermarket but I was afraid it was going to thaw on my way home and then I realized I could bring my own food to Haidilao and I went and ate it there. While I was eating it, I thought, Haidilao is so amazing, I vowed that I'd always support them."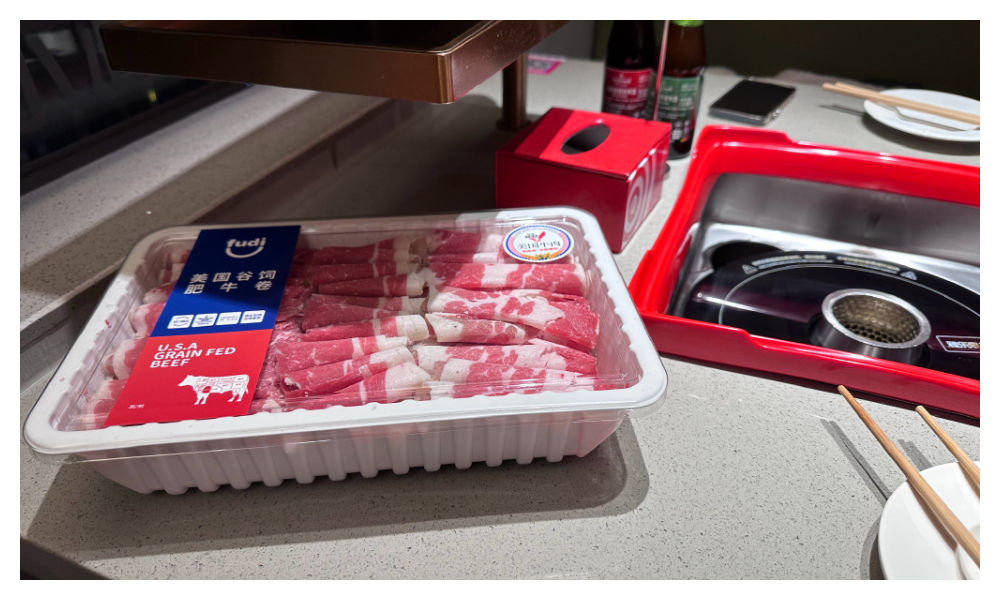 Over a year ago, Haidilao announced that it was closing about 300 of its restaurants which had been doing worse than expected.
Haidilao suffered because of Covid and local lockdowns. Due to the restaurant's increased labor costs, its menu prices went up, much to the dismay of many netizens, who already thought the prices at Haidilao were steep before the pandemic. In October of 2021, the story of a Haidilao customer in Zhengzhou discovering that the 200 grams of tripe he ordered for 72rmb ($11) was actually only 138 grams also went viral on Weibo, stirring discussions on the Haidilao menu prices.
While Haidilao's choice to ban its bring-your-own-food option could be a strategic business choice, it also could have other motives related to marketing and legal reasons. (Also read our story on this scammer pretending to find coackroaces in his hotpot to get money from Haidilao.)
Haidilao still allows customers to bring their own beverages to the restaurant.
By Manya Koetse 
Featured image via weibo @咚咚东_ddd
Get the story behind the hashtag. Subscribe to What's on Weibo here to receive our newsletter and get access to our latest articles:
Spotted a mistake or want to add something? Please let us know in comments below or email us. First-time commenters, please be patient – we will have to manually approve your comment before it appears.
©2023 Whatsonweibo. All rights reserved. Do not reproduce our content without permission – you can contact us at info@whatsonweibo.com.