"Don't Download This App!" – A Top 10 of Harmful Chinese Apps
This latest top 10 of harmful Chinese apps comes amid a heightened media focus on mobile users and cybersecurity in China.
First published
Thousands of apps are available to China's mobile users, but not all of them are safe. These apps were marked as harmful by Chinese state media this week.
On September 17, Chinese state media outlet Xinhua News Agency issued a top 10 list of harmful mobile apps. The list, published via various social media outlets, raised discussions online about the security risks of seemingly innocent and fun apps.
The top 10 list comes during China's 2019 "Clean the Web" (净网) campaign, an ongoing nationwide initiative organized by Chinese authorities to clean China's digital environment by eradicating pornography and 'illegal publications' (扫黄打非).
As the People's Republic of China will soon celebrate its 70th anniversary, the "Clean the Web 2019" campaign is now in full swing.
According to China's National Computer Virus Emergency Response Center (NCVERC), the 10 listed 'harmful apps' posing hazards related to illegal gambling, stealing personal data, and having in-app downloads without users' permission.
The full list of harmful mobile apps (and their bugged versions) is as follows.
The following first four apps are accused of personal data breaches:
1. 'Happy Eliminating'《开心消消消》(Version 1.1)
This gaming app (image on the left), is highly similar to another popular gaming app known as Xiaoxiaole or Happy Elements (开心消消乐) (on the right).
2. 'Digule'《嘀咕乐》(Version 1.0.1)
This app promises to offer free comics and offline downloads. The app presents itself as being "non-ads interference" on the Android Market.
3. 'Mifeng Yx'《蜜蜂优选》(Version 2.4.2)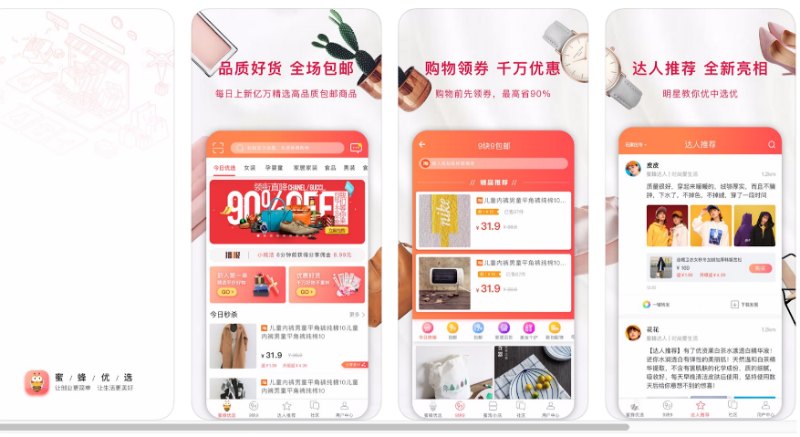 This app helps users to get discount from popular online shopping sites such as Tmall and Taobao.
4. 'Yangling Travel'《杨凌旅游》
This is a travel app that offers a wealth of information related to self-guided tours, travel tips, and hotel booking services.
The following apps have been labeled as 'harmful' for containing malware; their plug-ins and bundles drain users' cellular data by downloading promotional ads and mobile apps in the background without permission:
5. 'Zhijiao YXY'《职教云学院》(Version 1.0.2)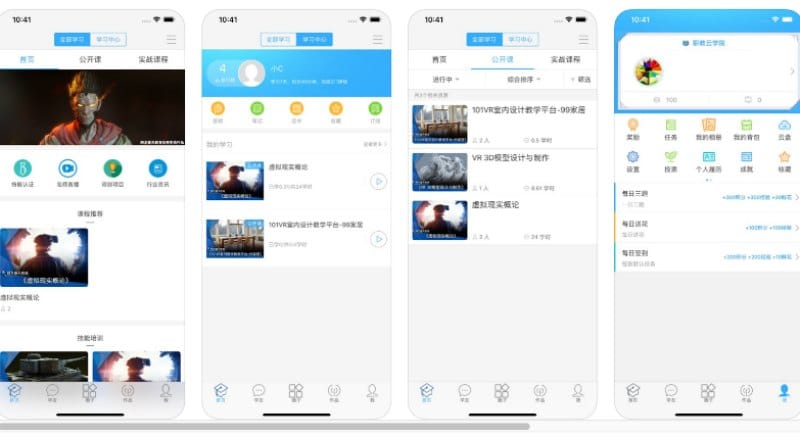 Zhijiao YXY is an online teaching platform for vocational education.
6. 'Fashion Snap'《时尚快拍》(Version 3.6.72)

Fashion Snap is a beauty camera and photo editor tool.
7. 'Watermark Images'《水印修图》(Version 4.0.91)
This is another photo editor tool featuring photo watermark add-ons.
These last three apps were linked with gambling activities by Chinese state media, or have security vulnerabilities making users susceptible to financial losses:
8. 'Cute Puppy Go Home'《萌犬回家》(Version 2.0)
This is an app that matches pets with potential adopters.
9. Guess-emoji-challenge (Version 1.1)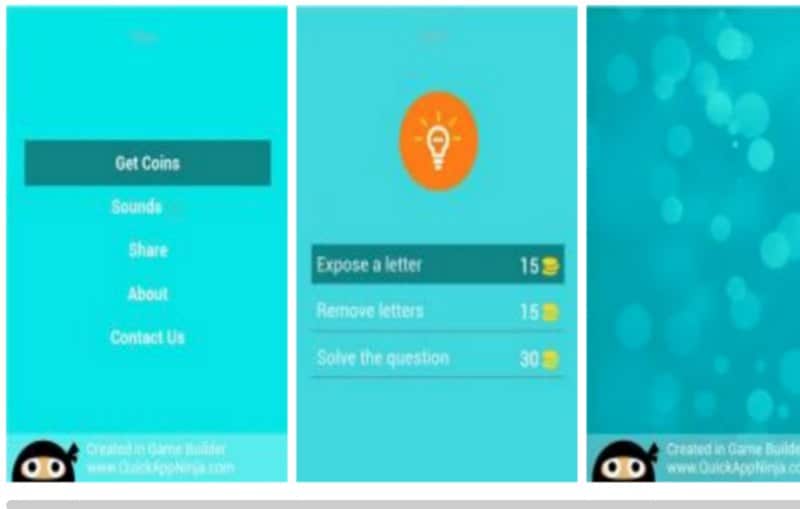 As its name indicates, this is a mobile gaming app all about emoji guessing.
10. Warehouse Manager《仓库管家》(Version 1.0.1)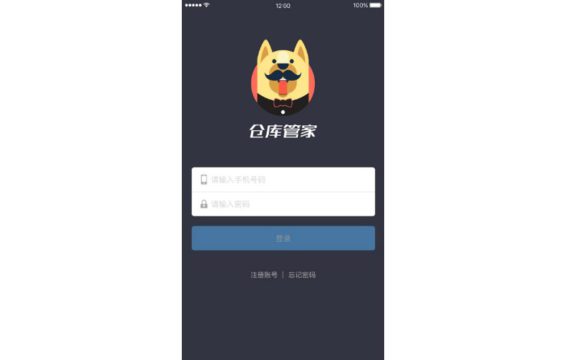 This is a warehouse management application.
(Note that we found two additional apps with the exact same name on AppAdvice, both are described as warehouse management applications – so for now, it is not clear which one of the three is the one referred to by Xinhua, and how it is associated with gambling.)
In addition to warning Chinese mobile users about the aforementioned versions of the 10 apps, Chinese media also spread the NCVERS's advise in recommending netizens to use "real-time monitoring" anti-virus apps to help detect malware carried by illegal and harmful apps. 
In response to the report on the harmful apps, SinaTech News launched a poll on Weibo asking people what unwanted side functions mobile apps they dreaded the most.
At the time of writing, a majority (48.7%) of the 77,000 people participating in the poll indicated that "collecting user data without permission" is one of the things they loathe the most.
With China's Cybersecurity Week kicking off earlier this month, there's recently been an increased (social) media focus on cybersecurity in China.
This week, Chinese cybersecurity experts warned social media users not to post photos of themselves doing a V-sign gesture, since criminals could possibly abuse their fingerprint data.
The Chinese app Zao also sparked major privacy concerns in China earlier this month. The app, that was released on August 30, allows users to play with face-swapping and "deepfake" effects. There were soon concerns about the app's questionable privacy policy, which stated it had "free, irrevocable, permanent, transferable, and relicenseable" rights to all user-generated content (also see The Guardian).
By now, the hashtag 'Ten Lawbreaking & Harmful Apps" (#十款违法有害App#) has received over 130 million views on Weibo.
"This is a time for all of us to be concerned," one Weibo blogger writes, with others agreeing: "I think all apps are collecting our data nowadays."
But not all people seem to be so worried: "Weibo, WeChat, and Baidu – I'd say those apps are really harmful! They are harmful because they make me waste so many hours of my day."
Read more about Chinese apps here.
By Jialing Xie
Spotted a mistake or want to add something? Please let us know in comments below or email us.
©2019 Whatsonweibo. All rights reserved. Do not reproduce our content without permission – you can contact us at info@whatsonweibo.com
From Tea Farmer to Online Influencer: Uncle Huang and China's Rural Live Streamers
'Cunbo' aka 'rural livestreaming' is all the rage. A win-win situation for farmers, viewers, and Alibaba.
This is the "WE…WEI…WHAT?" column by Manya Koetse, originally published in German by Goethe Institut China on Goethe.de: "VOM TEEBAUERN ZUM INFLUENCER: ONKEL HUANG UND CHINAS LÄNDLICHE LIVESTREAMER." 
The past year has been super tumultuous when it comes to the topics that have been dominating Chinese social media. The Coronavirus crisis was preceded by other big issues that were all the talk online, from the US-China trade war to the protests in Hong-Kong, the swine flu, and heightened censorship and surveillance.
Despite the darker side to China's online environment, however, there were also positive developments. One of the online trends that became popular this year comes with a term of its own, namely cūnbō (村播): rural livestreaming.  Chinese farmers using livestreaming as a way to sell their products and promote their business have become a more common occurrence on China's e-commerce and social media platforms. 

The social media + e-commerce mix, also called 'social shopping,' is booming in the PRC. Online platforms where the lines between social media and e-commerce have disappeared are now more popular than ever. There's the thriving Xiaohongshu (小红书Little Red Book) platform, for example, but apps such as TikTok (known as Douyin in China) also integrate shopping in the social media experience.
Over recent years, China's e-commerce giant Alibaba has contributed to the rising popularity of 'social shopping.' Its Taobao Live unit (also a separate app), which falls under the umbrella of China's biggest online marketplace Taobao, is solely dedicated to shopping + social media, mainly mobile-centered. It's a recipe for success: Chinese mobile users spend over six hours online per day, approximately 72% of them shop online, and nearly 65% of mobile internet users watch livestreaming.
Every minute of every day, thousands of online shoppers tune in to dozens of different channels where sellers promote anything from food products to makeup or pet accessories. The sellers, also called 'hosts' or 'presenters,' make their channels attractive by incorporating makeup tutorials, cooking classes, giving tips and tricks, chatting away and joking, and promising their buyers the best deal or extra presents when purchasing their products.                
Sometimes thousands of viewers tune in to one channel at the same. They can 'follow' their favorite hosts and can interact with them directly by leaving comments on the livestreams. They can compliment the hosts ("You're so funny!"), ask questions about products ("Does this also come in red?"), or leave practical advice ("You should zoom in when demonstrating this product!"). The product promoted in the livestreams can be directly purchased through the Taobao system.
Over the past year, Alibaba has increased its focus on rural sellers within the livestreaming e-commerce business. Countryside sellers even have their own category highlighted on the Taobao Live app. Chinese tech giant Alibaba launched its 'cūnbō project' in the spring of 2019 to promote the use of its Taobao Live app amongst farmers. The most influential livestreaming farmers get signed by Alibaba to elevate Taobao Live's rural business to a higher level.
One of these influential Chinese farmers who has made a name for himself through livestreaming is Huang Wensheng, a tea farmer from the mountainous Lichuan area in Hunan Province.
Huang, who is nicknamed 'Uncle Farmer,' sells tea through his channel, where he shows viewers his work and shares stories and songs from his village. He is also known to talk about what he learned throughout his life and will say things such as: "It is important to work hard; not necessarily so much to change the world , but to make sure the world does not change you."
With just three to five livestreaming sessions per week, 'Uncle' Huang reaches up to twenty million viewers per month, and, according to Chinese media reports, has seen a significant increase in his income, earning some 10,000 yuan (€1300) per week.
Huang is not the only farmer from his hometown using Taobao Live to increase their income; there are some hundred rural livestreamers in Lichuan doing the same.
The rural livestreaming category is significantly different from the urban fashionistas selling brand makeup and the latest must-haves: these hosts do not have the polished look, glamorous clothes, or stylish backgrounds. They usually film outside while doing their work or offer a glimpse into their often humble rooms or kitchens.
Viewers get to see the source of the products sold by these rural sellers; they often literally go to the fields to show where their agricultural products grow, or film themselves getting the eggs from their chickens or the oranges from the trees. From fruits to potatoes and flowers, and from fresh tea to home-made chili sauce – a wide range of products is promoted and sold through Taobao Live these days.
Some rural livestreamers are trying to stay ahead of their competition by coming up with novel concepts. A young farmer from Sichuan, for example, recently offered viewers the opportunity to "adopt" a rooster from his farm, allowing them to interact with 'their' rooster through social media and even throwing the occasional birthday party for some lucky roosters.
Examples such as these show that although the countryside livestreamers usually lack glitter and glam, they can be just as entertaining – or perhaps even more so – than their urban counterparts.
Who benefits from the recent 'cūnbō' boom? One could argue that the rising popularity of livestreaming farmers is a win-win situation from which all participants can profit in some way. The commercial interests are big for Alibaba. The company has been targeting China's countryside for years, as it's where China's biggest consumption growth will happen while mobile internet penetration is still on the rise. Alibaba earns profits from an increasing number of rural e-commerce buyers, as well as e-commerce sellers.
Alibaba's early focus on the countryside as a new home for e-commerce has previously also led to the phenomenon of so-called 'Taobao Villages,' where a certain percentage of rural residents are selling local specialties, farm products or other things via the Taobao platform with relatively little transaction costs.
Many Chinese villages and farmers are profiting from the further spread of Taobao in the countryside. Not only does Alibaba invest in logistics and e-commerce trainings in rural areas, these e-commerce channels are also a way to directly boost sales and income for struggling farmers.
Chinese media predict that the rural livestreaming trend will only become more popular in the years to come, bringing forth many more influential farmers like Huang.
But besides the commercial and financial gains that come from the rising popularity of rural livestreamers, there is also a significant and noteworthy social impact.  At  a time in which China's rapidly changing society sees a widening gap between urban and rural areas, these rural channels serve as a digital bridge between countryside sellers and urban consumers, offering netizens a real and unpolished look into the lives of farmers in others parts of the country, and gives online buyers more insight and understanding of where their online products came from.
Taobao Live is actually like a traditional "farmers' market," but now it is digital, open 24/7, and accessible to anyone with a mobile phone. It's the Chinese farmers' market of the 21st century.
By Manya Koetse
Follow @whatsonweibo
Spotted a mistake or want to add something? Please let us know in comments below or email us. First-time commenters, please be patient – we will have to manually approve your comment before it appears.
This text was first published by Goethe-Institut China under a CC-BY-NC-ND-4.0-DE license (Creative Commons) as part of a monthly column in collaboration with What's On Weibo.
WeChat's New Emoji Are Here (Including a Watermelon-Eating and Doge One)
WeChat's new emoji are based on popular memes.
On January 14, Tencent's Wechat introduced new emoji to its existing emoji set. The new emoji include, among others, a watermelon-eating emoji and a smiling Shiba Inu.
On Weibo, the new emoji have become a topic of discussion under the hashtags "WeChat's New Emoji" (#微信上线新表情#), "WeChat's Watermelon Eating Emoji" (#微信上线吃瓜表情#), and "WeChat's Dog Emoji" (#微信上线狗头表情#).
Different from the Unicode emoji (see Emojipedia), WeChat and Weibo have their own sets of emoji, although there is overlap.
The reason why especially the watermelon-eating and dog emoji are being discussed on social media, is because these emoji are based on popular internet memes.
"Eating watermelon" (吃瓜 chī guā) is an online expression that comes from "watermelon-eating masses" (吃瓜群众 chī guā qúnzhòng), which describes a common mentality of Internet users who have no idea what is actually going on but are still commenting or following online stories for their enjoyment – perhaps comparable to the "popcorn memes" that are ubiquitous on Western social media platforms.
The smiling dog has been around since 2013 and is known as the doge meme, based on a photo of a Shiba inu. The meme was originally spread on social media platforms such as Reddit, but then also became hugely popular in China, where it became a symbol of sarcasm (also read this Abacus article on this topic).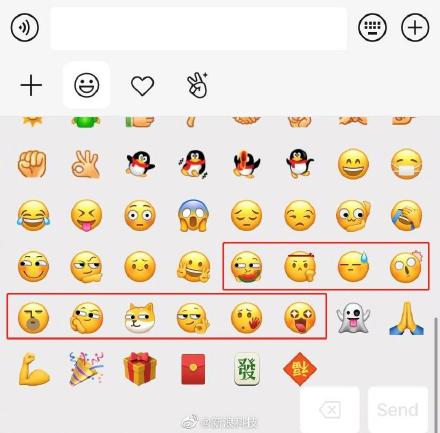 Other new emoji are the "wow" emoji, and others to express "ok," "add oil," "emm," "oh!"
There's also a "shehui shehui" (社会社会, lit. "society society") emoji, which also comes from online culture and is a way among friends to (self-mockingly) talk about being 'gangsters,' 'brothers.' or 'scoundrels.'
As the new emoji are still in their testing phase, not all WeChat users can use the new emoji yet, so you might have to wait a bit before being able to try them out.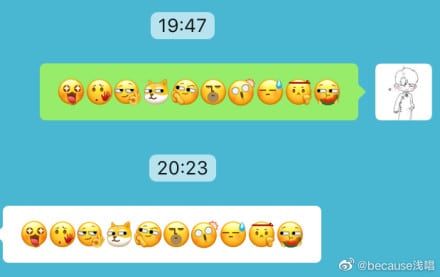 By Manya Koetse, with thanks to @caaatchina
Follow @whatsonweibo
Spotted a mistake or want to add something? Please let us know in comments below or email us. First-time commenters, please be patient – we will have to manually approve your comment before it appears.
©2020 Whatsonweibo. All rights reserved. Do not reproduce our content without permission – you can contact us at info@whatsonweibo.com.