"I Am Fan Yusu" – Beijing Migrant Worker's Writing Takes Chinese Internet by Storm
A moving essay by a Beijing migrant worker has gone viral over Chinese social media this week. Although the article named "I am Fan Yusu" is currently the best-read article in China, the 44-year-old author, who has become famou overnight, just hopes she can live her life in peace.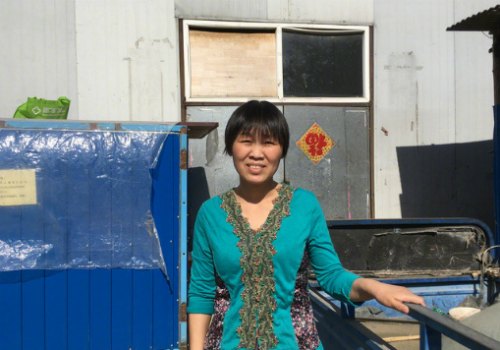 A moving essay by a Beijing migrant worker has gone viral over Chinese social media this week. Although the article named "I Am Fan Yusu" (我是范雨素) is currently the best-read article in China, the 44-year-old author, who has become China's literary sensation overnight, just hopes she can live her life in peace.
Over the past two days, an essay written by a female migrant worker living in Beijing has gone viral on Chinese social media. The article, simply titled "I Am Fan Yusu" (我是范雨素, translation here) tells about the life and family of the 44-year-old Fan from a village in Xiangyang (Hubei) who has moved to Beijing where she does housework.
In her spare time, Fan, who quit school at the age of 12, loves to read and write. Last year, one of her essays titled "Peasant Brother" (农民大哥) was also published online by Beijing media outlet Noonstory.
The Beijing migrant worker has not had an easy life. Coming from a small impoverished village, she moved to Beijing at the age of 20 and married a man who turned out to be a violent alcoholic. After getting divorced, Fan Yusu is now a single mother of two daughters.
Although the writings of Fan Yusu are simple, her message is powerful. Within a timeframe of 48 hours the essay "I Am Fan Yusu" was shared in thousands of WeChat groups and went viral on Weibo.
Her essay starts like this:
"My life is like a book that's dreadful to read – fate has made its cover very messy. I am from Xiangyang in Hubei, and started to do private teaching at the local village school when I was 12. If I wouldn't have left, I would have continued to teach and would have become a proper teacher. But I couldn't bear to stay in the countryside and view the sky from the bottom of the well, so I came to Beijing. I wanted to see the world. I was 20 years old at the time."
"Things were not easy after coming to Beijing. It was mainly because I was lazy and stupid, and because I was not skillful with my hands and feet. What other people could do in half an hour, I couldn't even finish in three. My hands were too slow, slower than most people. I worked as a waitress at a restaurant and would drop the tray and break the plates. I just made enough money to keep myself from starving. I wasted two years in Beijing and couldn't see the bigger picture. I then rushed myself into marrying a man from the Northeast of China."
"Within a time frame of just five or six years, we had two daughters. But their father's business was doing worse and worse, and he started to drink heavily every day and became aggressive. I simply couldn't bear the domestic violence and decided to take my daughters and go back to my village in Xiangyang and ask for help. He never even came looking for us. I later heard he went from Mongolia to Russia. He's probably lying drunk on some Moscow street now. In my hometown, I told my mother that I would go and raise my two daughters myself."
Fan Yusu goes on to tell about her childhood and the story of her mother. Born in 1936, Fan's mother was asked to become the director of the local Women's Federation at the age of 14 because she was a good speaker and problem-solver. "She started doing that in 1950 and stayed in power for 40 years, even exceeding the reigning time of Saddam Hussein and Muammar Gaddafi," Fan writes.
In her essay, Fan tells about the pressures of village life and the patriarchal social system, and how her mother – raising five children in an unhappy marriage – suffered from it and eventually had to leave her job because of it.
Fan was born when her mother was forty, and was the only healthy daughter of their family. While growing up, Fan developed a passion for literature and started reading every book she could get her hands on.
But at the age of 12, Fan ran away from home during a school holiday to "see the world," and stayed away for three months exploring the southern parts of China. When she returned home, she was rejected by her father and brothers and became the talk of the town. Fan did not return to school and took on a teaching job. Her mother was the only one who never turned away from her, from when she was a child until her adult years.
"When I had returned home to Xiangyang with my two daughters after leaving the violence in my home and my alcoholic husband, my mother was calm and collected and told me not to worry. But my brother avoided me like the plague and wanted me to leave and not cause him any problems."
She continues:
"At this moment, I realized I no longer had a home. For us as poor rural people, it is very hard to get by in life, and the affection between family members naturally is not that deep. I did not resent my brother, but I understood that I was now merely a passer-by in the village where I was born and raised."
In the final part of her essay, Fan tells about her life as a single mother and migrant worker in Beijing, and the mother's love she received despite all hardships – which she hopes to return to society.
On Weibo and WeChat, the essay, which spread like wildfire, has gotten thousands of reactions over the past few days. "My friends sent this to me through our chat group," one netizen says: "Many praise it, some denounce it, but I actually still don't know the original source of the article."
Despite the massive craze over Fan's work, there are also those who say her writing is plain.
But the majority of people say the essay by Fan has moved them to tears, and that it has made them realize that literature is not an unattainable art. Her work is praised for telling a meaningful individual story that also shows the multi-layered problems of society.
The topic "Migrant Worker Fan Yusu Becomes Famous" (#农民工范雨素走红#) was viewed over 1.5 million times on Weibo today.
As her writings are taking social media by storm, Fan Yusu commented to the press that she had never imagined becoming famous and that it was not her intention: "It makes me scared," she says. Over the past few days, she has given countless interviews and has been overwhelmed with attention.
"Although I barely get by, I do have enough to eat and live," she told local media, saying that she does not write to change her life, but just writes to satisfy a "spiritual need."
On April 26, several media reported that Fan is so overwhelmed with her sudden fame that she has gone into hiding in a mountain village and is no longer available for interviews.
"I hope we can respect her personal life and that we will leave her in peace," one Weibo commenter said.
– By Manya Koetse
Thanks to Diandian Guo
Follow @WhatsOnWeibo
©2017 Whatsonweibo. All rights reserved. Do not reproduce our content without permission – you can contact us at info@whatsonweibo.com.
CCTV Spring Festival Gala 2018 (Live Blog)
It's time for the CCTV 2018 New Year's Gala – follow the highlights and the low points here.
It is time for the CCTV Spring Festival Gala, one of the most-watched, most-discussed, and most mocked lived television events in the world, taking place on the Lunar New Year's Eve. What's on Weibo discusses the ins & outs of the 2018 edition and the social media frenzy surrounding it in this live blog.
The biggest live televised event in the world, the CCTV New Year's Gala, also known as the Spring Festival Gala or Chunwan (春晚), is a true social media spectacle. On February 15th 2018, the 36th edition of the 4-hour-long live production is taking place.
The show, that is organized and produced by the state-run CCTV since 1983, is not just a way for millions of viewers to celebrate the Lunar New Year (除夕); it is also an important opportunity for the Communist Party to communicate official ideology to the people and to showcase the nation's top performers.
Watch the live stream here on What's on Weibo (if you have no access to YouTube, please check the CCTV live stream here).
What's on Weibo provides you with the ins & outs of the 2018 Gala and its social media frenzy, with updates before, during and after the show. Follow our liveblog below (we recommend you keep your browser open – you'll hear a 'beep' when updated). (Note: this live blog is now closed, thank you!).
By Manya Koetse, with contributions via WeChat from Boyu Xiao, Diandian Guo, and Tim Peng
Follow @whatsonweibo
Spotted a mistake or want to add something? Please let us know in comments below or email us.
If you enjoy What's on Weibo and support the way we report the latest trends in China, we would appreciate your donation. It does not need to be much; we can use every penny to help pay for the upkeep, maintenance, and betterment of this site. See this page for more information.
©2018 Whatsonweibo. All rights reserved. Do not reproduce our content without permission – you can contact us at info@whatsonweibo.com.
Chinese Media Ascribe 'Traveling Frog' Game Hype to China's Low Birth Rates
Is the Traveling Frog more like a husband or like a baby? It's a topic of debate on Weibo.
The Japanese mobile game 'Traveling Frog' is a hit among young working – mainly female – adults in China. According to various Chinese media, the 'virtual frog' fills a void in a society that faces year-on-year declining birth rates.
"Has your frog returned home yet?" – it is a somewhat odd question that has become normal since the 'Traveling Frog' (旅行青蛙/旅かえる) mobile game has become all the rage in China.
In the Traveling Frog game, that is now dominating China's online mobile gaming charts, players have to help a little frog prepare for his travels across Japan.
The app is characterized by its unique design and revolves around a frog who lives in a stone cave and goes on frequent trips. Once he goes traveling, the frog comes back with local delicacies and snapshots of his adventures – but players are never sure how long their virtual friend stays away from home.
With its cute design and stress-free strategy, the hype surrounding Traveling Frog is somewhat comparable to that of the Tamagotchi in the 1990s and early 2000s. The frog, which players can give its own name, is like a mobile cyber pet that players have to keep an eye on and take care of.
Although the game was initially meant for young girls, it is now a hit amongst young working adults, mainly women.

A Virtual Baby

Over the past week, various Chinese media outlets have connected the success of the game to China's low birth rates. Caijing.com writes: "Facing higher house prices, intensive jobs, the collapse of the [hierarchical] pyramid family structure, and huge medical and educational costs, we can no longer deny the reality that more and more young people are choosing not to get married and not to have children. And 'nursing a frog' is one kind of psychological substitute for 'nursing a baby.'"
The news site reports that the obsession of some people over their frog is comparable to a parent's worries over a child; players are so upset when their frog does not return home during the night, that they cannot sleep.
Despite the shift from China's One Child Policy to the Two Child Policy, China's birth rates have been declining year-on-year; 17.23 million newborns were added to China's population last year – 630,000 less than the year before.
China News also reports about the deep attachment some players show for their virtual pet, and suggest that the Traveling Frog is a "low-cost way" in which people can "fill an emotional gap" in their lives.

Baby or Husband?

The suggestion that the virtual frog is like a baby has stirred discussions on Weibo about the matter, with some wondering if the frog really is like a baby, or if he is more like a friend, partner, or husband; the matter in itself has become an online squabble between netizens and media.
According to gamer's platform 17173 (@17173游戏网), the designer of the game, Mayuko Mura (村真裕子), recently refuted the idea that the traveling frog is like a child. In an interview, she said: "For Japanese players, the frog is actually more like their husband, who goes on business trips and then comes home with some local specialties and photos."
Many Chinese netizens were not too happy with the explanation. "If my husband would stay away a night and a day, I'd be infuriated!", some said. "So now you're telling me I'm raising a guy?!", others commented.
The interview even led some people to wonder about the butterfly that is often depicted on the snapshots the frog sends players from his travels, suspecting she represents his mistress.
But according to news outlet Pear Video, Mura's words have been misinterpreted. In a recorded phone conversation, she does say that for many Japanese players, the frog is more like a 'husband,' but that the original intention of the game was never to turn the frog into anything but itself.
"We just want players to freely enjoy the game and turn the frog's role into whatever they want," one of the game's developers told Pear Video.
One author on Weibo (@魔力的真髓) reflects on the idea that the Traveling Frog apparently plays a different role in Japan than in China, and writes: "How comfortable it must be to be a husband in Japan, where you don't have to do anything around the house, your wife serves you, and then you just take off with the things your wife prepared for you, and go out and seek an extramarital affair."
"Whatever, the island nation turns it into a husband, we turn it into a child," one pragmatic netizen concludes. Another Weibo user adds: "What's the difference – husbands nowadays are like babies anyway."
Others commenting on the issue, however, are too occupied with the real important matters: "It's been three days, and he still isn't back," one unhappy commenter writes. Another one has the same worries: "All I want to know is why my baby has gone traveling for a week, and still hasn't come home.."
By Manya Koetse
Follow @whatsonweibo
Spotted a mistake or want to add something? Please let us know in comments below or email us.
©2018 Whatsonweibo. All rights reserved. Do not reproduce our content without permission – you can contact us at info@whatsonweibo.com.