'Fifteen of Us': This is the Chinese Utopia
Fifteen people with different backgrounds build a new society: one place, hundreds of camera's, starting from scratch. The format of Dutch reality TV programme Utopia has now made it to China. The question is: what will Chinese Utopia look like? Who are the contestants? Will their society be communist or capitalist?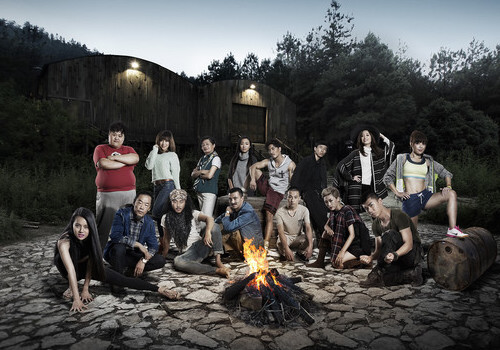 Fifteen people with different backgrounds build a new society: one place, hundreds of camera's, starting from scratch. The format of Dutch reality TV programme Utopia has now made it to China. The question is: what will Chinese Utopia look like? Who are the contestants? Will their society be communist or capitalist? What's on Weibo brings you an overview of the show thus far.

In the Netherlands, Utopia first aired on December 31st, 2013. The reality show is a social television experiment that puts 15 people from different backgrounds together to create a new society. The contestants have to start from scratch, and learn how to make survive as a group. They can decide on their own rules or laws, but there is an important general restriction: contestants cannot leave the premises, that cover around 1,5-2 hectare. The show is recorded 24 hours per day, and can be followed by viewers through online live streams on the Utopia app. Besides the live streams, there are daily 30 minute recaps on TV. Every month, the contestants have to vote on their least favourite resident, who will then be eliminated from the show and replaced by a new contestant. Contestant are supposed the stay in the show for one year. If they decide that they want to leave earlier without being eliminated, they will be fined by the television company. Apart from sporadic letters, they cannot communicate with their friends and family.
Utopia is produced by Talpa, a top-notch Dutch production company that has launched various popular TV formats, such as The Voice, which also became a huge success in China (中国好声音). The Chinese version of Utopia is called  'The Fifteen of Us' (我们15个), and first aired on June 29 this year. It is a joint production of Talpa and the Chinese online group Tencent.
In the Netherlands, Utopia has seen a rich variety of participants; gay and straight, black and white, young and old, religious and atheist. The contestants had different backgrounds as artists, singers, accountants, philosophers, carpenters, psychics, some jobless, one homeless.
Besides an official website, the Chinese show also has an official Weibo account, that regularly updates with everyday developments on the show.
According to Variety, as many as 100,000 people applied to take part in the the Chinese Utopia. The show's selected fifteen contestants have diverse backgrounds and ages.
Three of the 15 contestants, from left to right: Yi Qiu (the vagabond), Tan Limin (feisty auntie), Zheng Hu (wannabe singer).
The show's oldest contestant is Tan Limin (谭利敏) a retired 61-year-old Shanghai woman with a young mind and feisty nature. The other participants range from 21 to 51 years old. Yi Qiu (易秋), with his unique look, is a vagabond with no stable job. Zheng Hu (郑虎) is a chubby 26-year-old music lover from China's northern Shanxi province, who wants to lose weight and work on his career as a singer.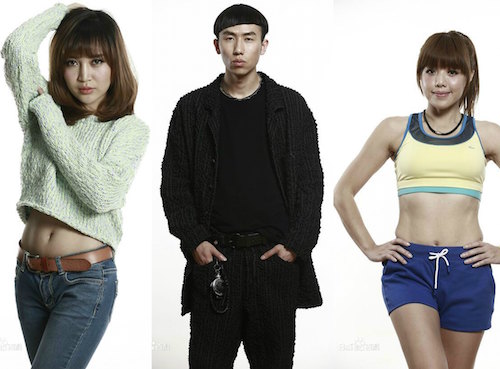 Three of the contestants, from left to right: Deng Biying (the model), Liu Zhixuan (the fashion designer), Taiwanese 44-year-old Zhang Tingxuan (the perfectionist mum).
Deng Biying (邓碧莹) is the young and sexy 24-year-old car show model. The extravagant Liu Zhixuan (刘志轩) from Zhejiang is a 27-year-old fashion designer. Zhang Tingxuan (张婷媗) is the show's only Taiwanese participant. She is 44 years old, a 'hot mother', and a perfectionist with extreme willpower.
From left to right: Sun Ming and Nie Jiangwei (both veterans), and Liu Fuhua (divorced dad).
The youngest is the 21-year-old veteran Sun Ming (孙铭), for whom discipline is the main thing in life. Nie Jiangwei (聂江伟) is also a veteran, 51 years old. Electrician and daddy Liu Fuhua (刘富华, 30 years old), is trying to get over his failed marriage. Furniture maker Guo Daohui (郭道辉) from Qingdao is the rebellious one of the group. The handsome Qiu Zijian (丘子健) is a professional boxer and model.
From left to right: Rebel from Qingdao, Guo Daohui, professional boxer Qiu Zijian and fashionista Liu Xi.
Another fashionista is the 26-year-old woman Liu Xi (刘希), who majored in fashion at Shanghai University. Liu Luoxi (刘洛汐) is an ambitious 25-year-old super model and business woman from Chengdu, who is active in the online game industry. Song Ge (宋鸽) is a 27-year-old female Harvard graduate, majoring in psychology. Xiao Fanfan (肖凡凡) is the last one of the group: a young and pretty university student who loves make-up and cherishes her freedom.
From left to right: Liu Luoxi the super model/business woman, the academic (Song Ge) and Xiao Fanfan, the sexy student.
Similar to the Dutch version, contestants of Fifteen of Us are allowed to bring one wooden case with some items (cooking utensils, rice, sleeping bag, etc) upon arrival.
The show is recorded in the scenic lush green area of Tonglu, in southern China's Hangzhou. At the start, the contestants only have one shared empty hangar, a grass field, a total of 5000 RMB (about 816 US dollar), and one basic mobile phone. There are also two cows and some chickens.
In the first episodes, the fifteen contestants struggle with their new surroundings, where they have no beds or proper toilets. They spend the days milking the cows, making fire, cooking basic food, talking about how to make money and survive, and arguing on how to divide the tasks ahead. Chubby Zheng Hu practices his singing skills at all hours of the day (check video below).
Supermodel/business woman Liu Luoxi takes on a leader role, much to the disgruntlement of divorced father Liu Fuhua. Veteran Nie Jiangwei, the oldest man of the group, balances her business-like leadership with his own views ("We came here as one group, we will act as one group!"). Besides an apparent leader, supermodel Liu Luoxi is also a dramaqueen. As shown in the video below, she breaks out in tears when the vet comes to Tonglu to check on one of the cows and then states it is sick and needs to take medicine. Although Liu cares for the cow's health, she also cares about the little money the residents currently have. The medicine costs 200 RMB (32 dollar), and Liu cries out that there is no money.
The humid and basic surroundings already take their toll on the health of the contestants. Within the first week of airing, two participants already had to leave the show to go to the hospital. Young carpenter Guo Daohui suffered from severe backache, and vagrant Yi Qiu was wounded when broken glass cut through his hand (see video below). The chubby and extravagant Zheng Hu seems to suffer mentally, as he cannot stop crying after seeing a snake outside the hangar (video).
Vagrant Yi Qiu severely cuts his hand on a broken window.
Yi Qiu has just cut his hand and is taken to hospital. Zheng Hu is crying because he saw a snake. While some support him, others get angry because of his dramatic cries (see 1:20).
So far, Fifteen of Us has been lacking the more political discussions the Dutch version of the show sometimes had at the beginning, when contestants would have to decide if they would choose for a communist or capitalist-run society. These kind of debates might be too sensitive for the Chinese version, where the show is undoubtedly censored. But censorship of this reality show is not typically Chinese. Viewers of the Dutch show have complained about censorship of the show, and the German version ('Newtopia') became the centre of a scandal earlier this year when an allegedly drunk producer was heard on livestreams giving directions to the contestants.
China is not the first to follow Dutch Utopia. The show also has its own version in Turkey. Although there was also an American version, it turned out to be a flop and was cancelled after airing for two months.
So far, the Dutch version has been airing for 1,5 years. The contestants have managed to rebuild the hangar that now holds bedrooms, a bathroom, two kitchens and a gym. There is also a swimming pool and wellness centre. Contestants receive money by letting guests pay for indoor concerts, parties or weekend markets. The show's storyline has seen some highlights, with an unexpected romance between two young female contestants, a resident caught stealing, one couple having live sex on TV, a number one hit, some fights, the occasional drunken party, and conflicts over homosexuality, religious beliefs and political systems.
China's Utopia might not get too political, but it could nevertheless offer some interesting insights in today's society. Contemporary Chinese societal issues such as the rich-poor gap, migrant workers, leftover women or the growing generation gap are bound to come up as items of discussion within this diverse group of people. A lesbian couple? Unlikely, but who knows. We will be watching – and'll keep you posted.
By Manya Koetse
Follow @WhatsOnWeibo
[box type="bio"]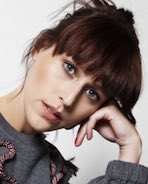 About the Author: Manya Koetse is the editor of What's on Weibo. She's a Sinologist who splits her time between the Netherlands and China. She earned her bachelor's degrees in Literary Studies, Japanese & China Studies and completed her MPhil in Asian Studies. Contact: manya@whatsonweibo.com, or follow on Twitter.[/box]
©2015 Whatsonweibo. All rights reserved. Do not reproduce our content without permission – you can contact us at info@whatsonweibo.com.
China's TV & Film Companies Join Hands to Boycott Huge Salaries in Entertainment Industry
Is this the end of the exorbitant pays for Chinese actors and actresses?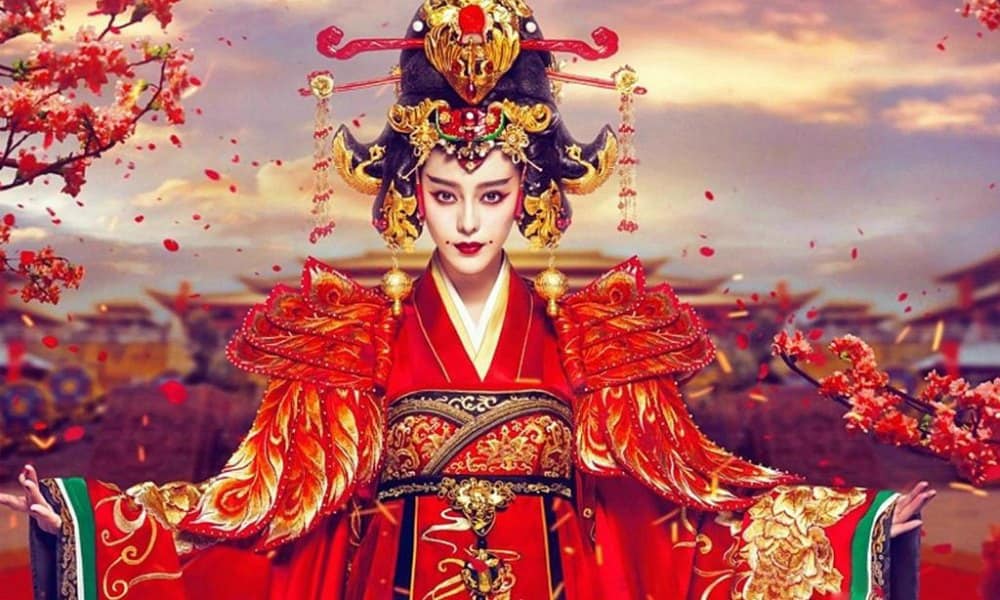 After authorities put restrictions on high pays for Chinese actors and actresses, nine of China's most prominent entertainment companies have now come forward with a proposed boycott on excessive wages for stars in film and tv dramas.
On August 11, nine of China's biggest entertainment and streaming sites, including iQiyi, Youku, and Tencent video, issued a joint statement on boycotting excessive high wages for actors and actresses.
The statement, titled "Resisting Unreasonable Pays & Rejecting Unhealthy Industry Trends" ('抑制不合理片酬,抵制行业不正之风') says that actors and actresses should not get paid more than one million yuan (±US$146,000) per episode and not more than 50 million (±7,3 million US) for an entire drama show or movie.
The relatively high pay of actors and actresses in China, especially in the TV drama industry, has been making headlines for years. Previously, Chinese authorities already sought to rein in high salaries for actors, which can take up a significant percentage of a production's budget.
In 2016, Beijing Review reported that Chinese stars' salaries were under fire for being excessively high. At the time, a member of the Standing Committee of the National People's Congress, Sun Baoshu, stated that since casting takes up such a large part of production funds, producers have to cut budgets for things such as scriptwriting, stage setting, and sound recording. This leads to poorer productions, Sun said, harming the development of China's entertainment market.
In September of 2017, the China Alliance of Radio, Film, and Television (CARFT), a non-profit organization that works under the government, ordered China's production agencies to limit the expenses for cast salaries to no more than 40% of the total production costs for online/TV drama series. Within this percentage, the salary of the show's leading actors reportedly could not exceed 70% of the total salary paid to all actors, arguing that top-earning stars' high fees are harmful to a 'healthy development' of China's entertainment industry. The same rule was reiterated by the Chinese tax authorities this week.
Today's statement, for the first time, puts a cap on the fixed amount actors and actresses in the Chinese entertainment can receive per project – not based on percentages of the total budget.
Perhaps not coincidentally, the statement comes at a time when a tax evasion scandal involving China's highest-paid actress Fan Bingbing is making headlines in China. The actress reportedly received a total payment of 60 million yuan ($9.3 million) for just four days work on the film Cell Phone 2, of which she allegedly only declared 10 million to authorities.
The scandal has attracted a lot of attention on Chinese social media recently, with many bewildered reactions over the exorbitant pays in the entertainment industry.
Posts publishing the boycott statement have gone viral on Weibo this weekend; some received over 58,000 likes per thread, and the hashtag "boycott high pays" (#抵制天价片酬#) was viewed more than 16 million times at time of writing.
The companies signing the statement are:
iQiyi (爱奇艺), also dubbed 'the Netflix of China', a leading online entertainment and streaming service.
Youku (优酷), one of the biggest online video companies in China, sometimes referred to as the Chinese YouTube.
Tencent Video (腾讯视频), the hugely popular Chinese video streaming website owned by Tencent.
Daylight Entertainment (正午阳光), one of China's most respected production companies.
Huace Film & TV Co (华策影视), well-known TV program production and distribution company.
Linmon Pictures (柠萌影业), a Shanghai-based Chinese film & TV producer and distributor.
Ciwen Media Co (慈文传媒), a Beijing-based film and television company.
Youhug Media (耀客传媒),a media and entertainment management company headquartered in Shanghai.
New Classics Media (新丽传媒), a renowned TV content and film producer.
Among the thousands of people responding to the new boycott on Weibo, there are many who find that the maximum pay is still way too high: "A million yuan per episode?! My god!", many write, with some wondering why actors are making so much more money than doctors and scientists.
Others comment that they think it is funny none of the big actors and actresses on Weibo allegedly have reposted the popular statement.
"I'm supportive of the boycott," a typical comment read: "These high fees really were an unhealthy tendency."
Others write: "It's good! They should have done it years ago."
By Manya Koetse,
with contributions by Miranda Barnes.
Follow @whatsonweibo
Spotted a mistake or want to add something? Please let us know in comments below or email us.
©2018 Whatsonweibo. All rights reserved. Do not reproduce our content without permission – you can contact us at info@whatsonweibo.com.
Why Disney's Christopher Robin Is Not Released in China (And It's Not Just Because of Winnie)
Recently, many foreign media reported that Disney's 'Christopher Robin' (2018) will not be released in China due to an alleged "nationwide ban" on Winnie. But there is more to this than meets the eye.
Disney's latest film Christopher Robin will not be released in Chinese cinemas. Many English-language media claim it is for the fact that the movie's main star, Winnie the Pooh, is regarded too politically sensitive in the country. But these reports are clouded by misconceptions: Winnie is not banned in China, and it is common for Western films not to be released in the PRC. What's on Weibo explains.

With contributions from Luka de Boni

"Christopher Robin, denied Chinese release, is the latest victim in China's war on Winnie the Pooh," writes Vox. "China gives Winnie the Pooh the enemy-of-the-state treatment," says a recent New York Post headline.
Over the past days, the fact that Disney's new 2018 film Christopher Robin will not premiere in mainland China has made headlines in many English-language media, first reported by The Hollywood Reporter.
Most sources allege that the movie, inspired by A. A. Milne and E. H. Shepard's book Winnie-the-Pooh, will not be released in the country's theatres because "Chinese leader Xi Jinping is prickly about comparisons between him and the lovable cartoon character, who has become a symbol of the resistance there" (Vox).
BBC linked the film's absence from Chinese movie theatres to Winnie and the supposed "nationwide clampdown on references to the beloved children's character."
But to what extent are these allegations true? There seem to be some misconceptions in many media about the scope of censorship on Winnie, and the release of non-Chinese films in mainland China.
What's up with Winnie?
Over the past four years, Winnie the Pooh has, at times, been used as a political and satirical meme on Chinese social media, first becoming a target for China's online censors when netizens compared Barack Obama and Xi Jinping, who met at the California Summit, with Pooh and Tigger in 2013.
In September of 2015, an image of Pooh became trending again on the day of the military parade. During the Beijing Parade that commemorated the 70th anniversary of WWII, President Xi Jinping drove around in a car (image), inspecting the troops.
When someone watching the parade then posted an image of Pooh bear in a toy car on Weibo, it was shared 62.000 times in little over an hour. Online responses included: "As I watched [the parade], I told my mother and father the similarities [between Pooh and the President] were uncanny." The post was then soon deleted from Weibo.
The same happened in February of 2018, when images of Winnie the Pooh as a king emerged on Weibo after the end of China's two-term limit on presidency was announced.
Could've expected this, but still pretty creative. First images of "king Winnie" surfacing on Weibo in response to Xi's potential indefinite rule: https://t.co/u9kL5OYGwq #XiJinping #kingwinnie pic.twitter.com/Bb6Dmy46xH

— Manya Koetse (@manyapan) 25 februari 2018
Although the censorship of Pooh at these specific moments are reason enough to call the bear some sort of "symbol of defiance against censorship," it is not reason enough to assume the bear is at the epicenter of "a nationwide clampdown," as BBC suggested.
"Winnie the Pooh is not banned from China, neither online nor offline."
Winnie the Pooh is not banned from China, neither online nor offline. The bear is quite popular, just as in many other countries, and people walk around wearing Pooh t-shirts and accessories in Chinese cities every day.
A current search on Chinese search engine Baidu for 'Winnie the Pooh' ("小熊维尼") generates 8.5 million results. Taobao sells countless Winnie items on its e-commerce platform, and on social media site Weibo, thousands of Chinese netizens post photos of their Winnie-themed merchandise or favorite characters.
Disney's Christopher Robin is also discussed online; not just by netizens but also by state media.
The moments that Pooh was censored on Chinese social media in the past, were times that China's censorship machine was going at full-speed already. Any time that President Xi is taking part in an important meeting or event, whether it is a BRIC summit, military parade, or bilateral meeting, social media is more controlled than usual.
Because netizens were using the image of Pooh in a way that was meant to make fun of these high-profile political occasions and figures at particularly these times, they were censored. In other words: the Winnie images were censored along with many other things at particularly sensitive times for mocking a political event or figure.
Although it makes sense to say that Winnie the Pooh is perhaps more 'sensitive' than other cartoons (although Peppa Pig and Rage Comics had their share of censorship, too), it is questionable if this sensitivity is enough of a reason to ban Disney's new blockbuster Christopher Robin.
Chinese Summer: Not a Time for Western Films
But if not for the bear itself, what would be a reason not to release a promising Disney movie? China's strict foreign film import quota may play an important role.
Since the 1990s, China has a 'foreign film quota.' In the early years, this meant that just a small quote of foreign films were allowed to be imported into China, and in 2012, this was increased to 34 foreign movies per year. The amount of revenue that foreign producers can take from these movies is restricted to 25% (Latham 2007, 185; Ma 2017, 193).
Although Hollywood lobbyists have been negotiating with Chinese film authorities to allow more foreign films to be imported under revenue-sharing terms, there's been little progress for now – the ongoing looming trade-war has not benefited the situation.
Besides the longstanding cap on foreign films, China also has unofficial 'Hollywood black-out periods' in which Hollywood blockbusters are prevented to enter the market so as to boost sales of local productions, a phenomenon dubbed "Domestic Film Protection Month" (国产电影保护月).
The term was allegedly coined in 2004, when Chinese media reported about an order restricting screening foreign films between June 10 and July 10 each year. Although the measure was never officially admitted by government officials, this unspoken policy has been executed for the past 14 years (read more here). As a consequence, it is common for big American productions to not be released in China during the summer months, the period where cinemas make the most revenues. 
In 2011, for example, the Harry Potter blockbuster of the year was premiered in China five weeks later than it was in the rest of the world. Last summer, both Dunkirk and Spider-Man: Homecoming had their release dates delayed by several months, most probably to give the patriotic, local production Wolf-Warrior 2 a boost in sales. 
These black-out periods can also serve another purpose. According to CNBC, they can also be used to give Chinese film authorities additional bargaining power in their negotiations with US lobbyists. With these negotiations increasing in importance lately, as a result of deteriorating US-China trade relations, it might make sense that Chinese authorities would want to put themselves in the most favorable bargaining position.  
Each year, it is unclear when the 'black-out period' starts and ends. Generally, it can start as early as mid-June and finish as late as late-August.
Goodbye, Christopher Robin?
With many netizens and various state media (including China Global Television Network) posting about the release of Christopher Robin on Weibo and beyond, it is unlikely that political sensitivity over Winnie is the (only) reason why the film will not be shown in Chinese cinemas this summer.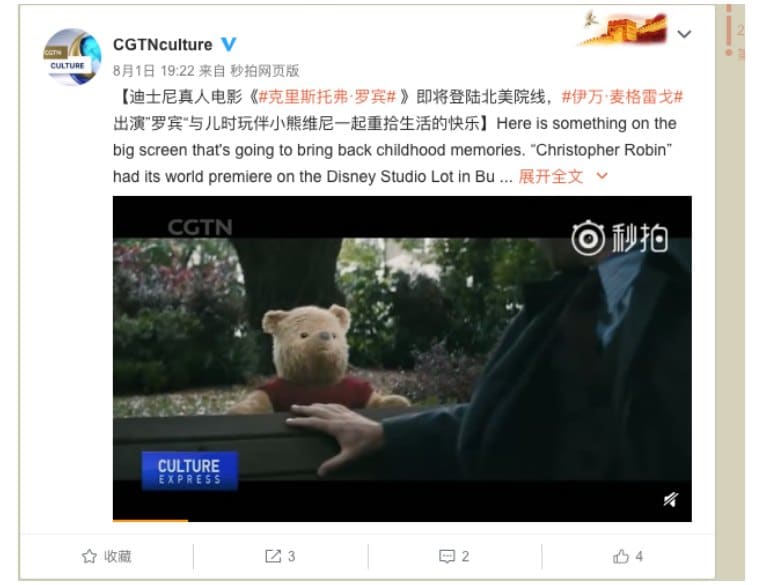 Whether or not the film will definitely not come out in China is also not clear. The process of translation and censorship checking for films can take a long time and will sometimes mean films come out much later in the PRC.
Even when not reaching the big screens, most Hollywood blockbusters will eventually be available for viewing on online channels such as Youku or iQiyi.
Goodbye Christopher Robin (2017), another movie focusing on the story of Winnie the Pooh, is available for viewing on iQiyi and other (paid) streaming sites in China.
Many netizens would welcome a delayed release of Christopher Robin in China. The movie's hashtag (#克里斯托弗·罗宾#) has already been viewed nearly three million times on Weibo.
While for many, the bear has no political connotations, there are also those who are still trying to post pictures of President Xi Jinping as Pooh – those will soon be deleted.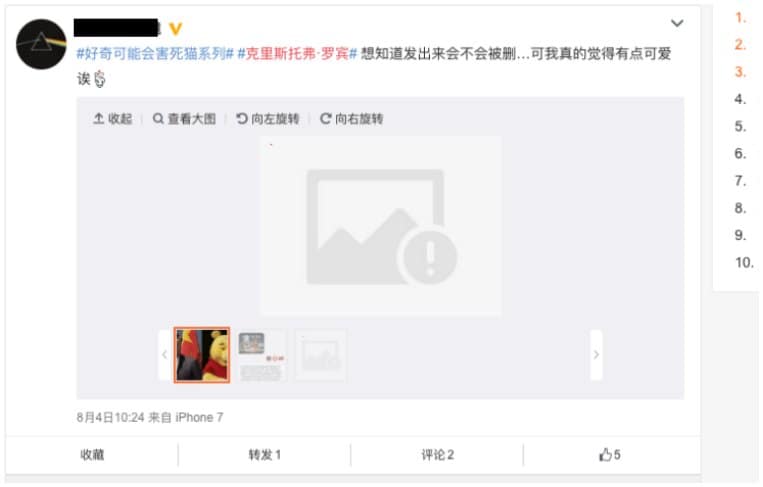 "I just wanted to see if it would be deleted," the Weibo user says: "But actually, I really do think he's cute."
For more on this, check out today's feature on BBC World Update (video by What's on Weibo).
By Manya Koetse, and Luka de Boni
Follow @whatsonweibo
References
Latham, Kevin. 2007. Pop Culture China! Media, Arts, and Lifestyle. Oxford: ABC Clio.
Ma, Winston. 2017. China's Mobile Economy: Opportunities in the Largest and Fastest Information Consumption Boom. Cornwall: Wiley.
Spotted a mistake or want to add something? Please let us know in comments below or email us.
©2018 Whatsonweibo. All rights reserved. Do not reproduce our content without permission – you can contact us at info@whatsonweibo.com.