Finally Some Answers? Follow-Up to the 6.10 Tangshan BBQ Restaurant Incident
The Tangshan incident sparked national outrage, and its aftermath lasted for weeks. Now, some unanswered questions are finally answered.
Over two months after a shockingly violent attack on female customers at a Tangshan restaurant dominated Chinese social media and raised concerns over violence against women and gang crimes, CCTV has published a final report about the incident. On Monday, 28 people have been prosecuted for their involvement in the incident.
Click here for an overview of our articles on the Tangshan restaurant incident.
In June of 2022, an outburst of violence against female customers at a restaurant in Tangshan sent shockwaves across Chinese social media. Surveillance videos from the restaurant showed how at least four women were brutally attacked by a group of men.
The incident, now known as the '6.10 Tangshan Beating Incident' (6·10唐山打人案件) sparked national outrage and its aftermath lasted for many weeks, with people demanding more answers on what exactly happened, how authorities dealt with it, and if the female victims were now safe.
Two months later, another shocking incident became a trending topic on Chinese social media: gruesome videos surfacing online showed how a Tangshan man driving a white SUV drove over a woman twice in a local parking lot. The female victim died after resuscitation efforts at a local hospital.
The incident brought back memories of the other Tangshan outburst of violence, and the online demand for lingering questions to be answered grew stronger again. At one point, one hashtag demanding a follow-up into the matter was (temporarily) taken offline, triggering more criticism on how the issue was handled and possibly silenced by authorities.
But on August 29, some lingering questions were finally answered when state broadcaster CCTV published a news report giving the "whole story" of what happened that night (hashtag #央视梳理唐山打人案始末#).

The 6.10 Tangshan BBQ Restaurant Incident

In the early morning of June 10th of 2022, just passed 2.30 am, the Laohancheng barbecue restaurant (老汉城烧烤店) in Tangshan's Lubei District had multiple tables occupied by late-night diners. At one of the corner tables, a group of three female customers were dining and chatting. A couple of men were standing at another table.
Security cameras inside the restaurant captured how at 2.40 am, the atmosphere changed when the three women were approached by a man in a green jacket, who then proceeded to touch the back of one of the women dressed in a white t-shirt.
When the woman pushed his arm away, the man tried to grab her, and she quickly slapped his hand. The scene then altercated within seconds. The man hit the woman in the face, after which one of her friends quickly tried to come to her rescue and hit the man with a beer bottle. Her friend was then attacked by at least three men, while the woman in white gets hit by the men in the green jacket.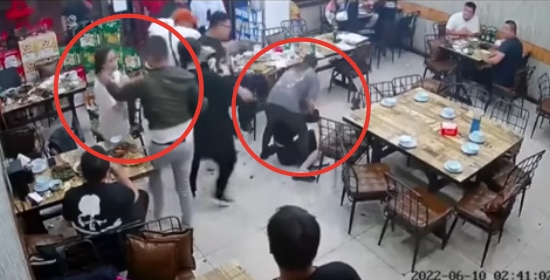 It just took seconds for the woman in white to be dragged out of the restaurant by her hair while some other diners, still seated at their table, watch the scene unfold.
Outside, security cameras captured how a group of men seated at an outdoor table joined the attack, kicking the woman while she was lying helplessly on the pavement, violently pushing away another woman who tried to stop them from doing so. A fourth woman also got slapped.
In the minutes that followed, security cameras captured how the scene got more chaotic, with at least five men standing around the woman in white kicking her and smashing a bottle on her head.
After the outburst of violence, the men seemingly fled the scene, leaving the injured woman lying on the street.
But security footage that was recorded from another angle, released days after the incident, shows that after the woman was left on the street, the incident continued. One of the women could be seen running into a back alley next to the restaurant, with others following. The woman in white also stood up from the ground and ran away in the same direction.
Until the CCTV report, it remained unclear what had happened as there apparently were no security cameras in the back alley.
All that was known according to previous official media reports, was that two female victims had been sent to the hospital for treatment and were in stable condition. Two other women reportedly suffered minor injuries and were not hospitalized.
After news was released that nine suspects involved in the beating had been arrested, no further statements nor updates were given.
The silence surrounding the female victims attracted a lot of attention on Chinese social media. Many Weibo users suggested that news about the victims was purposely withheld and that people were being silenced about how the women were actually doing.
The Tangshan incident also led to more online discussions about gang-related crimes. The fact that at least five of the suspects had criminal records was a cause of anger among those who felt that they should not have been allowed to be out and about at all and that they were covered by authorities.
One former victim of a man involved in the attack also spoke out. He said he recognized one of the main suspects, Chen Jizhi (陈继志), from the security footage, claiming he was locked inside the trunk of a car for ten hours by Chen a few years prior. A hashtag related to the story received over 300 million views on June 17th (#男子称曾被陈继志等殴打险被活埋#).

"The Whole Story" by CCTV

In its news report of August 29, state broadcaster CCTV reflects on what happened during that terrible night in June and for the very first time since the incident, one of the victims (the 'woman in white') speaks out, using the pseudonym of 'Wang X.'
Wang X. clarifies that the story indeed unfolded as security cameras captured it. She did not know the man who came up to their table, and when he touched her, she made clear she did not want him to, and then the attack began.
The report clarifies that after the violent beating that occurred in front of the restaurant, the attack further continued in the alley behind the restaurant for approximately 1,5 minutes.
Wang X. says that in the alley, she was beaten again by multiple men. Before the men ran away, they threatened to kill her if she would call the police. She then fled. Online rumors about the victims being sexually assaulted by the men were denied, along with other claims that they were run over by a car.
CCTV reports that an investigation by public security officers found that Chen Jizhi and seven others have been involved in gang-related crimes since at least 2012. For years, they were involved in gang fights, illegal gambling, extortion, robberies, assault, and other criminal activities.
In one incident that occurred in 2015, Chen was involved in a conflict about a car loan with an individual by the name of Shang. Chen sent some of his guys over to Shang's residence, where they used chain locks to beat him and later locked him inside the trunk of their car.
A total of 28 people, including Chen Jizhi, were prosecuted on Monday for their involvement in the Tangshan beating.
As Hebei authorities investigated the issue, they found that some local officers protected the gangs and basically allowed them to commit more crimes by not strictly enforcing laws. At least fifteen local officials have been investigated, and eight of them were taken into custody on suspicion of abusing power, taking bribes, and forming a 'shield' for gang-related violence.

Online Responses

On Chinese social media, there have been different responses to the latest outcomes of the Tangshan incident. On one side, there are those applauding authorities for investigating the case and dealing with it in the appropriate way.
"It's very good that this matter has finally come to a conclusion after two months," some commenters write, with others saying it is a good thing that justice was served – both for the gang members as well as the officials who covered for them (serving as 'protective umbrella' '保护伞'​).
On the other side, there are also people who still think there is more to the story and that the entire system is corrupt. Some people still argue that the back alley where the incident continued must have also had security cameras, but that the footage has been intentionally hidden.
One Shandong-based Weibo user wrote:
"When I see this kind of news I sometimes see in the comment sections that there are those comments saying 'the government is already rotten to the core' and then those who refute that, saying that it's 'just a few officials who have a problem.' First a few officials in Shanghai had a problem, then a few in Tangshan, now it's a few officials in Henan, tomorrow it'll be some local officials in Shanxi… I'm sorry, but the more 'individuals' are rotten, the more the entire organization is rotten."
"I'm looking forward to the trial," another Weibo user writes: "I hope they'll be punished severely."
As for the restaurant where it all happened: it is no longer there and has moved out since late June of this year during the aftermath of the incident.
Another commenter wrote: "I just hope the girls involved will make a full recovery, both physically as well as mentally." One other person agreed, writing: "We now got some answers, and I hope people can calm down. Most of all, I hope that the women will slowly but surely heal from this experience."
By Manya Koetse 
Get the story behind the hashtag. Subscribe to What's on Weibo here to receive our weekly newsletter and get access to our latest articles:
Spotted a mistake or want to add something? Please let us know in comments below or email us. First-time commenters, please be patient – we will have to manually approve your comment before it appears.
©2022 Whatsonweibo. All rights reserved. Do not reproduce our content without permission – you can contact us at info@whatsonweibo.com.
Wilders' Win on Weibo: Hu Xijin and Others Discuss the "Dutch Trump"
Chinese netizens on Weibo have placed Wilders' victory in a broader geopolitical context.
The Dutch general elections on Tuesday, 22 November 2022, resulted in a victory for the right-wing Freedom Party (PVV). The party, established in 2006, is led by the 60-year-old Dutch politician Geert Wilders who is known for his outspoken populist rhetoric and anti-establishment sentiments.
On Chinese social media, the Dutch election outcome became a topic discussed by some well-known bloggers.
The PVV secured 37 of the 150 seats in the Second Chamber, making it the largest party by a significant margin, followed by the left-wing Groen Links-PvdA (25 seats), center-right liberal VVD (24), and the brand-new centrist party NSC (20). The remaining seats were distributed among eleven other parties, each claiming between 9 and 1 seat in the Second Chamber.
Wilders' triumph garnered international attention. As reported in 2017, the PVV's popularity had been steadily increasing for years, drawing particular notice in Chinese media and other international publications in the wake of Trump's victory and Brexit.
Dutch politician Wilders, referred to as Wéi'ěrdésī (维尔德斯 or 威尔德斯) in Chinese, became a recurring subject in Chinese media, with his success viewed as a harbinger for other elections across Continental Europe.
Wilders and his PVV are known for their strong anti-Islam stance, Euroskepticism, aspirations to significantly limit immigration, and populist commitment to "put the Dutch first."
On Weibo, the well-known Chinese political commentator Hu Xijin (@胡锡进) wrote a column about Wilders' win on November 23. Here's a translation of Hu's post:
"It shocked Europe, it shocked the West! The Freedom Party led by Wilders, the 'Dutch version of Trump,' received the most votes on Wednesday. His slogans and labels are anti-immigrant, anti-Europe, anti-Islam. The leader of the French extreme right-wing political party Le Pen immediately extended his congratulations through social media."
"The results of the Dutch elections again show that xenophobic and intolerant political retrogressions are like cancer cells spreading across Europe and the West. However, the far-right line will not become the overwhelming new political choice in the West, as many Western societies are painfully going from side to side. Wilders also proposes that the Netherlands should stop providing weapons to the Ukraine, which goes against the mainstream European line. This is something that should be quite popular among Chinese."
"It's not clear yet if Wilders will actually become the premier of the Netherlands. Although his party received the most votes he only took about 37 seats of the 150 seats in the Dutch House of Representatives and will need to form a coalition government. Because it's an extreme rightwing party, whether or not he will be able to pull allies in is hard to say. If Wilders fails, the Netherlands will not rule out a minority government."
"Regardless, the victory of the Freedom Party is a heavy blow to Europe. There are concerns that it will become a model, that it will boost the rise of other extreme right-wing parties on the stage. In short, the West is becoming more and more chaotic and is becoming more lost."
On Weibo, Hu Xijin's post about Wilders received hundreds of replies, but many netizens did not agree with his stance on the victory of the Dutch right-wing party.
"You don't represent the Chinese people," one commenter wrote: "You just represent yourself. Don't overstep your boundaries."
"You're actually so leftist underneath," another reply said.
"Why did we witness a UK 'Trump,' a Brazilian 'Trump,' an Argentinian 'Trump,' a Dutch 'Trump'?"
Among the numerous comments below Hu's post, quite a few expressed sympathy for the populist stance advocated by PVV and Wilders. One popular comment reads, "Anti-immigration, anti-EU, anti-Islamic—sounds about right?" "Europe is waking up."
Another person commented: "Over the past couple of years, the population of Muslim immigrants in Europe and the United States has been rapidly expanding, bringing about serious social problems when it comes to public security, employment, fertility rates, and religious beliefs etc., which has since long been a source of distress for the local population."
Apart from Hu's post, Chinese netizens elsewhere on Weibo have also placed Wilders' victory in a broader geopolitical context. Blogger Xiaosunchu (@小笋初) writes, "Why did America have Trump? Why did we witness a UK 'Trump,' a Brazilian 'Trump,' an Argentinian 'Trump,' a Dutch 'Trump,' and so on – all these non-traditional, anti-establishment 'crazy' candidates?"
According to Xiaochunchu, the election of these kinds of political figures is a result of a so-called 'democratic illusion' ("民主幻觉") in the West, in which voters are perpetually disappointed in politicians as they end up getting "a different broth but the same old medicine" ("换汤不换药"): the names may change, but the system does not, leading voters to blame themselves for picking the wrong candidates when, in reality, it's actually deep-rooted political structures that prevent actual change from happening.
Regardless of whether others agree with Xiaochunchu's idea that voters' preference for unconventional political figures is linked to a 'democratic illusion,' many do acknowledge that 'Trump-style' politics represents a broader political trend that began with the election of Donald Trump in 2016.
Other bloggers called the election of different 'Trumps' a "new change in global democratic politics" and even labeled the current international political arena the "Trump era" ("特朗普时代"). "Who's next?" one Weibo user wonders.
"Let's wait and see," other people write, "It might not be easy for him to form a cabinet."
While the Dutch formation has begun, the world will be watching to see which parties will govern together and whether Wilders might become the next Dutch Prime Minister, and the so-called 'next Trump.'
Also read: Chinese Reactions on Wilders and "The Rise of the Right"
By Manya Koetse
Get the story behind the hashtag. Subscribe to What's on Weibo here to receive our newsletter and get access to our latest articles:
Spotted a mistake or want to add something? Please let us know in comments below or email us. First-time commenters, please be patient – we will have to manually approve your comment before it appears.
©2023 Whatsonweibo. All rights reserved. Do not reproduce our content without permission – you can contact us at info@whatsonweibo.com.
Tick, Tock, Time to Pay Up? Douyin Is Testing Out Paywalled Short Videos
Is content payment a new beginning for the popular short video app Douyin (China's TikTok) or would it be the end?
The introduction of a Douyin novel feature, that would enable content creators to impose a fee for accessing their short video content, has sparked discussions across Chinese social media. Although the feature would benefit creators, many Douyin users are skeptical.
News that Chinese social media app Douyin is rolling out a new feature which allows creators to introduce a paywall for their short video content has triggered online discussions in China this week.
The feature, which made headlines on November 16, is presently in the testing phase. A number of influential content creators are now allowed to 'paywall' part of their video content.
Douyin is the hugely popular app by Chinese tech giant Bytedance. TikTok is the international version of the Chinese successful short video app, and although they're often presented as being the same product, Douyin and Tiktok are actually two separate entities.
In addition to variations in content management and general usage, Douyin differs from TikTok in terms of features. Douyin previously experimented with functionalities such as charging users for accessing mini-dramas on the platform or the ability to tip content creators.
The pay-to-view feature on Douyin would require users to pay a certain fee in Douyin coins (抖币) in order to view paywalled content. One Douyin coin is equivalent to 0.1 yuan ($0,014). The platform itself takes 30% of the income as a service charge.
According to China Securities Times or STCN (证券时报网), Douyin insiders said that any short video content meeting Douyin's requirements could be set as "pay-per-view."
Creators, who can set their own paywall prices, should reportedly meet three criteria to qualify for the pay-to-view feature: their account cannot have any violation records for a period of 90 days, they should have at least 100,000 followers, and they have to have completed the real-name authentication process.
On Douyin and Weibo, Chinese netizens express various views on the feature. Many people do not think it would be a good idea to charge money for short videos. One video blogger (@小片片说大片) pointed out the existing challenge of persuading netizens to pay for longer videos, let alone expecting them to pay for shorter ones.
"The moment I'd need to pay money for it, I'll delete the app," some commenters write.
This statement appears to capture the prevailing sentiment among most internet users regarding a subscription-based Douyin environment. According to a survey conducted by the media platform Pear Video, more than 93% of respondents expressed they would not be willing to pay for short videos.
"This could be a breaking point for Douyin," one person predicts: "Other platforms could replace it." There are more people who think it would be the end of Douyin and that other (free) short video platforms might take its place.
Some commenters, however, had their own reasons for supporting a pay-per-view function on the platform, suggesting it would help them solve their Douyin addiction. One commenter remarked, "Fantastic, this might finally help me break free from watching short videos!" Another individual responded, "Perhaps this could serve as a remedy for my procrastination."
As discussions about the new feature trended, Douyin's customer service responded, stating that it would eventually be up to content creators whether or not they want to activate the paid feature for their videos, and that it would be up to users whether or not they would be interested in such content – otherwise they can just swipe away.
Another social media user wrote: "There's only one kind of video I'm willing to pay for, and it's not on Douyin."
By Manya Koetse
Get the story behind the hashtag. Subscribe to What's on Weibo here to receive our newsletter and get access to our latest articles:
Spotted a mistake or want to add something? Please let us know in comments below or email us. First-time commenters, please be patient – we will have to manually approve your comment before it appears.
©2023 Whatsonweibo. All rights reserved. Do not reproduce our content without permission – you can contact us at info@whatsonweibo.com.
Subscribe to our newsletter
Stay updated on what's trending in China & get the story behind the hashtag
Sign up here to become a premium member of What's on Weibo today and gain access to all of our latest and premium content, as well as receive our exclusive Weibo Watch newsletter. If you prefer to only receive our free newsletter with an overview of the latest articles, you can subscribe for free here.
Would you like to become a contributor, or do you have any tips or suggestions for us? Get in touch with us here.