From Peaches to Pears: 3 Natural Food Remedies Trending on Chinese Social Media in Times of Covid Outbreak
Even though experts suggest that natural food remedies won't prevent or cure Covid, Chinese netizens believe in the power of peaches.
Coughing, fever, sore throat; during China's current Covid outbreak, the ways to alleviate the most common symptoms have become an everyday topic on Chinese social media. Food remedies are a recurring trending topic. Here are three natural food remedies that have become popular (again) over the past few weeks.
In December of 2022, during the rapid spread of Covid-19 across China after the country let go of its 'zero Covid' policy, fever and cough medicine were selling out fast. Some Covid patients turned to foods and drinks to help soothe Covid symptoms.
The following types of food have become especially popular on Chinese social media over the past few weeks.
1. Canned Yellow Peaches (黄桃罐头)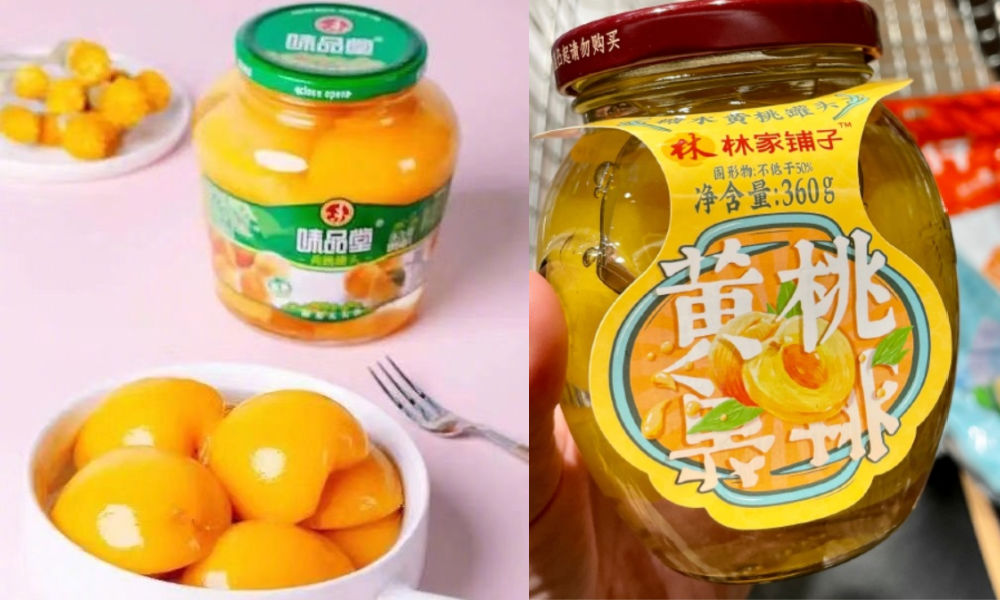 In December, when the number of Covid-19 infections spiked throughout China, canned yellow peaches suddenly received significant attention. Under the Weibo hashtag "Canned Yellow Peaches, the Mysterious Power from the East" (#东方神秘力量黄桃罐头#), netizens shared how canned yellow peaches helped them recover from Covid-19, describing it as "the god of children from Northeastern China" that "blessed every Northeastern Chinese child." Some even joked that the government should include canned yellow peaches in the public health insurance package.
Although many state media quoted experts' claims that canned yellow peaches cannot fight Covid-19 symptoms and might even worsen coughing, most netizens still believe in the power of peaches.
While most people acknowledge that natural food remedies aren't always effective, they are seemingly unanimously against the "experts' advice." Under Pengpai News' Weibo post and hashtag "Experts Claim Canned Yellow Peaches Might Worsen Cough" (#专家称黄桃罐头或加重咳嗽#)," some Weibo users commented that experts would not dare to discuss the supposed ineffectiveness of Lianhuaqingwen (traditional Chinese medicine that has become hot-selling during Covid outbreak) and thus criticize canned peaches instead.
Another commenter wrote: "Who would actually believe that canned yellow peaches can cure diseases? It is just like a placebo when we're sick."
One popular image compared the effectiveness of canned yellow peaches and Lianhuaqingwen. According to the image, the former is tasty and hydrates, while also containing electrolytes and calories and serving as comfort food to people, whereas the latter is only capable of potentially having side effects for the kidney and liver.
Canned yellow peaches are a nostalgic comfort food, especially for people from Northeastern China. For the generations growing up during the 1970s and 1980s, canned yellow peaches are known as a 'cure-all.' In an era of food scarcity, canned yellow peaches were a sweet luxury that most children could only get when they were ill.
One commenter on Q&A platform Zhihu wrote: "Eating canned yellow peaches is a ritual." Other netizens shared their childhood memories about the food – one commenter recalled how eating canned yellow peaches at the hospital after a car accident left a deep impression on them.
Moreover, the name of the food has also come to be associated with recovering from Covid. As the character '桃' (peach) sounds the same as the character '逃' (escape), eating canned yellow peaches is also jokingly used in the context of 'escaping' from the epidemic.
2. Steamed Orange with Salt (盐蒸橙子)
Another food that gained popularity during the Covid-19 outbreak is steamed orange with salt, which is considered a more medicinal food remedy than canned yellow peaches. The food has since long been used as a Chinese folk prescription for sore throat. The widespread Covid-19 symptom of severe sore throat, sometimes also described as "swallowing blades" (喉咙吞刀片)," has made the folk prescription popular again.
Here is the cooking procedure according to many online posts: wash and soak the orange in salted water; cut the orange at ⅕ point from the top; spread ⅓ spoon of salt onto the remaining ⅘ oranges; put two parts of the orange together and steam (steaming time varies between posts from 20 min up to two hours); eat the orange with the peel and the rest of the water.
Contrary to canned yellow peaches, experts have acknowledged the benefits of eating salt-steamed oranges. According to a post released by Youth Hunan (青年湖南), the official Weibo account of the Communist Youth League of Hunan Province, some 'experts' state that the peel of salt-steamed oranges help alleviate discomforts in the throat, and the vitamin C can prevent and alleviate viral infections. In reports by other mainstream media, such as CCTV News, it is also claimed that salt-steamed oranges might be helpful, and that the salt can make the natural sugar taste sweeter.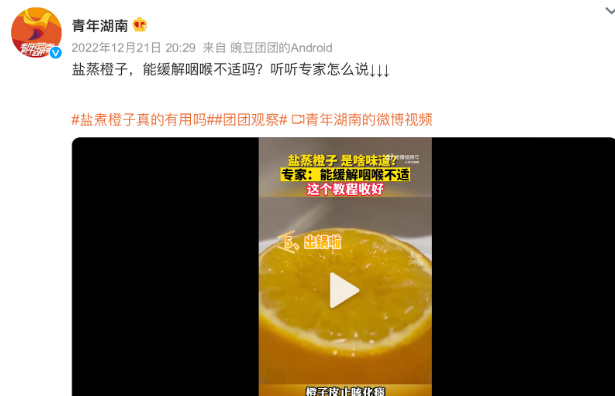 However, steamed oranges with salt are not as beloved among the public as canned yellow peaches. People's comments on the effectiveness of salty steamed oranges vary. Some share that they stopped coughing after eating them, while others criticize it as having "no use at all," or even exacerbating the pain.
Despite the disagreement on its effectiveness, most Weibo posts agree that steamed oranges with salt are just "not tasty" at all. Contrary to the CCTV report that suggested that salt brings out the sweetness of oranges, many describe the food as extremely bitter and sour to the extent of "crying while eating."
In online discussions about steamed oranges with salt, the distrust in expert opinions surfaced again. Although experts claim that the food is beneficial and alleviates symptoms, some netizens seem annoyed that it does not do anything for them at all: "I've been eating this for three days, not a damn change and it tastes disgusting."
3. Stewed Pear with Rock Sugar (冰糖炖梨)
Besides canned yellow peaches and salty steamed oranges, many other kinds of food and folk prescriptions have also become trends during the Covid-19 outbreak. There's salt-steamed lemons (盐蒸柠檬), boiled scallion water (葱白煮水), roasted oranges (烤橘子), white radish soup (萝卜汤), honeysuckle chrysanthemum tea (金銀花菊花茶) or brown sugar ginger tea (红糖姜茶), which is also commonly used to alleviate menstrual pain.
Among them, you'll also find stewed pear with rock sugar (冰糖炖梨), which is commonly eaten to alleviate symptoms like sore throat and coughing as well reducing excessive phlegm. Many netizens indicate that it is something their parents made for them, and that it is sweet, warm, and comforting.
Recipes vary, but the pears, generally yellow pears (雪梨), can be either cooked or boiled and its core is then removed and filled with rock sugar as well as other optional ingredients, such as Chinese dates, dried Goji berries, or Sichuan peppers (see a recipe here).
Despite many people expressing their love for stewed pear with rock sugar, a recent article by the Taiwanese 'Health 2.0' site claimed that the food remedy is somewhat outdated as other ingredients are supposedly more effective against a persistent cough, such as daikon (combined with honey, rock sugar), which is also used as a home remedy for its antibacterial properties.
The advantages of many foods and folk prescriptions are still up for debate. However, recent related online discussions show that the comfort or even the placebo effect of certain food remedies are very important in the Covid-19 experience of many Chinese people. Some are 100% sure they work.
"One bite and it instantly made me feel better," one commenter wrote about their homemade stewed pear. Some people admit they do not necessarily even mind if it really alleviates their symptoms or not: "It's just so tasty!"
By Zilan Qian
with contributions by Manya Koetse
Follow @WhatsOnWeibo
Get the story behind the hashtag. Subscribe to What's on Weibo here to receive our newsletter and get unlimited access to all of our articles:
Spotted a mistake or want to add something? Please let us know in comments below or email us. First-time commenters, please be patient – we will have to manually approve your comment before it appears.
©2023 Whatsonweibo. All rights reserved. Do not reproduce our content without permission – you can contact us at info@whatsonweibo.com.
The "Final Round Players" of China's Covid Outbreak
Those who still haven't had Covid have made it to the "finals," but it's not always easy to stay positive about still testing negative.
This Chinese Lunar New Year period, as millions of people are traveling across the country, Hangzhou Daily (杭州日报) posted a video on Weibo of a 13-year-old boy dressed in full protective clothing at the Hangzhou train station.
The young man told the reporter that he was on his way to visit his grandparents for the Chinese New Year. When asked why he was dressed in protective clothing from head to toe, he answered: "Because I haven't had Covid yet."
According to the video posted by Hangzhou Daily, the boy has made it to the "Final Rounds" (决赛圈) as he has managed to stay Covid-negative at a time when so many people have already been infected with Covid-19 (#挺进决赛圈的男孩穿防护服坐火车#).
Since China 'optimized' the last stringent measures of its 'Zero Covid' policy back in early December – including an end to mandatory mass testing, – a wave of Covid infections spread across the country. The number of infections and emergency department visits reportedly reached its peak in late December of 2022 and in early January of 2023.
According to Wu Zunyou (@吴尊友ChinaCDC), chief epidemiologist of the Chinese Center of Disease Control and Prevention, 80 percent of China's population has now been infected with Covid ("这一波疫情已经使得全国约80%的人感染过").
As it is getting rarer to come across someone who has not had Covid yet, travelers dressed in full hazmat suits and protective gear are bound to stand out. "So many people on the train, and there are still two people in the crowd wearing protective clothing," one Weibo user from Guangdong wrote. Others also post photos on social media of some of the few travelers still fully dressed in protective gear.
One blogger photographed a child wearing protective clothing at Chongqing West Station on Jan. 24, calling the protective attire "exaggerated," and wondering how the child was supposed to go to the toilet.
Hangzhou Daily is not the only media outlet dubbing those who managed to stay negative "final round players" (决赛圈选手). In early January, Beijing Daily (北京日报​​​​) and People's Daily (人民日报) also published a short article using the same phrase. In the article, the Beijing expert physician Dr. Li Dong (李侗) answered some questions about the so-called 'finalists.'
According to Dr. Li Dong, some of the people who claim to have managed to stay 'Covid free' were never infected due to protective measures. But there are also those who may have actually had Covid-19 without realizing it, as they barely had any symptoms or were completely asymptomatic.
"Final round players, protect yourself!" one Weibo commenter writes: "Who else has managed to reach these finals?"
"As a 'final player,' I finally went out to eat and visit the shopping mall today. I'll have to wait and see if I reach the championship level. If I haven't caught [Covid], I can go on and lead a normal life; if I did catch it, I'll need to wait a while, and will also be able to lead a normal life."
Other persons who did not have Covid yet also share on social media that they went out for the first time during this Spring Festival period: "I cautiously went out and saw my first movie in 2023, Wandering Earth II, I picked a morning screening so that the cinema is not so crowded yet."
Now that the Covid infections in China have peaked and the number of infected critically ill patients is quickly dropping, the fears over catching Covid are also seemingly fading among those who were not yet infected.
But some people who have not had Covid yet are still being careful, especially if it concerns elderly family members. It's not always easy to stay positive about still testing negative – also for loved ones who did previously have Covid and want to protect their family.
One Fujian-based social media user writes: "I recovered from Covid and I'm spending the Spring Festival with three 'final round players.' We've been stuck inside the house for days. I've been looking at the lanterns and the lights in the neighborhood, watching them from the balcony, and I really wanted to go down and see."
"Looking at WeChat Moments, all my friends are out traveling, but my family still hasn't had Covid and we're afraid to go out," another netizen writes: "It's sad to celebrate the New Year without going out. Guess we're final-round players now, let's hope it brings good things."
Meanwhile, the group of 'finalists' is still shrinking. One Weibo user from Guangxi wrote: "I've left the finalist circle. It's only been two days since I returned to my hometown and I'm already infected."
By Manya Koetse 
Get the story behind the hashtag. Subscribe to What's on Weibo here to receive our newsletter and get access to our latest articles:
Spotted a mistake or want to add something? Please let us know in comments below or email us. First-time commenters, please be patient – we will have to manually approve your comment before it appears.
©2023 Whatsonweibo. All rights reserved. Do not reproduce our content without permission – you can contact us at info@whatsonweibo.com.
Video Shows Real-Time "Departure" Information Board at Chinese Crematorium
From "cremation in process" to "cooling down," the digital display shows the progress of the cremation to provide information to those waiting in the lobby. The crematorium 'departure' board strikes a chord with many.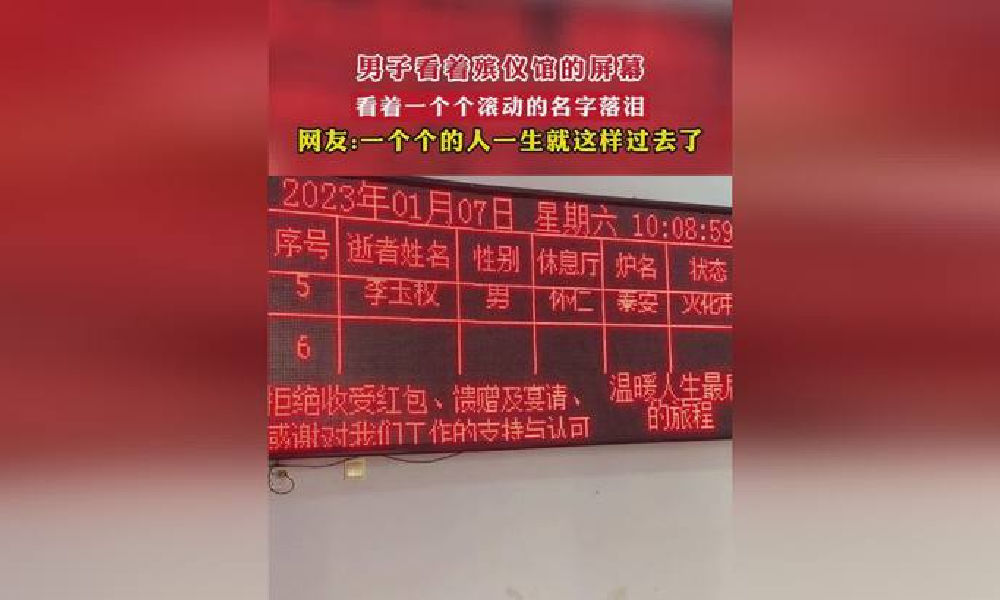 A video showing a live display screen announcing the names and status of the deceased at a Yunnan crematorium has been making its rounds on Chinese social media, from WeChat to Weibo, where one version of the video received over 1,7 million views.
Somewhat similar to a real-time platform departure display on train stations, the screen shows the waiting number of the deceased person, their name, gender, the name of the lounge/room (if any) for families, the name of the crematorium chamber, and the status of the cremation process. Below in the screen, it says "the final journey of a warm life" (温暖人生的最后旅程).
For example, the screen displays the names of a Mr. Chen and a Mr. Li; their bodies were in the process of being cremated (火化中), while other cremations were marked as "completed" (完成) or "cooling down" (降温中).
This video of a real-time "departure" information board in the lobby of a Chinese crematorium is making its rounds on Weibo/Wechat these days. The display shows the name and gender of deceased, which cremation chamber, and the cremation status to inform families of the progress. pic.twitter.com/EA94OWGwdk

— Manya Koetse (@manyapan) January 16, 2023
Through such a screen, located in the crematorium lobby, family members and loved ones can learn about the progress of the cremation of the deceased.
The video, recorded by a local on Jan. 7, received many comments. Among them, some people commented on the information board itself, while others simply expressed grief over those who died and the fragility of life. Many felt the display was confronting and it made them emotional.
"It makes me really sad that this how people's lives end," one commenter said, with another person replying that the display also shows you still need to wait in line even when you're dead.
"I didn't expect the screens [in the crematorium] to be like those in hospitals, where patients are waiting for their turn," another Weibo user wrote. "It would be better if the names were hidden, like in the hospitals, to protect the privacy of the deceased," another person replied.
Others shared their own experiences at funeral parlors also using such information screens.
"My grandfather passed away last September, and when we were at the undertaker's, the display was also jumping from one name to the other and we could only comfort ourselves knowing that he was among those who lived a relatively long life."
"Such a screen, it really makes me sad," another commenter from Guangxi wrote, with others writing: "It's distressing technology."
Although the information screen at the crematorium is a novelty for many commenters, the phenomenon itself is not necessarily related to the Covid outbreak and the number of Covid-related deaths; some people share how they have seen them in crematoriums before, and funeral parlor businesses have used them to provide information to families since at least 2018.
According to an article published by Sohu News, more people – especially younger ones – have visited a funeral home for the first time in their lives recently due to the current Covid wave, also making it the first time for them to come across such a digital display.
The online video of such an information board has made an impact at a time when crematoriums are crowded and families report waiting for days to bury or cremate their loved ones, with especially a large number of elderly people dying due to Covid.
On Jan. 4, one social media user from Liaoning wrote:
"I really suggest that the experts go to the crematoriums to take a look. There is no place to put the deceased, they're parked outside in temporary containers, there's no time left to hold a farewell ceremony and you can only directly cremate, and for those who were able to have a ceremony, they need to finish within ten minutes (..) At the funeral parlor's big screen, there were eight names on every page, and there were ten pages for all the people in line that day, I stood there for half an hour and didn't see the name of the person I was waiting for pop up anymore."
As the video of the display in the crematorium travels around the internet, many commenters suggest that it is not necessarily the real-time 'departure' board itself that bothers them, but how it shows the harsh reality of death by listing the names of the deceased and their cremation status behind it. Perhaps it is the contrast between the technology of the digital display boards and the reality of the human vulnerability that it represents that strikes a chord with people.
One blogger who reposted the video on Jan. 13 wrote: "Life is short, cherish the present, let's cherish what we have and love yourself, love your family, and love this world." Among dozens of replies, some indicate that the video makes them feel uncomfortable.
Another commenter also wrote:
"I just saw a video that showed an electronic display at a crematorium, rolling out the names of the deceased and the stage of the cremation. One name represents the ending of a life. And it just hit me, and my tears started flowing. I'm afraid of parting, I'm afraid of loss, I just want the people I love and who love me to stay by my side forever. I don't want to leave. I'm afraid I'll be alone one day, and that nobody will ever make me feel warm again."
One person captured why the information board perhaps causes such unease: "The final moments that people still spent on this earth take place on the electronic screen in the memorial hall of the funeral home. Then, they are gone without a sound."
Get the story behind the hashtag. Subscribe to What's on Weibo here to receive our newsletter and get unlimited access to all of our articles:
By Manya Koetse 
with contributions by Zilan Qian
Spotted a mistake or want to add something? Please let us know in comments below or email us. First-time commenters, please be patient – we will have to manually approve your comment before it appears.
©2023 Whatsonweibo. All rights reserved. Do not reproduce our content without permission – you can contact us at info@whatsonweibo.com.