Growing Discontent on Chinese Social Media over Harsh Measures: "Why Can't China Ease Covid Restrictions?"
Some say this year is not 2022 but "2020too", suggesting that everything has gone back to the initial stage of the Covid outbreak.
As China is seeing its biggest surge in Covid cases since 2020, official media channels are emphasizing the need to stick to China's zero-covid approach. But many on social media are increasingly dissatisfied with the harsh measures and wonder if this is still the best way forward.
As Omicron is spreading throughout mainland China, mass testing, strict quarantine rules, and lockdowns have become part of daily life again. As discontent about the lockdowns has recently been growing on Chinese social media, the hashtag "Why Can't China Lift Safety Measure Just Like Foreign Countries?" (#中国为什么不能像国外一样取消防疫措施#) is top trending on social media platform Weibo, where it had received over 490 million views on Wednesday.
The hashtag was initiated by Chinese economic news outlet National Business Daily (每日经济新闻) in light of a recent CCTV interview with renowned epidemiologist Liang Wannian (梁万年), a strong advocate of China's dynamic zero-Covid strategy and the leader of China's Covid-19 expert panel. A fragment of the interview went viral on Chinese social media, receiving over 140,000 likes on Weibo alone.
In the interview, Liang responded to a question about many foreign countries recently easing Covid safety measures or removing them altogether, posing a stark contrast to China where new local outbreaks – China reported 37,000 cases this month – are met with an ongoing pursuit of 'zero Covid.' How much longer can China keep up its strategy?
According to Liang, protection of the people comes first for China, epitomized by Xi Jinping's now-famous "put people and their life first" slogan ("人民至上,生命至上"). Unlike some other countries, China has not chosen for a strategy where restrictions are removed and Covid is no longer seen as a critical threat to society. Protecting the people is more important than a so-called 'herd immunity,' Liang says. If the virus would run its course, people would suffer – especially the elderly and the vulnerable. Instead, China is sticking to its strict measures and meanwhile is increasing its vaccination rates and winning more time for more research and development of Covid-19 treatment.
Liang's comments, which emphasize that China's current strategy is the best choice for the people and the country, send out a different message than the remarks recently made by Jiang Rongmeng (蒋荣猛). Jiang, vice-president of Beijing's Ditan Hospital, said in an interview that Omicron infections were milder than a common flu and "more like a cold." That interview later seemed to be censored on social media, with some people questioning China's strict measures for the outbreak of something "like a cold."
Although many people on Chinese social media are fully supporting China's zero-Covid approach, the discussions triggered by the "Why Can't China Lift Safety Measure Just Like Foreign Countries?" hashtag are also heavily controlled. Over the past months, China's Covid policy has seen more online criticism.
Shifting Online Sentiments
Since the outbreak of the novel coronavirus in Wuhan in late 2019, China's success in controlling the spread of the virus has been praised by many. The cost of keeping Covid-19 cases close to 'zero' was met with a lot of understanding and approval from netizens, such as when the city of Chengdu entered 'wartime mode' in December of 2020 after seven domestic Covid-19 were detected; or when eleven million residents of Shijiazhuang were banned from leaving the city and had to undergo tests in January of 2021; or when Shanghai Disneyland closed its doors in November of 2021 and 34,000 visitors needed to be tested after a single Covid case among the public, and so on.
But by late December of 2021 and early January of this year, online sentiments seemed to shift as the country saw an increase in local outbreaks while authorities still tried to wipe out all traces of Covid-19, especially in light of the 2022 Beijing Olympics.
Online criticism of China's extreme efforts to contain Covid-19 also came earlier, in November of 2021, when a pet dog was killed by epidemic prevention workers in the city of Shangrao while its owners were being quarantined. People were outraged and blamed the Shangrao government for its seemingly indifferent response to the incident.
The strict lockdown in the city of Xi'an, beginning on December 22nd of 2021, triggered anger and disbelief online over the way in which local authorities were managing the Covid-19 outbreak and the lockdown itself. Many residents dealt with food shortages, some were forced to leave their homes for quarantine in the middle of the night, and others dealt with the consequences of a lack of an efficient and speedy response to people's need for urgent medical care.
After one pregnant woman suffered a miscarriage in front of the hospital gate – she was not allowed to enter due to nucleic acid test procedures – the public's anger reached a boiling point. Although the hospital in question later apologized, the anger did not subside. "Are we really fighting this epidemic to save lives?," one popular blogger wrote at the time.
When another pet dog was beaten to death by health workers in early March of 2022 in the city of Huizhou, many were outraged that such an incident could happen again: "This epidemic has been going on for several years, why does this keep happening? First Shangrao, now Huizhou. It's heartbreaking."
Shortly after the Huizhou dog incident, footage showing chaotic scenes at the Shanghai Sixth People's Hospital circulated online. The hospital was sealed after a patient tested positive for Covid. Nurses who allegedly felt they were not given enough protective measures to treat Covid-19 patients were still forced to work, leading to actual physical altercations between medical workers. One post about the incident received over 143,000 likes on Weibo, with some calling the incident "shameless."
It seems that the Canton Fair Complex was definitely not the place you'd want to be at last Friday, as everyone got stuck there and needed to get tested after one or more visitors were suspected of having covid (red qr code). pic.twitter.com/mm97JFNJFs

— Manya Koetse (@manyapan) March 14, 2022
On March 11, thousands of people got stuck at the China International Beauty Expo (CIBE) in the Canton Fair Complex (广交会展馆), and needed to get tested after a member of staff tested positive for Covid. After videos showed a mass of people in one of the halls, more netizens were openly questioning if this is the right way forward for China's Covid approach.
China's '2020too'
As mainland China is now facing its worst Covid-19 outbreak since the height of the pandemic in 2020, people in Shanghai, Shenzhen, and other affected regions are again facing tough restrictions in light of the battle against the virus.
One Weibo user recommended Shanghai residents to keep a "go bag" at hand with a toothbrush, an extra pair of underwear and socks, and some small blankets or sleeping bags just in case they get stuck at work or elsewhere due to the Covid measures – one Zhengzhou woman was recently quarantined inside a hotpot restaurant for three days.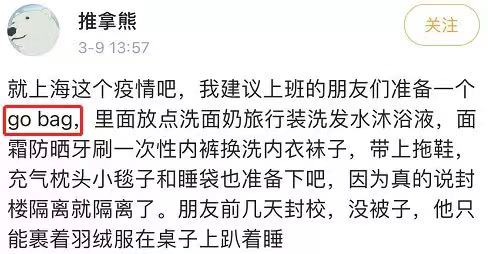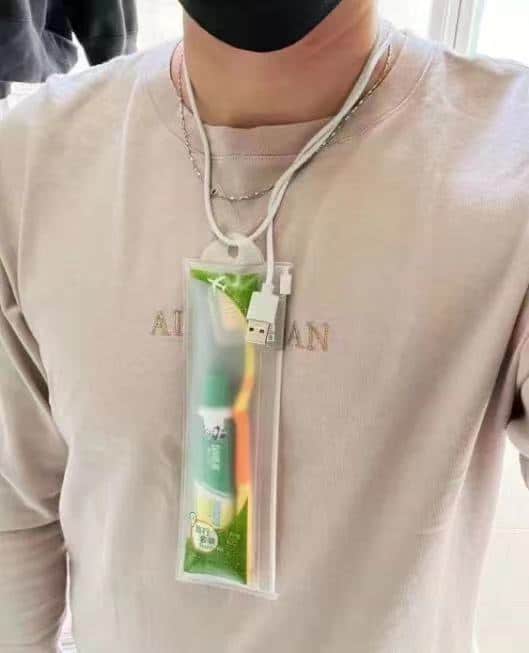 Due to the increase in temporary, local lockdowns, some on WeChat and Weibo have dubbed this year as China's "2020too" – a wordplay on the English pronunciation of "2022" -, saying that it sometimes feels as if everything has gone back to the initial stage of the Covid outbreak back in 2020. "I find it so hard to believe that the 2022 I was looking forward to has turned into another 2020 [2020too]," one Weibo user writes.
A social media post by a Shanghai resident who tested positive for Covid-19 has also triggered discussions regarding China's Covid-19 approach. In the lengthy post titled "A Shanghai Resident's Covid Records" ("一个上海居民的新冠记录"), the Weibo user nicknamed 'Hemuch' described the utter chaos and inconvenience of staying at a central quarantine location for a few days.
'Hemuch' tested positive for Covid19 during a community test round on March 18. Although they did have a fever that day, it was gone the next day. When Hemuch tested positive again on the 19th, they were bombarded with calls from various health workers regarding quarantine but did not receive clear information on where they were going or what they needed to prepare. On the morning of the 20th, they were eventually transferred to quarantine at a local hospital together with other people who tested positive. 'Hemuch' describes how on the 23rd of March, after four days, not a single doctor or nurse has come to check on the patients: no tests, no temperature checking, no medication. A 90-year-old patient suffering from high blood pressure who stayed in the same room allegedly also did not receive proper care nor her prescribed drugs. The Shanghai resident further writes that their mother, who also had to be isolated, was sent to another hospital where there were no beds – she spent the first night on the floor in the hallway.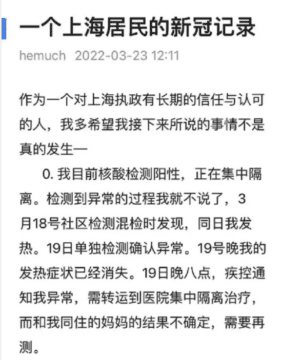 The social media post triggered many questions. Why were asymptomatic patients sent to a hospital where not only they were not receiving care, but actually were worse off than in their own home? Why were people with no symptoms, or minor ones, taking up the hospital beds of people who actually need life-saving care? "Can we alleviate the pressure of this 'social epidemic'?", 'Hemuch' wondered.
Another person responded to the post (update: now censored): "Medical resources are being wasted. Other patients can't normally see a doctor. Healthcare workers are exhausted. Entire neighborhoods where people are not testing positive are locked down for days. So many people are losing their jobs because shops are closed."
"This epidemic is turning people crazy, really! One policy hasn't even become clear before the next policy is issued, new policies keep getting introduced and are updated all the time!" Another commenter asks: "How many years have passed? What's the difference between now and 2020?"
United in the Fight Against Covid19?
The growing discontent on Chinese social media is being met with increased efforts by state media and official channels to promote China's Covid strategy and ease existing concerns. Expert views from Liang Wannian or renowned doctor Zhang Wenhong (张文宏) are specifically pushed forward by Chinese media, emphasizing that the potential death toll of relaxing Covid measures would be too high and that China cannot afford to "lie flat" ("躺平") and let the virus run its course.
Weibo as a platform is also actively promoting a positive attitude regarding China's fight against the virus and is updating posts directly related to concerns about local Covid measures.
One example is the post below by a Shanghai resident, where the author describes that they are in a locked-down compound and cannot get an ambulance for their father who needed urgent care. Weibo later added a sticky bar to the post with an update saying that the father, albeit hours later, was finally admitted to a local hospital.
While calls for easing existing measures are growing, there are also many netizens who still strongly support China's Covid-19 approach.
"I don't understand why you would want to remove the epidemic measures? Open it all open, ignore everything and just live with virus, are you kidding me? The only reason why you think that Covid19 is not serious or Omicron isn't scary at all is because of the existing measures," one popular Weibo blogger writes (@柠檬王同学): "It would be a mess if we'd let go of the measures. The mortality of Covid might be low, but who knows how many after-effects it will bring? Isolate, isolate, isolate – not because it is good for you but because it's good for everyone."
Another sentiment expressed by many is that there is no universal approach to the pandemic, but that every country needs to figure out its own way of dealing with the Covid crisis – and that China is tackling the epidemic situation in the way that suits China best.
Since there seems to be growing polarization between those who support China's strict anti-Covid measures and those who think the measures should be eased, various commenters jokingly suggest the following solution: "Why don't we lock up the people who don't support a lifting of the lockdown measures together, so that the people who support an end to the lockdown can resume their regular life?"
Others think that, even if the restrictions would be eased and measures would be lifted, there is still a long road ahead: "The epidemic situation, the air crash, the war, international relations …… after three years of experiencing all these things, people's emotions are reaching a boundary point. I can imagine that once all of this is over, there is still a long psychological and spiritual struggle waiting for us."
By Manya Koetse
With contributions by Miranda Barnes
Featured image via Weibo.
Spotted a mistake or want to add something? Please let us know in comments below or email us. First-time commenters, please be patient – we will have to manually approve your comment before it appears.
©2022 Whatsonweibo. All rights reserved. Do not reproduce our content without permission – you can contact us at info@whatsonweibo.com.
Weibo Discussions: What is the Way Forward for China's Zero-Covid Policy?
Political commentator Hu Xijin about China's zero-Covid Policy: " This fight is bound to be like navigating a boat against the current."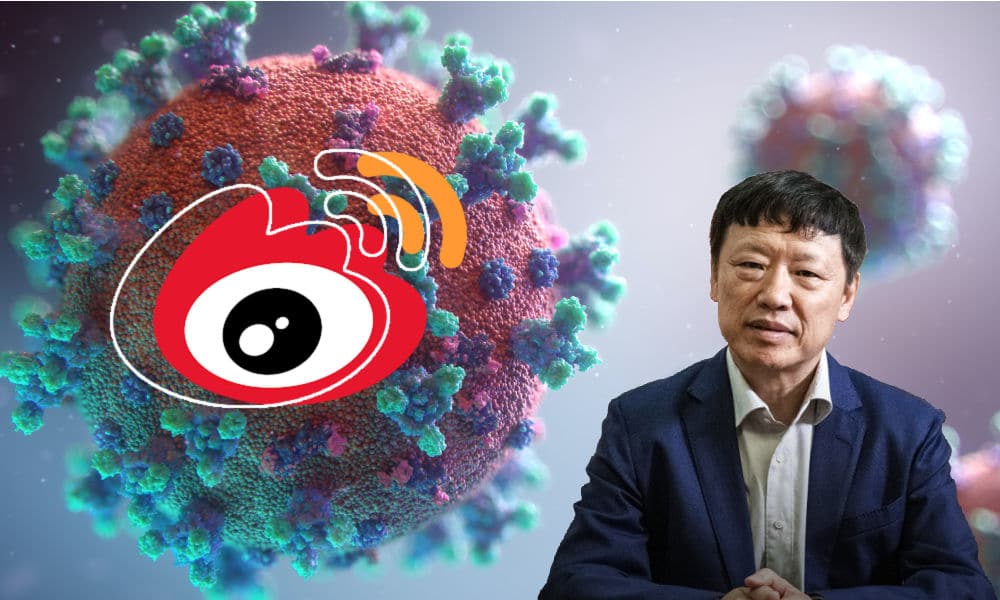 Over the past few weeks, while various regions across China have been dealing with a surge in new Covid cases and ongoing local lockdowns, there have been more online discussions regarding the future of China's zero-Covid policy.
Facing another local outbreak and lockdown, people in Shenzhen's Shawei in the city's Futian District clashed with local officers on September 26. People were chanting: "Lift the Covid lockdown!"
The well-known Chinese political commentator Hu Xijin (@胡锡进), former editor-in-chief of state tabloid Global Times, published a lengthy post on his Weibo account on Monday, focusing on the current discussions surrounding China's Covid policies.
In his post, Hu explained the perspectives of people on both sides of the Covid debate, and why many people want China to 'open up' while there are also those who are still defending China's prevention and control measures to contain the virus.
Hu also argued that more experts should come forward with suggestions and views based on science in order for the online discourse to focus more on science and rationality rather than letting the discussions be dominated by loud voices on social media.
This is a (loose) translation of the full text in Hu Xijin's post (translation by What's on Weibo):
"The epidemic has had an influence on all Chinese people, and it has affected the face of China's current economic and social operations in all areas. Recently, however, there have been fewer reasonable discussions on epidemic prevention policies. Many experts have gone silent while the slogans thrown around on the internet are increasing, and they're all opposing each other. This public opinion environment is evidently not constructive regarding China's next steps in the fight against the epidemic, and it certainly doesn't help to create a realistic response to the continuous changes in the epidemic."
"I'm not an epidemic expert, but I hope to contribute by promoting rational discussions on epidemic prevention. Let me first go through the two main types of views right now of those calling for "liberalization" and those opposing it."
"The view of the "liberalization" group: it has been proven that Omikron and its variants simply cannot be contained, and there is overwhelming evidence that these variants already have a lower mortality rate than influenza. Lockdowns in various areas, especially the long ones, severely restrict people's freedom and are detrimental to physical and mental health. The constant "static management"* (静态管理) everywhere has severely impacted the economy and had led to business closures, unemployment, and depression. Long-term lockdowns and control have also led to China being more shut-off and isolated from the rest of the world. In short, they argue that China holding on to a policy of prevention and control along with the rest of the world is a choice that China should and must make." [*a type of 'lockdown' that still allows some essential businesses and public services to stay open.]
"The view of opponents of "liberalization": they argue that it is a fact that the epidemic is not over, and that there is no certainty that the virus will continue to weaken – there is still a possibility that the virus will become stronger again. The countries that "let go" [of Covid measures] were forced to do so. But if China opens up, all previous efforts might go to waste and we could face an immense wave of hundreds of thousands of deaths; it would create a serious strain on our healthcare and cause a humanitarian disaster. Although China is currently facing short-term difficulties, the past three years of the epidemic have shown that overall the economic costs of China's epidemic prevention have been relatively low. We must persevere now, and when the time is ripe we won't be too late to "liberalize" and, considering everything, another six months or so won't really matter. It is also not necessarily true that the economy will jump back up once we open up. So many countries across the world have opened up but there are few where the economy is actually doing well. When there are viruses everywhere, there will be a lot of households with elderly people and young children that will stay away from public places. In most areas in China, on the other hand, they are going out without any worries, which supports consumption. They say that China is harming itself by isolating from the world, [but] China's foreign trade has actually increased since the pandemic and not decreased. A part of foreign trade is experiencing temporary and specific challenges but that does not apply to the overall situation and the reality is that the world's demand for China is growing."
"It is worth noting that most of those opposing China 'opening up' generally also oppose the arbitrary implementation of "static management" and excessive epidemic prevention, arguing that the 'one-size-fits-all' kind of epidemic prevention is a manifestation of local officials in epidemic areas trying to protect official bureaucracy. "
"Overall, there is a political atmosphere surrounding the online discussions on epidemic prevention, and the viewpoints of the people whose voices are the loudest are highlighted. I think this is a bad trend, and we should stop it. I believe that experts should come forward more and publish their suggestions to bring the epidemic discussion back to the realm of science and reason. Even if we can't completely do it, we should strive to do so."
"Countries across the world have collectively lost the battle and have accepted the natural consequences of the Covid pandemic, including deaths and Long Covid. Only China is still fighting."
"In order to advocate [China's] "liberalization," we must find reliable answers to some crucial questions. The death rate of Omicron is low, but the infection rate is high, so the overall death total is still not radically reduced – even in America every day a few hundred people are still dying because of it, – how can we solve this problem? When fever and severe cough is all around us, even if it's not deadly, entire families might fear for the lives of the elderly and their children once they find themselves in such a situation, and everyone will rush to the hospital. How do we prevent our medical systems from becoming overwhelmed? And what's actually going on regarding Long Covid? The UK has two million cases of Long Covid and the US has around four million cases, it is affecting the quality of life for many people, how do we see this problem? And in case we "open up," how would it affect the number of people still coming to shopping malls, subway stations, restaurants, and cinemas? China is not like American and European societies, the public's mental state is relatively fragile. We need experts to come up with credible predictions and measures that can be taken."
"Those who oppose the easing of preventive and control measures should respond to these kinds of questions: how would we solve the constant 'static management' [lockdows] in some regions? How do we address the problems of the travel flow between regions not being smooth and the disruption of supply chains in production areas? Would it be possible for us to achieve, over time, a mature upgrade of the prevention and control system while avoiding widespread lockdowns and obstruction of domestic travel?"
"Omicron is a big problem for humanity, and the reality is that countries across the world have collectively lost the battle and have accepted the natural consequences of the Covid pandemic, including deaths and Long Covid. Only China is still fighting. But this fight is bound to be like navigating a boat against the current. We need to let the whole society grasp the difficulty of this battle, make them understand how hard it is for the country to make "and/and" [both economy and public health-related] strategic decisions to safeguard the interests of 1.4 billion people. There will not be an easy way to solve all the issues and eliminate all systematic problems. China can only constantly weigh in the pros and cons to find the way with the least relative disadvantages. I believe that if we talk things through, although there will always be complaints in the public opinion arena, everyone or at least the majority of people will eventually understand the good intentions and necessity of the country's strategic decisions, and our society as a collective will continue to keep up with the state policies ahead."
The post, which received over 55,000 likes, also got many responses.
One popular comment said: "I don't oppose the epidemic prevention, I oppose how 'one solution fits all'! As quickly as possible we should push for [local] Health Code apps to recognize each other and stop with making people isolate and stay home in low-risk areas."
Some people appreciated Hu's post and were glad that it explicitly stated some issues that are usually not mentioned in official discourse on China's Covid battle. "Finally someone is admitting that the virus won't go away," one commenter said.
But there were also people who thought Hu Xijin was missing some points. One person responded: "The grievances of the people are so deep, yet no official has spoken out, do they think the voices of the people are not important at all?" Another person mentioned: "It's not that the experts are silent; they are afraid to speak up." Some asked: "Who has made them go silent?"
"Is our epidemic prevention really still about preventing the epidemic?"
Another Weibo user mentioned that it is not about control versus freedom in China's Covid fight, but about excessive measures – not too long ago, news that authorities in Xiamen were also doing Covid tests on fish and crabs made its rounds on Weibo: "Isn't excessive prevention the biggest waste of energy? They've opened up in foreign countries for so long, aren't they the best example? Don't you want to believe the people? Why are we still worried about Chinese people having a frail mental state? Let's hurry up and stop this laughable excessive epidemic prevention, we're all tired."
"Is our epidemic prevention really still about preventing the epidemic?" others wondered.
There were many people who agreed with this, and one of the top comments said: "I don't support opening up completely, but I oppose excessive epidemic control, and this is a view that is held by most Chinese."
Online discussions on the future of China's Covid policies first started flaring up during the Shanghai lockdown in April of this year, when people started posing questions on why people who barely show any Covid symptoms should still be quarantined at centralized quarantine locations, fearing cross-infection or re-infection due to the crowded and sometimes chaotic living conditions.
At the time, more Chinese officials and experts started emphasizing the importance of sticking to the "dynamic zero-COVID strategy" as the best way forward for China, meaning rapidly responding to new Covid cases, precise prevention measures, and controlling and extinguishing local outbreaks as fast as possible to avoid further spread of the virus and drastically reduce the number of people getting sick.
In order to "amplify authoritative voices" to weigh in on this kind of discussions, Weibo launched its Hongru Open Media Plan (#鸿儒-媒体开放计划#) earlier in 2022, using it as a platform to highlight 'expert' opinions.
China's leading experts on Covid-19, including the renowned scientists Zhong Nanshan (钟南山), Zhang Wenhong (张文宏), and Li Lanjuan (李兰娟), have published and spoken up about the virus and the epidemic situation in China throughout the years.
In a recent interview, Chinese epidemiologist Li Lanjuan said that Covid-19 is a 'Type B' infectious disease that is currently managed as a 'Type A' infectious disease in China. Type A includes the plague and cholera, while infectious diseases classified as Type B are less severe and include bird flu, malaria, polio, and AIDS.
Li suggested that the management of Covid-19 would, in time, also shift to a 'Type B' management system and that Covid-19 will have less of an impact on people's lives. A Weibo hashtag related to the topic was later taken offline.
Not long after, a hashtag titled 'How Long Will 'Dynamic Zero' Go On?' (#动态清零政策将持续多久#) was published on Weibo by China Youth Daily, referring to a press conference on September 7 where this question was asked by a foreign reporter. Although Chang Jile (常继乐), deputy director of the National Bureau of Disease Control and Prevention, did not give a concrete answer to the question, he emphasized that scientific research on Covid-19 is still ongoing and that China's prevention and control measures are still "the most economical and the most effective."
In the Weibo comment sections, one person wrote: "Still no answers. How long will this go on?"
Read more about Covid in China here.
Read more about Hu Xijin here.
By Manya Koetse 
Elements in the featured image by Fusion Medical Animation.
Get the story behind the hashtag. Subscribe to What's on Weibo here to receive our weekly newsletter and get access to our latest articles:
Spotted a mistake or want to add something? Please let us know in comments below or email us. First-time commenters, please be patient – we will have to manually approve your comment before it appears.
©2022 Whatsonweibo. All rights reserved. Do not reproduce our content without permission – you can contact us at info@whatsonweibo.com.
Residents in Locked Down Lhasa Say Local Epidemic Situation is a "Giant Mess"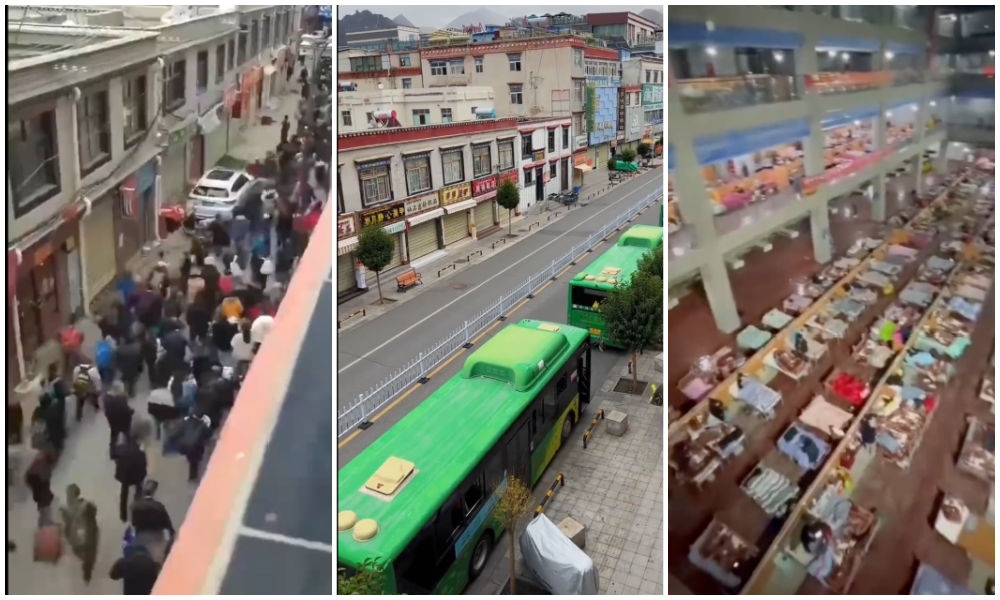 They've been in lockdown for 42 days already, but according to some Lhasa-based bloggers, there have been no improvements in the local epidemic situation. They say there is a stark difference between what officials are reporting and the daily reality they are dealing with in Tibet.
"The epidemic situation is bad in Lhasa, please pay attention," one netizen wrote on Weibo on September 15, pointing to many new posts surfacing on Chinese social media about the difficulties people are facing in Lhasa city in Tibet.
Over the past week, many Tibet-based bloggers have posted on social media about the local circumstances, and hundreds of Chinese social media posts talk about similar problems in the region. Despite the ongoing lockdown, they say, there are still a growing number of positive cases within Lhasa communities; buses are allegedly going back and forth to bring people to quarantine sites where those testing positive and negative are mixed; they claim that there is an absolute lack of management and control; and many locals suggest that the official reports do not reflect the actual number of Covid cases at all.
According to the official numbers, Tibet saw its peak in Covid cases on August 17 and has since reported fewer new cases, reporting a total of 118 new cases on Thursday.
"I am a bit shocked!" one local social media user wrote: "What I saw was a total of 28 buses lined up outside Lhasa Nagqu No. 2 Senior High School, and then still more [buses] were coming. One bus can fit around 50 people, so there must have been around 1400 positive cases. There was a blind man, there were elderly people in wheelchairs, there were swaddled-up babies, from getting on the bus at 9.30 pm up to now, we've been waiting for 5 hours and we're still waiting now. It's just pure chaos at the school entrance, there is no order. I won't sleep tonight."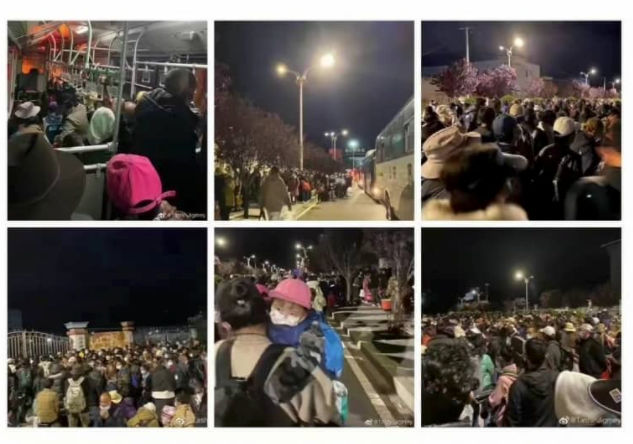 On the 14th of September, another netizen wrote:
"In order to welcome central government leaders to Lhasa and to demonstrate the "excellent" epidemic prevention capabilities of the local government & the "outstanding" results of the fight against the epidemic to them, they moved citizens to the rural areas and let them all stay crowded together in unfinished concrete buildings, with all kinds of viruses having free reign."
On a Lhasa community message board, one Weibo user wrote: "Lhasa has already been in lockdown for over a month, yet our little community has so many infected people that I'm wondering how effective a lockdown actually is? Has Tibet been forgotten? When other places in China have a few positive cases it becomes a hot topic. But what about Tibet? And what about Lhasa?"
Another anonymous poster writes: "Regarding the Lhasa epidemic situation, the numbers were already a bit fake before, but I can understand it was also to take the public sentiment into consideration. I personally don't care how you report the data, as long as the epidemic prevention and control work is properly managed, then the lockdown can be lifted soon and nobody will say anything about it. But a month has passed already, and in a town with some hundred thousands of people, the epidemic work is increasingly getting worse. Many people around me have never even left the house and inexplicably turned out to test positive. Meanwhile those who tested positive are quarantined together with people who still tested negative, it's a giant mess."
"Lhasa hasn't had a Covid outbreak for the past three years, the city doesn't have enough experience in controlling the epidemic."
"It's the 42nd day of lockdown," another person wrote on Friday: "People are lining up to go to centralized isolation, Lhasa has been in lockdown longer than Chengdu, but it doesn't make it to the hot topic lists. People who tested negative again and again suddenly turn out to be positive. Lhasa hasn't had a Covid outbreak for the past three years, the city doesn't have enough experience in controlling the epidemic. It's going to be hard to restore tourism here before the end of the year. Before, big crowds would come to visit.
Over the past few days, following a heightened focus on the situation in Xinjiang, there has also been more attention for the epidemic situation in Tibet.
"Please pay more attention to the topic of the Lhasa epidemic," one person wrote, repeating a similar message sent out by many others: "Lhasa doesn't need your prayers, we need exposure."
On Friday, one popular gamer with more than a million followers wrote on Weibo:
"Many have been reaching out to me via private messages, saying that the epidemic situation in Tibet's Lhasa is very serious. If it's really like this, I hope matters can be settled as soon as possible. I don't know if this post can stay up or not, but I want to try my best to speak up and generate more attention to this epidemic trend. I experienced two months of lockdown in Shanghai myself and understand what it feels like. I have faith in our nation, and I believe the country will definitely take action. Everyone in Tibet, jiayou [come on]."
Many of the comments and posts coming from Lhasa are similar to those we saw last week, coming from Yining in Xinjiang. Social media users based in these places complain that many of their posts have been deleted and that it is very difficult for local residents to make their voices heard.
This is different from the previous lockdown situations in, for example, Xi'an, Shanghai, or Chengdu, where people posted videos, photos, and shared their lockdown experiences, either from home, from the Covid testing lines, or from the makeshift hospitals.
A Weibo hashtag on Tibet's covid outbreak (#西藏疫情防控#) has repeatedly surged up Weibo's trending searches only to be batted down again. It purports to show now-familiar but still grim scenes: haphazardly arranged quarantine centers, barely edible food, no potable water

— Alexander Boyd (@alexludoboyd) September 15, 2022
On the one hand, the reason why people in places such as Lhasa or Yining have more difficulties in making their stories heard in China's hectic social media environment relates to the fact that these places have a relatively small population size – while Yining and Lhasa have approximately 542,00 and 465,000 inhabitants respectively, there are 21 million people in Chengdu and some 26 million in Shanghai.
But a bigger barrier to posting about their circumstances is formed by the social media censorship that is extra strict when it comes to Xinjiang and Tibet as these places are considered sensitive political subjects, which is why topics related to these regions see far more aggressive online censorship – even for seemingly innocuous posts.
One Weibo user with over 600,000 followers wrote: "In such a sensitive place as Tibet, I really needn't worry about whether they're gonna see my post or not. I posted to vent my anger and scolded the leadership for a bit and within 24 hours the police came to my hotel and asked me to delete my posts. Now that everyone is asking for help like this, they will definitely see it, but they are determined to do this and do so on purpose, it's clear they don't care about people's lives."
Meanwhile, Chinese official media reporting on the epidemic situation in Tibet stress the collective effort to fight the virus in Lhasa. On September 15, People's Daily reported how 18 sister provinces and cities across China sent their best teams to Tibet to help with local anti-epidemic work and to bring supplies.
The Tibet-based military blogger ZhufengZhengrong (@珠峰峥嵘) writes: "It's been over a month and my comrade-in-arms are still fighting on the front line (..). I just hope the epidemic will end soon, and that I will be able to meet my family and hold my children and weep."
By Manya Koetse 
Get the story behind the hashtag. Subscribe to What's on Weibo here to receive our weekly newsletter and get access to our latest articles:
Spotted a mistake or want to add something? Please let us know in comments below or email us. First-time commenters, please be patient – we will have to manually approve your comment before it appears.
©2022 Whatsonweibo. All rights reserved. Do not reproduce our content without permission – you can contact us at info@whatsonweibo.com.