Viral in China: "Research Confirms: Covid19 Made by American Company"
In backing up their claim that an American company made Covid-19, Chinese state media confused The Daily Mail and a British misinformation site.
One hashtag stating that an American company has created Covid19 was top trending on Weibo this week. The trending topic and related media reports are triggering more anti-Americanism online, although there are also many netizens who are blaming Chinese official media for publishing misinformation.
Over the past two days, the hashtag "Research Confirms: The Novel Coronavirus Was Made by an American Company" (#研究证实新冠病毒是美国公司制造#) has been trending on Weibo. The topic became big after an article by the news blogging account Tao Wen (韬闻) circulated on WeChat and was also republished by Chinese state outlets Global Times (环球网) and China Daily (中国日报).
The article first claims that the Russian army recently found evidence that biological labs were set up in Ukraine to produce biological weapons and that the U.S. was using bats to study the coronavirus, before switching to the topic of Americans being responsible for creating Covid19. The article's main source is The Exposé, a British blog that previously falsely claimed that Covid-19 vaccines cause 'a form of AIDS' or that '82% of pregnancies end in miscarriage' after Covid vaccination.
Right now, the top trending topic on Weibo: Research confirms that #COVID19 was created by a U.S. company. State-affiliated Huanqiu posted an article that cites The Daily Expose, a UK conspiracy theory blog, as a source, whose claims were debunked by fact-checkers. @WhatsOnWeibo pic.twitter.com/L8ghhja2tA

— Chu Yang (@ChuYang_Journ) March 24, 2022
Both The Exposé and the Chinese article link back to a story published by The Daily Mail on March 3 of 2022 about the Covid virus containing a tiny chunk of DNA that allegedly matches the sequence patented by pharmaceutical company Moderna in 2016.
These articles all focus on a study that was first published in February by Ambati et al (2022) in Frontiers in Virology relating to the genetic makeup of SARS-Cov-2, which caused the COVID-19 pandemic. According to this study, there is a small portion (a 19-nucleotide sequence in a 30,000-nucleotides long genome) of the SARS-CoV-2 genome that shows a 100% reverse match in a proprietary sequence found in a United States patent that was filed on Feb. 4, 2016, under patent number 9,587,003. This leads back to a patent by ModernaTX, Inc. (US) that was filed for the purpose of the production of oncology-related proteins and peptides (link).
The study writes that "the reverse complement sequence present in SARS-CoV-2 may occur randomly but other possibilities must be considered," with the authors describing the findings "highly unusual" and calling for "further investigations."
In The Daily Mail, Professor Lawrence Young, a virologist at Warwick University, responded to the study. Although he called it "interesting," he also said that "sometimes these things happen fortuitously, sometimes it's the result of convergent evolution (when organisms evolve independently to have similar traits to adapt to their environment)." He also commented that the findings do not contribute to the debate about whether Covid was engineered, adding: "I wouldn't call it a smoking gun because it's too small."
According to the lengthy post published by The Exposé, an anonymous 'concerned reader' analyzes the study by Ambati et al and not only draws the conclusion that there is "100% biochemi proof that Covid19 was man made," but also that evidence "100% confirms Moderna created Covid19." These claims were also repeated in the article published by Global Times and China Daily on March 23, emphasizing that 'British media' published these findings and that even the media in Western countries are standing up against the U.S. government. The article writes that this 'British media' outlet is "The Daily Mail" ("每日邮报"), while sharing screenshots from the post by the questionable blog The Exposé.
"A clickbait article by an exaggerating blogger, but it still becomes a hot topic and everyone believes it"
The origins of Covid19 have been a political issue ever since early 2020 when speculation was first raised that the novel coronavirus may have emerged from a laboratory in Wuhan. A statement in The Lancet published in February of 2020 condemned any rumors on the virus origins, claiming that scientific research "overwhelmingly" concludes that Covid19 originated in wildlife, and peer-reviewed research from late 2021 further supported the theory that Covid19 originated at the seafood and wildlife market in Wuhan and did not come from a lab.
Chinese officials have repeatedly denied a possible leak from a Chinese laboratory and have emphasized their cooperation with international efforts to find the origins of the pandemic. In May of 2021, the Chinese Foreign Ministry stated that the U.S. was actually not genuinely interested in the scientific origin of the virus, but that its search for the origins of the novel coronavirus was merely about "political manipulation" and "blame-shifting" (read more here).
Nearly ten months later, however, it seems that Chinese officials are also starting to point more fingers and that state media outlets are mixing up science and speculation when it comes to presenting the latest research into the genetic makeup of SARS-Cov-2. Chinese media are also combining news stories related to speculations about the American responsibility for the pandemic and the supposed presence of American bio-labs in Ukraine, presenting them in a singular context (for example in this Weibo post).
These updated media narratives on the American role in the Ukraine conflict and the global Covid19 crisis add fuel to existing anti-American sentiments on Chinese social media.
"The world would be better off without the U.S.", a typical comment says. "This is proof that the U.S. is the world's tumor. We'll only reach world peace once it collapses."
"This makes me feel sick," another commenter wrote, posting a (North Korean) anti-American propaganda poster. One other Weibo user (@elo_不太正常) posted a photoshopped image of the Statue of Liberty wearing a 'corona' crown and holding up a lethal potion.
At the same time, there are also many Chinese social media users who are pointing out that the "Research Confirms: The Novel Coronavirus Was Made by an American Company" hashtag and recent Chinese media reports have conflated some speculation with scientific facts, and have confused the British misinformation site The Exposé with the The Daily Mail (the URL of the first is 'dailyexpose.uk' while the latter is 'dailymail.co.uk').
Others also express worry about how fast disinformation can circulate online, especially when it is republished by the official media, which they also criticize: "The same media censoring news about the chained woman are now sensationalizing this news," some say (for more on the chained woman, see here).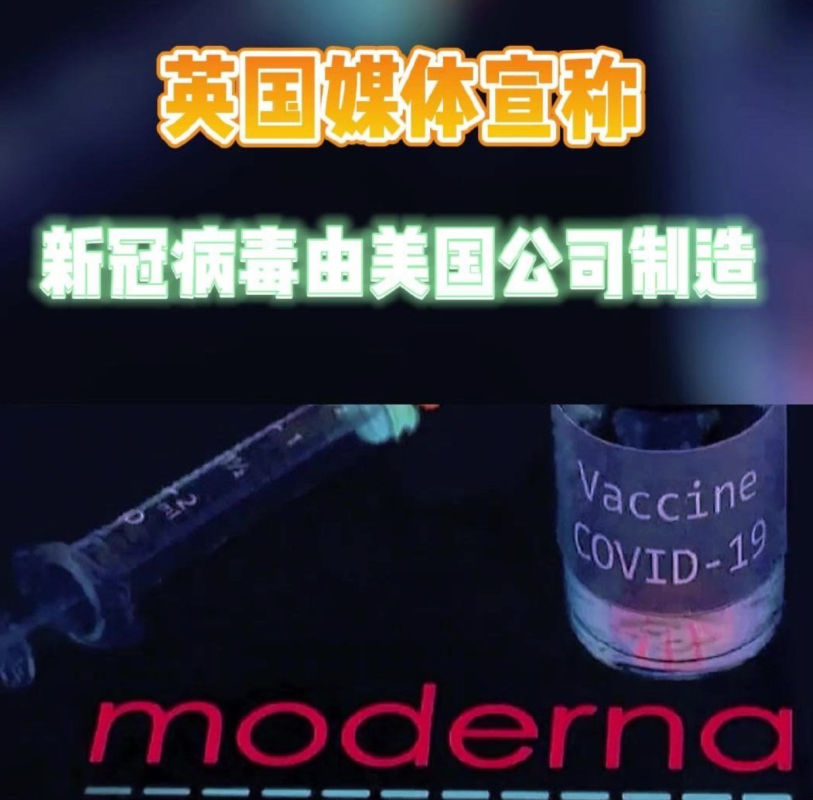 "Straightaway, you could see this was a clickbait article by a blogger who is exaggerating, but it still becomes a hot topic and everyone firmly believes it immediately," one Weibo user writes, with another person saying: "Why is state media always forwarding other people's writing?"
"Although the U.S. manipulates a lot, this media source is not one with authority, it has insufficient credibility," other commenters write, as well as: "Is this source trustworthy? Please don't incite feelings," "This is just sensationalism."
To read more about Covid19 and China, see our articles here.
To read more about ongoing tensions between China and the U.S., click here.
By Manya Koetse
References (other sources hyperlinked within text)
The Expose ['by a concerned reader']. 2022. "BREAKING: Official Biochemical and Statistical Evidence 100% confirms Moderna created Covid-19." The Exposé, March 3 https://dailyexpose.uk/2022/03/03/evidence-confirms-moderna-created-covid-19/ [March 25, 2022].
Boyd, Connor. 2022. "Scientists claim Covid virus contains tiny chunk of DNA that 'matches sequence patented by Moderna THREE YEARS before pandemic began.'" MailOnline, February 23 https://www.dailymail.co.uk/news/article-10542309/Fresh-lab-leak-fears-study-finds-genetic-code-Covids-spike-protein-linked-Moderna-patent.html [March 25, 2022].
Ambati BK, Varshney A, Lundstrom K, Palú G, Uhal BD, Uversky VN and Brufsky AM (2022) MSH3 Homology and Potential Recombination Link to SARS-CoV-2 Furin Cleavage Site. Front. Virol. 2:834808. doi: 10.3389/fviro.2022.834808
Spotted a mistake or want to add something? Please let us know in comments below or email us. First-time commenters, please be patient – we will have to manually approve your comment before it appears.
©2022 Whatsonweibo. All rights reserved. Do not reproduce our content without permission – you can contact us at info@whatsonweibo.com.
The "Final Round Players" of China's Covid Outbreak
Those who still haven't had Covid have made it to the "finals," but it's not always easy to stay positive about still testing negative.
This Chinese Lunar New Year period, as millions of people are traveling across the country, Hangzhou Daily (杭州日报) posted a video on Weibo of a 13-year-old boy dressed in full protective clothing at the Hangzhou train station.
The young man told the reporter that he was on his way to visit his grandparents for the Chinese New Year. When asked why he was dressed in protective clothing from head to toe, he answered: "Because I haven't had Covid yet."
According to the video posted by Hangzhou Daily, the boy has made it to the "Final Rounds" (决赛圈) as he has managed to stay Covid-negative at a time when so many people have already been infected with Covid-19 (#挺进决赛圈的男孩穿防护服坐火车#).
Since China 'optimized' the last stringent measures of its 'Zero Covid' policy back in early December – including an end to mandatory mass testing, – a wave of Covid infections spread across the country. The number of infections and emergency department visits reportedly reached its peak in late December of 2022 and in early January of 2023.
According to Wu Zunyou (@吴尊友ChinaCDC), chief epidemiologist of the Chinese Center of Disease Control and Prevention, 80 percent of China's population has now been infected with Covid ("这一波疫情已经使得全国约80%的人感染过").
As it is getting rarer to come across someone who has not had Covid yet, travelers dressed in full hazmat suits and protective gear are bound to stand out. "So many people on the train, and there are still two people in the crowd wearing protective clothing," one Weibo user from Guangdong wrote. Others also post photos on social media of some of the few travelers still fully dressed in protective gear.
One blogger photographed a child wearing protective clothing at Chongqing West Station on Jan. 24, calling the protective attire "exaggerated," and wondering how the child was supposed to go to the toilet.
Hangzhou Daily is not the only media outlet dubbing those who managed to stay negative "final round players" (决赛圈选手). In early January, Beijing Daily (北京日报​​​​) and People's Daily (人民日报) also published a short article using the same phrase. In the article, the Beijing expert physician Dr. Li Dong (李侗) answered some questions about the so-called 'finalists.'
According to Dr. Li Dong, some of the people who claim to have managed to stay 'Covid free' were never infected due to protective measures. But there are also those who may have actually had Covid-19 without realizing it, as they barely had any symptoms or were completely asymptomatic.
"Final round players, protect yourself!" one Weibo commenter writes: "Who else has managed to reach these finals?"
"As a 'final player,' I finally went out to eat and visit the shopping mall today. I'll have to wait and see if I reach the championship level. If I haven't caught [Covid], I can go on and lead a normal life; if I did catch it, I'll need to wait a while, and will also be able to lead a normal life."
Other persons who did not have Covid yet also share on social media that they went out for the first time during this Spring Festival period: "I cautiously went out and saw my first movie in 2023, Wandering Earth II, I picked a morning screening so that the cinema is not so crowded yet."
Now that the Covid infections in China have peaked and the number of infected critically ill patients is quickly dropping, the fears over catching Covid are also seemingly fading among those who were not yet infected.
But some people who have not had Covid yet are still being careful, especially if it concerns elderly family members. It's not always easy to stay positive about still testing negative – also for loved ones who did previously have Covid and want to protect their family.
One Fujian-based social media user writes: "I recovered from Covid and I'm spending the Spring Festival with three 'final round players.' We've been stuck inside the house for days. I've been looking at the lanterns and the lights in the neighborhood, watching them from the balcony, and I really wanted to go down and see."
"Looking at WeChat Moments, all my friends are out traveling, but my family still hasn't had Covid and we're afraid to go out," another netizen writes: "It's sad to celebrate the New Year without going out. Guess we're final-round players now, let's hope it brings good things."
Meanwhile, the group of 'finalists' is still shrinking. One Weibo user from Guangxi wrote: "I've left the finalist circle. It's only been two days since I returned to my hometown and I'm already infected."
By Manya Koetse 
Get the story behind the hashtag. Subscribe to What's on Weibo here to receive our newsletter and get access to our latest articles:
Spotted a mistake or want to add something? Please let us know in comments below or email us. First-time commenters, please be patient – we will have to manually approve your comment before it appears.
©2023 Whatsonweibo. All rights reserved. Do not reproduce our content without permission – you can contact us at info@whatsonweibo.com.
Video Shows Real-Time "Departure" Information Board at Chinese Crematorium
From "cremation in process" to "cooling down," the digital display shows the progress of the cremation to provide information to those waiting in the lobby. The crematorium 'departure' board strikes a chord with many.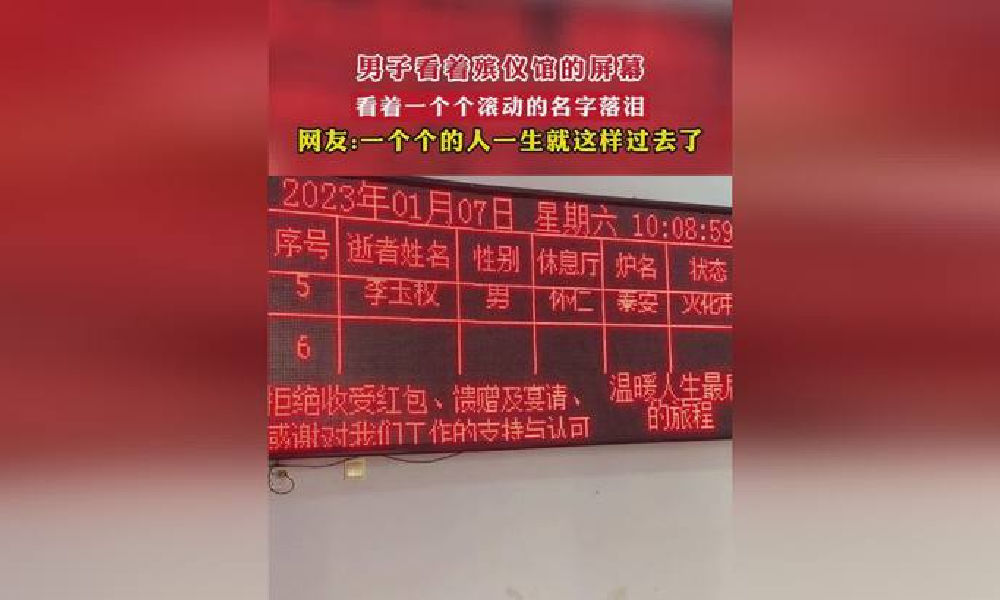 A video showing a live display screen announcing the names and status of the deceased at a Yunnan crematorium has been making its rounds on Chinese social media, from WeChat to Weibo, where one version of the video received over 1,7 million views.
Somewhat similar to a real-time platform departure display on train stations, the screen shows the waiting number of the deceased person, their name, gender, the name of the lounge/room (if any) for families, the name of the crematorium chamber, and the status of the cremation process. Below in the screen, it says "the final journey of a warm life" (温暖人生的最后旅程).
For example, the screen displays the names of a Mr. Chen and a Mr. Li; their bodies were in the process of being cremated (火化中), while other cremations were marked as "completed" (完成) or "cooling down" (降温中).
This video of a real-time "departure" information board in the lobby of a Chinese crematorium is making its rounds on Weibo/Wechat these days. The display shows the name and gender of deceased, which cremation chamber, and the cremation status to inform families of the progress. pic.twitter.com/EA94OWGwdk

— Manya Koetse (@manyapan) January 16, 2023
Through such a screen, located in the crematorium lobby, family members and loved ones can learn about the progress of the cremation of the deceased.
The video, recorded by a local on Jan. 7, received many comments. Among them, some people commented on the information board itself, while others simply expressed grief over those who died and the fragility of life. Many felt the display was confronting and it made them emotional.
"It makes me really sad that this how people's lives end," one commenter said, with another person replying that the display also shows you still need to wait in line even when you're dead.
"I didn't expect the screens [in the crematorium] to be like those in hospitals, where patients are waiting for their turn," another Weibo user wrote. "It would be better if the names were hidden, like in the hospitals, to protect the privacy of the deceased," another person replied.
Others shared their own experiences at funeral parlors also using such information screens.
"My grandfather passed away last September, and when we were at the undertaker's, the display was also jumping from one name to the other and we could only comfort ourselves knowing that he was among those who lived a relatively long life."
"Such a screen, it really makes me sad," another commenter from Guangxi wrote, with others writing: "It's distressing technology."
Although the information screen at the crematorium is a novelty for many commenters, the phenomenon itself is not necessarily related to the Covid outbreak and the number of Covid-related deaths; some people share how they have seen them in crematoriums before, and funeral parlor businesses have used them to provide information to families since at least 2018.
According to an article published by Sohu News, more people – especially younger ones – have visited a funeral home for the first time in their lives recently due to the current Covid wave, also making it the first time for them to come across such a digital display.
The online video of such an information board has made an impact at a time when crematoriums are crowded and families report waiting for days to bury or cremate their loved ones, with especially a large number of elderly people dying due to Covid.
On Jan. 4, one social media user from Liaoning wrote:
"I really suggest that the experts go to the crematoriums to take a look. There is no place to put the deceased, they're parked outside in temporary containers, there's no time left to hold a farewell ceremony and you can only directly cremate, and for those who were able to have a ceremony, they need to finish within ten minutes (..) At the funeral parlor's big screen, there were eight names on every page, and there were ten pages for all the people in line that day, I stood there for half an hour and didn't see the name of the person I was waiting for pop up anymore."
As the video of the display in the crematorium travels around the internet, many commenters suggest that it is not necessarily the real-time 'departure' board itself that bothers them, but how it shows the harsh reality of death by listing the names of the deceased and their cremation status behind it. Perhaps it is the contrast between the technology of the digital display boards and the reality of the human vulnerability that it represents that strikes a chord with people.
One blogger who reposted the video on Jan. 13 wrote: "Life is short, cherish the present, let's cherish what we have and love yourself, love your family, and love this world." Among dozens of replies, some indicate that the video makes them feel uncomfortable.
Another commenter also wrote:
"I just saw a video that showed an electronic display at a crematorium, rolling out the names of the deceased and the stage of the cremation. One name represents the ending of a life. And it just hit me, and my tears started flowing. I'm afraid of parting, I'm afraid of loss, I just want the people I love and who love me to stay by my side forever. I don't want to leave. I'm afraid I'll be alone one day, and that nobody will ever make me feel warm again."
One person captured why the information board perhaps causes such unease: "The final moments that people still spent on this earth take place on the electronic screen in the memorial hall of the funeral home. Then, they are gone without a sound."
Get the story behind the hashtag. Subscribe to What's on Weibo here to receive our newsletter and get unlimited access to all of our articles:
By Manya Koetse 
with contributions by Zilan Qian
Spotted a mistake or want to add something? Please let us know in comments below or email us. First-time commenters, please be patient – we will have to manually approve your comment before it appears.
©2023 Whatsonweibo. All rights reserved. Do not reproduce our content without permission – you can contact us at info@whatsonweibo.com.