Growing Virtual Bamboo for Real Pandas: Weibo's Panda Movement
There is a giant panda movement happening on Weibo, and there are two sides to it.
Watching panda livestreams online, sharing worries over pandas in captivity, and now raising a virtual panda to help grow bamboo – Weibo has a panda movement going on, and it is a giant one.
Last month, the account 'Panda Guardians' (@熊猫守护者) sent out a video on Weibo focused on the topic of saving pandas in Shaanxi by planting more bamboo. In a month, the video gained around 1,5 million views and much online support.
The video by the 'Panda Guardians' was the follow-up to a Weibo-based game where users can gain points which can be used for "growing bamboo" for a virtual panda – which actually funds the planting of real bamboo in Shaanxi.
In the game, which received much online appreciation, a virtual panda pet gets 'fed' with the bamboo grown by the points users receive by getting registered for the game, posting it on Weibo, inviting friends, etc. Players also get a cute panda badge on their Weibo account for 'raising' their own virtual panda.
For every 10,000 hours of time Weibo netizens collectively raise their virtual panda, the China Virescence Foundation (中国绿化基金会, China's organization for planting trees) promises to foster and plant actual bamboo trees in the Qinling mountain range in Shaanxi, one of the regions where most of China's remaining wild pandas live.*
"Chinese netizens can play a role in giant panda conservation – even if the scientific community may not be fully onboard."
The panda game is just one of many ways in which Weibo's 'panda movement' manifests itself. Weibo user Kyle Obermann (@欧阳凯kyle), an environmental photographer in China, recently posted a short documentary on Weibo about panda conservation in the forests of Sichuan, which gained over 500,000 views in a few days time.
"The whole issue of panda conservation and what it means to be a 'panda guardian' in real life and online is all over Weibo right now," Obermann told What's on Weibo: "It's an interesting example of how Chinese netizens can play a role in giant panda conservation – even if the scientific community may not be fully onboard."
What Obermann refers to, is that besides the positive comments to online initiatives taken by organizations as the 'Panda Guardians' and their Weibo game, there is also some criticism from the environmental community for the focus on "planting bamboo" as a solution for the problem of the panda's vulnerability of extinction.
"It is not so much the lack of bamboo that is the panda's problem, it is the lack of a natural living environment that is undisturbed by human intervention," they said.
But, according to Obermann, the online 'panda movement' does make a difference in raising awareness for the protection of the wild giant panda, and also in creating a wider understanding amongst social media users for those people who spend their time plowing through the forests through wind and rain in doing their jobs monitoring and protecting the giant panda.
"There are dozens of accounts on Weibo dedicated to the giant panda and its conservation."
Besides the 'Panda Guardians' and people such as Obermann, there are dozens of other accounts on Weibo dedicated to the giant panda and its conservation. On the iPanda channel (@iPanda熊猫频道), people can watch live streams and videos of the pandas at the China Conservation and Research Center for the Giant Panda (@中国大熊猫保护研究中心).
The great interest in pandas on Chinese social media just shows that the giant panda really is China's most beloved animal. It the cultural symbol of China, and is generally called a 'national treasure' (国宝).
Its well-being and protection, both in the wilderness as in captivity, has been a state priority since the 1960s, when China's first wild animal protection reserve focused on panda protection was opened in northern Sichuan (Wanglang Reserve, 1965).
Apart from the pandas that are kept at China's various panda reserves, there are also pandas in zoos across China, from Beijing to Chongqing, and from Guilin to Guangzhou.
Over the past few years, it is the circumstances of some of the pandas in Chinese zoos that have caused multiple controversies. Previously in 2013, 2015, 2016 and 2017, netizens posted photos of the apparent unhealthy pandas at specifically the Lanzhou Zoo, and expressed concerns and outrage over their well-being.
"I'm furious to see some netizens even slandering our base for not providing enough food for the pandas."
At times, the love of Weibo's fierce and protective panda might go too far. This week, the famous Chengdu Giant Panda Breeding Research Base was collectively accused of cruelty on social media networks when visitors claimed its bears were ill and mistreated.
The accusations started when people posted images online that showed some pandas at the Research Base with white scabs around their eyes.
The Straits Times reports that an article that went viral on January 23 also accused the Chengdu base of using their pandas for commercial gains, not giving them enough food, and that it violated the wellbeing of the animals by allowing visitors to take pictures and hug with a giant panda in exchange for donations.
On January 24, the research base denied all rumors of mistreatment of its pandas and explained that three of its pandas recently contracted an eye disease that is now being treated by its experts. It also denied that its pandas were being used for commercial gains.
The Straits Times quotes Zhang Zhihe, chief of the Chengdu Research Base, in saying: "I'm furious to see some netizens even slandering our base for not providing enough food for the pandas."
Zhang also said it was not true that the research base allows people to hug pandas and charge money for it. "That never happened once," he said.
"We understand your love for the giant pandas, but we all have our own way of expressing it."
There are two sides to Weibo's 'panda movement'. On one side, the love of Chinese netizens for their 'national treasure' goes so far that everybody seems to have become a panda expert – quick to point their fingers at researchers and shout abuse when a panda seems unwell to them.
In January of 2017, the China Conservation and Research Center for Giant Panda (中国大熊猫保护研究中心) addressed this kind of criticism on Weibo in January. While they thanked Chinese online panda lovers for their concerns, they also asked them to stop posting abusive comments towards them and their employees. They wrote:
"We understand your love for the giant pandas, everyone here at the China Giant Panda Conservation Research Center loves them, but we all have our own way of expressing it. For you it means you raise your concerns by posting blogs in the middle of the night, for us it means that our employees work night shifts taking care of the pandas, watching the monitors and keeping records."
Despite that these online movements at times arguably may go too far, the silver lining is that they help in making people more aware of the importance of the conservation of the panda and environmental protection at large.
The Weibo-game by the 'Panda Guardians,' also backed by popular celebrities such as the members of Chinese boy band TFBoys (12.9 million fans on Weibo), has succeeded in creating an online buzz in which Weibo users are trying to reach a collective goal that helps the panda conservation movement.
By now, the hashtag 'Panda Guardians' (#熊猫守护者#) has reached the top three of top public causes on Weibo.
"Together we can do it, help grow bamboo and help the pandas," many netizens post. If anything, this kind of panda movement at the very minumum shows that netizens are hopeful that their online efforts will actually make an offline change.
By Manya Koetse
Follow @whatsonweibo
* How the money for this 'virtual to actual bamboo' campaign is actually raised is not explained by the organization, although it might make sense that both Sina Weibo and its advertisers are involved as they profit from social media users spending more hours on the Weibo platform by playing this game. If you have more insights into this specific topic, we would like to hear from you.
Spotted a mistake or want to add something? Please let us know in comments below or email us.
©2018 Whatsonweibo. All rights reserved. Do not reproduce our content without permission – you can contact us at info@whatsonweibo.com.
From Tea Farmer to Online Influencer: Uncle Huang and China's Rural Live Streamers
'Cunbo' aka 'rural livestreaming' is all the rage. A win-win situation for farmers, viewers, and Alibaba.
This is the "WE…WEI…WHAT?" column by Manya Koetse, originally published in German by Goethe Institut China on Goethe.de: "VOM TEEBAUERN ZUM INFLUENCER: ONKEL HUANG UND CHINAS LÄNDLICHE LIVESTREAMER." 
The past year has been super tumultuous when it comes to the topics that have been dominating Chinese social media. The Coronavirus crisis was preceded by other big issues that were all the talk online, from the US-China trade war to the protests in Hong-Kong, the swine flu, and heightened censorship and surveillance.
Despite the darker side to China's online environment, however, there were also positive developments. One of the online trends that became popular this year comes with a term of its own, namely cūnbō (村播): rural livestreaming.  Chinese farmers using livestreaming as a way to sell their products and promote their business have become a more common occurrence on China's e-commerce and social media platforms. 

The social media + e-commerce mix, also called 'social shopping,' is booming in the PRC. Online platforms where the lines between social media and e-commerce have disappeared are now more popular than ever. There's the thriving Xiaohongshu (小红书Little Red Book) platform, for example, but apps such as TikTok (known as Douyin in China) also integrate shopping in the social media experience.
Over recent years, China's e-commerce giant Alibaba has contributed to the rising popularity of 'social shopping.' Its Taobao Live unit (also a separate app), which falls under the umbrella of China's biggest online marketplace Taobao, is solely dedicated to shopping + social media, mainly mobile-centered. It's a recipe for success: Chinese mobile users spend over six hours online per day, approximately 72% of them shop online, and nearly 65% of mobile internet users watch livestreaming.
Every minute of every day, thousands of online shoppers tune in to dozens of different channels where sellers promote anything from food products to makeup or pet accessories. The sellers, also called 'hosts' or 'presenters,' make their channels attractive by incorporating makeup tutorials, cooking classes, giving tips and tricks, chatting away and joking, and promising their buyers the best deal or extra presents when purchasing their products.                
Sometimes thousands of viewers tune in to one channel at the same. They can 'follow' their favorite hosts and can interact with them directly by leaving comments on the livestreams. They can compliment the hosts ("You're so funny!"), ask questions about products ("Does this also come in red?"), or leave practical advice ("You should zoom in when demonstrating this product!"). The product promoted in the livestreams can be directly purchased through the Taobao system.
Over the past year, Alibaba has increased its focus on rural sellers within the livestreaming e-commerce business. Countryside sellers even have their own category highlighted on the Taobao Live app. Chinese tech giant Alibaba launched its 'cūnbō project' in the spring of 2019 to promote the use of its Taobao Live app amongst farmers. The most influential livestreaming farmers get signed by Alibaba to elevate Taobao Live's rural business to a higher level.
One of these influential Chinese farmers who has made a name for himself through livestreaming is Huang Wensheng, a tea farmer from the mountainous Lichuan area in Hunan Province.
Huang, who is nicknamed 'Uncle Farmer,' sells tea through his channel, where he shows viewers his work and shares stories and songs from his village. He is also known to talk about what he learned throughout his life and will say things such as: "It is important to work hard; not necessarily so much to change the world , but to make sure the world does not change you."
With just three to five livestreaming sessions per week, 'Uncle' Huang reaches up to twenty million viewers per month, and, according to Chinese media reports, has seen a significant increase in his income, earning some 10,000 yuan (€1300) per week.
Huang is not the only farmer from his hometown using Taobao Live to increase their income; there are some hundred rural livestreamers in Lichuan doing the same.
The rural livestreaming category is significantly different from the urban fashionistas selling brand makeup and the latest must-haves: these hosts do not have the polished look, glamorous clothes, or stylish backgrounds. They usually film outside while doing their work or offer a glimpse into their often humble rooms or kitchens.
Viewers get to see the source of the products sold by these rural sellers; they often literally go to the fields to show where their agricultural products grow, or film themselves getting the eggs from their chickens or the oranges from the trees. From fruits to potatoes and flowers, and from fresh tea to home-made chili sauce – a wide range of products is promoted and sold through Taobao Live these days.
Some rural livestreamers are trying to stay ahead of their competition by coming up with novel concepts. A young farmer from Sichuan, for example, recently offered viewers the opportunity to "adopt" a rooster from his farm, allowing them to interact with 'their' rooster through social media and even throwing the occasional birthday party for some lucky roosters.
Examples such as these show that although the countryside livestreamers usually lack glitter and glam, they can be just as entertaining – or perhaps even more so – than their urban counterparts.
Who benefits from the recent 'cūnbō' boom? One could argue that the rising popularity of livestreaming farmers is a win-win situation from which all participants can profit in some way. The commercial interests are big for Alibaba. The company has been targeting China's countryside for years, as it's where China's biggest consumption growth will happen while mobile internet penetration is still on the rise. Alibaba earns profits from an increasing number of rural e-commerce buyers, as well as e-commerce sellers.
Alibaba's early focus on the countryside as a new home for e-commerce has previously also led to the phenomenon of so-called 'Taobao Villages,' where a certain percentage of rural residents are selling local specialties, farm products or other things via the Taobao platform with relatively little transaction costs.
Many Chinese villages and farmers are profiting from the further spread of Taobao in the countryside. Not only does Alibaba invest in logistics and e-commerce trainings in rural areas, these e-commerce channels are also a way to directly boost sales and income for struggling farmers.
Chinese media predict that the rural livestreaming trend will only become more popular in the years to come, bringing forth many more influential farmers like Huang.
But besides the commercial and financial gains that come from the rising popularity of rural livestreamers, there is also a significant and noteworthy social impact.  At  a time in which China's rapidly changing society sees a widening gap between urban and rural areas, these rural channels serve as a digital bridge between countryside sellers and urban consumers, offering netizens a real and unpolished look into the lives of farmers in others parts of the country, and gives online buyers more insight and understanding of where their online products came from.
Taobao Live is actually like a traditional "farmers' market," but now it is digital, open 24/7, and accessible to anyone with a mobile phone. It's the Chinese farmers' market of the 21st century.
By Manya Koetse
Follow @whatsonweibo
Spotted a mistake or want to add something? Please let us know in comments below or email us. First-time commenters, please be patient – we will have to manually approve your comment before it appears.
This text was first published by Goethe-Institut China under a CC-BY-NC-ND-4.0-DE license (Creative Commons) as part of a monthly column in collaboration with What's On Weibo.
WeChat's New Emoji Are Here (Including a Watermelon-Eating and Doge One)
WeChat's new emoji are based on popular memes.
On January 14, Tencent's Wechat introduced new emoji to its existing emoji set. The new emoji include, among others, a watermelon-eating emoji and a smiling Shiba Inu.
On Weibo, the new emoji have become a topic of discussion under the hashtags "WeChat's New Emoji" (#微信上线新表情#), "WeChat's Watermelon Eating Emoji" (#微信上线吃瓜表情#), and "WeChat's Dog Emoji" (#微信上线狗头表情#).
Different from the Unicode emoji (see Emojipedia), WeChat and Weibo have their own sets of emoji, although there is overlap.
The reason why especially the watermelon-eating and dog emoji are being discussed on social media, is because these emoji are based on popular internet memes.
"Eating watermelon" (吃瓜 chī guā) is an online expression that comes from "watermelon-eating masses" (吃瓜群众 chī guā qúnzhòng), which describes a common mentality of Internet users who have no idea what is actually going on but are still commenting or following online stories for their enjoyment – perhaps comparable to the "popcorn memes" that are ubiquitous on Western social media platforms.
The smiling dog has been around since 2013 and is known as the doge meme, based on a photo of a Shiba inu. The meme was originally spread on social media platforms such as Reddit, but then also became hugely popular in China, where it became a symbol of sarcasm (also read this Abacus article on this topic).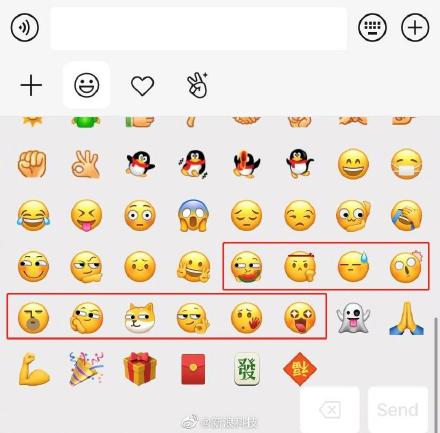 Other new emoji are the "wow" emoji, and others to express "ok," "add oil," "emm," "oh!"
There's also a "shehui shehui" (社会社会, lit. "society society") emoji, which also comes from online culture and is a way among friends to (self-mockingly) talk about being 'gangsters,' 'brothers.' or 'scoundrels.'
As the new emoji are still in their testing phase, not all WeChat users can use the new emoji yet, so you might have to wait a bit before being able to try them out.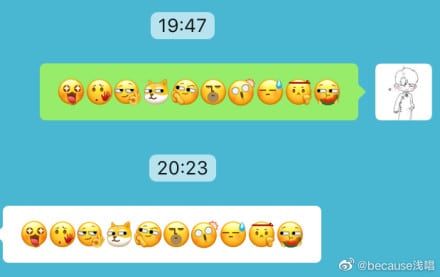 By Manya Koetse, with thanks to @caaatchina
Follow @whatsonweibo
Spotted a mistake or want to add something? Please let us know in comments below or email us. First-time commenters, please be patient – we will have to manually approve your comment before it appears.
©2020 Whatsonweibo. All rights reserved. Do not reproduce our content without permission – you can contact us at info@whatsonweibo.com.