Growing Virtual Bamboo for Real Pandas: Weibo's Panda Movement
There is a giant panda movement happening on Weibo, and there are two sides to it.
Watching panda livestreams online, sharing worries over pandas in captivity, and now raising a virtual panda to help grow bamboo – Weibo has a panda movement going on, and it is a giant one.
Last month, the account 'Panda Guardians' (@熊猫守护者) sent out a video on Weibo focused on the topic of saving pandas in Shaanxi by planting more bamboo. In a month, the video gained around 1,5 million views and much online support.
The video by the 'Panda Guardians' was the follow-up to a Weibo-based game where users can gain points which can be used for "growing bamboo" for a virtual panda – which actually funds the planting of real bamboo in Shaanxi.
In the game, which received much online appreciation, a virtual panda pet gets 'fed' with the bamboo grown by the points users receive by getting registered for the game, posting it on Weibo, inviting friends, etc. Players also get a cute panda badge on their Weibo account for 'raising' their own virtual panda.
For every 10,000 hours of time Weibo netizens collectively raise their virtual panda, the China Virescence Foundation (中国绿化基金会, China's organization for planting trees) promises to foster and plant actual bamboo trees in the Qinling mountain range in Shaanxi, one of the regions where most of China's remaining wild pandas live.*
"Chinese netizens can play a role in giant panda conservation – even if the scientific community may not be fully onboard."
The panda game is just one of many ways in which Weibo's 'panda movement' manifests itself. Weibo user Kyle Obermann (@欧阳凯kyle), an environmental photographer in China, recently posted a short documentary on Weibo about panda conservation in the forests of Sichuan, which gained over 500,000 views in a few days time.
"The whole issue of panda conservation and what it means to be a 'panda guardian' in real life and online is all over Weibo right now," Obermann told What's on Weibo: "It's an interesting example of how Chinese netizens can play a role in giant panda conservation – even if the scientific community may not be fully onboard."
What Obermann refers to, is that besides the positive comments to online initiatives taken by organizations as the 'Panda Guardians' and their Weibo game, there is also some criticism from the environmental community for the focus on "planting bamboo" as a solution for the problem of the panda's vulnerability of extinction.
"It is not so much the lack of bamboo that is the panda's problem, it is the lack of a natural living environment that is undisturbed by human intervention," they said.
But, according to Obermann, the online 'panda movement' does make a difference in raising awareness for the protection of the wild giant panda, and also in creating a wider understanding amongst social media users for those people who spend their time plowing through the forests through wind and rain in doing their jobs monitoring and protecting the giant panda.
"There are dozens of accounts on Weibo dedicated to the giant panda and its conservation."
Besides the 'Panda Guardians' and people such as Obermann, there are dozens of other accounts on Weibo dedicated to the giant panda and its conservation. On the iPanda channel (@iPanda熊猫频道), people can watch live streams and videos of the pandas at the China Conservation and Research Center for the Giant Panda (@中国大熊猫保护研究中心).
The great interest in pandas on Chinese social media just shows that the giant panda really is China's most beloved animal. It the cultural symbol of China, and is generally called a 'national treasure' (国宝).
Its well-being and protection, both in the wilderness as in captivity, has been a state priority since the 1960s, when China's first wild animal protection reserve focused on panda protection was opened in northern Sichuan (Wanglang Reserve, 1965).
Apart from the pandas that are kept at China's various panda reserves, there are also pandas in zoos across China, from Beijing to Chongqing, and from Guilin to Guangzhou.
Over the past few years, it is the circumstances of some of the pandas in Chinese zoos that have caused multiple controversies. Previously in 2013, 2015, 2016 and 2017, netizens posted photos of the apparent unhealthy pandas at specifically the Lanzhou Zoo, and expressed concerns and outrage over their well-being.
"I'm furious to see some netizens even slandering our base for not providing enough food for the pandas."
At times, the love of Weibo's fierce and protective panda might go too far. This week, the famous Chengdu Giant Panda Breeding Research Base was collectively accused of cruelty on social media networks when visitors claimed its bears were ill and mistreated.
The accusations started when people posted images online that showed some pandas at the Research Base with white scabs around their eyes.
The Straits Times reports that an article that went viral on January 23 also accused the Chengdu base of using their pandas for commercial gains, not giving them enough food, and that it violated the wellbeing of the animals by allowing visitors to take pictures and hug with a giant panda in exchange for donations.
On January 24, the research base denied all rumors of mistreatment of its pandas and explained that three of its pandas recently contracted an eye disease that is now being treated by its experts. It also denied that its pandas were being used for commercial gains.
The Straits Times quotes Zhang Zhihe, chief of the Chengdu Research Base, in saying: "I'm furious to see some netizens even slandering our base for not providing enough food for the pandas."
Zhang also said it was not true that the research base allows people to hug pandas and charge money for it. "That never happened once," he said.
"We understand your love for the giant pandas, but we all have our own way of expressing it."
There are two sides to Weibo's 'panda movement'. On one side, the love of Chinese netizens for their 'national treasure' goes so far that everybody seems to have become a panda expert – quick to point their fingers at researchers and shout abuse when a panda seems unwell to them.
In January of 2017, the China Conservation and Research Center for Giant Panda (中国大熊猫保护研究中心) addressed this kind of criticism on Weibo in January. While they thanked Chinese online panda lovers for their concerns, they also asked them to stop posting abusive comments towards them and their employees. They wrote:
"We understand your love for the giant pandas, everyone here at the China Giant Panda Conservation Research Center loves them, but we all have our own way of expressing it. For you it means you raise your concerns by posting blogs in the middle of the night, for us it means that our employees work night shifts taking care of the pandas, watching the monitors and keeping records."
Despite that these online movements at times arguably may go too far, the silver lining is that they help in making people more aware of the importance of the conservation of the panda and environmental protection at large.
The Weibo-game by the 'Panda Guardians,' also backed by popular celebrities such as the members of Chinese boy band TFBoys (12.9 million fans on Weibo), has succeeded in creating an online buzz in which Weibo users are trying to reach a collective goal that helps the panda conservation movement.
By now, the hashtag 'Panda Guardians' (#熊猫守护者#) has reached the top three of top public causes on Weibo.
"Together we can do it, help grow bamboo and help the pandas," many netizens post. If anything, this kind of panda movement at the very minumum shows that netizens are hopeful that their online efforts will actually make an offline change.
By Manya Koetse
Follow @whatsonweibo
* How the money for this 'virtual to actual bamboo' campaign is actually raised is not explained by the organization, although it might make sense that both Sina Weibo and its advertisers are involved as they profit from social media users spending more hours on the Weibo platform by playing this game. If you have more insights into this specific topic, we would like to hear from you.
Spotted a mistake or want to add something? Please let us know in comments below or email us.
©2018 Whatsonweibo. All rights reserved. Do not reproduce our content without permission – you can contact us at info@whatsonweibo.com.
Luo Tianyi and the Booming Virtual Idol Market in China
The virtual entertainment market is exploding in China.
They are featured on China's biggest TV shows and on the covers of fashion magazines: they're virtual idols yet their success is very real.

This is the "WE…WEI…WHAT?" column by Manya Koetse, original publication in German by Goethe Institut China, see Goethe.de: WE…WEI…WHAT? Manya Koetse erklärt das chinesische Internet.

At the Spring Festival Gala of 2021, the Chinese state media's annual televised event that only invites the country's top-notch performers, the virtual idol Luo Tianyi (洛天依) made a guest appearance.
It was a big media moment that showed the growing importance of virtual superstars in Chinese pop culture. Luo's performance was even announced on the show's promo posters, making this the first time ever for a virtual star to be on the show like this.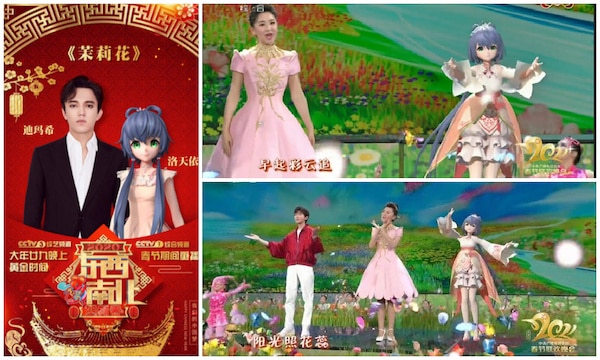 Virtual celebrities such as Luo Tianyi are also called 'vsingers' and often have an enormous fanbase. What is the story behind Luo Tianyi and the boom of virtual superstars in China, leading to the remarkable appearance of a non-human celebrity in the country's biggest mainstream TV show?

Luo Tianyi: The First Chinese Vsinger

Although it was the first time for Luo Tianyi to appear at the Spring Festival Gala, it was not her first big performance. The superstar previously showed up as holograph live at big events such as the Bilibili night, and in 2019 she shared a stage with renowned Chinese pianist Lang Lang.
Such a performance does not come easy. It takes months to design the looks and the moves. The holographic appearance of Luo Tianyi and the spectacular two-hour show took around six months of preparation by around 200 professionals involved in the production of Luo Tianyi.
Luo Tianyi is a so-called 'vocaloid' singer – a Mandarin Chinese language virtual character that was originally featured in the voice synthesizer software called VOCALOID developed by Yamaha, using third parties to create the characters. Vocaloid is a commercial product (released in 2004) with the purpose of enabling users to get a singer for lyrics and melodies without needing to hire an actual human singer.
The Shanghai Henian company collaborated with Tokyo-based Bplats in developing Luo Tianyi. The character was based on the winner of a contest that was organized in support of creating the first Chinese Vocaloid. The real-life singer whose voice was used for the creation of Tianyi is Chinese singer Shan Xin (山新).
Luo Tianyi was officially launched in 2012 as a 15-year-old entertainer and vsinger. By now, she has around five million followers on her Weibo account (@Vsinger_洛天依) where she posts about her performances, with thousands of people liking and sharing these posts.

Virtual Idol Boom: From Japan to China

According to Chinese state media outlet Global Times, 2020 was the year that virtual idols really took off in China, going hand in hand with the growing popularity of livestreaming.
Chinese video-sharing site Bilibili has contributed to the growing success of virtual idols in China. Bilibili is a homebase for many fan communities in China, since it is mainly themed around animation, comic, and games (ACG). It is one of the earliest platforms in China to broadcast virtual idol concerts, and in 2020 it held China's first concert consisting solely of virtual performers under the title 'BML-VR 2020' (link).
The Bilibili concert featured a performance by various virtual entertainers, including the popular Hiseki Erio. Hiseki Erio is not Chinese, but Japanese. So is Hatsune Miki, one of the most famous virtual idols ever.
You could say Japan is the birthplace of virtual idols – a history that goes back to 1996 when Kyoko Date, also known as DK-96 or 'Digital Kid 1996,' made her debut as the first virtual talent.
Virtual idols come in various shapes, forms, and subgenres, and they all have their different background stories. Hatsune Miki was released in 2007 as the embodiment of the Vocolaid software developed by Crypton Future, and then there are the popular virtual Youtubers, 'vtubers', with virtual talent agencies such as Hololive also thriving in Japan.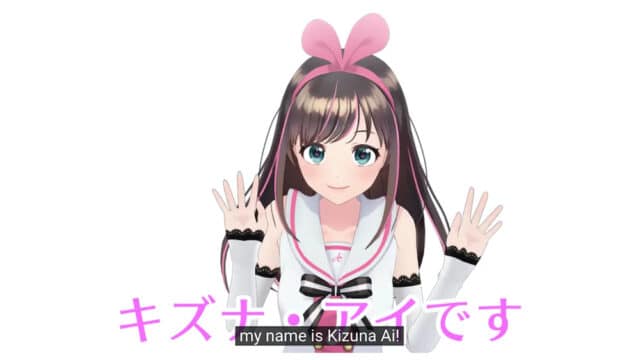 The term 'virtual Youtuber' came with the arrival of Kizuna AI, who posted her first introduction Youtube video in late 2016. Kizuna, who later became a cultural ambassador for the Japan National Tourism Organization, is still considered one of the most popular vtubers on earth.
With the great popularity of Japanese manga and anime on the Chinese market, Japanese virtual idols also gained a strong foothold in the People's Republic since around 2017. Hatsune Miki alone already has over 3,4 million fans on Weibo (@初音未来CryptonFutureMedia).
The virtual entertainment market is now exploding in China, where the online ACG culture is flourishing on Bilibili and beyond.
Since Japanese popular culture products began to gain popularity in China in the early 1990s, there have been various developments that have shown the government's dislike of the 'Japanese cultural invasion' in the country. As a counter-reaction, there has been stronger promotion of the production of made-in-China animations and other ACG products.
While China is seeing a steady release of domestic animated films and series, there is now also a wave of new China-born virtual stars, such as the Bilibili idol Yousa (冷鸢), or Xing Tong (星瞳), a virtual idol from Tencent. Chinese gaming company Papergames made the virtual character Nuan Nuan (暖暖) to also live outside of the gaming world; she is now a singer, a stylist, and a popular fashion ambassador.
There is also Ling (翎), the Chinese virtual influencer who loves Peking opera, tea culture, and calligraphy. Ling, who was created by Next Generation studio and Shanghai AI startup Xmov, appeared on the CCTV show Bravo Youngsters (上线吧华彩少年) and was featured on the cover of Vogue Me in February 2021 alongside actual real-life celebrities.
The number of Chinese virtual celebrities is expected to grow along with the growing market. In October of 2020, the Chinese variety show Dimension Nova (跨次元新星) first aired as a talent show scouting new virtual talent.

Virtual Commercials and Controversies

The growing influence of the virtual entertainment economy and culture in China is becoming more and more noticeable in pop music, commercial culture, and even in the sphere of politics.
Virtual celebrities are so popular that brands are also jumping in on this craze by hiring them as brand ambassadors or by creating their own cyber stars. Tencent's Xing Tong, for example, modeled for Levi's and sportswear brand Li Ning. Nuan Nuan, among others, was featured in a commercial for hair care brand LUX. Luo Tianyi appeared in campaigns for Huawei, Pizza Hut and KFC.
In January of 2021, McDonald's China announced their own virtual idol "Happy Sister" (开心姐姐) as a brand ambassador. They are not the only one: there are over thirty companies in China now using a virtual brand ambassador. The new McDonald's idol was welcomed by Weibo users, where the news of her launch received 200 million views.
The virtual idol influence also became apparent when Japanese 'Hololive' virtual celebrities Akai Haato and Kiryu Coco recently got caught up in a diplomatic row because they referred to Taiwan as a "country" when discussing their YouTube channel analytics during a livestream, leading to controversy among their Chinese fanbase.
In a statement published on Bilibili by Cover (the Japanese company behind the Hololive talent agency that the virtual celebrities in question were under), the agency apologized for what had happened. Nevertheless, both virtual stars involved in the controversy were banned from Bilibili and eventually the entire Chinese Hololive branch was shut down.
This example shows that although virtual idols are generally regarded as a safe option for brands and companies because, unlike real celebrities, they are not likely to get caught up in scandals, it is still possible for them to spark controversy.
Nevertheless, the future looks bright for virtual stars in China with still an enormous market for Luo Tianyi and others to conquer, with plenty of room for growth. From concerts to fashion shows to live streaming channels, from Weibo to Bilibili and beyond, we are bound to see virtual stars increasingly become a part of everyday life in China.
By Manya Koetse
Follow @whatsonweibo
This text was written for Goethe-Institut China under a CC-BY-NC-ND-4.0-DE license (Creative Commons) as part of a monthly column in collaboration with What's On Weibo.
Spotted a mistake or want to add something? Please let us know in comments below or email us. First-time commenters, please be patient – we will have to manually approve your comment before it appears.
From Red Packet to Virtual Hongbao: Lucky Envelopes in China's Digital Era
Raising virtual cows, shaking with phones – this is the Chinese New Year tradition of giving red envelopes in the digital era.
The custom of giving out red paper envelopes has evolved into a world of virtual lucky money and online games. This is the transformation of a Chinese New Year's tradition, reported by Koen van der Lijn and Xiaojun Zhang.

When objects meet social media, two websites meet as well. This is a collaboration between What's on Weibo and Things That Talk (follow on Insta @thingsthattalk).

Ever wanted to raise a digital cow? This year, you can raise your own lucky cow (福牛) for Chinese New Year on Weibo. Through maintaining and raising their virtual cow (or ox), users can participate in this online game to win red envelopes, a well-known and beloved tradition linked to Chinese New Year.
The hashtag "Lucky Cow's New Year's Travelogue" (#福牛新春旅行记#) is linked to Weibo's celebration of Chinese Spring Festival and the Year of the Ox. Users are expected to be active on Weibo daily to raise their cow/ox, similar to the once so popular Tamagotchi. Whilst leveling up their cow, users get the possibility to earn digital red envelopes.
The online game is another development in the story of the red envelopes, known in China as hongbao (红包). Often given during Chinese New Year, the envelopes can also be given at other joyous occasions like weddings. These red envelopes are given to each other by friends and family members to wish each other a happy new year and are always filled with an amount of money.
The practice of giving money during Chinese New Year goes far back in Chinese history. The earliest form of the red envelope is said to be yasuiqian (压祟钱). In order to keep evil spirits away, called sui (祟), people put money underneath children's pillow since the evil spirits were said to be warded off by coins.1 These coins were woven together using a string.
As time went by and paper money and envelopes became more widespread, string and coins were replaced and the red envelope was created.
Red envelopes are used by Chinese all over the world nowadays. The amount of money inside depends on many factors. Recently, the tradition has left behind its tangible form and entered the digital era.
"Adding the thrill of gambling to the practice of giving away red envelopes"
In 2014, the popular Chinese messaging app WeChat (微信) launched a new function that allowed users to send virtual red envelopes. Users could send an amount of money directly to another user, or an amount of red envelopes could be sent into a groupchat. When the function launched, users worldwide could shake their phones in order to receive free red envelopes. The amount of money that was given to users surpassed 500 million yuan ($77.5 million).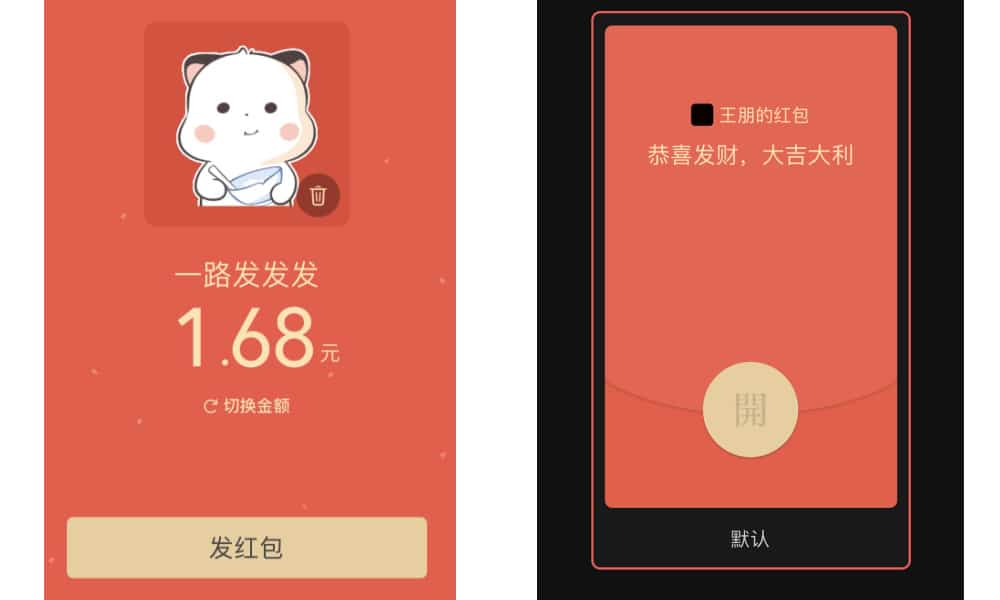 WeChat's inventive idea put digital red envelopes on the map in China. During the peak of the event, 800 million shakes were recorded per minute. There were two types of envelopes introduced in 2014 by Tencent, the company that owns WeChat:
1. A regular red envelope that could be sent directly from one user to another.
2. A 'group' red envelope, with a limited number to be grabbed and a limited sum of money which can be grabbed by all users in a group if they are fast enough. The sum inside this envelope is randomized, adding the thrill of gambling to the practice of giving away red envelopes.
Other companies also wanted a piece of the digital red envelope cake: Weibo and AliPay combined their strengths a year after WeChat introduced its digital hongbao in order to promote their version of the digital red envelope.
A 'war' then broke out between the two companies. AliPay handed out 600 million renminbi ($93 million) worth of red envelopes as a response to WeChat's 120 million envelopes sent out during the televised celebration of Chinese New Year.2
"Digital red envelopes can cross time and place, but cannot replace the method of face-to-face contact"
In the years after, the digital red envelope became more and more popular. Weibo and Alipay also came with their version of sending red envelopes online. The companies organized large-scale actions to make users make use of their form of digital red envelopes.
WeChat, for instance, gives users the option to make the red envelopes very personal through adding stickers and personal messages, making the digital red envelope an even more enjoyable experience.
Does this new development of the traditional red envelope make the tangible envelope obsolete?
When asked by the digital newspaper The Paper (澎湃新闻) about whether the digital red envelope might replace its tangible brother, scholar Tian Zhaoyuan (田兆元) of East China Normal University said that the digital red envelope can cross time and place, but cannot replace the method of face-to-face contact. Though friends and family may send one another digital red envelopes, it does not mean that it replaces the tangible red envelopes.3
The tradition of sending red envelopes is and will be inherently linked to Chinese New Year. Though both the paper and digital forms of the tradition remain incredibly popular, the virtual hongbao will definitely win territory once more this year as travel is restricted due to COVID-19. Especially in these times, the digital red envelope is the best digital way of wishing family and friends a happy new year.
Why are 'lucky envelopes' not just red, but sometimes also green or purple? Read more via Things That Talk here.

By Koen van der Lijn and Xiaojun Zhang
Follow @WhatsOnWeibo
Koen van der Lijn (China Studies, BA) is a ResMa student Asian Studies at Leiden University focused on Chinese history and its international relations. He is a student ambassador at Things That Talk.
Xiaojun Zhang (China Studies, BA) is an MA student Asian Studies at Leiden University focused on contemporary Chinese culture, symbolism and food. For Things That Talk, she currently works on a project about Chinese-Indonesian restaurants in the Netherlands.
This story was made in collaboration with ThingsThatTalk.net – exploring humanities through the life of objects. Things That Talk is an educational digital project where staff and students produce narratives and metadata about objects in Leiden collections and beyond. Check out the story "Hongbao: from paper envelope to digital gift" on Things That Talk here!

Footnotes (other sources hyperlinked within the article)
1 Kin Wai Michael Siu. 2001. "Red Packet: a Traditional Object in the Modern World." Journal of Popular Culture 35 (3), 103.
2 Chen, Liyan. 2015. "Red Envelope War: How Alibaba and Tencent Fight Over Chinese New Year." Forbes, Feb 19 https://www.forbes.com/sites/liyanchen/2015/02/19/red-envelope-war-how-alibaba-and-tencent-fight-over-chinese-new-year/?sh=1b88bccccddd.
3 The Paper, Zuowei yi zhong "xinnian su", weixin hongbao hui qudai zhizhi hongbao ma? 作为一种"新年俗",微信红包会取代纸质红包吗?, https://cul.qq.com/a/20160208/012888.htm.
Spotted a mistake or want to add something? Please let us know in comments below or email us. First-time commenters, please be patient – we will have to manually approve your comment before it appears.
©2021 Whatsonweibo. All rights reserved. Do not reproduce our content without permission – you can contact us at info@whatsonweibo.com.