Female Comedian Yang Li and the Intel Controversy
A decision that backfired: Intel's act of supposed 'inclusion' caused the exclusion of female comedian Yang Li.
"How to look at the boycott of Yang Li?" (#如何看待抵制杨笠#) became a top trending topic on social media site Weibo on Monday after female comedian Yang Li was dismissed as the spokesperson for American tech company Intel over a controversial ad campaign.
On March 18, Intel released an ad on its Weibo account in which Yang says "Intel has a taste [for laptops] that is higher than my taste for men" ("英特尔的眼光太高了,比我挑对象的眼光都高.")
The ad drew complaints for allegedly insulting men, with some social media users vowing to boycott the tech brand. On Sunday, Intel deleted the ad in question from its social media page and reportedly also removed Yang from her position as their brand ambassador.
The commotion over the ad had more to do with Chinese comedian Yang Li (杨笠) than with the specific lines that were featured in it.
Yang Li is controversial for her jokes mocking men ("men are adorable, but mysterious. After all, they can look so average and yet be so full of confidence"), with some blaming her for being "sexist" and "promoting hatred against all men."
Since she appeared on the stand-up comedy TV competition Rock and Roast (脱口秀大会) last year, she was nicknamed the the "punchline queen" and became one of the more influential comedians in present-day China. Yang now has nearly 1,5 million fans on Weibo (@-杨笠-).
Yang Li's bold jokes and sharp way of talking about gender roles and differences between men and women in Chinese society is one of the main reasons she became so famous. Intel surely knew this when asking Yang to be their brand ambassador.
In light of the controversy, the fact that Intel was so quick to remove Yang also triggered criticism. Some (male) netizens felt that Intel, a company that sells laptops, could not be represented by a woman who makes fun of men, while these men are a supposed target audience for Intel products.
But after Yang was removed, many (female) netizens also felt offended, suggesting that in the 21st century, Intel couldn't possibly believe that their products were mainly intended for men ("以男性用户为主")? Wasn't their female customer base just as important?
According to online reports, Intel responded by saying: "We noted that the content [we] spread relating to Yang Li caused controversy, and this is not what we had anticipated. We place great importance on diversity and inclusion. We fully recognize and value the diverse world we live in, and are committed to working with partners from all walks of life to create an inclusive workplace and social environment."
However, Intel's decision backfired, as many wondered why having Yang as their brand ambassador would not go hand in hand with 'promoting an inclusive social environment.'
"Who are you being 'inclusive' too? Common 'confident' men?", one person wrote, with others saying: "Why can so many beauty and cosmetic brands be represented by male idols and celebrities? I loathe these double standards."
"As a Chinese guy, I really think Yang Li is funny. I didn't realize Chinese men had such a lack of humor!" another Weibo user writes.
There are also people raising the issue of Yang's position and how people are confusing her performative work with her actual character. One popular law blogger wrote: "Really, boycotting Yang Li is meaningless. Stand-up comedy is a performance, just as the roles people play in a TV drama."
Just a month ago, another Chinese comedian also came under fire for his work as a brand ambassador for female underwear brand Ubras.
It is extremely common in China for celebrities to be brand ambassadors; virtually every big celebrity is tied to one or more brands. Signing male celebrities to promote female-targeted products is also a popular trend (Li 2020). Apparently, there is still a long way to go when the tables are turned – especially when it is about female celebrities with a sharp tongue.
By Manya Koetse
Li, Xiaomeng. 2020. "How powerful is the female gaze? The implication of using male celebrities for promoting female cosmetics in China." Global Media and China, Vol.5 (1), p.55-68.
Spotted a mistake or want to add something? Please let us know in comments below or email us. First-time commenters, please be patient – we will have to manually approve your comment before it appears.
©2021 Whatsonweibo. All rights reserved. Do not reproduce our content without permission – you can contact us at info@whatsonweibo.com.
CAPA Controversy Continued: Li Xuezheng Won't Be Silenced
Despite being censored and threatened, Li Xuezheng believes the force of law is with him.
It has been a stormy week on Weibo following the 'warning list' issued by China's Association of Performing Arts (CAPA) on Tuesday, November 23rd.
It was the ninth time since 2018 for CAPA's livestreaming branch to issue a list of names of people with a 'bad record.' Different from previous lists, its most recent list also included the names of Chinese celebrities who are not necessarily active within the livestreaming industry but should be barred from entering the industry based on their track records.
One of these names is that of Chinese actor Zhang Zhehan (张哲瀚), whose online photos from him visiting the controversial Yasukuni Shrine in Japan in 2018 were one of the major reasons for him to get into trouble in the summer of 2021.
Tokyo's Yasukuni Shrine is a particularly sensitive location when it comes to memories of the Second Sino-Japanese War (1937-1945). The shrine is dedicated to the Japanese soldiers who sacrificed their lives for the emperor, including those who committed war crimes in China. It is generally seen as a symbol of Japanese military aggression and as a painful reminder of the numerous atrocities committed by Japanese soldiers in China and other Asian countries.
Despite apologizing for his supposed lack of historical understanding of the places where he took photos, Zhang saw his career shattered when his social media account was suspended and his brand partnerships were canceled.
Following the inclusion of Zhang's name on the recent CAPA blacklist, famous producer/distributor/actor Li Xuezheng (李学政), director of the Golden Shield Film and Television Center, started posting about the issue on his Weibo account, where he now has over 1.1 million followers.
On November 25th, What's on Weibo reported how Li criticized the blacklist of CAPA, questioning the criteria of the names that are included and how an association or business entity such as CAPA would have the legal power to enforce disciplinary measures over Chinese celebrities beyond the realm of their own association membership circles.
When Li Xuezheng stated he would be willing to help Zhang Zhehan file a lawsuit against CAPA, he received nearly 100,000 likes on his post within 24 hours.
Since Li Xuezheng first posted about the 'warning list' of China's Association of Performing Arts, he published at least twenty posts from November 23 to November 26, including a few videos. His posts have been gaining more traction, and some have received over 140,000 likes within a day.
Li's main stance is that, although he says he supports the general initiative of making blacklists, he wants to know how, why, and if CAPA has the legal authority to ban Chinese celebrities from the industry. Li stresses that China is a law-based society and that these kinds of punitive measures should have a legal basis.
Since Li has worked in anti-corruption-related positions before, he says it is very important to know who oversees the process of compiling celebrity blacklists and which methods are used. Since China's livestreaming industry and the commercial activities of celebrities are of great economic value, people would do anything they can to be removed from such a list. When these kinds of power dynamics play a role, Li argues, the risk of corruption is always there – which is why it is all the more important to know who compiles these kinds of lists and which legal authority they have.
Li argues that China's State Administration of Radio, Film and Television (SARFT) and the Ministry of Culture and Tourism have the authority to 'blacklist' people in the industry. But when people such as Zhang Zhehan are not listed anywhere according to these authorities, it should be questioned why they are still included in lists such as the one issued by CAPA. Going by law is one of the main principles Li stands by.
Although there are also people criticizing Li, saying he is "saving bad performers" to gain clout, there are many who praise him for his courage and perseverance, reiterating the necessity for Chinese organizations to abide by the law. Others are just following the trend for entertainment, writing: "I'm enjoying the spectacle of this, there's the CAPA, there's capital, money laundering, platforms, hiding the truth from the masses…"
Zhang Zhehan still has a loyal group of fans, who support Li in raising awareness for what they believe is the wrongful punishment of their idol.
What is also noteworthy about Li's posts, is how he refuses to be silenced by outside forces. When Weibo censors his posts, he makes it public by posting screenshots. When he is told by people claiming to have authority to delete his Weibo accounts, he reports back to his readers about what has happened to him.
Although there are many Weibo users who worry about Li's safety for speaking out about these matters, Li himself does not seem to be anxious at all. "I am legally responsible for every word I publish," Li writes on November 25th, arguing that nothing he posts is illegal and that he only tries to adhere to the ruling standards and to keep China's online (entertainment) industry healthy by questioning those claiming to have authority.
One of the points raised by Li is that Zhang Zhehan has never really done anything illegal. By visiting the controversial Yasukuni Shrine, he surely caused a social media storm and was criticized, but he did not do anything illegal and did not spread rumors. If visiting Yasukuni Shrine in itself would be a crime, Li argues, many Chinese media reporters would surely need to be punished as well.
By now, Li has started a storm that does not seem to be lying down any time soon. On November 26, the official site of the China Association of Performing Arts removed its list of leaders from its official site. As of now, it is unclear why this has been done.
At the same time, Li writes that there are more people trying to threaten and smear him. Li still says he will not be silenced: "The great power of justice is surrounding us."
To read more on this issue, check out our other related articles here.
By Manya Koetse
Spotted a mistake or want to add something? Please let us know in comments below or email us. First-time commenters, please be patient – we will have to manually approve your comment before it appears.
©2021 Whatsonweibo. All rights reserved. Do not reproduce our content without permission – you can contact us at info@whatsonweibo.com.
Li Xuezheng Defies Online Celebrity 'Blacklist,' Says He'll Help Zhang Zhehan File Lawsuit
China's Association of Performing Arts has issued a blacklist, but Li Xuezheng questions their legal authority to do so.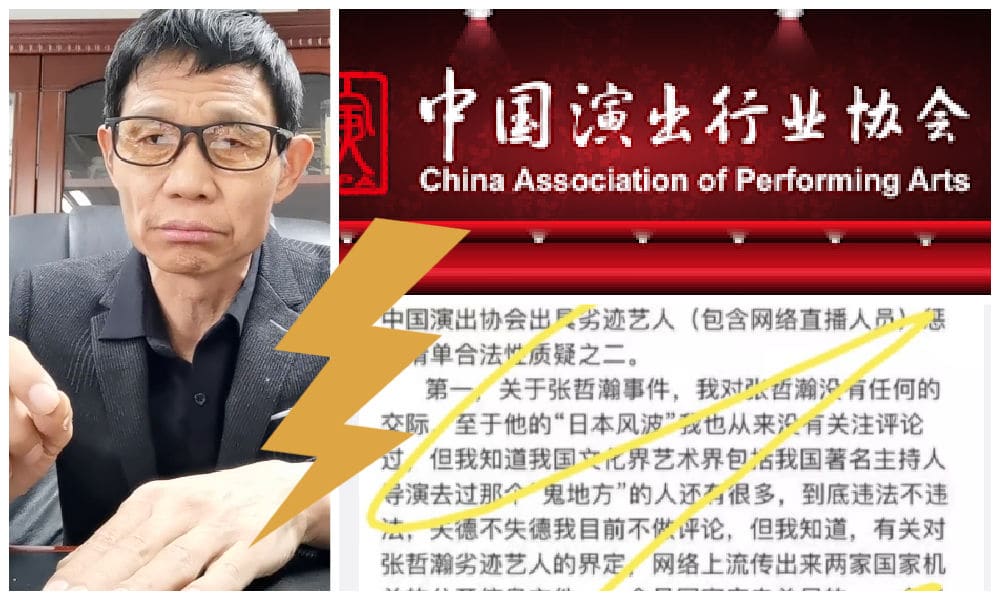 As an important voice within the industry, Li Xuezheng has spoken out against the recent blacklist of Chinese (online) performers issued by the China Association of Performing Arts. Li is willing to help one of the prominent names on the list, Chinese actor Zhang Zhehan, to file a lawsuit against the Association.
Li Xuezheng (李学政), Vice Chairman of the China TV Artists Association and Director of the Golden Shield Television Center, has published a video that has caught the attention of many on Weibo. In his video, Li questions the authority of China's Association of Performing Arts (CAPA/中国演出行业协会), which released a black list of online celebrities earlier this week.
The list went trending on Weibo and contains 88 names of internet personalities who have been reported and registered for their supposedly bad behavior. The people on the list have either violated the law or their actions have allegedly negatively impacted society and public order (more about the list here).
The consequences for the people included in the list are potentially huge, since it not only bans livestreamers from continuing their work but also prohibits performers who were previously 'canceled' from entering China's livestreaming industry to generate an income there. Through the list, CAPA gives an overview of people that should be boycotted and disciplined in the industry.
One of the people on the list is Zhang Zhehan, an actor who got caught up in a Chinese social media storm in August of 2021 over attending a wedding at a controversial Japanese shrine and taking pictures at Yasukuni, a shrine that is seen as representing Japanese militarism and aggression.
Although Zhang apologized, Zhang's account and an affiliated work account were suspended by Weibo and the brand partnerships he was involved in were canceled.
Chinese celebrities who have fallen out of favor with authorities or audiences will sometimes turn to livestreaming. Singer Li Daimo (李代沫), for example, became a livestreamer after his successful singing career ended due to a drugs scandal. But now, even such an alternative career would no longer be possible for someone like Zhang, although he was never legally convicted for anything.
News of CAPA's blacklist was widely published, also by People's Daily, and the measures were presented as a way to tidy up the chaotic online entertainment industry and to create a "healthy and positive" internet environment.
In his video and other recent posts, Li Xuezheng wonders how the so-called 'warning list' was compiled, according to which criteria, by whom it was created, and whether or not the CAPA actually has the legal power to shut people out of China's live streaming industry.
He also raises the issue that CAPA's live streaming branch, that issued the blacklist, is actually a business entity; so how does it have the legal disciplinary powers to impose sanctions against Chinese online influencers and performers?
Li's video, posted on his Weibo account on November 24, has received over 90,000 likes and was shared over 8500 times at the time of writing.
"What I don't understand," one popular comment says: "- are these online influencers [on the list] all members of the Association? Can the Association also punish non-members? Does the authority of the Association cover all media? On what legal basis is their regulatory conduct based?"
The China Association of Performing Arts, founded in 1988, is a national-level organization that falls under the supervision of the Ministry of Culture and Tourism of China. It is a non-profit organization formed by performance operators and performers, according to its official website, which also states that members of the association include performance groups, performance venues and companies, ticketing companies, and more.
Since Li's video was posted on November 24th, he received a lot of support from Chinese netizens but also faced some online censorship. Li himself posted screenshots showing that not all of his posts could be published.
It is noteworthy for someone like Li to speak out against CAPA's blacklist. Li Xuezheng is a familiar face within the industry. Born in Shandong Province in 1965, Li has worked in China's film and TV industry for a long time and has since built an impressive resume as a producer, supervisor, actor, and distributor. He has over a million followers on his Weibo account (@李学政).
On November 25th, Li added another post to his series of posts on the CAPA issue, saying that although his initial goal was just to make sure that CAPA sticks to the rules, he is now also prepared to help Zhang Zhehan in filing a lawsuit against the Association, since Zhang did not violate any laws in order for him to be 'canceled' like this. "I believe in the justice of the law," Li writes.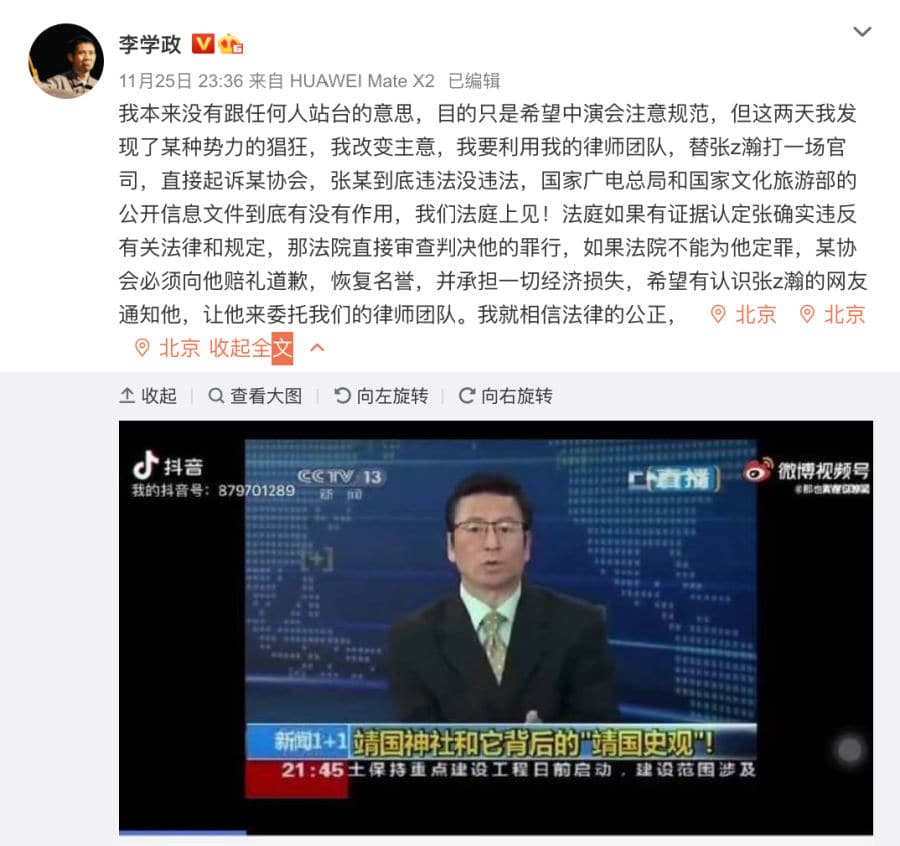 Although Li received a lot of support on social media, there are also those who worry about Li himself: "You first take care of yourself," some say, with others warning him: "Teacher Li, if you go on like this, you will lose your [Weibo] account tomorrow."
Others are moved by Li's courage: "I almost feel like crying reading your words."
"It's been a long time since I've seen someone with this kind of overwhelming righteousness."
For now, Li seems to be unstoppable in his goal to get to the bottom of this case; he seems to be determined to raise awareness within the industry on who is legally allowed to set the rules and who is not.
One popular comment says: "Looking at Teacher Li, I see he is fighting corruption and advocating honesty. Besides listening to the public's opinion, I just hope law-based society will rule according to law."
By Manya Koetse
Spotted a mistake or want to add something? Please let us know in comments below or email us. First-time commenters, please be patient – we will have to manually approve your comment before it appears.
©2021 Whatsonweibo. All rights reserved. Do not reproduce our content without permission – you can contact us at info@whatsonweibo.com.