"Hi, Mom!" Box Office Hit Sparks 'When My Mum Was Younger' Trend on Weibo
The touching Chinese hit movie "Hi, Mom" has sparked an emotional trend on Weibo.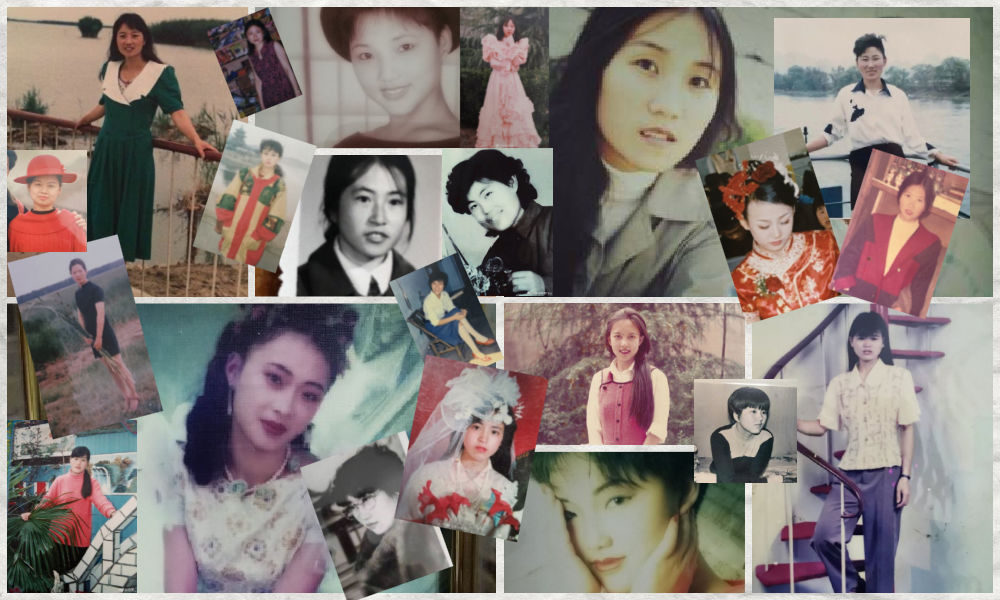 The movie Hi, Mom is all the rage in China, where social media is flooding with hashtags, photos, and texts celebrating moms and the bond between mothers and daughters. One big discussion is focused on all the things daughters would tell their younger moms: "Please don't marry dad."
If you could travel back in time and meet your mum before she had you, what would you say to her? What would you do?
This question is the idea behind Hi, Mom (Chinese title Hi, Li Huanying 你好,李焕英), the box office favorite in China this Spring Festival. The movie is directed by Jia Ling (贾玲), who also plays the female protagonist. For comedian Jia Ling, who is mostly known for her sketches during the Spring Festival Gala, this movie is her directorial debut.
Hi, Mom tells the story of Jia Xiaoling (Jia Ling) who is devastated when her mother Li Huanying has a serious accident one day. Jia is especially grief-stricken because she feels she has not become the daughter she wanted to be for her mother. When she finds herself transported back in time to the year 1981, she meets her young mother before she was her mum, and becomes her friend in the hopes of making her happy and change her life for the better.
Li Huanying is also the name of Jia Ling's own mother, who passed away when Jia was just 19 years old. Jia Ling reportedly did not make the movie because she wanted to be a director, but because she wanted to tell her mother's story.
The film has become super popular since its debut on February 12 and raked in 2.6 billion yuan (over $400 million) within five days. On day five alone, the movie earned $90 million.
The movie has sparked various trends on Chinese social media. One of them is an online 'challenge' for daughters to post pictures of mothers when they were young. The hashtag "Photo of My Mother When She Was Young" (#妈妈年轻时的照片#) received 120 million views on Weibo by Wednesday. Another hashtag used for this 'challenge' is "This is My Li Huanying" (#这是我的李焕英#). The hashtags have motivated thousands of netizens to post photos of their mother before she became a mom.
The trend has not just sparked an online movement to celebrate and appreciate mothers – it also offers an intimate glance into the lives of Chinese older women and shows just how different the times were when they were young. This also gave many daughters a new appreciation of their mothers.
"I used to have many wishes," one female Weibo user wrote: "But now I just hope to make my mum happy." Others praised their mother's beauty ("My mum is so pretty!") and said that they are proud to look like their mom, although some also complained that they had not inherited their mother's looks.
The trend has also provided an opportunity for a moment of self-reflection for some. Seeing the unedited photos of their younger mothers, some called on female web users to stop losing themselves in 'beautifying' photo apps that alter their facial features, saying they will not have normal photos of themselves in the future that show their true (and unedited) natural beauty.
"Don't marry dad, don't believe his sweet talk."
There is also another hashtag trending in light of Hi, Mum. It is "If You Could Go Back to Before Your Mum Married" (#如果穿越回妈妈结婚前#) and started with one popular fashion influencer (@一扣酥) asking her followers what they would want to tell her.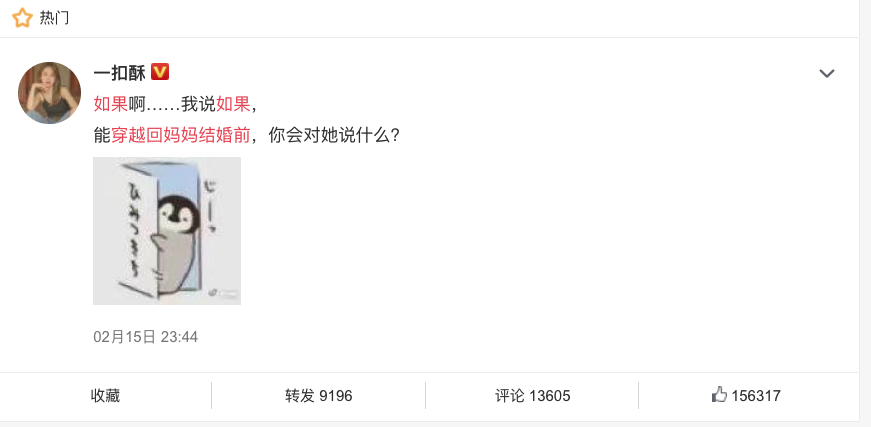 "Don't marry dad. Don't believe his sweet talk," one person replied, with many others also writing that they would want to tell their younger mom not to marry their fathers: "I would tell her to look for someone who loves her, and not for someone she loves," one person responded.
"Please leave dad," another Weibo user writes, adding that her father drank too much and would hit her mother.
"Don't feel like you need to marry because you're older," another daughter writes: "Don't get into a 'lightning wedding' and don't care so much about what other people say."
"Live for yourself for once," a blogger named 'Zhi Zhi El' wrote, with another young woman named Yumiko writing: "Don't close your bookshop, be independent and confident, don't listen to everything dad says, and don't become a housewife."
But there are also those who are happy with the way things turned out: "Mum! Marry dad! He's good!"
In the end, most commenters just want one thing. As this Weibo user (@·__弑天) writes: "Mum, I just hope you have a happy life."

By Manya Koetse
with contributions by Miranda Barnes
Follow @whatsonweibo
Spotted a mistake or want to add something? Please let us know in comments below or email us. First-time commenters, please be patient – we will have to manually approve your comment before it appears.
©2021 Whatsonweibo. All rights reserved. Do not reproduce our content without permission – you can contact us at info@whatsonweibo.com.
Devastating Rain and Floods in Henan – A Hashtag Timeline
The torrential rainfall and floodings in China's Henan Province have completely overwhelmed the region, with dozens of cities and villages seeing massive disruption to everyday life. What's on Weibo lists the main Chinese social media hashtags to go trending over the past week during the deadly floods.
Disastrous rain and floodings continue to plague China's Henan province, where Zhengzhou city and surrounding towns and villages have been dealing with the strongest rainfall ever recorded.
Henan, home to 99 million residents, has seen extreme rain since Friday, July 16, leading to floods and critical situations in the region on July 20, when the city of Zhengzhou was hit especially hard.
According to reports on July 24, the death toll from the torrential rains has risen to 56. More than a million of people were relocated and over 7,5 million people are affected.
In this blog, we will list some of the main stories relating to the floods in Henan that have gone trending on the Chinese social media platform Weibo over the past week. (Note: Still being updated).
TRENDING TIMELINE
July 20
PASSENGERS TRAPPED IN ZHENGZHOU SUBWAY (Hashtag: #郑州地铁5号线一车厢多人被困#)
On the late afternoon of July 20, a terrible flood occurred around the Wulongkou parking lot of Zhengzhou Metro Line 5. On Tuesday night, around 18:00, the water burst into the underground area between Shakou Road station and Haitansi station, trapping a train with approximately 500 passengers in it. The critical situation led to terrifying images and videos of passengers caught in the carriage, the water reaching up to their necks. Due to the lack oxygen in the carriage, many people fainted.
After several hours, rescuers were able to get people out through the roof of the carriage. Although hundreds of people were saved, at least twelve did not survive. Footage that circulated on social media showed lifeless bodies lying on the floor of the station during the rescue operation.
The incident is one that kept generating online discussions after it happened, with survivors telling their stories and saying it felt "like the Titanic sinking."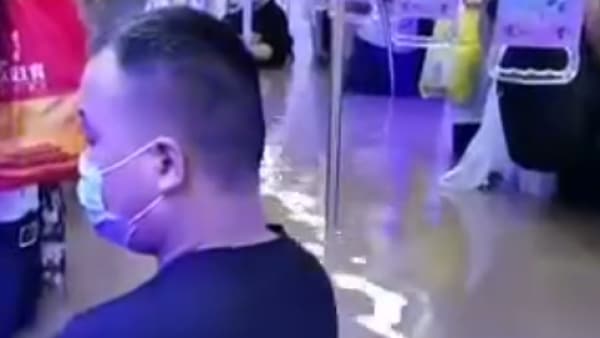 Around 20:00, twelve people were trapped in at the subway line 14 Olympic Sports Center station, with the water running up to two meters high. The fire department was able to rescue all twelve.
ZHENGZHOU HOSPITAL POWER OUTAGE (Hashtag: #暴雨中的郑州医院#)
The First Affiliated Hospital of Zhengzhou University, one of the biggest hospitals in the world, ran into major problems on July 20 when there was a power outage due to major flooding.
On social media, Weibo users cried out to request help for resources to rescue patients. This led to city residents coming in to bring electricity generators. The next day, on July 21st, the hospital's critical patients were all evacuated to other medical facilities.
July 21
STRANDED PASSENGERS AT ZHENGZHOU EAST STATION (Hashtag: #郑州东站 音乐是有力量的#)

Hundreds of passengers were stranded at Zhengzhou East Station when all services were suspended after 2:00 AM on July 21st. A youth orchestra group decided to pull out their instruments and perform in the station's main hall.
7月20日,因郑州暴雨,途径郑州的多列高铁停运,部分乘客被困郑州东站,一个学生交响乐团也在其中,学生们就地现场演奏了《我和我的祖国》和《歌唱祖国》

# zhengzhou#郑州洪水 pic.twitter.com/JSYSQ8jCjC

— venicema (@venicemala) July 21, 2021
The kind gesture moved many Chinese social media users to tears.
CONTROVERSY OVER HENAN REAL ESTATE COMPANY 'HIGHLAND' ADVERTISEMENT (Hashtag: #康桥地产致歉#)

An ad by the local real estate company Kangqiao Real Estate promoting its 'high lands' properties led to online controversy. The Kangqiao Group poster highlighted the height advantage to its real estate locations, using the slogan: "Highland – live in the highland and only let the wind and rain be your scenery."
The ad started making its rounds while Henan was in the midst of a huge rainstorm and flooding. Many deemed the timing of the ad insensitive, as well its wording. "Let the wind and rain just be your scenery" could also be understood as staying away from the hardships experienced by so many in Henan. Many felt the company was taking advantage of the disaster in Henan to promote its own real estate.

On July 21, Kangqiao Real Estate issued a statement of apology, saying that the advertising was canceled and that those responsible for its content would be removed from their position.
BABY RESCUED FROM DEBRIS (Hashtag: #三个月大婴儿被埋废墟一天一夜获救#)
A 3-month old baby was pulled from the ruins of a collapsed house in Xingyang, Zhengzhou. The infant reportedly was rescued a day after the building collapsed to landslides caused by the heavy rainfall. The child was sent to the hospital. The child's mother was initially said to be still missing. BBC later reported that the mother died after bringing her baby to safety. The child is unharmed.
It's hard to grasp just how many tragedies have unfolded (and still are) over the past days in Henan. This 3 month old baby was rescued from the rubble of a collapsed house in Xingyang after an entire day and night. His mother is still missing. pic.twitter.com/UaFOs8pRa5

— Manya Koetse (@manyapan) July 22, 2021
FIREFIGHTER COLLAPSES AFTER RESCUE (Hashtag: #郑州消防员救出最后一个孩子后累瘫#)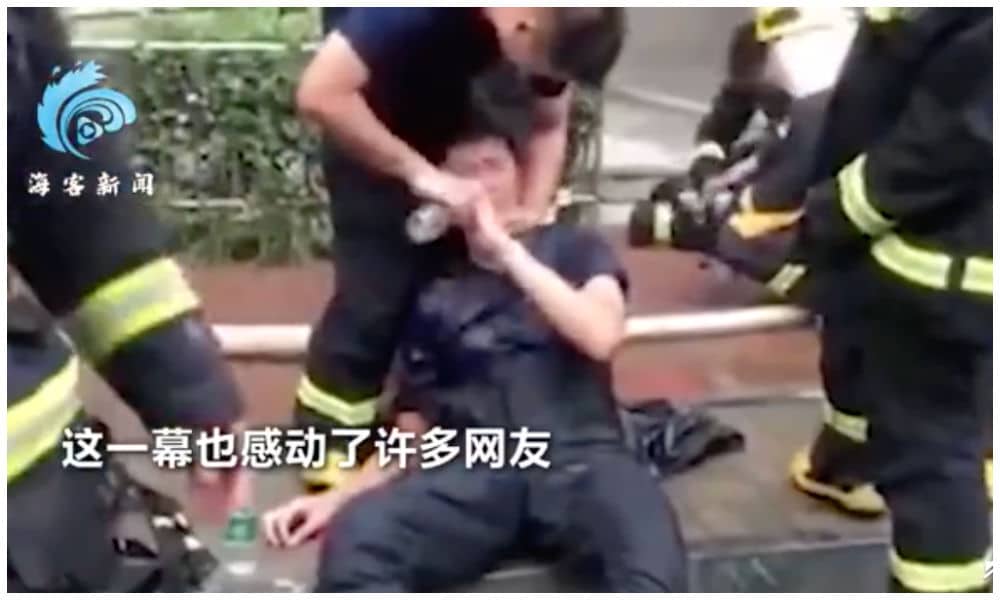 Around 14:30 in the afternoon, a fire erupted in a residential building in Zhengzhou, leaving 23 residents in a dangerous situation. Local firefighters managed to carry out all residents, mainly elderly and children. Due to the extreme weather conditions and high temperatures in the building, one firefighter collapsed at the scene. His colleagues immediately provided medical assistance.
ZHENGZHOU INSTALLS TEMPORARY PUBLIC WATER TAPS (Hashtag: #暴雨后郑州街头安装临时水龙头#)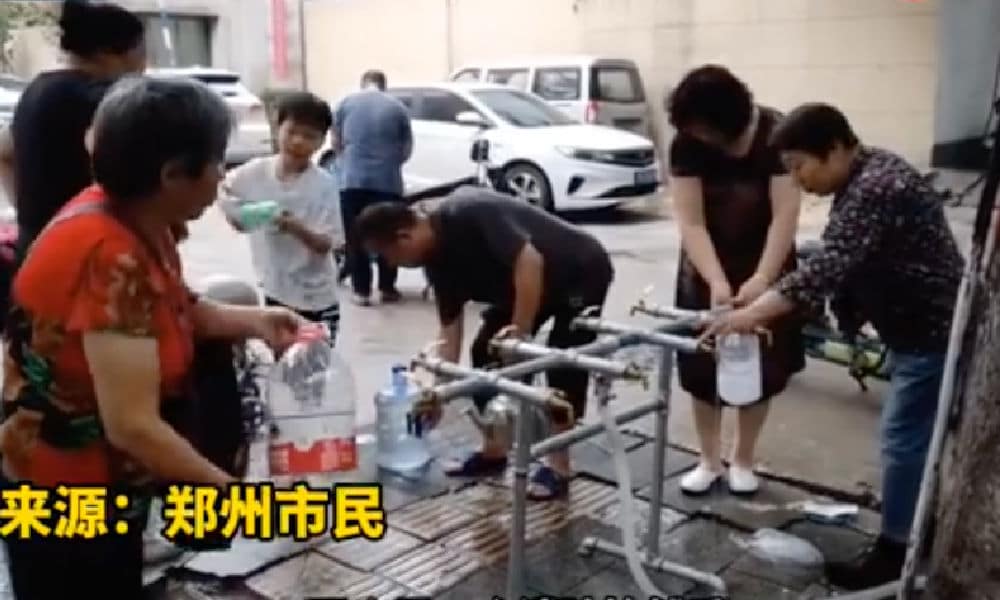 As the majority of residential buildings in the city of Zhengzhou were cut off from water after the torrential rains and floodings, the city installed temporary water taps on July 21st.
July 22
WEIHUI AND HUIXIAN EMERGENCY SITUATION (Hashtag: #卫辉暴雨#, #辉县暴雨#)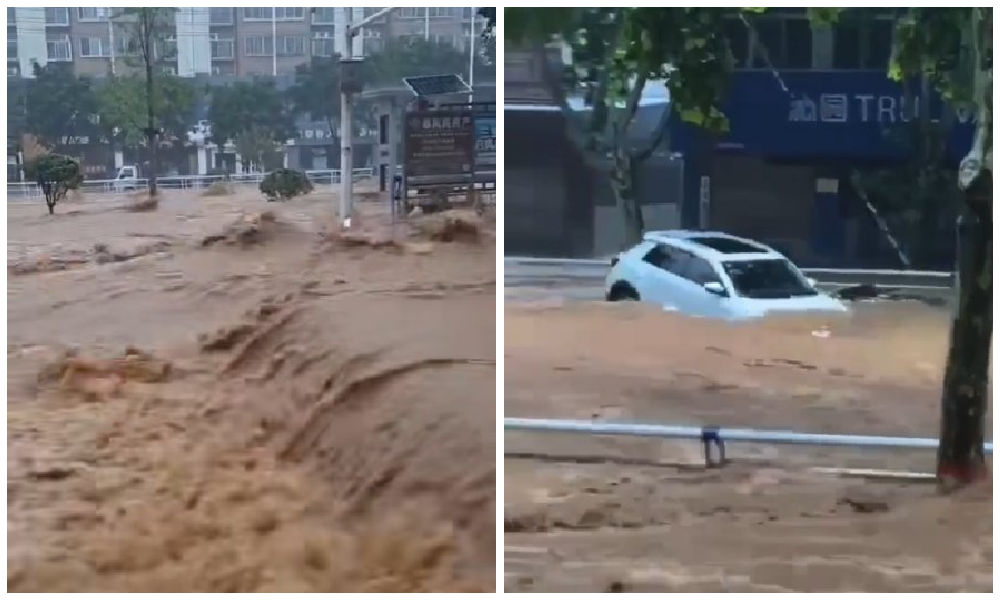 In the early morning of July 22, the people in Weihui sounded the alarm over the situation in their town. Around 4.00 AM, water started flooding into people's homes due to excessive rain and overflowing reservoirs.
Sleepless night for so many people in Henan as the rain keeps falling and northern areas are increasingly facing major problems. Many people are calling out for help for the smaller city of Weihui, where water levels are rising up to waist level and sandbags are needed. pic.twitter.com/LKp3pW3Jto

— Manya Koetse (@manyapan) July 21, 2021
As the rain still continued, water levels kept rising up to waist level and there was a lack of sandbags. A similar situation unfolded in the Huixian area.
Weihui is a county-level city with about 480,000 inhabitants, Huixian has approximately 790,000.
HUIXIAN HOSPITAL FLOODED (Hashtag:#辉县暴雨#)

Some 300 patients and staff at the local Gongji Hospital (辉县市共济医院) were trapped by the water. With power being cut off, not enough food available, and not enough manpower, the staff started reaching out for help via social media.
ELECTRICITY TO BE RESTORED IN ZHENGZHOU (Hashtag: #郑州力争今晚恢复高层居民小区供电#)

The Zhengzhou local government held a press conference on the afternoon of July 22 that they expected electricity in the city to be partially restored on Thursday night.
ONLINE ANGER OVER COMPANIES USING "HENAN FLOOD MARKETING" (Hashtag: #多家地产公司借暴雨营销#)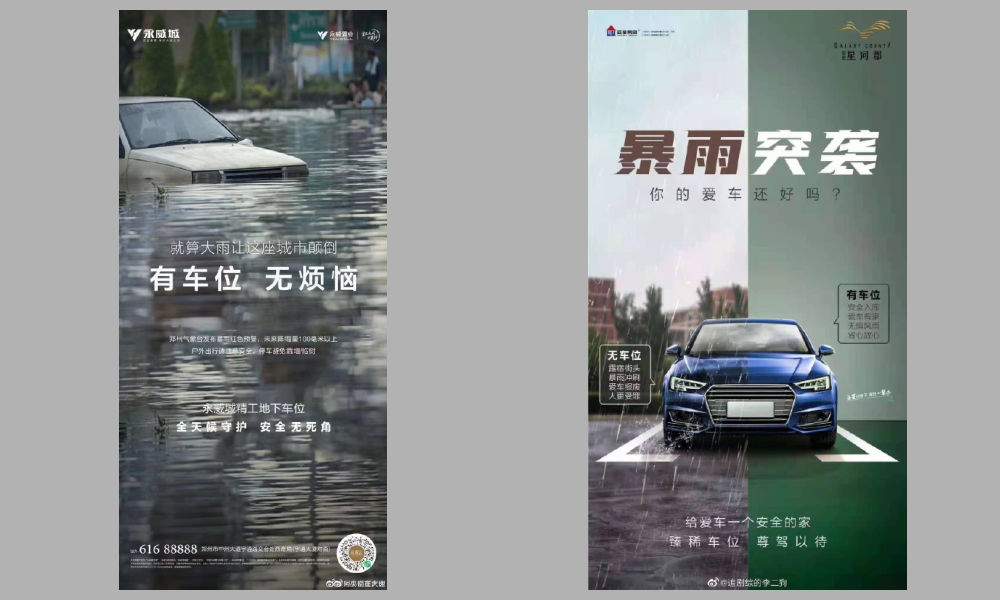 After the online outrage over a local real estate company promoting its 'highland' property in light of the floodings, other companies also sparked controversy for using the Henan floods as a marketing strategy.
Two local companies selling parking space used the devastating floods, in which countless cars were flooded, as a way to promote their supposedly safe parking lot. The companies, Yongwei (永威) and Yaxing (亚星), were denounced for promoting their company in this way at a time when the entire country was still praying for Henan and going out to help those in need.
July 23
CRITICAL DAY FOR XINXIANG FLOODS (Hashtag: #新乡大块镇上万村民被洪水围困#)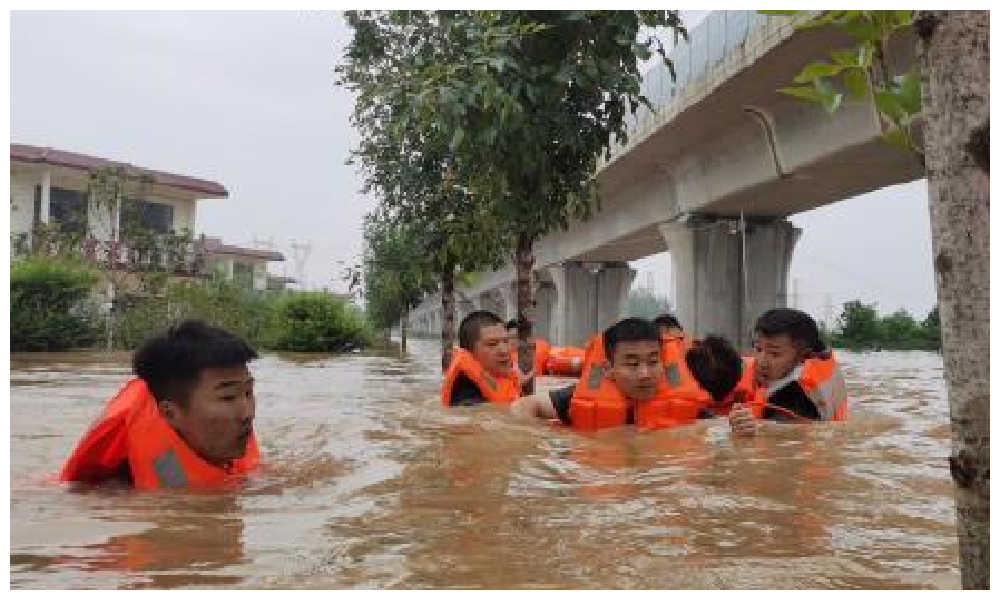 Xinxiang, a city of 5.8 million people just 70 km north of Zhengzhou, also saw extreme rain and floods this week, leading to a critical situation on July 23. Efforts to block the Wei river from flooding villages near Hebi failed. Thousands of locals were trapped without water and electricity.
Global Times reported that reporters tried to get to the hardest-hit counties in Xinxiang on Thursday morning, but were informed that the situation was so severe that teams without boats could no longer get in. Firefighters and rescuers used forklift trucks and rubber boats to evacuate the residents from the flooded villages in Xinxiang.
CHINESE SPORTSWEAR BRAND ERKE BECOMES ONLINE HIT AFTER DONATING 50 MILLION (Hashtag: #鸿星尔克的微博评论好心酸#)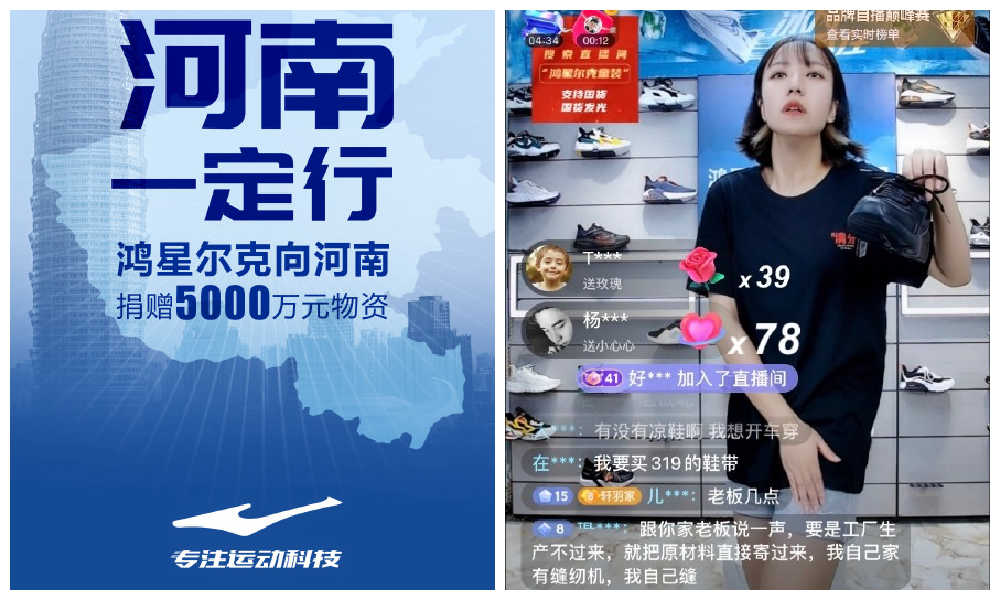 The domestic sportswear brand named Erke (鸿星尔克) donated 50 million yuan ($7.7 million) to the Henan flood. This attracted a lot of attention on Chinese social media, since Erke is a relatively small and low-profile brand that seemingly has not been doing too well over the past years.
After people found out that the company donated such a high amount of money to help the people in Henan despite its own losses, its online sales went through the roof – everyone wanted to support this generous 'patriotic brand.' While netizens rushed to the online shops selling Erke, the brand's physical shops also ran out of products with so many people coming to buy their sportswear. One female sales assistant was moved to tears when the store suddenly filled up with so many customers.
ONE-LEGGED MAN COMES TO THE RESCUE IN XINXIANG (Hashtag: #独腿小哥自发驰援新乡转运老人孩子#)

A man with one leg attracted attention on Chinese social media when footage and images came out of the Puyang resident helping the elderly and children in Xinxiang get away from the water. The young man pulled a boat and made many trips to get people across the water. The man's hometown of Puyang is about two to three hours from Xinxiang – he came down to Xinxiang to help locals out.
July 24
ENORMOUS LOSS OF CROPS AND LIVESTOCK (Hashtag: #暴雨后百余只羊仅找回一只#)

With ongoing rescue efforts in the region, more 'after the rainstorm' videos and social media posts came out on Saturday showing the devastating consequences of the heavy rainfall and floods. Many villagers have lost their homes, crops, livestock, and belongings.
People's Daily reported that one family in Xingyang county that had more than a hundred sheep, only had one animal left after the floods.
THE FLOODS IN HEBI (Hashtag: #鹤壁暴雨#)
The Olympics have started, and many of the trending topics on Weibo were no longer related to the floods on Saturday. Many Weibo commenters were therefore calling out to generate more attention for the situations in Henan's rural areas, particularly in Anyang, Xinxiang, and Hebi, which are still underwater and are seriously affected by the floods.
Current situation in Hebi, Henan. pic.twitter.com/iIJ7wJP7Qf

— Manya Koetse (@manyapan) July 24, 2021
"We've been doing online volunteer work in the disaster area in Henan, and the reality is far more serious than we can even imagine," one Weibo user commented.
This article will be updated later.
By Manya Koetse (@manyapan)
With contributions by Miranda Barnes
Spotted a mistake or want to add something? Please let us know in comments below or email us. First-time commenters, please be patient – we will have to manually approve your comment before it appears.
©2021 Whatsonweibo. All rights reserved. Do not reproduce our content without permission – you can contact us at info@whatsonweibo.com.
This 'Chinese Lego' Brand Takes Its Toy Space Mission VERY Seriously
This miniature sign – 'you'll lose your head if you steal secrets' – seems a bit much for a Lego set for kids, but at least it's 'true to the original'!
The 'if you steal secrets, you'll be decapitated' warning that comes with this Lego set seems a bit much for ages 6 and up, but it's based on an actual sign at the Chinese satellite launch center.
A toy set by Chinese Lego clone brand Sembo Blocks (森宝积木) has been making its rounds on WeChat for showing a remarkable propaganda quote on one of its miniature signs, warning people they'll be caught and then decapitated if they steal secrets.
China's Sembo Block toy manufacturer has released an entire series themed around China's space mission in collaboration with CASCI (航天文创), the China Aerospace Science and Cultural Innovation center.
The series, meant for kids ages 6 and up, is all about celebrating China's space program.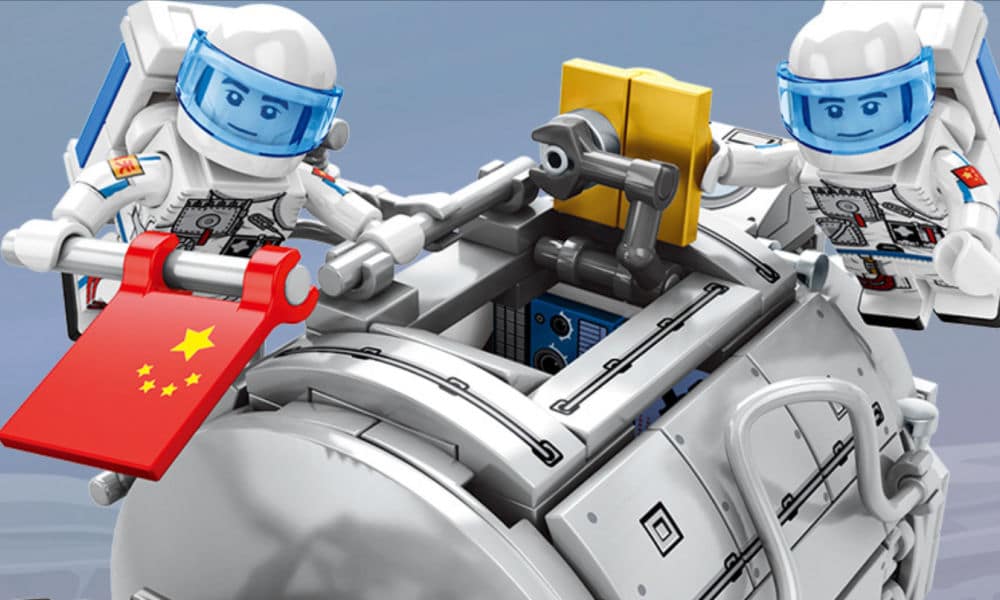 One of the toy sets is themed around China's Jiuquan Satellite Launch Center (酒泉卫星发射中心), which is the first of China's four spaceports. It features the Long March 2F, a Chinese rocket which is launched from the Jiuquan Center and made its maiden flight in 1999.
The set is so 'true to the original' that it also features a sign saying: "Those stealing secrets will be caught, once they're caught they will be killed [decapitated]" ("窃密必被抓,抓住就杀头").
Perhaps the slogan is not something to expect on a Lego toy set, but it comes from an actual warning sign outside of the Jiuquan Satellite Launch center.
Over the past years, fighting (foreign) espionage and underlining individual responsibility in protecting national security has become an intensified effort in China.
Sembo Blocks is a Chinese alternative Lego brand founded in January 2015.
Although Sembo also sells a similar set for consumers outside of China, that same set does not contain the "Don't steal secrets or you'll die" warning sign. The sign for the foreign market is left blank instead.
This Chinese Lego takes its space toy mission a bit far, and includes the actual space base 'steal secrets or you'll die' slogan in its rocket set 😂 pic.twitter.com/TIO7vuiIKs

— Manya Koetse (@manyapan) July 3, 2021
By Manya Koetse (@manyapan)
With contributions by Miranda Barnes
Spotted a mistake or want to add something? Please let us know in comments below or email us. First-time commenters, please be patient – we will have to manually approve your comment before it appears.
©2021 Whatsonweibo. All rights reserved. Do not reproduce our content without permission – you can contact us at info@whatsonweibo.com.