Top 10 Chinese Celebrities with the Most Followers on Weibo in 2021
The top celebrities with the most followers on social media – who are they, why are they famous, and what do they do?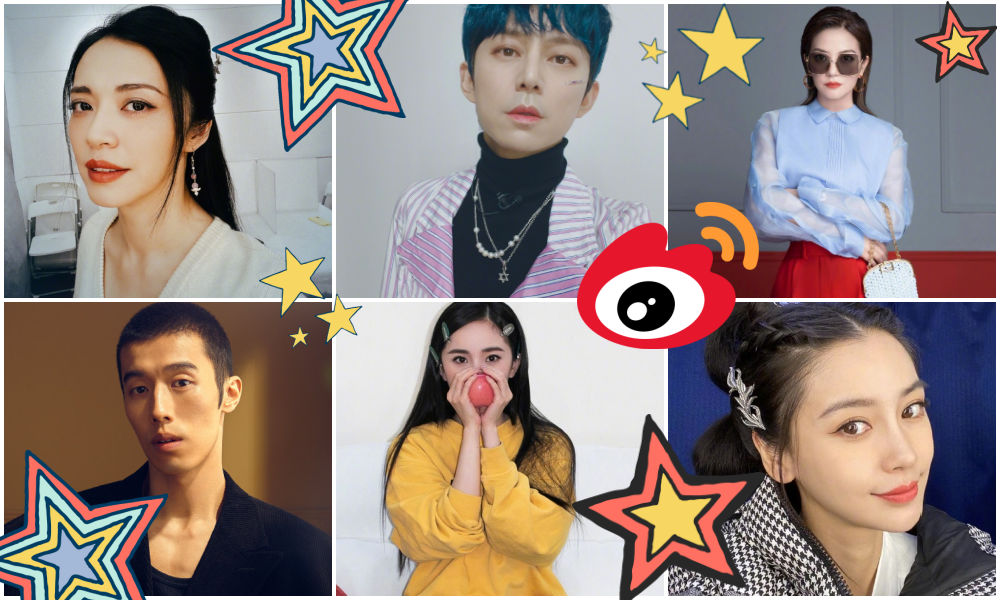 They are the crème de la crème of China's giant pop entertainment scene. These are the top celebrities and influencers on Weibo in early 2021.

This is the "WE…WEI…WHAT?" column by Manya Koetse, original publication in German by Goethe Institut China, see Goethe.de: WE…WEI…WHAT? Manya Koetse erklärt das chinesische Internet.

While celebrities such as Justin Bieber, Barack Obama, and Katy Perry are the leaders of Twitter in terms of followers, there are Chinese celebrities with an equally large fanbase on the country's biggest social media platform Weibo, yet these are names that are generally less well-known outside of China.
Although China's social media landscape has seen the rising popularity of new social apps and sites, Weibo is still the number one platform for the entertainment industry. This is a list of Weibo celebrities with the most followers as of early 2021.
There are some things worth noting about this list. First, it does not contain any 'internet celebrities' (网红 wanghong), meaning people who have become self-made online influencers through the internet. The biggest Weibo stars are still the 'traditional celebrities' in the sense that they have made their big breakthrough through TV drama, cinema, or the mainstream pop music scene.
Second, although the top list of Chinese celebrities with the most followers on Weibo has changed somewhat throughout the years, many of these celebrities have been at the top for a long time already. Some of them simply have become so big on Weibo because they were among the first celebrities to join the platform since its beginning in 2009. Celebrities such as Yao Chen or Chen Kun already had over 50 million followers on Weibo in 2013. This indicates that while China's social media landscape is becoming more diverse, it is also more difficult for new social media superstars to emerge and become bigger than the long-time Weibo champions.
Third, the most-followed celebrities on Chinese social media are often true 'superstars' in the sense that they are all incredibly versatile. They often do acting, singing, presenting, but also have their own (restaurant) business or engage in other activities as 'celebrity entrepreneurs.' Virtually all celebrities in this list are also active contributors to charity or represent a good cause, as well as being brand ambassadors – they often have lucrative deals to do advertisements for world-renowned brands, from fashion brands to cosmetics or high-end spirits. This multidimensionality makes these celebrities all the more appealing to fans: they are talented, beautiful, wealthy, fashionable, virtuous and successful in business.
This article first introduces the ten Weibo accounts with the highest number of followers, and then also includes some newer accounts with the highest "influence rate" (博主影响力) according to Weibo Charts, meaning they have high network interaction and follower growth.
1. Xie Na 谢娜 – The Queen of Weibo
Fans on Weibo: 129.4 million followers, @谢娜
Main occupation: TV host
Date of birth: 6 May 1981
Birthplace: Deyang, Sichuan
Xie Na (1981), also nicknamed 'Nana,' is an extremely popular Chinese presenter, singer, actress and designer who is also known as 'the Queen of Weibo.'
One of the reasons she has become so famous in mainland China is that she is the co-host of Hunan Satellite TV's Happy Camp (快乐大本管), one of China's most popular variety shows that has been running since 1997. She presents the show together with, amongst others, colleague He Jiong, who also appears in this list.
But 'Nana' is also very popular because she is such a versatile celebrity. Besides hosting various variety TV shows and starring in many popular Chinese films and television series, she has also released several albums, founded a personal clothing line, and published two books. Xie Na made headlines in March 2017 when she announced she would go to Italy as an overseas student to study design.
The TV host also stars in various commercials. She is, for example, the Chinese brand ambassador for American skin care brand Olay.
Xie Na holds the official Guinness World Record as the First Person to Accumulate 100 Million Followers on Weibo and for having the Most followers on Weibo.
In January of 2021, the 39-year-old Xie Na announced her second pregnancy together with her husband Zhang Jie, with whom she has been together for ten years. If you're not on Weibo, you can also find Xie Na on Instagram here, where she has 485.000 followers.
2. He Jiong 何炅 – Key Figure in China's Entertainment Industry
Fans on Weibo: 120.6 million followers, @何炅
Main occupation: TV host
Date of birth: 28 April 1974
Birthplace: Changsha, Hunan
He Jiong has been the host of China's popular Happy Camp TV show for over two decades. He is also a singer, actor, writer, and used to be an Arabic teacher at Beijing's Foreign Studies University, which is why he is often nicknamed 'Professor He' (何老师). Chinese media have called He Jiong "a key figure in China's entertainment industry."
Like Xie Na, He Jiong made it to the Guinness Book of Records for being the male celebrity with the most Weibo followers.
He Jiong recently was criticized for 'exploiting his fame' when it became known that he was accepting lavish gifts from fans, together with other hosts at Hunan Satellite TV. The broadcaster later stated that they would no longer allow any of their staff to receive gifts from fans, and He Jiong also wrote on Weibo that he would decline all presents in the future.
3. Yang Mi 杨幂 – One of the Most Bankable Female Stars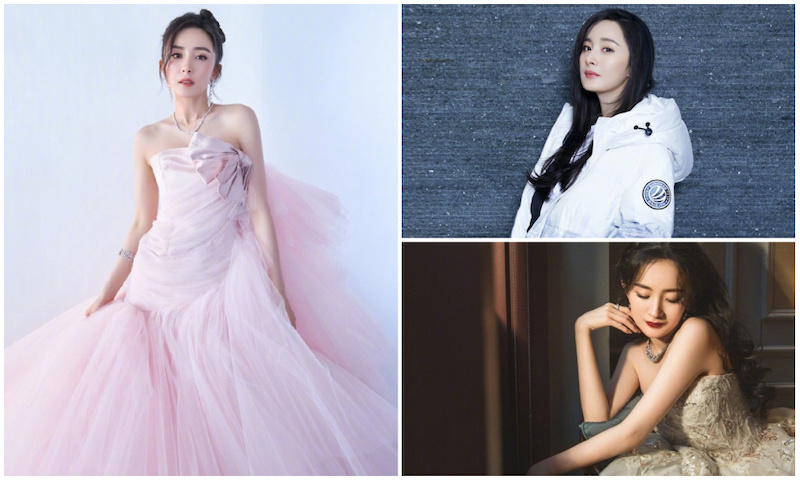 Fans on Weibo: 109.8 million fans on Weibo @杨幂
Main occupation: Actress
Date of birth: 12 September 1986
Birthplace: Beijing
The beautiful actress and singer Yang Mi (1986) gained fame and popularity through her various roles in Chinese hit TV dramas. Born in Beijing, Yang started her acting career at the age of 4. Yang starred in many successful films and tv dramas, including hit shows such as Eternal Love (三生三世十里桃花) and The Interpreters (亲爱的翻译官), which happen to be produced by Yang's own media company Jay Walk Studio.
Yang is now seen as one of Chinas biggest actresses, and also as one with the most commercial value; she was listed in the Top 10 Forbes Chinese Celebrities of 2020. Yang was previously named as one of China's "New Four Dan Actresses" (the 'top 4' actresses).
Besides her acting career, entrepreneurship, and charity efforts, Yang Mi is also active as a brand ambassador for various renowned fashion and skincare brands, including Estee Lauder, Michael Kors and Victoria's Secret.
This year, the actress will star in the live action movie A Writer's Odyssey by director Lu Yang.
Yang has a daughter and was previously married to Hong Kong actor and singer Hawick Lau How-wai, with whom she co-starred in various productions. They announced their divorce in 2018. Fun fact: Yang Mi's dad is also active on Weibo (@休闲小林哥), where he rebutted ongoing rumors about Yang undergoing plastic surgery by sharing her childhood photos. Though not as impressive as his daughter's, his fanbase of 364,000 followers is still relatively big. Yang Mi is also active on Instagram here.
4. Angelababy 杨颖 – A Household Name
Fans on Weibo: 103.3 million followers @angelababy
Main occupation: Actress
Date of birth: 28 February 1989
Birthplace: Shanghai
'Angelababy' (nickname for Yang Ying aka Angela Yeung Wing) has practically become a household name in China over the past years. The award-winning actress, model, and singer started her acting career in 2007 and has taken on many roles in different movies and TV dramas since.
The famous actress married actor Huang Xiaoming (黄晓明) in 2015, with whom she has a son. Their lavish $31 million wedding is the most-discussed Chinese weddings of the past decade, and their marriage and relationship status is a popular gossip topic on social media. There are ongoing rumors that the two might already have separated.
Angelababy is the brand ambassador for Dior. She recently opened her own hotpot restaurant named 'Douliu Hotpot' (斗鎏火锅) in Chengdu. She is also involved in charity and has previously donated to hospital relief efforts related to the COVID19 crisis in Hubei.
You can also find Angelababy on Instagram, where she has 8.1 million followers.
5. Chen Kun 陈坤 – With Love from Chongqing
Fans on Weibo: 93.3 million fans @陈坤
Main occupation: Actor and singer
Date of birth: 4 February 1976
Birthplace: Chongqing
Chinese top actor, singer and writer Chen Kun, sometimes also credited as Aloys Chen, is known for his roles in many television dramas and movies. The award-winning actor starred in popular TV dramas such as Love Story in Shanghai (像雾像雨又像风) and The Story of a Noble Family (金粉世家), as well as many movies including the 2016 comedy Chongqing Hotpot (火锅英雄) that is set in his hometown. Internationally, he mainly gained recognition for his role in Painted Skin (2008).
Chen belongs to the same generation of Beijing Film Academy graduates as his former classmate Vicki Zhao, who also appears in this list, and Huang Xiaoming, Angelababy's husband.
Chen Kun is not only popular because of his acting work, but also for his looks – he is known to have a large gay fanbase. He is not shy about his looks, and likes to post a lot of photos of himself on his Weibo page.
Chen is a brand ambassador for Braun, Italian fashion house Prada, and was recently also featured in the campaign for French Cognac brand Martell Noblige. He is also active in charity and is a global ambassador for WildAid. He also founded 'Power to Go,' an initiative that aims to encourage people to improve their health and spirit by leading a more energetic lifestyle.
6. Zhao Liying 赵丽颖 – An Audience Favorite
Fans on Weibo: 88.4 million followers on Weibo @赵丽颖
Main occupation: Actress
Date of birth: 16 October 1987
Birthplace: Langfang, Hebei
The award-winning actress and singer Zhao Liying, also known as Zanilia Zhao, is an audience favorite in China. Her acting career started some fifteen years ago but Zhao mainly gained recognition when she starred in 2010 Chinese television series The Dream of Red Mansions (红楼梦) and then played the main role in the 2013 popular series Legend of Lu Zhen (陆贞传奇). In 2017, she starred in the film Duckweed (乘风破浪), directed by Han Han.
Zhao is a tourism ambassador for her home province of Hebei, and she is the brand ambassador for fashion house Dior. Like others in this list, the actress was included in the top 10 of Forbes China Top Celebrity List for 2020.
7. Jackson Yee 易烊千玺 – Teen Idol with Power Star Status
Fans on Weibo: 86.9 million followers on Weibo @TFBOYS-易烊千玺
Main occupation: Singer/dancer with boyband TF Boys
Date of birth: 28 November 2000
Birthplace: Huaihua, Hunan
Although he is a 'newcomer' compared to other celebrities in this list, Jackson Yee (Yi Yangqianxi) is one of the most popular Chinese celebrities of the moment. Debuting as a child star, he is a member of China's hugely popular band TFBoys and was recently included in the Forbes list of "Asia's 100 Digital Stars" and ranked first in the 2020 Forbes Chinese Celebrity list. The 19-year-old singer-actor also is the number one blogger with the most influence on Weibo at the time of writing, according to Chinese social media data platform Xiguaji.
Besides a band member and solo singer, he is also an actor ad starred in the movie Better Days (2019), for which he won the Hong Kong Film Award for Best New Performer. He also stars in the box office hit A Little Red Flower (2020).
Yee is the global brand ambassador for Armani, and also works for brands such as Bulgari, Tiffany & Co, and Adidas.
8. Vicki Zhao 赵薇 – China's Billionaire Actress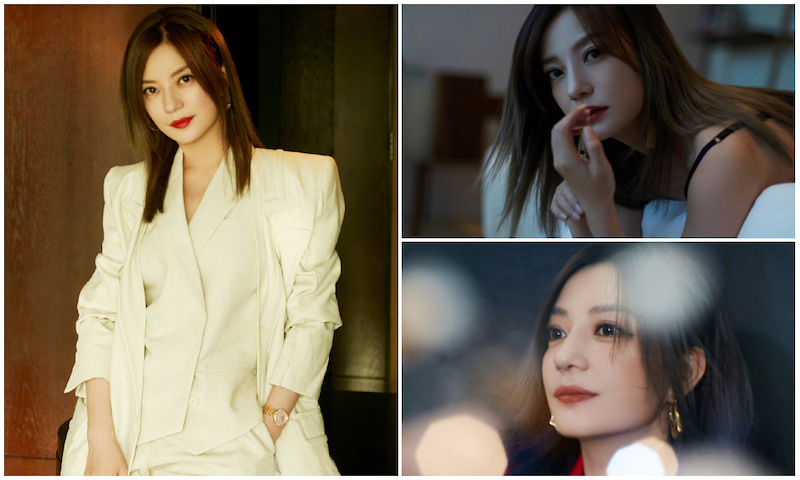 Fans on Weibo: 85.8 million followers on Weibo @赵薇
Main occupation: Actress
Date of birth: 12 March 1976
Birthplace: Wuhui, Anhui
Vicki Zhao is a Chinese film star, singer, entrepreneur, and director. She is also known for her work as the face for various brands (Samsung, Burberry, Fendi), which has added to her wealth: she was previously named as China's richest actress and even as one of the world's wealthiest working actresses.
But above all, Zhao is one of China's most famous actresses. She starred in the highly successful Chinese costume television show My Fair Princess (還珠格格) which first aired in 1998, after which she went on to star in many TV series and big films, including Painted Skin (2008) and Lost in Hong Kong (2015). Together with actresses Zhang Ziyi, Zhou Xun and Xu Jinglei, Zhao was named as one of China's 'Four Dan Actresses' (四大花旦, the four greatest actresses of mainland China) in the early 2000s.
Zhao is known for her work in charity and her efforts for good causes. She is a goodwill ambassador for the United Nations. Zhao is married to Chinese businessman Huang You Long (黄有龙) with whom she has a daughter.
9. Yao Chen 姚晨 – "China's Answer to Angelina Jolie"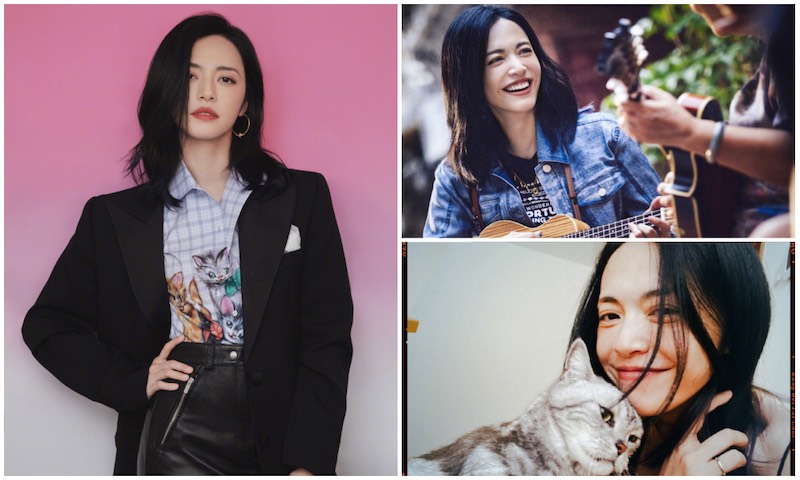 Fans on Weibo: 84.6 million followers @姚晨
Main occupation: Actress
Date of birth: 5 October 1979
Birthplace: Quanzhou, Fujian
Fujian-born Yao Chen is a Chinese actress and Weibo celebrity, who was previously mentioned as one of the 100 most powerful women in the world by Forbes magazine. Speaking out about social issues and being the first-ever Chinese UNHCR Goodwill Ambassador, she has also been called 'China's answer to Angelina Jolie.'
Yao Chen is not necessarily China's number one actress, but she was one of the first celebrities to share her personal life on Weibo since 2009, and interact with her fans. On Weibo, she talks about her everyday life, family, news-related issues, work, and fashion. She posts personal pictures every day. Yao Chen's popularity as an actress and philanthropist combined with her frequent Weibo updates and closeness to her fans have made her a huge Weibo celebrity.
Yao has acted as an ambassador for various brands, including Miu Miu, Fendi, and Lululemon.
10. Deng Chao 邓超 – Box Office Hit
Fans on Weibo: 81,6 million followers on Weibo @邓超
Main occupation: Actor
Date of birth: 8 February 1979
Birthplace: Nanchang, Jiangxi
Deng Chao is an award-winning Chinese actor, director, and singer. He is, amongst others, known for his role in the popular variety program Keep Running (奔跑吧). Many films in which Deng played, such as The Breakup Guru (2014), The Mermaid (2016), Duckweed (2017), and The Sacrifice (2020) have been box-office hits. Deng is one of China's most favorite actors.
Deng is married to Chinese actress Sun Li (孙俪), also known as Susan Sun, with whom he has two children. Like many other celebrities, the two donated money to contribute to China's fight against COVID19 in 2020, but received some online criticism when some thought their donation was 'stingy' compared to those of others.
Top Influencer: Wang Yibo 王一博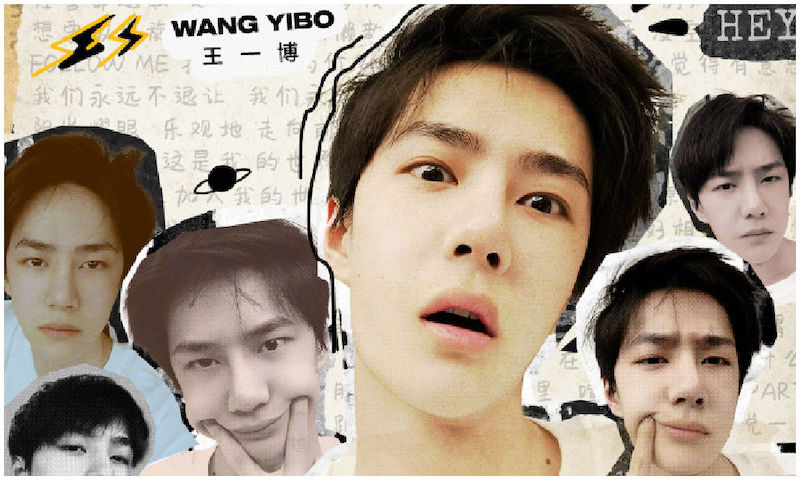 37.3 million followers @UNIQ-王一博
Wang Yibo (1997) is a Chinese actor, singer, dancer, and rapper who debuted as a member of the South Korean-Chinese boyband UNIQ in 2014 and starred in the 2019 Chinese TV series The Untamed (陈情令). On Sina Weibo, the celebrity was the champion of Weibo's 'Most Influential Celebrity' charts in December of 2020 – he has a huge fanbase. Like many other Chinese celebrities, Wang often features in various commercials and represents various brands, including Audi and Swarovski. He also has an Instagram account with 1.9 million followers.
Top Influencer: Wang Junkai 王俊凯
79.4 million followers @TFBOYS-王俊凯
Wang Junkai (1999), also called Karry Wang, is a singer and actor who debuted as the lead member of the super popular group TFBoys in 2013. The boy band consists of three members; besides Wang, there's Jackson Yee, who is also in this list, and Wang Yuan (王源also known as Roy Wang). The band recently won a Guinness World Record for most-viewed paid concert, which was their live NetEase cloud music concert for which 786,000 fans bought a virtual ticket. Wang Junkai, who also has a thriving career as a solo singer and represent brands like Swatch and Dior, is one of China's wealthiest people born after 1990.
Top Influencer: Xiao Zhan 肖战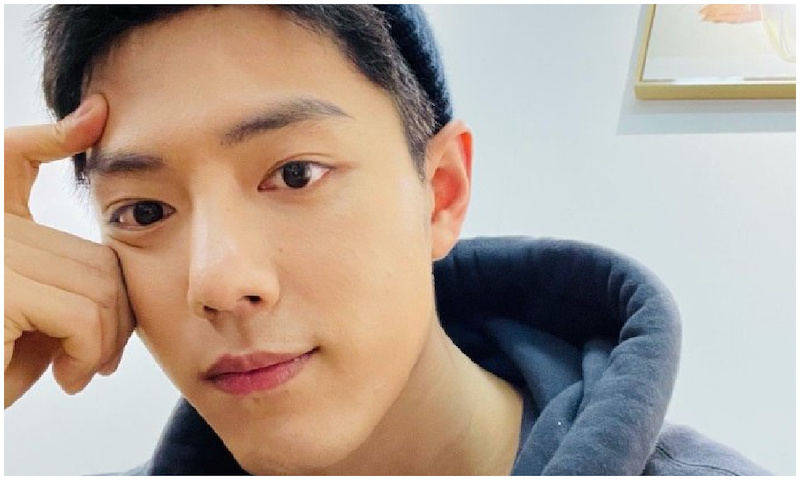 28.2 million followers @X玖少年团肖战DAYTOY
Xiao Zhan (1991), also known as Sean Xiao, is one of the hottest Weibo bloggers at this time who consistently ranks first lately in daily ranking concerning most influential and most interaction. Xiao is an actor and singer who co-stars in The Untamed (陈情令) together with Wang Yibo. Xiao Zhan and Wang Yibo are super popular within fan fiction communities, where boys' love fans imagine a romantic relationship between the two – which is not always appreciated by fans of Xiao Zhan.
By Manya Koetse
Follow @whatsonweibo

This text was written for Goethe-Institut China under a CC-BY-NC-ND-4.0-DE license (Creative Commons) as part of a monthly column in collaboration with What's On Weibo.

Spotted a mistake or want to add something? Please let us know in comments below or email us. First-time commenters, please be patient – we will have to manually approve your comment before it appears.
King of Workout Livestream: Liu Genghong Has Become an Online Hit During Shanghai Lockdown
Liu Genghong (Will Liu) is leading his best lockdown life.
With their exercise livestreams, Liu and his wife are bringing some positive vibes to Shanghai and the rest of China in Covid times, getting thousands of social media users to jump along with them.
On Friday, April 22, the hashtag "Why Has Liu Genghong Become An Online Hit" (#为什么刘畊宏突然爆火#) was top trending on Chinese social media platform Weibo.
Liu Genghong (刘畊宏, 1972), who is also known as Will Liu, is a Taiwanese singer and actor who is known for playing in dramas (Pandamen 熊貓人), films (True Legend 苏乞儿), and releasing various music albums (Rainbow Heaven 彩虹天堂). He is a devout Christian.
Besides all of his work in the entertainment business, Liu is also a fitness expert. In 2013, Liu participated in the CCTV2 weight loss programme Super Diet King (超级减肥王, aka The Biggest Loser) as a motivational coach, and later also became a fitness instructor for the Jiangsu TV show Changing My Life (减出我人生), in which he also helped overweight people to become fit. After that, more fitness programs followed, including the 2017 Challenge the Limit (全能极限王) show.
During the Covid outbreak in Shanghai, the 50-year-old Liu Genghong has unexpectedly become an online hit for livestreaming fitness routines from his home. Together with his wife Vivi Wang, he streams exercise and dance videos five days of the week via the Xiaohongshu app and Douyin.
In his livestreams, Liu and his wife appear energetic, friendly, happy and super fit. They exercise and dance to up-beat songs while explaining and showing their moves, often encouraging those participating from their own living rooms ("Yeah, very good, you're doing well!"). Some of their livestreams attract up to 400,000 viewers tuning in at the same time.
The couple, both in lockdown at their Shanghai home, try to motivate other Shanghai residents and social media users to stay fit. Sometimes, Liu's 66-year-old mother in law also exercises with them, along with the children.
"I've been exercising watching Liu and his wife for half an hour, they're so energetic and familiar, they've already become my only family in Shanghai," one Weibo user says.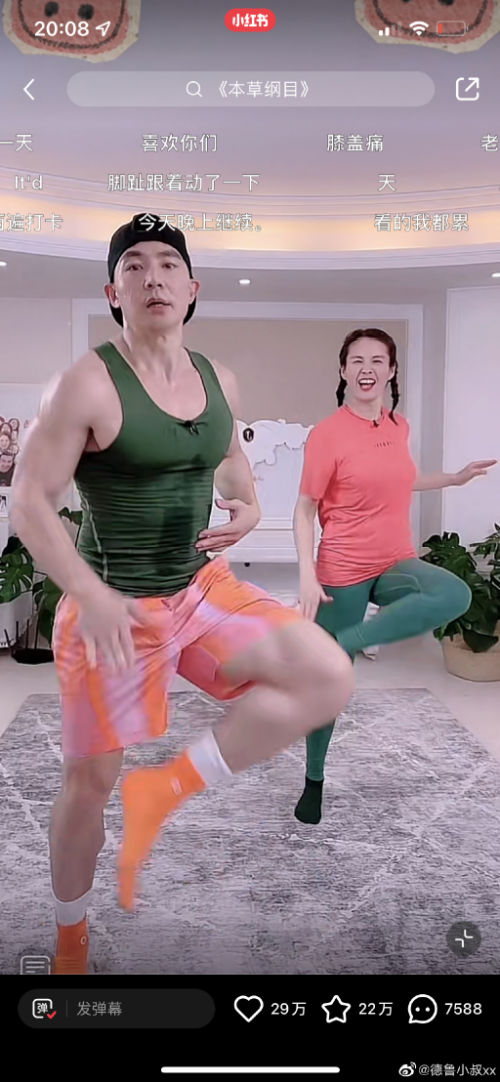 "I never expected Liu Genghong to be a 'winner' during this Covid epidemic in Shanghai," another person writes.
Along with Liu's online success, there's also a renewed interest in the Jay Chou song Herbalist's Manual (本草纲目), which is used as a workout tune, combined with a specific dance routine. Liu is also a good friend and fitness pal to Taiwanese superstar Jay Chou.
This week, various Chinese news outlets such as Fengmian News and The Paper have reported on Liu's sudden lockdown success. Livestreaming workout classes in general have become more popular in China since the start of Covid-19, but there reportedly has been no channel as popular as that of Liu Genghong.
The channel's success is partly because of Liu's fame and contagious enthusiasm, but it is also because of Vivi Wang, whose comical expressions during the workouts have also become an online hit.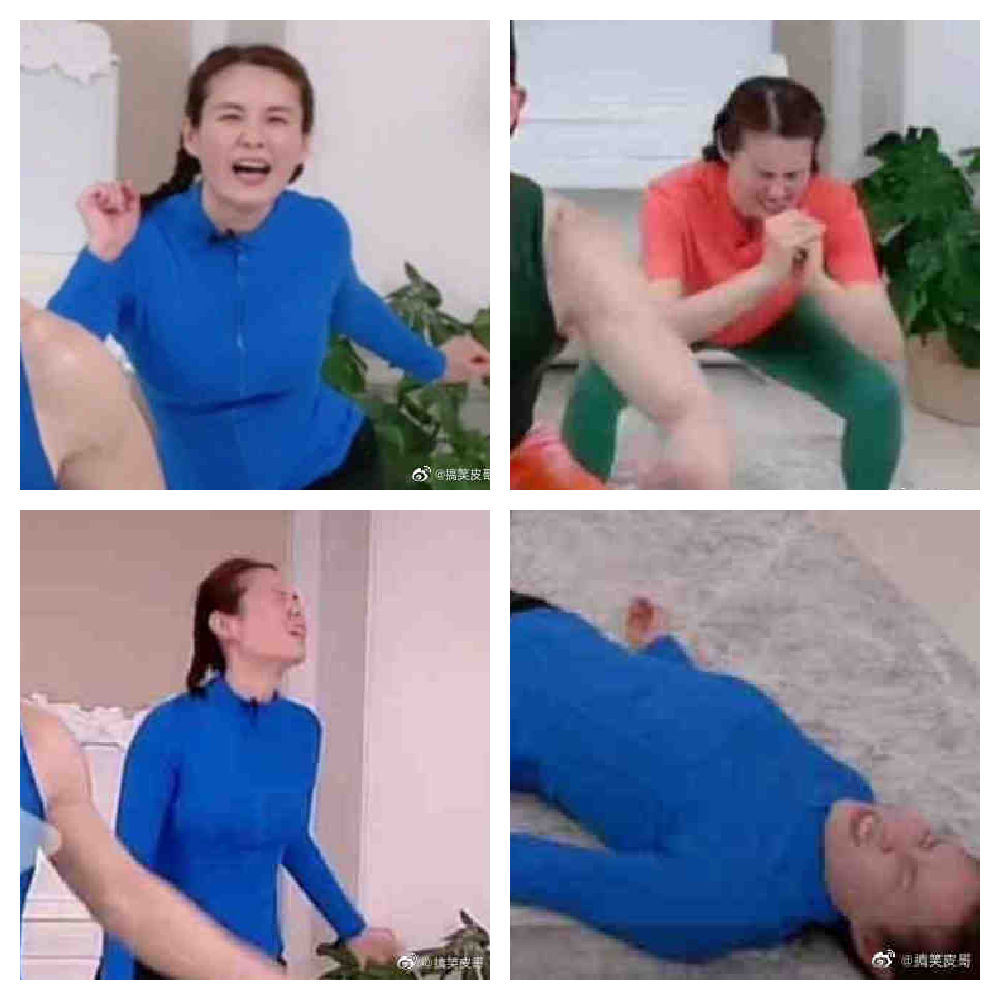 While many netizens are sharing their own videos of exercizing to Liu's videos, there are also some who warn others not to strain themselves too quickly.
"I've been inside for over 40 days with no exercise" one person writes: "I did one of the workouts yesterday and my heart nearly exploded." "I feel fine just watching," others say: "I just can't keep up."
Will Liu (刘畊宏) has become an online sensation in China together with his wife for their livestreamed workout sessions from Shanghai, especially inspiring those in lockdown to break a sweat. This routine to Jay Chou's song Herbalist's Manual (本草纲目) is the hit of the moment. pic.twitter.com/X4VvEBWvFU

— Manya Koetse (@manyapan) April 22, 2022
Watch one of Liu's routines via Youtube here, or here, or here.
For more articles on the Covid-19 topics on Chinese social media, check here.
By Manya Koetse
Get the story behind the hashtag. Subscribe to What's on Weibo here to receive our weekly newsletter and get access to our latest articles:
Spotted a mistake or want to add something? Please let us know in comments below or email us. First-time commenters, please be patient – we will have to manually approve your comment before it appears.
©2022 Whatsonweibo. All rights reserved. Do not reproduce our content without permission – you can contact us at info@whatsonweibo.com.
Weibo is Watching the DJs & Sports Presentation Team at the Winter Olympics Venues
Chinese netizens are not just closely following the athletes, they are also paying more attention to the "atmosphere enliveners" at the 2022 Beijing Winter Olympics.
Chinese netizens are not just closely watching the athletes at the 2022 Winter Olympics – the DJs who are performing at the various venues and their noteworthy song selections have also become a popular topic on social media.
On Feb 8th, the US-born freestyle skier Eileen Gu (谷爱凌, Gu Aling) became the youngest ever gold medalist in freestyle skiing, winning the big air event for China. The American-born Gu has become a superstar in China, and everything related to her is going viral these days, including the songs that were playing when Gu had won gold.
The hashtag "When Gu Ailing Won the Gold, Jay Chou's Song Huo Yuan Jia is Played" (#谷爱凌夺冠现场放周杰伦的霍元甲#) has received more than 29 million on Weibo. Chinese netizens praised the DJs for the song selection, saying it perfectly captured the scene as the song has a strong rhythm, and is also known as 'Fearless.'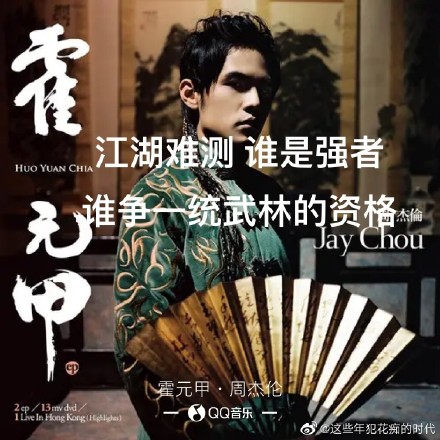 Before the hashtag about Gu went trending, the DJ team already attracted attention on Chinese social media for the interesting and noteworthy music selection at various events.
During the Ice Hockey Women's Preliminary Round Group A, when Team US competed against Team ROC, there was a conflict between the two teams and the DJ played a remixed version of Katyusha, a Russian song that became famous during World War II. The dramatic effect of the scene and wartime song pairing made the song's name (#喀秋莎#) and a video of the DJ trying to 'make some noise' on the venue go trending on Weibo with over 53 million views. Many netizens thought the music selection was humorous, with some joking that the DJ was adding oil to a burning fire.
Xie Xiao (@篮球DJ小牛), the ice hockey stadium music director for the 2022 Beijing Winter Olympics who played the song that day, later clarified on Douyin that the selection of Katyusha was not a response to the conflict. Before that game, he allegedly had already planned to use it because it is a famous song in Russia, and he already played a lot of well-known American songs.
Another creative song choice by this DJ team that resonated with Chinese netizens occurred during another ice hockey match between Team China and Team Japan, when an American DJ performed Defending the Yellow River on a keyboard. In China, Defending the Yellow River is a famous patriotic song. It was the seventh chapter of the classic Yellow River Cantata, written in 1939 to praise the fighting spirit of the Chinese people (#美国DJ现学后现场弹奏保卫黄河#).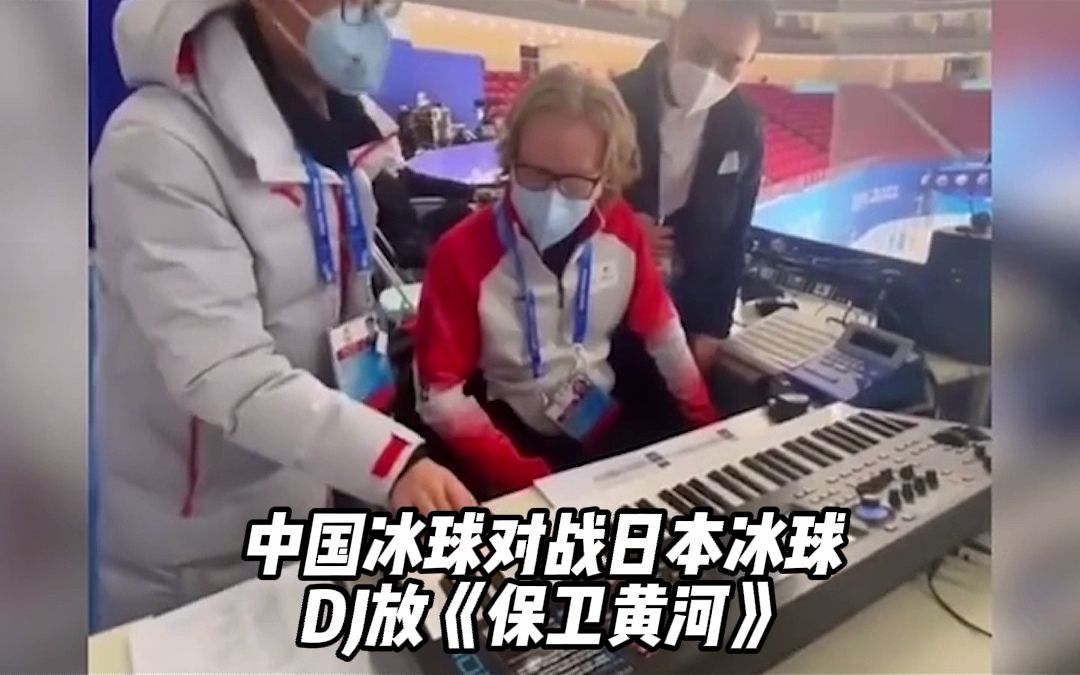 A list of popular hashtags on Weibo relating to which songs are played at the venue of the Winter Olympics also demonstrates that music has become a more relevant and popular part of the Olympics, and is also an attractive component of the event that is encouraging more people, especially younger generations, to watch and participate in the Games.
Xie also said that the team is only allowed to select songs from a specific Winter Olympics music library due to copyright and licensing. The library includes 16000 musical tracks divided into various (sub)categories based on music styles, language, and themes, covering many hit songs and different music from all across the world. On the first event day of speed skating, for example, Adele's Rolling in the Deep blasted through the speakers.
The pandemic has made the role of so-called 'atmosphere enliveners' or 'vibe teams' (气氛组, 氛围组) more important. This already became clear during the Tokyo Olympics, where we saw empty stadiums due to coronavirus measures, with DJs creating playlists to motivate athletes in the absence of cheering fans. This shift has also brought more online attention for DJs and other crew members, who would usually stay behind the scenes.
On the venues, the atmosphere is raised by Olympic mascots walking, jumping, and running around the venues interacting with smaller audiences. Meanwhile, the DJs are playing energetic tracks or are creating remixes and mash-ups while producers use different elements at the venue to enhance the audience's experience.
Li Helin, the deputy manager of the venue operations team at Beijing National Speed Skating Oval, takes care of the event presentation at the venue. He also worked as an MC at the volleyball stadium during the 2020 Tokyo Olympics. Li has also been in charge of some popular music selections played by the DJs during events involving the China team, including Calorie (卡路里) by the Chinese idol girl group Rocket Girls 101 and Immortal Sound Above Cloud Palace (云宫迅音), the opening theme of Journey to the West, a 1986 TV series that is still considered one of China's most popular TV dramas. These song selections also were popular on Weibo.
Li previously said he believed that using DJs to connect with the audiences and to enliven the atmosphere at the venues will become a bigger trend for big sports events in the future. As the standard of sports presentation and fan engagement rises, more new elements, such as spectacular lighting, drones, 3D projects, etc. will also be included: "Sports presentation serves the game, but also adds fresh elements to it."
Meanwhile, many social media users praise the music crew: "This time, the DJs at the Olympics are really awesome and their song selection is on point."  "If you don't know what kind of work you want to do, becoming an Olympic DJ is a good choice," one Weibo user writes, with others agreeing: "Seriously, if I cannot be an Olympic athlete, then I'll strive to be an Olympic DJ."
By Wendy Huang
Follow @whatsonweibo
Spotted a mistake or want to add something? Please let us know in comments below or email us. Please note that your comment below will need to be manually approved if you're a first-time poster here.
©2022 Whatsonweibo. All rights reserved. Do not reproduce our content without permission – you can contact us at info@whatsonweibo.com