Hotpot Restaurant with High Standards Goes Viral: Waiters Required to Have 'Ivy League' Diploma
Top-notch hotpot restaurant asks for top-notch waiters – stirring controversy online.
Marketing stunt or serious job requirement? This new Zhengzhou hotpot restaurant, that seeks to recruit ten 'Ivy League' graduates as waiters, has become the talk of the day on Chinese social media.
The job announcement of a new Chinese hotpot restaurant has gone viral on Weibo, as the new establishment requires that persons who apply to work as a server to have a degree at a "985" ('Ivy League') university.
The job requirements of the restaurant, which is located in Zhengzhou, Henan province, started attracting online attention on December 30. By January 2nd, the hashtag 'Hotpot Restaurant Requires 985 Diploma in Recruiting Waiters' (#火锅店招服务员要求985#) had received over 290 million views (!) on Sina Weibo.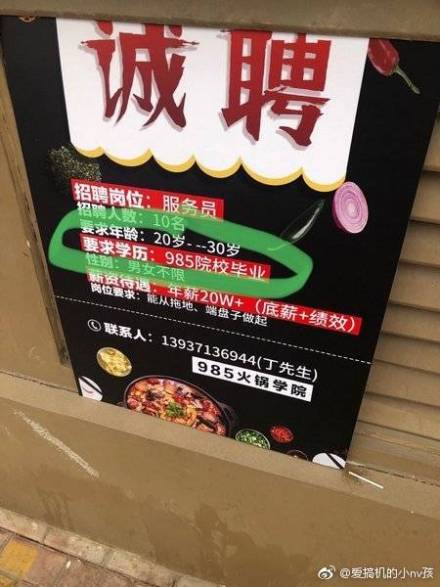 Some Weibo netizens said the recruitment announcement was an "insult" to those who have graduated from one of China's top universities, while others denounced the hotpot restaurant for purposely building hype to drive more customers to the new establishment.
"What does being a '985' graduate have to do with being a waiter?", one popular comment said: "To be kind-hearted and responsible is what matters." Others sarcastically comment that home delivery staff might be required to hold a PhD degree in the future.
The so-called "985 Project" was launched in 1998 by former President Jiang Zemin at the 100th anniversary of Peking University on May 4th of that year (985 refers to 1998, May). It was meant to raise the number of (internationally recognized) first-rate universities within China. China's '985' universities include, among others, Fudan University, Peking University, and Tsinghua.
The job announcement of the new Zhengzhou hotpot restaurant does not completely come out of the blue. The restaurant itself is also called "985 Hotpot College" (985火锅学院), and its outside appearance seems to be themed around the '985' idea.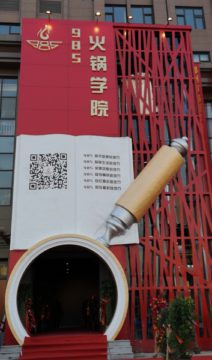 The restaurant's job advertisement states that the establishment is looking to recruit ten graduates between the ages of 20 and 30. The annual salary is approximately 200,000 RMB (±US$29,000), which is almost 2,5 times more than the local average pay and up to 8 times more than what waiters in Zhengzhou usually make, according to this Beijing Evening News article.
On January 2nd, the restaurant responded to all the commotion its job advertisement has caused, saying that "every person and organization has the right to pursue their dreams" and that they were hoping to find the right talents to "grow [the business] together."
Despite the fact that hundreds of netizens condemn the restaurant's call for 'Ivy League' waiters, there are also those who do not see a problem: "The business has the freedom to choose their own standards, and graduates also have the freedom to apply there or not," some write.
Hotpot restaurants are incredibly popular and common in China. The ubiquity leads to hotpot establishments becoming more and more competitive. In recent years, 'themed' hotpot restaurants have popped up like mushrooms in China's bigger cities, trying to attract customers with their unique concepts, such as revolution-themed hot pot restaurants, robot-themed hotpot places, or even classroom-themed hotpot.
The "985 Hotpot College" will have its highly educated waiters as a unique selling point. Whether or not their hot pot is tasty or not, however, is still unsure – despite the recent hype around the restaurant, its Dianping rating page is still awfully empty.
Want to know more about hotpot? Visit our sister site Hotpotambassador.com here.
By Manya Koetse
Follow @whatsonweibo
Spotted a mistake or want to add something? Please let us know in comments below or email us.
©2019 Whatsonweibo. All rights reserved. Do not reproduce our content without permission – you can contact us at info@whatsonweibo.com
Another Hotpot Controversy: Famous Food Critic Wants Hotpot Gone
Hotpot discussions are getting heated.
One of China's most famous food critics would rather see hotpot disappear, but hundreds of Chinese netizens do not agree at all.
After a hotpot restaurant became top trending on Weibo yesterday for recruiting 'Ivy League' graduates as waiters, another hotpot controversy has hit Chinese social media.
This time, the renowned Hong Kong food critic and cookbook writer Chua Lam (蔡瀾, Cai Lan) has stirred discussions among Chinese netizens over comments he made during an appearance on the Hunan TV talk show Day Day Up (天天向上/Tiantian Shangtian), SupChina and The Guardian reported on January 3rd.
When asked by one of the hosts of the show what dishes he would love to see disappear from the world, Chua answered: hotpot.
"Hotpot is the cooking style that lacks culture the most," the food critic added: "You just throw the ingredients in there, there's nothing tasty about it." Because the hotpot allegedly has no cultural significance and because the cooking style is so easy, the critic suggested it might as well disappear altogether.
Chua Lam is a popular personality on social media. On his Weibo account, he has more than ten million fans.
Read the full story at Hotpot Ambassador here.
By Manya Koetse
Follow @whatsonweibo
Spotted a mistake or want to add something? Please let us know in comments below or email us.
©2019 Whatsonweibo. All rights reserved. Do not reproduce our content without permission – you can contact us at info@whatsonweibo.com
"A Hundred Reasons to Eat Bamboo Rats": The Story of Two Farmers Who Became Internet Celebrities
Within days, the vlogs of two farmers using ridiculous selecting criteria for animal consumption racked millions of views.
In the past months, two farmers called "the Magnificent Farm Brothers" (华农兄弟) have become an internet sensation by vlogging their day-to-day life on a bamboo rat breeding farm in southern China, where these rodents are served as a delicacy. Their propensity to always find a pretext, no matter how ridiculous, for eating their own animals, has amused millions of netizens.
They are China's most popular farmers of the past year: "The Magnificent Farm Brothers" Liu (刘) and Hu (胡).
It all started a few months ago when the two started vlogging about their day-to-day life on a bamboo rat breeding farm in Ganzhou, Jiangxi Province. The script hardly changes and is loaded with clickbait potential: Hu films his 29-year-old companion Liu doting on a cute-looking bamboo rat before finding an excuse to mercilessly execute and eat it.
Under the hashtag "A Hundred Reasons to Eat Bamboo Rats," (#吃竹鼠的一百种理由#), with over 160 million views on Weibo, netizens have compiled countless scenes of the duet's rat-gobbling.
There is no doubt that the comical value lies in Liu's excuse-making. In one scene, a rat hasn't eaten for three days due to a depression – Liu, feigning mercy, hastily concludes that he should put it out of its misery by eating it. Be it heat stroke, internal injuries, or some other health problem, Liu's diagnosis for every rodent is always the same.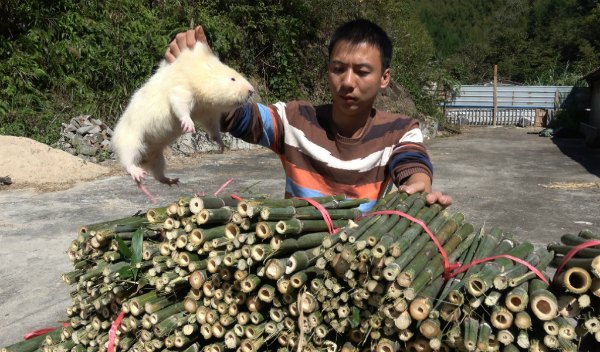 Aside from the gales of laughter incited by such provoking scenes, the duet's vlog has also provided a business boost. In an interview with a local TV station, the two farmers stated that they started vlogging with the intention of turning the bamboo rat into a popular culinary delicacy.
Since going viral, the two farmers have been receiving orders for their bamboo rats from all over the country. The spike in demand for bamboo rat consumption has also benefited the two farmers' co-workers – according to an article in the China Daily, the wages of other bamboo rat breeders have also increased thanks to the duet's online following.
But the vlogs show more than just the farmer's arbitrarily deciding which rat to kill next. To spare viewers, Liu kills the rodent off-screen, after which he resumes vlogging, explaining how to prepare a succulent meal of bamboo rat –marinate the dead rodent, stuff it with vegetables, then roast until cooked throughout.  The devouring of the meat is not left out, as viewers get to see the two farmers tuck into the so-called delicacies.
The false pretexts for animal-killing apply to anything that moves, not just bamboo rats. In one vlog, Liu catches a chicken, saying he'd better eat it since it might have caught a cold from last night's rain. Ducks and pigs also receive a similar treatment. In some vlogs, Liu's dogs make an appearance – but these he doesn't eat (yet).
Netizens' Reactions
The video channel of the "Magnificent Farm Brothers" on Bilibili, a Chinese video streaming website, has over 150 million views and 2.1 million subscribers to date.
A series of gags and memes have emerged from these viral vlogs. Some netizens joke that their own lives have a lot in common with the tragic fate of the little rodents that end up in Liu's belly.
Others joke that Liu's tendency to praise his livestock as "beautiful" or "cute" before devouring them highlights the danger of being deemed attractive, to the point where refusing to accept being complimented as good-looking is a necessary survival measure.
(Image below: "You are very beautiful!", "No, I'm not, I'm really not, I'm not pretty.")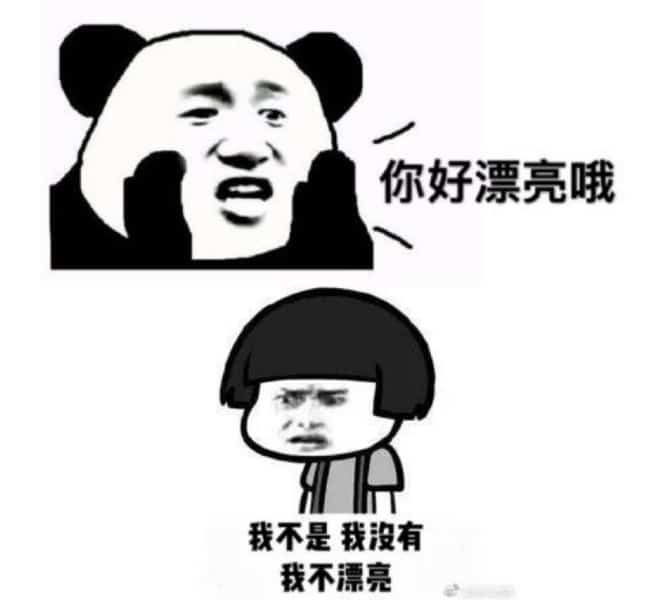 One Weibo post with over 64 thousand likes reads "these are the scariest moments of my life," followed by pictures of farmer Liu saying "you are so cute," "I heard you got wet in the rain last night," "I heard you got injured," etc.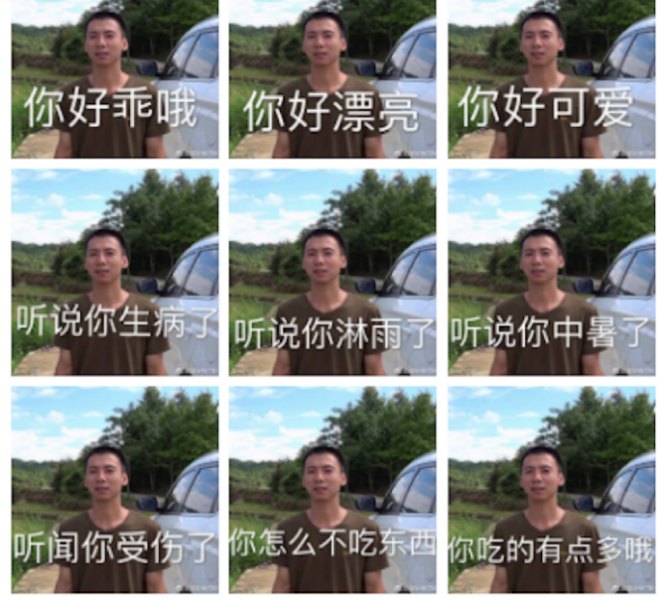 The two farmers may have become one of the biggest internet sensations this past year, but they have reacted calmly to their popularity. During a TV interview, the two commented:
"At first, we were somewhat afraid that our popularity would perhaps disturb our quiet life on the farm. But fortunately, this is not the case."
In any case, the duet has publicly expressed gratitude towards their fans, vowing to continue making videos of their skit-like, countryside life.
With animal activists nowhere to be seen, the success of the "Magnificent Farm Brothers" shows yet again the Chinese Internet's magnetic attraction to gruesome content and irony-packed humor.
Want to judge for yourself? Check out some vlogs (no English subtitles) on Youtube here, here, or here.
By Gabi Verberg, edited by Eduardo Baptista.
Follow @whatsonweibo
Spotted a mistake or want to add something? Please let us know in comments below or email us.
©2018 Whatsonweibo. All rights reserved. Do not reproduce our content without permission – you can contact us at info@whatsonweibo.com