Hotpot Restaurant with High Standards Goes Viral: Waiters Required to Have 'Ivy League' Diploma
Top-notch hotpot restaurant asks for top-notch waiters – stirring controversy online.
Marketing stunt or serious job requirement? This new Zhengzhou hotpot restaurant, that seeks to recruit ten 'Ivy League' graduates as waiters, has become the talk of the day on Chinese social media.
The job announcement of a new Chinese hotpot restaurant has gone viral on Weibo, as the new establishment requires that persons who apply to work as a server to have a degree at a "985" ('Ivy League') university.
The job requirements of the restaurant, which is located in Zhengzhou, Henan province, started attracting online attention on December 30. By January 2nd, the hashtag 'Hotpot Restaurant Requires 985 Diploma in Recruiting Waiters' (#火锅店招服务员要求985#) had received over 290 million views (!) on Sina Weibo.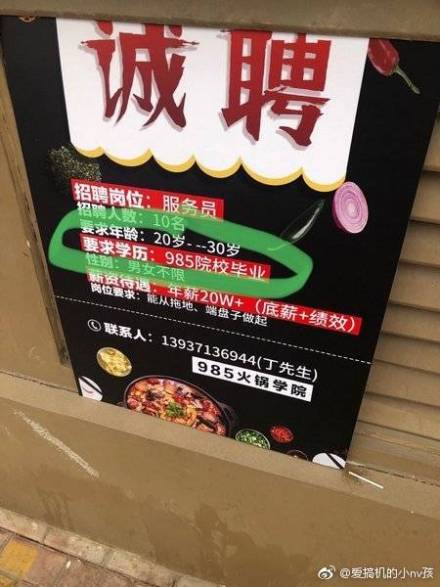 Some Weibo netizens said the recruitment announcement was an "insult" to those who have graduated from one of China's top universities, while others denounced the hotpot restaurant for purposely building hype to drive more customers to the new establishment.
"What does being a '985' graduate have to do with being a waiter?", one popular comment said: "To be kind-hearted and responsible is what matters." Others sarcastically comment that home delivery staff might be required to hold a PhD degree in the future.
The so-called "985 Project" was launched in 1998 by former President Jiang Zemin at the 100th anniversary of Peking University on May 4th of that year (985 refers to 1998, May). It was meant to raise the number of (internationally recognized) first-rate universities within China. China's '985' universities include, among others, Fudan University, Peking University, and Tsinghua.
The job announcement of the new Zhengzhou hotpot restaurant does not completely come out of the blue. The restaurant itself is also called "985 Hotpot College" (985火锅学院), and its outside appearance seems to be themed around the '985' idea.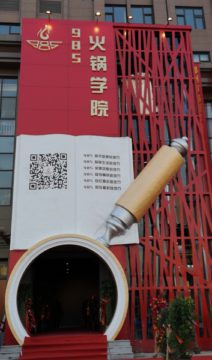 The restaurant's job advertisement states that the establishment is looking to recruit ten graduates between the ages of 20 and 30. The annual salary is approximately 200,000 RMB (±US$29,000), which is almost 2,5 times more than the local average pay and up to 8 times more than what waiters in Zhengzhou usually make, according to this Beijing Evening News article.
On January 2nd, the restaurant responded to all the commotion its job advertisement has caused, saying that "every person and organization has the right to pursue their dreams" and that they were hoping to find the right talents to "grow [the business] together."
Despite the fact that hundreds of netizens condemn the restaurant's call for 'Ivy League' waiters, there are also those who do not see a problem: "The business has the freedom to choose their own standards, and graduates also have the freedom to apply there or not," some write.
Hotpot restaurants are incredibly popular and common in China. The ubiquity leads to hotpot establishments becoming more and more competitive. In recent years, 'themed' hotpot restaurants have popped up like mushrooms in China's bigger cities, trying to attract customers with their unique concepts, such as revolution-themed hot pot restaurants, robot-themed hotpot places, or even classroom-themed hotpot.
The "985 Hotpot College" will have its highly educated waiters as a unique selling point. Whether or not their hot pot is tasty or not, however, is still unsure – despite the recent hype around the restaurant, its Dianping rating page is still awfully empty.
Want to know more about hotpot? Visit our sister site Hotpotambassador.com here.
By Manya Koetse
Follow @whatsonweibo
Spotted a mistake or want to add something? Please let us know in comments below or email us.
©2019 Whatsonweibo. All rights reserved. Do not reproduce our content without permission – you can contact us at info@whatsonweibo.com
Post-Covid19 Outbreak Reopening: Haidilao Hotpot Dinners Just Got Pricier
"My wages have gone down, Haidilao's prices have gone up," – netizens criticize Haidilao's price surge after its reopening.
First published
China's number one hotpot chain has quietly raised its prices after its post-coronacrisis reopening, much to the dissatisfaction of hotpot-loving netizens: "While my wages have gone down, Haidilao's rates have gone up."
Huddling around the simmering hotpot was perhaps one of the last things on people's minds during the coronavirus outbreak, but now that malls and restaurants are gradually getting back to business in China, the hotpot has been put back on the table – although not exactly the same as before.
Since closing its doors in late January, Haidilao, China's most popular hotpot chain, is one of the restaurants reopening after the coronavirus outbreak. By mid March, it had reopened 85 locations in 15 cities across China, Caixin Global reports. Earlier this week, the chain also opened its doors again in Beijing.
Different from the pre-COVID-19 days, Haidilao restaurants now have fewer seats and there is an increased distance between dining tables.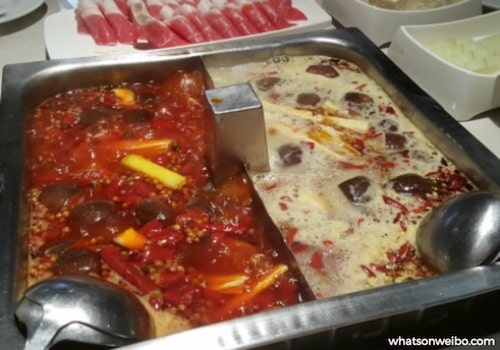 Each table now can have no more than three guests and all tables have a distance of minimally one meter in between them. Customers also need to use hand sanitizer and have their body temperature checked before entering the restaurant.
Due to the restaurant's limited tables and increased labor costs, its menu prices have gone up. Haidilao's quiet price increase became a trending topic on Weibo this week under the hashtag "Haidilao's Prices Rise Approximately 6% After Reopening" (#海底捞复工后涨价约6%#). One news post about the topic received around 224,000 likes and over 12,000 comments.
"It wasn't cheap [to eat here] to begin with," some commenters complain: "Now it's even more expensive." The restaurant's exact price surge differs per region.
Haidilao, which opened its first restaurant over 25 years ago, is the dominant hotpot chain in mainland China. By late 2019, the chain had 768 locations in China.
The restaurant is known for its Sichuan hotpot with an innovative strategy: high-service, high-tech, and high-quality. The restaurant is so popular that customers often wait in line for one or two hours in order to get a table.
Despite people's general appreciation of Haidilao, most netizens argue that the chain's price surge is a bad move, mentioning that due to the coronavirus crisis, "many people have lost their jobs," and that it is unfortunate that "food prices are rising, while we don't get our wages."
"My wages have gone down, Haidilao's prices have gone up. I just wanna cry," some commenters say.
Many Weibo users mention that Haidilao is a big company that already had relatively high prices, saying a price increase in these times is unfair to customers.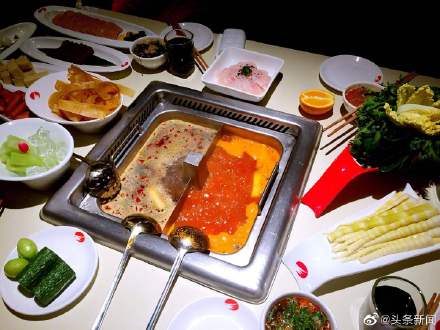 "I could tolerate it if my wages would also go up," some write.
An online poll held by news outlet Sina asked Weibo users if they could accept Haidilao's 6% price increase. Among the 122,000 respondents, 16,000 answered they were okay with it, while an absolute majority of 77,000 said they could not accept the surge.*
"They have the right to raise their prices, we have the freedom to stop eating there," some write: "I won't go there anymore."
For more COVID-19 related articles, please click here.
By Manya Koetse (@manyapan)
Follow @whatsonweibo
*(other replies to choose from included "it has nothing to do with me" or "other answer"),
Spotted a mistake or want to add something? Please let us know in comments below or email us. First-time commenters, please be patient – we will have to manually approve your comment before it appears.
©2020 Whatsonweibo. All rights reserved. Do not reproduce our content without permission – you can contact us at info@whatsonweibo.com.
China's Best Fast-Food Restaurants: These Are the 11 Most Popular Chains in the PRC
These are China's most popular fast-food chains and the most important trends in the industry.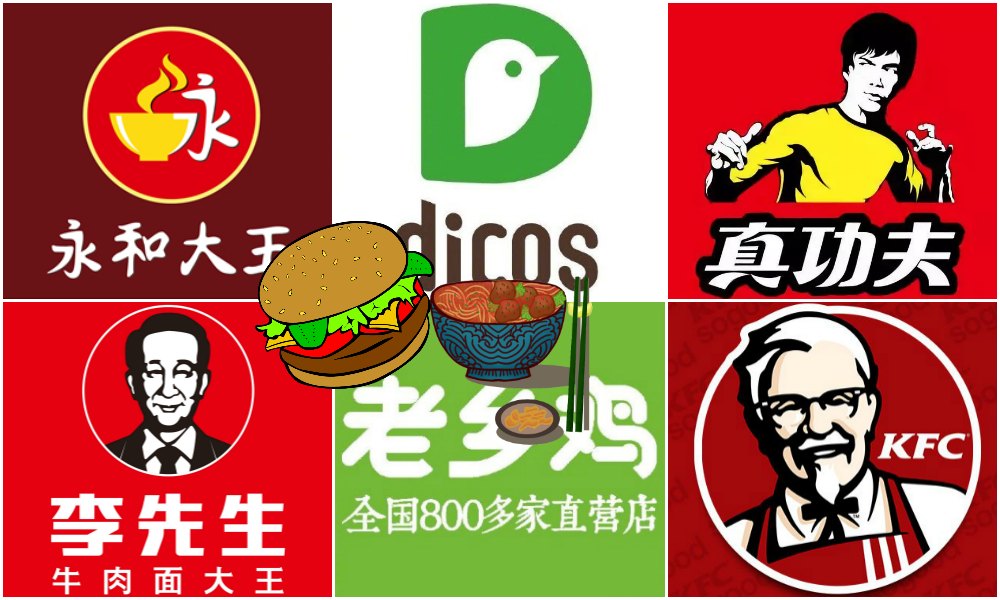 The China Cuisine Association (CCA) released a list ranking the strongest fast-food companies in China this month. The list is a top 70 (!), but here, What's on Weibo provides an overview of the top 11 in this ranking list of fast-food restaurants in China.
Fast food has been trending on Chinese social media this week after the China Cuisine Association (综合自中国烹饪协会, CCA) issued a new 'best brands' report during its 23rd China Fast Fast-Food Convention.
The report by the CCA found two major trends within China's fast-food industry.
Firstly, fast-food brands, in general, are becoming more and more popular within mainland China. The industry has seen rapid growth over the past decade, with the first half of this year already seeing a 9.4% increase compared to last year.
In the period from January to August of 2019 alone, China's restaurant industry had a total sales revenue of 2.8 trillion yuan (355 billion US dollars) – making it one of the country's fastest-growing industries according to Sina Finance.
Second, Chinese-style fast food brands are rising in popularity. Although KFC, McDonald's, and Burger King still dominate the top three chart, Chinese players such as Laoxiangji (老乡鸡), Dicos (德克士), and Real Kungfu (真功夫) are becoming favorite fast-food restaurants among Chinese consumers.
On Weibo, some commenters suggest that it is inevitable for foreign players to still rule the top lists since they were the first fast-food chains to arrive in China. China's own homegrown brands followed later and needed more time to grow, but, they predict, will only become more popular in the years to come.
Fast-food first arrived in China in the 1980s, with Kentucky Fried Chicken launching in the PRC in 1987 and McDonald's following in 1990. The very first fast-food restaurant in China was actually not KFC, but 'Yili's Fast Food Shop' (义利快餐厅), a brand established in 1906 by Scottish businessman James Neil and taken over by Chinese managers in the 1940s.
So what currently are China's most popular fast-food chains? The list as issued by the CCA actually contains the 70 strongest fast-food companies of China.
For the scope of this article, we highlight the top-ranking 11 fast-food companies of China for you, starting with number one.
#1: Kentucky Fried Chicken (肯德基)
Kentucky Fried Chicken (KFC) is the major brand by Yum China (百胜中国), China's leading restaurant company that spun off from the American Yum! Brands in 2016. Yum China has the exclusive right to operate KFC, Pizza Hut, and Taco Bell in China, and also owns the Little Sleep hotpot concept. The KFC official Weibo account almost has 2.5 million fans.
People outside of China are sometimes surprised to find that KFC is so hugely popular in the mainland. Its success story goes back to 1987, when the restaurant opened its first doors near Tiananmen Square in Beijing. Within a decade, KFC already had 100 different restaurants in China.
The question of how an American fast-food chain succeeded in becoming the number one in China, outnumbering McDonald's, is at the center of the book KFC in China: Secret Recipe for Success. Some reasons that contribute to KFC's success in China is the popularity of chicken in China, the chain's management system, and the restaurant's adaptation to local taste.
#2: McDonald's (麦当劳)
Twenty-nine years ago, McDonald's opened China's first restaurant in Shenzhen under the name 'Màidāngláo' (麦当劳), a Chinese rendering of the name.
Since 2017, the restaurant's official name change to 'Jīn Gǒngmén' (金拱门), literally meaning 'Golden Arches', made headlines both in- and outside China. The name as displayed on the restaurants, however, has always remained the same; 'Golden Arches' is just the formal Chinese name of the mother company.
Despite its rocky journey in China – McDonald's has always faced strong competition within the Chinese fast food market and had to deal with a 2014 food scandal – the American fast-food chain is still popular among Chinese, with many sharing fond memories of their first McDonald's experience.
The Weibo account now has 1,1 million fans.
The chain still has more room for growth in the PRC, and is looking at new ways to franchise on the mainland. McDonald's is also always adapting to local tastes. The Chinese menu offers products such as Cola Chicken wings or big chicken cutlet rice bowls.
#3: Burger King (汉堡王)
Compared to KFC or McDonald's, Burger King is somewhat of a newcomer to the Chinese market, but its growth is also rapid: the first restaurant in China opened in 2005, and its 1000th already opened in 2018.
China's fast-growing middle class has helped the American brand to flourish on the mainland, as did McDonald's former president of greater China, Peter Tan, who became Burger King's senior vice president.
Burger King has a wide and strong social media presence in China, with various official Weibo accounts actively promoting Burger King in various cities. The accounts have a personal approach and often post jokes and funny videos.
#4: Home Original Chicken / Laoxiangji (老乡鸡)
Home Original Chicken currently is the most popular Chinese-style fast-food chain in the PRC. To celebrate this fact, various restaurants around the country held some promotional events this week, even giving out lunch for free in some of its 800+ locations across the country. The promotion went trending on Weibo, with the hashtag 'Laoxiangji invited the whole country for dinner' (#老乡鸡宴请全国#) getting 280 million views.
The short history of the restaurant goes back to 2003 when chicken breeder Shu Congxuan opened the first location in Hefei, Anhui province. The chain's menu items look completely different from the top 3 in this list; 'Laoxiangji' serves some classic pork meatballs, meatballs wrapped in fried gluten, hot and sour fish, or steamed eggplant with chili and sour sauce.
The 'Laoxiangji' Weibo account now has over 360,300 followers.
#5: Dicos (德克士)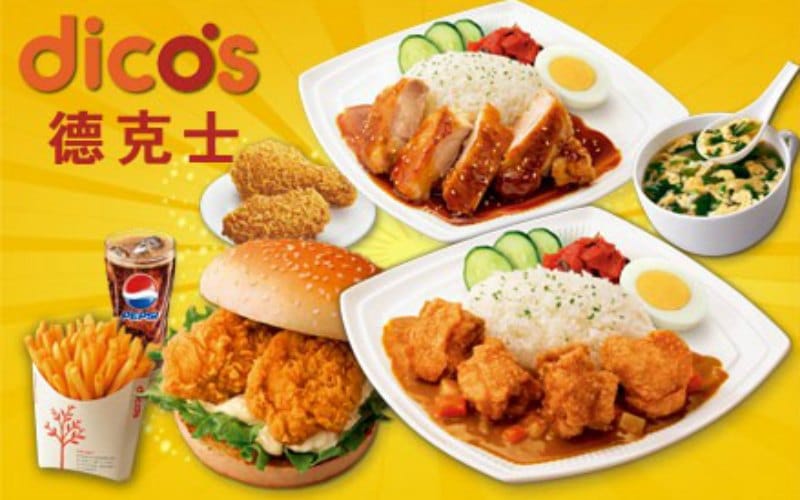 Dicos, founded in 1994, is one of the biggest Chinese-style fast-food chains in the PRC. It was founded in Chengdu and serves fried chicken and different fried chicken rice bowls, among other things. It already opened its 2000th store in 2013.
Tianjin Ding Qiao Food Service owns Dicos. In a way, you could say Dicos is one of KFC's biggest competitors in the PRC as it is also famous for its fried chicken buckets.
The restaurant's Weibo account has over 727,000 fans. Besides promoting fried chicken dishes, the account also regularly promotes the Dicos brands' various sweet desserts.
#6: Real Kungfu (真功夫)
Real Kungfu is probably the fast-food restaurant with the coolest logo – which looks like an image of Bruce Lee- and brand name here.
The restaurant is headquartered in Guangzhou and opened its first restaurant in 1990. The restaurant serves various meal sets at very reasonable prices, usually including a rice bowl, soup, boiled lettuce, and a meat main dish.
Weibo account @Zhengongfu has more than 188,000 followers. The account often posts about movies or series, with the chain associating itself with Chinese popular culture.
#7: Country Style Cooking (乡村基)
Country Style Cooking (Xiāngcūnjī, 乡村基) is originally a Chongqing restaurant that opened its first restaurant in 1996 under the name 'Country Style Chicken' (乡村鸡). It now has over 600 restaurants throughout China.
The restaurant's name is literally also its theme: providing real 'home-style' cooking from the country to its customers. It serves some classic stir-fry dishes such as the Kung Pao Chicken (宫保鸡丁).
The brand is still relatively small on Chinese social media, having some 39000 fans on its Weibo account.
#8: Ajisen Ramen (味干拉面)
Ajisen Ramen is the first Japanese chain in this list, which focuses on Japanese ramen noodle soup dishes. It operates more than 700 noodle restaurants in Hong Kong and mainland China, but also has restaurants in other countries across the world.
Its history goes all the way back to 1968, but its franchise endeavors started later.
The chain has no presence on Weibo.
#9: Yonghe King (永和大王)
Yonghe King is another Chinese-style fast-food chain that, like Ajisen, also focuses on noodles. Its first restaurant was opened in 1995 in Shanghai.
The brand is not fully Chinese anymore, as it merged with Jollibee Foods Corporation (JFC), the biggest fast-food company in the Philippines, in 2004. Since 2016, Jollibee is 100% owner of Yonghe King.
Yonghe King's menu is diverse, as it offers various breakfast items, meal sets with noodles or rice, and desserts. It promotes its breakfast as the perfect start of the day for busy people who have to get to work early and have no time to prepare a meal.
With almost 409,000 fans on Weibo, Yonghe King is pretty popular on Chinese social media.
#10: Yoshinoya (吉野家)
Yoshinoya is the second Japanese chain in this list and it is the oldest brand, going back all the way to 1899.
Although Yoshinoya is a 'fast food' chain because, some of the items on its menu are not as fast to eat. The restaurant is known for its beef bowls, but how about a one-person hotpot set?
Hop Hing Group, based in Hong Kong, is the licensed operator of Yoshinoya in Hong Kong and Mainland China. The restaurant has recently become a target of violence during the Hong Kong Protests, as it was labeled as being a Beijing supporter.
#11: Mr. Lee California Beef Noodle King (李先生加州牛肉面大王)
The Beijing brand Mr. Lee is a popular fast-food chain in mainland China that specializes in beef noodle soup. Its first store was opened in 1988.
The 'California' part in its time comes from the Californian Chinese-American businessman Li Beiqi (李北祺) who started the company – hence the restaurant's name (Mr. 'Li' in pinyin).
Besides the beef noodle soup, the restaurant also offers rice meals, dumplings, sweets, evening snacks and more. The Mr. Lee's Weibo account has over 55000 fans.
By Manya Koetse
Spotted a mistake or want to add something? Please let us know in comments below or email us. First time commenters, please be patient – we will have to manually approve your comment before it appears.
©2019 Whatsonweibo. All rights reserved. Do not reproduce our content without permission – you can contact us at info@whatsonweibo.com.