Kids for Sale: Child Abduction on the Rise in Fujian, China
Several Chinese media, including CCTV and People's Daily, report that trade in children is on the rise in China's Fujian province. Young children and newborns are being sold for 100.000 RMB (boys), girls are half the price.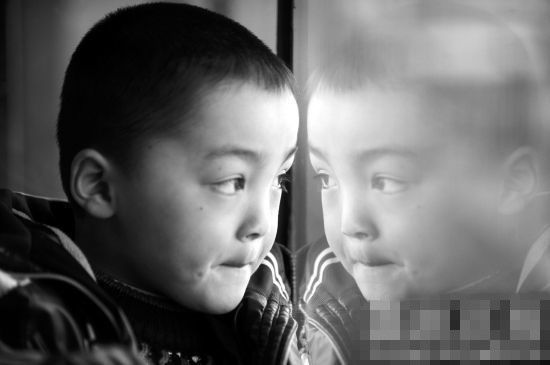 Trending on Sina Weibo is China's growing problem of child abduction. Under the hashtag of "Child Trafficking is a Common Practice" (#买卖儿童成风#), netizens plead for a national DNA database.
Recently, the popular 2014 Chinese movie Dearest (亲爱的) has increased public interest in the topic of children's abduction and trafficking. Dearest centers around a couple living in a remote village of China, dealing with the disappearance of their son. The little boy turns out to be abducted and the parents go on a lengthy mission to get him back. The tragic story has turned media's attention to the growing problem of child trafficking in the province of Fujian, China.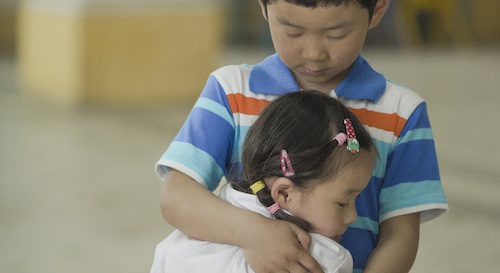 Several Chinese media, including CCTV and People's Daily, report that trade in children is on the rise in Tongfang town in Longyan prefecture, where cases have been reported of the trafficking of young children and even newborns. According to one journalist's investigation, as can be seen in the CCTV report, the "market price for a boy is about 100k RMB (about 16.300 US$) and 40-50k RMB (about 8000 US$) for a girl". Official statistics are saying there are about 10,000 kids abducted every year. Research by third party institutions estimates a number that is seven times as high, reaching 70,000 yearly cases. Most netizens believe it is the old Chinese preference for boys in thinking "boys are more important than girls" (重男轻女) that causes the illegal market demand where boys are bought and girls are sold.
According to the national statistics report, the trafficking of boys is usually related to illegal adoption, whereas kidnapping of girls often involves sex trade. The lack of a national tracking system for missing people in China makes it hard to track and rescue missing persons.
Many netizens suggest that the government should create a national online database to record the DNA information of all newborns in order to make it easier for authorities and parents to know if a missing child is theirs when it is found years after it is reported missing.
Children abduction has been a hot topic in China since 2011. Activities by non-governmental organizations such as "Against Abduction via Weibo" (微博打拐) and "Come Home Baby Forum" (宝贝回家论坛) are well known and widely supported by netizens. The Chinese government is criticized online for its lack of supervision, bad management of the ID card registration process, and the light penalty for criminals involved in child trafficking. If the government would enhance its public administration, the number of missing children could be reduced, netizens agree.
For the footage of the CCTV's report on the topic, see the video below (in Chinese):
The trailer of Dearest (in Chinese):
– by Fan Bai & Manya Koetse 
Images:
Hong Kong Asian Film Festival 2014
Appreciate this article and want to help us pay for the upkeep costs of What's on Weibo or donate a cup of (green) tea? You can do so here!
©2014 Whatsonweibo. All rights reserved. Do not reproduce without permission – you can contact us at info@whatsonweibo.com.
About Lipstick King's Comeback and His 'Mysterious' Disappearance
After Li Jiaqi's return to livestreaming, the 'tank cake incident' has become the elephant in the room on social media.
Earlier this week, the return of China's famous livestreamer Li Jiaqi, also known as the 'Lipstick King', became a hot topic on Chinese social media where his three-month 'disappearance' from the social commerce scene triggered online discussions.
He is known as Austin Li, Lipstick King, or Lipstick Brother, but most of all he is known as one of China's most successful e-commerce livestreaming hosts.
After being offline for over 100 days, Li Jiaqi (李佳琦) finally came back and did a livestreaming session on September 20th, attracting over 60 million viewers and selling over $17 million in products.
The 30-year-old beauty influencer, a former L'Oreal beauty consultant, rose to fame in 2017 after he became a successful livestreamer focusing on lipstick and other beauty products.
Li broke several records during his live streaming career. In 2018, he broke the Guinness World Record for "the most lipstick applications in 30 seconds." He once sold 15000 lipsticks in 5 minutes, and also managed to apply 380 different lipsticks in another seven-hour live stream session. Li made international headlines in 2021 when he sold $1.9 billion in goods during a 12-hour-long promotion livestream for Alibaba's shopping festival.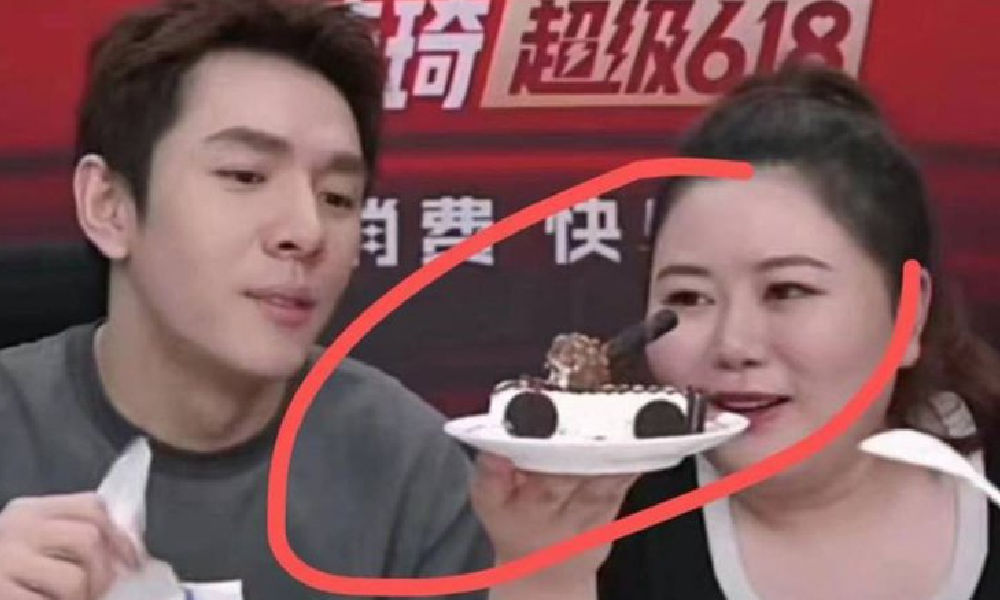 But during a Taobao livestream on June 3rd of this year, something peculiar happened. After Li Jiaqi and his co-host introduced an interestingly shaped chocolate cake – which seemed to resemble a tank, – a male assistant in the back mentioned something about the sound of shooting coming from a tank ("坦克突突").
Although Li Jiaqi and the others laughed about the comment, Li also seemed a bit unsure and the woman next to him then said: "Stay tuned for 23:00 to see if Li Jiaqi and I will still be in this position."
The session then suddenly stopped, and at 23:38 that night Li wrote on Weibo that the channel was experiencing some "technical problems."
But those "technical problems" lasted, and Li did not come back. His June 3rd post about the technical problems would be the last one on his Weibo account for the months to come.
The 'cake tank incident' (坦克蛋糕事件) occurred on the night before June 4, the 33rd anniversary of the violent crackdown of the Tiananmen student demonstrations. The iconic image of the so-called 'tank man' blocking the tanks at Tiananmen has become world famous and is censored on China's internet. The control of information flows is especially strict before and on June 4, making Li's 'tank cake incident' all the more controversial.
But no official media nor the official Li Jiaqi accounts acknowledged the tank cake incident, and his absence remained unexplained. Meanwhile, there was a silent acknowledgment among netizens that the reason Li was not coming online anymore was related to the 'tank cake incident.'
During Li's long hiatus, fans flocked to his Weibo page where they left thousands of messages.
"I'm afraid people have been plotting against you," many commenters wrote, suggesting that the cake was deliberately introduced by someone else during the livestream as a way to commemorate June 4.
Many fans also expressed their appreciation of Li, saying how watching his streams helped them cope with depression or cheered them up during hard times. "What would we do without you?" some wrote. Even after 80 days without Li Jiaqi's livestreams, people still commented: "I am waiting for you every day."
On September 21st, Li Jiaqi finally – and somewhat quietly – returned and some people said they were moved to see their lipstick hero return to the livestream scene.
Although many were overjoyed with Li's return, it also triggered more conversations on why he had disappeared and what happened to him during the 3+ months of absence. "He talked about a sensitive topic," one commenter said when a Weibo user asked about Li's disappearance.
One self-media accountpublished a video titled "Li Jiaqi has returned." The voiceover repeatedly asks why Li would have disappeared and even speculates about what might have caused it, without once mentioning the tank cake.
"This cracks me up," one commenter wrote: "On the outside we all know what's going on, on the inside there's no information whatsoever."
"It's tacit mutual understanding," some wrote. "It's the elephant in the room," others said.
Some people, however, did not care about discussing Li's disappearance at all anymore and just expressed joy about seeing him again: "It's like seeing a good friend after being apart for a long time."
By Manya Koetse 
Elements in the featured image by @karishea and @kaffeebart.
Get the story behind the hashtag. Subscribe to What's on Weibo here to receive our weekly newsletter and get access to our latest articles:
Spotted a mistake or want to add something? Please let us know in comments below or email us. First-time commenters, please be patient – we will have to manually approve your comment before it appears.
©2022 Whatsonweibo. All rights reserved. Do not reproduce our content without permission – you can contact us at info@whatsonweibo.com.
More Than Just a Visit: Explaining the Chinese 'Cuànfǎng'
'Cuànfǎng' became a popular word on Chinese social media and in official Chinese discourse this year. But what is it?
Since Pelosi's stopover in Taiwan, the word 'cuànfǎng' has been all over Chinese social media to refer to this controversial visit. But 'cuànfǎng' is more than just 'visiting' alone. Jin Luo explains.
It was a sleepless night for many Chinese people when U.S. House Speaker Pelosi flew to Taiwan on August 2nd of 2022. A new Chinese word created in recent years, cuànfǎng (窜访) appeared in the official statement that was issued by the Chinese Foreign Ministry at 11 pm that night, and subsequently it appeared all over social media.
Meanwhile, a pop song released more than 30 years ago titled "Tonight, Are You Coming or Not" ("今夜你会不会来") suddenly became a Weibo hot topic before it was taken offline. What is this word lost in translation, and why did people suddenly get nostalgic over an old romantic song?

Cuànfǎng: A 'Sneaky Visit'

Here is the original wording in Chinese and the official translation to English from the statement of the Chinese Foreign Ministry on the evening on 2 August:
"In disregard of China's strong opposition and diplomatic discontent, Speaker of the U.S. House of Representatives Nancy Pelosi visited China's Taiwan region" ("美国国会众议长佩洛西不顾中方强烈反对和严正交涉,窜访中国台湾地区.") The word 'visited' in Chinese that is used here is "cuànfǎng" 窜访.
While the English verb "visit" is a neutral word by itself, the Chinese "cuànfǎng" 窜访 has much stronger connotations. According to the Wiktionary, the word is a derogatory, officialese way to say "to visit." But it is not an easy word to translate, as there is no direct equivalent in English, and both the literal and implied meaning of the word need to be understood.
Cuànfǎng is actually a compound word: cuàn 窜 refers to fleeing, escaping, hiding, or running away; fǎng 访 refers to inquiring, seeking, or visiting.
To make matters more complicated, cuàn 窜 by itself is also a compound character. It is written as '竄' in traditional Chinese: the top radical '穴' means 'hole,' and the lower part is the character '鼠' which means 'mouse.' The character, having the shape of a mouse hiding in a hole, therefore has the meaning of 'hiding' and 'escaping.'
The mouse or rat is an animal that is more often associated with negative things in Chinese culture. They are often considered sneaky, dirty, running around everywhere, and able to reproduce quickly. With mice so often carrying a negative association, cuàn '窜' also refers to a kind of hiding and escaping that is negative or objectionable.
The second character fǎng 访 is a neutral word that simply means "to visit."
At the New York Times, Chris Buckley captured the underlying meaning of this word in writing: "The Chinese word used in the official statements for 'visit' — cuanfang — connotes a sneaky or illicit encounter, not an aboveboard meeting."

The Evolution of Cuànfǎng

Although it is a relatively new word, cuànfǎng already existed before the Pelosi incident and was not created in light of this controversial visit.
Since the word's first appearance, translators have had some difficulties in properly translating the term into different languages.
Research papers in translation studies and international relations in China suggested that cuànfǎng is a "new derogatory term invented in recent years, specifically for the purpose of maintaining national security and unity, and condemning and exposing the national separatists" and "demonstrated the big wisdom of Chinese diplomatic discourse users; vividly described the image of the separatists, that they go on the run sneakily, just like thieves and mice" (source, in Chinese).
Other sources interpret it as "the unjust, improper visit conducted in order to reach hidden political agenda, to agitate and peddle the separatist ideas," and:
"1. You went somewhere where you were not supposed to go;
2. The visit was not accepted or welcomed by the (Chinese) government;
3. The purpose is to shake justice and create conflicts" (source, in Chinese).
Cuàn was mainly meant to add an emotional aspect to the term and shows the contempt of the person who uses it.
The word was first prominently used in Chinese official discourse when the Foreign Ministry in 2006 referred to the Dalai Lama's visit to Israel. Since cuàn has the meaning of fleeing, it is especially suitable when referring to political dissidents who went into exile overseas.
Since then, it has been used again for further visits of the Dalai Lama to other countries (US 2014, Mongolia 2017), as well as for Rebiya Kadeer, Lee Teng-hui, Shinzo Abe, Joshua Wong, and others.
Although it is clear that the term is not only applied to Chinese dissidents, it is generally applied to those who conducted visits that were perceived to be hostile towards China, with Nancy Pelosi's Taiwan visit serving as a clear example.
Since the Dalai Lama has been living outside of China and conducted numerous visits to other countries, cuànfǎng was previously mostly used in this context until Pelosi's visit, which ended up being good for more than 80% of the search results of cuànfǎng on the Chinese Foreign Ministry website.
If cuànfǎng is a word with such strong emotional connotations, why was it simply translated as "visit" in official English-language documents? Some say it is because of the mere difficulty to translate this word, while others say it is the routine sanitization of English translations by the Foreign Ministry.
David Gitter, president of the Center for Advanced China Research based in Washington D.C., said that the external goal of Beijing can be different from the internal goal towards the nationalist domestic audiences, and that "more accurate yet counterproductive translations … [often] breach normal diplomatic language."
At this point, it remains up for debate whether this is a linguistic constraint or a political choice.

Tonight, Are You Coming or Not?

While the term cuànfǎng has been widely used in official discourse, it has also become a popular online word. Chinese netizens seemed to be as passionate as the Chinese Foreign Ministry – and perhaps even more so –  in condemning Pelosi's Taiwan visit and demanding radical countermeasures.
Chinese netizens were watching the entire event unfold with mixed feelings – on the one hand, there was a strong sense of patriotism and anger, on the other hand, the massive attention to the event also turned it into something that was almost as exciting as a celebrity drama.
On that specific evening of Pelosi's nearing arrival in Taipei, Chinese netizens were doing two things: watching real-time tracking of Pelosi's flight, and listening to a classic pop song released in 1991 titled "Tonight, Are You Coming or Not" (今夜你会不会来) (video). Back in the previous century, Hong Kong singer Leon Lai expressed the emotions of someone waiting for his lover to arrive in this melodic song, singing:
"你是否愿意为我停留
Would you be willing to stay for me
今夜你来告诉我
Tonight, you tell me
你是否愿意陪我走过我的梦
Are you willing to accompany me through my dream?
我的所有
My everything
(Chorus)
今夜你会不会来
Tonight, are you coming or not?
你的爱还在不在
Is your love still there or not?
如果你的心已经离开
If your heart has left already
我宁愿没有未来
I would rather not have a future
今夜你会不会来
Tonight, are you coming or not?
你的爱还在不在
Is your love still there or not?
别让我所有的等待
Don't let all my wait
变成一片空白
Go all in vain"
In the middle of the uncertainty about whether Pelosi would come to Taiwan or not, this song served as entertainment for netizens and became a "collective carnival" of people jokingly applying the song to Pelosi, turning her into a 'mysterious lover' that might or might not show up. (Later, some were unable to play the song anymore, although it remains unclear if this was due to geographic restrictions or because the song was actually taken offline by censors.)
"Taiwan has been preparing for your cuànfǎng 'sneaky visit', are you coming or not tonight?" some netizens wrote, combining the title song with the cuànfǎng term. In doing so, Pelosi became both a 'sneaky mouse' and 'mysterious lover', both a target of condemnation and subject of fun and banter.
All jokes and cuànfǎng references aside, Pelosi did end up realizing that visit, and its aftermath, including a second Taiwan visit by a U.S. congressional delegation, has had a substantial impact on U.S.-China relations that were already strained before the move.
Will there be more cuànfǎng to Taiwan? It's likely not an issue of if, but when. For next time, at least we've got cuànfǎng covered.
By Jin Luo 
Featured image by Alexa from Pixabay
Get the story behind the hashtag. Subscribe to What's on Weibo here to receive our weekly newsletter and get access to our latest articles:
Spotted a mistake or want to add something? Please let us know in comments below or email us. First-time commenters, please be patient – we will have to manually approve your comment before it appears.
©2022 Whatsonweibo. All rights reserved. Do not reproduce our content without permission – you can contact us at info@whatsonweibo.com.