Liang Yuxiang, 61-Year-Old Granddad with Killer Body
Need some motivation to hit the gym? Liang Yuxiang is China's latest internet sensation. The 61-year-old grandpa from Chengdu has got a killer body and a strong mind.
Need some motivation to hit the gym? Liang Yuxiang is China's latest internet sensation. The 61-year-old grandpa from Chengdu has got a killer body and a strong mind.
The 61-year-old Liang Yuxiang (梁钰祥) from Chengdu has become the latest Weibo sensation. The six-pack-granddad has become an online celebrity now that different Chinese media have published his pictures. But besides a hot body, Liang also has an inspirational outlook on life.
Liang Yuxiang has made the headlines in China.
Chinese state media outlet People's Daily posted about Liang on their Weibo account, saying that the grandfather loves exercising and car racing. He has already raced across the country, and now dreams of competing in the Dakar Rally: "The life of elderly should not only be about their grandchildren," he says.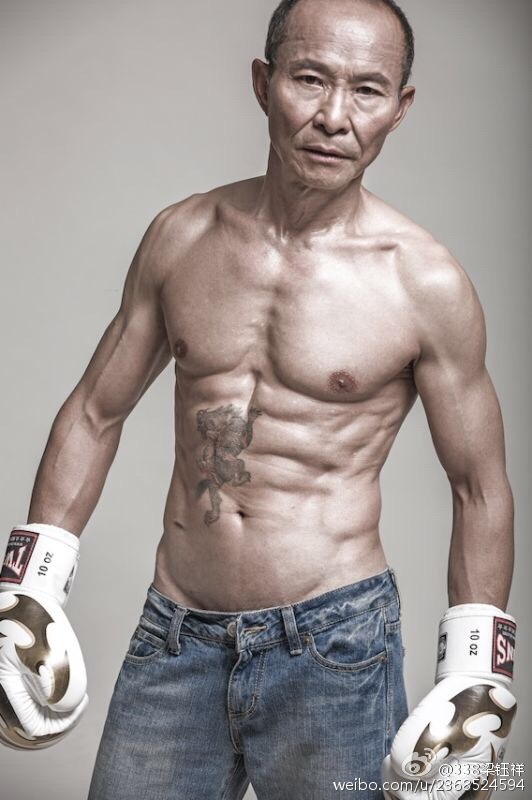 "Exercising is not a hobby, it's a habit."
Born and raised in Chengdu, Liang has worked in clothing factories when he was younger and started his own business in making lamps since 1991. Around 2000, he noticed he was getting out of shape, when an old friend advised him to take up exercising. Liang got so hooked on working out, that he even set up his own gym in his lamp factory, Chinese newspaper WCC Daily reports. Besides focusing on his own exercising routine, he also encouraged his staff at the factory to participate. "Many people see exercising as a hobby," he says: "But I see it as a habit."
"Only eat 'til you're 70% full."
Contrary to what you might expect, Liang is reportedly an absolute food lover with a specific preference for meat. Having had surgery for some stomach problems in the past, Liang is serious about his diet and always sticks to his golden rule: "Stop eating when you're about 70% full."
Besides this principle, Liang eats whatever he wants and snacks when he feels like it. "The body has a very strong self-regulating capacity," he says: "So whenever you feel like eating something, it's probably because your body needs it."
"Determined to ride the Dakar Rally."
According to his friends, Liang has only become younger and more lively since he started working out. His exercise routine has brought him both physical and mental benefits. According to WCC Daily, Liang is determined to participate in the Dakar races, known as the most dangerous in the world – he might do so in 2017 or 2018. "But first, my main goal in 2016 is to ride the rally from Moscow to Beijing," Liang says.
Besides exercising and racing, Liang has another passion: paragliding. He took up paragliding in 2006, when he was doing a cross-country car rally in Europe and saw the paragliders in the Alps. He was so impressed that he immediately joined a club when he got back to Chengdu. It took him about a month to learn how to do it. He says: "Friends sometimes make of me saying I'm like some sort of amphibian sports fan, as I love both the ground and the air."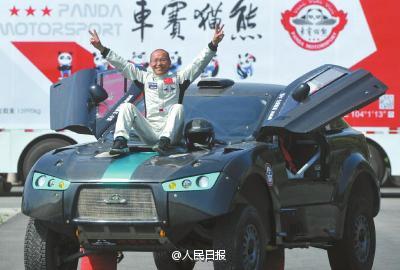 "Granddad, you're so hot."
On Weibo, Liang's pictures have attracted hundreds of comments, with many people taking Liang as a role model. "Good, good, good. Good figure, good body, good health. This kind of elderly people really deserve our praise," one netizen says.
"Granddad, you're so hot," one another Weibo user comments. Another netizen says: "This is the kind of attitude towards life that people need."
– By Manya Koetse
Follow @WhatsOnWeibo
©2016 Whatsonweibo. All rights reserved. Do not reproduce our content without permission – you can contact us at info@whatsonweibo.com.
The End to Zero Covid: China's New 10 Covid Rules Are Here
"Everyone is really happy but there is a black cloud heading our way."
Over the past few weeks, China's Covid measures have seen gradual changes, and various places across China have eased local rules regarding nucleic acid testing and the accessibility of public transport and venues. Now, central authorities have announced more measures that basically end the 'zero Covid' policy as we knew it. The 'ten new rules' became top trending on Weibo.
Just a month ago, on November 11, Chinese central authorities released a set of twenty new rules to "further optimize" China's approach to Covid.
At the time, Chinese media emphasized that the new rules did not mean that China was letting go of its dynamic Zero Covid policy. Now, another ten new rules have been introduced that do indicate that the country is clearly no longer sticking to its 'zero Covid' goals.
After a central meeting that took place on December 6, authorities released a 10-point plan addressing changes in Covid measures. National Health Commission spokesman Mi Feng (米锋) announced the measures during a live-streamed press conference of the Joint Prevention and Control Mechanism of the State Council (#国务院联防联控机制发布会#).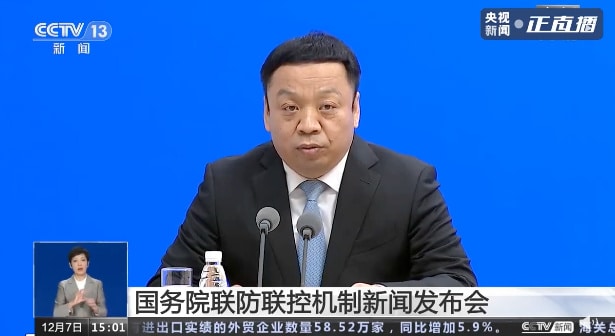 On Wednesday, several hashtags related to the new measures went trending on Chinese social media, including "Health Code" (#健康码#), over 450 million views), and "Ten New Rules" (#新十条#, over 440 million views).

These Are the 10 Changes:

1: Lockdown Changes
Risk areas should be assessed and divided according to science and it should be done precisely. We should no longer see the lockdown of an entire community or residential area; instead, it will be assessed by looking at household units, buildings, and apartment floors. The (temporary) closure of areas will no longer be allowed.
2: Testing Changes
The scope of nucleic acid testing was already limited in the previous adjusted rules, but will now be further limited. Instead of RT-PCR tests, rapid PCR tests will be used more often in accordance with local requirements. Nucleic acid testing will remain in place for high-risk positions and high-risk area personnel in accordance with relevant regulations, and some places including nursing homes, schools, and medical care institutions will still require negative tests, but negative nucleic acid test certificates and health code checks will no longer be necessary for traveling from place to place.
3: Quarantine Changes
People who tested positive but are asymptomatic or only show mild symptoms can isolate at home if they meet local requirements. Centralized isolation centers will still be in operation for more severe cases or those opting in for centralized quarantine. If nucleic acid tests are negative after the fifth day, the isolation period can end.
4: 'High-Risk Area' Changes
If no new cases have been detected for five consecutive days, local lockdowns should be lifted.
5: Medicine Availability Changes
Pharmacies should operate normally and cannot be arbitrarily closed. Over-the-counter (OTC) medicines for cough, fever, etc should not be restricted.
6: Vaccination Strategy Changes
The promotion of the Covid vaccination should be stepped up for Chinese seniors, especially in the 60-79 age group, with a clear focus on making sure they get all the vaccinations they need as quickly as possible. In order to boost the vaccination rates, temporary vaccination sites will need to be set up and they will need to be local incentives to get the seniors to vaccinate asap. This was actually also mentioned in the list of twenty optimized Covid measures in November (under rule 12).
7: Medical Classification Clarity
There should be clearer knowledge on the medical status of residents and whether elderly residents have any underlying medical issues and if they have been vaccinated.
8: Focus on the Normal Functioning of Society & Basic Medical Services
If areas are not classified as high-risk areas, people should be allowed to move around freely and have access to basic medical care, and there should be no restrictions on production, work, and business operations.
9: Strengthen Safety Procedures in Epidemic Situations
Buildings [in high-risk areas] cannot block fire exits, unit doors, or community gates under any circumstances. Community management departments should have effective modes of communication systems in place to contact local medical institutions in order to safeguard the medical needs of residents, including seniors living alone, children, pregnant women, and those with underlying conditions.
10: Improved Policies regarding Outbreaks at School Campuses
As also mentioned in the previous updated rules, on-campus epidemic control must be consistent, precise, and in accordance with science. Not only can there be no unnecessarily long lockdowns of campuses, but the risk areas within campuses should be more precisely defined, and normal teaching and living outside these areas should be able to continue as usual. Schools without any outbreaks should carry on normal offline teaching activities, and capus facilities such as supermarkets, cafeterias, libraries, etc. should be open.

Online Responses

One clear online response to China's recent 'optimized' Covid measures is that people are buying a lot of medication, expecting to be infected with Covid soon. Some online stores had already sold out on the Traditional Chinese medicine Lianhua Qingwen (连花清瘟), a herbal pill by Yiling Pharmaceuticals which is used for the treatment of influenza as well as Covid.
One popular Weibo blogger (@咖啡布偶猫) wrote: "I feel as if the propaganda has seen a sudden change in direction. During the first half of the year and the epidemic in Shanghai, everyone would get scared the moment you talked about a positive case, they wanted to fiercely chase it and thoroughly reach zero cases. Now they are propagating that we should not panic, that we should accept the reality and actively respond to it, as if it is nothing alarming. But we should still pay attention to those with underlying medical conditions, those with respiratory issues, asthma, and lung disease. If you haven't bought cold medicine yet, do so. Right now, some places even have a limit on buying Lianhua Qingwen."
During the December 7 press conference, Guo Yanhong (郭燕红), director of the National Health Commission's health emergency division, emphasized that it is not necessary for people to stock up on medication in light of the announced eased Covid measures and that there are sufficient supplies (#卫健委提示没有必要囤积抢购药物#).
"After being sealed for three years, it's all lifted in a morning, all the prices go up for Lianhua Qingwen, rapid antigen tests increase in price, and if your symptoms get serious you're still not able to get help anywhere."
Some jokingly suggest that after messing around for three years, the pandemic is only now really starting.
"Everyone is really happy now but there's a black cloud coming our way, we will know in a month or so if it is going to be light drizzle or a heavy rainstorm."
By Manya Koetse , with contributions by Miranda Barnes
Get the story behind the hashtag. Subscribe to What's on Weibo here to receive our newsletter and get access to our latest articles:
Spotted a mistake or want to add something? Please let us know in the comments below or email us. First-time commenters, please be patient – we will have to manually approve your comment before it appears.
©2022 Whatsonweibo. All rights reserved. Do not reproduce our content without permission – you can contact us at info@whatsonweibo.com.
Part of the Problem: Anger in Lanzhou over Covid-Positive Nucleic Acid Testing Staff
Anger, distrust in Lanzhou after community staff discovered that those coming to test residents had not had a recent Covid test themselves.
When the people who are testing the community for Covid are actually bringing the virus into the area.
There has been unrest in various places across China over the past few days, from students making their voices heard in Nanjing and Xi'an to people locally protesting against stringent Covid measures in Urumqi, Guangzhou, and beyond.
Sunday, November 27, saw the second night of protests in Shanghai. On Saturday, crowds gathered at the city's Wulumqi Road (read here).
Meanwhile, Lanzhou city, Gansu Province, is trending on Chinese social media.
On November 26, people at a residential area (Biguiyuan Community 碧桂园小区) in Lanzhou's Chengguan District found out that the local nucleic acid testing staff did not have a 24-hour period negative nucleic acid test result. The staff had come to run another round of door-to-door tests after the community had been in (semi-) lockdown for eight days.
After demanding that the nucleic acid staff members would get tested themselves, it was found that one of them tested positive for Covid.
One hashtag related to the case received over 400 million Weibo views on Sunday (#兰州通报核酸采样人员阳性#).
A video that went viral on social media showed community management staff talking to a local government official, saying:
"You represent the government, let me tell you something. We have discovered a problem today. The medical staff that has come to do our nucleic acid tests, not a single one of them had a 24-hour nucleic acid certificate. I demand that qualified medical staff comes to test them, and that you come up with his work permit before testing us."
The person testing positive is a 21-year-old staff member working at the Third People's Hospital (第三人民医院) of Chengguan District.
District authorities issued a statement on Sunday saying that they would further investigate how a Covid-positive staff member could be sent into a community without recent test certificates.
But the statement did not help prevent online anger.
The incident is emblematic of China's current Covid troubles, that have led to dissatisfaction, confusion, and frustrations in various places across China when it comes to Covid measures.
A stream of videos on Chinese social media show clashes between local anti-epidemic workers and residents in various places.
In Wuhan, a woman called out a worker who placed fences in front of the residential building. "Where are your credentials?!" she angrily asked.
Another person shouted at a local staff member at a locked down community who was just sitting and playing games on his phone. "Explain us what's going on," the resident said, and the worker replied: "My job is just to sit here."
The lack of clarity on local Covid situations and guidelines mixed with a distrust in those who are managing the current epidemic is a toxic situation that is essentially at the root of the current outbreaks of unrest and protests in various places in China.
Many people commenting on the Lanzhou issue wonder what would have happened if the Biguiyuan Community manager had not detected that the nucleic acid test results of the anti-epidemic workers had not been updated. They might have spread Covid to many other communities.
One commenter from Guangdong wrote: "I don't really get it: I just received a text message from my town asking me to do a nucleic acid, saying that I would be held legally responsible if I would spread [the virus], but I don't even go out. So if I adhere to your request and go do the nucleic acid test and get infected because of it, will you bear the legal responsibility? Will I be compensated for the damage?"
Read more about the "11.24" unrest in China here.
By Manya Koetse 
If you appreciate what we do, please subscribe here or support us by donating.
Featured image by @导筒directube
Get the story behind the hashtag. Subscribe to What's on Weibo here to receive our newsletter and get access to our latest articles:
Spotted a mistake or want to add something? Please let us know in comments below or email us. First-time commenters, please be patient – we will have to manually approve your comment before it appears.
©2022 Whatsonweibo. All rights reserved. Do not reproduce our content without permission – you can contact us at info@whatsonweibo.com.