"Made in China" Fashion – Forever Doomed?
'Chinese fashion' is a hot topic on China's social media platforms this week. China fashion expert Elsbeth van Paridon hopefully wishes the MET gala throws another Chinoiserie ball in a decade or so. Is "Made in China" Fashion doomed?
READING TIME: 3 MINUTES, 55 SECONDS
'Chinese fashion' is a hot topic on China's social media platforms this week. China fashion writer Elsbeth van Paridon hopefully wishes the MET gala throws another Chinoiserie ball in a decade or so.
It was a wild week in the world of China fashion news. First, popstar Katy Perry draped herself in a   Taiwanese flag at a Taipei concert. Then Su Mang, one of China's most influential fashion figures, spoke at the 2015 Harvard China Forum about the future of Chinese fashion. Most controversially, the famous A-list ball at the Metropolitan Museum of Art in New York called on celebrities to dress for the theme of Chinese influences on western fashion at the beginning of May. The ball became trending on Sina Weibo and dominated Weixin discussions. Many Chinese netizens ridiculed the outfits of America's celebrities, like Sarah Jessica Parker, who 'looked like a Beijing Olympics mascotte', or Rihanna, whose dress resembled 'a Chinese omelette' according to Weibo's netizens.
Elsbeth van Paridon is a sinologist and China fashion writer. She is based in Beijing since 2010, and works in the fashion industry. She gives her view on this week's happenings for What's on Weibo:
Chinoiserie: Friend or Foe?
Rihanna's dress, mocked by Chinese netizens for 'resembling a Chinese omelette'.
Monday May 4 stood out in many a fashion-aficionado/a's calendar as the annual outlandish couture fest (or frenzy, perhaps) that is the Met Gala rolled out the red carpet once again, sporting the theme "Chinoiserie" (one that many avant-gardists related to China fashion had awaited with baited breath — not this one though, I'm slightly skeptical when it comes to Queen Bey and the likes showing us their take on the wardrobe pick-of-the-season, no offense Your Madgesty).
Now, in hindsight, let me make an attempt to be politically correct in summarizing the A-list peacock feathers du jour: opinions were definitely divided. I'm the first one to agree that Fashion is the Land of Freedom and any take on a specific theme should be completely and utterly personal; but as I stood peering through the looking glass, I had a hard time spotting the 'Chinois' in the whole thing. And when the China flash did appear, it gave off somewhat of the "very average design school graduation project idea", as Beijing designer Iris Wang put it: more tragic than transcendent.
Will the label "Made in China" forever be doomed?
Then, lo and behold, what are the chances…Coincidence or not (probably the latter, I do get that), a few days prior to the photo-opp of the year, on May 1, the Harvard China Forum hosted a talk on China fashion, and more specifically asked itself: Is China still able to fulfill and live its dream of becoming the reigning Queen Bee of the International Fashion Hive? Or will the label "Made in China" forever be doomed to burn in Vogue purgatory? E-commerce in China, i.e. purchasing your Monday outfit on ultra-popular sites such as Taobao and Alibaba, is thriving; yet that ain't got that real Alexander McQueen feel to it, now does it?
Su Mang speaking at the Harvard Forum.
Both entrepreneurship and fashion remain relatively new concepts in China anno 2015. One-woman-powerhouse Su Mang, President and CEO of Trends Media Group, has been working in the industry for almost two decades now, and impeccably dressed, she had her say at the forum. In the early 2000s, with China fashion in its newborn stages one might say, Su took on her first job as editor-in-chief and founded "Bazaar" in China, and embarked upon a period to which she refers as being one of "trial and error". Heading a crew of no more than 30 at the publication, she started weaving the little silk she had been given and over the next decade "saw China fashion growing into an increasingly powerful tool able to influence artists, musicians, dresses to the stars and thus the clothing trends of hundreds of thousands across the nation". Again, that all happened within the span of merely ten years. Not too shabby.
"China will grow into its own style."
Putting the final hemlines on her discourse, Su pointed out how her fiercely fiery dreams regarding China's fashionable development are by no means slowing down, let alone been diminished to cinders, on the contrary: the Fashion Dragon roars (I'm slightly paraphrasing here; thought it sounded more passionate, anyhoo). "After all, who is to say what fashion really is? Is it merely couture; or does it cover a wider range of clothing[racks]? China will grow into its own style mode; let's just see what that will be. But in no way does it end here." Amen to that, Su.
Maybe the MET should have another "China-do" in another decade then. Let's wait and see."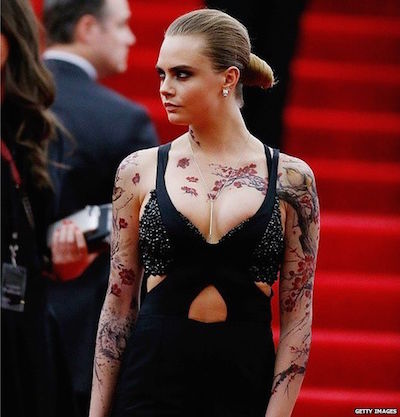 British model Cara Delevingne was covered in fake floral tattoos as she arrived for the gala. As reported by BBC's Saira Asher and Heather Chen, the Weibo verdict: "Those fake flower tattoos – Frightening!", and: "Aren't cherry blossoms Japanese?"
By Elsbeth van Paridon
Follow What's on Weibo on Twitter
Images:
http://www.thecrimson.com/image/2015/4/27/sumangchinaforum/
http://www.bbc.com/news/world-asia-china-32586993
The Mulan Makeup Challenge: Traditional Chinese Makeup Goes Trending
Recreating the Mulan make-up look was the biggest beauty challenge on Chinese social media this July.
Will traditional Chinese make-up make a comeback because of Disney's Mulan?
Since Disney released the official trailer for its live-action Mulan movie earlier this month, Mulan is recurringly appearing in the top trending lists on Chinese social media.
Among all the different topics relating to the upcoming Mulan movie, the Mulan make-up challenge is one that jumps out this month.
The Disney live-action trailer showed a scene in which Mulan, played by Chinese American actress Crystal Liu Fei (刘亦菲), has a full face of betrothal makeup. The original animated Disney movie also features a full makeup Mulan.
Although there was also online criticism of the 'exaggerated' makeup, there are many people who appreciate Mulan's colorful makeup look.
On Weibo, many showed off their skills in copying Mulan's makeup look this month.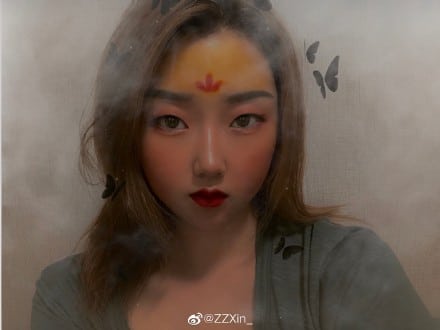 By now, the hashtags "Mulan Makeup Imitation" (#花木兰仿妆#) and "Mulan Makeup Imitation Contest" (#花木兰仿妆大赛#) have attracted over 300 million views.
Makeup such as lipstick has been used in China as far back as two or three thousand years ago.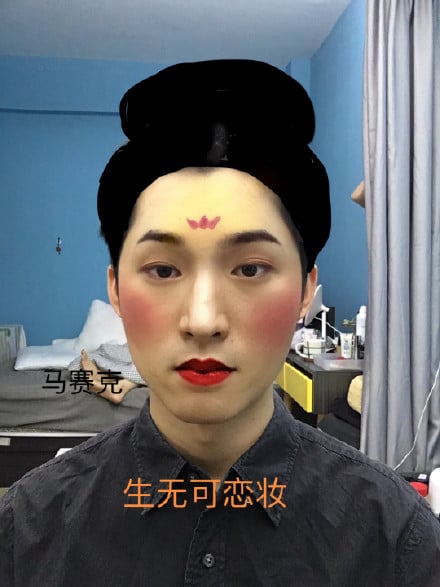 Makeup vlogger Emma Zhou explains more about Tang Dynasty (618-907) makeup customs here; the skin would be whitened with rice flower, followed by the application of 'blush' (pigment of strong-colored flowers) to the cheeks and eyes in a round shape, to emphasize the roundness of the face.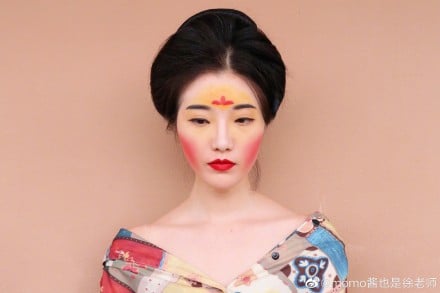 A floral-like decoration would be placed in between the eyebrows.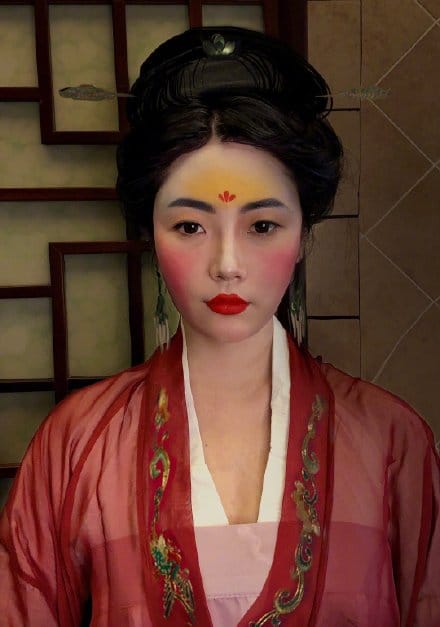 The yellow forehead, as can be seen in the live-action Mulan, is also known as "Buddha's makeup," and was especially popular among ladies during the Tang Dynasty. A yellow aura on the forehead was believed to be auspicious (Schafer 1956, 419).
Although contemporary Chinese makeup trends are much different than those depicted in Mulan, traditional makeup seems to make somewhat of a come-back because of the Disney movie, with hundreds of Chinese netizens imitating the look.
Beauty bloggers such as Nico (@黎千千Nico, image below) receive much praise from Weibo users for their makeup look. Nico wrote: "I even opened the door for the delivery guy this way!"
It is not just girls imitating the look; there are also some boys showing off their Mulan makeup.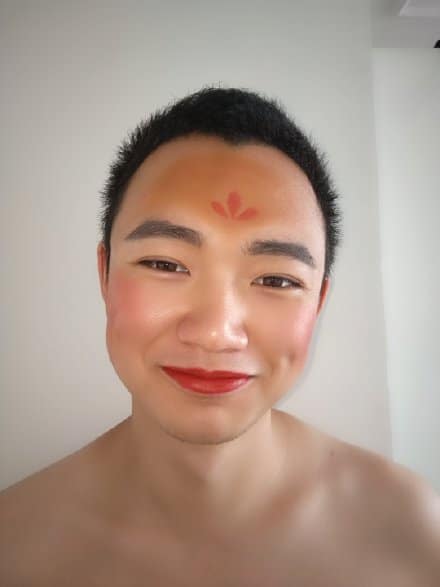 Although many still find the Mulan makeup look exaggerated and even "laughable," there are also those who think it looks really "cool" – of course, depending on whether or not the application is successful.
Want to try it out for yourself? There are various amateur tutorials available on Youtube (in Chinese), such as here, here, or here.
The Mulan make-up hype will probably continue in 2020; the Mulan movie will come out in late March.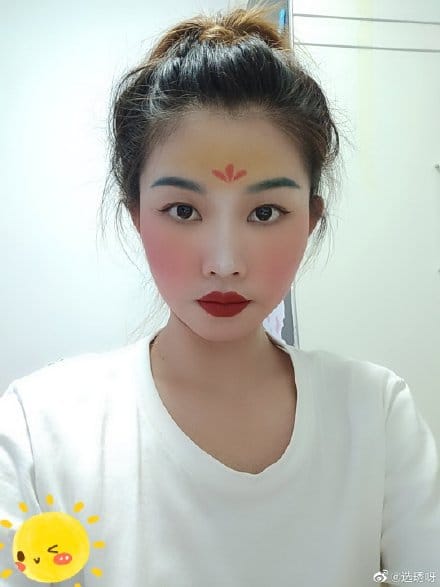 To read more about Mulan, please see our latest feature article on Mulan here.
By Manya Koetse
Follow @whatsonweibo
References
Schafer, Edward H. 1956. "The Early History of Lead Pigments and Cosmetics in China." T'oung Pao, Second Series, 44, no. 4/5: 413-38. http://www.jstor.org/stable/4527434.
Spotted a mistake or want to add something? Please let us know in comments below or email us. Please note that your comment below will need to be manually approved if you're a first-time poster here.
©2019 Whatsonweibo. All rights reserved. Do not reproduce our content without permission – you can contact us at info@whatsonweibo.com
Iconic Shanghai Singer Yao Lee Passes Away at the Age of 96
Yao Li, one of the seven great singing stars of Shanghai in the 1940s, has passed away.
Chinese singer Yao Lee (姚莉), the 'Queen of Mandarin pop,' passed away on July 19 at the age of 96.
The singer, with her 'Silvery Voice,' was known as one of the seven great singing stars ("七大歌星") of Shanghai of the 1940s.
For those who may not know her name, you might know her music – one of her iconic songs was used in the hit movie Crazy Rich Asians.
Yao's most famous songs include "Rose, Rose, I Love You" (玫瑰玫瑰我爱你), "Meet Again" (重逢), and "Love That I Can't Have" (得不到的爱情).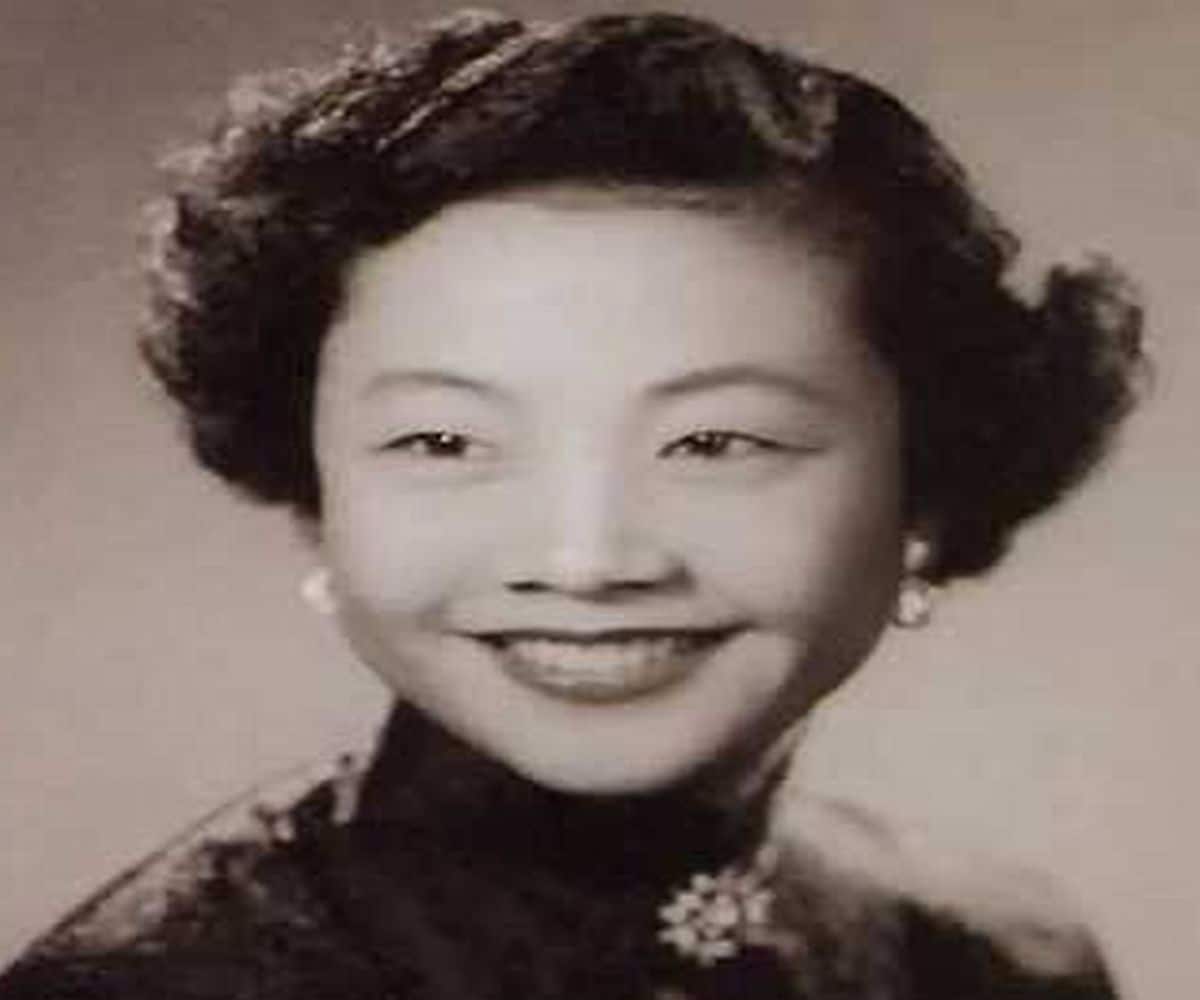 Yao, born in Shanghai in 1922, started singing at the age of 13. Her brother Yao Min was a popular music songwriter.
When popular music was banned under Mao in the 1950s, Hong Kong became a new center of the Mandarin music industry, and Yao continued her career there.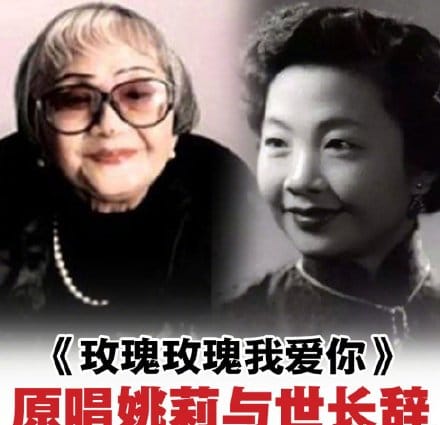 On Weibo, the hashtag Yao Lee Passes Away (#姚莉去世#) already received more than 200 million views at time of writing.
Many Chinese netizens post candles to mourn the death of the popular singer, some call her passing "the end of an era."
"Shanghai of those years is really where it all started," others say.
Listen to one of Yao's songs below:
By Manya Koetse
Follow @whatsonweibo
Spotted a mistake or want to add something? Please let us know in comments below or email us. Please note that your comment below will need to be manually approved if you're a first-time poster here.
©2019 Whatsonweibo. All rights reserved. Do not reproduce our content without permission – you can contact us at info@whatsonweibo.com