Man Drops Dead after Mahjong Lucky "Draw Dead Wall"
A game of mahjong ended fatally this week when a Chongqing man could not handle the excitement of winning a game of mahjong through the lucky "draw dead wall."
The "draw dead wall" (杠上开花 or 岭上开花), also known as the Rinshan Kaihou, is a lucky draw in different variations of mahjong. It literally means "a flower blooms on a ridge," and occurs when a supplemental tile is drawn from the "dead wall" to keep the number of tiles in the hand consistent and then completes the hand.
The incident occurred on December 29 in a local park. On Weibo, Sohu reports that upon seeing his sudden success in the game of mahjong, the man was overwhelmed with excitement and fell to the floor.
Medical workers rushed to the scene but were unable to resuscitate the man. Footage of the scene was shared on Weibo over the past few days, with thousands of people commenting on it.
Many people offer condolences and say that they hope "he died a happy man."
A maintenance worker at the local park told Chinese media that the man was around 60 years old, and that it is yet unclear if he suffered from a health condition.
Some netizens wonder if the man's fellow mahjong players can potentially be held responsible for his death.
Playing mahjong is a popular leisure activity amongst eldery people in China, particularly in public places such as parks.
By Manya Koetse
Follow @whatsonweibo
Spotted a mistake or want to add something? Please let us know in comments below or email us.
©2018 Whatsonweibo. All rights reserved. Do not reproduce our content without permission – you can contact us at info@whatsonweibo.com.
Chinese Real Estate Shenanigans – Bizarre Divorce & Remarry Scheme to Avoid Taxes Goes Trending
They divorced, wife-swapped, divorced, and remarried – all for tax evasion. Although Chinese media condemn the story, netizens applaud it.
A bizarre report about two couples divorcing and 'wife swapping' in order to avoid paying taxes on their property transfer has become a popular news story of the day in China. While Chinese media denounce the tax-evasive real estate "shenanigans", netizens have unexpectedly sided with the couples.
A story about two couples in Jinan, Shandong, who faked their divorce and did a wife-swap in order to evade taxes during a property transfer has become a top story on Netease, one of China's leading online (mobile) news platforms.
The story started when couple A wanted to buy a property from couple B. They each 'divorced', after which the wife of couple A remarried with the husband of couple B. When ownership of their property was transferred, they divorced again, and couple A and couple B both remarried their original wives.
The comical divorce shenanigans were exposed when the case recently ended up in court. The Netease story about the couples was read 55,500 times within hours after its publication.
People in China have been divorcing to skip property taxes for years. In 2013, Chinese authorities implemented tougher taxes on home sales, as much as 20%. At the time, (international) media already reported about the following surge in divorces in cities such as Shanghai (Sweeney 2013).
Many Chinese invest their wealth in real estate – especially because property prices have been skyrocketing for years. Since divorce allows couples to split ownership of their property and then sell without having to pay those high taxes, there are those who opt for a 'quickie' – a no-fault, uncontested divorce. Once divorce and the division of real estate is complete, and the property has been sold, they can remarry.
In the Jinan case, the property was over 400 square meters big and worth 12 million RMB (US$ 1.9 million) when couple A wanted to buy it from couple B in the summer of 2015. Due to the size and prize, the Sina News reports, high taxes need to be paid to apply for the property's transfer procedures.
In order to obtain the property rights in the smoothest and cheapest way possible, couple A came up with the idea to 'swap wifes' for the time being. Couple B divorced, attributing the property to the husband – who then married the wife of couple A. After that, husband B transferred the property to the name of his new bride, wife A, and then divorced her again only to let the two remarry their original spouses again.
The deal was to transfer the first half of the money before the fake marriage, and then the other half when the ordeal was over. Eventually, however, their plan failed when husband B made a mistake in finalizing the paperwork before receiving the final 6 million. When wife A could not come up with the 6 million RMB, husband B took the case to court.
The court, however, was not sympathetic to the couples' ingenious plans and revoked the transfer, and fined the couple 50,000 rmb (±$8000) each for their tax evasive 'divorce and remarry' construction.
Although the Netease news report, that was also (originally) published on Qilu Evening News (齐鲁晚报) and on Sina News, condemned the couples, saying that "marriage registration is no child's play" and that "legal boundaries should not be crossed for one own's immediate benefit", commenting netizens unexpectedly applauded the story and sided with the creative couples.
"Is this illegal?", a top commenter (8500+ likes) responded to the story: "This should not be called tax evasion, it should be called reasonable tax avoidance!"
Many commenters point out that since neither divorce nor remarrying is illegal, it is not the couples' fault for making use of their legal rights – and that it is the Chinese property tax laws that are to blame.
Chinese authorities do not impose regular levies on homeowners just yet; individuals are only taxed when buying or selling property. Although China's house property taxes, which are believed to tame the housing prices, will be pushed forward, it might take another three years before their implementation (Gopalan 2018).
"These couples are just as birds in the forest," one Netease commenter writes: "They fly when the big tax comes."
"What did they do wrong?", many wonder.
By Manya Koetse and Miranda Barnes
Follow @whatsonweibo
References
Gopalan, Nisha. 2018. "Don't Bet Your House on China's Property Tax." Bloomberg, March 8. https://www.bloomberg.com/gadfly/articles/2018-03-08/don-t-bet-your-house-on-china-s-property-tax-just-yet [11.4.18].
Sweeney, Pete. 2013. "Till taxes do us part: Chinese divorce to skip property tax." Reuters, March 6. https://www.reuters.com/article/us-china-property-divorce/till-taxes-do-us-part-chinese-divorce-to-skip-property-tax-idUSBRE9250CY20130306 [11.4.18].
Spotted a mistake or want to add something? Please let us know in comments below or email us.
©2018 Whatsonweibo. All rights reserved. Do not reproduce our content without permission – you can contact us at info@whatsonweibo.com.
Photo of Crying Single Mum Shows Harsh Reality of Healthcare in China
The heartbreaking photos of a desperate mother are going viral for the second time.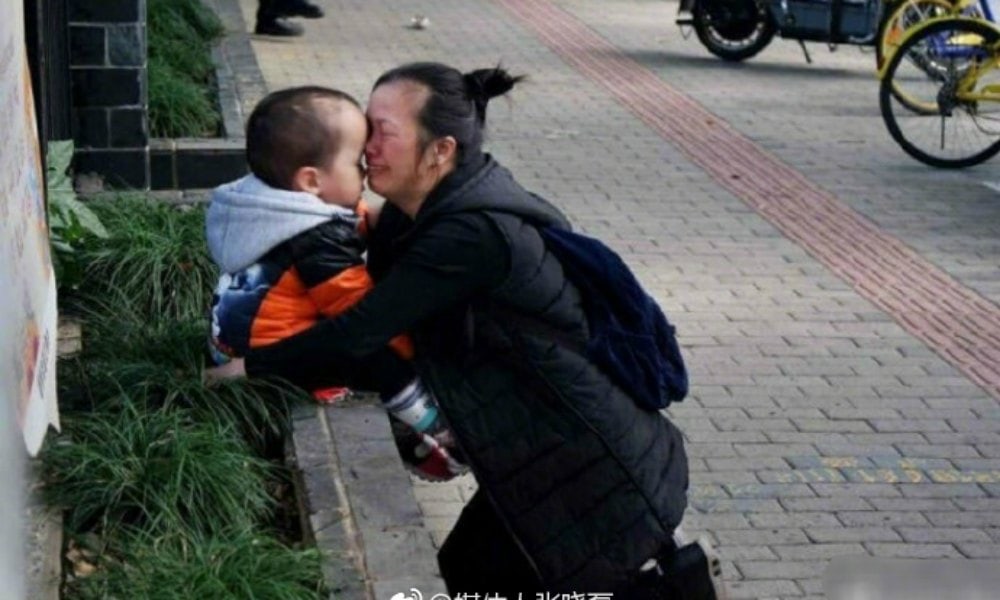 A photo that is currently going viral on Chinese social media shows a crying mother in Shanghai kneeling down by her toddler son on the sidewalk.
The text accompanying the photo says:
"On Shanghai Beiyuan Street, a single mother kneels on the street in the cold wind. She buries her head in her child's arms and quietly sobs. The 3-year-old son suffers from hydrocephalus ["water on the brain"], and they previously came to Shanghai to seek medical treatment because he had an infection. After using up all their money, they were forced to leave the hospital. The helpless mother just sat on the street, feeling sorry for her child."
The photo received thousands of comments on Weibo today, with many people offering to help the mother out. "It hurts to see this," some said: "She wants to be able to help her son, but she does not have the resources."
Many Chinese face major obstacles in getting access to the healthcare they need. Under China's current medical system, it is not easy for people from rural areas to gain access to medical facilities in the major cities, as they are not covered there and will have to pay for medical care themselves.
The issue is related to China's hukou (household registration) system: government-subsidized rural medical insurance is often not valid in a different province, which means that villagers who fall seriously ill are not covered when they travel to first-tier cities for medical care.
So-called ticket scalpers (票贩子) take advantage of the system and people's eagerness to see a doctor by using local identification cards to book appointments and then selling them to people without the proper documentation.
As for the crying single mother; this is not the first time these photos make their rounds around Chinese social media. The scene was captured on camera approximately four months ago, in early December of 2017.
It is not uncommon for the same story or photos to go viral again or to keep circulating on Weibo, similar to viral news stories on Twitter or Facebook.
According to Phoenix News, the mother is the 45-year-old Guo Yinzhen (郭银珍), who is a single parent since she divorced from her estranged husband some years ago. Her son's name is Guo Zhenghan (郭政焓), and they come from a village in Datian county, Sanming, in Fujian – some 830 kilometers from Shanghai.
The photos were reportedly taken on December 1, 2017, when a reporter joined some volunteers to pay a visit to the Shanghai's Children's Hospital and came across the crying mother and then asked her about her story.
Guo Zhenghan was born in November of 2014 and has congenital hydrocephalus, meaning he already had it at birth. From 2014 to 2016, the child underwent three surgeries, but his condition deteriorated in May of 2017. Since November 2017 alone, the child was admitted to the hospital four times because of a potentially fatal bacterial complication.
Having used up all her money and still needing some 100,000s yuan (more than $15,000) for further treatments, Guo Yinzhen had no choice but to leave the hospital again, which is when she helplessly sat down on the street with her son.
In March 2018, Sina News also reported about this story, saying that Guo Yinzhen is a laid-off factory worker who has not been able to work since the birth of her child. Her parents are farmers who make a living by plucking tea leaves.
Sina also writes that the family has already spent 400,000 yuan (±US $63,000) on medical expenses, and still owe around US $47,000 in debts.
"I just feel so bad for the mother," many people on Weibo respond.
"Since this is [the state of] medical treatments in Chinese society, parents have to make sure they can afford the medical costs if their child falls ill," another person comments: "It is the best to purchase a commercial insurance. They're not cheap, but even if costly, they need to buy it."
In search of how Guo and her son are now doing, we found a buried Weibo post dated December 12, which only received four comments, in which a netizen writes:
"On December 1, the crying single mother kneeling in the cold by her son has received ample attention. On December 5, with the help of the Xiaoxingxin Foundation, single parent Guo Yinzhen was able to bring her child Guo Zhenghan to Shanghai again for medical treatment, where the notable pediatric neurosurgeon Bao Nan operated the child. Thank you for all your care."
The update was also confirmed by the Xiaoxingxin Foundation with a post on Weibo (@小星欣公益), which also said that according to the doctor, the infection had gone and that the brain development of the boy was "looking good."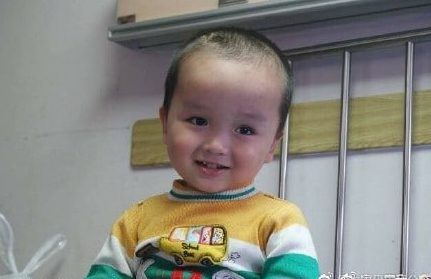 "Why can't we set up a system in which children will always be able to receive complete basic healthcare?" one netizen wondered.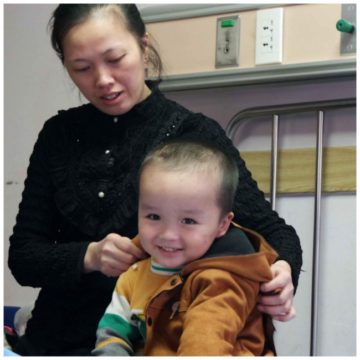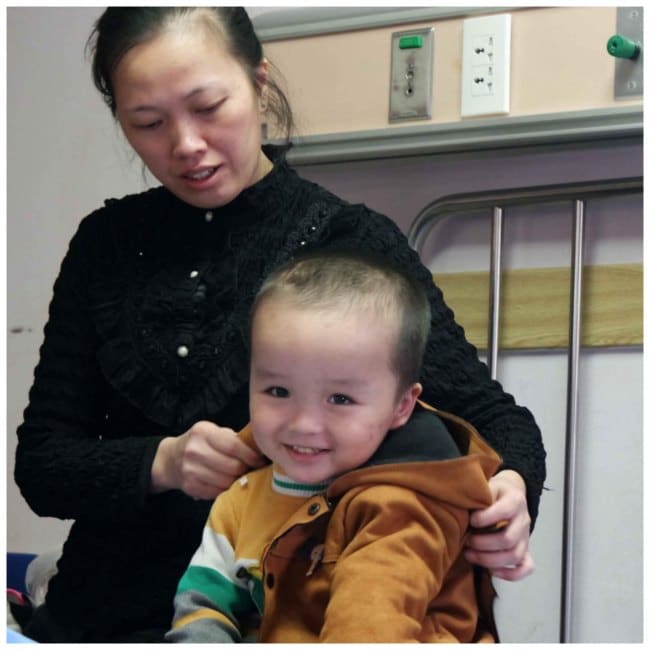 On March 15, China Central Television reported that future reforms in China's healthcare system will make healthcare more accessible and affordable, especially for rural communities – it does not say on what term these changes will be realized.
By Manya Koetse
Follow @whatsonweibo
Spotted a mistake or want to add something? Please let us know in comments below or email us.
©2018 Whatsonweibo. All rights reserved. Do not reproduce our content without permission – you can contact us at info@whatsonweibo.com.