Successful Reality Show 'The Birth of Actors' Surrounded by Controversy
Some viewers suspect there is foul play in this acting competition.
The Chinese reality show 'The Birth of Actors' (演员的诞生) has become a huge TV hit and a favorite topic of discussion on social media in China. But, despite receiving much praise, the show is repeatedly surrounded by controversy.
Reality show 'The Birth of Actors' (演员的诞生) has been trending on Chinese social media for weeks now. Since its first airing in late October 2017, the Zhejiang Satellite TV hit has repeatedly become a focus of discussion on Weibo.
Its first two episodes alone already had a viewership of 330 million. The show's hashtag (#演员的诞生#) received 4,6 billion views on Weibo so far.
The show is hosted by the popular actor and director Zhang Guoli (张国立).
The live show invites Chinese actors and actresses to re-enact famous scenes from TV-series or movies. A team of judges, consisting of renowned celebrities Zhang Ziyi (章子怡), Song Dandan (宋丹丹), and Liu Ye (刘烨), give commentary and marks.
The celebrity team, along with the studio audience, then votes over who will stay on the show and who has to leave. The show's winner gets a chance to perform with one of the acclaimed 'judges.'
Foul Play?
Chinese netizens, however, have been questioning the show's credibility since many deemed the show's 'losers' better performers than its winners. In the first episode, for example, judge Zhang Ziyi harshly criticized Chinese actress Zheng Shuang (郑爽) over "lacking respect for her job," but Zheng Shuang won the competition anyway.
In December 2017, Chinese actress and show contestant Yuan Li (袁立) started a big discussion over the validity of the show when she posted screenshots on Weibo of a conversation with a woman working for the show. In this conversation, the show's staff member promised Yuan Li that she would win the first competition and go on to the next stage, to eventually perform with Zhang Ziyi.
According to Yuan, not only was this promise broken, the show allegedly also edited Yuan's performance in such a way that it made her look like a "crazy person."
'The Birth of Actors' responded to the allegations, stating that the staff member's conversation with Yuan Li was not representative of her function at the show. The woman has since resigned from the show.
Corrupt Voting System
Despite the fact that the show's production has denied allegations, rumors of a corrupt voting system are persistent. Later in December, actress Yuan Li also exposed on Weibo that the machines given to the studio audience of the show are actually fake.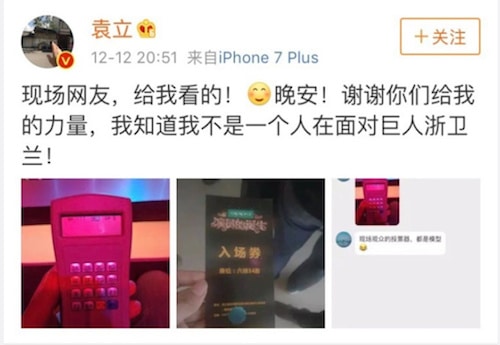 Photos of the non-functional machines were originally taken by a Weibo netizen named 'Sea Breeze Diary 1983' (@海风日记1983), who claimed they joined the live recording of 'The Birth of Actors' as the studio audience.
Later, however, other sources claimed the vote machines did not belong to Zhejiang TV's 'Birth of the Actors,' but to another show by Beijing Satellite TV, and that Yuan Li was spreading false rumors.
Copyright Infringement
On January 2nd, the show made headlines again after it had featured a re-enacted scene from the Hong Kong stage classic I Have A Date with Spring (我和春天有个约会) by dramatist Raymond To (杜國威).
The Hong Kong production company's chairman responded to the episode through Weibo, claiming that 'The Birth of Actors' never approached the company for copyright to the scenes.
Not only did the chairman accuse the show of copyright infringement, he also stated that the performance of the actors in the Zhejiang Satellite TV show "entirely distorted the nature of the play's characters and its experience," and that it "completely destroyed the image of the original script," "wrecking the spirit of this classic drama."
The scene became a topic of discussion earlier when Zhang Ziyi called its performance "the most awkward" she had ever seen.
Ongoing Success
Despite all of its controversies, or perhaps because of them, 'The Birth of Actors' has continued to draw large numbers of viewers.
It is not the first time a popular Chinese TV show faces allegations of copyright infringement and fake voting systems. Previously, Dutch production company Talpa sued Zhejiang Satellite TV for its hit TV show 'New Singing of China' (中国新歌声), of which the Dutch company owned the TV format ('The Voice of..') rights.
Many other Chinese TV shows including voting systems have been accused of influencing or faking audience votes. These controversies often draw more attention to a TV show, which usually grows its viewership.
Besides its controversies, the show has another recipe for success: its all-star cast members that mixes established names with new talent (小鲜肉). As China's idol industry is thriving, this show gives millions of viewers exactly what they want: superstars, competition, entertainment, and some juicy gossip.
By Boyu Xiao and Manya Koetse
Follow @whatsonweibo
Spotted a mistake or want to add something? Please let us know in comments below or email us.
©2018 Whatsonweibo. All rights reserved. Do not reproduce our content without permission – you can contact us at info@whatsonweibo.com.
Barbie Hsu, Wang Xiaofei, and the Mattress Incident: Weibo's Divorce Drama of the Year
The post-divorce fight between Wang Xiaofei and 'Big S' Barbie Hsu is taking place online, like a serialized drama going on for too long.
It's the messy divorce drama that just keeps going: Taiwanese actress Barbie Hsu ('Big S') and mainland Chinese businessman Wang Xiaofei got divorced last year and recently aired their dirty laundry on social media. Even the expensive mattress the couple once shared suddenly became the focus of public attention.
One of the biggest celebrity topics on Weibo recently is the divorce drama between Taiwanese actress and tv host Barbie Hsu (Xu Xiyuan 徐熙媛, also known as Big S/大S) (45) and her former partner, Chinese mainland businessman Wang Xiaofei (汪小菲) (41).
In June of 2021, 'Big S' and Wang announced that they were in the process of divorce. The two were married for over a decade, since March 2011, and have two children together, an eight-year-old daughter and six-year-old son.
Less than a year later, in March of 2022, Barbie Hsu tied the knot with her former flame, South Korean musician DJ Koo Jun-Yup.
In November of this year, 'Big S' accused her ex-husband of failing to pay alimony since March of 2022. The accumulated amount reportedly had reached more than NT$5 million (US$160,000). The court ruled that some of Wang Xiaofei's assets in Taiwan will be seized.
Wang Xiaofei then publicly responded to the accusations and aired the dirty laundry about the aftermath of the separation from Hsu.
Everyone and everything got involved afterward, from Wang's mother to Barbie Hsu's sister, and brother-in-law – the entire family got dragged into the drama.
The former couple's old mattress even got dragged out for everyone to see. Meanwhile, Chinese netizens were eating popcorn and staying online to watch the divorce drama unfold.
Here is a timeline of what has happened.

▶︎▶︎ In the morning of November 21, Taiwanese media first reported that 'Big S' had accused Wang Xiaofei of not complying with their divorce agreement and had not paid alimony since March of 2022 and that Barbie Hsu had already taken legal steps to enforce the court order.
Via her lawyer, Barbie Hsu issued a statement about the matter, which went absolutely viral on Weibo. One post including the statement received over one million likes (#大S发声明稿#).
In the statement, dated November 21, 'Big S' expressed hopes that the dispute between her and her ex-husband could be solved as soon as possible for the sake of the children.

▶︎▶︎ Wang Xiaofei publicly responded to the issue in over twenty angry and emotional posts on his Weibo account (@汪小菲), where he has over seven million followers.
Wang, who is based in Beijing, complained about being smeared and not being able to see his children. According to Wang, he paid more than enough – millions – for child support and maintenance. He wrote he was unwilling to pay for an electricity bill that is not his after paying for the house where Barbie Hsu is living in and the custom-made mattress she is sleeping on, which allegedly cost him over US$320,160.
"Someone else is living there, fine," he wrote: "Can you at least change the mattress, you wimp? Still letting me pay for the f*cking electricity bill."
When Wang vowed to personally go back to Taiwan, some commenters reminded him not to forget to bring back his mattress.
(It later turned out that Wang did not fly to Taiwan after all.)

▶︎▶︎ Wang Xiaofei claimed that Mike Hsu (Xu Yajun 许雅钧), husband of Barbie Hsu's sister and Taiwanese tv host Dee Hsu (徐熙娣 aka 'Little S' 小S) has a mistress (#汪小菲发博曝许雅钧养小三#).

▶︎▶︎ Wang Xiaofei's mother Zhang Lan (张兰) got involved in the drama and posted a lengthy statement on her own Weibo account on Tuesday, November 22.
Zhang Lan (@张兰俏江南创始人) is a billionaire business woman and the founder of the upscale restaurant chain South Beauty Group. She has her own livestream e-commerce channel.
Zhang accused her former daughter-in-law 'Big S' Barbie Hsu of hurting her son, not letting her see her grandchildren, while also caller her a liar and even suggesting she is a bad mother.
Zhang also accused her and her younger sister, Dee Hsu (徐熙娣), of having a history of drug abuse.

▶︎▶︎ On November 23, Barbie Hsu defended herself against drug abuse allegations in a social media post, stating both her and her sister suffer from bad hearts and are not even able to use drugs.

▶︎▶︎ The mother of Barbie Hsu and Dee Hsu also got involved, talking to the media and complaining that she has been scolded by Wang Xiaofei's mother Zhang Lan, and saying that Wang and his mother are more than welcome to see the children; they would just need to come over in order to meet with them.

▶︎▶︎ November 23 became 'Mattress D-day' after it became known that Barbie Hsu had delivered the much talked-about mattress to the S Hotel in Taipei, which Wang owns (the hotel was named after 'Big S' in 2017). As reported by Taiwan News, the hotel's general manager surnamed Lee (李) claimed the mattress arrived on Tuesday, and he stated that discarded mattresses are professionally destroyed.
On that Wednesday, the S Hotel held a press conference and allowed Taiwanese media to film and photograph the mattress being destroyed by workers.
The hashtag "Taiwan Media Live-Broadcasts the Handling of Wang Xiaofei & Big S Mattress" #台媒直播汪小菲大S床垫处理过程# went viral on 23 November, receiving over 270 million views on Weibo in one single day. A 23-minute video showed Big S's mattress carried out of the hotel and being completely cut open by several men as a crowd of media stands by.
Some on Weibo said: "The drama is too much."

▶︎▶︎ On Mattress Day, Wang posted again on social media, claiming that he had lost his temper after Hsu sued him for not paying alimony. As reported by Taiwan News, he wrote: "I don't want to say anything anymore, burn the damn mattress, it's all in the past, let's not attack each other anymore." The post was deleted soon after.

▶︎▶︎ With the mattress incident going viral, many netizens soon guessed that if it was about such an expensive mattress, it must have been one by the Swedish Hästens company.
Hästens (海丝腾) itself then responded to the drama via Weibo with an older video that showed its mattresses are of such good quality that they will never go up in flames.
Hastens' post received nearly 20,000 likes on Weibo.

▶︎▶︎ On Thursday, November 24, Wang Xiaofei's mother Zhang Lan seized the opportunity to start selling mattresses on her livestream shopping channel (#张兰卖床垫#).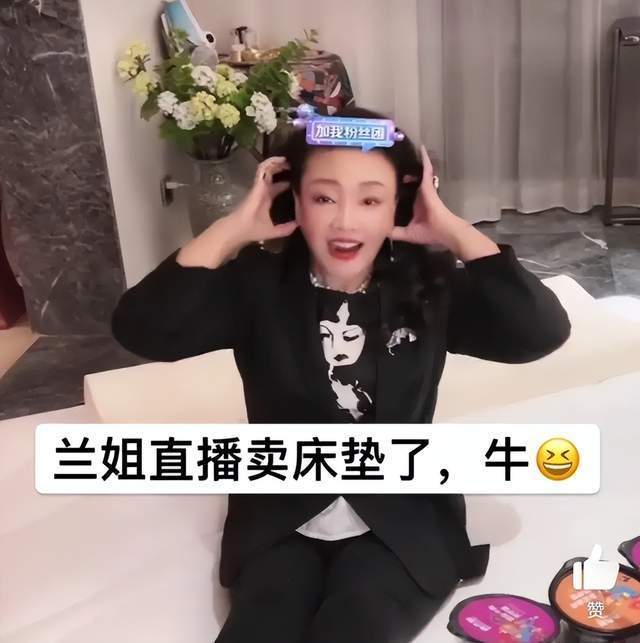 Besides all the personal drama, Zhang commercially profited from the current developments. According to recent reports, she did a total of nine live broadcasts from November 21 to 23, and saw 820,000 new followers flocking to her channel, with an average of 5.3 million viewers per livestream, and up to 25 million RMB ($3,5 million) in sales.

▶︎▶︎ On the same day, as reported by Singaporean Yahoo News, Wang Xiaofei declared that he wants to end the conflict with his wife, only to later delete the post from his Weibo account. Somewhere in all this, Wang also accused Big S of cheating on him since 2018.
He reportedly wrote: "I don't want to say anything anymore. The mattress is burned. It's over. We won't hurt each other anymore."
By that time, the drama was so big on social media that some netizens wrote: "I can't wait for Wang Xiaofei to be gone from my timeline!"

▶︎▶︎ On November 25, Wang Xiaofei started a livestream while laying in his bed, offering viewers a look into his private bedroom. He seemed to be pleased about getting so many views and some suggested he seemed to be drunk. During this livestream, an unknown woman suddenly seemed to lay down beside him, making the livestream comments explode. The livestream stopped shortly after.

▶︎▶︎ Another character stepped on this stage. Chinese actress Gina Zhang (Zhang Yingying 张颖颖) went online to defend Wang (who may be her good friend or something more), saying he is on the verge of a mental breakdown. She also wrote that she hoped to convince him to stop sharing all of his struggles on public platforms for the entire world to see.
She also turned out to be the woman in the livestream. Over 250,000 people liked her post.

▶︎▶︎ Meanwhile, Barbie Hsu publicly posted bank account statements from 2016 to prove her financial independence and that she had paid for the downpayment of their house at the time herself.

▶︎▶︎ On December 3, again another hashtag related to this divorce drama came out, getting up to 200 million views in a day (#大S再婚头纱是刷汪小菲信用卡买的#).
The trend relates to the story of 'Big S' reportedly asking Wang to leave his credit card after the separation, and that the veil that she wore during the wedding with her second husband, among other things, was bought with Wang's credit card.
On the same day, Wang's mother Zhang Lan again commented on the issue in one of her livestreams, saying that Wang and Barbie Hsu officially are not even divorced yet since their marriage was registered in Beijing and had not been dissolved yet (#张兰说大S和汪小菲还没有离婚#).

▶︎▶︎ On December 4, the hashtag "Wang Xiaofei or Big S – Who Is Telling Lies?" (#汪小菲大s谁在说谎#) went viral, getting an astonishing 560 million clicks on Sunday.
It is clear that two former have actually ruined their reputation by airing their dirty online like this. This especially matters for Big S, who used to do commercials for many brands.
"It's like we're watching a theater play," some said.
Others are also tired of their drama dominating social media topics: "I don't care which one is lying, I care about their kids."
"This serialized drama is going on for too long now," others wrote.
This is not the first big celebrity divorce drama to go viral on Weibo. In 2021, there was the big fall-out between Wang Leehom and Lee Jinglei. The separation between actor Wang Baoqiang and Ma Rong became one of the biggest trending topics on Weibo of all time.
Meanwhile, some netizens can't seem to get enough of the drama: "From the mattress to the veil, I'm just enjoying the spectacle."
By Manya Koetse 
Get the story behind the hashtag. Subscribe to What's on Weibo here to receive our newsletter and get access to our latest articles:
Spotted a mistake or want to add something? Please let us know in comments below or email us. First-time commenters, please be patient – we will have to manually approve your comment before it appears.
©2022 Whatsonweibo. All rights reserved. Do not reproduce our content without permission – you can contact us at info@whatsonweibo.com.
"A Good Day" – Kris Wu Sentenced to 13 Years in Prison
The first woman who came forward to accuse Kris Wu in 2021 celebrated his sentencing in a livestream.
The Chinese-Canadian fallen celebrity Kris Wu, better known as Wu Yifan (吴亦凡) in China, has been dominating Chinese social media discussions after a preliminary court ruling came out in the criminal case in which Wu was accused of rape and other sex crimes.
On November 25, the Beijing Chaoyang district court found Wu guilty of raping three women in his home in 2020 and of "gathering people to commit adultery." He was sentenced to 13 years in prison followed by deportation.
Kris Wu is a 32-year old rapper, singer, and actor who was born in Guangzhou and moved to Vancouver with his mother at the age of ten. Wu also spent a part of his high school years in Guangzhou, but he holds a Canadian passport. He became famous as a member of the K-pop band Exo and later started a solo career.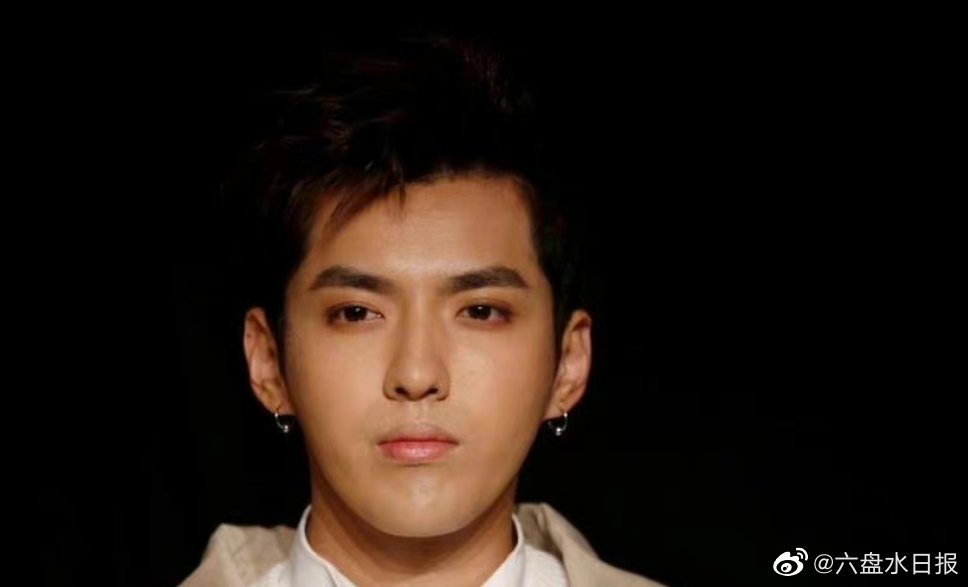 As an actor, he starred in several award-winning movies. He also starred in Sweet Sixteen, a movie in which Wu ironically plays the role of someone getting jailed for shooting a rapist.
The 19-year-old student Du Meizhu (都美竹) was the first to accuse Wu of predatory behavior online in 2021, with at least 24 more women also coming forward claiming the celebrity showed inappropriate behavior and had pressured young women into sexual relationships. As the scandal unfolded, various hashtags related to the story received billions of views on Weibo. Wu was formally arrested on suspicion of rape in mid-August 2021.
On Friday, Meizhu posted "Finally [I've waited for this]" on her social media account. She also briefly joined a livestream in which she celebrated the sentencing and played the song "A Good Day" ("好日子").
On Weibo, the hashtag "Wu Yifan Gets 13 Years" [13 years prison sentence in preliminary ruling] (#吴亦凡一审被判13年#) received nearly 1,8 billion views on Friday.
Noteworthy enough, the Kris Wu hashtag was also being used by netizens to discuss the tragic Urumqi fire which was also a major trending topic on the same day.
Some speculated that the media attention for the Kris Wu case was being used to overshadow the Urumqi news. Others condemned social media users for turning to celebrity news instead of focusing on the tragic fire in Xinjiang's capital.
At the same time, there was also a running joke on social media in light of China's ongoing 'zero Covid' policy, with people saying: "Who will come out first, Kris Wu or us?"
By Manya Koetse 
Featured image: Kris Wu starring in Sweet Sixteen movie.
Get the story behind the hashtag. Subscribe to What's on Weibo here to receive our newsletter and get access to our latest articles:
Spotted a mistake or want to add something? Please let us know in comments below or email us. First-time commenters, please be patient – we will have to manually approve your comment before it appears.
©2022 Whatsonweibo. All rights reserved. Do not reproduce our content without permission – you can contact us at info@whatsonweibo.com.