Successful Reality Show 'The Birth of Actors' Surrounded by Controversy
Some viewers suspect there is foul play in this acting competition.
The Chinese reality show 'The Birth of Actors' (演员的诞生) has become a huge TV hit and a favorite topic of discussion on social media in China. But, despite receiving much praise, the show is repeatedly surrounded by controversy.
Reality show 'The Birth of Actors' (演员的诞生) has been trending on Chinese social media for weeks now. Since its first airing in late October 2017, the Zhejiang Satellite TV hit has repeatedly become a focus of discussion on Weibo.
Its first two episodes alone already had a viewership of 330 million. The show's hashtag (#演员的诞生#) received 4,6 billion views on Weibo so far.
The show is hosted by the popular actor and director Zhang Guoli (张国立).
The live show invites Chinese actors and actresses to re-enact famous scenes from TV-series or movies. A team of judges, consisting of renowned celebrities Zhang Ziyi (章子怡), Song Dandan (宋丹丹), and Liu Ye (刘烨), give commentary and marks.
The celebrity team, along with the studio audience, then votes over who will stay on the show and who has to leave. The show's winner gets a chance to perform with one of the acclaimed 'judges.'
Foul Play?
Chinese netizens, however, have been questioning the show's credibility since many deemed the show's 'losers' better performers than its winners. In the first episode, for example, judge Zhang Ziyi harshly criticized Chinese actress Zheng Shuang (郑爽) over "lacking respect for her job," but Zheng Shuang won the competition anyway.
In December 2017, Chinese actress and show contestant Yuan Li (袁立) started a big discussion over the validity of the show when she posted screenshots on Weibo of a conversation with a woman working for the show. In this conversation, the show's staff member promised Yuan Li that she would win the first competition and go on to the next stage, to eventually perform with Zhang Ziyi.
According to Yuan, not only was this promise broken, the show allegedly also edited Yuan's performance in such a way that it made her look like a "crazy person."
'The Birth of Actors' responded to the allegations, stating that the staff member's conversation with Yuan Li was not representative of her function at the show. The woman has since resigned from the show.
Corrupt Voting System
Despite the fact that the show's production has denied allegations, rumors of a corrupt voting system are persistent. Later in December, actress Yuan Li also exposed on Weibo that the machines given to the studio audience of the show are actually fake.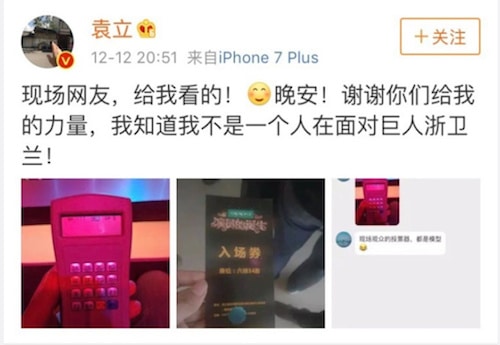 Photos of the non-functional machines were originally taken by a Weibo netizen named 'Sea Breeze Diary 1983' (@海风日记1983), who claimed they joined the live recording of 'The Birth of Actors' as the studio audience.
Later, however, other sources claimed the vote machines did not belong to Zhejiang TV's 'Birth of the Actors,' but to another show by Beijing Satellite TV, and that Yuan Li was spreading false rumors.
Copyright Infringement
On January 2nd, the show made headlines again after it had featured a re-enacted scene from the Hong Kong stage classic I Have A Date with Spring (我和春天有个约会) by dramatist Raymond To (杜國威).
The Hong Kong production company's chairman responded to the episode through Weibo, claiming that 'The Birth of Actors' never approached the company for copyright to the scenes.
Not only did the chairman accuse the show of copyright infringement, he also stated that the performance of the actors in the Zhejiang Satellite TV show "entirely distorted the nature of the play's characters and its experience," and that it "completely destroyed the image of the original script," "wrecking the spirit of this classic drama."
The scene became a topic of discussion earlier when Zhang Ziyi called its performance "the most awkward" she had ever seen.
Ongoing Success
Despite all of its controversies, or perhaps because of them, 'The Birth of Actors' has continued to draw large numbers of viewers.
It is not the first time a popular Chinese TV show faces allegations of copyright infringement and fake voting systems. Previously, Dutch production company Talpa sued Zhejiang Satellite TV for its hit TV show 'New Singing of China' (中国新歌声), of which the Dutch company owned the TV format ('The Voice of..') rights.
Many other Chinese TV shows including voting systems have been accused of influencing or faking audience votes. These controversies often draw more attention to a TV show, which usually grows its viewership.
Besides its controversies, the show has another recipe for success: its all-star cast members that mixes established names with new talent (小鲜肉). As China's idol industry is thriving, this show gives millions of viewers exactly what they want: superstars, competition, entertainment, and some juicy gossip.
By Boyu Xiao and Manya Koetse
Follow @whatsonweibo
Spotted a mistake or want to add something? Please let us know in comments below or email us.
©2018 Whatsonweibo. All rights reserved. Do not reproduce our content without permission – you can contact us at info@whatsonweibo.com.
'First Lady of Hong Kong TV' Lily Leung Passes Away at Age 90
Chinese netizens pay their respects to veteran actress Lily Leung Shun-Yin (1929-2019), who passed away on August 13.
While the Hong Kong protests are dominating the headlines, the death of Hong Kong veteran actress Lily Leung Shun-Yin (梁舜燕) has become a top trending topic on social media site Sina Weibo under the hashtag "Hong Kong Actress Liang Shunyan Dies from Illness" (#香港演员梁舜燕病逝#).
The actress was born in Hong Kong in 1929. She starred in dozens of television series, including the first TV drama to be locally broadcasted. She became known as "the first lady of Hong Kong TV."
Leung acted for TVB and other broadcasters. Some of her more well-known roles were those in Kindred Spirit (真情) and Heart of Greed (溏心风暴).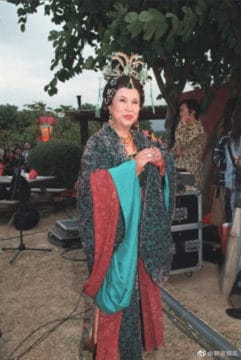 Leung, also nicknamed 'Sister Lily' (Lily姐), passed away on August 13. According to various Chinese media reports, the actress passed peacefully surrounded by family after enduring illness. She was 90 years old.
"I've seen so much of her work," many Weibo netizens say, sharing the favorite roles played by Leung. "I always watched her on TVB while growing up, and will cherish her memory," one commenter wrote.
Another well-known Hong Kong actress, Teresa Ha Ping (夏萍), also passed away this month. She was 81 years old when she died. Her passing away also attracted a lot of attention on Chinese social media (
#演员夏萍去世#).
Many people express their sadness over the fact that not one but two grand ladies from Hong Kong's 20th-century entertainment era have passed away this month.
"Those people from our memories pass away one by one, and it represents the passing of an era," one Weibo user wrote.
"Two familiar faces and old troupers of Hong Kong drama – I hope they rest in peace."
By Manya Koetse
Follow @whatsonweibo
Spotted a mistake or want to add something? Please let us know in comments below or email us. Please note that your comment below will need to be manually approved if you're a first-time poster here.
©2019 Whatsonweibo. All rights reserved. Do not reproduce our content without permission – you can contact us at info@whatsonweibo.com
The Mulan Makeup Challenge: Traditional Chinese Makeup Goes Trending
Recreating the Mulan make-up look was the biggest beauty challenge on Chinese social media this July.
Will traditional Chinese make-up make a comeback because of Disney's Mulan?
Since Disney released the official trailer for its live-action Mulan movie earlier this month, Mulan is recurringly appearing in the top trending lists on Chinese social media.
Among all the different topics relating to the upcoming Mulan movie, the Mulan make-up challenge is one that jumps out this month.
The Disney live-action trailer showed a scene in which Mulan, played by Chinese American actress Crystal Liu Fei (刘亦菲), has a full face of betrothal makeup. The original animated Disney movie also features a full makeup Mulan.
Although there was also online criticism of the 'exaggerated' makeup, there are many people who appreciate Mulan's colorful makeup look.
On Weibo, many showed off their skills in copying Mulan's makeup look this month.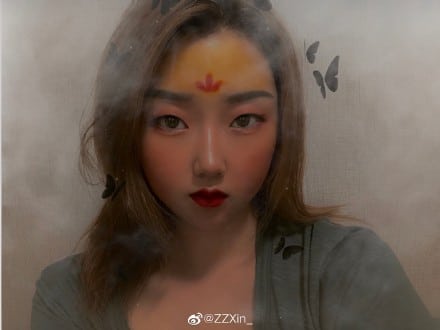 By now, the hashtags "Mulan Makeup Imitation" (#花木兰仿妆#) and "Mulan Makeup Imitation Contest" (#花木兰仿妆大赛#) have attracted over 300 million views.
Makeup such as lipstick has been used in China as far back as two or three thousand years ago.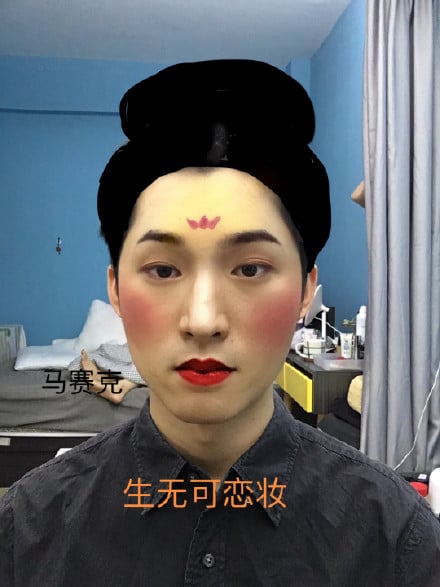 Makeup vlogger Emma Zhou explains more about Tang Dynasty (618-907) makeup customs here; the skin would be whitened with rice flower, followed by the application of 'blush' (pigment of strong-colored flowers) to the cheeks and eyes in a round shape, to emphasize the roundness of the face.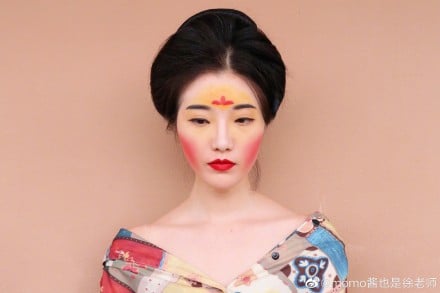 A floral-like decoration would be placed in between the eyebrows.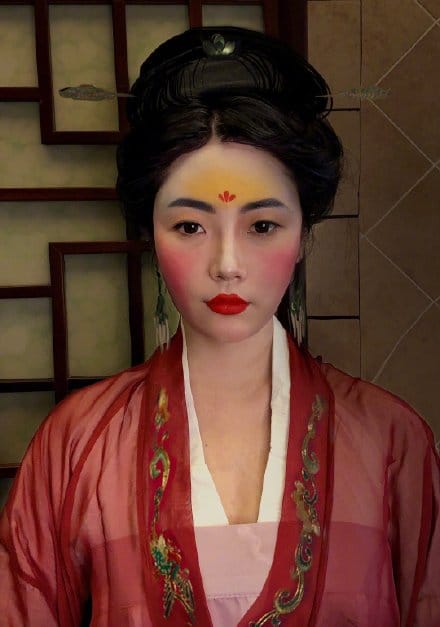 The yellow forehead, as can be seen in the live-action Mulan, is also known as "Buddha's makeup," and was especially popular among ladies during the Tang Dynasty. A yellow aura on the forehead was believed to be auspicious (Schafer 1956, 419).
Although contemporary Chinese makeup trends are much different than those depicted in Mulan, traditional makeup seems to make somewhat of a come-back because of the Disney movie, with hundreds of Chinese netizens imitating the look.
Beauty bloggers such as Nico (@黎千千Nico, image below) receive much praise from Weibo users for their makeup look. Nico wrote: "I even opened the door for the delivery guy this way!"
It is not just girls imitating the look; there are also some boys showing off their Mulan makeup.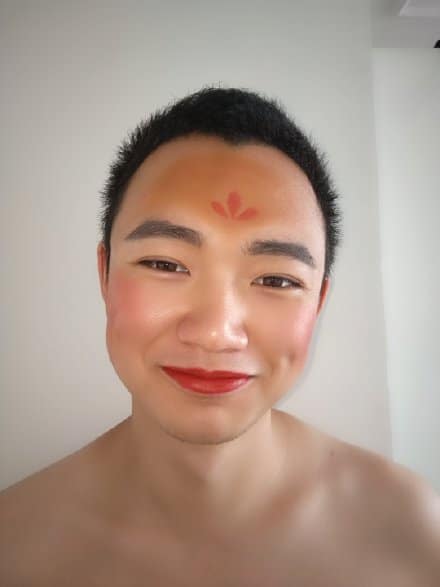 Although many still find the Mulan makeup look exaggerated and even "laughable," there are also those who think it looks really "cool" – of course, depending on whether or not the application is successful.
Want to try it out for yourself? There are various amateur tutorials available on Youtube (in Chinese), such as here, here, or here.
The Mulan make-up hype will probably continue in 2020; the Mulan movie will come out in late March.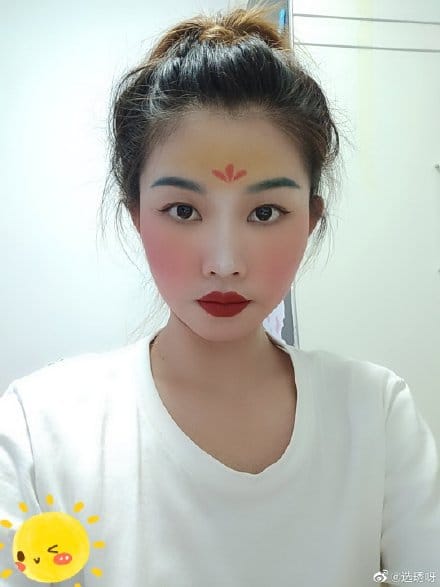 To read more about Mulan, please see our latest feature article on Mulan here.
By Manya Koetse
Follow @whatsonweibo
References
Schafer, Edward H. 1956. "The Early History of Lead Pigments and Cosmetics in China." T'oung Pao, Second Series, 44, no. 4/5: 413-38. http://www.jstor.org/stable/4527434.
Spotted a mistake or want to add something? Please let us know in comments below or email us. Please note that your comment below will need to be manually approved if you're a first-time poster here.
©2019 Whatsonweibo. All rights reserved. Do not reproduce our content without permission – you can contact us at info@whatsonweibo.com