Top 5 of Popular Children's Books in China after Crackdown on Foreign Storybooks
The topic of children's books in China recently made international headlines following a crackdown on foreign storybooks in the PRC. What's on Weibo explores the status quo after the ban: has Peppa Pig really left the building? What is the current top 5 of popular children's books in China?
The topic of children's books in China recently made international headlines following a reported crackdown on foreign storybooks in the PRC. What's on Weibo explores the status quo after the 'Taobao ban': has Peppa Pig really left the building? What is the current top 5 of popular children's books in China?
Recently the children's books market in China made international headlines when the South China Morning Post reported that an order from Beijing will drastically limit the number of foreign children's picture books published in mainland China this year.
According to The Guardian and other sources, Chinese publishers received orders that foreign children book titles must be lowered or even halted to prevent an "ideology inflow" and to protect and promote children's books written by Chinese authors. In the New York Times, Hannah Beech also called the crackdown an "ideological crusade."
On March 3rd, days before the South China Morning Post reported the news, China's largest e-commerce platform Taobao issued an official statement that, as of March 10th, it was halting resales of all books published overseas to "create a safe and secure online shopping environment."
STATE MEDIA: ALL ABOUT CULTURE
"The Ministry of Culture hopes that Chinese children will be more in touch with cultural products that reflect Chinese values."
Chinese media responded to the international news reports in mid-March, saying that they were "fabrications" by foreign media to make China look bad. On Wednesday, state tabloid Global Times published an article written by a Global Times commentator Shan Renping, writing:
"Recently a number of Western mainstream media have started a hype about China controlling the import of foreign children's books, suggesting this is China's way of reducing the influence of the outside world on China, and ridiculing that our "boycott of foreign forces starts with small children."
According to the column, the imposed limit on foreign children's books is not necessarily related to "ideology" or other political matters – as children's books are allegedly "not much of an ideological field" – but that the reason is cultural.
In the past, the author writes, the ratio of imported children's books versus Chinese ones was 9:1 in 2000. While this gap between foreign and Chinese children's books has already decreased from 6:4 (2011), officials hope to further develop the local children's books market.
As the article says: "The Ministry of Culture (..) [also] hopes that Chinese children, throughout the course of growing up, will be more in touch with cultural products that reflect Chinese values."
But besides the cultural motives for limiting foreign publications in China, the Global Times column also hints that there might be economic motives involved, as it mentions the growing market of children's books in China, and that storybooks play a leading role in the publishing industry.
In the Chinese Book Market 2016 report by the German Book Office Beijing, 21.9% of China's online book trade is listed in the category of children's books: a booming and growing market.
WEIBO RESPONSES
"When I think about the garbage we had to read when we were little, I really cannot even imagine that books like these will be banned."
On Weibo, some netizens responded to the crackdown on foreign children's books with great disappointment. Before March 10, some people also said they would quickly buy foreign books for their kids before the Taobao ban would be implemented.
It is probable that some comments about the ban have been censored; one Weibo user also indicates that a previous post about the limitations "has been deleted."
Microblogger (@大耳朵猫妹) writes:
"When you look at how kids read children's books, what I find most surprising is how these foreign children's books do not seem to have any meaning but just really fit in with children's minds. I used to read a book to my children about a crocodile family; a daddy, mommy and little crocodile that eat bananas every day. One day, the little crocodile stopped and said he did not want to eat any more bananas, so his parents asked him what he wanted to eat. When he said he wanted to eat humans, his parents laughed. He then angrily left the house and on the street, he met a small child, and said: "I want to eat you.""
"The child just laughed out loud and together with his little friends took out some bananas and threw them at the small crocodile, and then laughingly ran away. Later, the little crocodile took the pile of bananas home, and ate them with his parents while wiping away his tears. What does this story explain and teach us? Nothing. But it corresponds with children's desire to explore the outside world and try new things. My kids really liked it. (..) I really love these cute and fresh children's books, and when I think about the garbage we had to read when we were little, I really cannot even imagine that books like these will be banned."
The question is: will these books really be banned? Let's first take a look at the current top-ranked lists of children's picture books.
MOST POPULAR CHARTS
"The reported restrictions seem to be more symbolical than substantive."
What children's books rank highest in the popular book charts on Weibo after news of the PRC crackdown has come out?
#1. 'Chinese Year' Original Picture Book Series (中国年原创图画书系列)
The top ranking children's book at the time of writing is a book series called Chinese Year, which is written by author Cao Cong (alias Wuke Lili), a Renmin University graduate specialized in children's psychology.
The books contents and illustrations are focused on Chinese family life and traditions. This particular story is about Chinese New Year and how it is celebrated.
2. Guess Who I Am? (猜猜我是谁)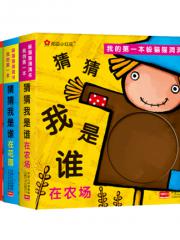 This book is aimed at the youngest children (2-4 years old) as a little 'hide and seek' game with holes in it, allowing children to look through them and see different things. The book is published by the Chinese People's Publishing House.
3. Fantastic Book (奇妙的书)
This is another made-in-China children's book, published by Guangxi Normal University.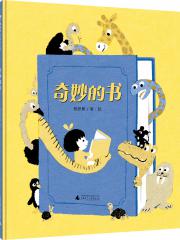 It is themed around many different animals. From alligators to penguins, they all look at life in a different way.
4. Paw Patrol (汪汪队立大功)
Who has not heard of Paw Patrol? This children's book about a boy named Ryder who leads a pack of rescue dogs known as the PAW Patrol is derived from a Canadian animated television series, and is thus a foreign children's book with no Chinese themes. The book is popular on Weibo, where it is rated 9.1 out of 10 stars.
5. The Princess Kite (公主的风筝)
Although the authors of this book are not all Chinese, the story does focus on ancient China and has a Chinese kite as its central subject – making it a truly Chinese story, published by the Chinese Yellow River Publishing & Media Group.
The top 5 of Weibo's most popular children's book of this moment seems representative of the 'popular' or 'recommended' lists of China's biggest online bookstores such as Taobao or Dangdang, where there are still many foreign children's books for sale, but where the originally Chinese children's books seem to dominate the main lists of book suggestions.
Searching for 'foreign children's books' was possible on all sites – including on Dangdang, Kongfz, JD.com, and also on Taobao – after March 10. There is a wide selection of foreign books available from these sites, from Little Rabbit Couldn't Sleep to Peppa Pig.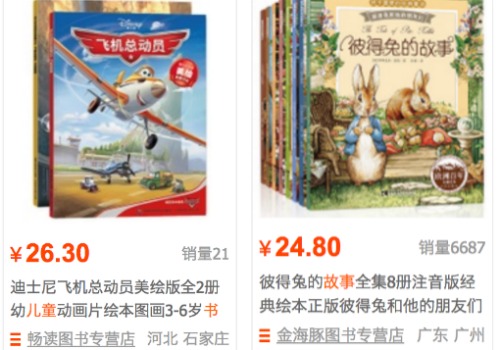 Also in the category for older children (8-12), translations of books like Pippi Longstocking (长袜子皮皮) or Harry Potter (哈利·波特) are still freely available on Taobao.
Seeing that the announced Taobao ban has not really gone into effect, there is a probability that the 'ban' on foreign children's books and the reported restrictions for publishing firms to publish any foreign picture books for children this year are more symbolical than substantive.
TONING DOWN THE HYPE
"Chinese children can enjoy Paw Patrol or Pippi Longstocking, along with those books themed around Chinese New Year or Chinese folklore."
On Thursday, Global Times published another article that seemed to want to tone down the hype, quoting the deputy dean of Cultural Studies at Peking University Chen Shaofeng: "Unless the foreign media can name particular children's books that are banned from being imported, their accusations should be seen as groundless."
The article also mentioned a Beijing-based publisher nicknamed 'Coco', who reassured worried parents that books that have already received approval to be published would continue to be available, regardless of whether or not import limits (not bans) are introduced in future.
The way things stand now, it seems that it is business as usual for children's books in China. It is likely that foreign children's books will not be completely banned from China in the near future. Instead, we can expect a heightened focus on Chinese books for children (especially those themed around Chinese stories and traditions), making it easier for publishers to get approval for those titles.
To make final conclusions about the eventual effects of the announced regulations, however, we will have to wait another year. In the meantime, Chinese children can enjoy Paw Patrol or Pippi Longstocking, along with those books themed around Chinese New Year or Chinese folklore. Perhaps to the disappointment of some parents, Peppa Pig has not left the building (yet).
– By Manya Koetse
Follow @WhatsOnWeibo
©2017 Whatsonweibo. All rights reserved. Do not reproduce our content without permission – you can contact us at info@whatsonweibo.com.
Behind the Short Feature Film of the Spring Festival Gala
The first-ever 'mini film' of the Spring Festival Gala struck a chord with viewers for its strong storytelling and authentic production.
This precious and powerful short film by Zhang Dapeng has touched the hearts of Spring Festival Gala viewers. But there is more to the short film than meets the eye. Here's the noteworthy story behind the 7-minute Spring Festival Mini Film.
On January 21, 2023, China's Spring Festival Gala, hosted by China Media Group, kicked off the Year of the Rabbit. The annual show, which featured forty different acts and performances, lasted over four hours and attracted millions of viewers worldwide (see our liveblog here, and see a top 5 highlight of the show here).
Traditionally, the Spring Festival Gala always shows several short public service ad films in between the performances, but this year was the first time the Gala featured a "mini-film" or "micro film" (微电影).
Titled Me and My Spring Festival Night ("我和我的春晚"), the 7-minute film was praised among viewers. On Weibo, one hashtag dedicated to the short film received over nine million clicks (#我和我的春晚#).
The film was directed by the Beijing director Zhang Dapeng (张大鹏). Born in 1984, Zhang is a Beijing Film Academy graduate who previously attracted wide attention for directing the Peppa Pig Celebrates Chinese New Year movie and the brilliant ad campaign that came with it. Titled What Is Peppa, that short ad film featured a grandfather living in rural China who goes on a quest to find out what 'Peppa' is. The promotional video became an absolute viral hit back in 2019 (see/read more here).
This time, Zhang's latest Chinese New Year film is about a hard-working former military man from China's countryside named Zhang Jianguo (张建国), for whom coming on the show to play the trumpet has been a dream for many years. By featuring his story, the film takes us from the Chinese 1980s, 90s, 00s – as we see him change jobs, move around, and start a family – up to the present.
The main idea behind the film was to honor all the ordinary viewers who have written – and are still writing – to the Gala ever since it first aired in the early 1980s, and to tell a story inspired by these personal letters and ordinary viewers.
Short Summary of "Me and My Chunwan"
At the start of the film, we see Zhang Jianguo dusting off his military honorary awards (光荣军属), putting on his jacket, grabbing his thermos flask and trumpet, and setting out on a journey in the midst of winter.
Riding an electric tricycle in the icy cold, his driver (actor Huang Bo 黄渤) asks him where he is going. "Can you keep your mouth shut?" Zhang replies ("你嘴严实不严实"). "I can," the driver says, and Zhang then says: "So can I."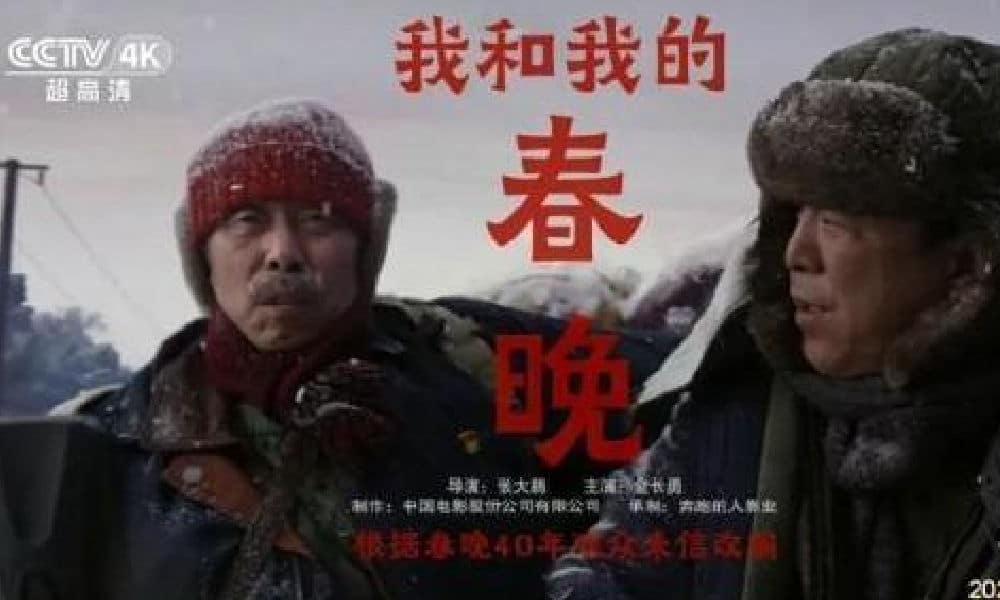 The voiceover narration, a first-person narrative by Zhang himself, explains that he has always been busy: "I never had time for the Spring Festival Gala. My Spring Festival fate is all because of something my captain said."
The film jumps to a scene showing Zhang as a young military man during the Chinese New Year's Eve, working outside while people are watching the Spring Festival Gala on a small black and white television inside. As his commander (played by Wu Jing 吴京) hands him his trumpet, he says: "Go and play your trumpet on the television."
"If the leader asks me to go on the Spring Festival Gala, it's a task I must complete," the voice-over says.
But in the military scene itself, duty calls and Zhang has to blow the trumpet to announce dinner time.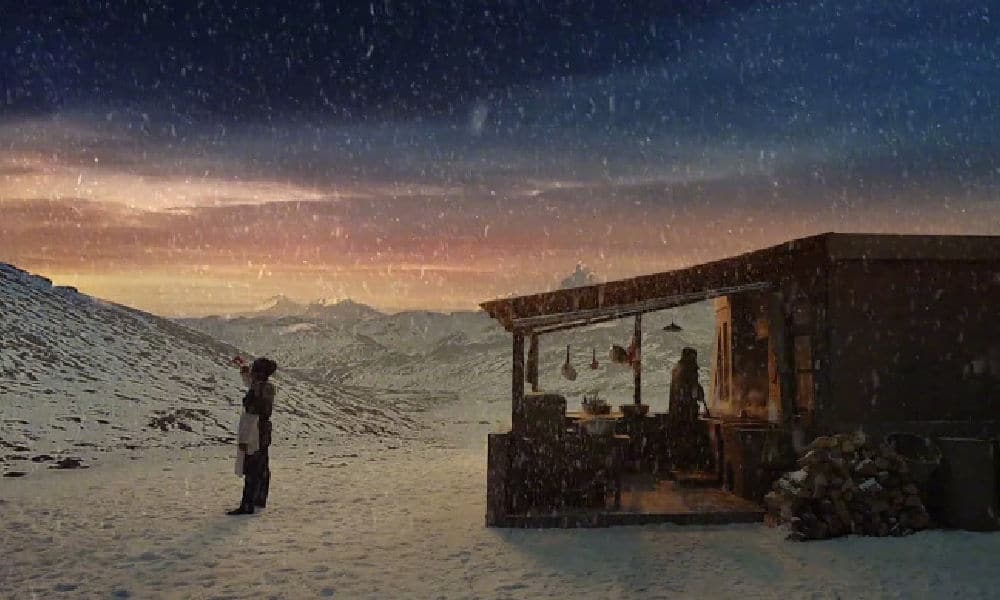 In the years that follow, Zhang is always busy during the Spring Festival Gala. Working in the factory, getting married, working on a train, farming cattle, taking care of his family, and always cooking. His trumpet is still there with him, to announce dinner time or hanging on the wall as a memory of times past.
As the years pass by, Zhang realizes that he has gradually forgotten about his commander's words. Time moves fast. First, he had a son, then his son grew taller than himself, and then his son had his own son. "And I still had never been to the Spring Festival Gala."
With his captain's words back on his mind, Zhang, now an older man, sets out on his journey without telling anyone. By foot, by electric tricycle, by bus, and by train, Zhang travels all the way to the famous Beijing Studio 1 to perform at the Spring Festival Gala after being "too busy" for forty years.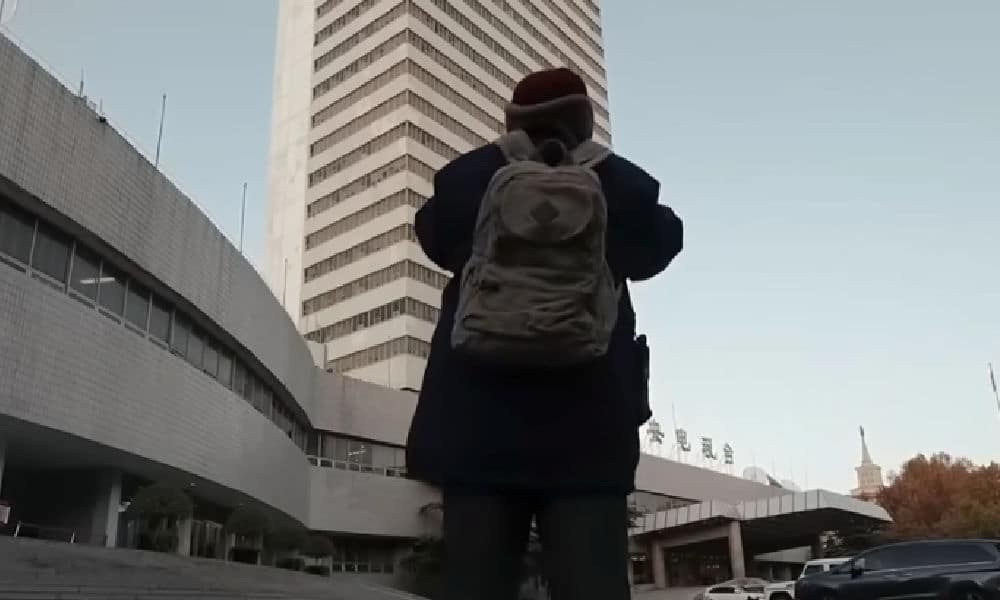 Backstage at the Spring Festival Gala, Zhang sits down with famous Chinese Spring Festival Gala performers (Ma Li 马丽 and Shen Teng 沈腾). While unpacking his lunchbox, he tells them he was finally not too busy to come on the show: "I wrote a letter and here I am." "It's that simple?" Ma Li wonders.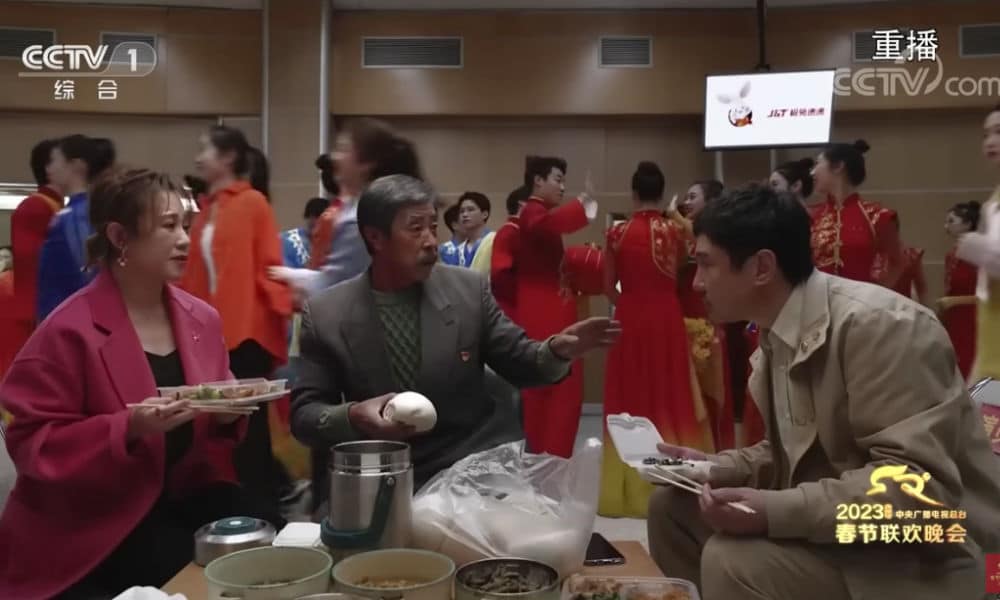 The producer then rushes to come and get Zhang, who bravely walks towards the stage with his old little trumpet.
A female voice-over then reads out a message, while we see various scenes throughout the years showing Zhang – from young to old – writing letters to CCTV from wherever he is.
The female narrator says: "Dear Uncle Zhang, we've received your letter regarding your hopes to realize your cherished stage dream. In this age of emailing, and knowing that you've been writing us for 39 years, we're moved and feel guilty. Our reply may be late, but not our sincerity.."
Meanwhile, we see a flashback to a mailman pulling up to old Zhang's home (the mailman is the actor Wang Baoqiang), and the old Zhang finally receives that much-anticipated letter from CCTV at his remote rural home.
The female narrator continues: "This year, we proudly invite you to be a guest at the Spring Festival Gala and to "ring the dinner bell" [play the sound announcing dinner]. Sincerely, the Spring Festival Director Committee."
In the final shot, we see Zhang blowing the trumpet at the Gala, with flashbacks showing him blowing that trumpet in all those decades before. He has finally made it to the big stage.
A Noteworthy Story
While Me and My Spring Festival Night received a lot of praise on Chinese social media, the story behind the film was not immediately clear to many viewers celebrating the Chinese New Year, but it was explained in several articles and interviews with director Zhang Dapeng.
During the live-televised Spring Festival Gala itself, the airing of Me and My Spring Festival Night was directly followed up by a shot featuring a person (a veteran) in the audience standing up and actually playing the trumpet.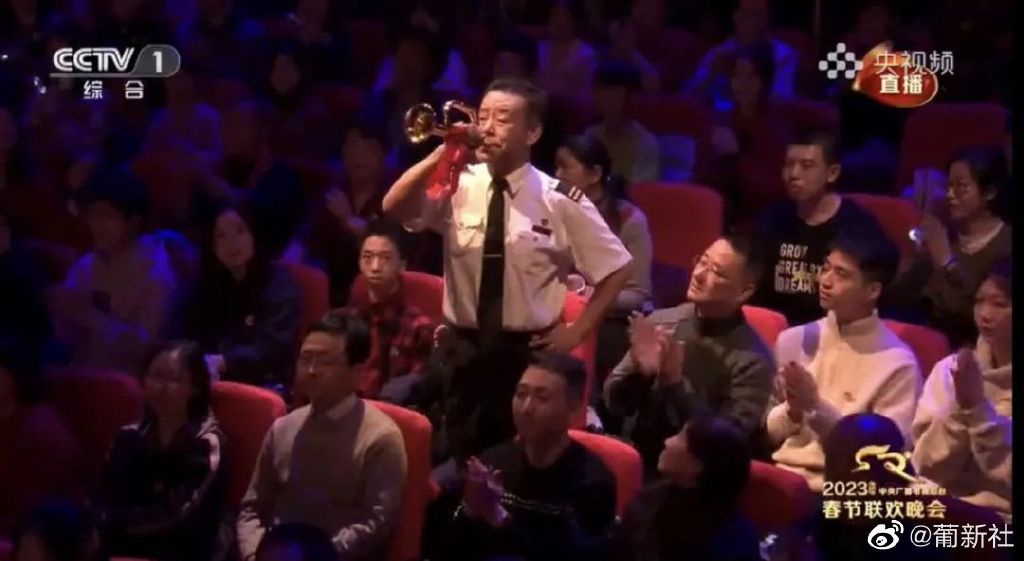 Directly after, the song "Goodmorning Sunshine" began, representing multiple people from all kinds of professions and social groups. About one minute into the song, the camera turns to another audience member: the person who plays 'Uncle Zhang' in the mini-film. Later in the song, we can see he is wiping away tears, visibly moved.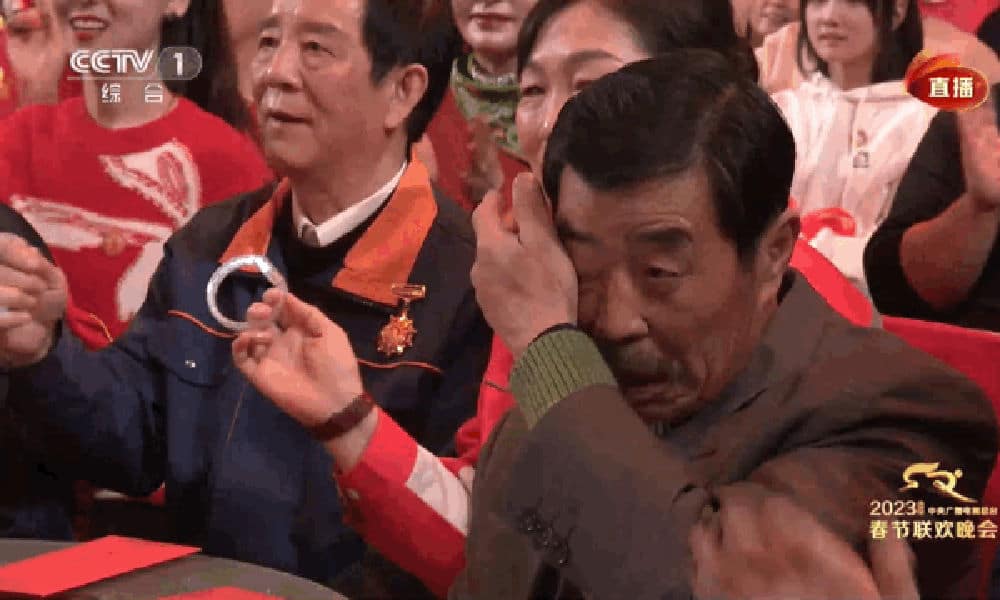 Why was he so moved? The older man in the audience, the main 'Uncle Zhang' actor in the film, is Jin Changyong (金长勇), and he actually is not a professional actor.
Somewhat similar to the character Zhang Jianguo, Jin Changyong or "Uncle Jin" (金叔) is a hardworking veteran from Hebei's Huailai County in Zhangjiakou.
Jin Changyong is a 63-year-old farmer who is also active at the Hebei Tianmo Film and TV Park doing security and logistics-related jobs. He served in the army for four years from the age of 19, as, among others, a military chef.
Director Zhang Dapdeng came across 'Uncle Jin' one day while shooting another film at the studio. While Jin was busy doing kitchen work, director Zhang saw him and, as he later recounts, was struck by his face that showed he had "lived through many changes" ("这种饱经沧桑的脸").
Zhang later invited Uncle Jin to star in the movie, and he also made sure Jin's own story played a role in the script.
This makes this short movie all the more special, something which has since been discussed on Chinese social media (#春晚微电影的主演是普通农民#).
The surprising twist in the story is how Zhang Jianguo tells other people he has just always been "too busy" to attend the Gala, while he had in fact already written to the show for 39 years with the hope of one day being invited.
Another noteworthy aspect of the film is how Zhang Dapeng chose to cast some of China's most celebrated actors as supporting roles to lift up the main character and actor, Jin, who was inexperienced and learnt from his fellow players.
In an interview, Jin expressed that the entire experience of playing in this short film left his overcome with emotion. After the filming had ended, he told reporters that he had sleepless nights because he had not received an actual invitation to the Spring Festival Gala yet, something which he so very much hoped for. Just one week before the show, that invitation finally came.
The fact that Jin, in a way, played a man like himself in the short movie has added to the film's popularity.
"I was sincerely moved by this film," one commenter wrote, with others saying: "This was the best program I've seen on the Gala over the past decade."
While some people also remarked that the short film seemed to have been influenced by The Grand Budapest Hotel by Wes Anderson, others praised it for its originality.
"This was just the best part of the night," several commenters said: "It made me cry."
"Zhang Pengda – a name to remember," others wrote.
You can watch the short film on Youtube here.
By Manya Koetse 
Get the story behind the hashtag. Subscribe to What's on Weibo here to receive our newsletter and get access to our latest articles:
Spotted a mistake or want to add something? Please let us know in comments below or email us. First-time commenters, please be patient – we will have to manually approve your comment before it appears.
©2023 Whatsonweibo. All rights reserved. Do not reproduce our content without permission – you can contact us at info@whatsonweibo.com.
Gu's Year: How Eileen Gu Became a Beloved Icon and Controversial Role Model in China
Patriotic, privileged, perfect? A year after Eileen Gu became an online sensation in China, she is still generating discussions.
Eileen Gu, the American-born freestyle skier and gold medallist who represented China in the 2022 Beijing Olympics, has made headlines again for her excellent halfpipe World Cup performance during the Chinese New Year. One year after Gu first became an internet sensation, she is, once again, receiving praise and triggering discussions on Chinese social media.
This Chinese Lunar New Year, the three Chinese Winter Olympic athletes Wu Dajing, Xu Mengtao, and Gao Tingyu, were widely discussed on Chinese social media after their debut at the CGM Spring Festival Gala.
Over 8000 kilometers away, another Winter Olympic athlete, Eileen Gu – better known as Gu Ailing 谷爱凌 in China, – also garnered huge attention for her excellent performance at the Calgary halfpipe World Cup. Just as people were celebrating the Chinese New Year, Eileen Gu claimed her second gold medal at the FIS Freeski World Cup.
It has almost been a year since the then-18-year-old Chinese-American freestyle skier grabbed gold at the Olympics and became front-page news in China.
Although Gu already garnered attention online when she announced in June of 2019 that she would switch national affiliation and compete for China, it wasn't until the Olympics that she appeared all over social media, was featured in dozens of ad campaigns, and practically became a household name in China.
Now, in light of the FIS Snowboard World Cup and the X Games in Aspen, Gu is back in the limelight.
On January 21st, the first day of the Year of the Rabbit, Chinese state broadcaster CCTV celebrated Gu's victory on social media using the hashtag "Eileen Gu Claims Two Golds within Three Days during the New Year Celebrations" (#谷爱凌过年3天2金#), with a two- minute video clip recording the highlights of her recent race. The hashtag has since received over 180 million views.
Gu herself also shared her victory on Weibo and wished people a prosperous New Year. That post attracted over 110,000 likes.
Many Chinese people celebrated Gu's new achievements with words of admiration, praising her capabilities and determination. One Weibo user commented: "I have to say, Gu Ailing is truly excellent. Three days, two medals. She has an indisputable talent."
Another user posted a video of Gu practicing while waiting for her flight and commented: "A healthy, energetic, diligent, excellent Gu Ailing who even continues training while waiting for boarding. Success doesn't come overnight."
Others also view Gu as a national icon for her gold medal wins for China. The phrase "wèi guó zhēngguāng" ("为国争光"), "winning glory for the country," appeared in many posts under the hashtag related to Gu's win.
But over the past year, since Gu's Olympic success, she has not always merely been viewed as a patriotic hero. Despite her popularity, Gu also triggered controversy and sometimes came under fire, with some wondering if she truly was patriotic and others blaming her for being privileged.
PATRIOTIC
"Everybody knows Eileen Gu is Chinese"
During the 2022 Winter Olympics in Beijing, the fact that Gu had switched her international allegiance and represented China instead of the US instilled pride among many Chinese. Chinese media flooded with stories on Gu that focused on the narrative of the multi-talented "mixed kid" who gave up her United States citizenship to represent the People's Republic of China.
However, when being asked about her citizenship in interviews, Gu's replies left many people wondering about the facts of the matter; they wanted to know whether or not Gu actually gave up her American passport, as China does not recognize dual nationality. Gu's response "I'm American when in the US and Chinese when in China" triggered dissatisfaction among Chinese audiences.
"I have stopped liking her since she said that," one Weibo user reflected in December 2022, and the post received 35,000 likes. To this day, there are many social media comments bringing up Gu's comment: "You're in America, so now you're American, right?"
Others also attacked Gu after Forbes listed her as the third highest-paid female athlete in the world in 2022 (#谷爱凌年收入1.4亿#). Some commenters argued that she had earned her money in China and was spending it in the US, and that she was unpatriotic for doing so.
However, some netizens defended Gu by stressing what she had done for China. In Weibo posts and comment threads, users supporting Gu wrote: "She won two gold medals and more for China, what did your patriotism contribute to China?" Others also said Gu had shown her love for China through her performances, and that it would be impossible to expect her to distance herself from the country she grew up in.
Meanwhile, Western media outlets described how the bi-lingual Gu had been "dodging" explicit questions about her US citizenship status. This also led to Gu getting attacked by Americans. When Gu returned to the US and enrolled in Stanford University, there was even an online petition about getting Gu's admittance to Stanford revoked due to Gu's supposed "lack of integrity about her nationality" and indifference to "the human rights violations" in China.
Among Chinese netizens, questions also rose about whether Gu had only represented China during the Olympics and if her return to the US might mean that she would give up her Chinese nationality and play for the US team instead.
But with Gu's debut at the FIS Freeski World Cup in the Year of the Rabbit, Chinese bloggers pointed out that Gu's nationality was still listed as Chinese.
"No matter where she is, Gu Ailing still has the Chinese nationality," one Weibo blogger wrote, with others also saying: "She is still representing China, we should all support her! The rumors about her changing nationalities are false!"
"Everybody knows Eileen Gu is Chinese," another social media user wrote.
But not everybody is convinced: "Don't fool yourself. I'm happy she helped China win gold, but dual citizenship is dual citizenship, there's no point in covering it up."
PRIVILEGED
"Gu's success is unrelated to normal people"
Another discussion that has flared up during Eileen Gu's past year of success is focused on her alleged privileged status, especially within the context of her being praised as a role model for Chinese (female) younger generations.
In February of 2022, an Instagram comment made by Gu regarding the use of VPNs in China caused some controversy. At the time, one person asked Gu about "internet freedom" in China and how it was possible for her to use Instagram while she was in China, where the platform is blocked. Gu then replied: "Anyone can download a vpn its literally free on the App Store [thumbs up]"
A screenshot of the exchange then circulated on Weibo, where many netizens were surprised about Gu's statement. VPNs are generally not available on app stores in mainland China, as there are numerous restrictions on virtual private networks (VPNs) which are commonly used to browse websites or apps that are otherwise blocked in China.
Gu was then criticized over the fact that she seemed unaware of the restrictions on VPNs along with her suggestion that 'internet freedom' only referred to the accessibility of foreign platforms, allegedly showing her privileged position.
After Gu enrolled in Stanford University and posted her all-A transcript of the first semester at the end of 2022, many praised her hard work but there was also criticism about her "showing off" and strategically choosing a supposedly easier curriculum.
"She posted it to impress Chinese people who do not understand the system," one person commented, with others replying that an "S" grade does not equal full points and that she had no A+ grades. Others claimed that Gu probably received help with her schoolwork.
As online discussions intensified (#谷爱凌斯坦福所有课程全部满分#), Gu herself responded to online criticism, stressing that she – without anybody's help – had worked hard for her grades and that only 5% of students can get an A at Stanford.
The idea that Gu comes from a very privileged background and that it is not just her diligence that brought her success is a recurring one on social media.
Gu was raised by her Chinese mother, a molecular biology graduate who studied at Peking University and Stanford University and who used to be a speed skating athlete as well as a part-time coach at Peking University. She allegedly worked at Wall Street and later became a CEO of a risk investment company. Her grandmother, a former official at China's Ministry of Transport, was a university basketball player, while her grandfather was a soccer player at school who was also good at swimming, skiing, and skating. Her family members' background is exceptional. University students were rare among Gu's grandparents' generation, and studying abroad was also uncommon for her mother's generation.
As people believe that this family background has largely contributed to Gu's success, Gu's position as a "role model" is questioned.
"Gu's success is unrelated to normal people," one Weibo user wrote. "What is the meaning of having this kind of role model? I have no parents from the Ivy League, no pretty face of mixed race, no elite education from the mix of Chinese and American cultures, no exceptional family background, and even no talent," one Zhihu user wrote.
"Gu started skiing at three years old, and practiced running, basketball, piano, and ballet soon after; I started playing in the mud at three years old and I can still only play in the mud," another user wrote. "Gu's mother meticulously planned Gu's life, but my mother could hardly spare any time for me while she was working."
PERFECT
"Congratulations, Little Gu, you're the greatest!"
Amid all the online discussions surrounding Eileen Gu, there is the view that people have not necessarily grown tired of Gu herself but of the (online) media narratives surrounding her which present her as the perfect daughter, the perfect athlete, or the perfect role model.
Some people admit that they feel jealous or say that they feel it is unfair because they feel they could never reach that standard.
One article published by The Paper in 2022 reiterated the popular view that Gu's success "has nothing to do with ordinary people" ("谷爱凌的成功与普通人没啥关系"), but argued that people should draw inspiration from her story rather than focusing on all the aspects of her life that are unattainable to them.
A commentary by PLA Daily also argued that Olympic athletes should not be turned into "gods" for their overnight success; neither should they be vilified because of their shortcomings. It's not about the pursuit of perfection, the author wrote, but about facing up to one's own shortcomings.
There are also those who remind others that Gu is still a teenager. Not only have some of the controversies over the past year shown that Gu is not "perfect," they also showed that fame is a double-edged sword.
As one netizen put it: "Success can be magnified to an extreme, and mistakes can be enlarged without boundaries (..) She'll be carefully walking on the sharp edge of the sword because if she does something that does not conform to what people expect of her, the same people who praise you today will step on you tomorrow."
Meanwhile, many Chinese fans of Eileen Gu have had it with those leaving "sour comments." "She is representing China, she snatched gold, your empty 'patriotism' is contributing nothing!"
"Congratulations, Little Gu, you're the greatest!" some say: "You did a good job, and we're proud of you."
By Zilan Qian and Manya Koetse
Follow @WhatsOnWeibo
Get the story behind the hashtag. Subscribe to What's on Weibo here to receive our newsletter and get unlimited access to all of our articles:
Spotted a mistake or want to add something? Please let us know in comments below or email us. First-time commenters, please be patient – we will have to manually approve your comment before it appears.
©2023 Whatsonweibo. All rights reserved. Do not reproduce our content without permission – you can contact us at info@whatsonweibo.com.