Top 5 of Popular Children's Books in China after Crackdown on Foreign Storybooks
The topic of children's books in China recently made international headlines following a crackdown on foreign storybooks in the PRC. What's on Weibo explores the status quo after the ban: has Peppa Pig really left the building? What is the current top 5 of popular children's books in China?
The topic of children's books in China recently made international headlines following a reported crackdown on foreign storybooks in the PRC. What's on Weibo explores the status quo after the 'Taobao ban': has Peppa Pig really left the building? What is the current top 5 of popular children's books in China?
Recently the children's books market in China made international headlines when the South China Morning Post reported that an order from Beijing will drastically limit the number of foreign children's picture books published in mainland China this year.
According to The Guardian and other sources, Chinese publishers received orders that foreign children book titles must be lowered or even halted to prevent an "ideology inflow" and to protect and promote children's books written by Chinese authors. In the New York Times, Hannah Beech also called the crackdown an "ideological crusade."
On March 3rd, days before the South China Morning Post reported the news, China's largest e-commerce platform Taobao issued an official statement that, as of March 10th, it was halting resales of all books published overseas to "create a safe and secure online shopping environment."
STATE MEDIA: ALL ABOUT CULTURE
"The Ministry of Culture hopes that Chinese children will be more in touch with cultural products that reflect Chinese values."
Chinese media responded to the international news reports in mid-March, saying that they were "fabrications" by foreign media to make China look bad. On Wednesday, state tabloid Global Times published an article written by a Global Times commentator Shan Renping, writing:
"Recently a number of Western mainstream media have started a hype about China controlling the import of foreign children's books, suggesting this is China's way of reducing the influence of the outside world on China, and ridiculing that our "boycott of foreign forces starts with small children."
According to the column, the imposed limit on foreign children's books is not necessarily related to "ideology" or other political matters – as children's books are allegedly "not much of an ideological field" – but that the reason is cultural.
In the past, the author writes, the ratio of imported children's books versus Chinese ones was 9:1 in 2000. While this gap between foreign and Chinese children's books has already decreased from 6:4 (2011), officials hope to further develop the local children's books market.
As the article says: "The Ministry of Culture (..) [also] hopes that Chinese children, throughout the course of growing up, will be more in touch with cultural products that reflect Chinese values."
But besides the cultural motives for limiting foreign publications in China, the Global Times column also hints that there might be economic motives involved, as it mentions the growing market of children's books in China, and that storybooks play a leading role in the publishing industry.
In the Chinese Book Market 2016 report by the German Book Office Beijing, 21.9% of China's online book trade is listed in the category of children's books: a booming and growing market.
WEIBO RESPONSES
"When I think about the garbage we had to read when we were little, I really cannot even imagine that books like these will be banned."
On Weibo, some netizens responded to the crackdown on foreign children's books with great disappointment. Before March 10, some people also said they would quickly buy foreign books for their kids before the Taobao ban would be implemented.
It is probable that some comments about the ban have been censored; one Weibo user also indicates that a previous post about the limitations "has been deleted."
Microblogger (@大耳朵猫妹) writes:
"When you look at how kids read children's books, what I find most surprising is how these foreign children's books do not seem to have any meaning but just really fit in with children's minds. I used to read a book to my children about a crocodile family; a daddy, mommy and little crocodile that eat bananas every day. One day, the little crocodile stopped and said he did not want to eat any more bananas, so his parents asked him what he wanted to eat. When he said he wanted to eat humans, his parents laughed. He then angrily left the house and on the street, he met a small child, and said: "I want to eat you.""
"The child just laughed out loud and together with his little friends took out some bananas and threw them at the small crocodile, and then laughingly ran away. Later, the little crocodile took the pile of bananas home, and ate them with his parents while wiping away his tears. What does this story explain and teach us? Nothing. But it corresponds with children's desire to explore the outside world and try new things. My kids really liked it. (..) I really love these cute and fresh children's books, and when I think about the garbage we had to read when we were little, I really cannot even imagine that books like these will be banned."
The question is: will these books really be banned? Let's first take a look at the current top-ranked lists of children's picture books.
MOST POPULAR CHARTS
"The reported restrictions seem to be more symbolical than substantive."
What children's books rank highest in the popular book charts on Weibo after news of the PRC crackdown has come out?
#1. 'Chinese Year' Original Picture Book Series (中国年原创图画书系列)
The top ranking children's book at the time of writing is a book series called Chinese Year, which is written by author Cao Cong (alias Wuke Lili), a Renmin University graduate specialized in children's psychology.
The books contents and illustrations are focused on Chinese family life and traditions. This particular story is about Chinese New Year and how it is celebrated.
2. Guess Who I Am? (猜猜我是谁)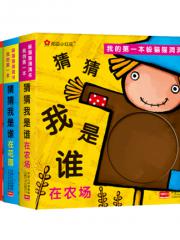 This book is aimed at the youngest children (2-4 years old) as a little 'hide and seek' game with holes in it, allowing children to look through them and see different things. The book is published by the Chinese People's Publishing House.
3. Fantastic Book (奇妙的书)
This is another made-in-China children's book, published by Guangxi Normal University.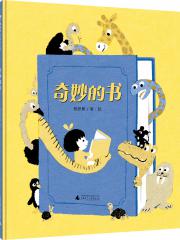 It is themed around many different animals. From alligators to penguins, they all look at life in a different way.
4. Paw Patrol (汪汪队立大功)
Who has not heard of Paw Patrol? This children's book about a boy named Ryder who leads a pack of rescue dogs known as the PAW Patrol is derived from a Canadian animated television series, and is thus a foreign children's book with no Chinese themes. The book is popular on Weibo, where it is rated 9.1 out of 10 stars.
5. The Princess Kite (公主的风筝)
Although the authors of this book are not all Chinese, the story does focus on ancient China and has a Chinese kite as its central subject – making it a truly Chinese story, published by the Chinese Yellow River Publishing & Media Group.
The top 5 of Weibo's most popular children's book of this moment seems representative of the 'popular' or 'recommended' lists of China's biggest online bookstores such as Taobao or Dangdang, where there are still many foreign children's books for sale, but where the originally Chinese children's books seem to dominate the main lists of book suggestions.
Searching for 'foreign children's books' was possible on all sites – including on Dangdang, Kongfz, JD.com, and also on Taobao – after March 10. There is a wide selection of foreign books available from these sites, from Little Rabbit Couldn't Sleep to Peppa Pig.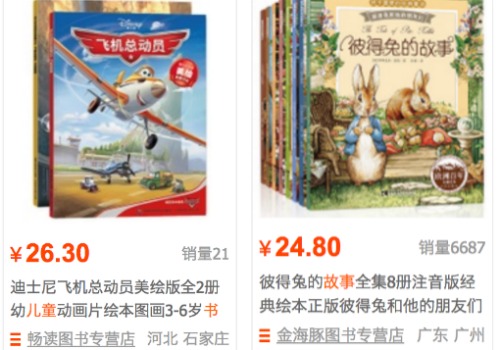 Also in the category for older children (8-12), translations of books like Pippi Longstocking (长袜子皮皮) or Harry Potter (哈利·波特) are still freely available on Taobao.
Seeing that the announced Taobao ban has not really gone into effect, there is a probability that the 'ban' on foreign children's books and the reported restrictions for publishing firms to publish any foreign picture books for children this year are more symbolical than substantive.
TONING DOWN THE HYPE
"Chinese children can enjoy Paw Patrol or Pippi Longstocking, along with those books themed around Chinese New Year or Chinese folklore."
On Thursday, Global Times published another article that seemed to want to tone down the hype, quoting the deputy dean of Cultural Studies at Peking University Chen Shaofeng: "Unless the foreign media can name particular children's books that are banned from being imported, their accusations should be seen as groundless."
The article also mentioned a Beijing-based publisher nicknamed 'Coco', who reassured worried parents that books that have already received approval to be published would continue to be available, regardless of whether or not import limits (not bans) are introduced in future.
The way things stand now, it seems that it is business as usual for children's books in China. It is likely that foreign children's books will not be completely banned from China in the near future. Instead, we can expect a heightened focus on Chinese books for children (especially those themed around Chinese stories and traditions), making it easier for publishers to get approval for those titles.
To make final conclusions about the eventual effects of the announced regulations, however, we will have to wait another year. In the meantime, Chinese children can enjoy Paw Patrol or Pippi Longstocking, along with those books themed around Chinese New Year or Chinese folklore. Perhaps to the disappointment of some parents, Peppa Pig has not left the building (yet).
– By Manya Koetse
Follow @WhatsOnWeibo
©2017 Whatsonweibo. All rights reserved. Do not reproduce our content without permission – you can contact us at info@whatsonweibo.com.
King of Workout Livestream: Liu Genghong Has Become an Online Hit During Shanghai Lockdown
Liu Genghong (Will Liu) is leading his best lockdown life.
With their exercise livestreams, Liu and his wife are bringing some positive vibes to Shanghai and the rest of China in Covid times, getting thousands of social media users to jump along with them.
On Friday, April 22, the hashtag "Why Has Liu Genghong Become An Online Hit" (#为什么刘畊宏突然爆火#) was top trending on Chinese social media platform Weibo.
Liu Genghong (刘畊宏, 1972), who is also known as Will Liu, is a Taiwanese singer and actor who is known for playing in dramas (Pandamen 熊貓人), films (True Legend 苏乞儿), and releasing various music albums (Rainbow Heaven 彩虹天堂). He is a devout Christian.
Besides all of his work in the entertainment business, Liu is also a fitness expert. In 2013, Liu participated in the CCTV2 weight loss programme Super Diet King (超级减肥王, aka The Biggest Loser) as a motivational coach, and later also became a fitness instructor for the Jiangsu TV show Changing My Life (减出我人生), in which he also helped overweight people to become fit. After that, more fitness programs followed, including the 2017 Challenge the Limit (全能极限王) show.
During the Covid outbreak in Shanghai, the 50-year-old Liu Genghong has unexpectedly become an online hit for livestreaming fitness routines from his home. Together with his wife Vivi Wang, he streams exercise and dance videos five days of the week via the Xiaohongshu app and Douyin.
In his livestreams, Liu and his wife appear energetic, friendly, happy and super fit. They exercise and dance to up-beat songs while explaining and showing their moves, often encouraging those participating from their own living rooms ("Yeah, very good, you're doing well!"). Some of their livestreams attract up to 400,000 viewers tuning in at the same time.
The couple, both in lockdown at their Shanghai home, try to motivate other Shanghai residents and social media users to stay fit. Sometimes, Liu's 66-year-old mother in law also exercises with them, along with the children.
"I've been exercising watching Liu and his wife for half an hour, they're so energetic and familiar, they've already become my only family in Shanghai," one Weibo user says.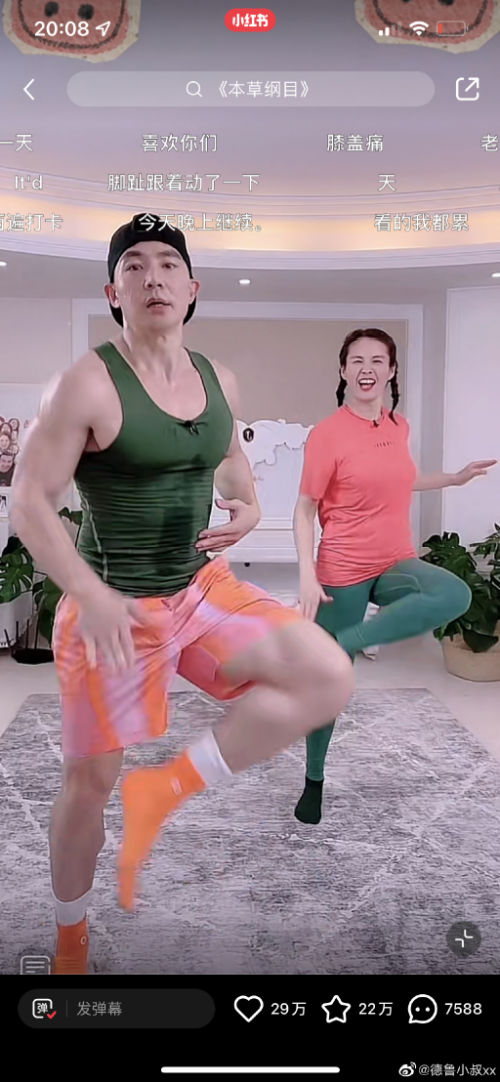 "I never expected Liu Genghong to be a 'winner' during this Covid epidemic in Shanghai," another person writes.
Along with Liu's online success, there's also a renewed interest in the Jay Chou song Herbalist's Manual (本草纲目), which is used as a workout tune, combined with a specific dance routine. Liu is also a good friend and fitness pal to Taiwanese superstar Jay Chou.
This week, various Chinese news outlets such as Fengmian News and The Paper have reported on Liu's sudden lockdown success. Livestreaming workout classes in general have become more popular in China since the start of Covid-19, but there reportedly has been no channel as popular as that of Liu Genghong.
The channel's success is partly because of Liu's fame and contagious enthusiasm, but it is also because of Vivi Wang, whose comical expressions during the workouts have also become an online hit.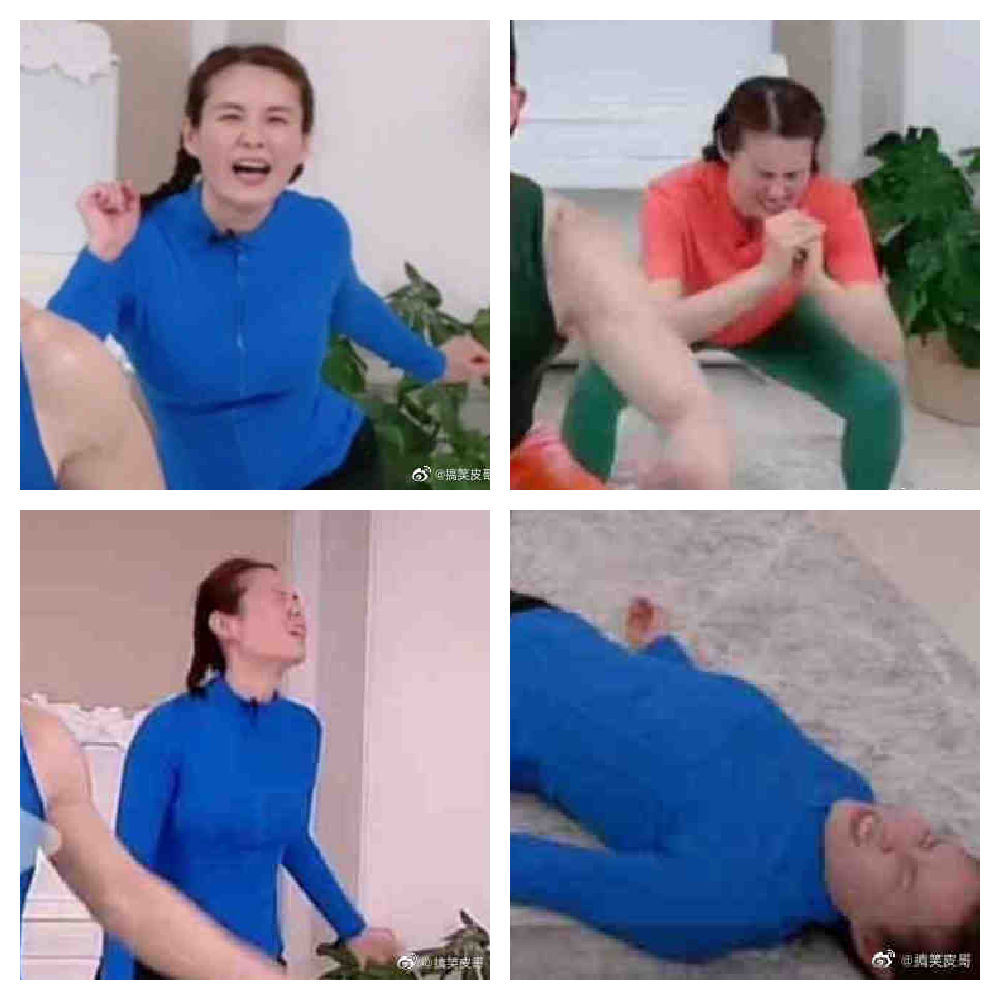 While many netizens are sharing their own videos of exercizing to Liu's videos, there are also some who warn others not to strain themselves too quickly.
"I've been inside for over 40 days with no exercise" one person writes: "I did one of the workouts yesterday and my heart nearly exploded." "I feel fine just watching," others say: "I just can't keep up."
Will Liu (刘畊宏) has become an online sensation in China together with his wife for their livestreamed workout sessions from Shanghai, especially inspiring those in lockdown to break a sweat. This routine to Jay Chou's song Herbalist's Manual (本草纲目) is the hit of the moment. pic.twitter.com/X4VvEBWvFU

— Manya Koetse (@manyapan) April 22, 2022
Watch one of Liu's routines via Youtube here, or here, or here.
For more articles on the Covid-19 topics on Chinese social media, check here.
By Manya Koetse
Get the story behind the hashtag. Subscribe to What's on Weibo here to receive our weekly newsletter and get access to our latest articles:
Spotted a mistake or want to add something? Please let us know in comments below or email us. First-time commenters, please be patient – we will have to manually approve your comment before it appears.
©2022 Whatsonweibo. All rights reserved. Do not reproduce our content without permission – you can contact us at info@whatsonweibo.com.
Weibo is Watching the DJs & Sports Presentation Team at the Winter Olympics Venues
Chinese netizens are not just closely following the athletes, they are also paying more attention to the "atmosphere enliveners" at the 2022 Beijing Winter Olympics.
Chinese netizens are not just closely watching the athletes at the 2022 Winter Olympics – the DJs who are performing at the various venues and their noteworthy song selections have also become a popular topic on social media.
On Feb 8th, the US-born freestyle skier Eileen Gu (谷爱凌, Gu Aling) became the youngest ever gold medalist in freestyle skiing, winning the big air event for China. The American-born Gu has become a superstar in China, and everything related to her is going viral these days, including the songs that were playing when Gu had won gold.
The hashtag "When Gu Ailing Won the Gold, Jay Chou's Song Huo Yuan Jia is Played" (#谷爱凌夺冠现场放周杰伦的霍元甲#) has received more than 29 million on Weibo. Chinese netizens praised the DJs for the song selection, saying it perfectly captured the scene as the song has a strong rhythm, and is also known as 'Fearless.'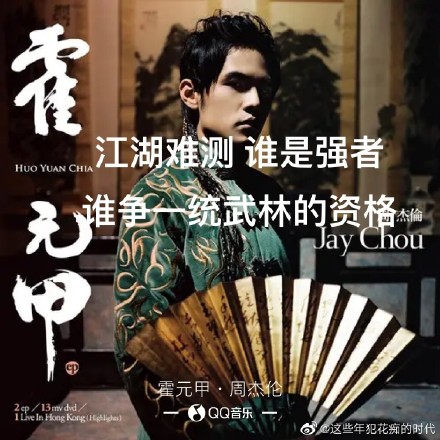 Before the hashtag about Gu went trending, the DJ team already attracted attention on Chinese social media for the interesting and noteworthy music selection at various events.
During the Ice Hockey Women's Preliminary Round Group A, when Team US competed against Team ROC, there was a conflict between the two teams and the DJ played a remixed version of Katyusha, a Russian song that became famous during World War II. The dramatic effect of the scene and wartime song pairing made the song's name (#喀秋莎#) and a video of the DJ trying to 'make some noise' on the venue go trending on Weibo with over 53 million views. Many netizens thought the music selection was humorous, with some joking that the DJ was adding oil to a burning fire.
Xie Xiao (@篮球DJ小牛), the ice hockey stadium music director for the 2022 Beijing Winter Olympics who played the song that day, later clarified on Douyin that the selection of Katyusha was not a response to the conflict. Before that game, he allegedly had already planned to use it because it is a famous song in Russia, and he already played a lot of well-known American songs.
Another creative song choice by this DJ team that resonated with Chinese netizens occurred during another ice hockey match between Team China and Team Japan, when an American DJ performed Defending the Yellow River on a keyboard. In China, Defending the Yellow River is a famous patriotic song. It was the seventh chapter of the classic Yellow River Cantata, written in 1939 to praise the fighting spirit of the Chinese people (#美国DJ现学后现场弹奏保卫黄河#).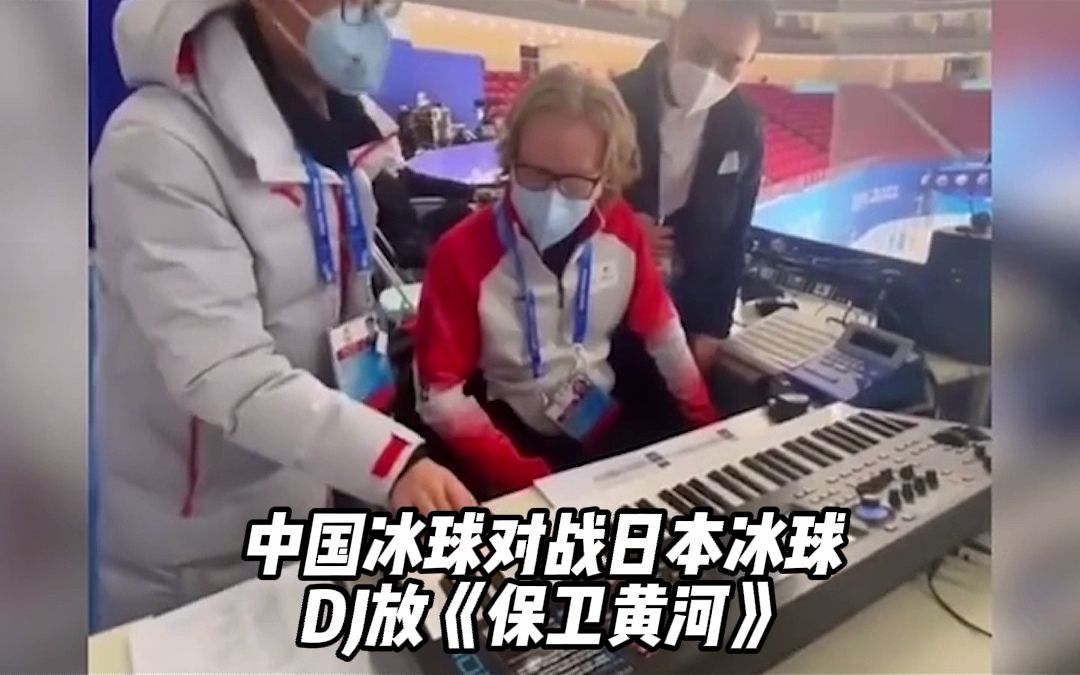 A list of popular hashtags on Weibo relating to which songs are played at the venue of the Winter Olympics also demonstrates that music has become a more relevant and popular part of the Olympics, and is also an attractive component of the event that is encouraging more people, especially younger generations, to watch and participate in the Games.
Xie also said that the team is only allowed to select songs from a specific Winter Olympics music library due to copyright and licensing. The library includes 16000 musical tracks divided into various (sub)categories based on music styles, language, and themes, covering many hit songs and different music from all across the world. On the first event day of speed skating, for example, Adele's Rolling in the Deep blasted through the speakers.
The pandemic has made the role of so-called 'atmosphere enliveners' or 'vibe teams' (气氛组, 氛围组) more important. This already became clear during the Tokyo Olympics, where we saw empty stadiums due to coronavirus measures, with DJs creating playlists to motivate athletes in the absence of cheering fans. This shift has also brought more online attention for DJs and other crew members, who would usually stay behind the scenes.
On the venues, the atmosphere is raised by Olympic mascots walking, jumping, and running around the venues interacting with smaller audiences. Meanwhile, the DJs are playing energetic tracks or are creating remixes and mash-ups while producers use different elements at the venue to enhance the audience's experience.
Li Helin, the deputy manager of the venue operations team at Beijing National Speed Skating Oval, takes care of the event presentation at the venue. He also worked as an MC at the volleyball stadium during the 2020 Tokyo Olympics. Li has also been in charge of some popular music selections played by the DJs during events involving the China team, including Calorie (卡路里) by the Chinese idol girl group Rocket Girls 101 and Immortal Sound Above Cloud Palace (云宫迅音), the opening theme of Journey to the West, a 1986 TV series that is still considered one of China's most popular TV dramas. These song selections also were popular on Weibo.
Li previously said he believed that using DJs to connect with the audiences and to enliven the atmosphere at the venues will become a bigger trend for big sports events in the future. As the standard of sports presentation and fan engagement rises, more new elements, such as spectacular lighting, drones, 3D projects, etc. will also be included: "Sports presentation serves the game, but also adds fresh elements to it."
Meanwhile, many social media users praise the music crew: "This time, the DJs at the Olympics are really awesome and their song selection is on point."  "If you don't know what kind of work you want to do, becoming an Olympic DJ is a good choice," one Weibo user writes, with others agreeing: "Seriously, if I cannot be an Olympic athlete, then I'll strive to be an Olympic DJ."
By Wendy Huang
Follow @whatsonweibo
Spotted a mistake or want to add something? Please let us know in comments below or email us. Please note that your comment below will need to be manually approved if you're a first-time poster here.
©2022 Whatsonweibo. All rights reserved. Do not reproduce our content without permission – you can contact us at info@whatsonweibo.com