More Details Emerge: Didi Killer Took 9000 RMB from Victim Before Murder
A day after the brutal killing of a female passenger using one of Didi's car-hailing services made headlines in China, more details emerge about the circumstances of the homicide.
One of the most shocking details reported in Chinese media today is that the driver, the suspected murderer of the 20-year-old female, made her transfer an amount of 9000 yuan (±$1320) to his account before taking her life.
The driver reportedly had to drive to an area with better phone reception in order for the online transaction to succeed. Once the victim, a woman by the name of Xiao Zhao (小赵), had succeeded in transferring the money to his account via WeChat wallet, he raped her, stabbed her to death, and rolled her body off a cliff.
The incident took place during a so-called 'Didi Shunfengche' (乘顺风车) ride, a car-pooling service from Chinese Uber-like company Didi Kuaidi, which was first introduced in 2015.
Chinese online news outlet The Paper reports that instead of choosing the highway – which would have taken around 40 minutes to her final destination -, the driver had taken a desolate mountainous route during the ride. At some point during this ride, he tied the hands and feet of Xiao Zhao so she couldn't move, and taped off her mouth.
August 24:
±13:00: The 20-year-old Zhao from Wenzhou arranges a Didi 'carpool' ride from Hongqiao Town to Yongjia to attend a birthday party.
14:09: Xiao Zhao sends a WeChat message to a friend, saying. "I'm scared, the driver has taken a mountain road, there's no one here."
14:14: Xiao Zhao sends her last words to her friends via Wechat, writing "Help" (救命) and "Save me" (抢救).
15:42: After Xiao Zhao's friend has contacted the Didi help desk seven times within the time frame of an hour, she is told to "please wait patiently."
16:22: The friend informs Yongjia police of the situation.
17:35: The family members also report the case to the Yueqing police.
17:42: Xiao Zhao's friend asks Didi customer service for the details of the driver, but is denied this information.
18:13: Didi provides police with the vehicle and driver information.
August 25:
4:00: The criminal suspect, the Didi driver, is arrested by local police, and admits to raping and killing the female passenger.
±6:00: Police and rescue workers find the victim's body in a mountainous area near the road.
For the past two days, this case has been one of the main trending topics on Chinese social media, with many condemning the company for failing to protect (female) passengers against such dangers.
The inadequate response of customer service has been a major topic of discussion; they did not only fail to respond to this case in time, but earlier this week, another woman claimed she was harassed by the same driver, and customer service also did not take action against him.
It now appears that Didi has been outsourcing its customer service, resulting in service workers not having the authority nor ability to see into more detailed information about Didi's registered drivers and ride information.
For now, Didi has taken down its entire 'shunfengche' carpooling service nationwide. The service is different from its regular Didi service in that it allows car owners to drive people to their destination while they are going there themselves (much like hitchhiking), making some money by sharing the ride.
Meanwhile, many Chinese news media outlets report more background details on the suspect. The 27-year-old Sichuan native was a high-school dropout and a 'left-behind child' (留守儿童) – meaning his parents are migrant workers who had to leave their child in their more rural hometown while going out to work in the city.
This is the second murder of a female passenger using Didi's services within four months time. For more informarion on this case, please check our report here.
By Manya Koetse, and Miranda Barnes
Follow @whatsonweibo
Spotted a mistake or want to add something? Please let us know in comments below or email us.
©2018 Whatsonweibo. All rights reserved. Do not reproduce our content without permission – you can contact us at info@whatsonweibo.com.
Must-Read: SCMP's China Internet Report 2020
The China Internet Report brings order to the chaos of China's ever-changing digital environment. There's a special What's on Weibo discount for the Pro-edition.
First published
SCMP Research's China Internet Report 2020 is here, covering the country's biggest tech trends, breaking down the major players and key markets, and bringing some order to the chaos of China's rapidly changing digital environment.
Today, the South China Morning Post (SCMP) has launched its third edition of the China Internet Report – a super-comprehensive resource on China's technology landscape offering insights into the most important trends and players shaping the world's biggest internet community.
This year, China's online population has reached the staggering number of 904 million users, with the average daily time spent on the internet rising to 7.2 hours in March.
COVID-19 has significantly increased online media consumption across China.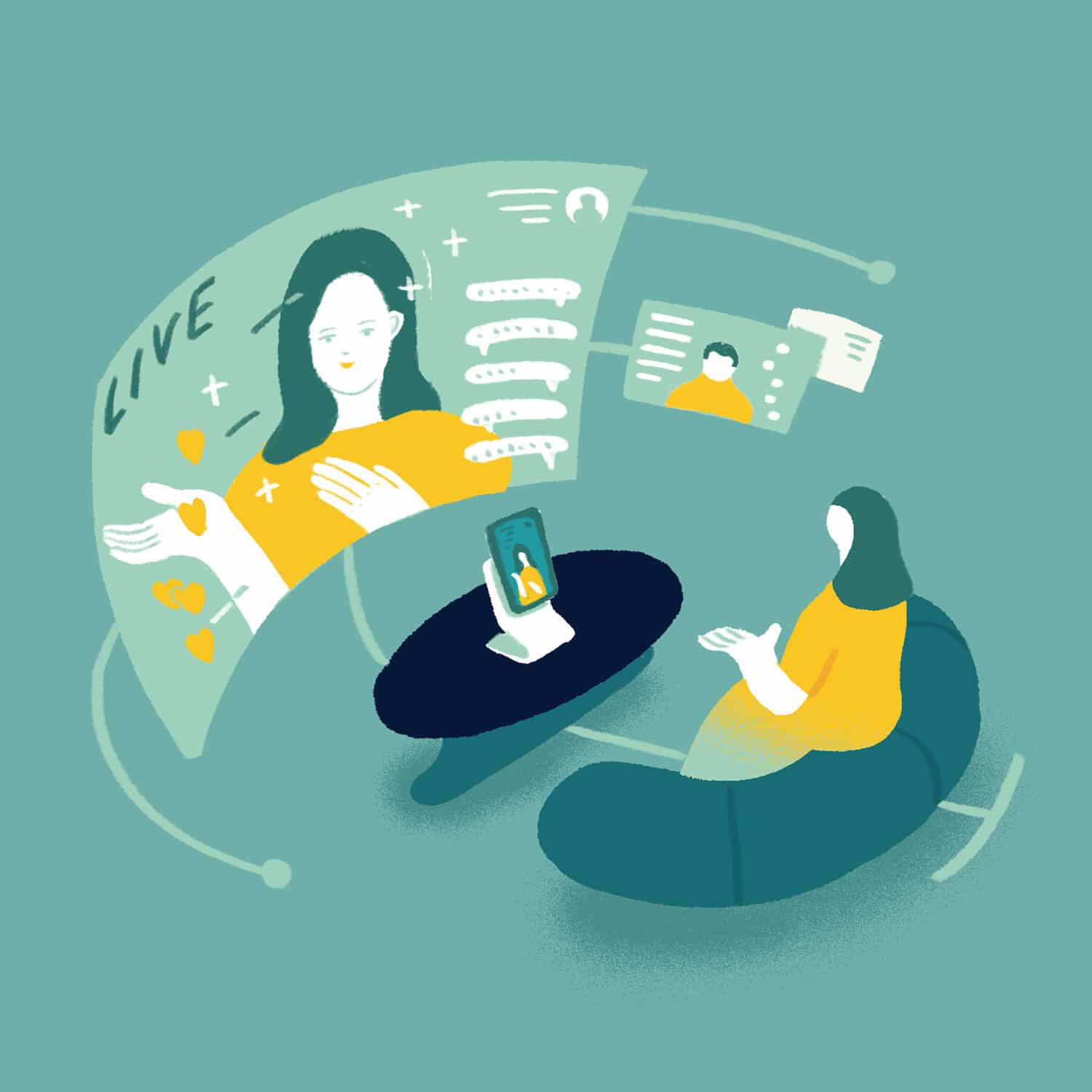 China's rapid digitization has not just radically altered Chinese society – it is also increasingly impacting the global internet ecosystem at large.
With yesterday's local startups becoming tomorrow's international tech leaders, and today's trends soon becoming worldwide shifts, understanding China's latest digital developments has never been more important.
The new coronavirus outbreak in China has not just temporarily affected people's online behavior, the report finds, suggesting that COVID-19 will have a lasting impact on China's tech sectors.
Besides social media platforms and other apps becoming a crucial tool of mass communication and information for Chinese netizens in times of COVID-19, the pandemic also changed how people in China started using technology in their everyday lives, from online learning to digital healthcare seeking. These trends have brought about permanent changes.
The accelerated digitization and the innovative tech use in times of the coronavirus crisis are listed as one of the major trends of 2020, among other vital digital shifts changing China's online landscape, from the mass adoption of 5G to live streaming in China reaching its third phase.
To check out the main trends for 2020, China's latest internet statistics, its top tech competitors, internet companies, and more, here's a link to the report.
This year, in addition to the free report, SCMP Research also introduces its Pro Edition (US$400) that features more than a hundred pages of deep-dive per sector – from e-commerce to healthtech, 5G and more – providing additional analysis, data, as well as access to six closed-door webinars with leading C-level executives of internet and technology companies in China.
The folks at SCMP have been kind enough to reach out and offer a special 30% discount on the Pro Edition report for What's on Weibo readers.
You'll get the discount by using the discount code: "WHATSONWEIBO", or by clicking this link that will automatically include your discount code.
By Manya Koetse
Follow @WhatsOnWeibo
Spotted a mistake or want to add something? Please let us know in comments below or email us. First-time commenters, please be patient – we will have to manually approve your comment before it appears.
©2020 Whatsonweibo. All rights reserved. Do not reproduce our content without permission – you can contact us at info@whatsonweibo.com.
Spicy Sauce Scam Goes Viral – Tencent Duped by Fake Lao Gan Ma Deal
The bizarre story that went trending this week involves China's tech giant Tencent and China's undisputed sauce queen Lao Gan Ma.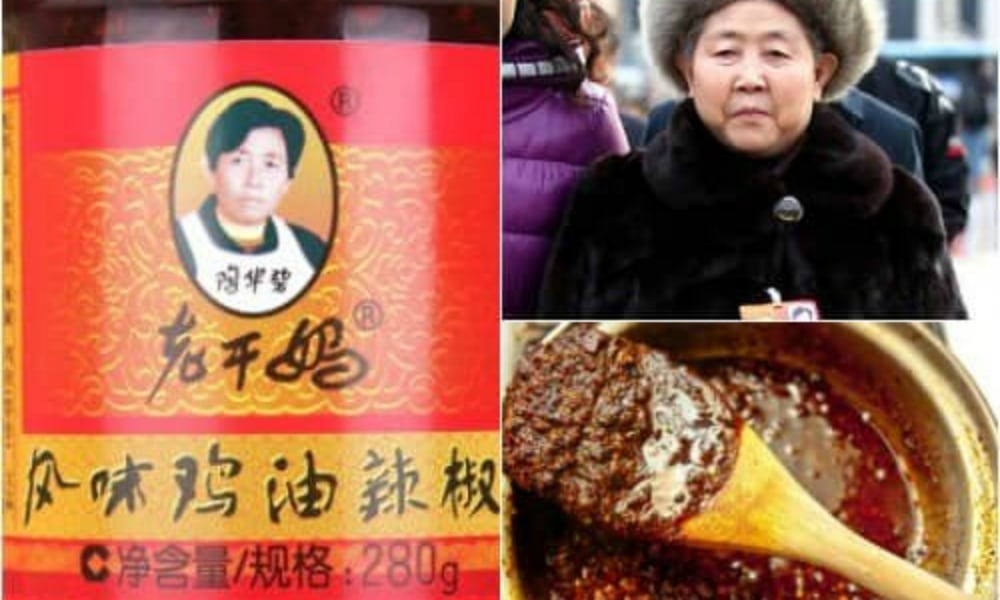 First published
The super popular Chinese chilli sauce brand Lao Gan Ma has been all the talk on Chinese social media this week since a somewhat bizarre incident occurred where the world of tech scams and spicy sauce collided.
News came out earlier this week that Chinese tech giant Tencent sued Lao Gan Ma over a contract dispute for failing to pay the advertising fees for their online platforms. The case led to an initial Shenzhen court ruling requiring Lao Gan Ma to freeze 16.24 million yuan ($2.3 million) worth of assets.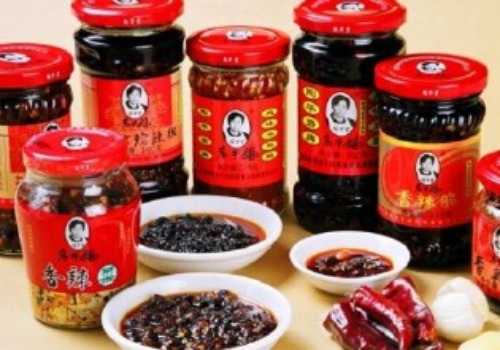 According to Chinese state media outlet Global Times, Tencent claimed it had signed a marketing contract with the famous chilli brand in March of last year, and has since delivered marketing promotions worth of tens of millions yuan without receiving payment.
Lao Gan Ma, however, denied ever signing this contract with Tencent and reported the matter to police.
It then turned out that Tencent had actually signed the marketing cooperation with imposters pretending to represent the chilli manufacturer, and had actually been cheated.
Meanwhile, the hashtag "CCTV Investigates the Lao Gan Ma Suitcase" (#央视调查腾讯老干妈诉讼事件#) received over 400 million views on social media platform Weibo.
The imposters' goal allegedly was to obtain the online game package codes that are part of Tencent's promotional activities, in order to resell them online.
On July 1st, Guiyang police released a statement on Weibo saying they had arrested three people in the fraud case; a 36-year old man, and two women aged 40 and 36. The topic became trending on Weibo (#警方通报3人伪造老干妈印章签合同#), receiving 190 million views.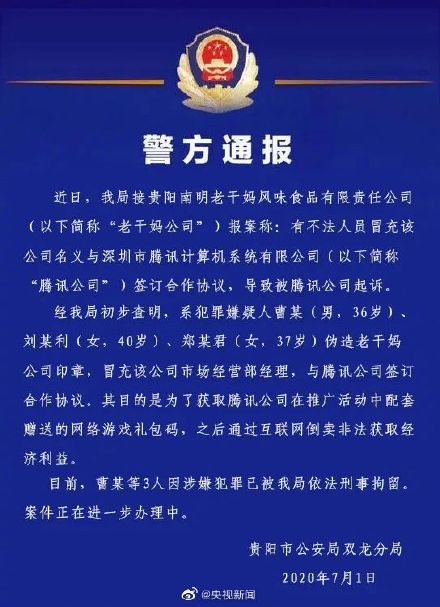 On social media, many netizens wonder how a big company such as Tencent – one of China's biggest internet giants – could fall for such a scam.
"Even I know that Laoganma doesn't need advertisement to promote its products," some commenters wrote.
"Wouldn't such a business deal actually require them to meet?", others wonder.
Other people express their anger at Tencent, demanding an apology from the company for suing their beloved chilli sauce brand.
But the majority of people think the matter is somewhat hilarious, ridiculing Tencent – that has a penguin as its main logo – for getting caught up in such an embarrassing scam. Dozens of memes circulating on Weibo make fun of the company for being so stupid and naive.
The Tencent company joined the meme machine to also ridicule itself, asking Chinese netizens for information that could prevent them from falling for such a scam in the future. As a reward, the company writes, they will give away thousand jars of Lao Gan Ma chilli sauce.
Want to know more? To read all about the Lao Gan Ma brand and its history, click here for our feature article on the brand and its founder.
Hungry? Lao Gan Ma is also for sale in your local (Asian) supermarket, and also sells it products through Amazon here.
By Manya Koetse
Follow @WhatsOnWeibo
Spotted a mistake or want to add something? Please let us know in comments below or email us. First-time commenters, please be patient – we will have to manually approve your comment before it appears.
©2020 Whatsonweibo. All rights reserved. Do not reproduce our content without permission – you can contact us at info@whatsonweibo.com.