More Details Emerge: Didi Killer Took 9000 RMB from Victim Before Murder
A day after the brutal killing of a female passenger using one of Didi's car-hailing services made headlines in China, more details emerge about the circumstances of the homicide.
One of the most shocking details reported in Chinese media today is that the driver, the suspected murderer of the 20-year-old female, made her transfer an amount of 9000 yuan (±$1320) to his account before taking her life.
The driver reportedly had to drive to an area with better phone reception in order for the online transaction to succeed. Once the victim, a woman by the name of Xiao Zhao (小赵), had succeeded in transferring the money to his account via WeChat wallet, he raped her, stabbed her to death, and rolled her body off a cliff.
The incident took place during a so-called 'Didi Shunfengche' (乘顺风车) ride, a car-pooling service from Chinese Uber-like company Didi Kuaidi, which was first introduced in 2015.
Chinese online news outlet The Paper reports that instead of choosing the highway – which would have taken around 40 minutes to her final destination -, the driver had taken a desolate mountainous route during the ride. At some point during this ride, he tied the hands and feet of Xiao Zhao so she couldn't move, and taped off her mouth.
August 24:
±13:00: The 20-year-old Zhao from Wenzhou arranges a Didi 'carpool' ride from Hongqiao Town to Yongjia to attend a birthday party.
14:09: Xiao Zhao sends a WeChat message to a friend, saying. "I'm scared, the driver has taken a mountain road, there's no one here."
14:14: Xiao Zhao sends her last words to her friends via Wechat, writing "Help" (救命) and "Save me" (抢救).
15:42: After Xiao Zhao's friend has contacted the Didi help desk seven times within the time frame of an hour, she is told to "please wait patiently."
16:22: The friend informs Yongjia police of the situation.
17:35: The family members also report the case to the Yueqing police.
17:42: Xiao Zhao's friend asks Didi customer service for the details of the driver, but is denied this information.
18:13: Didi provides police with the vehicle and driver information.
August 25:
4:00: The criminal suspect, the Didi driver, is arrested by local police, and admits to raping and killing the female passenger.
±6:00: Police and rescue workers find the victim's body in a mountainous area near the road.
For the past two days, this case has been one of the main trending topics on Chinese social media, with many condemning the company for failing to protect (female) passengers against such dangers.
The inadequate response of customer service has been a major topic of discussion; they did not only fail to respond to this case in time, but earlier this week, another woman claimed she was harassed by the same driver, and customer service also did not take action against him.
It now appears that Didi has been outsourcing its customer service, resulting in service workers not having the authority nor ability to see into more detailed information about Didi's registered drivers and ride information.
For now, Didi has taken down its entire 'shunfengche' carpooling service nationwide. The service is different from its regular Didi service in that it allows car owners to drive people to their destination while they are going there themselves (much like hitchhiking), making some money by sharing the ride.
Meanwhile, many Chinese news media outlets report more background details on the suspect. The 27-year-old Sichuan native was a high-school dropout and a 'left-behind child' (留守儿童) – meaning his parents are migrant workers who had to leave their child in their more rural hometown while going out to work in the city.
This is the second murder of a female passenger using Didi's services within four months time. For more informarion on this case, please check our report here.
By Manya Koetse, and Miranda Barnes
Follow @whatsonweibo
Spotted a mistake or want to add something? Please let us know in comments below or email us.
©2018 Whatsonweibo. All rights reserved. Do not reproduce our content without permission – you can contact us at info@whatsonweibo.com.
Discussions on Didi After $1.2 Billion Fine for User-Data Violations
"Don't even worry about rectifying, just go away," some commenters wrote about Didi after learning the car-hailing company illegally and excessively collected user data.
One of the topics trending on Chinese social media this week is Chinese ride-hailing giant Didi and the precarious situation the company is in. Online discussions are ongoing after the Cyberspace Administration of China (CAC) imposed a fine of 8.026 billion yuan [US$1.19 billion] on Didi Global on July 21 due to its alleged violation of at least three major laws, namely China's Network Security Law, Data Security Law, and the Personal Information Protection Law.
Didi CEO Cheng Wei and President Liu Qing also each received a fine of one million yuan (US$148,000) personally as they were held responsible for the company's violations.
Beijing launched a cybersecurity investigation into Didi on July 2nd of 2021, just days after the company's June 30 US$4.4 billion initial public offering in New York. The investigation was launched "to protect national security and the public interest," and also came at a time when Didi reportedly went against the CAC by pressing ahead with its New York stock listing despite allegedly being urged to wait until a cybersecurity review of its data practices was conducted. Shortly after, the CAC ordered domestic app stores to remove all of Didi's services.
Now that the investigation into Didi is completed, the CAC states that there is conclusive evidence that Didi committed 16 law violations including illegally obtaining information from users' smartphones – such as collecting information from users' clipboards and photo albums – and "excessively" collecting personal data, including facial recognition and information relating to age, occupation, home/work addresses, and family relations (also see Zichen Wang's write-up on this here).
Didi Chuxing, China's biggest taxi-hailing service, has over 550 million users and 31 million drivers. Besides taxi-hailing, Didi also offers other app-based transportation services, such as private car-hailing and social ride-sharing.
It is not the first time for the company to be in hot water. In 2018, the murders of two young women by Didi drivers caused national outrage and sparked concerns over customers' safety when hailing a car through the Didi company.
On Weibo, various hashtags relating to Didi went trending over the past week, such as "Didi fined 8.026 billion yuan" (#滴滴被处80.26亿元罚款#), "Didi excessively collected 107 million pieces of passengers' facial recognition information" (#滴滴过度收集1.07亿条乘客人脸识别信息#), and "Cyberspace Administration of China imposes administrative penalty on Didi" (#网信办对滴滴作出行政处罚#).
Some Weibo users wonder why Didi is just receiving a fine rather than being immediately shut down over the serious violations they committed. "You still not shutting them down?" was a popular recurring comment. Although rumors surfaced over Didi's car-sharing business going bankrupt, some expert bloggers claimed the company still would have enough financial power to go on after paying the fine.
The CAC has not provided details about the exact nature of the previously reported government's "national security concerns" regarding Didi, but on Weibo, some netizens share their ideas on the matter: "Didi has a lot of people's data. Just by hailing a car, they determine your cellphone number, your occupation, address, family member information, The U.S. could carry out targeted bribery or intimidation of some important people in China, as well as obtaining the geographic data Didi has, which would mean a heavy blow to China's cyber security." Another commenter wrote: "Didn't they already sell this illegally obtained user information? Is it a threat to national security?"
Others worry about their own privacy, writing: "Do people still have privacy nowadays? We talk about one thing today, tomorrow we'll be bombarded with advertisements for that very same thing."
But others mentioned that the general consumer will keep using Didi when booking a taxi via app, simply because it's still the major player in the market.
On Weibo, Didi responded to the administrative punishment via their official Weibo account, writing:
"We sincerely thank the departments in charge for their inspection and guidance, and we thank the public for their criticism and supervision. We will draw a lesson from this, and will pay equal attention to the importance of security and development, and we will further strengthen the construction of our network security and data security, enhance the protection of personal information, effectively fulfill our social responsibility, serve all of our passengers, drivers, and partners, for the company's safe, healthy, and sustainable development."
"Don't even worry about rectifying, just go away," some commenters wrote.
Read more of our articles about Didi Chuxing here.
By Manya Koetse
With contributions by Miranda Barnes
Get the story behind the hashtag. Subscribe to What's on Weibo here to receive our weekly newsletter and get access to our latest articles:
Spotted a mistake or want to add something? Please let us know in comments below or email us. First-time commenters, please be patient – we will have to manually approve your comment before it appears.
©2022 Whatsonweibo. All rights reserved. Do not reproduce our content without permission – you can contact us at info@whatsonweibo.com.
The Curious Case of the Henan Bank Depositors and the Changing Health QR Codes
"It must be American hackers who did this, right?", some Weibo commenters wrote in light of the miraculously changing Health Codes.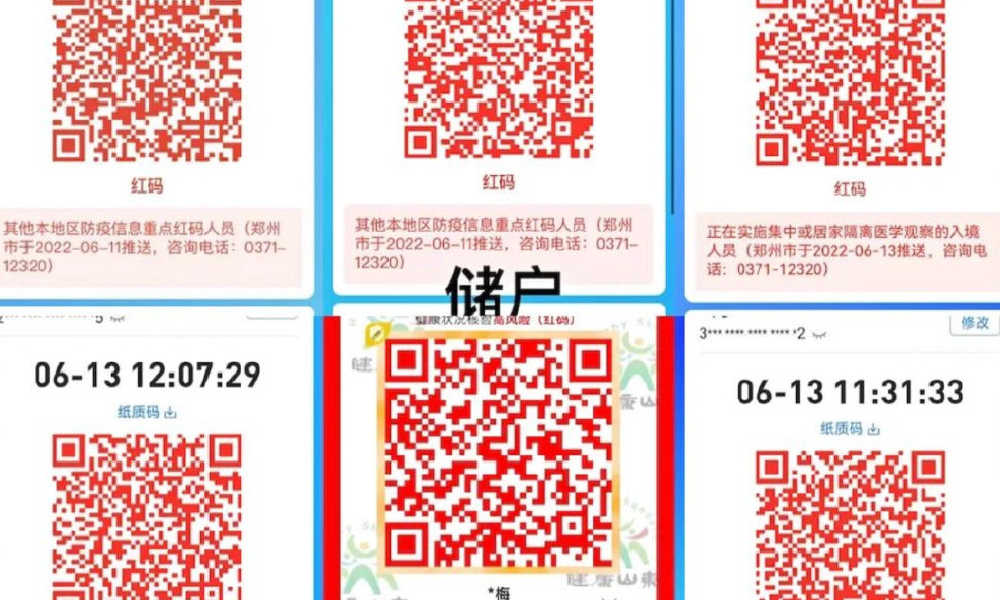 Where can people turn to once their money seems to have gone up in flames? How could Health Codes randomly turn from green to red? And who will stand up for justice? These are the questions asked by Chinese netizens in the Henan bank depositors case that is making headlines this week.
This week, the story of a Henan banking scandal and depositors' Health Codes suddenly turning red triggered online discussions in China and even made international headlines.
In between online deposit products, financial platforms, regional banks, and Health Code systems, the story is a bit messy. Here, we'll explain the story and its latest developments.
DUPED DEPOSITORS
The story starts in April of this year when people discovered that they were unable to withdraw money they had invested in online deposit products offered by various smaller regional banks.
Some people had deposited money via the Baidu money app (Du Xiaoman Financial 度小满), others had used another third-party platform, intermediaries, or one of the mini-programs run by the banks themselves.
By early May, it had become clear that dozens of depositors who once thought they had invested their money wisely had actually been duped. Four of the banks involved are located in Henan province, namely: the Yuzhou Xinminsheng Village Bank (禹州新民生村镇银行), Shangcai Huimin County Bank (上蔡惠民村镇银行), Zhecheng Huanghuai Community Bank (柘城黄淮村镇银行), and the Kaifeng New Oriental Country Bank (开封新东方村镇银行).
But there are also other smaller banks involved, including Guzhen Xinhuaihe Rural Bank (固镇新淮河村镇银行) and Yixian Xinhuaihe Rural Bank (黟县新淮河村镇银行) in Anhui.
As reported by South China Morning Post by late May, multiple customers had confirmed that they had not been able to withdraw funds either online or in person.
The sudden apparent closure of their withdrawal channels set off a wave of panic among depositors, who then protested in the provincial capital of Zhengzhou on May 23rd, demanding the return of their money.
Yang Huajun (杨华军), deputy director of the Henan branch of China's Banking and Insurance Regulatory Commission (CBIRC), arrived at the scene of the protests and – speaking through a megaphone – promised the demonstrators that as long as their funds were "legally" deposited, they would be protected by law.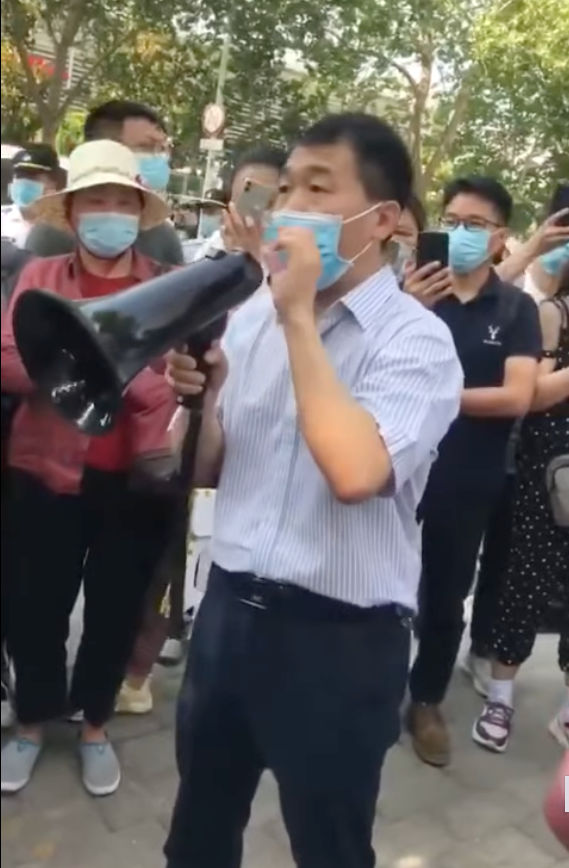 Many depositers, however, were unsure of whether or not their deposits were actually made in a "legal" way and what the definition of "legal" entailed in this case.
Over the past years, Chinese smaller rural banks have partnered with online platforms, often offering relatively high returns, in order to boost their deposit-reliant funding base.
In December of 2020, platforms Alipay, Du Xiaoman Financial, JD.com and Tencent Wealth Management all suspended the sale of online deposit products via their financial apps in light of heightened scrutiny from regulators concerning funds raised by unstable smaller lenders.
The smaller banks that are now at the center of the recent financial scandal then (illegally) reached out to their existing customers directly after December 2020 and convinced them to download the banks' apps in order to deposit even more money.
One of the persons duped is Mr. Sun from Shenzhen. As reported by Sina Finance, it was in 2020 when Sun came across a seemingly attractive online saving product via the Du Xiaoman Financial app. Although Sun was not familiar with the banks in question, namely the Yuzhou Xinminsheng Village Bank and Shangcai Huimin County Bank, he could not resist the deposit interest rate of 4.6%, which was much better than what the big banks were offering at the time.
In early 2021, Mr. Sun received a text message from Yuzhou Xinminsheng Village Bank saying that although the financial products had been taken offline, users would still be able to deposit through the bank's own online application. Mr. Sun ended up depositing his entire savings into the Henan-based rural bank, thousands of miles away from his own home.
And then, earlier this year, Sun came across the news that Henan New Wealth Group, the primary shareholder of all banks involved, was under investigation for fraudulous practices. When he opened up his online financial application, there was nothing to see but a notice that the system was under maintenance. Sun could no longer access his funds. Hundreds of other customers were seeing the same empty screens.
According to media reports, the current suspected scam case affects some 400,000 customers of seven local banks and involves a money sum of 40 billion yuan ($5,6 billion).
IN THE RED
As thousands of depositors have been fighting to recover their savings over the past two months, they were duped a second time earlier this week. Dozens of affected depositors claimed they had seen their Health Codes turn red without any logical reason on June 13 or June 14 – the day of a planned protest.
In China's Covid era, the Health Code system has become a pivotal tool in the country's battle to contain the spread of the virus. The Health Code system is embedded in various apps, most importantly in Wechat and Alipay, and uses various data to assess an individual's exposure risk. There is not one unified national Health Code application; they are developed by different actors and their management is different across Chinese provinces and cities.
If there is no detected risk, an individual is assigned a Green QR Code and is allowed access into any venue or location where a QR code scan is mandatory. With a Yellow Code, you should stay home for a week, and Red Code means you are high risk and need to quarantine for 14 days – this severely limits your freedom to move around and travel.
On June 13th, many affected investors saw their Health Code turn red when arriving in Zhengzhou, where they were allegedly coming to retrieve their savings and protest the injustice they suffered. The QR code color change was unexpected and strange, considering that there were no new reported Covid cases in their vicinity and also considering the fact that accompanying family members who made the exact same journey did not see their Health Codes change.
This raised suspicions that the duped depositors were specifically targeted, and that their Health Codes were being manipulated by authorities.
CNN reported that many distributors who had come to Zhengzhou were taken to a guarded quarantine hotel before being sent back to their hometowns via train the next day. According to a Chinese media report by Nanfang Daily, the depositors were not even asked to do nucleic acid testing and were told by local staff that they would get their Green Code back as soon as they left Henan.
Various media report that minimally 200 depositors saw their Health Code change from Green to Red earlier this week.
"OPERATION CODE RED"
The curious case of the Henan depositors scandal and the changing Health Code colors has become a trending topic on Chinese social media this week.
The topic of the duped depositors was also discussed online before this week, and it brought back memories of earlier financial scandals, such as the P2P chaos that occurred back in 2018.
But the topic of depositors' Health Codes changing to Red is something that attracted much wider discussions on the apparent abuse of a system that has now become a part of everyday life for people in China's Covid era.
The main proof for people that the Henan depositors were targeted in this apparent "Operation Code Red" is that, as mentioned before, the family members that were traveling together with the duped depositors never saw a change in their Health Code: those people who were listed on the affected regional banks' depositors list were seemingly singled out and purposely targeted.
"Who is in charge of changing the Health Code colors?" became a much-asked question on Weibo, with many blaming local Henan authorities for abusing their powers to try and stop protesters from raising their voices in Zhengzhou. One Weibo post on this issue received over 1,6 million views. Meanwhile, Henan authorities still said they did "not understand" what had happened.
"It must be American hackers who did this, right?", some Weibo commenters wrote, putting in a sarcastically smiling emoji, with others adding: "No, the aliens did this – it must have been the aliens!"
Others wrote that the situation at hand should be simple to figure out: "There is no way that this is an oversight or a data error. If you want to know who did this, look at who or which department has the authority to manage both epidemic prevention measures as well as finance affairs."
Many comments also showed a sense of disillusionment with how China's Covid management affects the people: "After seeing the chaos during the Shanghai lockdown, this does not even surprise me anymore," one person wrote on Weibo: "All we can do is pray that it won't happen to us."
"Why is Henan's "messy Red Code" incident so extremely vile and scary? Because once a person or institution holding public power looks at you in a bad light, they can give you a Red Code and take you away, in the name of legality. This is the evil that comes from unmonitored power," one blogger from Anhui wrote.
Other people also worried about foreign media reporting on this issue, saying this incident is being used to cast China in a bad light while local authorities are to blame: "We should unify the Health Code system into a national system in order to avoid this from happening again."
According to Chinese state media reports, the case has now been forwarded to the Health Commission of Henan Province for further investigation.
We will keep tracking upcoming developments. Meanwhile, check out our other reports on trending topics relating to China's banking and finance here. For more about Covid-related trending topics, check here.
By Manya Koetse
With contributions by Miranda Barnes
Get the story behind the hashtag. Subscribe to What's on Weibo here to receive our weekly newsletter and get access to our latest articles:
References (all other sources included in hyperlinks)
Lee, Amanda. 2022. "Rural Banks Freeze Customers' Accounts." South China Morning Post, May 31.
Spotted a mistake or want to add something? Please let us know in comments below or email us. First-time commenters, please be patient – we will have to manually approve your comment before it appears.
©2022 Whatsonweibo. All rights reserved. Do not reproduce our content without permission – you can contact us at info@whatsonweibo.com.