More Details Emerge: Didi Killer Took 9000 RMB from Victim Before Murder
A day after the brutal killing of a female passenger using one of Didi's car-hailing services made headlines in China, more details emerge about the circumstances of the homicide.
One of the most shocking details reported in Chinese media today is that the driver, the suspected murderer of the 20-year-old female, made her transfer an amount of 9000 yuan (±$1320) to his account before taking her life.
The driver reportedly had to drive to an area with better phone reception in order for the online transaction to succeed. Once the victim, a woman by the name of Xiao Zhao (小赵), had succeeded in transferring the money to his account via WeChat wallet, he raped her, stabbed her to death, and rolled her body off a cliff.
The incident took place during a so-called 'Didi Shunfengche' (乘顺风车) ride, a car-pooling service from Chinese Uber-like company Didi Kuaidi, which was first introduced in 2015.
Chinese online news outlet The Paper reports that instead of choosing the highway – which would have taken around 40 minutes to her final destination -, the driver had taken a desolate mountainous route during the ride. At some point during this ride, he tied the hands and feet of Xiao Zhao so she couldn't move, and taped off her mouth.
August 24:
±13:00: The 20-year-old Zhao from Wenzhou arranges a Didi 'carpool' ride from Hongqiao Town to Yongjia to attend a birthday party.
14:09: Xiao Zhao sends a WeChat message to a friend, saying. "I'm scared, the driver has taken a mountain road, there's no one here."
14:14: Xiao Zhao sends her last words to her friends via Wechat, writing "Help" (救命) and "Save me" (抢救).
15:42: After Xiao Zhao's friend has contacted the Didi help desk seven times within the time frame of an hour, she is told to "please wait patiently."
16:22: The friend informs Yongjia police of the situation.
17:35: The family members also report the case to the Yueqing police.
17:42: Xiao Zhao's friend asks Didi customer service for the details of the driver, but is denied this information.
18:13: Didi provides police with the vehicle and driver information.
August 25:
4:00: The criminal suspect, the Didi driver, is arrested by local police, and admits to raping and killing the female passenger.
±6:00: Police and rescue workers find the victim's body in a mountainous area near the road.
For the past two days, this case has been one of the main trending topics on Chinese social media, with many condemning the company for failing to protect (female) passengers against such dangers.
The inadequate response of customer service has been a major topic of discussion; they did not only fail to respond to this case in time, but earlier this week, another woman claimed she was harassed by the same driver, and customer service also did not take action against him.
It now appears that Didi has been outsourcing its customer service, resulting in service workers not having the authority nor ability to see into more detailed information about Didi's registered drivers and ride information.
For now, Didi has taken down its entire 'shunfengche' carpooling service nationwide. The service is different from its regular Didi service in that it allows car owners to drive people to their destination while they are going there themselves (much like hitchhiking), making some money by sharing the ride.
Meanwhile, many Chinese news media outlets report more background details on the suspect. The 27-year-old Sichuan native was a high-school dropout and a 'left-behind child' (留守儿童) – meaning his parents are migrant workers who had to leave their child in their more rural hometown while going out to work in the city.
This is the second murder of a female passenger using Didi's services within four months time. For more informarion on this case, please check our report here.
By Manya Koetse, and Miranda Barnes
Follow @whatsonweibo
Spotted a mistake or want to add something? Please let us know in comments below or email us.
©2018 Whatsonweibo. All rights reserved. Do not reproduce our content without permission – you can contact us at info@whatsonweibo.com.
Children of Hubei Medical Workers to Receive 10 Extra Points on High School Enrolment Examination
Hubei officials announced a controversial measure to reward frontline medical workers.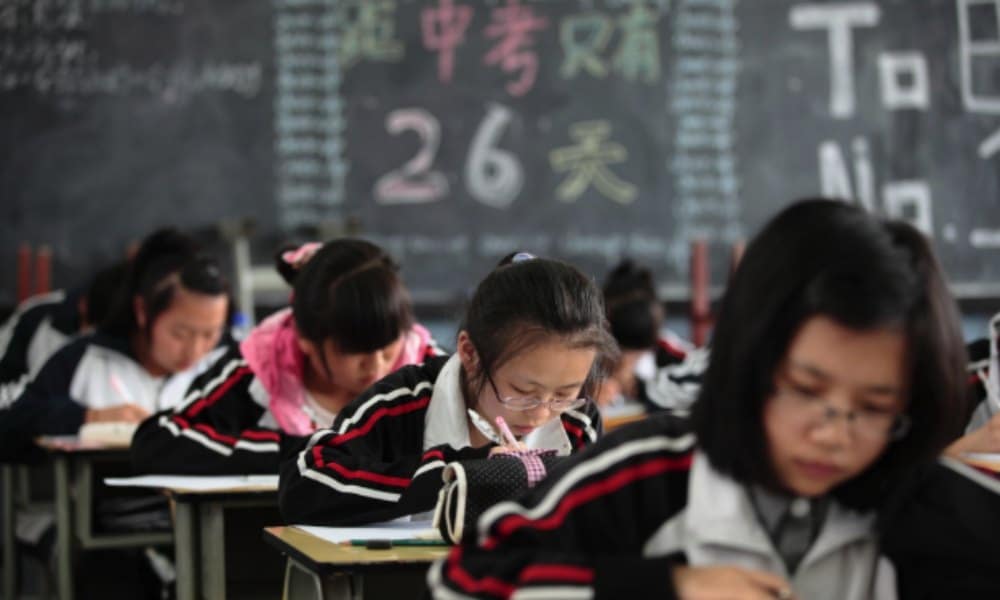 First published
Hubei authorities announced new measures on Tuesday to encourage and support the work of Hubei's front-line medical workers during the coronavirus crisis.
One of these measures, rewarding the children of medical staff an extra ten points in their zhongkao examination, became a somewhat controversial top trending topic on Chinese social media today.
The zhongkao is an important academic examination in China taken during the last year of junior high school, right before entering education institutions at the senior high school level. These enrollment examinations are held annually in June or July, depending on the region.
A good mark on the exam is of crucial importance for many students, as it will give them admission to their preferred senior high school, which then could have more profound effects on their education after high school and their further career.
According to the new policy, children of Hubei's medical workers would be rewarded with ten extra points on top of their overall score for the exams if they take it. Since the exams are highly competitive, every extra point could mean a world of difference since it will mean leaving hundreds of other students behind you.
On Weibo, one announcement of the new measure published by Chinese news source The Paper received over 938.000 likes and more than 11.000 comments. Many Weibo users do not agree with the policy.
"It should be the medical workers themselves who are rewarded through promotion or a salary increase," a top comment says: "It shouldn't be their children who are rewarded."
Although a majority of commenters say that medical workers should be given special rewards in these times of hardships, most also agree that rewarding their children in their exam results is not the way to go. "This only makes the exam system more unfair," a recurring comment says.
With 610 million views at the time of writing, the hashtag "The kids of Hubei frontline medical staff will get extra 10 points on zhongkao score" (#湖北一线医务人员子女中考加10分#) is one of the most-dicussed topics on Weibo of the day.
For more COVID-19 related articles, please click here.
By Manya Koetse (@manyapan)
Follow @whatsonweibo
Spotted a mistake or want to add something? Please let us know in comments below or email us. First-time commenters, please be patient – we will have to manually approve your comment before it appears.
©2020 Whatsonweibo. All rights reserved. Do not reproduce our content without permission – you can contact us at info@whatsonweibo.com.
Online Outrage over Gansu Female Medical Workers Required to Shave Their Heads
Heroes of the coronavirus crisis or victims of visual propaganda? A video showing female medical workers having their heads shaved has triggered controversy.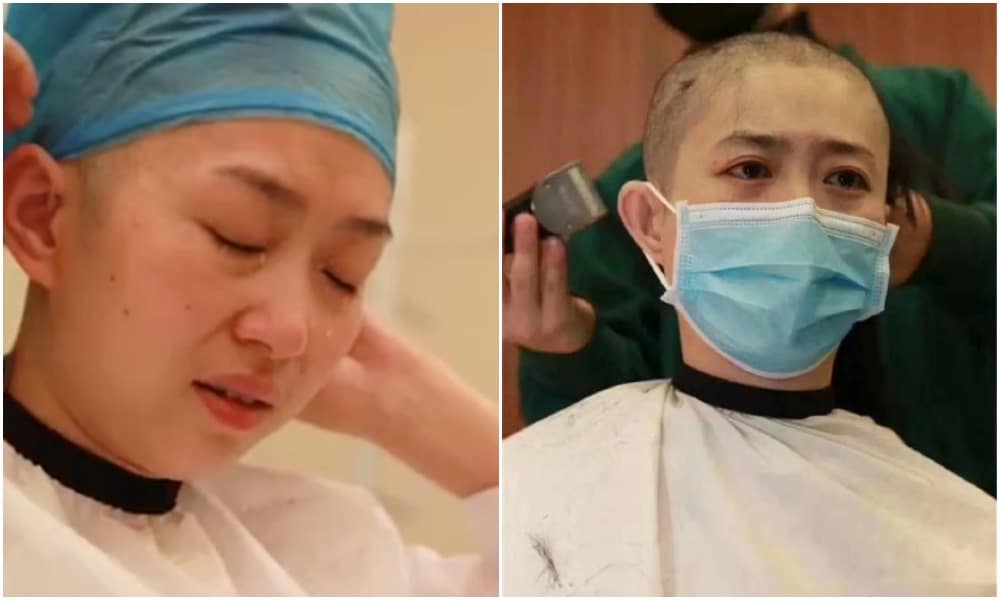 First published
A Chinese media post praising female nurses for having their heads shaved has sparked outrage on Weibo and WeChat. Are these women heroes of the coronavirus crisis or victims of gendered visual propaganda?
A video showing tearful female medical workers having their head shaved before going to COVID-19 epicenter city Wuhan has sparked outrage on Chinese social media.
The video, originally posted by Gansu Daily (每日甘肃网) on February 15, shows how a group of female nurses is standing in line to have their hair shaved off in preparation of their mission to Hubei to assist during the ongoing coronavirus crisis.
In the short segment that has since gone viral on Weibo and WeChat, some women can be seen crying while having all of their hair shaved off.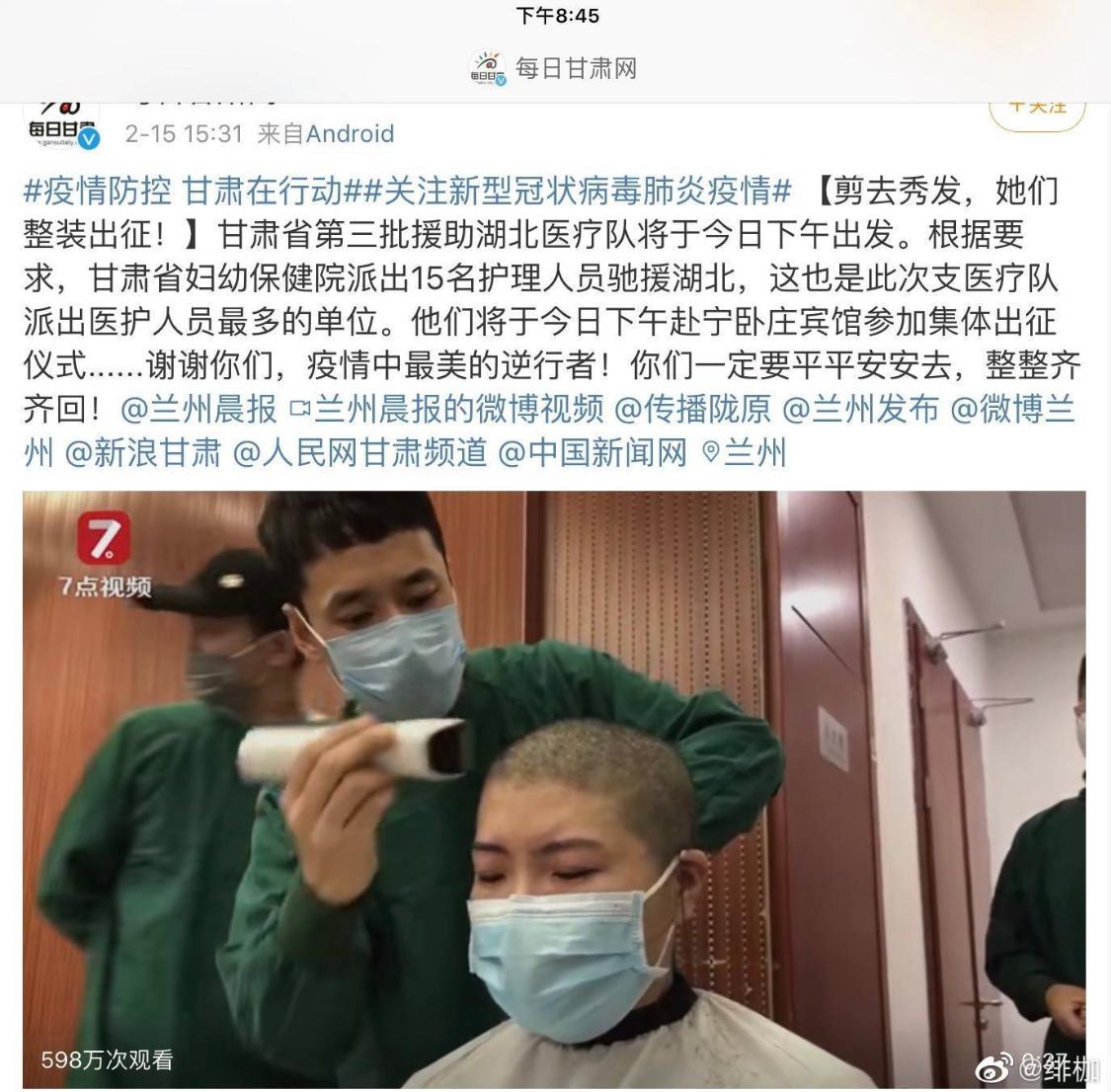 According to Gansu Daily and other Chinese media, the fifteen nurses, including one man, are part of a medical aid group that was sent out to Wuhan this weekend. Their hair was reportedly shaved off "in accordance with requirements" to make their work more efficient and reduce the risk of infection.
The original news post praises the women as "the epidemic's heroes in harm's way" ("疫情中最美的逆行者") – a term also used to describe brave firefighters during the 2015 Tianjin explosions (for more background on this term in Chinese, also see Xinhua and Zhihu).
Although the story praises the female medical workers as heroes and was soon reposted and promoted by many other (state) media, it was not just met with positive reactions from Chinese netizens.
On the contrary: it triggered waves of criticism over the medical team's supervisors requiring the women to shave off their hair, with many deeming the measures unnecessary, humiliating, and sexist.
"Why do they need to shave all of their hair, the men don't even need to do that?!", some Weibo commenters wonder.
Many Weibo users wonder how necessary it actually is for the women to go completely bold for medical work purposes, wondering why the male workers do not need to shave their heads and why the women could not just opt for a shorter hairstyle instead – suggesting the media circus surrounding the shaving of the heads is more about visual propaganda than actually being a necessity.
"I am a medical worker myself," one Weibo user writes: "I consulted an infection control doctor [on this matter] and they said it is not necessary at all to have a bald head. Short hair is convenient enough, and hair has a protective function too to reduce [skin] irritation from the friction of wearing hats and masks. It furthermore also has a function of catching sweat, preventing it from dripping to your eyes. A shaven head does more harm than good."
"Why do people need to bleed and cry in order for them to become heroes?", others say: "This is just cruel."
Adding to the online fury was a photo showing the group of medical workers after their heads were shaved, as the one male nurse in the group not only seemed to wear a better quality face mask, but also appeared to have much more hair left than the female nurses.
The original Gansu Daily post has since been deleted from social media.
On WeChat account Epoch Story ("epochstory2017″/Epoch故事小馆), author Chen Mashu (陈麻薯) posted a critique on February 17th titled "Please Stop Using Female Bodies as Propaganda Tools" ("请停止用女性的身体,作为宣传的工具").
Recent online Chinese visual propaganda in times of the coronavirus crisis has seen a strong focus on Wuhan medical workers.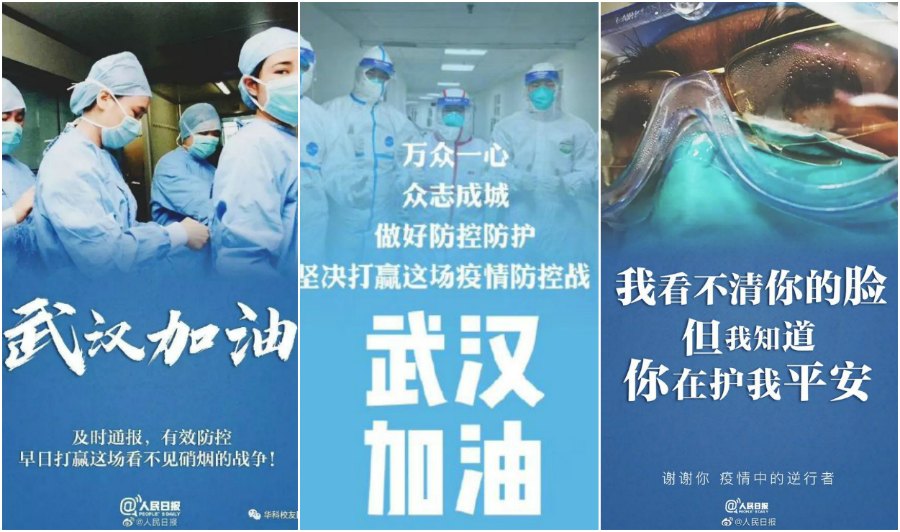 This kind of visual propaganda often highlights the idea of "sacrificing," especially when it comes to women as pretty girls, loving mothers, or good wives.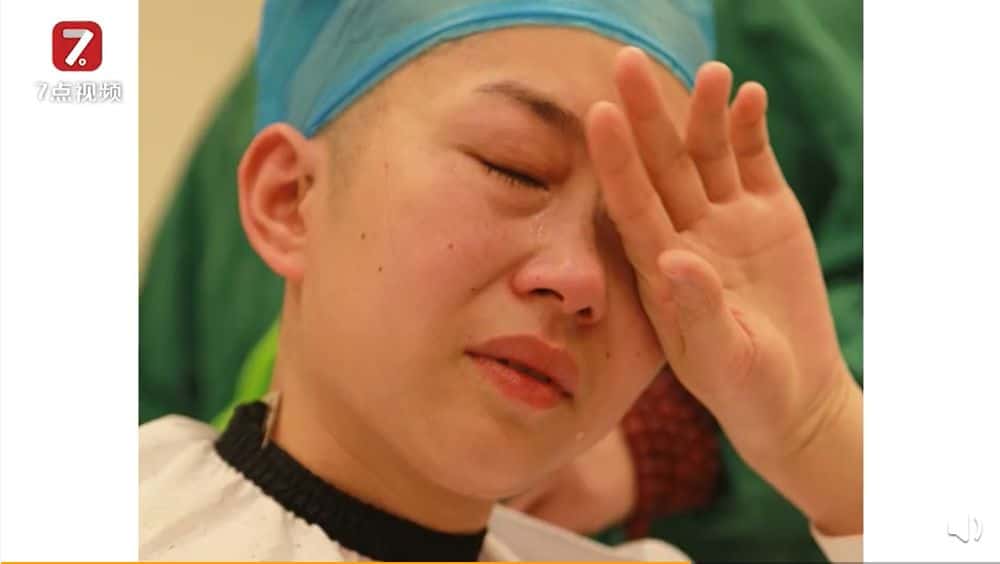 In the WeChat article, author Chen argues that Chinese state media always uses women's bodies as a tool for propaganda, and argues that it should not be necessary for women to endure extra hardship or suffering (in this case, sacrifice their hair) in order to make them admirable 'model workers.' The fact that they are fighting on the front line should be more than enough reason to praise them, Chen writes.
While these women's tears were "used to try to impress the audience" and become an example of some "collectivist spirit," Chen argues, this kind of propaganda backfired because the individual needs and wishes of these women were completely ignored during the process.
Although the original story and visuals may have meant to be empowering in times of coronacrisis, they are actually counterproductive to female empowerment at large.
This is not the first time the role of women in Chinese state media propaganda become a big topic of discussion online.
In 2016, a photo series titled "100.000 soldier-loving girls" (十万恋军女孩) posted by China's Military Web during the Wuhan flood also caused controversy. In the online media campaign, Chinese state media paid a 'tribute' to rescue workers by sharing pictures of girls holding the message "I wish to wash your uniform for you". It triggered online discussions on the submissive female image propagated by Chinese state media.
At time of writing, various posts about the shaved heads of the Gansu medical workers have been taken offline.
For more COVID-19 related articles, please click here.
By Manya Koetse (@manyapan) and Bobby Fung (@bobbyfungmr), with contributions by Miranda Barnes
Spotted a mistake or want to add something? Please let us know in comments below or email us. First-time commenters, please be patient – we will have to manually approve your comment before it appears.
©2020 Whatsonweibo. All rights reserved. Do not reproduce our content without permission – you can contact us at info@whatsonweibo.com.