More Details Emerge: Didi Killer Took 9000 RMB from Victim Before Murder
A day after the brutal killing of a female passenger using one of Didi's car-hailing services made headlines in China, more details emerge about the circumstances of the homicide.
One of the most shocking details reported in Chinese media today is that the driver, the suspected murderer of the 20-year-old female, made her transfer an amount of 9000 yuan (±$1320) to his account before taking her life.
The driver reportedly had to drive to an area with better phone reception in order for the online transaction to succeed. Once the victim, a woman by the name of Xiao Zhao (小赵), had succeeded in transferring the money to his account via WeChat wallet, he raped her, stabbed her to death, and rolled her body off a cliff.
The incident took place during a so-called 'Didi Shunfengche' (乘顺风车) ride, a car-pooling service from Chinese Uber-like company Didi Kuaidi, which was first introduced in 2015.
Chinese online news outlet The Paper reports that instead of choosing the highway – which would have taken around 40 minutes to her final destination -, the driver had taken a desolate mountainous route during the ride. At some point during this ride, he tied the hands and feet of Xiao Zhao so she couldn't move, and taped off her mouth.
August 24:
±13:00: The 20-year-old Zhao from Wenzhou arranges a Didi 'carpool' ride from Hongqiao Town to Yongjia to attend a birthday party.
14:09: Xiao Zhao sends a WeChat message to a friend, saying. "I'm scared, the driver has taken a mountain road, there's no one here."
14:14: Xiao Zhao sends her last words to her friends via Wechat, writing "Help" (救命) and "Save me" (抢救).
15:42: After Xiao Zhao's friend has contacted the Didi help desk seven times within the time frame of an hour, she is told to "please wait patiently."
16:22: The friend informs Yongjia police of the situation.
17:35: The family members also report the case to the Yueqing police.
17:42: Xiao Zhao's friend asks Didi customer service for the details of the driver, but is denied this information.
18:13: Didi provides police with the vehicle and driver information.
August 25:
4:00: The criminal suspect, the Didi driver, is arrested by local police, and admits to raping and killing the female passenger.
±6:00: Police and rescue workers find the victim's body in a mountainous area near the road.
For the past two days, this case has been one of the main trending topics on Chinese social media, with many condemning the company for failing to protect (female) passengers against such dangers.
The inadequate response of customer service has been a major topic of discussion; they did not only fail to respond to this case in time, but earlier this week, another woman claimed she was harassed by the same driver, and customer service also did not take action against him.
It now appears that Didi has been outsourcing its customer service, resulting in service workers not having the authority nor ability to see into more detailed information about Didi's registered drivers and ride information.
For now, Didi has taken down its entire 'shunfengche' carpooling service nationwide. The service is different from its regular Didi service in that it allows car owners to drive people to their destination while they are going there themselves (much like hitchhiking), making some money by sharing the ride.
Meanwhile, many Chinese news media outlets report more background details on the suspect. The 27-year-old Sichuan native was a high-school dropout and a 'left-behind child' (留守儿童) – meaning his parents are migrant workers who had to leave their child in their more rural hometown while going out to work in the city.
This is the second murder of a female passenger using Didi's services within four months time. For more informarion on this case, please check our report here.
By Manya Koetse, and Miranda Barnes
Follow @whatsonweibo
Spotted a mistake or want to add something? Please let us know in comments below or email us.
©2018 Whatsonweibo. All rights reserved. Do not reproduce our content without permission – you can contact us at info@whatsonweibo.com.
Video Shows Real-Time "Departure" Information Board at Chinese Crematorium
From "cremation in process" to "cooling down," the digital display shows the progress of the cremation to provide information to those waiting in the lobby. The crematorium 'departure' board strikes a chord with many.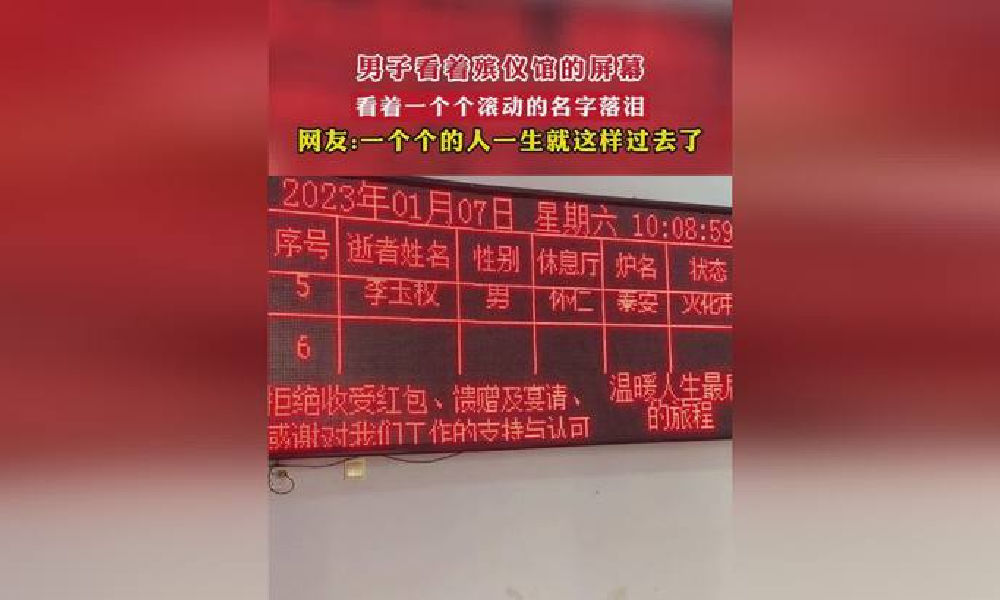 A video showing a live display screen announcing the names and status of the deceased at a Yunnan crematorium has been making its rounds on Chinese social media, from WeChat to Weibo, where one version of the video received over 1,7 million views.
Somewhat similar to a real-time platform departure display on train stations, the screen shows the waiting number of the deceased person, their name, gender, the name of the lounge/room (if any) for families, the name of the crematorium chamber, and the status of the cremation process. Below in the screen, it says "the final journey of a warm life" (温暖人生的最后旅程).
For example, the screen displays the names of a Mr. Chen and a Mr. Li; their bodies were in the process of being cremated (火化中), while other cremations were marked as "completed" (完成) or "cooling down" (降温中).
This video of a real-time "departure" information board in the lobby of a Chinese crematorium is making its rounds on Weibo/Wechat these days. The display shows the name and gender of deceased, which cremation chamber, and the cremation status to inform families of the progress. pic.twitter.com/EA94OWGwdk

— Manya Koetse (@manyapan) January 16, 2023
Through such a screen, located in the crematorium lobby, family members and loved ones can learn about the progress of the cremation of the deceased.
The video, recorded by a local on Jan. 7, received many comments. Among them, some people commented on the information board itself, while others simply expressed grief over those who died and the fragility of life. Many felt the display was confronting and it made them emotional.
"It makes me really sad that this how people's lives end," one commenter said, with another person replying that the display also shows you still need to wait in line even when you're dead.
"I didn't expect the screens [in the crematorium] to be like those in hospitals, where patients are waiting for their turn," another Weibo user wrote. "It would be better if the names were hidden, like in the hospitals, to protect the privacy of the deceased," another person replied.
Others shared their own experiences at funeral parlors also using such information screens.
"My grandfather passed away last September, and when we were at the undertaker's, the display was also jumping from one name to the other and we could only comfort ourselves knowing that he was among those who lived a relatively long life."
"Such a screen, it really makes me sad," another commenter from Guangxi wrote, with others writing: "It's distressing technology."
Although the information screen at the crematorium is a novelty for many commenters, the phenomenon itself is not necessarily related to the Covid outbreak and the number of Covid-related deaths; some people share how they have seen them in crematoriums before, and funeral parlor businesses have used them to provide information to families since at least 2018.
According to an article published by Sohu News, more people – especially younger ones – have visited a funeral home for the first time in their lives recently due to the current Covid wave, also making it the first time for them to come across such a digital display.
The online video of such an information board has made an impact at a time when crematoriums are crowded and families report waiting for days to bury or cremate their loved ones, with especially a large number of elderly people dying due to Covid.
On Jan. 4, one social media user from Liaoning wrote:
"I really suggest that the experts go to the crematoriums to take a look. There is no place to put the deceased, they're parked outside in temporary containers, there's no time left to hold a farewell ceremony and you can only directly cremate, and for those who were able to have a ceremony, they need to finish within ten minutes (..) At the funeral parlor's big screen, there were eight names on every page, and there were ten pages for all the people in line that day, I stood there for half an hour and didn't see the name of the person I was waiting for pop up anymore."
As the video of the display in the crematorium travels around the internet, many commenters suggest that it is not necessarily the real-time 'departure' board itself that bothers them, but how it shows the harsh reality of death by listing the names of the deceased and their cremation status behind it. Perhaps it is the contrast between the technology of the digital display boards and the reality of the human vulnerability that it represents that strikes a chord with people.
One blogger who reposted the video on Jan. 13 wrote: "Life is short, cherish the present, let's cherish what we have and love yourself, love your family, and love this world." Among dozens of replies, some indicate that the video makes them feel uncomfortable.
Another commenter also wrote:
"I just saw a video that showed an electronic display at a crematorium, rolling out the names of the deceased and the stage of the cremation. One name represents the ending of a life. And it just hit me, and my tears started flowing. I'm afraid of parting, I'm afraid of loss, I just want the people I love and who love me to stay by my side forever. I don't want to leave. I'm afraid I'll be alone one day, and that nobody will ever make me feel warm again."
One person captured why the information board perhaps causes such unease: "The final moments that people still spent on this earth take place on the electronic screen in the memorial hall of the funeral home. Then, they are gone without a sound."
Get the story behind the hashtag. Subscribe to What's on Weibo here to receive our newsletter and get unlimited access to all of our articles:
By Manya Koetse 
with contributions by Zilan Qian
Spotted a mistake or want to add something? Please let us know in comments below or email us. First-time commenters, please be patient – we will have to manually approve your comment before it appears.
©2023 Whatsonweibo. All rights reserved. Do not reproduce our content without permission – you can contact us at info@whatsonweibo.com.
Xi'an Hospital Offers Sleep Capsules outside Intensive Care Unit
Although many encourage the idea of sleep pods at hospitals, others say that China's health care has more pressing issues to tackle first.
While Covid infections are raging across China, one Xi'an hospital has gone trending on Chinese social media earlier this week for offering special sleep pods, also known as sleeping capsules, outside their Intensive Care unit.
The sleeping pods can be used for 50 yuan ($7.20) per 24 hours. Inside, there is a bed, air-conditioning, a mirror, and USB ports for charging phones or laptops.
Although ten sleeping pods were already set up inside the hospital in October of this year, the popularity of the topic (#西安一医院ICU门口设陪护睡眠仓#) is related to the pressure on Chinese hospitals in light of the current Covid wave and the loved ones of patients who would like to stay close to their sick family members. One Xi'an IC doctor posted about the pods on social media.
Sleeping capsules outside the Xi'an Hospital IC unit. For 50 yuan ($7.2) per night, loved ones can get some rest while staying close to their admitted family members. Read more: https://t.co/AcWWEggJq5 pic.twitter.com/D305w56xVf

— Manya Koetse (@manyapan) December 21, 2022
Since the price of hotels in the hospital vicinity is more expensive, and people are often far removed from their hometowns, it is convenient and comfortable for family members to get some rest at one of these sleep pods.
These 'nod pods' are comparable to those available at Beijing's Daxing Airport (see tweet below).
Flying early in the AM from Beijing, badminton player Zheng Siwei tried out sleep cabin Naphub (刻睡) at Daxing Airport. Price: 185rmb ($26) for 3 hours, 333rmb ($48) for the night. Has wifi, adjustable massage chair, but no windows and it's super tiny. Convenient if necessary. pic.twitter.com/o4w0BFYKnn

— Manya Koetse (@manyapan) September 17, 2022
On Weibo, there are various discussions on this phenomenon of sleeping capsules inside hospitals.
On the one hand, there are those who applaud the business initiative because it offers family members a way to stay close to loved ones who have been admitted to the hospital. "This is an excellent idea, accommodation near the hospital is expensive and if there is really no other place to let people stay in the ward, I really support that this becomes more common."
On the other hand, there are those who think the price is too high and only allows people who are privileged enough to afford it to stay the night at the hospital. For many Chinese families, paying for medical treatments alone already causes high financial distress.
One parent shared their experience of taking their child to the emergency room at Beijing Children's Hospital a few years ago. Crossing the underpass towards the hospital, they saw many people – including elderly and children – sleeping outside in the underpass in one of Beijing's most prosperous areas. Although some nearby hotels allegedly offer rooms beds for 80 yuan ($11.5) per night, the cost is still too high for many who have no other alternatives.
The parent wrote on Weibo: "The sleep pods in Xi'an are beautiful and comfortable, and the price of 50 yuan [$7.20] for 24 hours is also good (I guess this price might be hard to get in Beijing because many places already charge 10 yuan [$1.45] an hour for parking alone), but maybe the difference of 20-30 yuan will lower the threshold for people to finally decide to take a good rest. This is of course a sign of progress, but what is more important and pressing than this, is to solve the problem of difficult access to health care in our country. We still have a long way to go."
By Manya Koetse 
Get the story behind the hashtag. Subscribe to What's on Weibo here to receive our newsletter and get access to our latest articles:
Spotted a mistake or want to add something? Please let us know in comments below or email us. First-time commenters, please be patient – we will have to manually approve your comment before it appears.
©2022 Whatsonweibo. All rights reserved. Do not reproduce our content without permission – you can contact us at info@whatsonweibo.com.