Another Didi Murder Shocks China: 20-Year-Old Woman Raped and Killed by Driver on Her Way to a Birthday Party
Xiao Zhao is the second woman in China to have been killed by her Didi driver this year, raising concerns among Chinese regarding the safety of the car-hailing app.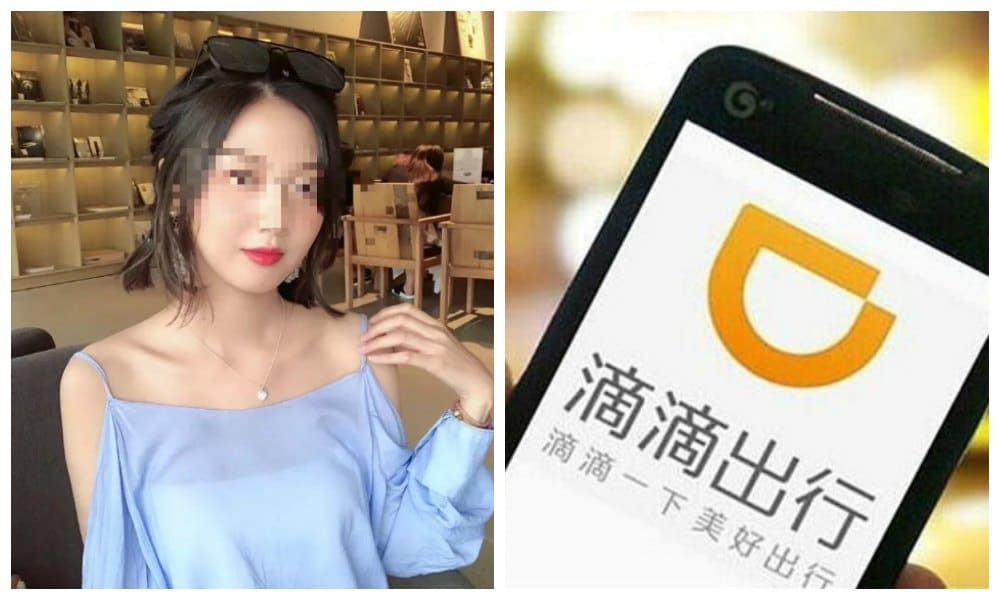 The 20-year-old Xiao Zhao, who went missing after she arranged a ride through Didi, China's popular Uber-like car-hailing app, has been found raped and murdered. Police have since arrested the suspect, the 27-year-old driver.
A 20-year-old woman from Wenzhou, Zhejiang, went missing on August 24 after taking a Didi taxi from Yueqing (乐清) to Yongjia (永嘉) county at one o'clock in the afternoon to attend a birthday party.
Her parents contacted the police when they could not reach their daughter Xiao Zhao after 14:00, which is when she had sent a message to a friend that she was in trouble.
Although her friend (@Super_4ong) immediately tried to contact Didi after Xiao Zhao had cried out for help, she was allegedly told to wait and no immediate action was taken.
Hours later, in the early morning on Saturday, August 25, police arrested the suspect responsible for the woman's disappearance, the 27-year-old driver from Sichuan.
Yueqing authorities reported that the body of Xiao Zhao was discovered in a mountainous area nearby, after the driver told police he had killed her and had thrown her body off a cliff. Local police report on their official Weibo account that the driver had also admitted to raping the woman.
It now appears that the driver had been reported by another female passenger earlier this week for indecent behavior. She came forward through WeChat today, claiming the same driver had harassed her around the same place where the murder took place. She was able to get away, and says she later contacted Didi to have his license removed but that Didi had not taken action yet.
Didi Chuxing (滴滴顺风车) is China's biggest ride-sharing company. Like Uber, it allows customers to arrange a taxi via the app or Wechat programme. Didi has around 450 million users in more than 400 cities across China.
The case is seemingly similar to another shocking Didi murder that occurred earlier this year. In May of this year, the murder of a 21-year-old flight attendant raised concerns among Chinese regarding the safety of car-hailing app Didi.
The 21-year-old Lucky Air flight attendant Li Mingzhu (李明珠) was killed in the early morning of May 6th after she had arranged a ride through Didi, and was on her way home from Zhengzhou Airport in Henan province. A friend of Li had received messages from her while she was on her way home, saying that her driver was "acting strange" and was telling her that he was "tempted to kiss her."
Unable to contact their daughter later that day, Li's family reported her missing on the afternoon of May 7. Her body was discovered by local police the following day. Police confirmed that the woman was killed by the driver with a weapon. The body of the driver was later retrieved from a river nearby.
At the time, Didi Chuxing issued an apology for Li's death, and said they had "incumbent responsibility." They also promised to improve their safety measures for passengers, but apparently have not succeeded in doing so; before yesterday's brutal killing, at least ten other Didi incidents also occurred since May, including the rape of a young female passenger on May 15 in Nantong (Jiangsu), the rape of an intoxicated woman in Foshan (Guangdong) who took a Didi taxi after going for a night out on May 13, and the sexual assault of another woman in Huai'an (Jiangsu).
Today, the company again issued a statement on Chinese social media, in which they said they were "filled with grief" over Friday's violent crime, and that they are deeply sorry: "We fell short of your expectations," they wrote. The statement received over 200,000 comments today.
The Didi murder is a major topic of discussion on Chinese social media today, with the hashtag "Wenzhou woman murdered when taking Didi" (#温州女孩乘滴滴遇害#) having been viewed more than 16 million times on Weibo at time of writing. Another similar hashtag (#女孩乘滴滴顺风车遇害#) was viewed more than 430 million times. Five of the top 10 'hot search' list topics relate to the murder.
One commenter (@Babylily杨杨莉莉) wrote: "As someone of the same age as she was, and me using Didi all the time, I'm just happy nothing has happened to me before. But I hope Didi can undertake action so that all women can safely use their services."
"I'm too afraid to ride with Didi now," others said. Amid safety concerns, some netizens now say they want Didi to incorporate an alarm button into its app, so that users can send for help immediately the moment they are being harrassed by their driver.
Others encourage women to quickly change settings in their app to allow the option to automatically share one's ride with friends, so they can exactly follow the location of the car.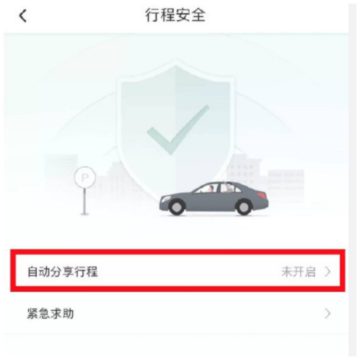 There are also many people who simply do not want to use Didi's services anymore; they are posting screenshots of them deleting the Didi app from their phones.
UPDATE: More details emerge.
By Manya Koetse, and Miranda Barnes
Follow @whatsonweibo
Spotted a mistake or want to add something? Please let us know in comments below or email us.
©2018 Whatsonweibo. All rights reserved. Do not reproduce our content without permission – you can contact us at info@whatsonweibo.com.
Delivery Man in Anhui Run Over by Ambulance Sent to Rescue Him
From bad to worse: this Eleme delivery man was run over by an ambulance after being hit by an SUV.
On April 12, a delivery man in the city of Bozhou, Anhui province, was run over by an ambulance arriving at the scene of an accident where he had just been injured.
Shocking footage circulating on Chinese social media shows the delivery man lying in the middle of the road when the ambulance arrives and runs over his leg. The incident happened around 12:00 in the afternoon (link to video, viewer discretion advised).
While the delivery man already suffered injuries because he was hit by an SUV shortly before, things quickly went from bad to worse when the ambulance that was supposed to come to his rescue crushed his leg. The man is currently undergoing treatment at a local hospital in Mengcheng county.
According to recent news reports, the ambulance driver has currently been suspended and is under investigation.
The incident received a lot of attention on Weibo today, where the hashtag page discussing the double accident received over 150 million views (#外卖员被救护车二次碾压#).
Many comments relating to this incident are focused on the role of the traffic police at the scene of the accident, with people wondering why there was no guard standing next to the victim.
Thousands of commenters also address how sorry they feel for the victim, especially because the lives of many food delivery drivers – facing long working hours and low wages – is already tough enough.
According to Toutiao News (头条新闻), the delivery man works for Chinese food delivery giant Eleme. Wang Gang (王刚, alias) is approximately 30 years old and has a wife and a child. He had only been working for Eleme for a few months and reportedly did not have any prior accidents.
In Monday's double accident, Wang suffered a mild skull fracture, seven broken ribs, and a fractured lower leg. He is in stable condition.
By Manya Koetse
Spotted a mistake or want to add something? Please let us know in comments below or email us. First-time commenters, please be patient – we will have to manually approve your comment before it appears.
©2021 Whatsonweibo. All rights reserved. Do not reproduce our content without permission – you can contact us at info@whatsonweibo.com.
Video Showing Suihua Female Worker Hitting Deputy Director with a Mop Goes Viral on Weibo
The Suihua deputy director was attacked with a mop after female workers accused him of harassing them.
A video showing a woman beating the director of her work department with a mop has gone viral on Chinese social media. The woman who posted the video accuses the office leader of harassing his female subordinates.
The incident took place on April 11th in the city of Suihua, Heilongjiang province. The man who was beaten in the video is Mr. Wang, the deputy director of the poverty alleviation department of the Beilin district of Suihua.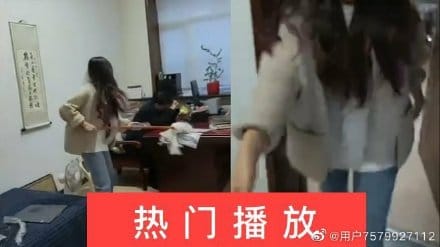 The 14-minute video shows a woman storming into Wang's office while another woman is behind her, filming. The first woman initially goes to Wang's desk and throws some stuff on the ground, before she asks the other woman to give her the mop. She then proceeds to hit Wang in the face and head with the mop multiple times. The other woman yells at Wang that she cannot put up with his harassing texts anymore.
At one point in the video, Wang claims he was "just joking," but the woman claims he is guilty of harassing multiple women in the department. Local authorities investigated the case after the video went viral.
According to Chinese news reports, Mr. Wang has now been removed from his office and Party position for "lifestyle violations of discipline" (for more information on this, China Law Translate has translated the Chapter XI of the Chinese Communist Party Disciplinary Regulations here.)
The woman hitting Wang with the mop reportedly has not been punished for her actions due to "mental illness."
On Weibo, many people praise the women for stepping up and rebelling against the deputy director, and fighting to protect themselves. Some people call it "courageous" and a "brave revenge."
"Harassers deserve to be hit," one commenter writes, with another person adding: "It is good that young people nowadays come forward against older and more powerful leaders."
There are also people on Weibo who question the reported "mental illness" condition of the woman who hit Wang, with some suggesting she could have not been a state office worker if she suffered from serious mental issues. Others also denounce the fact that the woman was labeled this way, while allegedly having been harassed and finding no help after reporting it to the police. At the same time, a majority of commenters express relief that the woman will not face punishment for hitting Wang with the mop.
Since the outcome of the investigations has not been made public, some netizens demand to see the investigation's conclusions to know if the official was indeed guilty of sexual harassment and why nothing was done about the female worker's alleged reports to police about his behaviour.
Over the past year, the problem of sexual harassment in the workplace has been receiving more attention on Chinese social media. In March of this year, a Shanghai court awarded approximately $15,000 to a plaintiff in a sexual harassment suit against a colleague who had sent disturbing text messages to her over a period of six months (link). In December of 2020, a landmark court case of the female scriptwriter Zhou Xiaoxuan versus Chinese famous TV host Zhu Jun attracted major attention on social media.
By Manya Koetse, with contributions by Miranda Barnes
Spotted a mistake or want to add something? Please let us know in comments below or email us. First-time commenters, please be patient – we will have to manually approve your comment before it appears.
©2021 Whatsonweibo. All rights reserved. Do not reproduce our content without permission – you can contact us at info@whatsonweibo.com.