Another Didi Murder Shocks China: 20-Year-Old Woman Raped and Killed by Driver on Her Way to a Birthday Party
Xiao Zhao is the second woman in China to have been killed by her Didi driver this year, raising concerns among Chinese regarding the safety of the car-hailing app.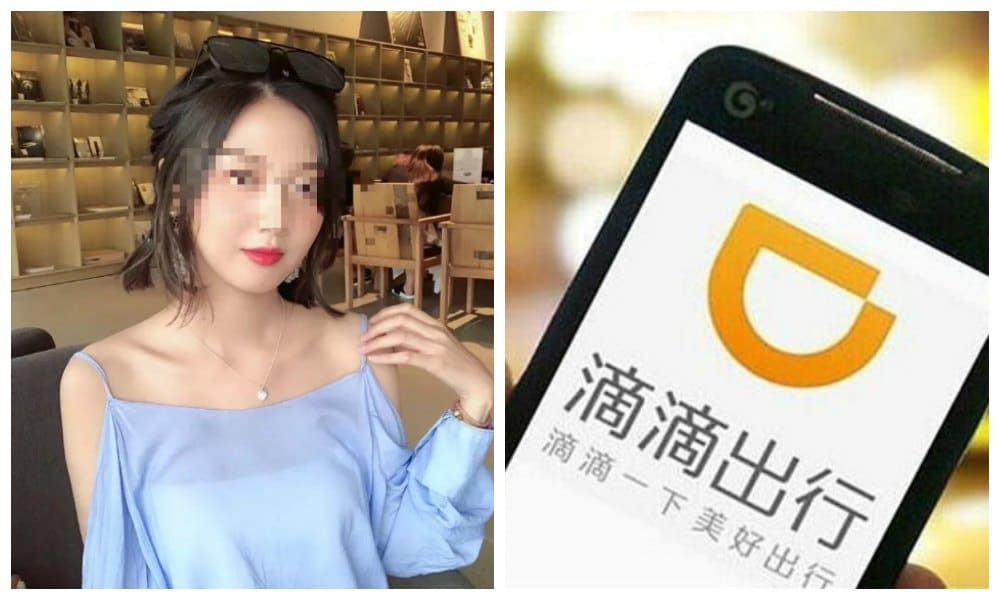 The 20-year-old Xiao Zhao, who went missing after she arranged a ride through Didi, China's popular Uber-like car-hailing app, has been found raped and murdered. Police have since arrested the suspect, the 27-year-old driver.
A 20-year-old woman from Wenzhou, Zhejiang, went missing on August 24 after taking a Didi taxi from Yueqing (乐清) to Yongjia (永嘉) county at one o'clock in the afternoon to attend a birthday party.
Her parents contacted the police when they could not reach their daughter Xiao Zhao after 14:00, which is when she had sent a message to a friend that she was in trouble.
Although her friend (@Super_4ong) immediately tried to contact Didi after Xiao Zhao had cried out for help, she was allegedly told to wait and no immediate action was taken.
Hours later, in the early morning on Saturday, August 25, police arrested the suspect responsible for the woman's disappearance, the 27-year-old driver from Sichuan.
Yueqing authorities reported that the body of Xiao Zhao was discovered in a mountainous area nearby, after the driver told police he had killed her and had thrown her body off a cliff. Local police report on their official Weibo account that the driver had also admitted to raping the woman.
It now appears that the driver had been reported by another female passenger earlier this week for indecent behavior. She came forward through WeChat today, claiming the same driver had harassed her around the same place where the murder took place. She was able to get away, and says she later contacted Didi to have his license removed but that Didi had not taken action yet.
Didi Chuxing (滴滴顺风车) is China's biggest ride-sharing company. Like Uber, it allows customers to arrange a taxi via the app or Wechat programme. Didi has around 450 million users in more than 400 cities across China.
The case is seemingly similar to another shocking Didi murder that occurred earlier this year. In May of this year, the murder of a 21-year-old flight attendant raised concerns among Chinese regarding the safety of car-hailing app Didi.
The 21-year-old Lucky Air flight attendant Li Mingzhu (李明珠) was killed in the early morning of May 6th after she had arranged a ride through Didi, and was on her way home from Zhengzhou Airport in Henan province. A friend of Li had received messages from her while she was on her way home, saying that her driver was "acting strange" and was telling her that he was "tempted to kiss her."
Unable to contact their daughter later that day, Li's family reported her missing on the afternoon of May 7. Her body was discovered by local police the following day. Police confirmed that the woman was killed by the driver with a weapon. The body of the driver was later retrieved from a river nearby.
At the time, Didi Chuxing issued an apology for Li's death, and said they had "incumbent responsibility." They also promised to improve their safety measures for passengers, but apparently have not succeeded in doing so; before yesterday's brutal killing, at least ten other Didi incidents also occurred since May, including the rape of a young female passenger on May 15 in Nantong (Jiangsu), the rape of an intoxicated woman in Foshan (Guangdong) who took a Didi taxi after going for a night out on May 13, and the sexual assault of another woman in Huai'an (Jiangsu).
Today, the company again issued a statement on Chinese social media, in which they said they were "filled with grief" over Friday's violent crime, and that they are deeply sorry: "We fell short of your expectations," they wrote. The statement received over 200,000 comments today.
The Didi murder is a major topic of discussion on Chinese social media today, with the hashtag "Wenzhou woman murdered when taking Didi" (#温州女孩乘滴滴遇害#) having been viewed more than 16 million times on Weibo at time of writing. Another similar hashtag (#女孩乘滴滴顺风车遇害#) was viewed more than 430 million times. Five of the top 10 'hot search' list topics relate to the murder.
One commenter (@Babylily杨杨莉莉) wrote: "As someone of the same age as she was, and me using Didi all the time, I'm just happy nothing has happened to me before. But I hope Didi can undertake action so that all women can safely use their services."
"I'm too afraid to ride with Didi now," others said. Amid safety concerns, some netizens now say they want Didi to incorporate an alarm button into its app, so that users can send for help immediately the moment they are being harrassed by their driver.
Others encourage women to quickly change settings in their app to allow the option to automatically share one's ride with friends, so they can exactly follow the location of the car.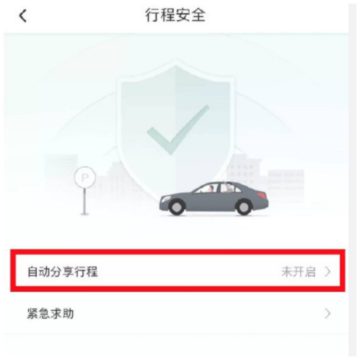 There are also many people who simply do not want to use Didi's services anymore; they are posting screenshots of them deleting the Didi app from their phones.
UPDATE: More details emerge.
By Manya Koetse, and Miranda Barnes
Follow @whatsonweibo
Spotted a mistake or want to add something? Please let us know in comments below or email us.
©2018 Whatsonweibo. All rights reserved. Do not reproduce our content without permission – you can contact us at info@whatsonweibo.com.
Boy, 15, Fatally Beaten and Buried by Group of Minors in Shaanxi
The heinous crime has sparked discussions on the problem of campus violence and China's criminal liability age.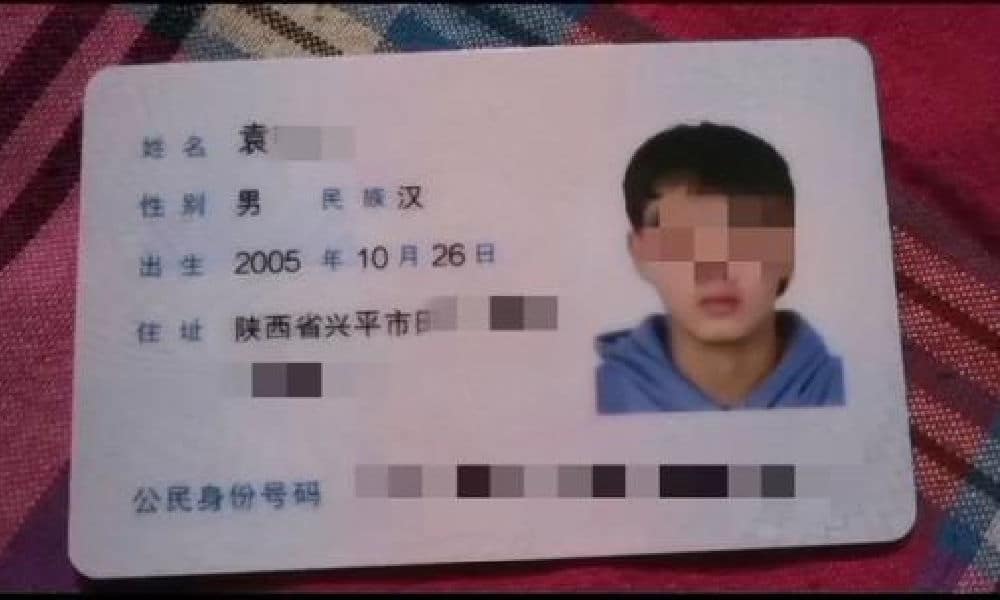 A brutal incident that took place in the city of Xingping in Shaanxi province is top trending on Chinese social media today.
On October 29, a 15-year-old boy by the name of Yuan (袁) was fatally beaten and buried by a group of six people, all minors.
Beijing News reports that Yuan was a second-year student at the Xianyang Xingping Jincheng Middle School. He had taken time off from school and had a temporary job in Xi'an before the incident occurred.
Yuan's father told reporters that his son had returned to Xingping on October 29. A small group of minors, including four students, allegedly demanded money from Yuan, which he refused. It is also reported that a conflict occurred because Yuan added one of the minors to his phone's 'blacklist' (电话拉黑).
According to various news reports, the group of minors attacked the boy with a pickaxe after which he became unconscious. They then brought him over to a nearby hotel and discovered he was dead the next day. They later buried his lifeless body in a pit near the school premises.
On November 2, other students who had heard of the crime reported it to the police. Yuan's body was found in the pit shortly after officers arrived at the scene.
Local authorities released a statement about the case on November 10, in which they stated the suspects have been detained and that the case is still under investigation.
Various sources on Weibo claim that Yuan previously also suffered beatings at school, with severe school bullying being the main reason for the 15-year-old to temporarily drop out of school.
In a video report by Pear Video, Yuan's father says they are still unsure of how their son died, suggesting he might have still been alive when he was buried in the pit.
China has been dealing with an epidemic of school violence for years. In 2016, Chinese netizens already urged authorities to address the problem of extreme bullying in schools, partly because minors under the age of 16 rarely face criminal punishment for their actions.
On social media site Weibo and on the news app Toutiao, many commenters are not just angered about the incident but also focus on China's laws regarding the criminal responsibility of minors.
Some write: "Our criminal laws for minors should protect minors instead of protecting juvenile offenders!"
China's criminal liability age is currently set at 14. Last month, Global Times reported on a proposal to lower the age of criminal liability in China from 14 to 12 in response to concerns about an alleged increase in juvenile violence.
"These minors need to be severely punished," multiple commenters wrote: "Who knows who else they might hurt?"
By Manya Koetse
Follow @WhatsOnWeibo
Spotted a mistake or want to add something? Please let us know in comments below or email us. First-time commenters, please be patient – we will have to manually approve your comment before it appears.
©2020 Whatsonweibo. All rights reserved. Do not reproduce our content without permission – you can contact us at info@whatsonweibo.com.
Viral Video Exposes Wuhan Canteen Kitchen Food Malpractices
Boots in the food bowl, meat from the floor: this Wuhan college canteen is making a food safety mess.
A video that exposes the poor food hygiene inside the kitchen of a Wuhan college canteen has been making its rounds on Chinese social media these days.
The video shows how a kitchen staff member picks up meat from the floor to put back in the tray, and how another kitchen worker uses rain boots to 'wash' vegetables in a big bowl on the ground, while another person is smoking.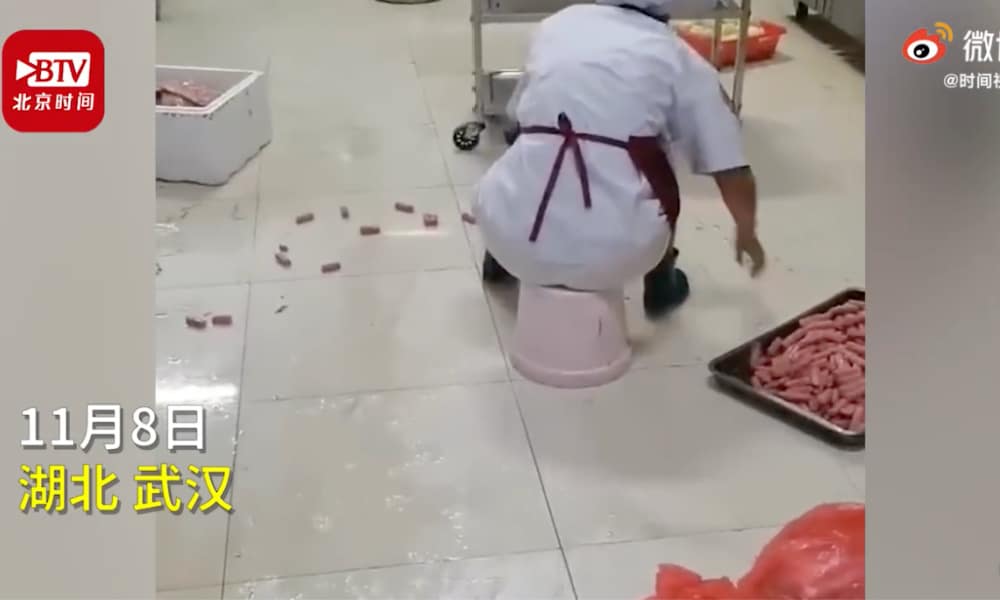 The video was reportedly shot by someone visiting the canteen of the Wuhan Donghu University (武汉东湖学院) and was posted on social media on November 7.
According to various news sources, including Toutiao News, the school has confirmed that the video was filmed in their canteen, stating that those responsible for the improper food handling practices have now been fired.
Can imagine the students at Wuhan Donghu University were not happy to see this behind the scenes footage from their canteen – kitchen staff smoking, picking up food from the floor and putting it back in the tray, and using their boots to mix vegetables in the bowl 😵 pic.twitter.com/vV9NnsQX6v

— Manya Koetse (@manyapan) November 8, 2020
The Wuhan Donghu University also posted a statement on their Weibo account on November 8, saying it will strengthen the supervision of its canteen food handling practices.
"The students at this school will probably vomit once they see this footage," some commenters on Weibo wrote.
Wuhan Donghu University is an undergraduate private higher education institution established in 2000. The school has approximately 16,000 full-time undergraduate students.
"I'm afraid that this is just the tip of the iceberg," one popular comment said, receiving over 25,000 likes.
Students from other universities also expressed concerns over the food handling practices in their own canteens, while some said they felt nauseous for having had lunch at the Wuhan canteen in question.
By Manya Koetse
Follow @WhatsOnWeibo
Spotted a mistake or want to add something? Please let us know in comments below or email us. First-time commenters, please be patient – we will have to manually approve your comment before it appears.
©2020 Whatsonweibo. All rights reserved. Do not reproduce our content without permission – you can contact us at info@whatsonweibo.com.