5-Year-Old Girl Goes Missing in Yunnan, Is Found 9 Hours Later with Shaved Head and Changed Clothes
The little girl was saved from a child trafficker after her parents' cry for help went viral on WeChat.
The story of a young girl who went missing and was found hours later, her appearance changed and seemingly subdued, has, once again, turned public attention to the problem of child trafficking in China.
On Saturday, August 25, grandmother Wang took her 5-year-old granddaughter to a nearby playground at around two o'clock in the afternoon in Xuanwei, a county-level city in the northeast of Yunnan Province. Within just thirty minutes, the calm afternoon turned into a nightmare as the little girl went missing in the blink of an eye.
A close family member told Chinese media outlet Sina News that another woman, who also had a little girl with her, was also at present at the playground. Because the two little girls were playing together, the grandmother was less vigilant, knowing that the other woman was also there.
When the little girl was gone without a trace, the grandmother immediately notified police. The worried family also spread the message about their missing child via Wechat, which soon went viral on chat groups all across town and nearby cities.
With the help of police and watchful citizens, it later became clear that the little girl was spotted nearby the playground at 14:41, leaving the area in a white mini-van together with a middle-aged woman and another child. Just fifteen minutes later, they would depart Xuanwei by train, getting off at the Qujing station, some 60 miles away, at around 16:30.
After receiving various calls from people who had spotted the girl, local police were able to catch the woman and find the child at midnight, in a hotel nearby the Qujing station. When the police caught the woman, it turned out she had already purchased train tickets to leave to Chongqing, a city 500 miles northeast of Qujing.
Upon receiving the news that his daughter was spotted in Qujing, the child's father rushed to the city and was reunited with his daughter at the hotel.
The woman was arrested on the spot and taken away by police. The other young girl allegedly is the woman's own granddaughter and was used as a 'decoy' to kidnap the 5-year-old.
Just within nine hours after her disappearance, the girl had undergone a big transformation; her clothes were changed, her hair had been shaven off, and she seemed unusually quiet. She will reportedly get a medical check-up to check for traces of drugs or medication.
The father turned to social media to thank everyone for their help in rescuing his daughter from the hand of a "child trafficker."
The woman is held in custody while police further investigate this case. According to a close family member source, quoted by Sina News, the suspect's family originally is from Xuanwei, but she moved to Chongqing with her husband after getting married.
Child trafficking is a serious problem in China, where many children are trafficked every year. As Simon Denyer described in Washington Post last year, there are no reliable figures for how many children exactly go missing in China annually, with academic estimates going from 20,000 up to 200,000. Official statistics, however, have previously stated (2011) there are fewer than 10,000 kids abducted every year; in 2016, according to China's Children's Development Report (中国儿童发展纲要), there were just 618 cases nationwide.
Studies suggest that children trafficking in China is mainly done for domestic illegal adoption, altough children also also kidnapped to be sold in to the criminal market (Shen 2016, 66-67).
In 2014, when there was also heightened media attention for the problem of child trafficking in China, one state media report (CCTV) suggested that the market price for a boy was about 100k RMB (±$14.685) and 40-50k RMB (±$7000) for a girl.
On social media, netizens now warn parents that even women with children might be dangerous, as this story shows, and to keep an eye on children at all times.
Also read: "China's Stolen Children – Why Babies Are Booming Business"
By Manya Koetse, with contributions by Miranda Barnes
Follow @whatsonweibo
Shen, Anqi. 2016. "Female Perpetrators in Internal Child Trafficking in China: An Empirical Study." Journal of Human Trafficking 2:1, 63-77, DOI: 10.1080/23322705.2016.1136537
Spotted a mistake or want to add something? Please let us know in comments below or email us.
©2018 Whatsonweibo. All rights reserved. Do not reproduce our content without permission – you can contact us at info@whatsonweibo.com.
Nineteen Eighty-Four Turns 70: Orwellian China and Orwell in China
"We still need independent, courageous thinkers like George Orwell. We still need 1984."
First published
George Orwell's classic Nineteen Eighty-Four turned seventy this week. For a country that is labeled 'Orwellian' so often, it is perhaps surprising that the modern classic, describing a nightmarish totalitarian state, is well-read within the People's Republic of China and is not banned from its bookstores.
"Big Brother is Watching You" is the sentence that people around the world have come to know through the novel 1984 or Nineteen Eighty-Four, that turned 70 this week.
Nineteen Eighty-Four is a novel about a nightmare future in the year 1984. It takes place in a totalitarian state where the Party is central to people's everyday lives and where propaganda, surveillance, misinformation, and manipulation of the past are ubiquitous.
The book revolves around Winston Smith, a citizen of London, Oceania, who works at Minitrue (Ministry of Truth) and who secretly hates the society he lives in with its all-controlling Party, the 'Big Brother' leader, and the Thought Police.
Smith is critical of the workings of the Party and the lies it imposes, which then pass into history and become 'truth'; as the Party slogan goes: "Who controls the past, controls the future: who controls the present controls the past."
"Orwellian China"
There is probably no other country in the world that has been described as "Orwellian" in English-language media as often as China has over the past few years. According to Google Trends, 'China' currently is one of the most related topics people in the US are searching for when they type in the word 'Orwellian' on the search engine.
The topic recently most associated with Orwell's novel is that of China's Social Credit System. In October of 2018, US Vice President Mike Pence addressed China's nascent Social Credit System in a speech on China, calling it "an Orwellian system premised on controlling virtually every facet of human life" (Whitehouse.gov).
Since then, George Orwell and Nineteen Eighty-Four have been used more often to describe developments in China.
'Orwellian' and 'China' come up with more than 28,000 results in Google News alone, the term often being used with any PRC news that relates to technology, government control, and propaganda.
Ironically, many of the news reports addressing 'Orwellian China' and its Social Credit System (SCS) are, in the Orwellian tradition, spreading misinformation themselves, conflating different issues or presenting speculation as fact – see some examples of speculative reporting on the SCS in this list.
But also when reporting on China's growing mass camera surveillance, the Xinjiang internment camps, the launch of the 'Study Xi, Strengthen China' [Xuexi Qiangguo] app, or the increasing use of facial recognition, the comparison to George Orwell's 1949 classic is everywhere in the English language media world today.
一九八四: Orwell's Nineteen Eighty-Four in China
For a country that is labeled 'Orwellian' so often, it is perhaps surprising that Nineteen Eighty-Four is actually not censored or banned in the People's Republic of China (PRC).
Since the first PRC edition of the novel was published in 1979, it has become a famous and well-read work that is available for purchase in Chinese or English in all big bookstores in Chinese cities or online via e-commerce sites as Taobao.com.
The famous sentence "Big Brother is Watching You" translates to "Lǎo dàgē zài zhùshìzhe nǐ" ("老大哥在注视着你") in Mandarin, and often pops up on social media, together with terms such as "doublethink" (shuāngchóng sīxiǎng, 双重思想) or "Thought Police" (sīxiǎng jǐngchá 思想警察).
On Douban, an influential web portal that allows users to rate and review books, films, etc, various editions of Nineteen Eighty-Four (most of them translated by Dong Leshan 董乐山) have been rated with a 9.3 or higher by thousands of web users.
"I like this book, it's just a bit too dark for me," some reviewers write, with others just saying the book is "very scary," or seeing some resemblance with the classic works of Chinese authors such as Wang Xiaobo or Lu Xun.
WeChat blog Vopoenix recently stressed the importance of Nineteen Eighty-Four, writing that the novel is not anti-socialism per se: "What Orwell really opposes is fascism, totalitarianism, and nationalism (..), what he really supports is political democracy and social justice."
70 years later, totalitarianism still has not disappeared, the blog writes: "(..) instead, it has evolved with the times in a more secret way (..). We still need independent, keen and courageous thinkers like George Orwell. We still need 1984."
One Douban reviewer writes about their thoughts after reading Nineteen Eighty-Four, saying: "What scares me is that sometimes people will ridicule North Korea for being so shut off from the world, but what about us? We're like frogs at the bottom of a well, but the scary thing is, we don't even know we're in the well."
"Just a work of fiction to Chinese"?
Public sentiments about the 70-year-old Nineteen Eighty-Four novel bearing a resemblance to (present-day) China are seemingly growing stronger on Chinese social media recently. The book appears in online comments and discussions on a daily basis.
"I finished reading the book today," one Weibo commenter writes: "The biggest thought I had is: this book is very suitable for Chinese people to read."
"I can now imagine what those ten years were like," one Douban user posts, referring to the Cultural Revolution (1966-1976).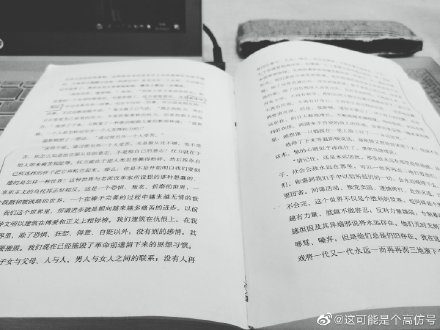 "Nineteen Eighty-Four is the first satirical book I've read that comes close to the situation in China. If you read it, you'll know what I mean," another reader writes.
Different from English-language (social) media, Chinese commenters are not mentioning the book in relation to the country's Social Credit System at all, but in relation to the heightened censorship that China has recently been seeing in light of the China-US trade war, the Tiananmen anniversary, and the Hong Kong protests.
One Weibo blogger writing a critique about the growing "bizarreness" of the "elephant in the room" (referring to all those big China-related issues that cannot be discussed on social media due to censorship) attracted the attention of Chinese netizens earlier this week (see the full translation of post here).
Many commenters spoke about the Weibo post in relation to Nineteen Eighty-Four, especially when the post addressing the censorship was censored itself.
Others also wrote that it seemed "like a miracle" that the book was not banned in China, and some suggested it might still happen in the future.
"It will be forbidden very soon," one Weibo commenter speculates.
"The future is becoming more difficult, really," one netizen recently wrote: "It's nearing 1984 (一九八四), and [we] might not be able to see it later."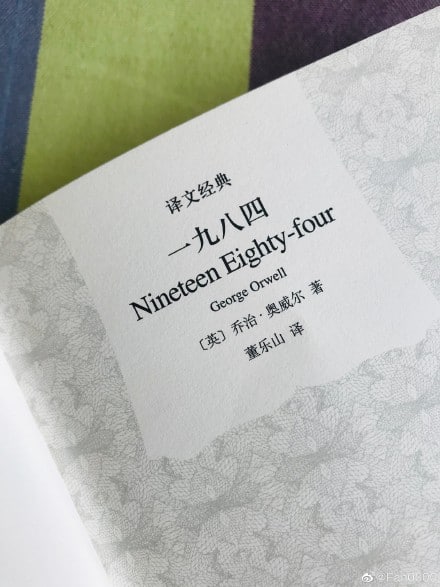 But, in Chinese online media, Nineteen Eighty-Four is by no means only mentioned in relation to China. There are also those blogs or news articles that mention the Orwellian aspects of the story of Edward Snowden, or connect Orwell to Trump's America.
In late 2018, state tabloid Global Times denounced the ubiquitous Western media reports on "Orwellian China." Author Yu Jincui wrote:
"Orwell's Nineteen Eighty-Four is a classic to Westerners, but it is just a work of fiction to Chinese and they are fed up with Orwellian style preaching from Western elites. This kind of conversation will lead nowhere."
But many netizens do not agree with the fictional part. "Nineteen Eighty-Four is not a work of fiction, it is a record of our future," one Weibo user writes.
"Is Big Brother watching me?" others wonder.
"The first time I read it, I just read it," another Douban user says: "The second time I read it, I really started to understand. Here's to George Orwell!"
Despite all speculation on social media, there are no indications that Nineteen Eighty-Four will be banned from China any time soon.
For now, even 70 years after its first publication and 40 years after its first Chinese translation, readers in the People's Republic can continue to devour and discuss Orwell's classic work and the mirror it holds up to present-day China, America, Europe, and the world today.
By Manya Koetse
Follow @whatsonweibo
PS: Some recommended reading on Social Credit in English:
* Creemers, Rogier. 2018. "China's Social Credit System: An Evolving Practice of Control."May 9. Available at SSRN: https://ssrn.com/abstract=3175792.
* Dai, Xin. 2018. "Toward a Reputation State: The Social Credit System Project of China." June 10, available at SSRN: https://ssrn.com/abstract=3193577 or http://dx.doi.org/10.2139/ssrn.3193577.
* Daum, Jeremy. 2017. "China through a glass, darkly." China Law Translate, Dec 24 https://www.chinalawtranslate.com/seeing-chinese-social-credit-through-a-glass-darkly/?lang=en [24.5.18].
* Daum, Jeremy. 2017. "Giving Credit 2: Carrots and Sticks." China Law Translate, Dec 15 https://www.chinalawtranslate.com/giving-credit-2-carrots-and-sticks/?lang=en [27.5.18].
* Horsley, Jamie. 2018. "China's Orwellian Social Credit Score Isn't Real." Foreign Policy, Nov 16 https://foreignpolicy.com/2018/11/16/chinas-orwellian-social-credit-score-isnt-real/ [10.6.19].
* Koetse, Manya. 2018. "Insights into the Social Credit System on Chinese Online Media vs Its Portrayal in Western Media." What's on Weibo, Oct 30 https://www.whatsonweibo.com/insights-into-the-social-credit-system-on-chinese-online-media-and-stark-contrasts-to-western-media-approaches/
* Koetse, Manya. 2018. "Open Sesame: Social Credit in China as Gate to Punitive Measures and Personal Perks." What's on Weibo, May 27 https://www.whatsonweibo.com/open-sesame-social-credit-in-china-as-gate-to-punitive-measures-and-personal-perks/.
* Kostka, Genia. 2018. "China's Social Credit Systems and Public Opinion: Explaining High Levels of Approval" SSRN, July 23. Available at https://ssrn.com/abstract=3215138 or http://dx.doi.org/10.2139/ssrn.3215138 [29.10.18].
Spotted a mistake or want to add something? Please let us know in comments below or email us. Please note that your comment below will need to be manually approved if you're a first-time poster here.
©2019 Whatsonweibo. All rights reserved. Do not reproduce our content without permission – you can contact us at info@whatsonweibo.com
Chinese Blogger Addresses Weibo's "Elephant in the Room"
A recent noteworthy Weibo post says intellectual discussions are dying on Chinese social media.
A recent popular post on Weibo suggests that intellectual discussions are dying on Weibo and that Chinese web users can no longer ignore 'the elephant in the room,' triggering discussions on the status quo of social media in China.
Recently, a post by one popular Weibo blogger has attracted the attention of Chinese netizens.
On June 6, blogger 'V2' [alias], who often changes Weibo accounts, wrote about censorship on Chinese social media and 'the elephant in the room.'
The post started making its rounds this week shortly after a severe crackdown on Chinese social media during the 30th anniversary of Tiananmen, while protests in Hong Kong over the extradition bill were also taking off.
The poster, who has over 12270 fans on Weibo, wrote the following post [translation by What's on Weibo]:
"The intellectual density on Weibo is getting lower and lower. Scrolling through my timeline has already become somewhat worthless. One reason for that is temporary. This month they started to close down on overseas IP addresses, for example.
Another reason is more long term. Intellectuals around the world are increasingly focusing on China issues, from international relations scholars to economists to lawyers. There are already enough discussions about China to fill entire libraries with, and it's rapidly increasing; this period is a happy time for China watchers, with new reports and comments coming out every day.
But all these hot issues (including the Belt & Road Initiative, the modernization of the army, the future of Taiwan, IP theft, and the China-US trade war) are like an elephant in the room on Weibo.
We can't watch them, we can't discuss them. But because this elephant is getting bigger and bigger, ignoring its presence in this room is getting increasingly strange.
This strange feeling reached a peak these days [addressing June 4th, the commemoration of Tiananmen]. The whole world was discussing China, but China was like a tranquil lake. The top trending topic here was Produce Camp 2019 [a Chinese reality show]. Some people, including me, were silenced, while the rest was excited to talk about celebrities smoking, getting married, getting divorced or cheating – pretending that these topics are really worth discussing.
The truth is, that these are the only topics that are allowed to be discussed.
Reviewing the parallel world of millions of people, Weibo has become a crowded place within a tiny snail shell."
Since its publication on June 6th, this post received more than 22700 shares, 15500 likes, and hundreds of comments, with the post especially gaining traction since June 10.
"I want to see more, I want to think more, I want to express more."
Among hundreds of commenters, many people agreed with 'V2,' writing: "Even the early rulers in Rome knew that if they'd give the people enough bread to eat and the entertainment of an arena, they wouldn't be bothered about the rest."
Others commented: "Actually, people do want to discuss these issues, but how can we when the news sources are blocked?"
"This has really become more of an entertainment app. It's no longer a place to share news and knowledge, nor a place for open debate."
"I want to go to a wider place, I want to access more information, I want to see more, I want to think more, I want to express more," one commenter from Beijing writes.
"Not everything you read outside of the wall [Great Firewall] is true and Western media have been demonizing us for quite some time. But inside the wall, young people only pay attention to who is marrying who and who is divorcing now and this kind of entertainment news. They are numb; the intellect of the people is not developing."
"We're pretending everything is going well," another person says: "and [we're] creating a utopia that is isolated from the world."
"Just because it doesn't exist on Weibo, doesn't mean it's not there."
But some also disagreed with the critical post.
"Why don't you see that Weibo is just a small part of life?", one commenter writes: "Just because it doesn't exist on Weibo, doesn't mean it's not there. Don't Chinese intellectuals pay attention to the issues you just mentioned? Weibo's audience is really wide, but it is also quite narrow."
Other commenters also suggest that the author's expectations of Weibo are "too high":
"Weibo was meant for entertainment, it's not necessarily a news platform. The news about Hong Kong [protests] was reported on various websites. What is this blogger talking about, and then all these strange comments? As if we're just foolishly spending our days on Weibo without having any other information channels; as if all the people in this country are locked in a dark room? Stupid."
"It's not the room that's dark," one person writes: "It's the people who are blind."
"Viewing the sky from the bottom of the well."
There are also commenters who defend the strict control of Chinese social media, writing: "China has the largest population in the world. Think about it. Public opinion is really important. Isn't a stable popular sentiment more important than confronting people with terrible incidents? If 1.3 billion people don't trust their government, what kind of chaos do you think the country will end up in?"
Others jokingly say: "You can discuss these taboo topics all you want, I still am more interested in the latest celebrity divorce!"
One Weibo commenter uses a Chinese idiom to convey his thoughts, writing: "I'm just viewing the sky from the bottom of the well here."
Despite the critique of the blogger on the decline of more intellectual discussions on Weibo, their post shows that there still seems to space for some deeper discussions on Weibo. At the time of writing, the post has attracted over 4000 comments and counting.
Update June 11, 2019:
As some commenters in the thread already feared, this post has now been deleted.
By Manya Koetse
Follow @whatsonweibo
Featured image by 广博郝. Featured image not related to the blogger in this article.
Spotted a mistake or want to add something? Please let us know in comments below or email us. Please note that your comment below will need to be manually approved if you're a first-time poster here.
©2019 Whatsonweibo. All rights reserved. Do not reproduce our content without permission – you can contact us at info@whatsonweibo.com