MU5735 on Weibo: China Eastern Airlines Flight Crashes in Guangxi
People express shock and sadness after China Eastern Airlines flight MU5735 crashed on March 21st.
Flight MU5735 became the number one news topic on Chinese social media after the flight crashed on Monday afternoon, carrying 132 people.
On Monday, March 21st, a China Eastern Airlines plane carrying 132 people crashed in Guangxi province. The Boeing 737 was scheduled to fly from the southwestern city of Kunming to Guangzhou, but the plane dropped from the radar near the city of Wuzhou, Teng county, shortly before 14:30 local time, approximately half an hour before it was scheduled to land at Guangzhou.
The Eastern Airlines flight MU5735, a Boeing 737-800, had departed Kunming at 13:15. Around 15:30 local time, news of the China Eastern Airlines flight started to circulate on Chinese social media after the real-time flight tracking map Flightradar24 had shown the flight dropped some 7000 meters within 120 seconds, with some people tracking the flight thinking it was a "bug."
At 17:30 local time, China Eastern Airlines confirmed that the plane had crashed. On social media site Weibo, the airline issued a statement saying that the flight lost signal when it was flying near Wuzhou: "We can now confirm the plane has been involved in an accident. There were 132 people on board, including 123 passengers and 9 crew members."
While rescue efforts are underway, China Eastern Airlines has turned its official website and logo into black and white as a sign of mourning. At Guangzhou airport, a dedicated area has been set up for family members of the passengers involved in the crash.
On Chinese social media, some stories going viral in relation to the crash are those of the passengers who were supposed to be on the flight, with bad weather or a red health code preventing them from actually catching the plane.
A video showing the plane right before it crashed also went viral on Chinese social media (#东航飞机坠落最后画面曝光#). The moment was captured by cameras belonging to a mining company in Teng county, some 5.8 kilometers from where the plane crashed. It shows the plane nosediving straight down in a matter of seconds.
This shocking video of #MU5735 crashing down was confirmed to be authentic, it was recorded by the monitoring cameras of a mining company in Teng county near Wuzhou that is located about 6 km from where the plane crashed. pic.twitter.com/IzcsFgwFfH

— Manya Koetse (@manyapan) March 21, 2022
The last time this type of airplane was involved in an accident was on March 19 of 2016 at Rostov-on-Don airport, Russia. The Flydubai Flight 981 crashed near the runway after a second aborted landing attempt due to bad weather conditions, resulting in the deaths of all 62 passengers and crew on board. The Russian Interstate Aviation Committee later issued a report which stated that incorrect crew piloting was a main cause of the tragedy, along with incorrect aircraft configuration and harsh weather conditions. One hashtag related to this incident also went viral on Weibo today ("Eastern Airlines Boeing 737 Crashed in Guangxi, Similar Accident Happened 6 Years Ago" #东航坠毁机型6年前曾发生同类事故#)
On Weibo, countless people are posting digital candles and sending out their prayers. An image showing a sky lantern, sending prayers for the 132 passengers and crew members of the MU5735 is also being shared online.
"Although it's unlikely, I hope they're ok," many write, with one person commenting: "I'm still hoping for a miracle."
Update March 26: Chinese state media have confirmed that all passengers and crew members were killed in the crash. Search workers are still looking for the second black box.
Update March 27: A memorial event was held at the crash site of the China Eastern Airlines plane on March 27 to mourn the deaths of the 132 people involved in the accident.
Emergency workers and search team members take a moment of silence for the victims of the #MU5735 crash after a massive six-day search operation in forest-clad, muddy mountains near Wuzhou found no survivors. The Boeing 737 crashed on Monday with 132 on board. 🕯️ pic.twitter.com/VaDjmCg1Ud

— Manya Koetse (@manyapan) March 27, 2022
By Manya Koetse
Spotted a mistake or want to add something? Please let us know in comments below or email us. First-time commenters, please be patient – we will have to manually approve your comment before it appears.
©2022 Whatsonweibo. All rights reserved. Do not reproduce our content without permission – you can contact us at info@whatsonweibo.com.
Confusion over Official Media Report on China's "Next Five Years" of Zero Covid Policy
'The next five years': four words that flooded Chinese social media today and caused commotion among netizens who interpreted this as written proof that China's current Covid strategy would continue for at least five more years. But the Beijing Daily editor-in-chief has since responded to the issue, blaming reporters for getting it all mixed up.
On June 27th, after the start of the 13th Beijing Municipal Party Congress, Chinese state media outlet Beijing Daily (北京日报) published an online news article about a report delivered by Beijing's Party chief Cai Qi (蔡奇).
The article zoomed in on what the report said about Beijing's ongoing efforts in light of China's zero-Covid policy, and introduced Beijing's epidemic prevention strategy as relating to "the coming five years" ("未来五年").
Those four words then flooded social media and caused commotion among netizens who interpreted this as a sign that China's current Covid strategy would continue at least five more years. Many people wrote that the idea of living with the current measures for so many years shocked and scared them.
Soon after, the article suddenly changed, and the controversial "coming five years" was left out, which also led to speculation.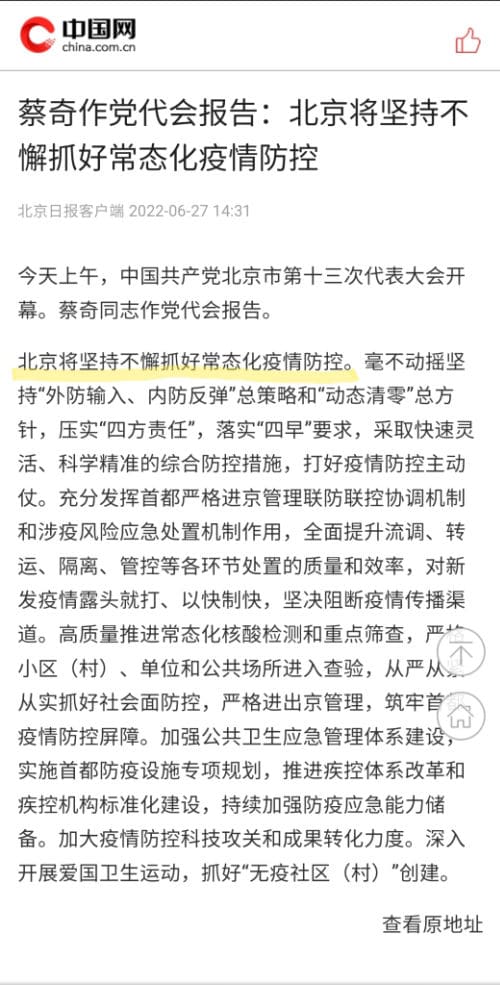 Beijing Times editor-in-chief Zhao Jingyun (赵靖云) then clarified the situation in a social media post, claiming that it was basically an error made due to the carelessness of reporters who already filled in information before actually receiving the report:
"I can explain this with some authority: the four-word phrase "the next five years" was indeed not included in the report, but was added by our reporter[s] by mistake. Why did they add this by mistake? It's funny, because in order to win some time, they dismantled the report's key points and made a template in advance that "in the next five years" such and such will be done, putting it in paragraph by paragraph, and also putting in "insist on normalized epidemic prevention and control" without even thinking about it. This is indeed an operational error at the media level, and if you say that our people lack professionalism, I get it, but I just hope that people will stop magnifying this mistake by passing on the wrong information."
Global Times commentator Hu Xijin (@胡锡进), who used to be the editor-in-chief and party secretary of the state media outlet, also weighed in on the incident in a social media post on Monday. He started his post by saying that the reporter who initially made the phrase 'next five year' go viral had a "lack of professionalism" which caused the overall misunderstanding.
Hu also added a photo of the relevant page within the original report that was delivered at the Congress, showing that the phrase 'the coming five years' was indeed not written before the segment on China's battle against Covid, which detailed Beijing's commitment to its strict epidemic prevention and control measures.
But Hu also added some nuance to the confusion and how it came about. The original report indeed generally focuses on Beijing developments of the past five years and the next five years, but adding the "in the next five years" phrase right before the segment was a confusing emphasis only added by the reporter, changing the meaning of the text.
Hu noted that the right way to interpret the report's segment about China's Covid battle is that it clarifies that the battle against the virus is not over and that China will continue to fight Covid – but that does not mean that Beijing will stick to its current zero Covid policy for the next five years to come, including its local lockdowns and restrictions on movement.
Hu Xijin wrote:
"I really do not believe that the city of Beijing would allow the situation as it has been for the past two months or so go on for another five years. That would be unbearable for the people of Beijing, it would be too much for the city's economy, and it would have a negative impact on the whole country. So it's unlikely that Beijing would come up with such a negative plan now, and I'm convinced that those in charge of managing the city will plan and strive to achieve a more morale-boosting five years ahead."
After the apparent error was set straight, netizens reflected on the online panic and confusion that had erupted over just four words. Some said that the general panic showed how sensitive and nervous people had become in times of Covid. Others were certain that the term "next five years" would be banned from Weibo. Many just said that they still needed time to recover from the shock they felt.
"The peoples' reactions today really show how fed up everyone is with the 'disease prevention' – if you want to know what the people think, this is what they think," one Weibo user from Beijing wrote.
To read more about Covid-19 in China, check our articles here.
By Manya Koetse
With contributions by Miranda Barnes
Get the story behind the hashtag. Subscribe to What's on Weibo here to receive our weekly newsletter and get access to our latest articles:
Spotted a mistake or want to add something? Please let us know in comments below or email us. First-time commenters, please be patient – we will have to manually approve your comment before it appears.
©2022 Whatsonweibo. All rights reserved. Do not reproduce our content without permission – you can contact us at info@whatsonweibo.com.
Who's to Blame for Hangzhou Toddler's Deadly Fall from 8th Floor Window?
Nanny was distracted by her phone, the open window was easily accessible; both factors played a role in the fatal fall of the Hangzhou child.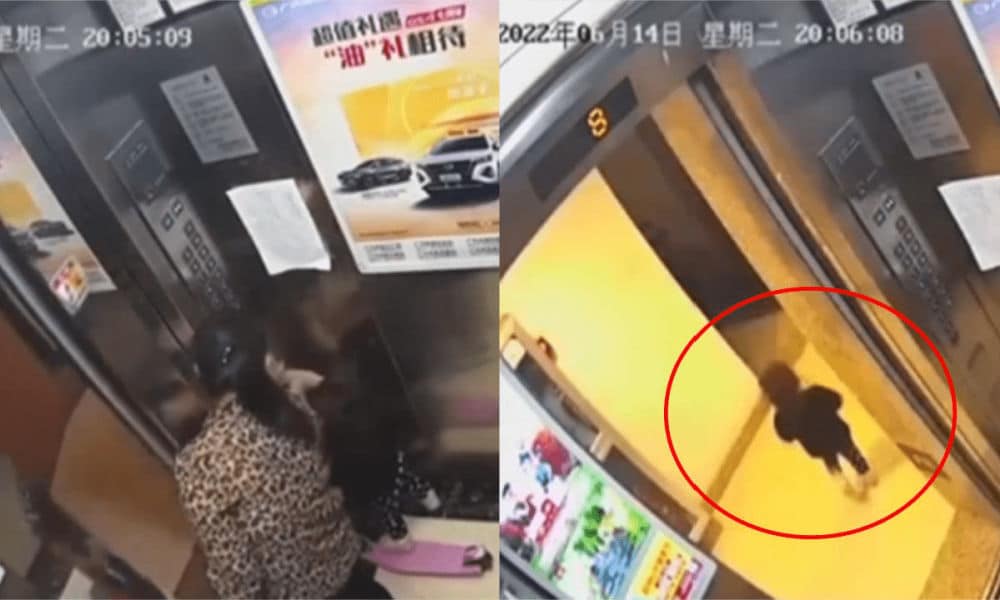 A tragic incident that happened in Hangzhou, Zhejiang province, has become a trending topic on Weibo this week.
On June 14, a 21-month-old girl in the city's Gongshu District was left in an elevator by herself while her nanny was not paying attention. The elevator went up to the building's 8th floor, where the toddler walked out and ended up falling from a window. The little girl unfortunately did not survive the fall.
The details surrounding this tragedy have triggered much discussion on social media, where a security camera footage from the elevator was posted by the girl's father on June 25.
The video shows the girl and the nanny getting into the elevator together on the 15th floor at 20:04. While the elevator goes down, the nanny is seemingly distracted and watches her phone while the little girl is playing on her little pink scooter.
When the elevator arrives at the first floor, the nanny steps out and takes the pink scooter with her, probably assuming that the toddler is right behind her. But then the elevator doors close and the little girl is left behind alone in the elevator, which automatically goes up to the 8th floor.
The footage shows that the little girl, Xiaotao (小桃), is crying after she is locked inside the elevator. Once the elevator stops and opens on the 8th floor, she can be seen exiting and walking into the hallway.
According to Xiaotao's father, he received a call from the nanny after 20.00 that night, saying that she could not find the little girl. The father was at home at their 3rd floor apartment that evening. His daughter and the nanny had gone to the apartment of Xiaotao's grandparents, who live on the 15th floor of the same building.
Rushing out to search for his daughter, the father inspected every floor of the building. The nanny had reportedly first told him she thought Xiaotao might be on the 8th floor, but later she changed her story and said she might be on the first floor.
The father later stated he did not trust what the nanny was saying. She had only been working for the family for seven days, and they had agreed to pay her a monthly wage of 8000 yuan (US$1195) for her services.
After he knocked on their doors, some neighbors on the 8th floor told the father they had heard a child crying. Going outside in search of Xiaotao, the father eventually discovered her body lying on the 2nd floor terrace right below the window on the 8th floor.
The question of whether the nanny can be held legally responsible for the deadly incident is one that is being discussed on Weibo. Although the nanny has stated that she very much blames herself for what has happened, many people also think those overseeing the construction and property management of the building should be held accountable.
An image of the window in question shows that children can easily climb up to the windows and that there are no safety bars.
"This is a major design fault by the developers," one commenter writes: "It's the developer who is the main culprit. The nanny is the second."
One Weibo user from Shanghai writes: "This kind of property management is life-threatening for any young child. These high-rise buildings have a barbarous design. In the end, it's a matter of architectural design in China that doesn't take the protection of young children into consideration at all."
Many others also agree that the building's construction and property management is mainly responsible for the deadly accident: "The window has a serious safety problem, that comes first. Second comes the nanny, who was too careless."
Recently, there have been multiple news stories about young children falling from windows across China. On June 19, an 8-year-old child fell from the 17th floor of an apartment building in Chenzhou, Hunan.
"One mistake, one human life, such huge consequences"
While the Hangzhou case is currently being investigated by local authorities, the toddler's mother spoke out in the media on June 27th that she felt that before exploring the criminal liability of the property management, the nanny's legal responsiblity should be looked into first.
The hashtag "Mother of Hangzhou Girl Who Fell Out of Building Speaks Out" (#杭州坠楼女童母亲发声#) received over 180 million views on Monday. Xiaotao's mother openly wonders why it took the nanny a total of eight minutes before she called to say she could not find Xiaotao. She also accuses the nanny of lying about why she was watching her phone while she was in the elevator; the nanny had allegedly claimed that she had received a message from Xiaotao's parents about running some errands, but the mother says such messages were never sent.
The problem of caregivers not paying attention to their children because they are more focused on their phone has become a trending topic on Chinese social media before. In 2017, the shocking footage of a woman playing on her phone while her 4-year-old son drowned in the pool just a few meters away from her sparked discussions on the dangers of being a 'smartphone addict' (低头族).
There are also many commenters on Weibo who think the nanny is the main culprit. One commenter (@DareGoos__) wrote: "She is a high-end nanny, looking after the child is her job. I am unmarried and childless, and even I know that you're supposed to hold a child with you when you're taking the elevator, isn't this common knowledge among adults?"
"I am more careful with my cat than she is with this child," one commenter wrote. "One mistake, one human life, such huge consequences," another person said.
But many people do not agree, suggesting that the elevator doors automatically closed way too fast, and that checking one's phone on an elevator is a normal thing to do.
Others reacting to the Hangzhou news also say the parents bear some responsibility for this tragedy in handing over the care of their young child to this nanny. "When my mother gave birth to me, she stopped working and made our family – taking care of me – her job. The mom and dad should follow their kid closely, especially if it's just two years old," one Weibo user (@李佑嘉的前女友) wrote.
"I feel so sorry for the child," a typical comment said: "This totally could have been avoided."
For some, the Hangzhou case brought back memories of another tragedy that took place in Hangzhou which also involved a nanny. In 2017, a mother and her three children died in a fire on the 18th floor of a luxurious high-rise building in Hangzhou. After the fire broke out in the early morning around 5.00, the mother saw the fire and then alerted the nanny, asking her to run and seek for help. The nanny, who escaped the fire and survived, later turned out to be responsible for starting the fire (read more here).
By Manya Koetse
Get the story behind the hashtag. Subscribe to What's on Weibo here to receive our weekly newsletter and get access to our latest articles:
Spotted a mistake or want to add something? Please let us know in comments below or email us. First-time commenters, please be patient – we will have to manually approve your comment before it appears.
©2022 Whatsonweibo. All rights reserved. Do not reproduce our content without permission – you can contact us at info@whatsonweibo.com.