Nanjing To Implement Security Partitions in Public Buses and Introduce "Grievance Awards" for Drivers
After the Chongqing bus crash, the safety on Chinese public buses is the talk of the day, with Nanjing taking new security measures.
Amidst safety concerns over disruptive passengers in China's public transport system, Nanjing is introducing security partitions in buses and special awards for drivers who do not respond to aggressive behavior by passengers.
This week, the safety on China's public buses is one of the most-discussed issues on Chinese social media, following the horrific crash of a bus in Chongqing caused by passenger's aggression – which is just one but many incidents involving disruptive passengers on public transport.
On November 3rd, Chinese media report that the city of Nanjing will implement security partitions in all of its city buses to protect drivers against passenger abuse.
The Nanjing Public Transportation Group will arrange that around 8000 buses in Nanjing will be equipped with such dividers in 2019, People's Daily writes on Weibo.
Nanjing bus drivers are also requested not to respond to (angry) passengers and not to hit or talk back. Drivers who suffer abuse and do not react to it will receive a special compensation for pain and suffering called wěiqujiǎng ("委屈奖"), literally: "Grievance Award," with prices going from 10 yuan ($1,4) to 200 yuan ($30).
Such a compensation was previously already introduced in some places in Anhui province.
In the case of the Chongqing crash, that killed 15 people, security footage from the bus's black box showed that the driver fought back when he was hit by a female passenger, leading him to lose control over the steering wheel and plunging into a river.
Among the thousands of people commenting on Nanjing's new safety measures, there are those in favor of the dividers and those against it. Those who are not supportive of the measure say that the partition might be dangerous because it would not allow passengers to help out in case the bus driver suddenly becomes unwell.
Public opinions seem to be less divided over the idea of the "Grievance Award" for drivers, with many criticizing it and finding it "laughable," saying that one cannot put a price on several levels of feeling wronged, or that it is "undignified" and "irrational" to expect of drivers not to defend themselves against aggression.
Many comments also mention that the focus of these kinds of measures should lie on the punishments for disruptive passengers, instead of awarding drivers for suffering abuse.
"The bus should also have a system where people swipe their [public transport] card that is tied to their identity, so that troublemakers can be blacklisted," some suggest.
Others say that bus drivers should be equipped with a taser gun to fend off aggressive passengers.
Some commenters write: "Bus drivers are also people, people who work in the service industry, not in the maltreatment industry!"
By Manya Koetse
Follow @whatsonweibo
Spotted a mistake or want to add something? Please let us know in comments below or email us.
©2018 Whatsonweibo. All rights reserved. Do not reproduce our content without permission – you can contact us at info@whatsonweibo.com
Residents in Locked Down Lhasa Say Local Epidemic Situation is a "Giant Mess"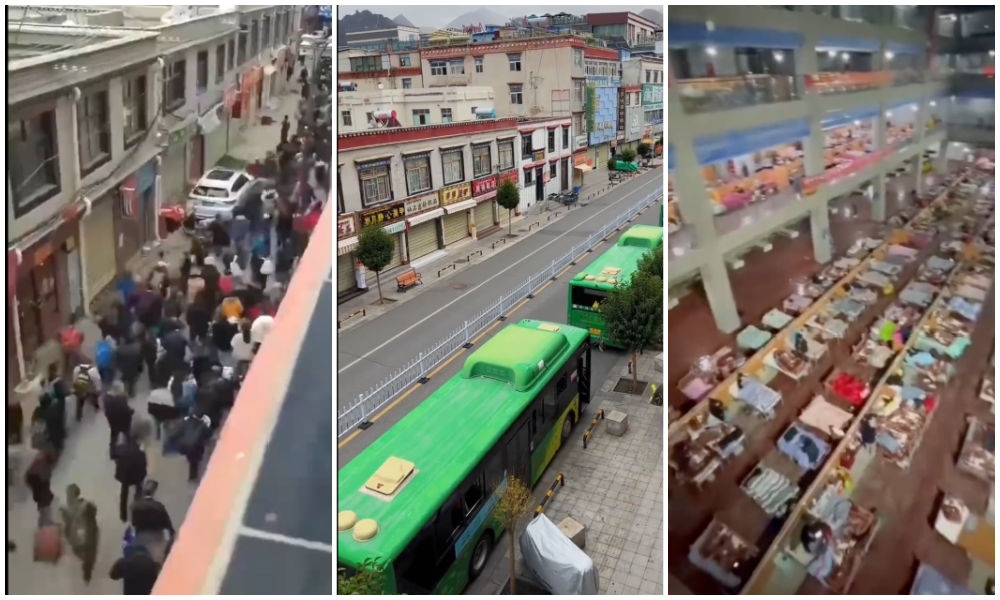 They've been in lockdown for 42 days already, but according to some Lhasa-based bloggers, there have been no improvements in the local epidemic situation. They say there is a stark difference between what officials are reporting and the daily reality they are dealing with in Tibet.
"The epidemic situation is bad in Lhasa, please pay attention," one netizen wrote on Weibo on September 15, pointing to many new posts surfacing on Chinese social media about the difficulties people are facing in Lhasa city in Tibet.
Over the past week, many Tibet-based bloggers have posted on social media about the local circumstances, and hundreds of Chinese social media posts talk about similar problems in the region. Despite the ongoing lockdown, they say, there are still a growing number of positive cases within Lhasa communities; buses are allegedly going back and forth to bring people to quarantine sites where those testing positive and negative are mixed; they claim that there is an absolute lack of management and control; and many locals suggest that the official reports do not reflect the actual number of Covid cases at all.
According to the official numbers, Tibet saw its peak in Covid cases on August 17 and has since reported fewer new cases, reporting a total of 118 new cases on Thursday.
"I am a bit shocked!" one local social media user wrote: "What I saw was a total of 28 buses lined up outside Lhasa Nagqu No. 2 Senior High School, and then still more [buses] were coming. One bus can fit around 50 people, so there must have been around 1400 positive cases. There was a blind man, there were elderly people in wheelchairs, there were swaddled-up babies, from getting on the bus at 9.30 pm up to now, we've been waiting for 5 hours and we're still waiting now. It's just pure chaos at the school entrance, there is no order. I won't sleep tonight."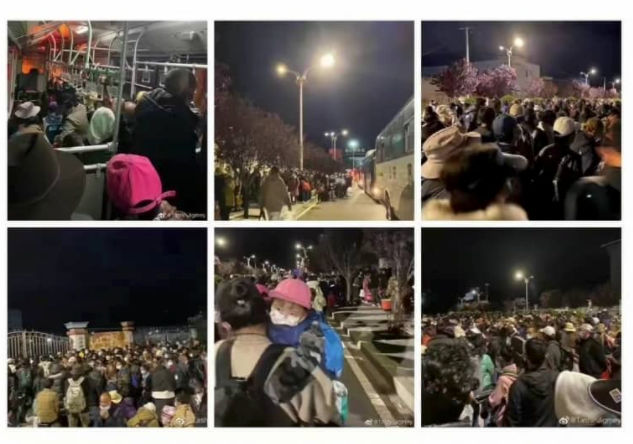 On the 14th of September, another netizen wrote:
"In order to welcome central government leaders to Lhasa and to demonstrate the "excellent" epidemic prevention capabilities of the local government & the "outstanding" results of the fight against the epidemic to them, they moved citizens to the rural areas and let them all stay crowded together in unfinished concrete buildings, with all kinds of viruses having free reign."
On a Lhasa community message board, one Weibo user wrote: "Lhasa has already been in lockdown for over a month, yet our little community has so many infected people that I'm wondering how effective a lockdown actually is? Has Tibet been forgotten? When other places in China have a few positive cases it becomes a hot topic. But what about Tibet? And what about Lhasa?"
Another anonymous poster writes: "Regarding the Lhasa epidemic situation, the numbers were already a bit fake before, but I can understand it was also to take the public sentiment into consideration. I personally don't care how you report the data, as long as the epidemic prevention and control work is properly managed, then the lockdown can be lifted soon and nobody will say anything about it. But a month has passed already, and in a town with some hundred thousands of people, the epidemic work is increasingly getting worse. Many people around me have never even left the house and inexplicably turned out to test positive. Meanwhile those who tested positive are quarantined together with people who still tested negative, it's a giant mess."
"Lhasa hasn't had a Covid outbreak for the past three years, the city doesn't have enough experience in controlling the epidemic."
"It's the 42nd day of lockdown," another person wrote on Friday: "People are lining up to go to centralized isolation, Lhasa has been in lockdown longer than Chengdu, but it doesn't make it to the hot topic lists. People who tested negative again and again suddenly turn out to be positive. Lhasa hasn't had a Covid outbreak for the past three years, the city doesn't have enough experience in controlling the epidemic. It's going to be hard to restore tourism here before the end of the year. Before, big crowds would come to visit.
Over the past few days, following a heightened focus on the situation in Xinjiang, there has also been more attention for the epidemic situation in Tibet.
"Please pay more attention to the topic of the Lhasa epidemic," one person wrote, repeating a similar message sent out by many others: "Lhasa doesn't need your prayers, we need exposure."
On Friday, one popular gamer with more than a million followers wrote on Weibo:
"Many have been reaching out to me via private messages, saying that the epidemic situation in Tibet's Lhasa is very serious. If it's really like this, I hope matters can be settled as soon as possible. I don't know if this post can stay up or not, but I want to try my best to speak up and generate more attention to this epidemic trend. I experienced two months of lockdown in Shanghai myself and understand what it feels like. I have faith in our nation, and I believe the country will definitely take action. Everyone in Tibet, jiayou [come on]."
Many of the comments and posts coming from Lhasa are similar to those we saw last week, coming from Yining in Xinjiang. Social media users based in these places complain that many of their posts have been deleted and that it is very difficult for local residents to make their voices heard.
This is different from the previous lockdown situations in, for example, Xi'an, Shanghai, or Chengdu, where people posted videos, photos, and shared their lockdown experiences, either from home, from the Covid testing lines, or from the makeshift hospitals.
A Weibo hashtag on Tibet's covid outbreak (#西藏疫情防控#) has repeatedly surged up Weibo's trending searches only to be batted down again. It purports to show now-familiar but still grim scenes: haphazardly arranged quarantine centers, barely edible food, no potable water

— Alexander Boyd (@alexludoboyd) September 15, 2022
On the one hand, the reason why people in places such as Lhasa or Yining have more difficulties in making their stories heard in China's hectic social media environment relates to the fact that these places have a relatively small population size – while Yining and Lhasa have approximately 542,00 and 465,000 inhabitants respectively, there are 21 million people in Chengdu and some 26 million in Shanghai.
But a bigger barrier to posting about their circumstances is formed by the social media censorship that is extra strict when it comes to Xinjiang and Tibet as these places are considered sensitive political subjects, which is why topics related to these regions see far more aggressive online censorship – even for seemingly innocuous posts.
One Weibo user with over 600,000 followers wrote: "In such a sensitive place as Tibet, I really needn't worry about whether they're gonna see my post or not. I posted to vent my anger and scolded the leadership for a bit and within 24 hours the police came to my hotel and asked me to delete my posts. Now that everyone is asking for help like this, they will definitely see it, but they are determined to do this and do so on purpose, it's clear they don't care about people's lives."
Meanwhile, Chinese official media reporting on the epidemic situation in Tibet stress the collective effort to fight the virus in Lhasa. On September 15, People's Daily reported how 18 sister provinces and cities across China sent their best teams to Tibet to help with local anti-epidemic work and to bring supplies.
The Tibet-based military blogger ZhufengZhengrong (@珠峰峥嵘) writes: "It's been over a month and my comrade-in-arms are still fighting on the front line (..). I just hope the epidemic will end soon, and that I will be able to meet my family and hold my children and weep."
By Manya Koetse 
Get the story behind the hashtag. Subscribe to What's on Weibo here to receive our weekly newsletter and get access to our latest articles:
Spotted a mistake or want to add something? Please let us know in comments below or email us. First-time commenters, please be patient – we will have to manually approve your comment before it appears.
©2022 Whatsonweibo. All rights reserved. Do not reproduce our content without permission – you can contact us at info@whatsonweibo.com.
Young Chinese Woman Dies at Haidilao Hotpot Restaurant
The woman allegedly choked while having beef tripe.
On September 8, a woman from Putian in Fujian Province unexpectedly passed away while having hotpot at a Haidilao restaurant in a local mall.
The incident went trending on Chinese social media on Thursday, with the hashtags "Woman Suddenly Passes Away While Having Haidilao Hotpot" (#女孩海底捞吃火锅意外身亡#) and "Haidilao Responds to Female Customer Passing Away During Dinner" (#海底捞回应女顾客就餐时身亡#) receiving 50 million and 300 million views respectively.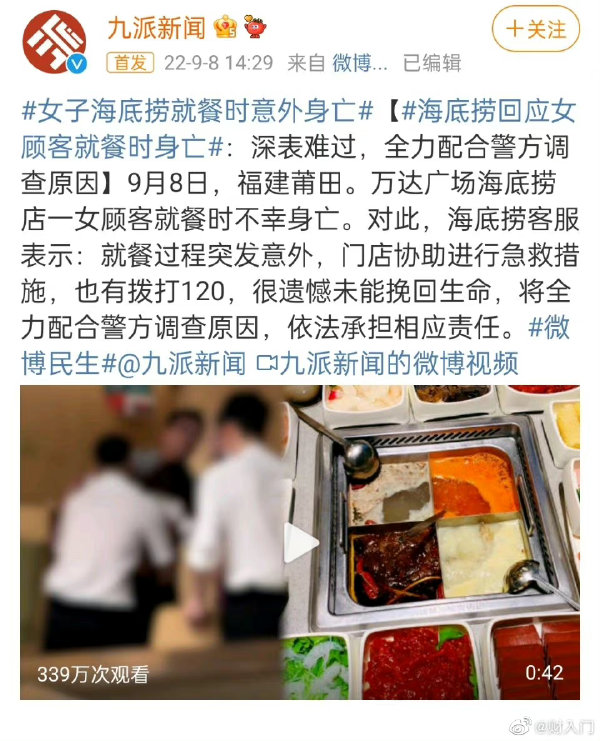 According to various Chinese news reports, the 21-year-old woman had just finished eating beef tripe, the edible lining from the cow stomach, and drank some water after which she suddenly became unwell.
Footage circulating on Chinese social media shows how restaurant staff gave first aid to the woman by performing the Heimlich maneuver while emergency workers were underway.
Although it is rumored the young woman choked on the tripe, this has not yet been confirmed as an investigation into the cause of death is ongoing. The Haidilao restaurant where the incident happened is currently closed, and Haidilao responded that they are deeply saddened and will do all they can to fully cooperate with the police to investigate the case.
Haidilao (海底捞) is one of China's most popular restaurant chains serving authentic Sichuan hotpot, a dining style where fresh meat and vegetables are dipped in simmering broth. Besides its tasty hotpot and wide selection of ingredients and drinks, Haidilao is known for its high-quality service. The staff is thoroughly trained in providing the best customer service, and Haidilao has introduced new concepts throughout the years to enhance the customer experience.
Haidilao is a very reputable company and is known to respond quickly to avert social media crises (example here and here).
As the story goes trending, many Chinese netizens point out the choking hazard of beef tripe. One lung doctor (@呼吸科大夫胡洋) also responded to the incident, suggesting that the Heimlich maneuver might not have been life-saving in this case since beef tripe is long and soft and could block the respiratory tract if the Heimlich maneuver is performed while the person is standing up, since it could potentially cause the tripe to go deeper instead of being pushed out.
The doctor recommends in these kind of emergency situations that if possible, for a chance of survival, the person could then be placed into an upside down, upper body down position for the Heimlich maneuver.
Other doctors on Weibo also use this moment to provide more information about how to perform the Heimlich maneuver.
Many online commenters think Haidilao is not necessarily to blame for what happened. "Judging from the video, the staff was quick and correct in their response. As for why the woman could not have been rescued, we'll have to wait for the final reports."
By Manya Koetse 
Get the story behind the hashtag. Subscribe to What's on Weibo here to receive our weekly newsletter and get access to our latest articles:
Spotted a mistake or want to add something? Please let us know in comments below or email us. First-time commenters, please be patient – we will have to manually approve your comment before it appears.
©2022 Whatsonweibo. All rights reserved. Do not reproduce our content without permission – you can contact us at info@whatsonweibo.com.