New Hot Job in China: "Mistress Discourager"
A new career is recently emerging in China. So-called "third person dissuaders" or "mistress discouragers" specialise in persuading mistresses to step back from their client's marriage.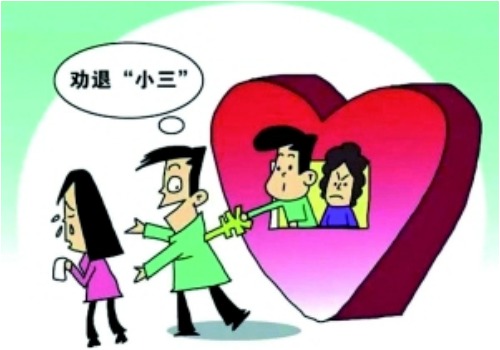 A new career is recently emerging in China. So-called "third person dissuaders" or "mistress discouragers" specialise in persuading mistresses to step back from their client's marriage, and make an annual salary of approximately one million yuan (157,500 US$).
Saving a marriage does not come cheap. China's "third person dissuaders" or "mistress discouragers" sometimes charge as high as 250,000 yuan (±40,000 US$) to persuade 'the third person' (小三), or  'the other woman', to step back from their clients' marriage.
The mysterious occupation initially started in the cities of Shanghai, Chengdu, and Shenzhen, but is now spreading throughout China.
The phenomenon was pushed to the forefront during the Second Chinese Marriage and Family Counseling Services Summit (中国婚姻家庭咨询服务行业高峰论坛) on October 10th, and became a hot topic in Chinese media and on social media platforms.
"80% of failed marriages have to do with a mistress problem."

According to Shu Xin (舒心), head of the China Association of Marriage and Family (中国婚姻家庭工作联合会), it takes time and money to drill a "third person dissuader". Training them to become qualified takes at least six months and costs over 300,000 yuan (±47,000 US$) per person.
But the money apparently is worth it, as specialized senior "mistress discouragers" make around one million Chinese yuan per year (around 157,500 US$).
During the Chinese Marriage and Family Summit, it was stated that China's divorce rate has been on the rise for twelve consecutive years, and in 80% of the cases, the failing of these marriages has to do with a "mistress problem" (小三问题).
At the summit, Shu Xin pleaded for a regulation of the profession and its training, in order to avoid ruining the market.
"This shows that more and more people in China are having affairs."

Users on Sina Weibo are also actively engaging in this hot topic. So far the topic "third person dissuader" (#小三劝退师#) has accumulated nearly 6,000 comments with more than 15 million views.
A lot of netizens see it as a weird yet promising career with Chinese characteristics (中国特色). "Demand determines supply. We all know that the common cause of Chinese divorces is marital infidelity. The rise of such a profession shows that more and more people are having affairs now," Weibo user Tangguoyun says.
A user who calls himself PQ agrees: "The emerging of the 'third person dissuader' is the result of market demand." He goes on to emphasize that the profession faces the risk of violating the law and moral codes: "The process of getting rid of a 'third person' might involve monitoring and stalking. It could also cause personal safety issues. That is why specific professional norms should be established by the relevant departments."
"Curing the symptoms, not the disease"

The China Association of Marriage and Family called together the relevant professionals this month to develop guide regulations for 'mistress discouragers'. The association also opened a nationwide complaint hotline to supervise the service quality.
However, the majority of Weibo users still have doubts on this occupation and consider it to only "cure the symptoms, not the disease".
User Domi says: "Such actions are just a temporary solution. Those who have affairs are not loyal, and have weak self-discipline. Even though the 'third person' might be persuaded to leave the love triangle this time, there will be a 'forth person' or even 'fifth person' in the future."
"Couples should do workshops on how to maintain a healthy marriage."

In most western countries, it is common for couples to go for marriage counselling when they are having relationship problems. But couple's therapy is not popular in China yet, as most Chinese people do not feel comfortable discussing personal matters in front of a total stranger. Although professional counselling is offered at local Civil Affair Bureau and Divorce Offices, people generally feel ashamed to share such private matters.
Some users on Sina Weibo point out the importance of marriage counselling, and encourage couples with 'third person' issues to go into couple's theory together. "Apart from third party counselling courses, it would be good for couples to do workshops on maintaining a good marriage." says user ClaraSY.  Until then, mistress discouragers can make a good living out of other people's love affairs..
By Yiying Fan
Follow @WhatsOnWeibo
©2015 Whatsonweibo. All rights reserved. Do not reproduce our content without permission – you can contact us at info@whatsonweibo.com.
The Silent Storm: Peng Shuai's Weibo Post
Weibo has completely silenced anything relating to Peng Shuai and Zhang Gaoli.
On the night of November 2nd, a Weibo post by Chinese tennis player Peng Shuai (彭帅) sent shockwaves across social media. In her lengthy post, the tennis star claims she was assaulted by former Vice Premier Zhang Gaoli (张高丽) before starting an affair with him.
The 35-year-old Peng Shuai, who has some 574,000 followers on her Weibo account, addressed her post directly to the 75-year-old Zhang Gaoli, who served as China's senior Vice Premier (2013-2018) and was also a member of China's highest ruling council, the Politburo Standing Committee (2012-2017).
"I know I can't say it clearly and that it's useless to say. But I want to say it anyway. I'm such a hypocrite. I'll admit I'm not a good girl, I'm a bad bad girl," Peng starts her post.
She then goes on to address what happened three years ago, after the tennis star played in Beijing.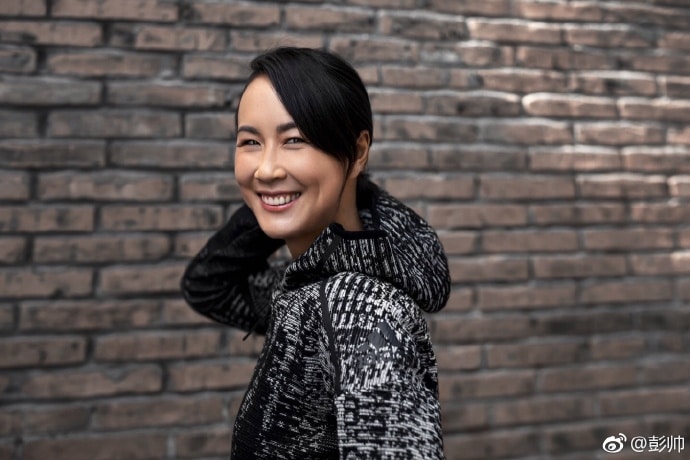 "After I had finished playing, you and your wife Kang Jie took me to your home. You took me to your room, and like what happened in Tianjin over ten years ago, you wanted to have sex with me. I was very scared that afternoon, I had not expected things to go this way."
Peng alleges that she had sex with Zhang once seven years earlier, and that she had never heard from him again once he was promoted to the Standing Committee.
"I had buried it all inside me, and since you were not planning on taking responsibility at all, why did you come and look for me again, take me to your house, and force me into sex? I have no proof, and it would be impossible for me to keep any evidence. You denied everything afterward (..) That afternoon I originally did not consent and cried the whole time. "
Peng goes on to describe how her emotions were complicated and that she began to open up to Zhang afterward, starting an affair with him. The two would play chess, sing, play billiards, and table tennis, and they got along well together.
"You told me you loved me," Peng writes at one point, later saying: "From beginning to end, you have always asked me to keep my relationship with you secret, let alone telling my mother that we were in a relationship."
Peng describes how it sometimes felt as if Zhang's wife was like an "empress" while she barely felt like a person anymore: "I felt like a walking corpse. I was pretending so much every day that I didn't know who the real me was anymore.."
Peng's post further suggests that the relationship between her and Zhang has now ended since a major dispute on the night of the 30th of October after which she would meet Zhang to talk on November 2nd, but that she was ghosted by him and that he "disappeared" as he did seven years prior to their affair. She posted her letter on that very same night.
Peng says she is left with nothing but her own memories of the past years and without any evidence of anything that has occurred between the two of them.
"I know that for someone of your status, Vice Premier Zhang Gaoli, you've said that you're not afraid," Peng wrote in her post, "But even it's like striking a stone with an egg, and courting self-destruction like a moth to the flame, I will tell the truth about you."
Despite the fact that Peng's post was deleted within thirty minutes after she posted it, screenshots of what she wrote were already flooding WeChat and Twitter.
The Silence after the Storm
Just two days after Peng's post, Weibo has completely silenced the controversy.
Searching for the name of Zhang Gaoli, no results relating to the post appear. Comment sections on older posts relating to the retired Vice Premier have been shut down.
Similarly, Peng Shuai only comes up in older stories completely unrelated to this week's events. Her account also no longer shows up in search results, even though it is officially still online. All of the comment sections on her previous posts have since been restricted.
On other platforms, including search engine Baidu, Q&A website Zhihu, and social networking site Douban, the topic is also nowhere to be found. Baidu trends do show that there's been a major peak in searches for 'Peng Shuai' on November 2nd, when the keyword was searched for nearly two million times.
Since the censorship following Peng's post has been so strict, there barely is any room for discussion of the topic at all on Chinese social media. Underneath some posts relating to tennis events, netizens hesitantly wonder: "Can we also discuss the Peng x Zhang case here?"
Meanwhile, on Twitter and on English-language media, posts about Peng Shuai are running at full speed.
Most English-language media report about Peng's story within the context of the global #MeToo movement, suggesting Peng's post was a "MeToo post." The tennis star did not mention '#Metoo' in her own writings.
Chinese feminist activist Lü Pin (吕频) also published a 'Feminist Comment on Pengshuai's Case' via Twitter, in which she praised Peng and wrote that "Peng Shuai is not a member of the organized #MeToo movement, but she is a member of those connected through the effect from such echoes and demonstrations."
Although there have previously been big cases in China involving women accusing men in powerful positions of sexual abuse, such as the Xianzi versus Zhu Jun case, they have never been as censored as this case is.
In this regard, this story perhaps says more about the person who is accused of sexual misconduct than about the actual account itself. The timing of its publication also matters in light of the upcoming key gathering of the highest-ranking members of the Communist Party – the sixth plenary session of its 19th Central Committee will be held from November 8 to 11.
At time of writing, nothing has come out in Chinese media nor on Chinese social media about Peng's post. For now, it is the most silent storm Weibo has seen this year.
Update November 21, 2021: Chinese Tennis Star Peng Shuai Attends Fila Kids Junior Tennis Finals
By Manya Koetse
Spotted a mistake or want to add something? Please let us know in comments below or email us. First-time commenters, please be patient – we will have to manually approve your comment before it appears.
©2021 Whatsonweibo. All rights reserved. Do not reproduce our content without permission – you can contact us at info@whatsonweibo.com.
'Call Me By Fire' All-Male Variety Show Becomes Social Media Hit
'Call Me By Fire' is the male version of 'Sister Who Make Waves' and it's an instant hit.
A Chinese reality show starring 33 male celebrities titled Call Me By Fire (披荆斩棘的哥哥) has become an instant hit after its premiere on Mango TV last week.
The show is considered the male version of the hit variety show Sisters Who Make Waves (乘风破浪的姐姐, read more here) but with different rules. The contestants, ranging from age 27 to 57, are all in the entertainment industry; the group includes pianists, singers, dancers, actors, hosts, and rappers.
They are required to perform individually and in a team for the first episode's performances. Chinese viewers were surprised to see some of the high-quality performances, which then went viral on social media.
Li Chengxuan (@李承铉 a.k.a. Nathan Lee), who was previously mostly known for being the husband of Chinese actress Qi Wei (戚薇), rapped in a low voice and wowed the audience. The hashtag about his first stage performance on the show garnered more than 120 million views ( #李承铉天上飞舞台#). A video of his performance can be found here.
Li is a former member of the South Korean boy band TAKE. In 2014, the Korean-American pop star married Qi, who later gave birth to their first daughter Lucky. When Qi went back to focusing on her career, Li decided to be a stay-at-home dad.
Just like some of the other show contestants, Li also appeared on the talk show Definition (定义), where he spoke to the female journalist Yi Lijing about his life as a full-time father. In that show, he expressed how he used to think being a full-time parent would be easy. "It takes a lot of time and energy to take care of the baby and the family, but as a result, it always looks like you haven't done anything all day."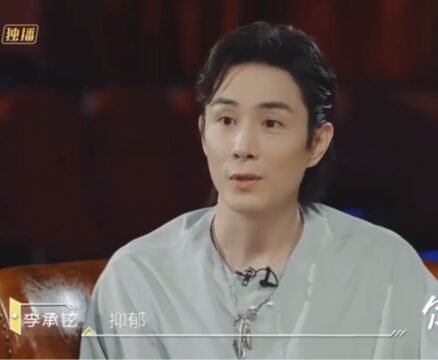 He describes how he experienced a time of depression during which he tried his best to be a good parent but sometimes just could not control his temper. Li explains how he would regret these moments of anger and then would cry at night when his daughter was asleep.  (Interview video here.)
Li's experiences as a full-time parent struck a chord among Chinese netizens, especially among stay-at-home moms. The hashtag "Li Chengxuan Was Depressed for Over a Year As a Full-Time Dad" (#李承铉当全职爸爸抑郁了一年多#) received more than 600 million views on Weibo. Under the hashtag, commenters shared their experiences and struggles in being full-time parents.
One netizen wrote: "This is so true. We do so much when taking care of our children, but other people often feel like it's nothing. When you lose your temper in front of the kid, you feel terrible inside and start to question yourself about why you failed to control yourself, and then you make another promise not to lose your temper anymore."

Another Weibo user wrote: "See, when a mom looking after her kids feels depressed, it is not because she is weak and sensitive! It is because the job itself will make any human being depressed."
Li later responded on his Weibo account, saying he just did his part as a parent, and this is what any new mom or new dad will face. That post also received thousands of comments and over 285,000 likes.
So far, the hashtag of the Call me By Fire TV show has received a staggering 4.4 billion views on Weibo (#披荆斩棘的哥哥#).
The show's performances and Li sharing his struggles as a stay-at-home dad are not the only reasons for the show's massive success on Chinese social media. Some other related issues also made the show gain more attention.
Even before Call Me By Fire aired, the show already made headlines when the 55-year-old Taiwanese singer Terry Lin Zhixuan (林志炫) reportedly fell off the stage while filming.
Later, one of the contestants left the show after some social media drama. Chinese singer Huo Zun (霍尊) announced his withdrawal from the show after his ex-girlfriend accused him of being a cheater and leaking some WeChat conversation screenshots to prove that he actually disliked the show.
The remaining 32 contestants will enter the real 'elimination stages' in the following episodes. The show and highlight clips can be viewed on the Mango TV official site here.
By Wendy Huang
Follow @whatsonweibo
Spotted a mistake or want to add something? Please let us know in comments below or email us. Please note that your comment below will need to be manually approved if you're a first-time poster here.
©2021 Whatsonweibo. All rights reserved. Do not reproduce our content without permission – you can contact us at info@whatsonweibo.com