New Law Combats the 'Yinao' Phenomenon
China has launched a new law to cope with the increasing 'Yinao' Phenomenon. The growing violence of patients against medical staff has made being a doctor a dangerous job in China.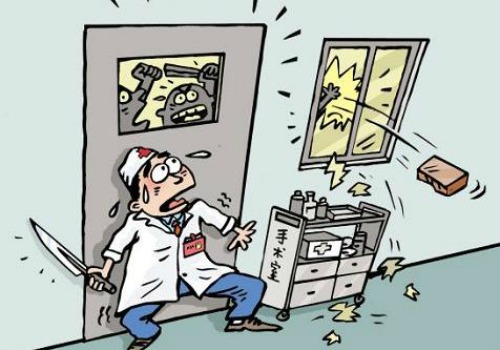 China has launched a new law to cope with the increasing social problem of patient-doctor violence, also called the 'Yinao' Phenomenon. The growing violence of patients against medical staff has made being a doctor a dangerous job in China. The new law makes it possible to sentence hospital troublemakers to up to seven years in prison.
The yinao (医闹, 'medical disturbance') phenomenon has become a growing problem in China's medical sector over the past several years. Yinao is the organized disturbance and violence in hospitals against medical workers, mostly meant to get compensation for medical malpractices. It is often done by criminal groups that are hired by patients or their family when they are dissatisfied with the provided medical care.
The disturbance includes protests and violent attacks on staff. Some even involve the murder on health professionals.
Chinese media have covered roughly thirty medical related disputes from October 2013 to June 2015. These were only the terribly violent disputes (including fatal stabbings) that had a large societal impact; the thousands of small disputes happening in hospitals across China every day were not taken in account.
"The Ministry of Public Security has advised hospitals with 2000 beds to have at least 100 security guards."

In October of 2013, the Ministry of Public Security has advised hospitals with over 2000 beds to have at least 100 security guards. The growing numbers of security staff, however, have not helped to combat hospital violence.
In November 2013, hundreds of medical workers protested at the No. 1 People's Hospital in Wenling, after a dissatisfied patient overpowered security guards and stabbed three doctors, leading to the death of one of them.
The new law, that will be implemented on November 11th of this year, is to punish those who threaten and assault medical staff, damage hospital facilities or equipment, or in any way hinder the hospital staff and doctors from doing their work.
"Medical workers are constantly bullied, humiliated or physically hurt by ignorant people."

On Sina Weibo, the topic "medical disturbance crimination" (#医闹入罪#) was posted immediately after the news was released. Over a million users participated in a discussion about the new law.
Among all the users commenting, there were are also many medical professionals and students. "Us as poor medical students can finally relax a little bit. Medical violence should have been incriminated years ago!" says user Sunshine Without Tears: "There have been so many hospital disputes, and medical workers are constantly bullied, humiliated or physically hurt by ignorant people. We need a law to combat hospital disputes so that the relationship between doctors and patients will improve."
Doctor CSY summarizes the major factors contributing to the increase of violence in China's health care: a rising consciousness of patient rights, deepening misunderstandings between patients and doctors, and provocative media reporting. He then adds: "I've witnessed a lot of disputes in the hospital over the past few years. All doctors want their patients to get better and healthy. We work so hard with not much income, and yet have to worry about our own safety. If any medical worker neglects his duty, he should be punished by the law instead of being hit by the patient's family."
"Patients sometimes spend their entire life savings when suffering from serious illnesses. When treatment fails, despairing patients and their families are quick to blame doctors."

The market-oriented reforms of the Chinese health sector is also a major cause of the yinao phenomenon. With China's economic liberalization, the state is no longer responsible for providing health care. Because public hospitals have started chasing profits to survive, people have to take more responsibility for their own care.
Patients sometimes spend their entire life savings when suffering from serious illnesses. When treatment fails, despairing patients and their families are quick to blame doctors and the hospital.
Most patients and their families are unwilling to solve medical problems through legal channels; not only is the process time-consuming, it also might end with no financial compensation. They believe a quicker way to get some money back is to cause trouble at the hospital.
Weibo user Huohuo is worried about the feasibility of the new law: "I don't think ordinary people will go to court to deal with medical issues. In China, there is a long tradition of the law failing us, while the violators win. I just hope that China will be a developed country soon so that all Chinese people can enjoy free healthcare. It might be the best solution to decrease hospital disputes."
"Doctors are the perfect target of revenge."

There are also Weibo users who understand negative sentiments towards medical staff. Chinese doctors and other medical professionals are generally underpaid. The low income causes some of them to make extra money in "grey areas" such as drug kickbacks, over-prescription, and bribery. For many patients, this has ruined the image of doctors, and they find it hard to trust them. This partly explains why, when medical misfortune happens, doctors often are the perfect targets of revenge.
User East South West North comments: "Medical disputes happen for a reason. The truth is, that some doctors require patients to do unnecessary inspections so they can make profits. Patients have even died from counterfeit drugs prescribed by doctors."
"I'm afraid no one wants to pursue a career in medicine if this vicious cycle keeps on growing."

China's violence against doctors has been cited as an important reason for a decrease in the popularity of healthcare career. User J_tomorrow points out that the government should heighten the punishment of 'medical disturbance' to ensure the safety of medical workers at hospitals: "Doctor is a high-risk and low-paid occupation in China. I'm afraid no one wants to pursue a career in medicine if this vicious cycle keeps on growing."
Weibo user called Bottle of Chili admits that she has lost her passion of being a medical worker: "I used to be full of passion for my work, and I treated my patients with kindness. But after being misunderstood and humiliated by patients and their families years after years, I'm now doing my job like a robot. The whole society expects us to show selfless devotion, but we are humans after all!"
'Medical disturbance crimination' is the first step in improving the doctor-patient relationship. Many more measurements need to be taken in order to cope with this social problem. User Liyun expresses his support of the legal protection of medical worker. At the same time, he says: "We need to understand the underlying reasons of medical disturbance – the distrust between doctors and patients. Hospitals should not hide or cover up medical negligence. And patients should give medical workers the respect they deserve."
By Yiying Fan
Follow @WhatsOnWeibo
Image used: http://focus.cnhubei.com/consensus/200912/t883804.shtml
©2015 Whatsonweibo. All rights reserved. Do not reproduce our content without permission – you can contact us at info@whatsonweibo.com.
Viral Politics: Next-Stage Investigation Into Covid-19 Origins Discussed on Weibo
Many Weibo users agree with Chinese officials that the U.S. re-investigation of the Covid-19 origin is about "political manipulation" and "blame-shifting."
While President Biden ordered a closer review into the origins of the Covid-19 and more countries are calling for action on a next phase study, Chinese officials demand that the U.S. thoroughly investigates the source of the epidemic within America's own borders and biological labs.
Fifteen months after the WHO declared the novel coronavirus (Covid-19) outbreak a global pandemic, the origin of the virus is still unclear. After the Wuhan field visit of the international WHO research team earlier in 2021, all hypotheses on the origin of the virus remain on the table.
As the efforts to get more people vaccinated continue and the outlook on containing Covid-19 are more positive, the question of where the virus that causes Covid-19 came from is attracting attention again. The issue of the 'origin investigation problem' ("溯源问题") is also generating discussions on Chinese social media.
The U.S. Side: "Looking for a Definitive Conclusion"
On May 26, the White House released President Joe Biden's statement calling for further investigation into the origins of Covid-19.
The statement says that there is still no definitive conclusion on the origins of the virus, with two scenarios being most likely: human contact with an infected animal or a laboratory accident. Biden writes that he has asked the Intelligence Community to "redouble their efforts to collect and analyze information that could bring us closer to a definitive conclusion," asking for a follow-up within 90 days, with a special focus on China.
Speculation that the coronavirus may have emerged from a laboratory in Wuhan was first raised in early 2020, before being refuted and sidelined as a "conspiracy theory" by many scientists.
A statement in The Lancet published in February of 2020 condemned any rumors on the virus origins, claiming that scientific research "overwhelmingly" concludes that the new coronavirus originated in wildlife. The WHO research team investigating the origins of Covid-19 also called it "extremely unlikely" that the virus leaked from a lab in China.
The American Dr. Anthony Fauci, the director of the National Institute of Allergy and Infectious Diseases, was among those scientists who originally refuted the 'lab leak' theory. But in May of 2021, Fauci said he was "no longer convinced" that the Covid-19 pandemic originated naturally.
In American media, reports on the 'lab leak theory' have also seen shifting narratives, going from a 'conspiracy theory' to a seemingly credible one. Last month, a Wall Street Journal published an opinion article titled 'The Science Suggests a Wuhan Lab Leak,' which claims that the pathogen of the novel coronavirus has a genetic footprint that has never been observed in a natural coronavirus.
The Wall Street Journal also reported on a study by the Lawrence Livermore National Laboratory in California, which concluded that the hypothesis of a virus leak from a Chinese lab in Wuhan is plausible and deserves further investigation. The report by Wall Street Journal included an alleged American State Department's assertion that the U.S. government has reason to believe that several researchers inside the Wuhan Institute of Virology became sick in autumn 2019, "with symptoms that were consistent with Covid-19 or a seasonal flu."
The Chinese Side: "It's All about Blame-Shifting"
Chinese officials have repeatedly denied a possible leak from a Chinese laboratory and have emphasized their cooperation with international efforts to find the origins of the pandemic.
On May 27 of this year, a day after Biden's statement was released, Zhao Lijian (赵立坚), spokesperson for the Foreign Ministry, responded to the reinvestigation of China regarding the origins of the novel coronavirus.
Zhao argued that the US is not actually interested in the scientific origin of the virus, but that its determination to reinvestigate China despite previous scientific conclusions is all about "political manipulation" and "blame-shifting." He further said that the US – with over 33 million confirmed Covid-19 cases and 600,000 deaths from Covid-19 – should examine its own behavior, instead of "attempting to scapegoat China."
Although China was the first country to report Covid-19 infections, the official stance has been that this does not necessarily mean that the new coronavirus "patient zero" was also in China.
Prior to the Wuhan lab leak theory, China had been questioning the US military base Fort Detrick in Fredrick, Maryland, about the leak of Covid-19 as an agent of biochemical warfare. In May of last year, China's Foreign Ministry Spokesperson Hua Chunying asked for an international review of Fort Detrick and other bio-labs.
The #US keeps calling for transparency & investigation. Why not open up Fort Detrick & other bio-labs for international review? Why not invite #WHO & int'l experts to the US to look into #COVID19 source & response?

— Hua Chunying 华春莹 (@SpokespersonCHN) May 8, 2020
In light of recent developments, Chinese Foreign Ministry spokesperson Wang Wenbin (汪文斌) also, again, suggested that the U.S. should invite an international team of scientists to conduct an independent investigation on Fort Detrick on its potential link to the origin of Covid-19.
This stance was again reiterated by Zhao Lijian in a June 17 press conference, where the MFA spokesperson asked the U.S. to explain why, being the most medically country in the world, their COVID19 death toll was so high and why nobody would take responsibility for this and give more transparency on Fort Detrick.
On June 22, China's Ministry of Foreign Affairs turned the tables on the U.S. and demanded a thorough investigation of (1) the source of the epidemic in the United States, a (2) thorough investigation of the why's and who's of the American inadequate response in fighting the epidemic, and then also (3) an investigation into the safety concerns at Fort Detrick other biological labs (#赵立坚请美国赶紧回答3个问题#).
Weibo Discussions and Hashtags
On Chinese social media, various discussions and hashtags have come up in response to the recent developments regarding the research into the COVID19 origins. Most commenters agree on one thing, namely that the next stage of Covid-19 origin investigations is seemingly more about politics than about the virus itself.
A hashtag titled "Biden Ordered US Intelligence to Investigate the Origins of Covid-19" (#拜登令美情报部门调查新冠病毒起源) appeared on the same day as the White House statement was released and immediately attracted over 35 million views. Another relating hashtag on Weibo is "U.S. Specialists Have Changed Their Tune Regarding COVID19 Origin" (#美国专家在新冠病毒的来源上改口了#).
On Weibo, the most common reaction to Biden's investigation and American media coverage of the origins of the virus is one of suspicion towards their true intentions, ranging from intense emotions to sarcastic humor. Weibo users suggest that Biden's call to action is a politically charged move to further blame China for the pandemic amidst growing China-US tensions. Most netizens commenting under this hashtag feel that the U.S. is deliberately hyping the issue to discredit China, turning the COVID19 origins issue into a geopolitical issue, rather than a scientific one.
One popular comment (@乐隐灯清) said: "If I say you have it, then you have it – [this is] the second season of 'Laundry Detergent'!" This sarcastic comment refers to the famous UN meeting where US Secretary of State Colin Powell presented a vial containing white powder, supposedly proving that Saddam Hussein was stockpiling anthrax, in order to justify the US's invasion of Iraq. Putin fired back by calling this vial of powder "laundry detergent."
There are also web users who are concerned with the 90-day limit of Biden's announced investigation, questioning whether such a relatively short time would be enough for a thorough and fair study. One user, whose profile image is the Chinese national flag, wrote: "90 days? If you investigated Fort Detrick starting in the morning, you would already have the conclusion before lunchtime!"
One user questioned the US President's move to trace Covid-19's origin in China instead of in his own country: "Are they giving 90 days to investigate the origin or 90 days to fabricate a rumor?"
Another hashtag is "Where did the new coronavirus originate?" (#新冠肺炎病毒起源于哪里#). On this hashtag page, most discussions revolve around the fact that COVID19 was already found in various countries outside of China during or just before the early days of the Wuhan outbreak. Various studies suggest that the coronavirus might have been circulating in the US and France a month before it was officially confirmed.
"The fact that Chinese scientists were the first to discover the genetic sequence of the new coronavirus does not mean that Wuhan is the source of Covid-19, and it certainly cannot be used as a pretext to conclude that the virus was made by Chinese scientists," one Weibo blogger (@侠骨一点情) wrote.
There are those who believe it is probable that the virus did come from the U.S., saying that the American investigation into China is an issue of "zéi hǎn zhuō zéi" (贼喊捉贼), an idiom that literally means 'a thief crying "Stop Thief!",' conveying the idea that it is easy for someone to accuse another in order to cover up one's own misdeeds.
In response to the investigation, the computer graphics artist @半桶老阿汤 / 'Half Can of Old Soup' also released a cartoon, showing President Biden blocking the entrance to Fort Detrick, with a WHO research team standing in front of the entrance.
Many web users support the Chinese official reaction that it is time for America to investigate the epidemic within its own borders. "First, discrediting and framing China regarding the virus origin has become a 'national policy' of the U.S. government to get rid of their [own] predicaments," Chinese economist Tao Yongyi (@陶永谊) wrote on Weibo: "Now, the best defense is a good offense."
By Susanna Sun & Manya Koetse
Follow @whatsonweibo
Spotted a mistake or want to add something? Please let us know in comments below or email us.
©2021 Whatsonweibo. All rights reserved. Do not reproduce our content without permission – you can contact us at info@whatsonweibo.com.
China's COVID-19 Vaccine Freebies: Get One Vaccine, Get Milk & Eggs for Free!
"Do I get free transport and a freebie with that vaccine?"
While American vaccine incentives – where some counties would offer a free beer and fries to encourage more Americans to get the COVID-19 vaccine – made international headlines, Chinese vaccine incentives have also been attracting the attention on Weibo and beyond.
Forget about free beer and fries. How about getting free milk, eggs, toilet paper, laundry detergent, or sesame oil after getting your shot? In China, and especially in Shanghai, some local vaccine sites have been offering all kinds of noteworthy freebies to encourage citizens to come and get their shots.
Since March and April of this year, netizens are sharing photos of COVID-19 vaccine posters online, such as this one, where you get a carton of milk after getting vaccinated: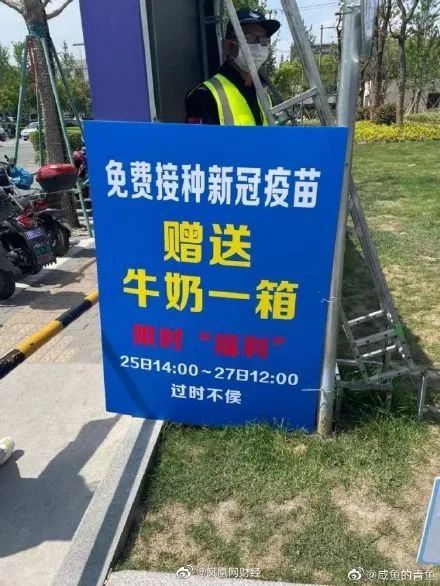 Or these, where you get free vegetable oil or sesame oil:
Or how about two boxes of eggs?
One local initiative even offered free toilet paper earlier this year:
Another place in Shanghai offered bags of rice for free with your shot:
And others offered free pick-up services to those getting vaccinated:
Here you see people leaving with their milk cartons (and vaccinated!):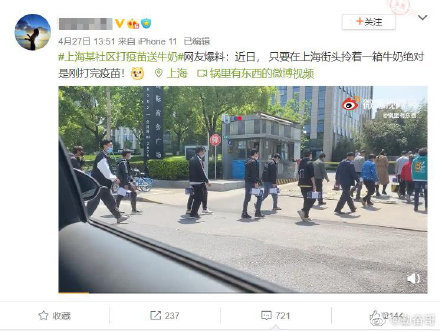 The freebies were meant to encourage more people to get their shots. But because of recent new COVID-19 cases in places like Anhui and Liaoning, more people are now in a rush to get vaccinated. Viral videos and posts on social media showed long queues at vaccine sites.
Popular WeChat account Xinwenge (新闻哥) reported a rapid shift in attitudes among young people towards getting the vaccine, from "do I get free transport and a freebie with that vaccine?" to "I'll stand in line and do anything as long as I can get vaccinated."
Is it a concert? Is it a lottery? No, it's covid-19 vaccines. pic.twitter.com/mF4FjyD87G

— Manya Koetse (@manyapan) May 18, 2021
"Confirmed local cases will motivate people more [to get the vaccine] than eggs and milk," one blogger from Guangdong wrote on Weibo.
Despite the surge of people going out to get their vaccine, some places still offer vaccine freebies. On social media, people are sharing the photos of their 'vaccine souvenirs'; plastic bags with milk and cookies.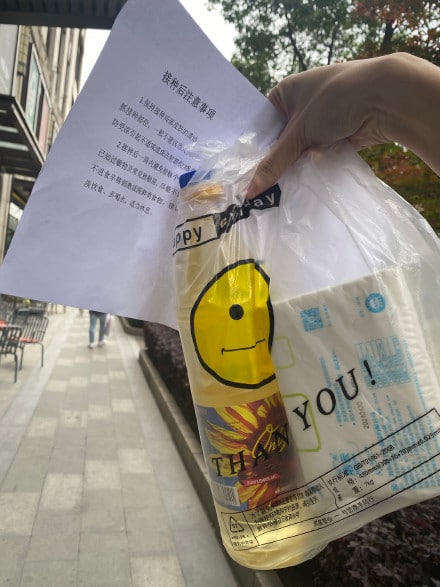 One Weibo user writes: "I was never so enthusiastic about getting my shot, until I heard they offered free milk and laundry detergent."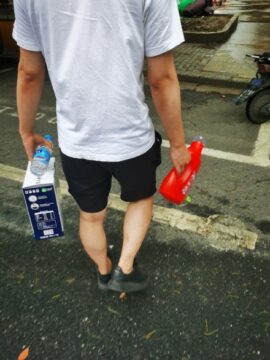 Another Weibo user also shows off their 'vaccine present', getting free milk, soap, and rice with their COVID-19 vaccine: "And I didn't even have to stand in line!"
By Manya Koetse & Miranda Barnes
Spotted a mistake or want to add something? Please let us know in comments below or email us. First-time commenters, please be patient – we will have to manually approve your comment before it appears.
©2021 Whatsonweibo. All rights reserved. Do not reproduce our content without permission – you can contact us at info@whatsonweibo.com.