New Law Combats the 'Yinao' Phenomenon
China has launched a new law to cope with the increasing 'Yinao' Phenomenon. The growing violence of patients against medical staff has made being a doctor a dangerous job in China.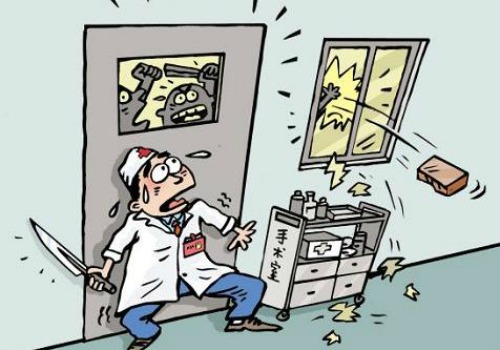 China has launched a new law to cope with the increasing social problem of patient-doctor violence, also called the 'Yinao' Phenomenon. The growing violence of patients against medical staff has made being a doctor a dangerous job in China. The new law makes it possible to sentence hospital troublemakers to up to seven years in prison.
The yinao (医闹, 'medical disturbance') phenomenon has become a growing problem in China's medical sector over the past several years. Yinao is the organized disturbance and violence in hospitals against medical workers, mostly meant to get compensation for medical malpractices. It is often done by criminal groups that are hired by patients or their family when they are dissatisfied with the provided medical care.
The disturbance includes protests and violent attacks on staff. Some even involve the murder on health professionals.
Chinese media have covered roughly thirty medical related disputes from October 2013 to June 2015. These were only the terribly violent disputes (including fatal stabbings) that had a large societal impact; the thousands of small disputes happening in hospitals across China every day were not taken in account.
"The Ministry of Public Security has advised hospitals with 2000 beds to have at least 100 security guards."

In October of 2013, the Ministry of Public Security has advised hospitals with over 2000 beds to have at least 100 security guards. The growing numbers of security staff, however, have not helped to combat hospital violence.
In November 2013, hundreds of medical workers protested at the No. 1 People's Hospital in Wenling, after a dissatisfied patient overpowered security guards and stabbed three doctors, leading to the death of one of them.
The new law, that will be implemented on November 11th of this year, is to punish those who threaten and assault medical staff, damage hospital facilities or equipment, or in any way hinder the hospital staff and doctors from doing their work.
"Medical workers are constantly bullied, humiliated or physically hurt by ignorant people."

On Sina Weibo, the topic "medical disturbance crimination" (#医闹入罪#) was posted immediately after the news was released. Over a million users participated in a discussion about the new law.
Among all the users commenting, there were are also many medical professionals and students. "Us as poor medical students can finally relax a little bit. Medical violence should have been incriminated years ago!" says user Sunshine Without Tears: "There have been so many hospital disputes, and medical workers are constantly bullied, humiliated or physically hurt by ignorant people. We need a law to combat hospital disputes so that the relationship between doctors and patients will improve."
Doctor CSY summarizes the major factors contributing to the increase of violence in China's health care: a rising consciousness of patient rights, deepening misunderstandings between patients and doctors, and provocative media reporting. He then adds: "I've witnessed a lot of disputes in the hospital over the past few years. All doctors want their patients to get better and healthy. We work so hard with not much income, and yet have to worry about our own safety. If any medical worker neglects his duty, he should be punished by the law instead of being hit by the patient's family."
"Patients sometimes spend their entire life savings when suffering from serious illnesses. When treatment fails, despairing patients and their families are quick to blame doctors."

The market-oriented reforms of the Chinese health sector is also a major cause of the yinao phenomenon. With China's economic liberalization, the state is no longer responsible for providing health care. Because public hospitals have started chasing profits to survive, people have to take more responsibility for their own care.
Patients sometimes spend their entire life savings when suffering from serious illnesses. When treatment fails, despairing patients and their families are quick to blame doctors and the hospital.
Most patients and their families are unwilling to solve medical problems through legal channels; not only is the process time-consuming, it also might end with no financial compensation. They believe a quicker way to get some money back is to cause trouble at the hospital.
Weibo user Huohuo is worried about the feasibility of the new law: "I don't think ordinary people will go to court to deal with medical issues. In China, there is a long tradition of the law failing us, while the violators win. I just hope that China will be a developed country soon so that all Chinese people can enjoy free healthcare. It might be the best solution to decrease hospital disputes."
"Doctors are the perfect target of revenge."

There are also Weibo users who understand negative sentiments towards medical staff. Chinese doctors and other medical professionals are generally underpaid. The low income causes some of them to make extra money in "grey areas" such as drug kickbacks, over-prescription, and bribery. For many patients, this has ruined the image of doctors, and they find it hard to trust them. This partly explains why, when medical misfortune happens, doctors often are the perfect targets of revenge.
User East South West North comments: "Medical disputes happen for a reason. The truth is, that some doctors require patients to do unnecessary inspections so they can make profits. Patients have even died from counterfeit drugs prescribed by doctors."
"I'm afraid no one wants to pursue a career in medicine if this vicious cycle keeps on growing."

China's violence against doctors has been cited as an important reason for a decrease in the popularity of healthcare career. User J_tomorrow points out that the government should heighten the punishment of 'medical disturbance' to ensure the safety of medical workers at hospitals: "Doctor is a high-risk and low-paid occupation in China. I'm afraid no one wants to pursue a career in medicine if this vicious cycle keeps on growing."
Weibo user called Bottle of Chili admits that she has lost her passion of being a medical worker: "I used to be full of passion for my work, and I treated my patients with kindness. But after being misunderstood and humiliated by patients and their families years after years, I'm now doing my job like a robot. The whole society expects us to show selfless devotion, but we are humans after all!"
'Medical disturbance crimination' is the first step in improving the doctor-patient relationship. Many more measurements need to be taken in order to cope with this social problem. User Liyun expresses his support of the legal protection of medical worker. At the same time, he says: "We need to understand the underlying reasons of medical disturbance – the distrust between doctors and patients. Hospitals should not hide or cover up medical negligence. And patients should give medical workers the respect they deserve."
By Yiying Fan
Follow @WhatsOnWeibo
Image used: http://focus.cnhubei.com/consensus/200912/t883804.shtml
©2015 Whatsonweibo. All rights reserved. Do not reproduce our content without permission – you can contact us at info@whatsonweibo.com.
China's Celebrity Weight Craze: Qin Hao's Viral Diet and Body Anxiety Behind the Weight-Loss Trend
The extreme diet of Chinese actor Qin Hao has sparked a trend of people sharing photos of their corn and egg meals. It's yet another celebrity weight-loss trend that is more about unrealistic expectations than healthy ways of shedding pounds.
Actor Qin Hao's remarkable weight loss has sparked waves of online excitement over a potential new diet plan. Qin is not the only Chinese celebrity whose weight loss journey has become an online hype. But behind the relentless pursuit of celebrity weight loss plans lies the issue of body anxiety, particularly among young Chinese women.
Why do we see so many photos with one ear of corn on Weibo these days? It has everything to do with Qin Hao (秦昊). The actor, renowned for his role in the highly acclaimed 2020 Chinese drama series "The Bad Kids" (隐秘的角落), has recently garnered significant attention for his appearance in another compelling series titled "The Long Wait" (漫长的等待).
This time, his surge in popularity is not just because of his exceptional acting abilities or the captivating character he portrayed, but mostly because of the remarkable diet plan he followed to lose weight during the filming of the series.
In his latest role, Qin played a middle-aged man with a chubby physique, round cheeks, and a beer belly. He had put on a lot of weight to play this character. However, later on, the director asked him to quickly lose weight and "sharpen up" ("必须瘦出棱角").
Qin's wife, Yi Nengjing (@伊能靜), discovered an online diet menu that helped Qin successfully lose over 20 pounds, resulting in a significant transformation in his appearance. Due to numerous inquiries from fans and followers, Yi decided to share the diet plan on her Weibo account.
The five-day diet plan consists of the following meals:
Day 1: Only unsweetened soy milk is consumed throughout the day.
Day 2: Each meal consists of one ear of corn.
Day 3: Breakfast includes dragon fruit, lunch consists of an apple, and dinner consists of blueberries.
Day 4: Breakfast consists of one boiled egg, while lunch and dinner consist of boiled shrimp.
Day 5: Breakfast includes broccoli, lunch consists of spinach, and dinner consists of lettuce.
On Weibo, many people trying out this diet are posting photos of their daily meals, resulting in dozens of photos of a single ear of corn being posted on the platform these days.
Despite the supposed effectiveness of the diet, Yi also issued a warning to her followers. "I want to emphasize once again that I do not recommend this menu to anyone," she wrote on Weibo. "The entire process is incredibly arduous, and Qin experienced weakness in his legs due to hunger for some days."
Despite the warning, the menu still managed to attract a significant number of netizens willing to give it a try. With titles like "Challenging Qin Hao's Diet Plan (挑战秦昊饮食法)" and "Losing 8 Pounds in Five Days (五天瘦八斤)," many people took to platforms such as WeChat, Bilibili, and Weibo to share videos, images and texts documenting their experiences with the same diet plan and the amount of weight they lost each day.
Among those who decided to try the diet plan was the renowned screenwriter and producer Yu Zheng (于正), known for his works such as "The Palace" (宫) and "The Story of Yanxi" (延禧攻略). Yu shared on his Weibo account that he successfully lost 10 pounds in just a few days by following Qin's diet plan. In doing so, he also inspired others to give it a try.
While some individuals recognize the extreme nature of Qin Hao's diet plan, they have made modifications by adding carbohydrates and proteins on certain days or incorporating other "diet foods" like cucumbers or healthy snacks.
However, many choose to strictly adhere to the original plan, expressing sentiments such as "As long as I'm not starving to death, I'll push myself to the limit" or "Even though I'm so hungry that I could eat a person, I'm still very happy with my progress."
EXTREME CELEBRITY DIETS
"You are truly too fat."
Qin is not the only celebrity whose weight loss journey has captured widespread attention. Earlier this year, another viral trend emerged among netizens, who urged director Guo Jingming (郭敬明) to establish a weight loss camp due to the noticeable weight loss among actresses who had worked on his film sets. On Weibo, this phenomenon was described as "no one can leave Guo Jingming's film crew without losing weight" ("没有人能够胖着走出郭敬明剧组").
Guo later disclosed his diet plan for actors and actresses during a television program. According to Guo, they were required to adhere to a diet that excluded oil, salt, and sugar. Additionally, he admitted that he would tell them "you are truly too fat (你真的太胖了)" on a daily basis, as a form of persuasion for those who were reluctant to follow the diet plan. Despite the extreme nature of this diet and his 'brainwashing' methods, many individuals continued to express their desire for Guo to realize an actual weight loss camp for them to join.
The trend of following celebrity diets for weight loss remains popular, with an increasing number of individuals adopting the diet plans promoted by celebrities like Yu Shuxin, IU, Zhang Tianai, and others.
These diets come in various forms, ranging from single-food diets like cucumber and egg or boiled broccoli with plain porridge, to more restrictive approaches that eliminate specific ingredients, such as carbohydrates, or advocate for skipping evening meals. The widespread popularity of these diets is evident on social media, where netizens, mostly female, try them out and document their weight-loss journeys, sharing their progress with a wider audience.
The majority of posts and short videos revolving around these diet plans often feature attention-grabbing titles like "losing xx pounds in xx days," accompanied by celebrities showcasing their slimmed body shapes.
CONCERNS SURROUNDING CELEBRITY CRASH DIETS
"Let me advise you: never, ever go down this terrible path."
With the increasing popularity of celebrity diets, concerns about their impact on (mental) health have arisen. Doctors have issued warnings against attempting Qin Hao's diet plan, cautioning that it can cause significant harm to the body and result in weight gain once discontinued.
Diets that severely restrict calorie intake, like this one, can have detrimental effects such as weakened immunity, decreased bone density, impaired memory, hair loss, and an increased risk of depression. Netizens commenting on posts of people trying these diets often warn others against blindly following their lead. One user offered a stern warning, saying: "To my sisters who haven't started dieting, let me advise you: never, ever go down this terrible path."
Despite the prevailing health concerns associated with celebrity diets, not everyone places their well-being above achieving a desired body shape. In response to a diet plan video by Kpop singer IU, one user acknowledged the potential harm it could cause but still said losing weight was their primary goal, as being overweight made them feel miserable: "I don't care if it's harmful to my body, as long as I can lose weight."
Other users argue that everyone has the right to do whatever they want with their body: "We are all adults and responsible for our own affairs. If you want to lose weight, eat less. If you don't want to lose weight, then continue to be overweight." 
PURSUIT OF THE PERFECT BODY
"For female celebrities, being fat destroys everything."
Behind the never-ending new celebrity diet plans is the question of why celebrities losing weight garners such significant attention. It appears that shedding pounds has become a convenient method for celebrities to attract public interest and enhance their overall image. Losing weight is often portrayed as a symbol of willpower and dedication to one's career.
For instance, Yuan Shanshan, who previously faced criticism for her appearance in certain TV series, received applause and positive attention after slimming down and achieving a V-line figure. Media reports frequently associate female celebrities' dietary practices with the concept of "self-discipline," utilizing titles such as "How self-disciplined are female celebrities?" to highlight their various weight-loss approaches.
On the other hand, when female celebrities gain weight, they are often accused of "betraying" their professional careers or "giving up" on their ambitions.
A quick online search reveals how numerous news articles and blog titles highlight female celebrities' self-discipline through their successful weight loss. These pieces often showcase extraordinary diet methods, like relying on single strands of noodle as a carbohydrate source or consuming plain, boiled vegetables without any additional ingredients.
SLIM LIKE A CELEBRITY
"Will your boss promote you because you're as thin as a celebrity?"
The public's scrutiny of celebrities' weight, often using it as a measure of willpower and success, is a common phenomenon, but celebrities themselves also influence the public's perception of the 'perfect' figure. On various variety shows, female celebrities' heights and weights are increasingly showcased, which inadvertently contributes to viewers' anxieties about their own bodies.
Articles on social media treat these measurements as if they represent the standard for the majority, presenting titles such as "After looking at the heights and weights of these female celebrities, I swear I will never eat again," or "The true heights and weights of female celebrities – a reference for weight loss," and: "How light is thin? Revealing female celebrities' heights and weights." These articles contribute to the idolization of specific body shapes and weights as symbols of beauty and perfection.
'Am I too fat weighing xx pounds?' 'What weight is considered "fat" in today's society?' 'Why do people care about women's weight so much?' 'Why am I so obsessed with my own weight?' As women track and critique the weight fluctuations of female celebrities, many are grappling with questions about body image on social media. They seek answers to their own concerns, shaped by constant exposure to the seemingly ideal body weights of these celebrities.
Amidst all the celebrity weight craze, more critical voices are emerging in the Chinese social media sphere. Witnessing people blindly following celebrities' weight loss journeys, one Zhihu user recently wondered: "Why should everyone strive to have the same bodies as the ones displayed by celebrities? Is there any tangible benefit for ordinary individuals to achieve the same level of thinness as these celebrities? Will your boss promote you or increase your salary simply because you're as slim as a celebrity?"
Many individuals also question the connection between weight loss, self-discipline, and professional success. They assert that celebrities' ability to maintain a slim figure is predominantly driven by financial incentives rather than exceptional personal qualities.
One Weibo user commented on Qin Hao's diet plan, highlighting the disparities between celebrity lifestyles and those of everyday individuals: "Most people don't have jobs that demand such extreme measures, nor do they lead a celebrity lifestyle with chauffeured transportation and dedicated services for nutrition and exercise management. Furthermore, everyday individuals don't need to rely on weight loss as a means to seek public attention or stay in the spotlight."
Chinese author Mao Li (毛利), in a Zhihu post, shared her perspective on the issue and acknowledged that she also has wasted valuable time on futile body image anxieties. She suggests breaking free from the media's "perfect body" hype, embracing self-acceptance, and finding joy in living together with our bodies. She encourages people to "accept it, enjoy it, and praise it."
By Zilan Qian
Get the story behind the hashtag. Subscribe to What's on Weibo here to receive our newsletter and get access to our latest articles:
Spotted a mistake or want to add something? Please let us know in comments below or email us. First-time commenters, please be patient – we will have to manually approve your comment before it appears.
©2023 Whatsonweibo. All rights reserved. Do not reproduce our content without permission – you can contact us at info@whatsonweibo.com.
Repurposing China's Abandoned Nucleic Acid Booths: 10 Innovative Transformations
Abandoned nucleic acid booths are getting a second life through these new initiatives.
During the pandemic, nucleic acid testing booths in Chinese cities were primarily focused on maintaining physical distance. Now, empty booths are being repurposed to bring people together, serving as new spaces to serve the community and promote social engagement.
Just months ago, nucleic acid testing booths were the most lively spots of some Chinese cities. During the 2022 Shanghai summer, for example, there were massive queues in front of the city's nucleic acid booths, as people needed a negative PCR test no older than 72 hours for accessing public transport, going to work, or visiting markets and malls.
The word 'hésuān tíng' (核酸亭), nucleic acid booth (also:核酸采样小屋), became a part of China's pandemic lexicon, just like hésuān dìtú (核酸地图), the nucleic acid test map lauched in May 2022 that would show where you can get a nucleic test.
During Halloween parties in Shanghai in 2022, some people even came dressed up as nucleic test booths – although local authorities could not appreciate the creative costume.
In December 2022, along with the announced changed rules in China's 'zero Covid' approach, nucleic acid booths were suddenly left dismantled and empty.
With many cities spending millions to set up these booths in central locations, the question soon arose: what should they do with the abandoned booths?
This question also relates to who actually owns them, since the ownership is mixed. Some booths were purchased by authorities, others were bought by companies, and there are also local communities owning their own testing booths. Depending on the contracts and legal implications, not all booths are able to get a new function or be removed yet (Worker's Daily).
In Tianjin, a total of 266 nucleic acid booths located in Jinghai District were listed for public acquisition earlier this month, and they were acquired for 4.78 million yuan (US$683.300) by a local food and beverage company which will transform the booths into convenience service points, selling snacks or providing other services.
Tianjin is not the only city where old nucleic acid testing booths are being repurposed. While some booths have been discarded, some companies and/or local governments – in cooperation with local communities – have demonstrated creativity by transforming the booths into new landmarks. Since the start of 2023, different cities and districts across China have already begun to repurpose testing booths. Here, we will explore ten different way in which China's abandoned nucleic test booths get a second chance at a meaningful existence.
1: Pharmacy/Medical Booths
Blogger 'copyquan' recently explored various ways in which abandoned PCR testing points are being repurposed.
One way in which they are used is as small pharmacies or as medical service points for local residents (居民医疗点). Alleviating the strain on hospitals and pharmacies, this was one of the earliest ways in which the booths were repurposed back in December of 2022 and January of 2023.
Chongqing, Tianjin, and Suzhou were among earlier cities where some testing booths were transformed into convenient medical facilities.
2: Market Stalls
In Suzhou, Jiangsu province, the local government transformed vacant nucleic acid booths into market stalls for the Spring Festival in January 2022, offering them free of charge to businesses to sell local products, snacks, and traditional New Year goods.
The idea was not just meant as a way for small businesses to conveniently sell to local residents, it was also meant as a way to attract more shoppers and promote other businesses in the neighborhood.
3: Community Service Center
Some residential areas have transformed their local nucleic acid testing booths into community service centers, offering all kinds of convenient services to neighborhood residents.
These little station are called wǎnggé yìzhàn (网格驿站) or "grid service stations," and they can serve as small community centers where residents can get various kinds of care and support.
4: "Refuel" Stations
In February of this year, 100 idle nucleic acid sampling booths were transformed into so-called "Rider Refuel Stations" (骑士加油站) in Zhejiang's Pinghu. Although it initially sounds like a place where delivery riders can fill up their fuel tanks, it is actually meant as a place where they themselves can recharge.
Delivery riders and other outdoor workers can come to the 'refuel' station to drink some water or tea, warm their hands, warm up some food and take a quick nap.
5: Free Libraries
In various Chinese cities, abandoned nucleic acid booths have been transformed into little free libraries where people can grab some books to read, donate or return other books, and sit down for some reading.
Changzhou is one of the places where you'll find such "drifting bookstores" (漂流书屋) (see video), but similar initiatives have also been launched in other places, including Suzhou.
6: Study Space
Another innovative way in which old testing points are being repurposed is by turning them into places where students can sit together to study. The so-called "Let's Study Space" (一间习吧), fully airconditioned, are opened from 8 in the morning until 22:00 at night.
Students – or any citizens who would like a nice place to study – can make online reservations with their ID cards and scan a QR code to enter the study rooms.
There are currently ten study booths in Anji, and the popular project is an initiative by the Anji County Library in Zhejiang (see video).
7: Beer Kiosk
Changing an old nucleic acid testing booth into a beer bar is a marketing initiative by the Shanghai McCann ad agency for the Belgium beer brand Hoegaarden.
The idea behind the bar is to celebrate a new spring after the pandemic. The ad agency has revamped a total of six formr nucleic acid booths into small Hoegaarden 'beer gardens.'
8: Police Box
In Taizhou City, Jiangsu Province, authorities have repurposed old testing booths and transformed them into 'police boxes' (警务岗亭) to enhance security and improve the visibility of city police among the public.
Currently, a total of eight vacant nucleic acid booths have been renovated into modern police stations, serving as key points for police presence and interaction with the community.
9: Lottery Ticket Booths
Some nucleic acid booths have now been turned into small shops selling lottery tickets for the China Welfare Lottery. One such place turning the kiosks into lottery shops is Songjiang in Shanghai.
Using the booths like this is a win-win situation: they are placed in central locations so it is more convenient for locals to get their lottery tickets, and on the other hand, the sales also help the community, as the profits are used for welfare projects, including care for the elderly.
10: Mini Fire Stations
Some communities decided that it would be useful to repurpose the testing points and turn them into mini fire kiosks, just allowing enough space for the necessary equipment to quickly respond to fire emergencies.
Want to read more about the end of 'zero Covid' in China? Check our other articles here.
By Manya Koetse,
Get the story behind the hashtag. Subscribe to What's on Weibo here to receive our newsletter and get access to our latest articles:
Spotted a mistake or want to add something? Please let us know in comments below or email us. First-time commenters, please be patient – we will have to manually approve your comment before it appears.
©2023 Whatsonweibo. All rights reserved. Do not reproduce our content without permission – you can contact us at info@whatsonweibo.com.
Subscribe to our newsletter
Stay updated on what's trending in China & get the story behind the hashtag
Sign up here to become a premium member of What's on Weibo today and gain access to all of our latest and premium content, as well as receive our exclusive newsletter. If you prefer to receive just our weekly newsletter with an overview of the latest, you can subscribe for free here.
Would you like to become a contributor, or do you have any tips or suggestions for us? Get in touch with us here.