"Offensive to Chinese Language" – USC Controversy over Chinese Filler Word 那个 (Nèigè) Discussed on Weibo
Weibo users discuss how a professor at the University of Southern California was temporarily suspended for using Chinese filler word 'nage.'
In English it's "uuh", in Dutch it's "ehm", the French say "euh", in Japan it's "eto", and in Mandarin Chinese it's "nàge" (or "nèige" 那个). Every language has different filler words and hesitation markers that are used as a natural pause or stalling in speech.
The Chinese nàge recently received much more attention in western media than filler words usually get, when an American professor was suspended by the Marshall School of Business (University of Southern California) for saying "nàge" while teaching an online communications class. Students took offense because they thought the Chinese word sounded like the English n-word.
Greg Patton, a Professor of Clinical Business Communication, was teaching his online class via Zoom on August 20 when explaining the Chinese filler word nàge"/"nèige" (那个).
According to the Los Angeles Times, students complained that the words he used "sounded like a racial slur" and "harmed their mental health."
I cannot believe this is real, but it is.

This USC Professor is on leave after students were offended that a Chinese word he used during a lecture on foreign languages sounded like an english racial slur.

Watch the video for yourself: pic.twitter.com/HkFPMEP5I2

— Cabot Phillips (@cabot_phillips) September 3, 2020
Following the class, Patton's students wrote a letter to the USC Marshall dean in which they stated they blamed the incident for no longer being able to focus on their studies, saying their professor "lacks the tact, racial awareness and empathy to lead and teach an audience as diverse as ours" and that it would be "unacceptable" to expect the students to sit through two more weeks of his class.
In an email to all MBA students on August 24, the USC Marshall dean apologized that the class led to "great pain and upset among students," also stating that Patton "agreed to take a short-term pause" from teaching the course while another instructor took over.
"These students are discriminating against the Chinese language"
News of the incident blew over to Chinese social media this week, where it was discussed under hashtags such as "US Professor Suspended for Saying Chinese Word Nage" (#美国教授课上说中文词那个被停课#, 1.4 million views) and "US Professor Saying the Chinese Nage Suspended over Racism" (#美国大学教授说中文词那个因种族歧视被停课#, 7.5 million views).
On Weibo, netizens had little sympathy for the students feeling offended over the Chinese words. Many called them "ignorant" or "uncultured" for mistaking the Chinese words for a racial slur.
Although there are many Weibo users who think the controversy is laughable, there are also some who are shocked and surprised that this incident actually took place, and some taking offense over the controversy – seeing it as an insult to the Chinese language.
"These students are discriminating against the Chinese language," several people wrote, calling it "offensive to Chinese", with others saying: "So English is higher in rank than Chinese? The pronunciation is similar, but why is it the English [meaning] that is superior here?"
"I can't believe this is real life," another popular comment said.
This is not the first time for 'nèige' to receive attention. A well-known skit by comedian Russell Peters also mentions how 'nèige' sounds like the n-word, and there are many Quora posts dedicated to the word.
On Weibo, various commenters mention the song "Sunshine, Rainbow, White Pony" by Da Zhang Wei (大张伟), aka Wowkie Zhang, of which the catchy chorus also repeats a Chinese nèige word (meaning "in that") (see video below).
The song from 2018, that has over four million views on Youtube, also has thousands of comments underneath suggesting that the singer is singing the n-word.
"Da Zhang Wei would be killed if he would sing this in the US," one Weibo commenter wrote.
Also read: "Fake" and "Hypocritical" – Western Anti-Racism Movements Criticized on Weibo
By Manya Koetse, with contributions by Miranda Barnes
Follow @WhatsOnWeibo
Spotted a mistake or want to add something? Please let us know in comments below or email us. First-time commenters, please be patient – we will have to manually approve your comment before it appears.
©2020 Whatsonweibo. All rights reserved. Do not reproduce our content without permission – you can contact us at info@whatsonweibo.com.
Behind 8 Billion Streams: Who is Dao Lang Cursing in the Chinese Hit Song 'Luocha Kingdom'?
What's behind the Dao Lang hit song that has everyone talking these days?
"Who is being mocked and cursed in this song?" This question has ignited a wildfire of speculation across the Chinese internet, as a recently released folk song by a relatively low-profile singer has amassed a staggering 8 billion plays, surpassing the success of previous hit songs.
A newly released Chinese song, composed and sung by a 52-year-old singer who was primarily active in the 2000s, has achieved an astounding milestone of 8 billion streams in less than two weeks since its release.
The song, titled "Luosha Haishi" (罗刹海市; "Raksha Sea Market" or "Luocha Kingdom"), has been widely acclaimed on various social media platforms, with many claiming that it has surpassed the Guinness World Record for the most streamed track worldwide, a record previously held by "Despacito" in 2017 with 5.5 billion plays. The official Weibo account of Guinness World Records recently stated that they haven't received any application for a new record yet, and thus, no record has been officially confirmed broken at this time.
However, even 8 billion plays alone are enough to marvel at. The sudden surge in popularity of a song created by a low-profile singer, who has not participated in any major shows or held performances for the last few decades, has raised numerous questions: Who is the singer? What is in the song? And why has it become viral in China? We'll answer some of these questions for you here.
Question 1: Who is Dao Lang?
Dao Lang (刀郎), whose real name is Luo Lin (罗林), embarked on his musical journey at a young age. Born in 1971, he made the decision to leave school at the age of 17 and fully immerse himself in learning keyboard instruments at a music hall in Neijiang. Over the next four years, he ventured to different locations such as Chengdu, Chongqing, Tibet, and Xi'an, where he gained experience and honed his musical skills. Throughout the 1990s, he actively participated in various music projects and bands, shaping his career in the music industry.
In 2004, Dao Lang's album The First Snow of 2022 (2002年的第一场雪) was unexpectedly well-received, winning him nationwide popularity. After enjoying success with previous albums, Dao Lang diversified his musical endeavors, collaborating with other artists and exploring different genres, such as folk and ethnic music. Between 2010 and 2012, he participated in various performances and events, including appearing at Hong Kong singer Alan Tam's concert and the Television Arts Evening Celebration for the 90th Anniversary of the Communist Party of China's founding.
Subsequently, Dao Lang appeared to withdraw from social media, only resurfacing with two albums in 2020 and 2021, which were released with minimal promotion. However, it is his latest album, titled There Are Few Folk Songs (山歌寥哉) that has brought him back into the public eye, primarily due to the "Luosha Haishi" song.
Question 2: What's the Song About?
What makes a song so powerful that it has brought Dao Lang back into the public's attention after almost 20 years?
The song carries strong folk and ethnic elements, and the lyrics are quite cryptic. The song itself has the same title as an ironic story in the famous Liaozhai Zhiyi (聊斋志异), or Strange Stories from a Chinese Studio, a collection of supernatural and ghostly tales written by Pu Songling (蒲松龄) during the Qing Dynasty (1644-1911).
The song's sudden popularity is mainly attributed to the mocking implication embedded in the lyrics.
One particular verse, in particular, has sparked significant discussion:
那马户不知道他是一头驴
That Don Kee does not know that he is a donkey
那又鸟不知道他是一只鸡
That Scarlet does not know that she is a whore
勾栏从来扮高雅
Brothels have always pretended to be elegant
自古公公好威名
Since ancient times, eunuchs are fond of their mighty reputation
The terms "Mǎ Hù" (马户) and "Yòu Niǎo" (又鸟), translated here as 'Don Kee' and 'Scarlet' 1, are not commonly used terms in modern Chinese. Mǎ Hù (马户) is a combination of the characters 马 (mǎ), meaning "horse," and 户 (hù), meaning "household" or "family." If these two are combined as one character, you get "驴" (lü), meaning "donkey," hence the 'Don Kee' translation to English.
Similarly, "Yòu Niǎo" (又鸟) is a made-up term consisting of two character components that, when put together, means "chicken" ("鸡", jī).
Both 'donkey' and 'chicken' have been used as curses in China. People use phrases such as "as silly as a donkey" ("蠢得像头驴") to describe foolish behavior. On the other hand, the term "chicken" (鸡) often implies prostitution when used in the singular form, but it can also take on the meaning of "trashy" (辣鸡, a phonetic adaptation of the word 垃圾, rubbish) or "weak" (菜鸡) when combined with other characters.
The term that is translated as "brothel" here is "gōulán" (勾栏), which refers to a type of performance venue for opera in urban areas during the Song and Yuan dynasties but is also used to refer to brothels.
The term "gōng gong" (公公) is used to address the father of one's spouse, but is also has additional meanings and was historically used as an appellation for eunuchs, (castrated) male servants in the imperial court.
So we could say that the first two lines of these lyrics can be interpreted as mocking or cursing people who are unaware of their own silliness or weak status. When combined with the third and fourth lines, which describe things that are pretentious, we can deduce that these lyrics are meant to point out how some people perceive themselves as much more than they actually are, vainly focused on how they portray themselves to others and their status.
Question 3: Who is Dao Lang Cursing in This Song?
There are various online theories on what or who Dao Lang is actually referring to in this song.
◼︎ One trending theory is that it is about Na Ying (那英). Na Ying is a Chinese singer who rose to national fame after serving as a coach in the the popular television singing show The Voice of China in 2012.
Despite gaining recognition in 2004 for his album The First Snow of 2002 (2003), Dao Lang was not widely celebrated as an artist at that time. When Chinese media asked various artists about their thoughts on the 'rising star' Dao Lang, he was often criticized and belittled. Among those with the deepest grudge against Dao Lang, it is widely rumored that Na Ying was the one.
In 2010, during the selection of the "Top 10 Most Influential Singers of the Decade," Na Ying, as the jury chairwoman, vehemently opposed Dao Lang's inclusion. She allegedly believed that Dao Lang's songs lacked aesthetic value, despite their high sales, and that music should not be solely judged based on sales volume.
This publicly known clash with Na Ying has sparked widespread speculation that the person subtly mocked by Dao Lang in his song is actually her. Moreover, some interpret the repetition of the character "那" (nà, "that") throughout the song as a reference to Na Ying's surname.
Soon after the album's release, Na Ying's social media accounts were inundated with netizens convinced that the song was directed at her. Her follower count on Douyin (Chinese TikTok) surged from 770,000 to 1,800,000, and her recent video garnered millions of comments, with many referencing Dao Lang's song and blaming her for belittling Dao Lang back in the day.
◼︎ Another trending theory is that Dao Lang is cursing the popular music talent show The Voice of China and its coaching panel. Besides Na Ying, singers Yang Kun and Wang Feng also received ten thousands of comments related to Dao Lang's song on their social media accounts.
One of the reasons why people think the song refers to the show is because it contains the line "Before speaking, they turn around" ("未曾开言先转腚"), which reminds people of the show's "chair turning moment" in which coaches, whose chairs are turned away from the blind audition stage, can press a button that turns their chair around to face the stage if they are impressed by the contestant's voice and want to work with them.
◼︎ A third trending theory suggests that the song's meaning extends far beyond the music industry and carries geopolitical implications. Some netizens have let their imaginations run wild, arguing that the song is actually mocking the United States. The opening line "The land of Rakshasa extends 26,000 li to the east, crossing the Seven Gorges and the scorched Yellow Mud Land of three inches" ("罗刹国向东两万六千里,过七冲越焦海三寸的黄泥地") is a point of focus.
Since 26,000 li is a traditional Chinese unit of distance, equivalent to half a kilometer, some believe it aligns precisely with China's territory. Consequently, they speculate that the Rakshasa country, located 13,000 kilometers west of China, is a metaphor for the United States.
The Aftermath
Amidst the nationwide speculation on whom Dao Lang is targeting in his song, several "suspects" have responded to netizens' guesses. Some chose to resolve the controversy humorously, while others indirectly expressed their distress over the online abuse stemming from these unfounded speculations. Recent reports indicate that Na Ying, in her latest debut, seemed to be greatly affected by the harsh comments made by netizens.
While the speculations surrounding the song have garnered significant attention for both the song and the singer, some discussions are not necessarily constructive. As some netizens point out, the song might not even aim to curse anyone.
It could also be that the song is simply inspired by one of the stories in the book Strange Stories from a Chinese Studio (聊斋志异), which is set in a place called Rakshasa Country, located 26,000 li west of China, resembling a bustling market. In this country, people have peculiar and bizarre appearances, and the more non-human they look, the more attention they receive, while those who appear human live at the bottom of society. Therefore, it is possible that the song aims to narrate these stories instead of attacking someone in particular.
Moreover, the extensive speculations surrounding the song's intention have also seemingly transformed Dao Lang's music from a source of enjoyment into a source of analysis, with netizens now meticulously scrutinizing every lyric line.
Among the billions of streams, it begs the question: how many listeners are genuinely enjoying Dao Lang's music, and how many are just eager sleuths, searching for clues to support their theories about the song's targets? This raises some curiosity about the true significance of the song's popularity.
On the other hand, Dao Lang would likely not mind if the song eventually finds its place in the Guinness Book of Records, alongside a note that recognizes it as "the no 1 one most-played hit song that kept everyone guessing."
By Zilan Qian
Follow @whatsonweibo
1. Part of the translation provided, namely the translation of 'Ma Hu' 马户 as 'Don Kee' and 'You Niao' 又鸟 as 'the scarlet woman' was created by Xiangdong Zhu & Ning Wan on Wenxuecity.com on August 1st 2023, although the original page has since been deleted.
This article has been edited for clarity by Manya Koetse
Get the story behind the hashtag. Subscribe to What's on Weibo here to receive our newsletter and get access to our latest articles:
Part of featured image via Xigua Shipin.
Spotted a mistake or want to add something? Please let us know in comments below or email us. First-time commenters, please be patient – we will have to manually approve your comment before it appears.
©2023 Whatsonweibo. All rights reserved. Do not reproduce our content without permission – you can contact us at info@whatsonweibo.com.
When a Scene from a 2010 Chinese TV Drama Goes Viral: The 'Cao Cao Flips Rice Bowl' Meme
Cao Cao flipping the rice bowl is another Cao Cao meme that's widely used to convey internal struggles about facing reality.
These days, a viral meme originating from the Chinese TV series Three Kingdoms (三国) has gained significant traction on Chinese social media.
In a memorable scene from the 2010 series, Cao Cao, a prominent warlord in Chinese history played by actor Chen Jianbin (陈建斌), angrily flips his rice bowl upon receiving news of a surprise attack, only to gather the spilled rice back into the bowl later.
This scene featuring an enraged Cao Cao has resurfaced and struck a chord with individuals reluctantly facing reality.
This short scene from the 2010 Chinese historical drama "Three Kingdoms" – in which Cao Cao angrily flips over his rice bowl on the table and then shortly after puts it all back in the bowl – has gained significant traction on Chinese social media recently. pic.twitter.com/DrM3Xgi35F

— What's on Weibo (@WhatsOnWeibo) June 3, 2023
Turning into a popular meme, Cao Cao flipping the rice bowl has become widely employed to convey sentiments of self-inflicted humiliation or the hesitation to undertake certain actions.
The Context of the Scene
The specific scene comes from episode 12 of the Three Kingdoms. Warlord Cao Cao, who is governor of Yan Province, is enjoying his meal when his advisor comes in to inform him about a surprise attack by Chinese military general Lü Bu (吕布), capturing almost the entire province.
Upon receiving this alarming report, Cao Cao's anger flared, and he promptly flipped his rice bowl upside down on the table, an act now commonly referred to as "Cao Cao flips the rice bowl" (曹操盖饭).
Cao Cao's anger was intertwined with disbelief at Lü Bu's audacity to execute such a daring attack. Cao Cao's advisor swiftly clarified that the mastermind behind the attack was Lü Bu's strategist, Chen Gong (陈宫), who was also renowned as a brilliant strategist during the Three Kingdoms era.
As he grasped the true situation, Cao Cao gradually regained his composure and meticulously gathered the spilled rice back into his bowl – an act now known as "Cao Cao retrieving his bowl of rice" (曹操撤回了一碗饭),- before resuming his meal.
The catchphrase that is used to describe Cao Cao retrieving his rice utilizes the word "chèhuí" (撤回), which means "to recall" or "to retract." It can be understood as "Cao Cao recalled his bowl of rice," drawing a parallel to the recall function in WeChat that allows users to retract or cancel a message after it has been sent.
How To Use the Meme
The contrast between the forceful act of flipping the rice bowl and the subsequent unwillingness and silence displayed while putting the scattered rice back into the bowl is a key factor contributing to the meme's viral nature on the internet.
Netizens have creatively applied Cao Cao's meme in various situations to express their own internal struggles or a sense of self-inflicted humiliation they experience (自己打自己脸).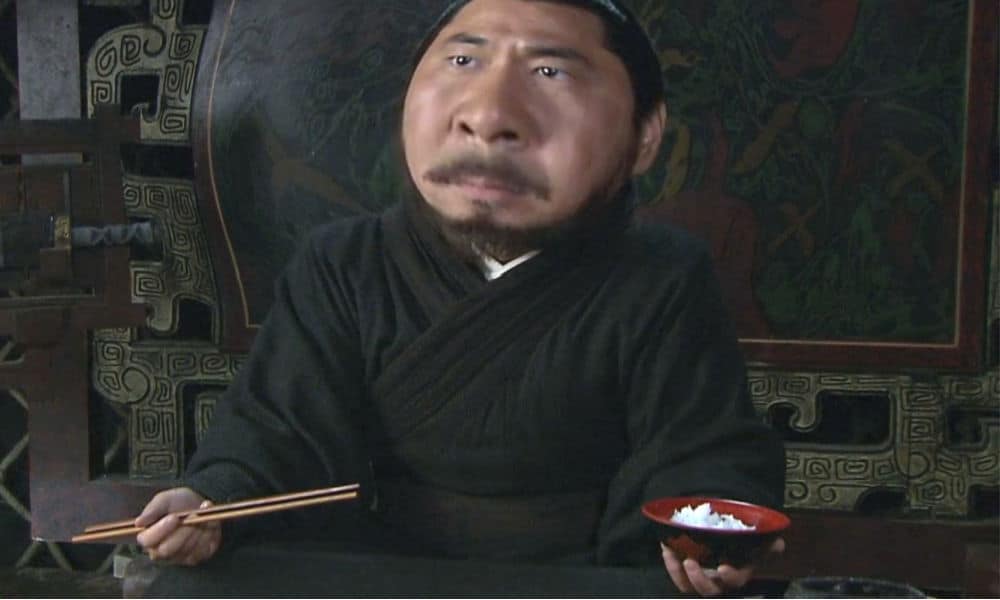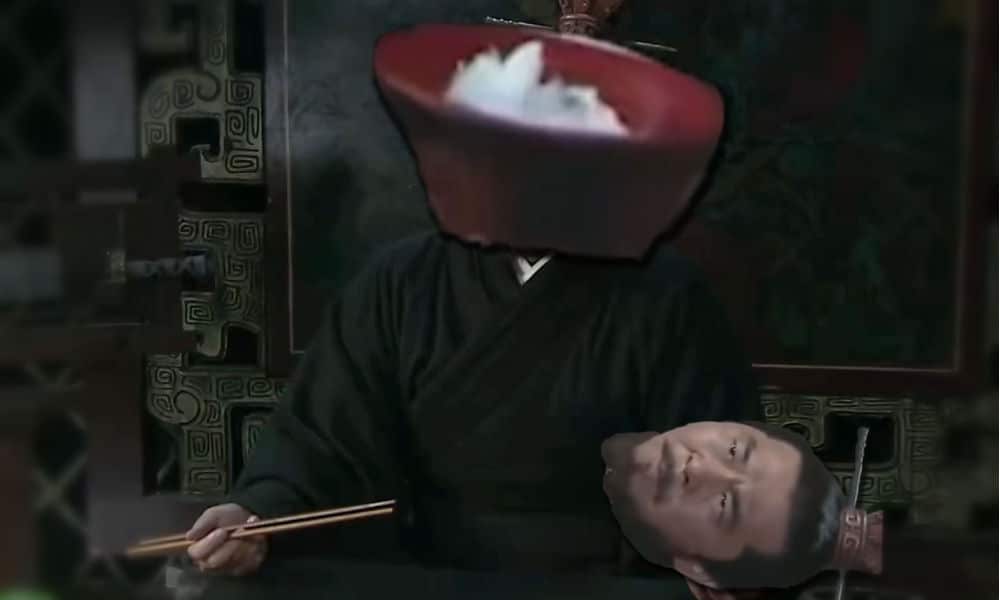 For instance, the meme effectively captures the feelings of both white-collar workers and students who utilize the "Cao Cao flips the rice bowl" meme on Fridays. On this day, they express their frustration with the demanding work week and their eagerness to leave their tasks behind.
On Friday it's f*ck this job… pic.twitter.com/S8cHTQOzgX

— What's on Weibo (@WhatsOnWeibo) June 3, 2023
However, the arrival of Monday brings a sense of reality as they realize the necessity of returning to the office or school. The "Cao Cao retrieves his bowl of rice" meme is then employed to represent the unavoidable resumption of their daily routines.
…on Monday, it's back to work… pic.twitter.com/ST1v8eqjyq

— What's on Weibo (@WhatsOnWeibo) June 3, 2023
In this regard, the meme is somewhat comparable to the English "F*ck This Job, *Goes to Work*" meme (link).
"Not Possible, Absolutely Not Possible"
It is not the first time for Three Kingdom's Cao Cao to achieve viral status through memes.
Prior to the emergence of the 'Cao Cao flips/retrieves the rice' meme, Cao Cao was already well-known for another meme phrase: "Not possible, absolutely not possible" ("不可能,绝对不可能").
This meme originated from a scene where Cao Cao received news of Liu Bei's rebellion, immediately after confidently asserting that Liu Bei, another major warlord, would never betray him.
The meme captures the essence of self-deception and the unwillingness to accept the truth. Similar to the current popular meme, this meme is often used to depict situations where someone unintentionally exposes their own flaws or contradicts their previous statements, symbolizing a self-inflicted "slap in the face."
Read more of our articles about memes in China here.
By Zilan Qian
Get the story behind the hashtag. Subscribe to What's on Weibo here to receive our newsletter and get access to our latest articles:
Spotted a mistake or want to add something? Please let us know in comments below or email us. First-time commenters, please be patient – we will have to manually approve your comment before it appears.
©2023 Whatsonweibo. All rights reserved. Do not reproduce our content without permission – you can contact us at info@whatsonweibo.com.
Subscribe to our newsletter
Stay updated on what's trending in China & get the story behind the hashtag
Sign up
here
to become a premium member of What's on Weibo today and gain access to all of our latest and premium content, as well as receive our exclusive Weibo Watch newsletter. If you prefer to only receive our free newsletter with an overview of the latest articles, you can
subscribe for free
here.
Would you like to become a contributor, or do you have any tips or suggestions for us? Get in touch with us here.