Famous Goubuli Restaurant Calls Police for Getting Roasted Online, Gets Kicked Out of Franchise Group
Goubuli Wangfujing shows how NOT to address a social media crisis.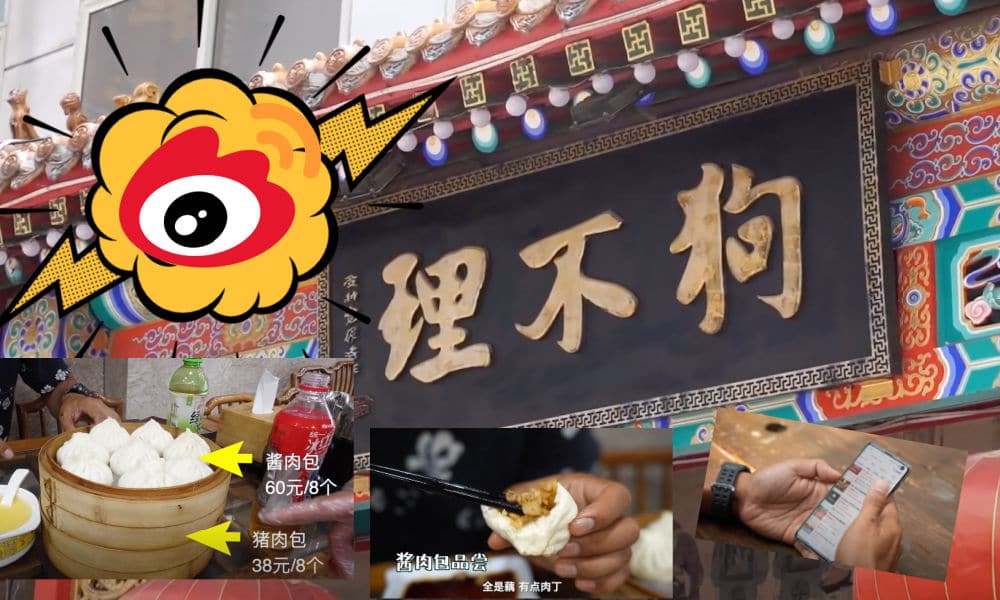 The well-known Goubuli Wangfujing restaurant just got a bit more famous this week. The branch, which specializes in steamed buns, is now not just known as one of Beijing's worst-rated restaurants, but also as a business that shot itself in the foot by handling a social media crisis the wrong way.
The famous Wangfujing main branch of Goubuli Steamed Buns (狗不理包子) is caught up in a social media storm since responding to a blogger's negative video of their restaurant by contacting the police.
The video, Goubuli's response to it, and the following consequences have hit the top trending topic lists on Weibo today.
Goubuli, sometimes transcribed as Go Believe, is a well-known franchise brand of steamed stuffed buns (baozi) from Tianjin that was founded in 1858. The brand now has more than 80 restaurants in mainland China, 12 of them in Beijing. Since Wangfujing is one of Beijing's most famous streets, the Wangfujing branch is popular with both foreign and Chinese visitors.
Gu Yue's "Visiting the Worst-Rated Restaurant" Video
The social media storm started on September 8, when Weibo blogger Gu Yue (谷岳) posted a video titled "Visiting the Worst-Rated Restaurant" ("探访评分最差餐厅"). Gu Yue is a travel blogger with over 1,7 million fans on Weibo.
In the video, Gu Yue starts by explaining he chose to visit Gubouli after searching for the restaurant that receives the lowest ratings in the Beijing Wangfujing and Dongdan areas on the super-popular Chinese mobile food app Dianping.
The blogger found that, out of the 1299 listed restaurants in the area, Wangfujing Goubuli Baozi was the worst-rated place. Ironically, the brand's name Gǒubùlǐ (狗不理) literally means 'dogs don't pay attention,' which makes the name 'Goubuli Baozi' sound like a place with stuffed buns that even dogs would not eat.
Complaining about the service, prices, and quality of food, many Dianping users rated the restaurant with just one out of five stars.
Gu Yue then sets out to visit the restaurant himself to see if Gubouli on Wangfujing really is as bad as Dianping users say. He orders some steamed braised pork dumplings, 60 yuan ($8.7) for 8, and regular pork dumplings, 38 yuan ($5.5) for 8.
The blogger concludes that Gubouli's dumplings are not worth the money: the dumplings are greasy, the dough is too sticky, and they do not have enough filling. Gu Yue's video also suggests that the restaurant's hygienic standards are not up to par, with loud coughing coming from the kitchen.
Gu Yue's video received over 97,000 likes and thousands of responses on Weibo, with many fans praising the idea of the blogger checking out the worst-rated restaurants.
Goubuli's Reaction Starts a Social Media Storm
The Wangfujing branch of Goubuli did not appreciate Gu Yue's video.
In an online statement on September 11, the branch accused the blogger of spreading lies about their restaurant and harming their reputation, and demanded a public apology.
Goubuli Wangfujing called the video "vicious slander" and stated they had contacted the police in relation to the matter.
The hashtag "Wangfujing Goubuli Responds to Netizen's Negative Video" (#王府井狗不理回应网友差评视频#) immediately went viral on Weibo, attracting some 430 million views.
Many Weibo users were outraged about the way the Goubuli branch handled the situation. "Aren't we even allowed to say if something is tasty or not?!" many commenters wondered, with others writing: "You are harming your own reputation!"
"Let's call the police over the quality of your food," others suggested.
There were also many netizens who commented that some Chinese Time-Honored brands, such as Goubuli, often only survive because of their history and fame rather than actually delivering good quality to their customers.
Following the major online backlash on its statement, the restaurant soon removed their post again. But the social media storm did not end there.
On September 15, the Goubuli Group issued a statement saying that it would directly terminate its franchise cooperation with the Goubuli Wangfujing branch over the incident.
With over 280 million views on its hashtag page (#狗不理解除与王府井店加盟方合作#), news of the franchise termination blew up on Weibo.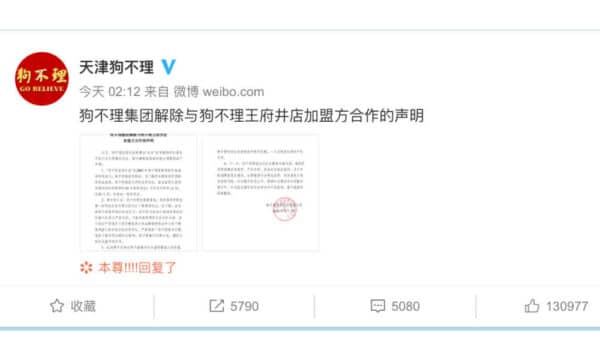 According to the latest Weibo reports on September 15, the Wangfujing Goubuli branch was closed for business on Tuesday (#狗不理包子王府井店门店关闭#).
"This is the power of clout," one person comments: "If it were not for the [Goubuli] restaurant's flawed marketing department, this would not have led to their closure."
"The restaurant has brought this on themselves. There's nothing wrong with posting a bad review."
Another person comments: "This is the first time I've seen a marketing department making something big out of something small, leading to their own closing."
Meanwhile, blogger Gu Yue says that he was not contacted by Goubuli, nor by the police. The social media controversy has only made him more popular.
"Gue Yue single-handedly crushed this restaurant," some say, appreciating how social media has increased the power of Chinese consumers to make or break a business.

Also read: Overview of the Dolce&Gabbana China Marketing Disaster Through Weibo Hashtags

By Manya Koetse
Follow @WhatsOnWeibo
Spotted a mistake or want to add something? Please let us know in comments below or email us. First-time commenters, please be patient – we will have to manually approve your comment before it appears.
©2020 Whatsonweibo. All rights reserved. Do not reproduce our content without permission – you can contact us at info@whatsonweibo.com.
Adapted to the Desert: This Yurt-Style KFC Opened in Inner Mongolia
Special KFC in Inner-Mongolia: "Is home delivery done by camelback?"
A KFC restaurant that has opened up in Ordos Prefecture, Inner-Mongolia, is attracting online attention in China for its yurt-style building.
The KFC restaurant is located in Xiangshawan, also known as Whistling Dune Bay, a tourist area – China's first desert-themed tourism resort – in the Kubuqi Desert.
Some web users praise the fast-food giant for "following local customs" ("入乡随俗"). Others jokingly wonder if their home delivery services are also done by camelback.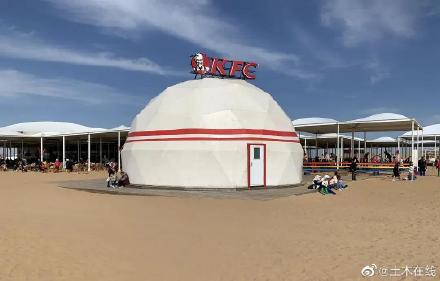 Although KFC is not China's first fast-food restaurant, it is one of the most popular ones. Nowhere else outside of the US has KFC expanded so quickly as in China. Since the first KFC opened in Beijing in 1987, the chain had an average of 50% growth per year.
With thousands of locations across the country, KFC often adapts its restaurants' style to the local environment. On Weibo, web users share various examples of local KFCs.
One Weibo user (@阳山花非花) points out that KFC is not the only chain to adapt to the local environment in Ordos. Chinese fast-food chain Dicos (德克士) apparently also has a special restaurant in the area.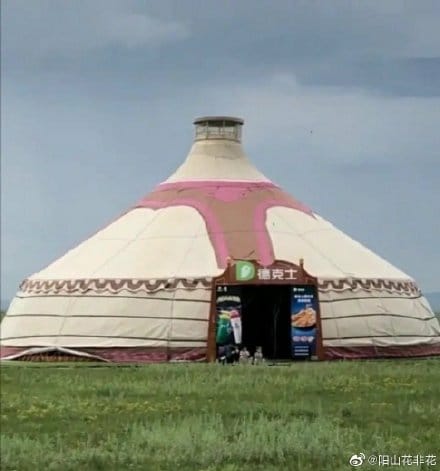 Besides adapting its buildings, KFC is also known to be quite localized in its product offerings. KFC China offers products such as Chinese-style porridge, Beijing chicken roll, and youtiao (deep-fried strip of dough commonly eaten for breakfast).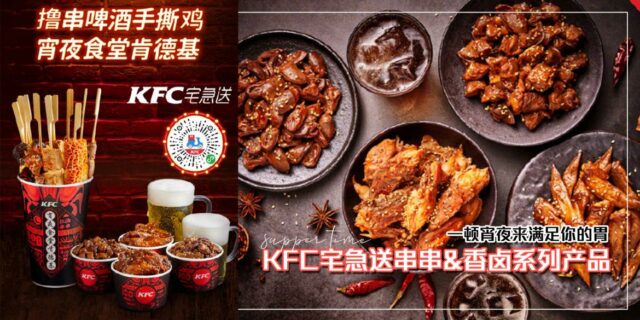 In 2019, KFC also made headlines in China for adding, among other things, hot and spicy skewers (麻辣串串) to its menu.
For now, the KFC yurt-style location is bound to gain more visitors who are coming to check it out. Already, various Weibo users are sharing their own pics of their KFC visit.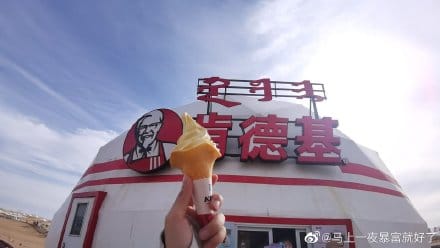 You might also like to read:
By Manya Koetse (@manyapan)
With contributions by Miranda Barnes
Spotted a mistake or want to add something? Please let us know in comments below or email us. First-time commenters, please be patient – we will have to manually approve your comment before it appears.
©2021 Whatsonweibo. All rights reserved. Do not reproduce our content without permission – you can contact us at info@whatsonweibo.com.
"There's a Cockroach in My Hotpot" – 'Pengci' Tries to Scam Haidilao Restaurant
Two hotpot cockroaches in one day, but the real cockroach didn't get away.
A man in Shenzhen has been arrested after trying to pull a scam in Haidilao hotpot restaurants twice in one day.
The man, Mr Cai (蔡), visited two different locations of China's Haidilao chain of hotpot restaurants within twenty-four hours, and both times he managed to 'discover' a cockroach in his hotpot.
Cai complained to the staff about the roach in his food. According to Sohu.com, in order to keep the peace, both Haidilao stores compensated their unhappy guest; they gave him a free meal and 1000 yuan ($156) and 800 yuan ($124) respectively.
When the restaurants later inspected their security camera footage, they suspected they had been scammed and reported the incident to the police. Further investigation of the security videos revealed that the man actually held the cockroach in his hand, behind his phone, and dropped it on the table, after which he put it in the hotpot together with the vegetables.
When the man scooped the insect out of the hotpot, he immediately called the waiter to show the cockroach in his food.
After being exposed as a 'pengci' (碰瓷), a scammer focused on pretending to a victim in order to get compensation, Cai was detained by the local police.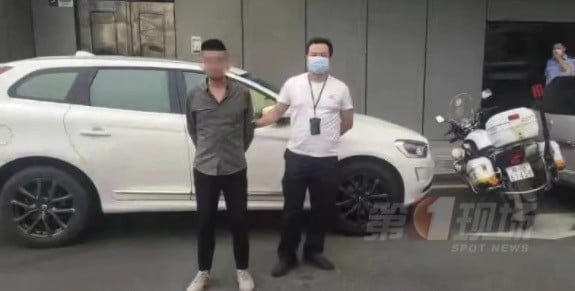 A similar incident occurred in 2018, when a man named Guo (郭) dropped a dead rat in the hotpot at a Haidilao restaurant, and then demanded a compensation of 5 million yuan ($780,000). That incident also went viral on Chinese social media at the time.
Guo was later sentenced to three years in prison for his scam, for damaging Haidilao's reputation, and for filing a false report with regulatory authorities.
Also in 2018, a woman claimed she had found a sanitary pad in her Haidilao hotpot. This incident later also turned out to be a scam – the woman had placed the item there herself.
Haidilao is one of China's most famous hotpot brands, and its restaurants have been in business for over 25 years. The restaurant is known for its good service, quality, and cleanliness.
On Weibo, the Haidilao 'cockroach incident' is attracting a lot of attention today, with one hashtag page regarding the issue receiving over 230 million views (#男子在海底捞自导自演吃出蟑螂#).
Although scams such as these are not uncommon, many people are surprised that someone would still attempt to fraud Haidilao in this way in 2021, when there are cameras set up everywhere in the restaurant.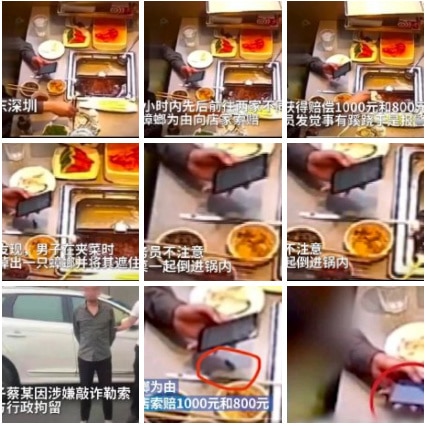 Haidilao's surveillance cameras have become a topic of discussion on social media before. The restaurant's alleged reason for putting up so many cameras is in order to take better care of their customers, to monitor employee service standards, and to rely on their security footage when personal belongings go missing. The cameras also register the entire hotpot dining process; if something comes up in the hotpot that is not supposed to be there, the cameras will have captured how it ended up there.
"In this case, it's good that there are so many security cameras," one commenter writes.
Many others scold Cai for trying to scam Haidilao like this: "They should really make him eat cockroaches."
– By Manya Koetse (@manyapan)
Spotted a mistake or want to add something? Please let us know in comments below or email us. First-time commenters, please be patient – we will have to manually approve your comment before it appears.
©2021 Whatsonweibo. All rights reserved. Do not reproduce our content without permission – you can contact us at info@whatsonweibo.com.