Keeping Peace, Building Power: China & International Peacekeeping (Liveblog)
Recently, the Chinese government has made historical moves involving China's role in international peacekeeping. Today's seminar focuses on the China's role within the international peacekeeping community.
Seminar: China's Role in International Peacekeeping
Date & Place: Nov. 25, 2014, The Hague Institute for Global Justice
Organized by: Dutch Ministry of Foreign Affairs
Blogged by: Manya Koetse 
Recently, the Chinese government has made historical moves involving China's role in international peacekeeping. In early 2014, the PLA (People's Liberation Army) send a motorized infantry brigade to Mali. In September this year, a 700-strong infantry troop was send to South-Sudan as part of a UN peacekeeping mission – the first Chinese battalion to participate in such a peacekeeping operation (GT 2014; ECNS 2014). The recent behavior of Chinese leaders in issues of international conflict contrasts with Chinese participation in peacekeeping operations in the 1970s and 1980s. Today's seminar focuses on China's role within the international peacekeeping society.
Introduction (14:00 GMT+1)
Peter Potman, Director Asian and Pacific Affairs Department (Netherlands Ministry of Foreign Affairs) is the first speaker on today's seminar.
China as an actor in the international political arena is gradually gaining significance, Potman says, as its role in global politics is transforming: China is becoming more assertive. China's position within international conflict situations is profoundly changing. Its role used to be one of non-interference, but is now changing as the political leadership is getting more involved in issues playing in Sudan or Syria.
Today's seminar has two keynote speakers: Frans-Paul van der Putten from the Clingendael Institute and Dr. Jing Gu from the Institute of Development Studies. But first Christina Jansen shortly addresses the role of China today in international peacekeeping. Jansen recalls how she first arrived in China in 1978, and remembers how she would involuntarily cause a traffic jam because so many people would stare at this foreigner standing next to the road. "How China has changed!" Jansen says. The central question of today is: does the quick transformation of China as a nation also have implications for the international order in security issues, and if, how?
China and International Security (14:20 GMT+1)
Balance is crucial for China as an actor within international security issues, Van der Putten says. He states that China has to find its balance in different areas. First, it has to deal with the growing number of Chinese people and companies outside of China, and has to think about how to protect them without becoming over-involved and making the same 'mistakes' as western nations have made in the past. Secondly, it has to find its role in the international system where the national identity of China has to be communicated on an international level in such a way that it preserves the Chinese identity. Lastly, China also has to balance between its role as being one of the global powers and being one of the leaders within the developing world.
How does this translate to security issues? China already is a permanent member of the Security Council but is still looking for ways to strengthen its position. China finding its balance is noticeable in how it acts, Van der Putten states, not only as a member of the International Security Council but also as a leader in regional security organizations, where China increasingly is taking in an assertive position as a regional power.
"There's a big difference between China's principles and how it acts in reality." 
China and International Security (14:40 GMT+1)
China's role within international peacekeeping cannot be compared to that of other nations, according to Jing Gu. China's international peacekeeping framework should be seen within China's development at large. What one can now discern, says Gu, is the difference between China's principles and how it acts in reality. According to principles, the Chinese government strictly respects the sovereignty of other countries and has a non-intervention principle. But in reality, their principles turn out to be much more flexible than they are on paper.
Dr. Gu is convinced that one can never leave out the economic perspective when talking about China's engagement in peacekeeping operations. Business plays a big role in China's international development cooperation; the business sector is increasingly important for China in, for example, Africa. Western nations have to take this perspective in account when cooperating with China in international security matters.
"For China, 'peacekeeping' truly is about peace keeping, not about peace building."
There are differences in what Western nations and China consider 'international peacekeeping'. From the Chinese perspective, it is very much about actual 'peace keeping' and not 'peace building', Gu says: a major difference with what most western powers consider to be 'peacekeeping'. Using force is not something Chinese leaders want to do, as non-interference is a high principle for the government. But, Gu stresses again, "principles are just principles; in reality these principles are very flexible, as we've seen in Africa."
What can be done on the long term to involve China in international security collaborations? "It has to be taken case by case," Gu says. It is not the right time for general talks about future collaborations and shared frameworks- step by step and case by case, China will become more involved in international peacekeeping, Gu predicts, as is happening in Sudan right now.
Discussion (15:20 GMT+1)
"Over the past 500 years there have been many power shifts that have not led to war," panelist Tim Sweijs of The Hague Centre for Strategic Studies says. However, every transformation in global power systems do have major consequences. States in the international system start harboring different expectations as power relations shift. This is what is also happening as China starts behaving differently within the international arena and takes on a different role in security issues. Different political actors seem worried that China is concerned about protecting its own national interests. These "worries" are "suspicious," Sweijs says, because: "are western powers not concerned about own national interests?"
In the conclusion of the seminar, Peter Potman stresses that nations in peace operations need to be fully aware of their differences before they can work on collaboration. There are often mutual and shared benefits to participate in a peacekeeping mission. While those shared interests are often clear, it is crucial to also elucidate the different interests in these operations. Who is participating for what reasons? Understanding these underlying motives helps in unraveling the web of international cooperation in global security issues – finally building on peacekeeping missions where all participating nations, including China, are looking in the same direction.
(This liveblog is now closed.)
References
ECNS. 2014. "Peacekeeping forum opens in Beijing." ECNS, 15 Oct.  http://www.ecns.cn/2014/10-15/138449.shtml (Accessed November 25, 2014).
Global Times (GT). 2014. "Peacekeeping can help China stand tall." Global Times, 19 Nov. http://www.globaltimes.cn/content/892646.shtml (Accessed November 25, 2014).
Images
http://www.uscnpm.org/wp-content/uploads/2014/09/un.jpeg
Liu Rui/Global Times
Express VPN Deal This Black Friday / Cyber Monday (China 2019)
Black Friday Alert! Express VPN deal.
We've previously recommended this VPN on What's on Weibo, today we show their best deal for Black Friday and Cyber Monday.
Black Friday is almost here! Black Friday 2019 falls on November 29, with Cyber Monday following on December 2nd. Like with Singles' Day in China, deals often start well before Black Friday and last some days after Cyber Monday, so here we are now.
We're here to list the best deal for our favorite VPN that still works behind the Great Firewall.
First: experiences may differ for everyone, depending on their wifi/4G connections and the devices they use. In order for a VPN to work in China, make sure you have a stable internet connection and always make sure you have the latest version of the VPN app you use.
At What's on Weibo, we have recently had good experiences with both ExpressVPN and KeepSolid VPN Unlimited. When one of them didn't work, the other one did, making it a good pair to purchase.
We previously also had other VPNs on our recommended list, but no longer recommend them because of persisting connection problems in China.
Please take into consideration that over the past months, both of the abovementioned VPNs have also had their share of problems in the PRC every now and then – it happens to the best of them. To be sure to always stay connected, you could consider purchasing multiple VPNs.
KeepSolid currently does not have a Black Friday deal, but if you are looking for another VPN to use- not necessarily for China, but in general, – you can also check out the Black Friday offer by NordVPN; they now offer major discount on their 3-year plan ($3.49 per month + 3 months FREE, $125.64 total = 70% discount); their 2-year plan: $4.99 per month, $119.76 total = 58% discount); and their 1-year plan: $6.99 per month, $83.88 total = 41% discount). Click here for that deal.
This 2019 Black Friday, it is Express VPN that has the best deal on offer, so we will only feature that one here; three months free when you purchase the 12-month plan – which is the 15 month deal for only $6.67 per month (Express VPN usually starts at $12.95 per month).
ExpressVPN, which actually calls itself the "#1 Trusted leader in VPN", is a reliable service with mostly steady connections depending on what location you select. The app has the 'smart location' button that helps you pick the best location to connect to from where you are.
They have excellent service and frequent updates for desktop, mobile, and tablet. Make sure you always update your app, Express will then recommend the best location to connect from, which is super convenient (for now, for example, it's Hong Kong 4, Tokyo 3, and LA 5 that work best).
Express VPN usually offers single month services starting from $12.95/month, and 6-month plans from $9.99/month; with their Black Friday Deal you get three months free with a 12-month ExpressVPN plan to save 49% compared to their usual monthly price. That's 15 months for the price of 12, with a total price of  $99.95 now.
The "30 Days Risk-Free" promise of ExpressVPN makes the barrier to try it out much lower. If you are not satisfied, they'll get you your money back without questions asked.
NB: This post is not a sponsored post. We only recommend VPNs that we've tested and know. These recommendations may, however, include an affiliate link that at absolutely no additional cost whatsoever to you allows What's on Weibo to receive a small percentage in case you purchase the service. (Which also helps a bit to keep our site going, so it's win-win!). Do you think we should recommend another VPN and want to share your experiences? We're open to try it out and add to this list – feel free to contact us.
Spotted a mistake or want to add something? Please let us know in comments below or email us.
©2019 Whatsonweibo. All rights reserved. Do not reproduce our content without permission – you can contact us at info@whatsonweibo.com.
40-Year-Old Woman Completes Shanghai Marathon While 8 Months Pregnant
Pregnant marathon runner Lili clashes with Chinese traditional attitudes towards women who are expecting a baby.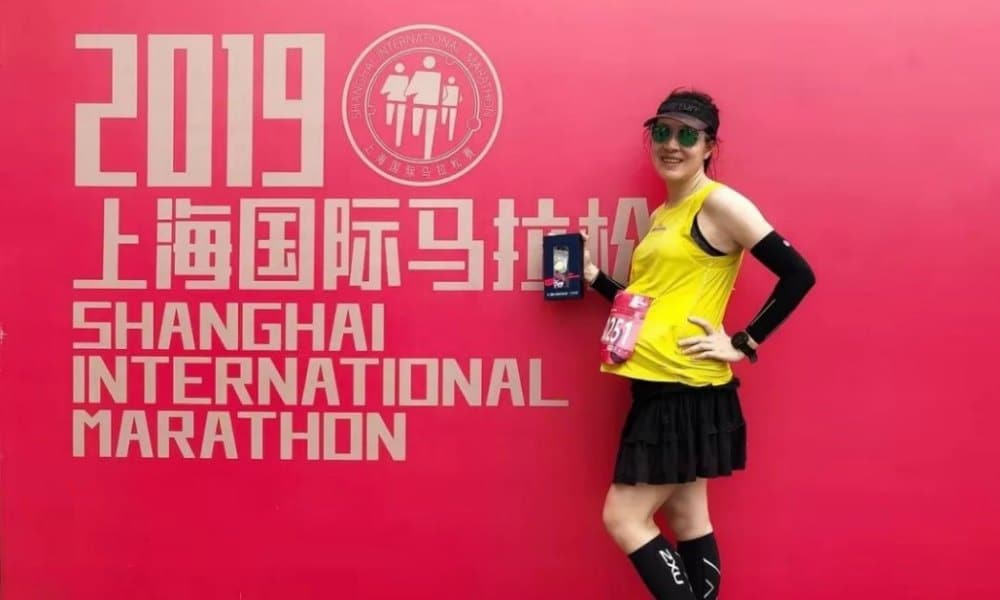 Published
A 40-year-old woman named Li Lili (黎莉莉) became news in China after she ran the Shanghai Marathon last Sunday while 32 weeks pregnant, completing the race in five hours and 17 minutes.
This was the third marathon Li has run during her pregnancy. She ran the first two during week eight (with a time of 3:54:43) and week 22 (with a time of 4:47:58) of her pregnancy.
Lily is an avid runner, having completed 62 marathons during her lifetime. Her story went viral on Weibo under the hashtag "8 Months Pregnant 40-Year-Old Woman Runs Marathon" (#40岁孕妇怀胎8月跑完全马#), which has received over 200 million reads at time of writing.
Her story has ignited debate across Weibo this week regarding the merits and dangers of vigorous exercise during pregnancy. In interviews with the press, however, Li remained defiant in the face of her critics.
"For many people, they are worried about this because they don't understand it," she told video news site Pear Video in an interview.
"Many people have told me it is dangerous. They criticize me, just like they criticized Chen Yihan," she says, referring to Taiwanese actress Ivy Chen (陈意涵) who faced fierce online criticism after posting pictures of herself running while five months pregnant in 2018.
"But most of these critics have never even been pregnant," Li continued: "The fact is, I did this because I have a very deep understanding of my own body. I've run over 60 marathons, I am an extremely good runner. I've run a marathon in 3:28, which is considered an excellent time even for talented athletes, even for men. I have my own training methods, I've been training for a very long time, and have carefully prepared for these marathons."
The reactions to Li's story online have ranged from enthusiastic praise to outright condemnation.
"Wow! I admire how strong she is! It is said that each person knows what is right for them in their own heart. It's none of your business what she does with this unborn hero!" gushes the most popular comment on Pear Video's Weibo post about the story.
But another popular comment argues that marathon running is actually inappropriate for Chinese women in general: "Foreigners running marathons is fine, but this is not for Chinese women. Pregnant Chinese women running marathons is equivalent to them not caring for their children."
The results from a poll put out by Chengdu Economic Daily so far show the majority of readers do not oppose Li's decision to run a marathon, with 54,000 choosing the option "One case cannot represent the whole, it will vary from individual to individual" and 38,000 choosing "Support, if the mother's body is strong enough." Only 17,000 chose the option "Oppose, pregnant women should not engage in vigorous exercise."
Some comments on the poll argued that Li was irresponsible to take part in a marathon, in case something did go wrong: "Problems come up when you least expect them. If it's just you running on your own, that's one thing. But this is a group race. I can't say if it's right or wrong, but it could bring a lot of trouble to other people."
But the majority of popular comments expressed outright support and admiration, or at the very least opposition to Li's critics, telling them to mind their own business.
The support for Li's decision appears to fly in the face of Chinese traditional attitudes towards pregnant women. The list of dos and don'ts for Chinese mothers-to-be is long and complex, ranging from the bizarre (no eating/drinking dark foods so as not to affect the baby's skin color) to the more common (avoiding shellfish).
The belief that pregnant mothers should avoid exertion is high on the list, extending even to the month after birth.
But despite these strong traditions, Li's strength and determination have clearly inspired new support for expectant mothers who wish to continue an active lifestyle while pregnant.
Also read: 'Sitting the Month' – a Gift or Torture?
Also read: Bad Mom To Be? Pregnant Woman Intentionally Trips 4-Year-Old Boy in Baoji
By Jessica Colwell
Follow @whatsonweibo
Spotted a mistake or want to add something? Please let us know in comments below or email us. First-time commenters, please be patient – we will have to manually approve your comment before it appears.
©2019 Whatsonweibo. All rights reserved. Do not reproduce our content without permission – you can contact us at info@whatsonweibo.com.