Keeping Peace, Building Power: China & International Peacekeeping (Liveblog)
Recently, the Chinese government has made historical moves involving China's role in international peacekeeping. Today's seminar focuses on the China's role within the international peacekeeping community.
Seminar: China's Role in International Peacekeeping
Date & Place: Nov. 25, 2014, The Hague Institute for Global Justice
Organized by: Dutch Ministry of Foreign Affairs
Blogged by: Manya Koetse 
Recently, the Chinese government has made historical moves involving China's role in international peacekeeping. In early 2014, the PLA (People's Liberation Army) send a motorized infantry brigade to Mali. In September this year, a 700-strong infantry troop was send to South-Sudan as part of a UN peacekeeping mission – the first Chinese battalion to participate in such a peacekeeping operation (GT 2014; ECNS 2014). The recent behavior of Chinese leaders in issues of international conflict contrasts with Chinese participation in peacekeeping operations in the 1970s and 1980s. Today's seminar focuses on China's role within the international peacekeeping society.
Introduction (14:00 GMT+1)
Peter Potman, Director Asian and Pacific Affairs Department (Netherlands Ministry of Foreign Affairs) is the first speaker on today's seminar.
China as an actor in the international political arena is gradually gaining significance, Potman says, as its role in global politics is transforming: China is becoming more assertive. China's position within international conflict situations is profoundly changing. Its role used to be one of non-interference, but is now changing as the political leadership is getting more involved in issues playing in Sudan or Syria.
Today's seminar has two keynote speakers: Frans-Paul van der Putten from the Clingendael Institute and Dr. Jing Gu from the Institute of Development Studies. But first Christina Jansen shortly addresses the role of China today in international peacekeeping. Jansen recalls how she first arrived in China in 1978, and remembers how she would involuntarily cause a traffic jam because so many people would stare at this foreigner standing next to the road. "How China has changed!" Jansen says. The central question of today is: does the quick transformation of China as a nation also have implications for the international order in security issues, and if, how?
China and International Security (14:20 GMT+1)
Balance is crucial for China as an actor within international security issues, Van der Putten says. He states that China has to find its balance in different areas. First, it has to deal with the growing number of Chinese people and companies outside of China, and has to think about how to protect them without becoming over-involved and making the same 'mistakes' as western nations have made in the past. Secondly, it has to find its role in the international system where the national identity of China has to be communicated on an international level in such a way that it preserves the Chinese identity. Lastly, China also has to balance between its role as being one of the global powers and being one of the leaders within the developing world.
How does this translate to security issues? China already is a permanent member of the Security Council but is still looking for ways to strengthen its position. China finding its balance is noticeable in how it acts, Van der Putten states, not only as a member of the International Security Council but also as a leader in regional security organizations, where China increasingly is taking in an assertive position as a regional power.
"There's a big difference between China's principles and how it acts in reality." 
China and International Security (14:40 GMT+1)
China's role within international peacekeeping cannot be compared to that of other nations, according to Jing Gu. China's international peacekeeping framework should be seen within China's development at large. What one can now discern, says Gu, is the difference between China's principles and how it acts in reality. According to principles, the Chinese government strictly respects the sovereignty of other countries and has a non-intervention principle. But in reality, their principles turn out to be much more flexible than they are on paper.
Dr. Gu is convinced that one can never leave out the economic perspective when talking about China's engagement in peacekeeping operations. Business plays a big role in China's international development cooperation; the business sector is increasingly important for China in, for example, Africa. Western nations have to take this perspective in account when cooperating with China in international security matters.
"For China, 'peacekeeping' truly is about peace keeping, not about peace building."
There are differences in what Western nations and China consider 'international peacekeeping'. From the Chinese perspective, it is very much about actual 'peace keeping' and not 'peace building', Gu says: a major difference with what most western powers consider to be 'peacekeeping'. Using force is not something Chinese leaders want to do, as non-interference is a high principle for the government. But, Gu stresses again, "principles are just principles; in reality these principles are very flexible, as we've seen in Africa."
What can be done on the long term to involve China in international security collaborations? "It has to be taken case by case," Gu says. It is not the right time for general talks about future collaborations and shared frameworks- step by step and case by case, China will become more involved in international peacekeeping, Gu predicts, as is happening in Sudan right now.
Discussion (15:20 GMT+1)
"Over the past 500 years there have been many power shifts that have not led to war," panelist Tim Sweijs of The Hague Centre for Strategic Studies says. However, every transformation in global power systems do have major consequences. States in the international system start harboring different expectations as power relations shift. This is what is also happening as China starts behaving differently within the international arena and takes on a different role in security issues. Different political actors seem worried that China is concerned about protecting its own national interests. These "worries" are "suspicious," Sweijs says, because: "are western powers not concerned about own national interests?"
In the conclusion of the seminar, Peter Potman stresses that nations in peace operations need to be fully aware of their differences before they can work on collaboration. There are often mutual and shared benefits to participate in a peacekeeping mission. While those shared interests are often clear, it is crucial to also elucidate the different interests in these operations. Who is participating for what reasons? Understanding these underlying motives helps in unraveling the web of international cooperation in global security issues – finally building on peacekeeping missions where all participating nations, including China, are looking in the same direction.
(This liveblog is now closed.)
References
ECNS. 2014. "Peacekeeping forum opens in Beijing." ECNS, 15 Oct.  http://www.ecns.cn/2014/10-15/138449.shtml (Accessed November 25, 2014).
Global Times (GT). 2014. "Peacekeeping can help China stand tall." Global Times, 19 Nov. http://www.globaltimes.cn/content/892646.shtml (Accessed November 25, 2014).
Images
http://www.uscnpm.org/wp-content/uploads/2014/09/un.jpeg
Liu Rui/Global Times
"Not Just a Style, But a Mission" – China's Online Hanfu Movement
What started with a 2003 internet sensation grew into a massive movement – Hanfu is booming on Weibo and beyond.
It's been nearly two decades since the Chinese traditional clothing trend named Hanfu 汉服 first became noticeable as a popular social phenomenon in mainland China. Throughout the years, Hanfu has gone from a fashion style to a full-fledged movement that is flourishing on Chinese social media. Koen van der Lijn reports.

When objects meet social media, two websites meet as well. This is a collaboration between What's on Weibo and Things That Talk (follow on Insta @thingsthattalk).

This last Christmas, Hanfu was once again a trending topic on Weibo. Enthusiasts of the traditional Chinese clothing trend posed online in their Christmas inspired Chinese clothing.
It was yet another development in the Hanfu Movement, which has been a hot topic with hundreds of hashtags and thousands of pictures, videos, and stories on Weibo, with the official Weibo Hanfu @微博汉服 account boasting a whopping 1.8 million followers and a Weibo 'supertopic' on Hanfu being joined by nearly half a million fans.
One example of the manifold of Hanfu content on Weibo is a video recently posted by Chinese actress Xu Jiao (徐娇). In the short video, which is an advertisement by the e-commerce platform RED (小红书), the actress wears Hanfu in various settings while talking about the meaning behind the fashion. Xu Jiao, being 23 years of age, is part of Generation Z (mid-1990s – early 2010s), who are adept users of social media and make up the mass of Hanfu enthusiasts.
Though Hanfu enthusiasts seldomly go out on the streets whilst wearing the clothing style,1 Hanfu sales have been increasing a lot over the past few years.2 Possibly linked to the popularity of Chinese costume dramas, many Chinese youth have started to wear Hanfu in the past two decades. However, it is not just a form of cosplay or a new clothing style. As Xu Jiao says herself in the video: "It's not just a style, it's a mission."
Background of the Hanfu Movement
It was November 2003 when Wang Letian walked the streets of Zhengzhou in Hanfu. News of his action rapidly spread over the internet through websites such as hanminzu.net.3
Besides online discussions, an article was also written about Wang Letian's bold move in the Singaporean newspaper Lianhe Zaobao 联合早报, helping spread word about the young man's actions. This moment was seen as the start of the Hanfu Movement.
Now, roughly twenty years later, the wearing of Hanfu has developed into a true movement, with many young Chinese participating in the wearing of the traditional Chinese dress. Especially on college campuses, the trend is very much alive.
In its most basic idea, the Hanfu Movement can be described as a social movement that supports the wearing of Han Chinese ethnic clothing. The emphasis on the Han ethnicity is of importance here. Han Chinese make up the vast majority of the population in China, accounting for more than 90% of China's total population. However, aspects famous outside China for being typically Chinese, such as the queue, are actually of Manchu origin.
The Manchus are an ethnic group from Northeastern China, showing cultural similarities to the Mongols, who ruled China's last dynasty, the Qing dynasty (1644-1912). Their clothing style has influenced foreign perceptions of China, due to the fact that the Manchus were the ruling class in the last Chinese imperial dynasty.
Hence the emphasis on the Han ethnicity. Central to the Hanfu Movement is the idea that ethnic Han clothing, as worn during Han Chinese ruled dynasties, such as the Han dynasty (202BC-220AD), the Tang dynasty (618-907), and the Ming dynasty (1368-1644), has much value in its own and should be worn and appreciated by contemporary Han Chinese, just as the ethnic clothing of China's minorities is appreciated in contemporary China.4
The Mission
On 4 December 2020, blogger Mi Qiujun posted a video with the hashtag #How to make the world understand Hanfu?#, (#如何让世界了解汉服#), gaining many likes and comments. Showing clips of herself wearing Hanfu in Egypt, the United States, France, and Japan, she tells how she became determined to make people around the globe understand China's traditional culture after her clothing being wrongly identified as a Japanese kimono at her first stop in Nepal.
Mi Qiujun discusses an important aspect of the Hanfu movement. Hanfu enthusiasts feel that their ethnic clothing is not understood well enough by others, and showing the rest of the world their clothing is a true mission.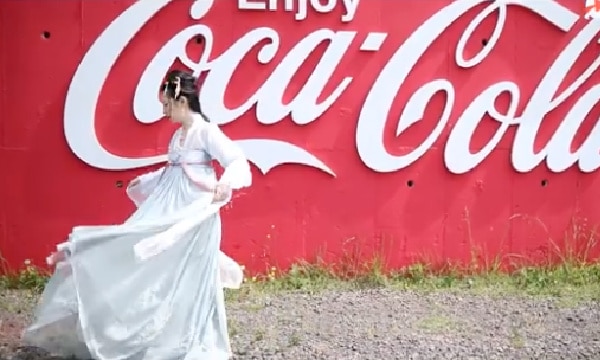 Hanfu enthusiasts have found themselves in online quarrellings about what can be defined as Hanfu, and what cannot be defined as Hanfu. It is worth noting that some scholars have disputed the existence of a uniform Hanfu throughout Chinese history.5 Instead, Hanfu is seen to have been popularised by students through the internet, without strong knowledge of Han Chinese clothing traditions.6 This makes it difficult to assess what does and what does not count as Hanfu.
Online quarrelings have therefore become part of the Hanfu Movement. In November 2020, for instance, Chinese netizens found themselves in an online discussion with their Korean neighbours. That month, Chinese actor Xu Kai (许凯) posted a photo of himself in traditional costume from the set of the Chinese drama titled Royal Feast (尚食), which is set in the Ming Dynasty.
After South Korean web users pointed out that the traditional costume worn by Xu resembled Korean traditional clothing named Hanbok, the drama's producer Yu Zheng (于正) posted a response on social media in which he firmly stated that this clothing was not Hanbok but Hanfu, adding that Korea was a vassal state of China at the time and that only "uncivilized people" would call it 'Hanbok.'
A Nationalist Movement?
These kinds of discussions also show another side of the Hanfu Movement. For some Hanfu enthusiasts, Hanfu is more than a mission to let others understand Han ethnic culture; instead, it is a way to construct a purified Han Chinese identity, free from foreign influence.7
This foreign influence is often linked back to the Manchus once again. 'Uncivilised practices' in contemporary Chinese society are attributed to the Manchus. This rhetoric reinforces the belief of Han supremacy, which has existed long before the invention of the internet, where the 'civilized' Han Chinese believe themselves to be superior to the 'uncivilized' barbarians, such as the Manchus.
This rise in Han Chinese nationalism started in the past few decades.8 The Hanfu Movement thus has followers who are a part of this new turn, where Han Chinese want to restore the glory of their past and turn away from Western and Manchu influences.9
These hardcore Han nationalists are but a small part of the movement. The Hanfu Movement encompasses a large and diverse group of people, who all share a certain belief that Hanfu should gain more appreciation in China and abroad. These are, for instance, some of the comments under Xu Jiao's video:
– "(…) Xu Jiao speaks for Hanfu!!" (@怪物与约翰)
– "Do not be afraid to doubt, never forget the original intention, Hanfu is a style, it's a mission, it's culture, and it's an attitude." (@打翻废纸篓)
– "I am so thankful we have you! I really like your work and your attitude towards Hanfu!" (@小瓦肯Shail)
What connects most Hanfu enthusiasts then? Hanfu enthusiasts take pride in wearing Hanfu, and they wear Hanfu simply because they like wearing it. Moreover, they believe it to be important to make others, both in and outside China, gain a deeper understanding of Han Chinese ethnic culture. Hanfu is more than a fad. It is a subculture, it is a style, and for Xu Jiao and many others, it is their mission.

By Koen van der Lijn
Follow @WhatsOnWeibo
Koen van der Lijn (China Studies, BA) is a ResMa student Asian Studies at Leiden University focused on Chinese history and its international relations. He is a student ambassador at Things That Talk.
This story was made in collaboration with ThingsThatTalk.net – exploring humanities through the life of objects. Things That Talk is an educational digital project where staff and students produce narratives and metadata about objects in Leiden collections and beyond. A story focused on the background of the Hanfu Movement and objects associated with this movement has previously been published on Things that Talk, go check it out!

Notes (other sources hyperlinked within the article)
1 Buckley, Chris, and Katrina Northrop. 2018. "A Retro Fashion Statement in 1,000-Year-Old Gowns, With Nationalist Fringe." New York Times, Nov 22 https://www.nytimes.com/2018/11/22/world/asia/china-hanfu-gowns-clothing.html [Jan 16 2021].
2 Zhou Xing 周兴. 2020. "Report: Hanfu turnover on Taobao platform exceeded 2 billion yuan in 2019 [报告:2019年淘宝平台上汉服成交金额突破20亿元]." Dianshangbao, August 2 2020 https://www.dsb.cn/124836.html [Jan 16 2021].
3 Cui Chentao 崔晨涛. 2016. "Han Costume Movement and National Culture Rejuvenation [汉服运动"与民族文化复兴的诉求]." Journal of Yunyang Teachers College 36(5): 19-24.
4 Cui Chentao 崔晨涛. 2016. "Han Costume Movement and National Culture Rejuvenation [汉服运动"与民族文化复兴的诉求]." Journal of Yunyang Teachers College 36(5): 19-24.
5 Carrico, Kevin. 2017. The Great Han: Race, Nationalism, and Tradition in China Today. Oakland, California: University of California Press.
6 Zhang Xian 张跣. 2009. "'Hanfu Movement': Ethnic Nationalism in the Internet Age ["汉服运动":互联网时代的种族性民族主义]." Journal of China Youth University for Political Sciences (4): 65-71.
7 Carrico, Kevin. 2017. "Imaginary Communities: Fantasy and Failure in Nationalist Identification," in The Great Han: Race, Nationalism, and Tradition in China Today, chapter 1. Oakland, California: University of California Press.
8 Dikötter, Frank. 2001. "Nationalist Myth-making: The Construction of the Chinese Race." Human Rights in China, 27 April https://www.hrichina.org/en/content/4573 [16 Jan 2021].
9 Carrico, Kevin. 2017. "Imaginary Communities: Fantasy and Failure in Nationalist Identification," in The Great Han: Race, Nationalism, and Tradition in China Today, chapter 1. Oakland, California: University of California Press.
Featured image: Photo by zhang kaiyv on Unsplash
Spotted a mistake or want to add something? Please let us know in comments below or email us. First-time commenters, please be patient – we will have to manually approve your comment before it appears.
©2021 Whatsonweibo. All rights reserved. Do not reproduce our content without permission – you can contact us at info@whatsonweibo.com.
Chinese Couple Murdered in Cambodia, Last Moments Caught on CCTV Camera
The bodies of the 38-year-old man and 22-year-old woman were found by the cleaning staff.
On January 13, Cambodian media reported that two Chinese citizens were murdered in an apartment building in the Cambodian capital Phnom Penh.
CCTV cameras captured the chilling last moments of the two as they were taken into the apartment against their will by two men with a weapon.
The victims have been identified as a 38-year-old man from Guangdong by the name of Xiao Bo (肖波), and his 22-year-old girlfriend. The two had just met a few months ago. Xiao was locally also known as 'Bobo' (波波).
The man and woman reportedly were first held hostage and then brutally killed by two gunmen in an apartment on the ninth floor of the Phnom Penh building.
The incident happened on January 12 in the LH Residence (澜海总裁公寓) apartment complex. The cleaner found their bodies, after which the police were alerted.
Some media report that Xiao had previously sought help because he was being chased by 'enemies.' Cambodian police are currently investigating the case.
Meanwhile, the murders have attracted major attention on Chinese social media, where the hashtag "Chinese citizens murdered in Cambodia" (#两名中国人在柬埔寨遇害#) received 180 million views by Thursday evening.
While many people express shock and sadness over the Chinese couple's death, there are also those who speculate that the man might have been caught up in gambling and the local criminal underworld.
We will add further details to this story when more news comes out.
By Manya Koetse
Follow @WhatsOnWeibo
Spotted a mistake or want to add something? Please let us know in comments below or email us. First-time commenters, please be patient – we will have to manually approve your comment before it appears.
©2021 Whatsonweibo. All rights reserved. Do not reproduce our content without permission – you can contact us at info@whatsonweibo.com.