The Resurgence of the Tiger Dad: Fathers Pushing Their Daughters – for Whose Good?
With the recent success of the 5-year-old Chinese piano prodigy Chen Anke (陈安可) and the popularity of Indian movie Dangal in the PRC, the phenomenon of dads raising their daughters with strict discipline has become a topic of conversation on Chinese social media. Is the tiger dad making a comeback?
With the recent success of the 5-year-old Chinese piano prodigy Chen Anke (陈安可) and the popularity of Indian movie Dangal in the PRC, the phenomenon of 'tiger dads' raising their daughters with strict discipline has become a topic of conversation on Chinese social media.
On a recent episode of NBC's Little Big Shots, the 5-year-old Chinese piano prodigy Chen Anke (陈安可) stunned American audiences with her piano skills. On May 30, Pear Video released a detailed interview with Chen's father, who claimed that "playing the piano is the only way to realize her [Anke's] life values."
On the big screen, meanwhile, the Bollywood blockbuster Dangal is a record success at China's box offices. The movie is based on the true family story of an authoritative father who trains his daughters to become world wrestling champions. The film recently turned into China's the biggest winner of the box office (1 billion yuan, equals $150 million).
The phenomenon of the 'tiger mother', a strict mom who pushes her children to be successful, became popular through the 2011 book Battle Hymn of the Tiger Mother by Amy Chua. Recent trends seem to signal a reevaluation of the stern, disciplinary father. On social media, many wonder why these fathers are pushing their daughters, and for whose good they actually do it.
A TOUGH CHILDHOOD
"It's very possible that she will hate me in the future."
The hashtag "Chinese piano girl stuns American audiences" has occupied the top searching lists on Sina Weibo, with many users praising Anke's talents and hard efforts.
"Having just learned to play the piano for two years and four months, Anke now is able to play the pieces of grade 10 [the highest level before the ARCT]," Chen's father Dongzhi Chen proudly told a reporter. He determinedly expressed his goals to train Anke to be a piano master and "the second Lang Lang" to China.
Little Anke playing Bach and Mozart.
This is also what Anke told NBC's host Steve Harvey when he asked the 5-year-old about her future dreams. But later, when he asked her the question "How did you start to play?", she replied: "Dad wanted me to."
Since her American television adventure, Anke has returned to her tightly scheduled life that revolves around the piano. She practices 4 hours a day, takes master's classes at the Central Conservatory of Music, goes to concerts, and has dinner with fellow piano players. In the evenings when she has dinner with her dad, he makes her watch piano concerts on the computer.
In the Pear video (see video below), Anke initially almost seems to be a carefree girl- running around her dad like a butterfly. But the video report also shows how her father continuously sternly warns and commends his daughter to "listen to your father", stop "fiddling around," "stop wasting time and play the piano," or to "show a happy face."

5-year-old Chinese piano star Chen Anke
The video also includes a short scene where Anke goes downstairs hoping to play with some friends, only to find herself alone: "My friends have probably all forgotten about me," she says as she silently watches other children play on the basketball field.
"It's very possible that she will hate me in the future. But I think it is the only way to realize her life values," Dongzhi Chen says in the video: "I know this is the hardest route for her and I've expected the worst. But I believe if she can play the piano well, she will be smart and successful in doing other things too."
UNFULFILLED DREAMS
"I want my daughter to explore the ultimate beauty of music for me."
Being a student of conservatory of music was a dream of Chen himself, but it did not happen because Chen's family did not have the money for it. He explains: "Therefore, I want my daughter to continue to explore the ultimate beauty of music for me."
Chen's story resonates with that of China's highest-grossing Indian film Dangal (摔跤吧爸爸). In this true story, a former wrestler has the unfulfilled dream to win a gold medal for India. He swears to train his future son to achieve this dream for him. But when he only has daughters, he decides to train them instead to become India's first female champion wrestlers.
The film has received much praise from Chinese audiences. The movie received the high score of 9.2 out of 10 on Douban.com, a popular Chinese reviewing website for films or books.
The great popularity of Dangal in China is not coincidental. China and India share some common cultural characteristics. Both countries attach importance to filial piety, emphasize patriotism in sports, and promote "painful education" (苦难教育). The latter is especially visible in Dangal, where the father makes his daughters get up at 5 AM every day for training and makes them cut off their long hair.
State-owned news media Xinhua recently published an article about family values that can be learned from this film. The article says: "These Indian girls had no choice of life at all. It was their father who forced them and offered them new possibilities. In the perspective of gaining skills and obtaining knowledge, education is painful and is against one's own instinct […] Parents need to lead their children and show them the way, as they don't have the ability to judge for themselves."
On Sohu, a recent article that received nearly 20 million views called on Chinese parents to "form a community" with their children. It said: "The medal is a joint achievement shared by father and daughter. Studying is a process of co-operation."
STRICT FATHERS, KIND MOTHERS
"If she would end up with a nine-to-five job, I would consider it a failure."
In the Pear Video interview, the reporter asks Anke's father if he will provide his daughter with more choices in the future. He answers: "She can have many choices, but this road [that I chose for her] will be doomed to fail if that happens."
Chinese parents have a long-standing reputation for being strict, and for making huge sacrifices for their children's education. Anke's father is no exception; he is so determined to train a child music prodigy that he seems to be ready to deal with any hardships that might come. But why are these 'tiger dads' so desperate to push their daughters to become superstars?
Socio-economic reasons play a major role. According to a study by McKinsey & Company, 76% of China's urban population will be considered middle class by 2022. With this explosive growth of the emerging middle class, many Chinese parents see education as a crucial factor to improve the social mobility of their children.
For girls, this is especially important. The traditional patriarchal culture in China has negatively affected the social status of women throughout history. In contemporary society, their roles as wives and mothers are still often prioritized once they have babies. But as an indirect consequence of China's one child policy, daughters have come to play a more important role in the family, generally receiving more parental attention and a better education than in the decades preceding the policy.
The role of the father in being the one who makes the most important decisions on children's education comes from a long-standing tradition. An old Chinese saying "strict father, kind mother" (严父慈母) describes parenting in traditional Chinese society, where fathers are the stern disciplinarians who have more to say about their children's education and than the mother. The mother's role, traditionally, was defined by the persisting idea of "men rule outside, women rule inside" ("男主外,女主内"); meaning that women should be confined to the 'inside' sphere of family and home, occupying themselves with the household, while men deal with the 'outside' world of work, finances, community, etc.
The Chinese cultural concept of 'mianzi' or 'face' also plays an important role. Representing a person's reputation and prestige, parents gain 'face' when their children succeed. An 'unsuccessful' child would be a father's shame.
As Anke's father tells Pear Video: "If she would end up with a nine-to-five job, such as working in a musical instruments store, I would consider it a failure."
FOR WHOSE GOOD?
"He just sits there and acts like he's the kid's almighty God."
Debates on whether or not children with so-called 'tiger parents' are more successful in life than children with a more relaxed upbringing have been around for a long time. On the Weibo page of Pear Video, commenters also express opposite viewpoints, triggering heated discussions.
One comment, receiving the most likes, said: "If this little girl is truly happy to play the piano, and she sure seems to be very gifted and willing to do so, I don't think there's any reason to criticize her father."
Others also praised Dongzhi Chen, writing: "This dad is really awesome. Anyone who has kids will know that you can never force a child to do something. The media always wants to point out [these stories about] fathers who will force their own dreams upon their children, but the fact is that if the kid doesn't want to do it, it won't happen – no matter how she is pushed by her dad. The reason why this girl is so good now is because of her father's guidance and education."
But there are also those who oppose to the father's parenting style: "I really hate this kind of parent. It's fine to lead or guide your kid if she excels in some areas, but I feel disgusted that he just sits there and acts like he's the kid's almighty God."
Some disapprovingly say: "He already has himself, why does he need a second person like him?"
There are also commenters who say that watching Dangal has changed their outlook: "After I watched this film, my attitude towards these kind of parents has changed completely."
Others agreed, saying: "This movie truly is an inspiration – it is an encouragement for the tiger dad (虎父)."
– By Yue Xin
Follow on Twitter or Like on Facebook
Additional editing by Manya Koetse
©2017 Whatsonweibo. All rights reserved. Do not reproduce our content without permission – you can contact us at info@whatsonweibo.com.
No 'Novoland': This Really Is a Tough Year for Chinese Costume Dramas
After the sudden cancellation of the much-anticipated 'Novoland' premiere, Chinese fantasy costume dramas are facing grim prospects.
First published
With 1,4 billion views on its Weibo page, the Chinese fantasy drama Novoland: Eagle Flag was one of the most-anticipated series of the year. This week, the show was suddenly canceled twenty minutes ahead of its premiere. The incident is indicative of recent tensions within China's TV drama industry, where some costume dramas have apparently failed to win the support of official regulators.
Just a week ago, What's on Weibo reported about the Chinese fantasy drama Novoland: Eagle Flag (九州缥缈录, Jiǔzhōu piāomiǎo lù) being one of the most anticipated TV dramas in China this summer. On June 3rd at 21:40 CST, however, just twenty minutes before the drama's much-awaited premiere on Tencent, Youku, and Zhejiang TV, the show was suddenly canceled.
Novoland: Eagle Flag, which has been called China's answer to Game of Thrones, is a costume drama that tells a story of war, conspiracy, love, and corruption in a fantasy universe called Novoland. It is based on a popular web fantasy novel series by Jiang Nan (江南), and produced by Linmon Pictures. Production costs reportedly were as high as RMB 500 million ($72 million).
Why was the show's premiere suddenly canceled? The only reason given for it on June 3rd was that there was a 'medium problem' ("介质原因").
China's English-language state tabloid Global Times reported on June 4th that their official sources also did not know the reason for the withdrawal, although they did admit to having received an order from "higher level," which would come from China's National Radio and Television Administration (NRTA,国家广播电视总局).
In March of 2018, China's State Administration of Press, Publication, Radio, Film, and Television (SAPPRFT), the former top regulatory body overseeing television productions, was officially abolished and replaced by three different state administrations in the ideological sector.
The NRTA is responsible for media control on radio and TV, and falls directly under the State Council. It is led by Nie Chenxi (聂辰席), who is also the deputy director of the Publicity Department of the Communist Party of China. This appears indicative that the Party now has more direct influence over this industry, as also recently suggested by Global Policy Watch, SupChina, and Variety. Under the NRTA, the regulation and censorship of Chinese TV dramas are as strict, and arguably stricter, than under the SAPPRFT.
Costume dramas: not enough "spiritual guidance"?
The strict control of the NRTA over China's TV industry is especially visible this year. As reported by CCTV News, China's regulatory body started to severely crack down on the rising popularity of Chinese costume dramas (古装剧) in March of 2019.
Regulatory rules were supposedly issued for costume dramas with 'themes' (题材) such as martial arts, fantasy, history, mythology, or palace, stating that they should not air or were to be taken down from online video homepages. The strictest crackdown would allegedly last until July.
From early on in 2019, it was already rumored that Chinese costume dramas would face a tough year.
On January 28 of 2019, Beijing Daily, the official newspaper of the CPC Beijing Municipal Committee, published a critical post on its social media account listing negative influences of court-themed TV dramas (宫廷剧).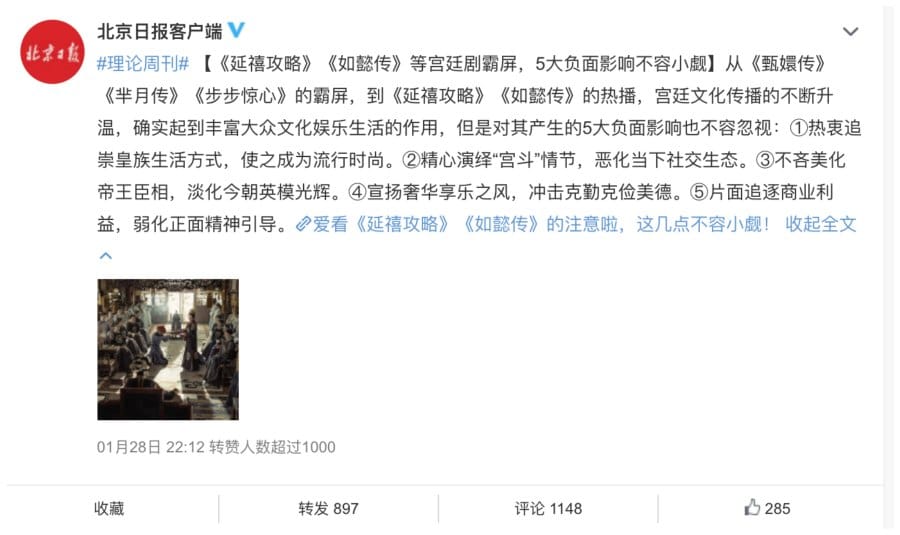 The critique included arguments such as that the imperial lifestyle was being hyped in these dramas, that the social situation of the dynastic era was being negatively dramatized, and that these productions are just aimed at commercial interests while weakening China's "positive spiritual guidance."
In February of this year, two weeks after the Beijing News post, Eduardo Baptista at CNN.com reported on the abrupt cancelation of the planned rebroadcasting of two costume dramas that were also targeted by Beijing News, namely the super TV drama hit Story of Yanxi Palace (延禧攻略) and period drama Ruyi's Royal Love in the Palace (如懿传).
Other costume dramas such as iQiyi's The Legend of White Snake (新白娘子传奇) or The Longest Day in Chang'an (长安十二时辰) were also withdrawn (or postponed) in March. Investiture of the Gods (封神) was replaced by another drama on Hunan TV this month.
"Historical dramas in many cases twisted the narrative of the country's past and the image of historical figures," TV critic Shi Wenxue was quoted by Global Times recently: "[they are] having an adverse effect on teenagers who may regard such fictional stories as real history."
A state and marketplace collusion
With China being the world's largest consumer of TV dramas in the world, the drama industry is a powerful channel for spreading Party ideology.
The political and cultural agenda is especially apparent in those TV dramas that are official propaganda productions. But since the TV drama industry has become increasingly commercialized and TV dramas became more market-oriented in the 1990s, their programming is no longer a mirror reflection of 'Party narratives.'
The number of profit-driven productions has grown over the past 25 years and has skyrocketed with the arrival of video streaming sites such as iQiyi or Tencent Video.
Although non-official productions are ultimately still regulated and overseen by the relevant state departments, they also have to compete for viewer ratings in a highly competitive (online) media environment.
There are many visible trends in China's TV drama industry. There have been peaks of popularity in those TV dramas depicting rural struggles or urban family life, for example, but historical costume dramas (especially dynasty dramas) have consistently been popular and rising since the mid-90s.
One reason for the growing popularity of these historical or fantasy costume dramas is that official censors initially had different standards for them than for more contemporary storylines, resulting in more creative freedom for scriptwriters (see Zhu et al 2008, 7).
There also have been many popular Chinese dynasty dramas that were commercial successes while also serving as propaganda tools.
As pointed out by Shenshen Cai in her work Television Drama in Contemporary China (2017), for example, TV drama serials such as Yongzheng Dynasty (雍正王朝) or The Great Han Emperor Wu (汉武大帝) promoted the ideal of strong central government, harmonious relations between the fatherly ruler and his devoted people, or the exemplary ruler cracking down on corruption – these narratives contributed to the leadership agenda in "stabilizing and re-energizing the dominant moral order" (Cai 3-4; also see Schneider 2012).
But more recent historical dramas have taken a fantasy route that, apparently, resonates with viewers but does not successfully appropriate the official propaganda apparatus.
The sudden withdrawal of new costume dramas is actually not about costume dramas at all. It just shows that although China's TV drama industry is no longer the propaganda machine it once used to be, it still needs to adhere to those narratives that are in line with Party ideology.
Even if their scripts and productions were apparently given the green light in earlier stages, the official supervision bodies still have the power to intervene until the last moment before airing – even if that, apparently, means that moment is twenty minutes ahead of the grand premiere.
"Things don't look too optimistic"
For Chinese drama fans, the recent cancellations have been a real slap in the face. The Novoland: Eagle Flag TV serial was super popular before it even aired: its hashtag page has a staggering 1.4 billion views on Weibo.
"I cried," one 'Novoland' fan comments: "Why such a sudden and abrupt withdrawal?"
"When can we finally see this show?" others wonder.
[Eng Sub] #Novoland: #EagleFlag director's edition – Dir. #ZhangXiaobo talks about his vision for the drama, his understanding of the three main characters (ft. #LiuHaoran, #SongZuer, and #ChenRuoxuan), the harsh conditions during filming, and more

Full – https://t.co/Jqa2z7LMEm pic.twitter.com/2RvsrMcsNW

— NOVOLAND: EAGLE FLAG (@eagleflag_intl) 3 juni 2019
For now, the show's premiere has officially been "postponed" and is "waiting for specific broadcasting time." Whether or not the 55-episode series will be allowed to broadcast after June is still to be seen.
On Twitter, the fan account of Liu Haoran (刘昊然), one of the show's main stars, writes: "You're going to see rumors of tentative dates flying around this week, but note that it's more of a deadline to get things sorted, not an air date. As of right now, things don't look too optimistic. We'll just have to be patient!
More: For an overview of all of our articles on Chinese TV Dramas, please check this list.
By Manya Koetse
Follow @whatsonweibo
References
Cai, Shenshen. 2017. Television Drama in Contemporary China: Political, social and cultural phenomena. London and New York: Routledge Taylor & Francis Group.
Schneider, Florian. 2012. Visual Political Communication in Popular Chinese Television Series. Leiden and Boston: Koninklijke Brill NV.
Zhu, Ying, Michael Keane, Ruoyun Bai (eds). 2008. TV Drama in China. Hong Kong University Press.
Spotted a mistake or want to add something? Please let us know in comments below or email us. Please note that your comment below will need to be manually approved if you're a first-time poster here.
©2019 Whatsonweibo. All rights reserved. Do not reproduce our content without permission – you can contact us at info@whatsonweibo.com
Chinese Shoppers Are Going Absolutely Crazy over UNIQLO x KAWS Collection
Everybody wants KAWS – Chinese shoppers were even spotted fighting in front of a UNIQLO store today.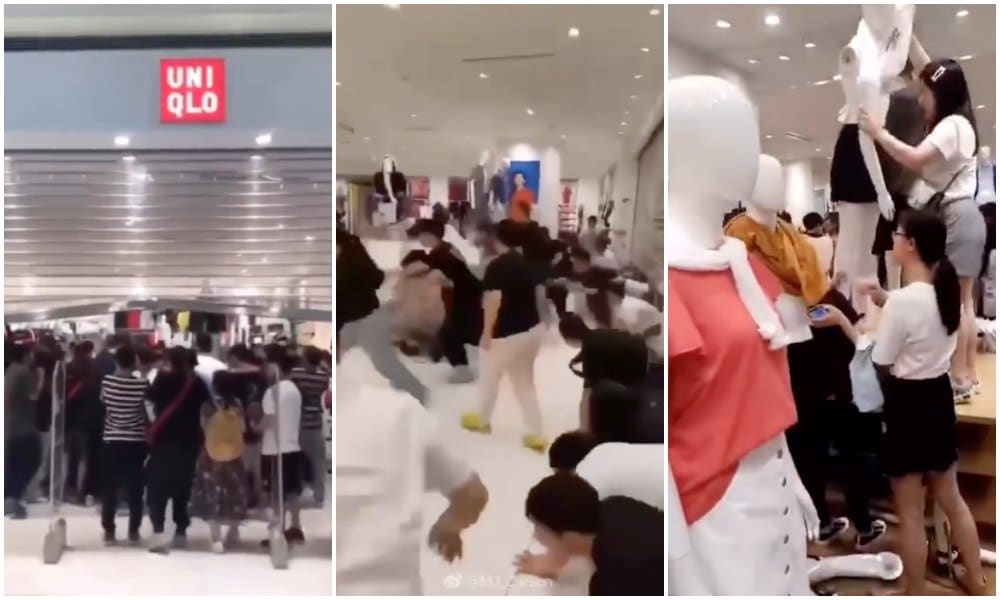 First published
The Chinese sales of the UNIQLO KAWS collection are so crazy that the craze itself has become an online hit. "I don't even like UNIQLO, I just like to compete," some shoppers say.
Chinese shoppers are going completely crazy over the latest collection sold by Japanese fashion company UNIQLO (优衣库) today. The summer collection is a cooperation between UNIQLO and the renowned American artist and designer KAWS (Brian Donnelly).
It is not the first time for the American street artist to partner with the Japanese chain: they previously also collaborated on a Sesame Street-themed collection.
The current collection first started selling in mainland China stores in the early morning of Monday, June 3, and soon became a top trending topic on social media.
The online sales reportedly were sold out in seconds.
Photos and videos circulating on Weibo show people fighting to get into UNIQLO stores, pulling clothes off the shop mannequins, and buying piles of clothes from the stores (see embedded tweet below):
Chinese shoppers are going absolutely crazy over UNIQLO x KAWS collection: https://t.co/DeC9xNgpOk pic.twitter.com/T01gYCAHXB

— Manya Koetse (@manyapan) 3 juni 2019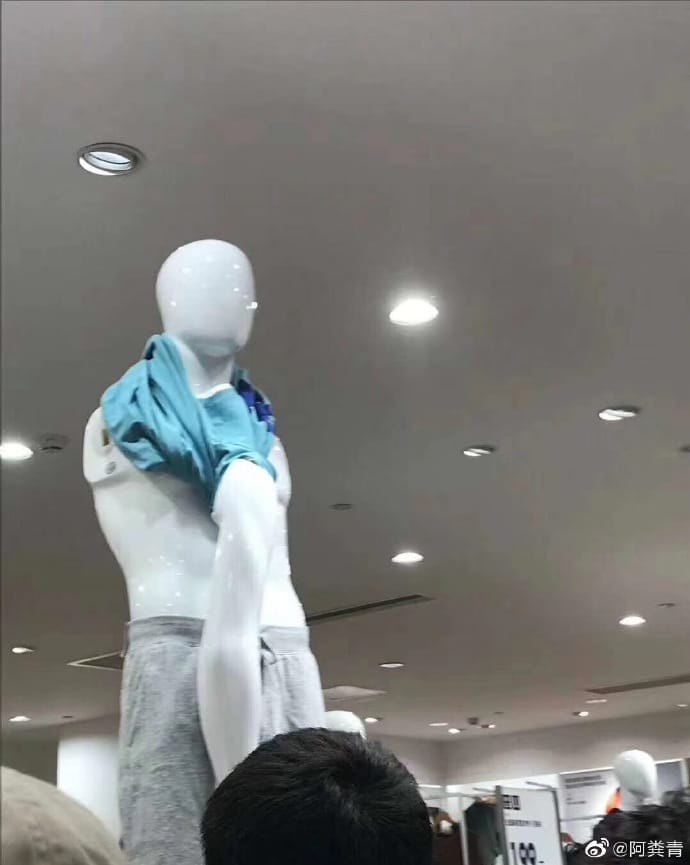 The hashtag "Everybody KAWS" (#全员kaws#) had received 140 million views on Weibo by Monday evening, China time.
Many netizens on Weibo are confused about the big hype surrounding the latest UNIQLO selection, with some wondering who KAWS is, and why people are so eager to wear his design.
Some commenters joke that it actually is not really about the KAWS collection at all, but more about the competition between shoppers on who can score the most clothes from the special product line.
The topic has set off various memes and online jokes, with some people saying: "I don't think there is any need to learn self-defense skills. I only need to wear UNIQLO KAWS clothes, and no one will dare to touch me. They will all know that I can not only fight very well but also run very fast!"
Some memes suggest that KAWS sales have been so successful that everybody on the street or at work will walk around in the same t-shirts this week.
"I finally understand now," one Weibo user writes: "What I love is not UNIQLO, nor KAWS – what I love is to rush and clash with all these people!"
The online sales of the UNIQLO x KAWS collection will start on June 6 in Europe. Its American sales started on Monday 10 AM ET.
Meanwhile, in China, the T-shirts that were bought for RMB 99 ($14) today are being resold online for four-five times their original price.
This is not the first time the Japanese UNIQLO brand becomes a viral hit on Chinese social media, albeit for different reasons. In 2015, the brand became the talk of the week when a naked girl and a man recorded an adult video in the fitting room of their Beijing flag store.
Also read:
* Chinese Kid Destroys Lego Sculpture Within Hour After It Is Displayed
* Kidnappers? Crazy Fans? No, It's Chinese Parents on Their Kids' First Day at School
By Manya Koetse and Miranda Barnes
Follow @whatsonweibo
Spotted a mistake or want to add something? Please let us know in comments below or email us. Please note that your comment below will need to be manually approved if you're a first-time poster here.
©2019 Whatsonweibo. All rights reserved. Do not reproduce our content without permission – you can contact us at info@whatsonweibo.com