Shaanxi Domestic Violence Incident Caught on Home Security Camera, Sparks Online Outrage
The man, a deputy director at a state-owned company, has been fired after the video of the domestic abuse went viral online.
Home security footage showing a man brutally beating his wife in front of their young child has drawn widespread criticism on Chinese social media. The man, a deputy director at a state-owned company, has now been fired.
A shocking video of a domestic violence incident taking place inside a home in Xi'an, Shaanxi Province, has sparked anger across Chinese social media over the past week.
The video, recorded in the family's living room, shows a man severely beating his wife while their toddler is with them in the room (a blurred video published by The Paper can be viewed here, viewer discretion is advised).
Although stories of domestic violence often go trending on Chinese social media, this case is especially noteworthy due to the fact that the incident was recorded by indoor home security cameras. Security cameras inside the home have become more popular in China over the past few years, especially for families with kids or pets to keep tabs on what is going on inside the living room or other home areas.
The video first shows the man frantically hitting the woman on her head over a dozen times while she is sitting on the couch with the child on her lap. The woman then stands up and seemingly tries to get her daughter somewhere safe while the child cries out for her mum. The man then violently drags the woman away again and resumes to frantically beat her. When the child cries out, the mum tells her "don't be scared darling" while the abuse continues – the man slaps the woman on her face and pushes her down.
At one point, another woman, who is said to be the man's mother, steps into the room and takes the young child away without stopping the violence or saying anything at all.
The video of the incident sparked major outrage on Thursday, January 20, as it went viral on Chinese social media and became a hot search topic.
The video supposedly surfaced online because the domestic abuse victim posted it herself on WeChat, although this is not entirely clear as her identity and social media information are kept private. The video was posted on Weibo by someone within her Wechat friends group on January 19.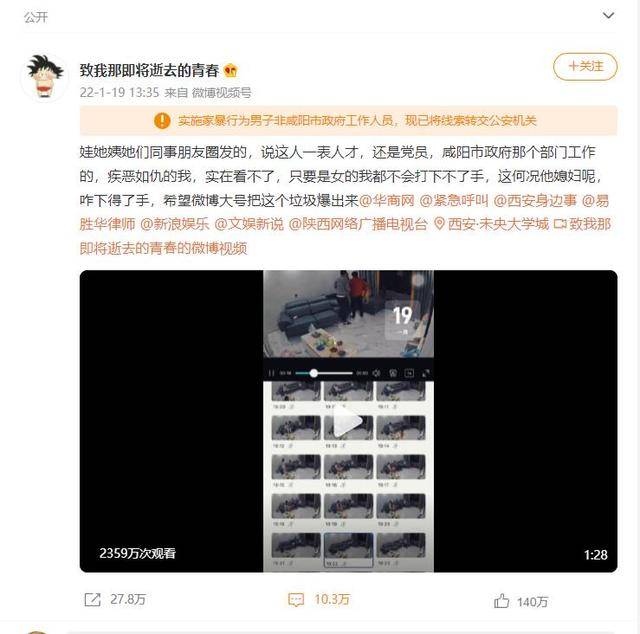 In screenshots that have also gone viral online, the victim speaks about the abuse, claiming it was not the first time for her to suffer abuse at the hands of her husband. She writes that she was also abused, both psychically and mentally, during her pregnancy and shortly afterward and that her husband has also been aggressive with their child.
Many Weibo users who watched the video of the incident already commented that they could tell domestic abuse was normalized inside the Wang family home due to the grandmother's seemingly calm and indifferent response to the violence.
The man in the video was identified as Wang Pengfei (王鹏飞), a deputy director at the state-owned Shaanxi Airport New Silk Road Trading Company. The company opened up a brand-new Weibo account to post a public statement on the matter, condemning the behavior of Mr. Wang and saying he was suspended from his duties. They later added another post that Wang was fired from his job.
On Thursday, the police also posted on social media to inform netizens that the case was under investigation. Two days later, local authorities from the Baqiao District in Xi'an, Shaanxi, issued a statement regarding the case.
According to the police statement, the 28-year-old Mrs. Wang and the 34-year-old Mr. Wang had an argument on the night of January 18 over a household matter. Mrs. Wang allegedly reacted in an "extreme" way and the conflict between the two escalated, leading to Mr. Wang beating up his wife. Mrs. Wang reported the incident to the police on January 19th.
The police statement said that "both spouses recognized their mistakes" and that, in accordance with the law, Mr. Wang received a five-day prison sentence and Mrs. Wang received "educational criticism." Being a Party member, Mr. Wang was also given a "severe disciplinary warning" within the Party.
Over the past few years, domestic violence has been a recurring topic on Chinese social media with many voices trying to raise public awareness about this widespread social problem.
In 2019, the Chinese makeup influencer Yuya Mika shared her story as a survivor of domestic abuse in a video that went viral on Weibo. That video contained shocking footage of Yuya's ex-boyfriend trying to violently drag her out of an elevator – a moment that was also caught on security cameras.
The tragic story of a Tibetan vlogger named Lamu (拉姆, Lhamo in Tibetan) also triggered many discussions on Chinese social media in 2020, after she was set on fire by her ex-husband who previously abused her for years. Lamu did not survive, and her death sparked an online movement advocating for better laws and support systems for domestic abuse victims in China (for more on this story, check out our podcast on Lamu here).
This week, the Xi'an incident again led to online discussions about how Chinese authorities deal with domestic violence. Many commenters argued that the five-day detainment sentence was too light, and others wondered why the wife was "re-educated" by the police while being the victim in this matter, and why it was suggested that her "extreme" response to their argument was what led to the beating.
"As if she deserved the beating due to her lack of good communication," one person wrote.
Various Chinese state media, including CCTV, condemned domestic violence and stressed that it was never just a "family issue."
Weibo blogger 'Marcus Says' (@马库斯说) posted a commentary on the incident, arguing that it is useless for Chinese state media to claim there is "zero tolerance" for domestic violence in China when the law still does not do enough to punish the wrongdoers and to protect the vulnerable people in these kinds of situations. The post was shared over 7000 times.
But there were also many Weibo users who claimed that it was Mrs. Wang who first hit her husband, arguing that the problem of domestic violence often comes from both sides and that there should be more awareness about women abusing men. Commenter @voiceyaya wrote: "Again we're talking about domestic abuse and we generally and repeatedly say we shouldn't blame the victim and that it's never the victim's fault, but I don't think it's very meaningful. Why can't we face the reality that many cases of domestic violence involve violence on both sides and that there is a problem of both parties hitting each other?"
There are also those who blame Mrs. Wang for punishing her husband too severely by exposing his behavior online, arguing that he will never get another job now that his name and photo are widely known.
Despite some online disagreements about the case, most people agree that the child's well-being should be prioritized above anything else. "How tragic for the child, will this really be the last time she sees her daddy hit her mum? She is so small to be immersed in such a frightening scene. This will continue to haunt her for a long time."
It is currently not known if the couple will divorce, or if Mr. Wang and his wife will be reunited after his five days of detainment are over.
By Manya Koetse
Spotted a mistake or want to add something? Please let us know in comments below or email us. First-time commenters, please be patient – we will have to manually approve your comment before it appears.
©2022 Whatsonweibo. All rights reserved. Do not reproduce our content without permission – you can contact us at info@whatsonweibo.com.
'Carpet Pacific': A Timeline of the Cathay Pacific Scandal Through Weibo Hashtags
Cathay Pacific flight attendants mocking non-English speaking passengers by saying, "If you can't say blanket, you can't have it," has sparked a major controversy and caused a marketing catastrophe.
Last week, Xiamen Airlines was the focus of attention on Chinese social media after one of their pilots was caught secretly filming a female staff members in the ladies room. This week, the focus has shifted to Cathay Pacific, as the Hong Kong-based airline faced accusations of discrimination against travelers from mainland China.
The incident gained significant attention on May 22 when a user of the Xiaohongshu (Little Red Book) app shared a public complaint about the Hong Kong airline. In the post, the author, who claimed to have resided in Hong Kong for eleven years, expressed their inability to remain silent after witnessing overt discrimination on a Cathay Pacific CX987 flight from Chengdu to Hong Kong.
The passenger said they were seated near the area where the flight attendants rest and prepare meals, and that they could hear the cabin crew making fun of passengers who could not speak English. Passengers who tried to ask them for help in English about filling out immigration cards allegedly also received impatient responses. The passenger recorded some of their conversation, and later posted the audio clip online.
In one clip, you can hear the staff laughing about a passenger who wanted a blanket but could not properly say it in English. "If you cannot say blanket, you cannot have it," they joked. Since some passengers allegedly had used the word 'carpet' instead of 'blanket', the cabin crew can be heard saying: "A carpet is on the floor."
The biggest China social story of the past few days started with one passenger exposing Cathay cabin crew mocking & discriminating against non-English speaking (Mainland) passengers. His complaint and this 30 second audio snippet led to them being fired, and a social media storm. pic.twitter.com/BDuabQcm0S

— Manya Koetse (@manyapan) May 27, 2023
Since the incident was first exposed on social media, it turned into a major controversy and a marketing crisis for the Cathay Pacific company. As Cathay was condemned by million of netizens, many also vowed to boycott the airline.
Cathay Pacific has been hit hard by the pandemic, and was seeing an increased demand for travel into the Chinese Mainland since quarantine-free travel between Hong Kong the Mainland was finally resumed on January 8 of this year. Cathay is heavily dependent on the Chinese market, and approximately 70% of its revue reportedly comes from China (#国泰航空近七成营收来自中国#).
The incident has ignited anger due to the discriminatory treatment of mainland customers by a Hong Kong company, leading to further discussions on anti-Chinese sentiments in Hong Kong and the role of language in fostering (or hindering) national unity between mainland China and Hong Kong.
This is a timeline of the incident through Weibo hashtags that have gone trending over the past few days.
▶︎ The Cathay Discrimination Audio Leaked Online #国泰空乘歧视乘客录音曝光# (260 million views)
After a netizen posted about supposed discrimination against non-English speaking passengers by cabin crew members on the Cathay Pacific CX987 flight, the incident soon garnered widespread attention on Chinese social media, especially when the 30-second audio was also shared online (hear the audio snippet here).
▶︎ Cathay Pacific Apologizes #国泰航空致歉# (210 million views)
On May 22, Cathay Pacific soon issued a response apologizing for the passenger's experience and promised a thorough investigation. However, their initial apology was considered inadequate by many netizens, and only sparked more debates about the discrimination against mainland Chinese passengers within Cathay's work environment.
On May 23, Cathay Pacific issued a second apology via social channels, mentioning that they had contacted the passenger and that they had suspended the flight attendants involved.
▶︎ Cathay Pacific Uses Standard Mandarin to Apologize #国泰航空行政总裁用普通话道歉# (10 million views)
During a media briefing in Guangzhou on May 24, Cathay Pacific CEO Lin Shaobo (林绍波) once again expressed his sincere apologies on behalf of Cathay for the incident. In doing so, he used Standard Mandarin, the national language of mainland China.
▶︎ Three Employers Fired for Discriminating Against Passengers #国泰航空3名歧视乘客空乘被解聘# (460 million views)
At this time, it was also announced that Cathay had completed their investigation into the matter and, in accordance with the company's regulations, had dismissed the three involved cabin crew members. Lin Shaobo clarified that the airline maintains a "zero tolerance" approach towards any employees who violate the company's rules and ethical standards.
▶︎ Cathay Pacific's Flight Attendant Union Regrets the Incident #国泰空乘工会对空姐被解聘感到遗憾# (180 million views)
On May 24, there was some online turmoil over a statement issued by Cathay Pacific's Flight Attendant Union (FAU). In the statement, the union expressed that Cathay is "facing a shortage of both manpower and resources, a significant increase in workload and low salaries." Because these problems are ignored, Cathay is seeing an "extremely low" morale among cabin crew and more complaints regarding cabin service. "Nothing comes from nothing," the statement said. The Union was criticized for "whitewashing" the cabin crew's discrimination against non-English-speakers.
▶︎ No Official Support for The Union #国泰航空称空中服务员工会不代表国泰# (130 million views)
On May 25, Cathay Pacific issued a statement in which they clarified that The Union is an independent labor union and does not represent the company. They also clarified that did not support the union's position nor agreed with it.
▶︎ Hu Xijin Recommends Mainland Passengers to Speak Mandarin #胡锡进建议乘国泰航空只讲普通话# (910,000 views)
Chinese political & social commentator Hu Xijin (@胡锡进) also responded to the Cathay incident in multiple posts. In one of them, he suggested that mainland passengers should primarily speak Mandarin when they fly Cathay in the future. Since so much of their customer base is from mainland, Cathay should have enough cabin crew speaking Mandarin, he argued. Hu also reflected on how Cathay also caused controversy in 2019, when it would not stop staff from joining the Kong Kong pro-democracy protests. According to Hu, the company should pay attention to "correcting the values" of their employees.
▶︎"Leaked" Internal Email Labeled as Fake News #国泰航空称网传英文内部信件为伪造# (77 million views)
In the meantime, some images circulated online that allegedly showed an internal Cathay Pacific memo by the company's HK Express CEO Mandy Ng in which a warning was issued to be "cautious when engaging with customers from China and be aware of their media culture." That memo was labeled as being false by Cathay Pacific.
▶︎ Hong Kong Perfomer Condemns Cathay for Incident #香港演员怒斥国泰空乘歧视乘客# (170 million views)
Hong Kong celebrity Maria Cordero, nicknamed 'Fat Mama' (肥妈) went trending on Weibo for condemning the Cathay Pacific crew members in a recent interview. "Is speaking English that important?" she wondered: "The whole world is learning Chinese!" She also expressed that the primary duty of flight attendants is to look after passengers and help solve their problems. If they are incapable of fulfilling their duty, they should be sacked.
▶︎ Blankets for Everyone #旅客称现在国泰的航班挨个发毛毯# (6.5 million views)
According to passengers flying Cathay after the 'blanket incident,' the cabin crew went around explicitly asking all passengers if they needed any blankets, making announcements in English, Mandarin, and Cantonese.
▶︎ Follow-up to the Incident #国泰航空空乘歧视乘客后续# (26 million views)
As the Cathay scandal keeps fermenting online, one commenter expressed a common viewpoint by stating: "If Cathay Pacific is so unwilling to serve Chinese people and they refuse to speak Mandarin, why don't they clearly state that they don't welcome Chinese passengers? They can't have it both ways by earning money from Chinese tickets without providing the same level of service."
Meanwhile, an online meme has gained popularity, depicting 'Cathay Pacific' as 'Carpet Pacific' in reference to the controversial comments made by the cabin crew.
Other memes include the quote: "If you cannot say blanket, you cannot have it," or include the phrase "no zuo no die" – a popular internet meme that basically means 'what goes around comes around.'
Those flying China Southern Airlines or Eastern Airlines are posting about their warm on-board blankets, joking: "I didn't even have to say 'blanket' and still got it!"
By Manya Koetse
Get the story behind the hashtag. Subscribe to What's on Weibo here to receive our newsletter and get access to our latest articles:
Spotted a mistake or want to add something? Please let us know in comments below or email us. First-time commenters, please be patient – we will have to manually approve your comment before it appears.
©2023 Whatsonweibo. All rights reserved. Do not reproduce our content without permission – you can contact us at info@whatsonweibo.com.
China's Celebrity Weight Craze: Qin Hao's Viral Diet and Body Anxiety Behind the Weight-Loss Trend
The extreme diet of Chinese actor Qin Hao has sparked a trend of people sharing photos of their corn and egg meals. It's yet another celebrity weight-loss trend that is more about unrealistic expectations than healthy ways of shedding pounds.
Actor Qin Hao's remarkable weight loss has sparked waves of online excitement over a potential new diet plan. Qin is not the only Chinese celebrity whose weight loss journey has become an online hype. But behind the relentless pursuit of celebrity weight loss plans lies the issue of body anxiety, particularly among young Chinese women.
Why do we see so many photos with one ear of corn on Weibo these days? It has everything to do with Qin Hao (秦昊). The actor, renowned for his role in the highly acclaimed 2020 Chinese drama series "The Bad Kids" (隐秘的角落), has recently garnered significant attention for his appearance in another compelling series titled "The Long Wait" (漫长的等待).
This time, his surge in popularity is not just because of his exceptional acting abilities or the captivating character he portrayed, but mostly because of the remarkable diet plan he followed to lose weight during the filming of the series.
In his latest role, Qin played a middle-aged man with a chubby physique, round cheeks, and a beer belly. He had put on a lot of weight to play this character. However, later on, the director asked him to quickly lose weight and "sharpen up" ("必须瘦出棱角").
Qin's wife, Yi Nengjing (@伊能靜), discovered an online diet menu that helped Qin successfully lose over 20 pounds, resulting in a significant transformation in his appearance. Due to numerous inquiries from fans and followers, Yi decided to share the diet plan on her Weibo account.
The five-day diet plan consists of the following meals:
Day 1: Only unsweetened soy milk is consumed throughout the day.
Day 2: Each meal consists of one ear of corn.
Day 3: Breakfast includes dragon fruit, lunch consists of an apple, and dinner consists of blueberries.
Day 4: Breakfast consists of one boiled egg, while lunch and dinner consist of boiled shrimp.
Day 5: Breakfast includes broccoli, lunch consists of spinach, and dinner consists of lettuce.
On Weibo, many people trying out this diet are posting photos of their daily meals, resulting in dozens of photos of a single ear of corn being posted on the platform these days.
Despite the supposed effectiveness of the diet, Yi also issued a warning to her followers. "I want to emphasize once again that I do not recommend this menu to anyone," she wrote on Weibo. "The entire process is incredibly arduous, and Qin experienced weakness in his legs due to hunger for some days."
Despite the warning, the menu still managed to attract a significant number of netizens willing to give it a try. With titles like "Challenging Qin Hao's Diet Plan (挑战秦昊饮食法)" and "Losing 8 Pounds in Five Days (五天瘦八斤)," many people took to platforms such as WeChat, Bilibili, and Weibo to share videos, images and texts documenting their experiences with the same diet plan and the amount of weight they lost each day.
Among those who decided to try the diet plan was the renowned screenwriter and producer Yu Zheng (于正), known for his works such as "The Palace" (宫) and "The Story of Yanxi" (延禧攻略). Yu shared on his Weibo account that he successfully lost 10 pounds in just a few days by following Qin's diet plan. In doing so, he also inspired others to give it a try.
While some individuals recognize the extreme nature of Qin Hao's diet plan, they have made modifications by adding carbohydrates and proteins on certain days or incorporating other "diet foods" like cucumbers or healthy snacks.
However, many choose to strictly adhere to the original plan, expressing sentiments such as "As long as I'm not starving to death, I'll push myself to the limit" or "Even though I'm so hungry that I could eat a person, I'm still very happy with my progress."
EXTREME CELEBRITY DIETS
"You are truly too fat."
Qin is not the only celebrity whose weight loss journey has captured widespread attention. Earlier this year, another viral trend emerged among netizens, who urged director Guo Jingming (郭敬明) to establish a weight loss camp due to the noticeable weight loss among actresses who had worked on his film sets. On Weibo, this phenomenon was described as "no one can leave Guo Jingming's film crew without losing weight" ("没有人能够胖着走出郭敬明剧组").
Guo later disclosed his diet plan for actors and actresses during a television program. According to Guo, they were required to adhere to a diet that excluded oil, salt, and sugar. Additionally, he admitted that he would tell them "you are truly too fat (你真的太胖了)" on a daily basis, as a form of persuasion for those who were reluctant to follow the diet plan. Despite the extreme nature of this diet and his 'brainwashing' methods, many individuals continued to express their desire for Guo to realize an actual weight loss camp for them to join.
The trend of following celebrity diets for weight loss remains popular, with an increasing number of individuals adopting the diet plans promoted by celebrities like Yu Shuxin, IU, Zhang Tianai, and others.
These diets come in various forms, ranging from single-food diets like cucumber and egg or boiled broccoli with plain porridge, to more restrictive approaches that eliminate specific ingredients, such as carbohydrates, or advocate for skipping evening meals. The widespread popularity of these diets is evident on social media, where netizens, mostly female, try them out and document their weight-loss journeys, sharing their progress with a wider audience.
The majority of posts and short videos revolving around these diet plans often feature attention-grabbing titles like "losing xx pounds in xx days," accompanied by celebrities showcasing their slimmed body shapes.
CONCERNS SURROUNDING CELEBRITY CRASH DIETS
"Let me advise you: never, ever go down this terrible path."
With the increasing popularity of celebrity diets, concerns about their impact on (mental) health have arisen. Doctors have issued warnings against attempting Qin Hao's diet plan, cautioning that it can cause significant harm to the body and result in weight gain once discontinued.
Diets that severely restrict calorie intake, like this one, can have detrimental effects such as weakened immunity, decreased bone density, impaired memory, hair loss, and an increased risk of depression. Netizens commenting on posts of people trying these diets often warn others against blindly following their lead. One user offered a stern warning, saying: "To my sisters who haven't started dieting, let me advise you: never, ever go down this terrible path."
Despite the prevailing health concerns associated with celebrity diets, not everyone places their well-being above achieving a desired body shape. In response to a diet plan video by Kpop singer IU, one user acknowledged the potential harm it could cause but still said losing weight was their primary goal, as being overweight made them feel miserable: "I don't care if it's harmful to my body, as long as I can lose weight."
Other users argue that everyone has the right to do whatever they want with their body: "We are all adults and responsible for our own affairs. If you want to lose weight, eat less. If you don't want to lose weight, then continue to be overweight." 
PURSUIT OF THE PERFECT BODY
"For female celebrities, being fat destroys everything."
Behind the never-ending new celebrity diet plans is the question of why celebrities losing weight garners such significant attention. It appears that shedding pounds has become a convenient method for celebrities to attract public interest and enhance their overall image. Losing weight is often portrayed as a symbol of willpower and dedication to one's career.
For instance, Yuan Shanshan, who previously faced criticism for her appearance in certain TV series, received applause and positive attention after slimming down and achieving a V-line figure. Media reports frequently associate female celebrities' dietary practices with the concept of "self-discipline," utilizing titles such as "How self-disciplined are female celebrities?" to highlight their various weight-loss approaches.
On the other hand, when female celebrities gain weight, they are often accused of "betraying" their professional careers or "giving up" on their ambitions.
A quick online search reveals how numerous news articles and blog titles highlight female celebrities' self-discipline through their successful weight loss. These pieces often showcase extraordinary diet methods, like relying on single strands of noodle as a carbohydrate source or consuming plain, boiled vegetables without any additional ingredients.
SLIM LIKE A CELEBRITY
"Will your boss promote you because you're as thin as a celebrity?"
The public's scrutiny of celebrities' weight, often using it as a measure of willpower and success, is a common phenomenon, but celebrities themselves also influence the public's perception of the 'perfect' figure. On various variety shows, female celebrities' heights and weights are increasingly showcased, which inadvertently contributes to viewers' anxieties about their own bodies.
Articles on social media treat these measurements as if they represent the standard for the majority, presenting titles such as "After looking at the heights and weights of these female celebrities, I swear I will never eat again," or "The true heights and weights of female celebrities – a reference for weight loss," and: "How light is thin? Revealing female celebrities' heights and weights." These articles contribute to the idolization of specific body shapes and weights as symbols of beauty and perfection.
'Am I too fat weighing xx pounds?' 'What weight is considered "fat" in today's society?' 'Why do people care about women's weight so much?' 'Why am I so obsessed with my own weight?' As women track and critique the weight fluctuations of female celebrities, many are grappling with questions about body image on social media. They seek answers to their own concerns, shaped by constant exposure to the seemingly ideal body weights of these celebrities.
Amidst all the celebrity weight craze, more critical voices are emerging in the Chinese social media sphere. Witnessing people blindly following celebrities' weight loss journeys, one Zhihu user recently wondered: "Why should everyone strive to have the same bodies as the ones displayed by celebrities? Is there any tangible benefit for ordinary individuals to achieve the same level of thinness as these celebrities? Will your boss promote you or increase your salary simply because you're as slim as a celebrity?"
Many individuals also question the connection between weight loss, self-discipline, and professional success. They assert that celebrities' ability to maintain a slim figure is predominantly driven by financial incentives rather than exceptional personal qualities.
One Weibo user commented on Qin Hao's diet plan, highlighting the disparities between celebrity lifestyles and those of everyday individuals: "Most people don't have jobs that demand such extreme measures, nor do they lead a celebrity lifestyle with chauffeured transportation and dedicated services for nutrition and exercise management. Furthermore, everyday individuals don't need to rely on weight loss as a means to seek public attention or stay in the spotlight."
Chinese author Mao Li (毛利), in a Zhihu post, shared her perspective on the issue and acknowledged that she also has wasted valuable time on futile body image anxieties. She suggests breaking free from the media's "perfect body" hype, embracing self-acceptance, and finding joy in living together with our bodies. She encourages people to "accept it, enjoy it, and praise it."
By Zilan Qian
Get the story behind the hashtag. Subscribe to What's on Weibo here to receive our newsletter and get access to our latest articles:
Spotted a mistake or want to add something? Please let us know in comments below or email us. First-time commenters, please be patient – we will have to manually approve your comment before it appears.
©2023 Whatsonweibo. All rights reserved. Do not reproduce our content without permission – you can contact us at info@whatsonweibo.com.
Subscribe to our newsletter
Stay updated on what's trending in China & get the story behind the hashtag
Sign up here to become a premium member of What's on Weibo today and gain access to all of our latest and premium content, as well as receive our exclusive newsletter. If you prefer to receive just our weekly newsletter with an overview of the latest, you can subscribe for free here.
Would you like to become a contributor, or do you have any tips or suggestions for us? Get in touch with us here.