Justice for Lamu: Death of Tibetan Vlogger Sparks Online Movement against Domestic Violence 
The story of a Tibetan woman burnt by her ex-husband has triggered outrage on Chinese social media.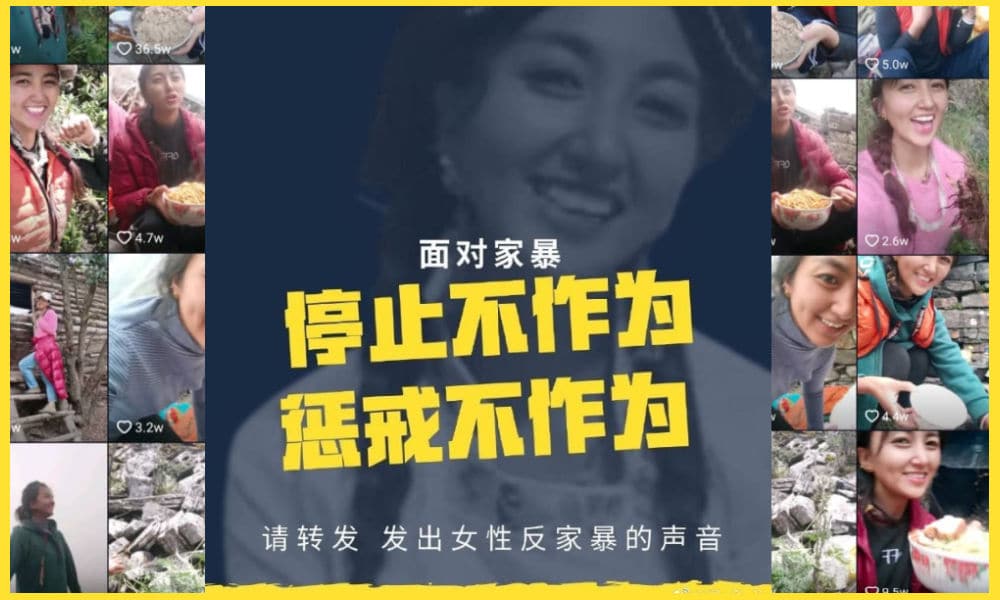 The popular Tibetan vlogger Lamu recently died after her husband attacked her and set her on fire inside her own home. Chinese netizens now raise their voices against domestic violence and call on authorities to do more to protect and legally empower victims of domestic abuse.

By Manya Koetse, with contributions from Miranda Barnes

The tragic story of a young Tibetan woman named Lamu (拉姆, Lhamo in Tibetan) is going insanely viral on Chinese social media these days, triggering massive outrage over the problem of domestic violence in China.
Update: also listen to our podcast on this story here
With over 700,000 followers on the Chinese video app Douyin, Lamu was popular for doing short videos about her life in the countryside since 2018. Singing, dancing, cooking, and showing fans the nature in her mountainous hometown, she was admired for her natural beauty and energetic attitude.
'Lamu' was popular on Douyin for singing, dancing, cooking, and showing fans the nature in her mountainous hometown. Fans praised her for showing the sunny side of her simple life. pic.twitter.com/YtlFHiGbsK

— Manya Koetse (@manyapan) October 7, 2020
The 30-year-old lived in the Guanyinqiao town of Jinchuan County, at the edge of the Qinghai-Tibet Plateau. Living in poverty, Lamu worked hard to make some money. Her videos showed the dirt on her clothes and her poor living conditions. Fans praised her for showing the sunny side of her simple life.
But Lamu's personal circumstances were nowhere near as sunny as they appeared in her videos. For years, the mother of two experienced severe domestic abuse by her husband, Tang X. (唐某).
Lamu divorced Tang, after which they both gained custody over one child. But the abuse continued as the ex-husband threatened to kill one child if Lamu would not get back together with him.
Several news sources describe how Lamu reported the abuse to the police multiple times, but that no action was taken – local officers deemed the case a 'family matter.'
Afraid for the safety of her child, Lamu was pressured into remarrying her ex-husband. But after recurring abuse and afraid for her own life, she again divorced him earlier this year. A local court ruled that Tang, who had more financial resources, would get custody over both children.
Things took a turn for the worse in September of this year, when Tang burst into Lamu's home. Lamu was stabbed, doused in gasoline, and set on fire by her ex-husband on the night of September 14, while she was trying to livestream from her home.
With 90% of her body damaged by flames, she was transported to Sichuan People's Hospital where she eventually succumbed to her injuries on September 30. Tang X. has since been detained while the case is under investigation.
The story gained widespread attention on social media platforms Douyin and Weibo, and soon went viral, although some hashtags and topics related to the news were censored later on.
One of the most-read in-depth online blogs about Lamu is that by 'Guyu' (谷雨) titled "Lamu, Burned by her Ex-Husband" ("被前夫烧毁的拉姆"). The article explains more about Lamu's low-income, low-education background, her struggles to take care of her sick father, and her hard work to generate money for her family.
Lamu's sister Zhuoma (卓玛, Dolma in Tibetan) posted a social media video on October 1st in which she tearfully shared the tragic news: "Yesterday, my younger sister has left us forever, (..), but she will always remain in our hearts."
Zhuoma also thanked social media users for their support. In an effort to help pay for Lamu's medical costs shortly after her hospitalization, fans set up an online crowdfunding campaign for her and were able to raise over 1 million yuan ($150,000) within a time frame of just seven hours.
Lamu's funeral was held at a local temple on October 5. The hashtag "Lamu is Cremated Today" (#拉姆今日火化#) received over 310 million views on Weibo.
"Domestic violence is not a family issue!"
In the wake of Lamu's death, and despite censorship, Chinese netizens started speaking out against domestic violence, advocating for better laws and support systems for domestic abuse victims in China.
An online poster that was shared online by hundreds of netizens says:
"Vlogger Lamu suffered domestic abuse for over ten years. She reached out for help many times to no avail. She was burnt by her ex-husband and died on September 30th. We can't let this kind of tragedy happen again! Let's confront a lack of action in the face of domestic violence, inaction should be punished. Please forward and make women's voices against domestic violence heard!"
Chinese actress Li Bingbing (李冰冰) also spoke out about the matter on Weibo, saying: "Don't be indifferent, don't stay silent, domestic violence is not a family matter, it is a crime!"
Many raising their voice against domestic violence mention how Lamu's case, unfortunately, is not unique. There have been similar cases before, and there are millions suffering behind closed doors. A 2016 survey by the All-China Women's Federation estimated that 30% of married Chinese women had experienced some form of domestic violence.
Domestic abuse was officially criminalized with China's first national law against domestic violence in 2016, but it is still a widespread problem, partly due to a general lack of public awareness of domestic abuse and police officers regarding it as a private family matter, downplaying its severity.
Another issue is how the legal repercussions for the perpetrators of domestic violence are often mild or even non-existent.
As noted by author Hao Yang in this article, the Chinese law's definition of domestic violence covers physical and psychological violence, yet does not explicitly include sexual violence such as marital rape. The law also does not include violence against former spouses or partners who do not live together.
There is also no clear national implementation guideline for China's Domestic Violence Law, and no standard procedure for protecting victims.
Lamu's death has stirred online discussions on the importance of addressing all of these aforementioned problems. These kinds of online discussions on domestic violence have risen before, but the voices have rarely been as loud as they are now.
"Domestic violence is the most frightening and harmful type of violence since it comes from within one's own family. If the police are useless, then how can women ever protect themselves?", one Weibo commenter writes, with another person responding: "Domestic violence is not a family issue! I hope the relevant authorities will start paying more attention to this!"
"We need a 'Lamu Bill'"
One popular Weibo user, a screenwriter from Beijing with approximately 240,000 followers, argues that the intervention of authorities in domestic abuse cases is sometimes literally a matter of life and death.
"Women who are victims of domestic violence should not have only two destinies,"  the blogger writes: "..either being beaten to death or struggling to kill."
This blogger, along with other social media users, also mentions other cases where the non-intervention of local authorities in domestic abuse cases led to a tragic ending.
Two of the cases often mentioned together with Lamu's case are that of Dong Shanshan (董珊珊), Li Yan (李彦), and Ms. Liu (刘女士).
Dong Shanshan was a 26-year-old woman from Beijing who suffered abuse from her husband shortly after getting married. Dong and her family reported the abuse to the police a total of 8 times, but the police allegedly were reluctant to intervene in something that was deemed a "family dispute." After another beating by her husband, Dong died of internal organ failure in 2009. Her husband was sentenced to six years in prison.
Li Yan suffered abuse by her husband Tan Yong ever since they got married in 2009. Although Li reported the abuse to the local justice department, police, and the All-China Women's Federation, local authorities did not intervene. When the abuse got worse – including Tan hitting Li's head against the wall, hacking off one of her fingers, and stubbing out cigarettes on her face and body, – Li (accidentally) killed her drunken husband with a gun barrel after he threatened to shoot her. Li was sentenced to death in 2011. The sentence was overturned in 2015 and commuted to life in prison.
Ms. Liu's case made headlines after the woman from Henan jumped from a second-story window to escape domestic violence. Footage of Liu landing on the street – a fall that left her temporarily paralyzed – went viral earlier this year when it became known that Liu had filed for divorce but this was denied by a local court. The court reportedly denied Liu's petition for divorce due to her husband's unwillingness to separate, and because her claims of domestic violence could not be verified without a criminal complaint. In the summer of 2020, Liu was finally granted a divorce.
A law that was released in 2020 introduced a mandatory "cooling off period" of thirty days after couples file for divorce. The law is allegedly intended to make people think twice before officially separating, but it also triggered public outrage for making victims of domestic violence even more vulnerable.
In light of Lamu's case, many people on Weibo and Douyin now support a so-called 'Lamu Bill' (拉姆法案), that should legally empower victims of domestic abuse, more so than the current law on domestic abuse does.
Netizens suggest it should include the automatic dissolution of a marriage once one side wants a divorce for one's own personal safety, and that it should criminalize marital rape.
"We need the 'Lamu Bill', we can't let these kinds of cases happen again," multiple commenters say, with others also writing "if you don't speak up, nothing will ever change." One post on the issue received over 630,000 likes.
On Weibo, the hashtag page for the topic has now been taken offline and many people note that the topic has been taken down from Weibo hot search lists.
At the time of writing, the hashtag "Stop Nonfeasance" (#停止不作为#), that is also used to call for change and better enforcement of China's domestic violence laws, is still open on Weibo and Douyin. On Douyin, many netizens speak out against domestic violence via video; on Weibo, they do so via posts and images.
Multiple images and videos show that the online movement against domestic violence also takes place offline, with people creating small memorials outside and leaving the "Stop Inaction" posters outside the Sichuan hospital.
Besides the censored hashtag and the "Stop Nonfeasance" hashtag, there are also other terms and hashtags used by Weibo and Douyin users to get their message across.
Lamu's story is passed on and has become much bigger than her tragic death alone. "I could be Lamu," some female commenters say.
"When people stay silent, women have no way to speak up," one person writes. And so, through online and offline memorials, posters, hashtags, and photos, the calls for action against domestic violence are everywhere. Even in the face of censorship, many social media users seem determined to make their voices heard.
By Manya Koetse , with contributions by Miranda Barnes
Follow @WhatsOnWeibo
Spotted a mistake or want to add something? Please let us know in comments below or email us. First-time commenters, please be patient – we will have to manually approve your comment before it appears.
©2020 Whatsonweibo. All rights reserved. Do not reproduce our content without permission – you can contact us at info@whatsonweibo.com.
The Rise of Facial Recognition in China's Real Estate Market
Some homebuyers counter the rise of facial recognition technology in real estate offices by wearing helmets during their visit.
The issue of Chinese real estate agents using facial recognition techniques to collect information about their clients has sparked privacy concerns among Chinese social media users.

– By Manya Koetse, with contributions from Bobby Fung

A recent news report by Southern Metropolis Daily exposes how more and more real estate offices in China are working with facial recognition technologies to collect personal information about their prospective clients.
This is not the first time that the widespread use of facial-recognition techniques in the real estate industry receives attention in Chinese media. In 2019, some blogs already raised concerns over the use of such techniques and the negative impact it could have on homebuyers.
But why would the real estate industry benefit from buying expensive face recognition systems?
One reason is that these AI techniques could earn those within the industry a lot of money while reducing time-consuming conflicts over commission fees.
Using facial recognition within the real estate industry solves existing problems regarding the practice of commissions and splits in compensation, as the techniques can register when, where, and how often a certain client visited, and through which channels the eventual property purchase was made.
Besides the fact that the registration of biometric information violates the privacy of visitors, it could also mean they, as homebuyers, are losing out on big money. First-time visitors, not yet registered by the smart facial recognition cameras, can get much higher discounts.
The report by Southern Metropolis Daily claims that homebuyers could end up paying up to 300,000 yuan ($45,560) more when buying property if their face was previously recorded.
This is, among others, because agencies make a distinction between homebuyers who first come to view a property following a real estate agent's own marketing campaign (a 'natural visitor' 自然到访客户) and those who have come through an intermediary ('渠道客户'). In the latter case, the company also has to pay a commission fee to the intermediary.
This system has led to some potential homebuyers wearing helmets when visiting a real estate agency. Images of a certain 'Brother Helmet' (头盔哥) viewing property previously attracted attention online.
One of the companies that is mentioned by Southern Metropolis Daily as providing this kind of smart camera systems to companies is the Shenzhen-based Myunke (Mingyuan Yunke 明源云客), an internet company focusing on the "intelligent transformation and upgrading" of real estate marketing.
On Weibo, dozens of commenters suggest that the use of these techniques in China's real estate industry is already widespread, with some sharing their own experiences as homebuyers and others saying: "I work in this industry, and it's true."
"Where's our privacy?! This is too scary!", others write, with some saying that the root of the problem lies in China's "overly lax privacy protection."
The ubiquity of commercial use of facial recognition has been attracting more attention recently amid rising privacy concerns.
One example is the use of built-in smart cameras by digital advertisement billboards, which measure customers' reactions to advertisements. These digital billboard record, for example, if people look at the advertisement, how long they stay interested, and if they are male or female.
Earlier this week, a court in Hangzhou ordered a local wildlife park to delete the facial recognition data of one of its patrons, saying it was "unnecessary" and "lacked legitimacy." An associate law professor at Zhejiang Sci-tech University named Guo Bing sued the safari park in 2019 for using mandatory facial recognition systems to register him and his wife as park visitors.
As reported by Sixth Tone, Guo decided to file this lawsuit on the grounds that the park had violated China's consumer rights protection law by collecting sensitive personal information without the permission of its patrons.
In light of the heightened concerns around privacy and commercial use of facial recognition, a draft law to ban facial recognition systems in residential communities was recently submitted to the local legislation department in Hangzhou. This move may signal a stricter overview or even ban of mandatory collection of facial scans in residential areas.
Whether or not the use of facial recognition systems in real estate sales will be curbed any time soon is unclear. Some experts have pointed out, however, that the necessity and legitimacy of employing such techniques – which only protect the interests of the company and not the interest nor rights of the clients – is highly questionable.
Spotted a mistake or want to add something? Please let us know in comments below or email us. First-time commenters, please be patient – we will have to manually approve your comment before it appears.
©2020 Whatsonweibo. All rights reserved. Do not reproduce our content without permission – you can contact us at info@whatsonweibo.com.
Shandong Woman Dies after Suffering Abuse by In-Laws over Infertility
Anger over Shandong abuse case: "Is this how the law protects women?!"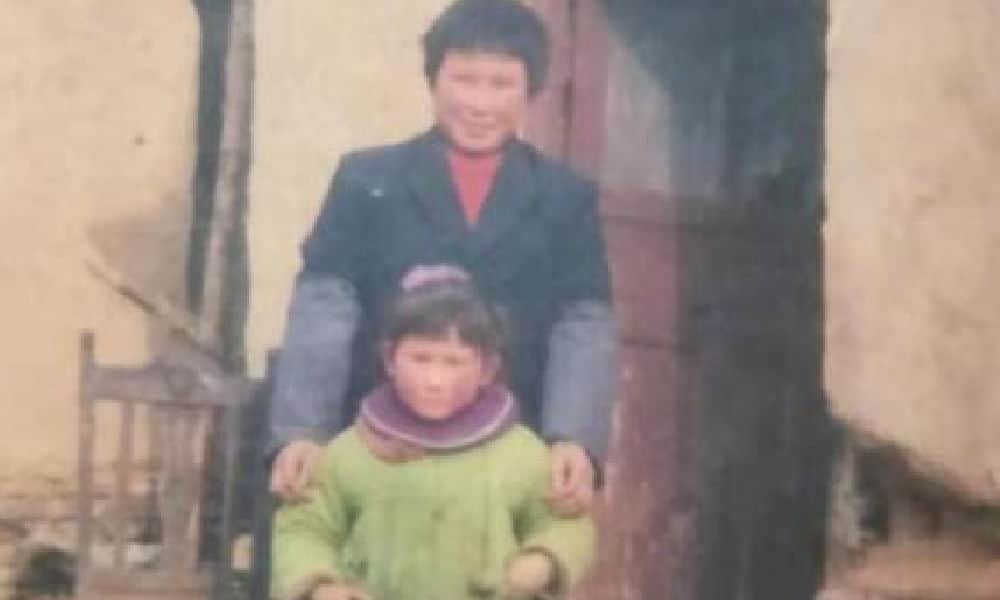 Just a month after the tragic story of a Chinese vlogger being killed by her husband triggered outrage on social media, another extreme domestic abuse case has gone trending on Weibo.
This time, it concerns the story of the 22-year-old woman named Fang Yangyang (方洋洋) who lived in Fangzhuang village in Dezhou, Shandong Province. The woman passed away in 2019 after suffering prolonged abuse by her husband and in-laws. Chinese media report that the abuse was related to Fang's infertility issues.
Fang married her husband Zhang Bing (张丙) in November of 2016. It was an arranged marriage, with Zhang's parents paying a bride price of 130,000 yuan (almost $20,000).
When Fang did not get pregnant after marrying her husband, she started suffering severe emotional and physical abuse at the hands of her husband and in-laws, beginning in July of 2018. Zhang and his parents reportedly beat Fang with wooden rods, refused to let her eat, locked her up, and let her freeze outside in the cold.
Fang, who weighed 180 pounds (80 kilograms) when she got married, only weighed 60 pounds (30 kilograms) in early 2019. Beijing News reports that Fang, malnourished and weak, died on January 31st 2019 after suffering another beating by her in-laws.
The case received more attention on social media this week as the local Yucheng People's Court (山东禹城法院) reviewed the case after an earlier verdict in January. The retrial is set to take place on November 27.
In January 2020, the court sentenced Fang's husband and his parents for the crime of abuse. The victim's father-in-law, Zhang Jilin (张吉林), received three years in prison, her mother-in-law, Liu Lanying (刘兰英), got 26 months in prison, and her husband's sentence was suspended with a three-year probation time, as reported by Sixth Tone and China Daily.
The relatively light punishments triggered anger on Weibo, where the hashtag "Woman Suffers Abuse by In-Laws for Being Infertile and Dies" (#山东一女子因不孕遭婆家虐待致死#) has been trending for days, along with other similar hashtags (#女子因不孕被夫家虐待致死案重审#, #山东女子因不孕被虐待致死#).
A statement issued by Yucheng People's Court said the court gave the defendants lighter punishment because they were truthful about their crimes and, in advance, paid a voluntary compensation of 50,000 yuan ($7630). The verdict will now be withdrawn.
In an interview with Southcn.com, Fang's cousin stated the family had contacted police before when Fang's in-laws would not allow the family to see her. The second time they contacted the police was after Fang had died.
Sources close to the family state that Fang's mother had been diagnosed with a mental condition, with Fang allegedly also showing signs of mental disability, although this has not been verified by official sources. There are also sources claiming that the father-in-law, Zhang Jilin, was a heavy drinker who would get aggressive when drunk.
On social media, many people are outraged. "I just don't understand it!", one person writes: "It's just because of societal pressure that this case is now going on retrial. But this is not justice!"
Public anger about the case grew louder due to another case trending at the same time, in which a Shenzhen mother who beat her 12-year-old daughter to death received a ten-year prison sentence (#母亲失手打死12岁女儿获刑十年#).
"This is unimaginable," one Weibo user wrote: "Isn't the idea of sentencing someone to actually punish them?!"
"This pains me so much, is this the actual society we're living in?"
Besides the anger over China's criminal justice system when it comes to domestic violence, there are also those who express disgust over the fact that the Zhang family apparently arranged a marriage for the sole purpose of producing offspring. "Are we still living in the Qing Dynasty?"
Many of the comments online are similar to those that flooded social media after the death of Lamu: "Is this how the law protects women?!"
We will report more on this story after November 27.
By Manya Koetse
Follow @WhatsOnWeibo
Spotted a mistake or want to add something? Please let us know in comments below or email us. First-time commenters, please be patient – we will have to manually approve your comment before it appears.
©2020 Whatsonweibo. All rights reserved. Do not reproduce our content without permission – you can contact us at info@whatsonweibo.com.