Shiny Big Eyelids, Pouty Red Lips? You Might Have Been to the Wrong Terracotta Army
Thought you visited the Terracotta Army, one of the great wonders of the world? You might have been tricked.
Thought you visited the Terracotta Army, one of the great wonders of the world? You might have been tricked into a cheap replica of the famous tourist site. The complaints of people visiting Xi'an who are tricked by "tour guides" are growing louder.
Recently, one Chinese travel review attracted many readers on Douban, a Chinese social media network. In the blog, titled "Xi'an is a fun city: both its tourist sites and its scammers," the writer tells how he went through a challenging game of outwitting cunning "tour guides" during his travels in Xi'an.
The netizen shared how he painstakingly defeated all the 'bosses' and finally managed to see the REAL Terracotta Army instead of its poor replica.
The 'game' began once the blogger had stepped out of the train at Xi'an station, where a fake policeman lured him to the wrong bus. A man in black then tried to convince him that the Terracotta Army pits were so far that he had to take another bus, and a free shuttle bus offered to take him to the real pit.
If it is your first time in Xi'an, and you haven't done much preparation before the trip, you might fall into the trap and be guided to the "famous sites": a Terracotta Army pit, an "Eight Wonders of the World" museum, and some other sites where famous historical events supposedly took place.
Here is what you will be seeing when you go to the "famous sites":
• Shiny terracotta warriors with pouty red lips. Their color, despite what archaeologists say about the paint fading in open air, is vividly preserved. Sometimes they even have a modern-looking girl in their company. [Site: Underground Place of Qin, 秦陵地宫]
• The "Eight Wonders of the World," where you will see things such as the tomb of Tutankhamen, Egyptian pyramids, or the three goddesses of ancient Greece. [Site: Eight Wonders of the World Museum, 世界八大奇迹馆]
• Or paintings and wax figures depicting people's lives in the past. [Site: Eight Wonders of the World Museum; Relics of Feast at Hong Gate, 鸿门宴遗址]
Although visitors might feel confused and disappointed after such a trip, they often do not not dwell on it for too long; after all, the above three places are officially recognized tourist sites by the Shaanxi Tourism Administration (陕西旅游政务), and have existed for decades.
But since last year, tourists' complaints have grown louder, especially after the October Golden Week holiday when millions of people came to Xi'an to see the historical wonders of the city. Many were angered that they got to see cheap replicas instead.
The problem is that replica attractions used to be officially recognized tourist spots in the same way as real historical sites were. According to Mr. Zhang, an insider interviewed by Pear Video, the tourist sites with poorly replicated relics were constructed in the 1980s, when tourist resources were still scarce.
The 'fake' sites were used to satisfy the curiosity of visitors, so that they could see 'historical relics' they would otherwise never have a chance to see.
Although these replicas might have been of acceptable quality 30 years ago, they now seem crude, cheap, and very much outdated.
But more importantly, many historical sites have now become much more accessible to visitors than they were in the 1980s. On one single day in October 2016 alone, the Emperor Qinshihuang's Mausoleum had 120,000 visitors. Now that the 'real' sites are open for visitors, tourists no longer want to see replicas.
Nevertheless, tourists are still lured to go to these replica sites, only later finding out that they are at the wrong place. According to Mr. Zhang, the operators of these 'fake' sites spare no means to cooperate with illegal travel agencies to bring more visitors to their premises.
As a result of the rising complaints, the Xi'an Tourism Board has disqualified the above-mentioned three sites as of September 2016.
Yet according to Chinese netizens and daily newspaper Dushi Kuaibao (@都市快报), the scamming "travel guides" are still ubiquitous in Xi'an, tricking ignorant visitors every day.
Despite all the controversies, Xi'an is still worth a visit. Take this kind advice of a Xi'an netizen who warns travelers not to waste money on cheap scams:
"We always welcome guests to Xi'an. If your budget is low, prepare your trip in advance. If your budget is high, stay at a 5-star hotel and rent a car. As long as you do not travel on the cheap, you won't be cheated. The point of traveling is spending money for enjoyment. If you spend your money at the right place, you will get the most out of it."
-By Diandian Guo
Follow on Twitter or Like on Facebook
©2016 Whatsonweibo. All rights reserved. Do not reproduce our content without permission – you can contact us at info@whatsonweibo.com.
Chinese Student Forced to Undergo "Fake Surgery" and Borrow Money While Lying on the Operating Table
The 17-year-old girl from Shaanxi underwent surgery for no reason at all, without her parents' consent.
The story of a 17-year-old girl who was forced to undergo a "fake surgery" at Shaanxi's Ankang Xing'an Hospital has gone viral on Chinese social media.
One of the netizens to break the story on social media is the Weibo user @QinguanSihai (@秦观四海, 90,000+ followers), who posted about the incident on October 6.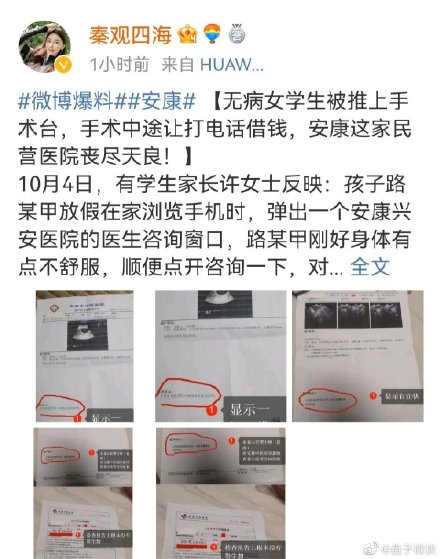 According to the post, the incident occurred on October 4 when a young woman named Lu went online to seek medical attention because she was not feeling well. Since there was an available spot for a medical consultation at the private Ankang Xing'an Hospital, Lu went to see a doctor there.
While she was at the hospital in the city of Ankang, the woman allegedly was directly taken to the operating room and placed on the operating table after a short consultation; not for a medical examination, but for surgery.
The girl initially thought she was undergoing a routine medical check. As the surgery was already underway, the doctor stopped to let Lu sign some papers and then asked her if she could gather the money to pay for her medical procedure. When Lu protested and demanded to get off the surgery table, the doctor warned her that she was losing blood and that interrupting the procedure would be life-threatening.
Lying on the operating table, Lu called some of her friends to gather the money, all the while being pressured by the doctor that the money she had (1200 yuan/$185) was not enough to cover for the costs of surgery – which was still ongoing. The doctor allegedly even told Lu to get more money via the Alipay 'Huabei' loaning app.
Lu's parents, who were contacted by concerned friends, soon showed up at the hospital as the doctor hastily ended the surgery. The parents, who were furious to discover their underage daughter had undergone a medical procedure without their consent, became even more upset when they later found out that Lu had undergone surgery to remove cervical polyps, while Lu's medical reports showed that she actually had no cervical polyps at all. No reason could be found for their healthy daughter to have been operated on her cervix.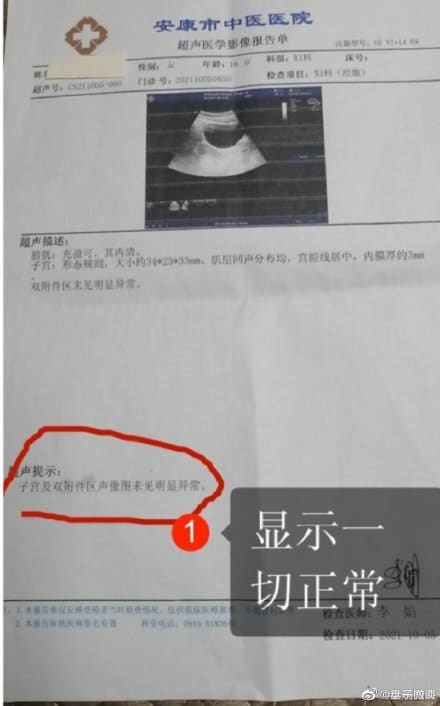 After Lu's story went viral on social media, local authorities quickly started an investigation into the matter and soon confirmed that the story was real. An initial statement said that Angkang Xing'an Hospital is at fault for performing surgery on a minor without the consent of a guardian or parent. It was also recognized that the hospital has committed serious ethical violations. The hospital, located on 78 Bashan Middle Road (巴山中路), is now temporarily closed, and the doctor in question has since been fired.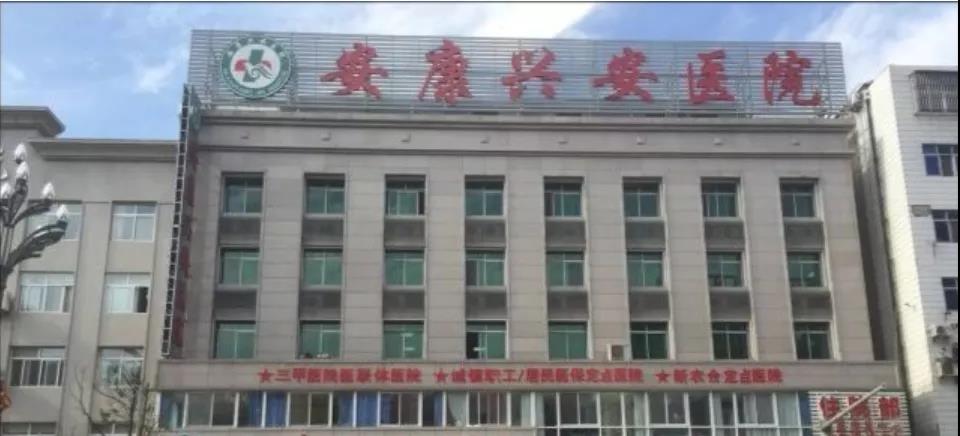 Many Chinese netizens are angered about the incident, calling private hospitals such as Ankang Xing'an a "disgrace" to China's healthcare industry.
This is by no means the first time that malpractices at Chinese local hospitals or clinics trigger online controversy. Various incidents that previously went viral show how some clinics put commercial interests above the health of their patients, and how some doctors think they can get away with abusing and scamming their patients.
In 2016, the death of the 21-year-old cancer patient Wei Zexi (魏则西) sparked online outrage. Wei Zexi, who shared his medical experiences on social media, spent 200,000 RMB to receive contested form of immunotherapy at the Beijing Armed Police Corps No. 2 Hospital (武警二院). The treatment, that was promoted on China's leading search engine Baidu, was actually completely ineffective and the advertising for it was false.
By now, one hashtag relating to the Ankang incident has received over 270 million views on Weibo (#官方通报无病女生被推上手术台#), with other relating hashtags also circulating on social media (#家属回应无病女学生被迫手术#, #无病女学生被推上手术台涉事医院停业整顿#).
"This can't be a real hospital, right?!" some worried netizens write, with others expressing the hopes that the medical institution will be severely punished for their wrongdoings.
By Manya Koetse
Spotted a mistake or want to add something? Please let us know in comments below or email us. First-time commenters, please be patient – we will have to manually approve your comment before it appears.
©2021 Whatsonweibo. All rights reserved. Do not reproduce our content without permission – you can contact us at info@whatsonweibo.com.
Humans Fight at Beijing Wildlife Park, "Setting the Wrong Example" for the Animals
When the humans started fighting at this Beijing zoo, the animals followed suit.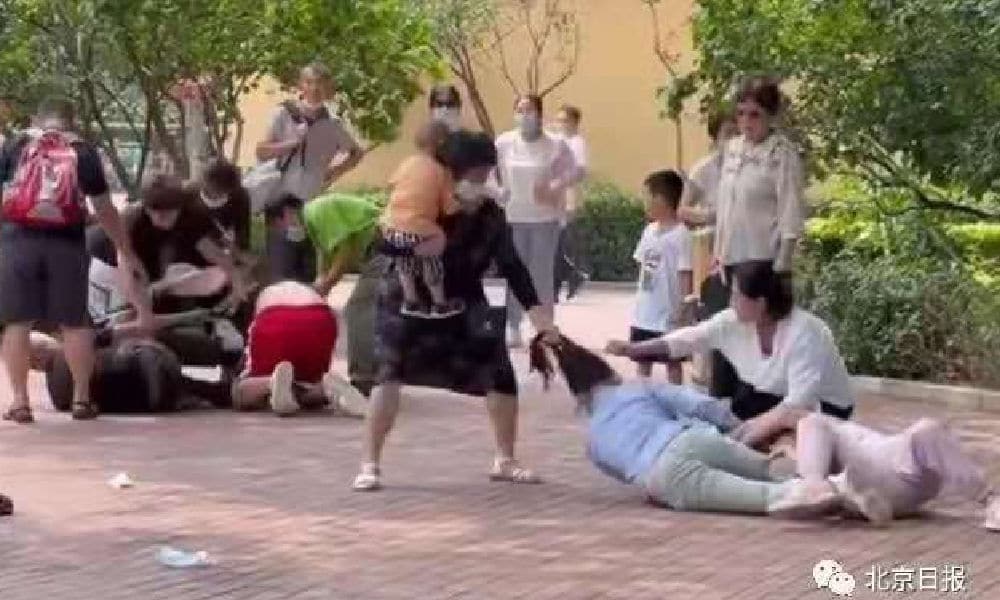 A fight between visitors of the Beijing Wildlife Park has gone viral on Chinese social media. The altercation happened on the afternoon of August 7 at the Wildlife Park in the Daxing District.
According to the WeChat account of the Beijing Wildlife Park, the fight erupted after two visitors had a dispute over something trivial. Their clash initially was only a verbal one, but soon turned physical.
A big fight that occurred at the Beijing Wildlife Park yesterday apparently set a very bad example for the animals witnessing it. According to the park, the animals imitated these wild humans and had their own altercation at night. (Video via Beijing Life/北京生活) pic.twitter.com/ldgn63ya6g

— Manya Koetse (@manyapan) August 8, 2021
A video of the incident published on Weibo by Beijing Life (@北京生活) shows that at least six people were involved in the fight, which included hair pulling, kicking, tearing clothes, and slapping. Even the people who were already lying on the ground still continued wrestling and kicking.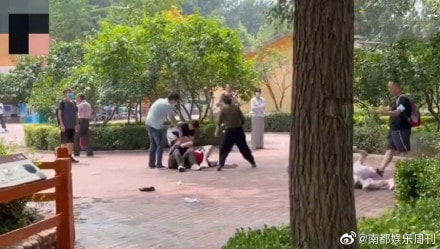 Not just children stood by during the altercation, many animals also witnessed the dramatic fight. Some netizens said the incident took place near the gorilla area.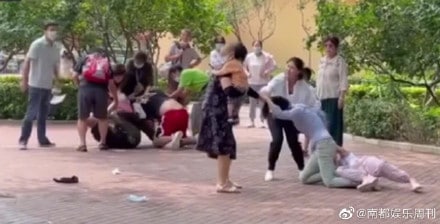 Although local security guards were able to calm the fighting parties down and settle the matter, the violent altercation allegedly had some unexpected consequences.
According to the park statement (#园方回应动物效仿游客打架#), this was the first time for the park animals to witness such a fight between humans. For some animals, the event apparently left such an impression that they also started fighting together that same night.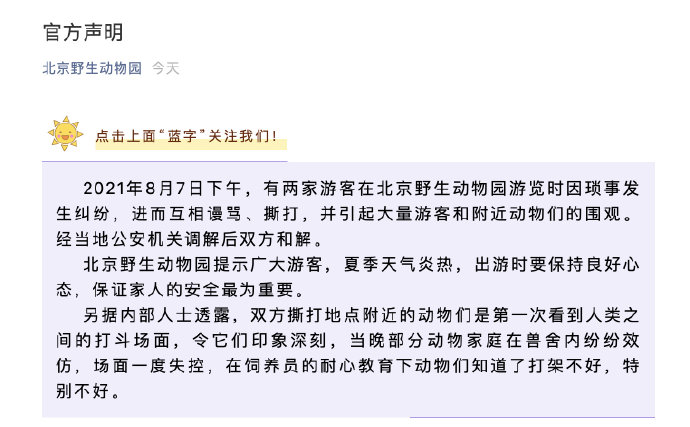 The Beijing Wildlife conveyed how the humans had set a bad example for the animals, writing that the animals imitated them and that their fighting was "out of control."
The park also writes that zookeepers stepped in, letting the animals know that "fighting is bad", "really bad."
By Manya Koetse (@manyapan) and Miranda Barnes
Spotted a mistake or want to add something? Please let us know in comments below or email us. First-time commenters, please be patient – we will have to manually approve your comment before it appears.
©2021 Whatsonweibo. All rights reserved. Do not reproduce our content without permission – you can contact us at info@whatsonweibo.com.