The Dissertation Acknowledgement That Went Viral on Chinese Social Media
"I knew I would always remember the sacrifice my brother made for me. But looking back, it was just the first of many sacrifices my brother would make."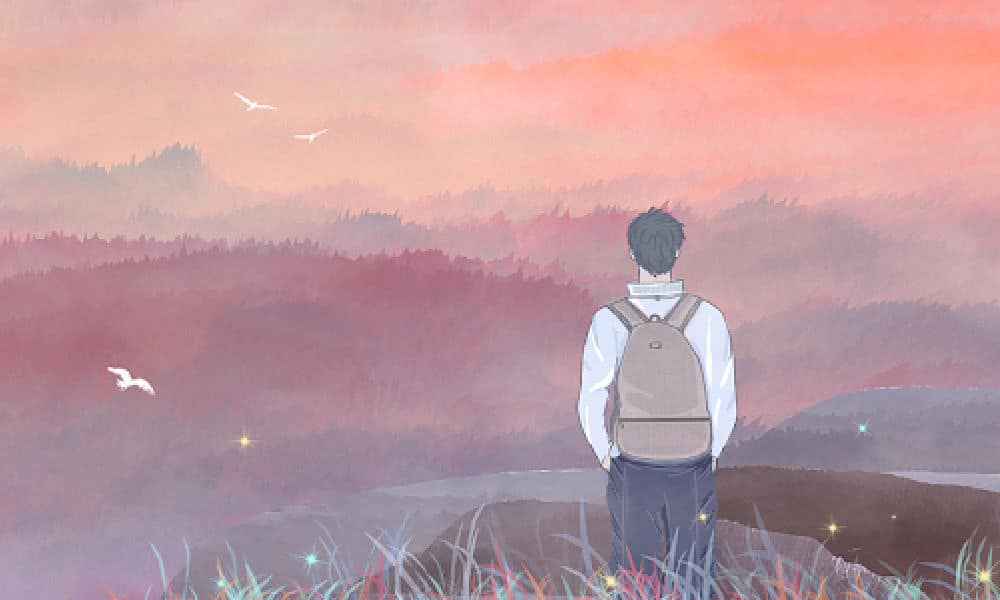 A 'thank you' section in a PhD thesis has gone viral on Chinese social media these days, moving many netizens to tears.
The dissertation acknowledgments by Southeast University PhD student Zhong Jitao (仲济涛) started circulating on Weibo and beyond. The thank-you section was written by the Civil Engineering PhD candidate Zhong Jitao (仲济涛), who is now an associate professor at the Shandong University of Science and Technology. It was published in People's Daily 'Nightly Reading' column before it went viral.
By now, the hashtag dedicated to the dissertation acknowledgment has been viewed over 170 million times on Weibo (#这篇博士论文致谢刷屏了#).
This is a translation of the acknowledgment (translation by What's on Weibo*):
————————————————
1. Studying By Heart
"My hometown is a small rural village in the east of the Shandong Peninsula. When I was young, the village saw its first PhD graduate. In the depths of my carefree childhood memories, that was one of the few intense spiritual shocks.
When I attended my second year of high school, my dad fell ill and I experienced a sudden increase in stress. By the time I was a third-year student, I started to withdraw and I didn't feel like going to university anymore. Later I couldn't stand to see the disappointed expressions on my family's face and I reluctantly entered an undergraduate program. I thought I would start working as soon as I graduated from college.
Later, my dad's condition gradually improved, and I continued my studies as a graduate student. I thought I would stop studying as soon as I'd finish graduate school, and that I would hurry to find a job to share some of the burdens with my older brother. Eventually, I still continued my studies as a PhD student. If I look back on this curious turn of events, I feel guilty about my own selfishness and callousness. Step by step up to today, if the external factor was the relentless support of my parents and brother, behind their silence, then the internal factor perhaps was that one moment of spiritual shock.
2. My Brother as Father
The grass can't repay the kindness of the warm sun. There are not enough words to thank my parents. Besides them, I'd like to express my thanks to my brother, who is seven years older than me. Perhaps it's because he is so many years older than me that I've always felt that my older brother is somewhat like a father to me.
In the third year of elementary school, my brother faced the choice of getting into senior high school or getting into a vocational secondary school. If he'd go to senior high school, he would be able to get into university, but it would take several years of studying and several years of paying tuition fees. If he'd go to vocational school, there would be less tuition fees and he could start working earlier. It would also mean he'd miss out on the chance of getting into university. Based on my brother's grades at the time, he could've picked either. But to alleviate the financial burden on our family, and mostly for the future studies of me as his little brother, my big brother, without hesitation, went to vocational school at the cost of his own future.
I felt that I would always remember the sacrifice my brother made for me at this time. But looking back on how life unfolded afterward, it was just the beginning of the many sacrifices my brother would make.
Because in the second year of high school, dad fell ill, and my brother, who had just started working, took on all the burden. I didn't see my brother tossing and turning in bed during all of the sleepless nights, I didn't see my brother take our dad to all the big and small hospitals in the province and in the city, I just saw my brother's eyes sinking deeper every day, I saw how he was skin and bones, how his face was as pale as paper, how his hair was disheveled and ash-colored.
And while all of this was happening, I was studying in a warm and quiet classroom, because my brother had assumed all responsibilities.
3. The Lake and Sea Come Together
If I say that besides my dad, my brother is the number one guardian angel in my life, I must also acknowledge my wife and my former classmates.
As I prepared to do my PhD in Nanjing, my then-girlfriend, now wife, just completed her master's degree. She had to make a choice. Going back to her hometown would mean going to a different place, coming to Nanjing would mean leaving her home. While the situation had me ruminating, my wife's ticket to Nanjing dispelled all of my worries. We got married during the first year of my PhD. My wife worked every day, I studied every day. The faculty, the dining hall, and the home were our three frontline places. Every weekend, if we weren't busy, we would go out strolling. If I was busy with studying, my wife would keep me company at the faculty, while also pretending to be a PhD student.
Living in a place far away from home, you'll always run into people and situations that will upset you, and sometimes you have to deal with a sense of dispiritedness and disappointment. But all the grievances, frustrations, and depressions were dissolved by my wife's comfort.
Ever since I met my wife, I found my ultimate trust and my home in her. She gave me inner strength, but also helped me grow a sense of responsibility.
4. Don't Forget the Original Intention
Someone said, even if you can't change the world, you also cannot let the world change the innocent you. This is perhaps my most lucky point – although time brings great changes and is unpredictable, and I have long ceased to be innocent, I am still me, still with a grateful heart.
Recently, on my train back to school, I was chatting with my brother on WeChat about our concerns regarding dad's health. My brother replied to me saying: we are the ones to continue our parents' lives and spirits. The best thing we can do to repay them is to live well and to keep on going. While reading that sentence on a train filled with snoring sounds at 2AM in the morning, tears started streaming down my face. I know my brother wanted to comfort me, and he also wanted to guide me in life. What I can do is definitely not let down those who love me and have placed their hopes in me, yes, I won't disappoint them.
Time is like electricity, it slips through our fingers like sand. From starting my PhD to defending my dissertation, like a goose's footprint in the snow – it's already a part of my past. It's useless to dwell on past mistakes, but we can still change the future.
In the end, I rarely drink but I will raise my glass; one to honor my parents and the bitter hardships they faced; one to my brother's iron shoulder; and one to my wife and her steadfast loyalty and unfailing companionship."
————————————————
Many people on social media comment how moved they are by Zhong's words, and some share their own experiences.
"I'm also a PhD from Shandong Peninsula," one commenter (@xiaolei雨田) writes: "While I was studying for my PhD, my mum passed away. I always felt guilty towards my parents, and like the author, I felt that studying for my doctorate was selfish, like I was only pursuing my own goals while the people who had silently supported me were passing away. After graduation, I was determined to go back to my hometown to help and take care of the family, making up for those years of regret."
"This acknowledgment is heartfelt and resonates with so many people," others write.
There are also those who, while praising Zhong Jitao's dedication, also worry about the future prospects of other PhD candidates in China who come from impoverished families who have to sacrifice so much for one degree that might not even guarantee a well-paid job in China's current-day competitive job market.
"This really moved me," another commenter says: "It's not easy to complete your PhD, and there's always people who have your back and support you. When you feel like giving up, it's their support that keeps you going."
If you liked this story, you might also like "I Am Fan Yusu" (我是范雨素) (Full Translation) here.
By Manya Koetse
* Please note that this is a translation by What's on Weibo, not all parts of the text are literal translations and that some sentences have been loosely translated.
Spotted a mistake or want to add something? Please let us know in comments below or email us. First-time commenters, please be patient – we will have to manually approve your comment before it appears.
©2021 Whatsonweibo. All rights reserved. Do not reproduce our content without permission – you can contact us at info@whatsonweibo.com.
Modern-Day Yugong or Greedy Wolf? Critical Discussions after Ningxia Land Owner Goes Viral Begging for Water
Is Sun Guoyou the victim of bad coal mine practices or did he throw dust in netizens' eyes? The viral Ningxia story is getting more complex.
As a video of him crying out and begging for water went super viral on March 29, Ningxia land owner Sun Guoyou suddenly became a public figure. But while Chinese netizens initially sympathized with the local landowner whose water was cut off by a big coal mine, he is now increasingly seen as a businessman who used social media to exploit his situation.
This week, the story of Ningxia land owner Sun Guoyou (孙国友) went completely viral on Chinese social media.
Various Chinese media outlets, from Sina News to Beijing News and The Paper all covered the story of the old man who was seeing his enormous land destroyed because a nearby coal mine had cut off water supplies. Although they had allegedly promised Guo to resume water supplies on March 27, they did not follow through.
A video of Sun kneeling on the ground and begging for water went viral on Douyin and Weibo, where dozens of hashtags relating to the story received millions of views (read our earlier story here).
One crucial aspect of the story is how Sun Guoyou allegedly has been combating desertification and improving the soil conditions of the barren land through afforestation, by planting trees and irrigating the land.
This is one of the various reasons why netizens initially felt sorry for Sun and wanted to help him out. People were rooting for the underdog, supporting the seemingly weaker Sun against the more powerful coal mine company and local authorities.
He was also called the 'modern-day Yugong' by some, referring to the old Chinese fable about an old man who was called foolish for persistently trying to move a mountain, yet finally succeeded in doing so. The Chinese idiom about "the foolish old man moving a mountain" (愚公移山 yúgōng yíshān) is often used as a figure of speech for persisting despite hardship.
But the more viral Sun's story went since March 29, the more people started doubting his story and called into question whether Sun was genuinely an underdog or just a business owner exploiting his land and, through the help of social media, manipulating the circumstances to his benefit.
On March 30, Weibo knowledge blogger 'PYGZ' (@平原公子赵胜) was among many other netizens accusing Sun of planting the wrong species of trees and raising cattle and sheep on his land, causing more soil erosion instead of improving soil quality. Rather than controlling desertification ("治沙"), Sun's practices are creating sand dunes ("造沙") instead, the blogger argued.
Why would Sun do such a thing? According to PYGZ, the state subsidizes windbreak forests that help prevent desertification ("防沙林"): 500-800 yuan ($72-$116) per Chinese "mu" (亩), which is about 666 square meters / 0.165 acre. With a land as big as Sun's, the annual subsidy would be millions of yuan (or more than $1M per year).
"This is what combating desertification in Ningxia actually looks like," charity blogger Sui Jiao (@碎叫) wrote, sharing photos of desert control work: "If you are concerned about desertification control, you can donate money to the China Green Foundation (中国绿化基金会) to plant trees."
Another thing that came up in critical discussions on Sun's case is how he previously received over seven million yuan (more than $1M) in compensation from the Shenhua Ningxia Coal Industry Group (神华宁夏煤业集团) for economic losses caused by them occupying forest land (#孙国友此前727万判决书曝光#).
As more netizens are starting to dive deeper into the facts behind Sun's desperate kneeling video, Sun's family stated that they did not want to further escalate the issue and were just focused on saving their trees for now (#跪地求水林场主家属称不想事情升级#).
The nationalist Weibo blogger Ziwuxiashi (@子午侠士), who has over one million followers, posted an image of a wolf sneaking away, writing: "They want to get away, but I'm afraid it's too late, the [wolf's ] tail has already been exposed." The blogger suggested that the Sun family might have enjoyed the spotlight, but do not want people to dig deeper.
Many others agreed, suggesting that Sun and his family staged the dramatic video to draw attention to their case, but now want to retreat before more details come out showing that Sun might not be the underdog he made himself out to be.
"Netizens are not like toilet paper that you can wipe your ass with and get rid of once no longer needed," one Weibo user wrote.
Chinese political commentator Hu Xijin (@胡锡进) also commented on the issue – as he does whenever social stories go viral like this, – and wrote that he understood why netizens would doubt Guo's sincerity or even say the entire video was staged.
At the same time, he reminded people that issues such as these are never black and white, arguing it is understandable that Guo earns income from his land and that it would only be right for the coal mine company to supply water to Guo if that is what they legally agreed on.
Hu suggested that, while many details in this story still have not come out, netizens might want to wait to make an absolute judgment in the case since issues such as these are usually not clear-cut and can be more complex than they initially seem.
More updates will follow.
By Manya Koetse 
Get the story behind the hashtag. Subscribe to What's on Weibo here to receive our newsletter and get access to our latest articles:
Spotted a mistake or want to add something? Please let us know in comments below or email us. First-time commenters, please be patient – we will have to manually approve your comment before it appears.
©2023 Whatsonweibo. All rights reserved. Do not reproduce our content without permission – you can contact us at info@whatsonweibo.com.
'Modern-Day Yugong': Desperate Chinese Land Owner Kneels and Begs for Water
A desperate Ningxia land owner is seeing his plantation getting destroyed because a coal mine cut off water supplies.
A video showing a Chinese land owner collapsing on the ground and begging for water has gone trending on Chinese social media.
The man in the video is Mr. Sun Guoyou (孙国友), a senior local resident who acquired a very large piece of dry, sandy land back in 2003 and has since been working hard to plant trees and grow plantations to enhance the soil conditions.
The land is located in Majiatan (马家滩镇), a small town with just over 5000 people in Lingwu, Ningxia, in the northwest of China.
Sun's land covers about 3,294 acres (approximately 13 km2) in area, and about three quarter of the land has plantations and trees growing on it.
Earlier this year, a coal mine, located nearby Sun's land, cut off the supplies of water to the area. This has devastating consequences since Sun depends on these water supplies for irrigation.
Without the water, Sun's hard work of the past twenty years is going to waste and all of the plantations will die.
Although the coal mine previously promised Sun that they would restore the water supplies to his land, they have not done so yet. In an act of desperation, Sun threw himself to the ground and begged for water, shouting out: "They have not given me water, they did not give me water!"
That moment, which happened on March 27, was filmed by Sun's daughter and then uploaded to social media, where it soon went viral on various social platforms including Douyin and Weibo, where different hashtags related to the incident received millions of views (some related hashtags received over 360 million views #市领导回应林场主跪地求供水#)
Since the video went viral, various Chinese media outlets have reached out to the 64-year-old Sun and his family. According to his daughter, who has grown up seeing her father planting trees and working on the sandy soils, this is the toughest situation the family has ever faced.
As reported by Sina News, the local water supply company is experiencing problems in providing water to Sun's lands on time. The local mining activities have also impacted the quality of available water in the area; the water now has high salt concentrations and can not be used as irrigation water. The coal mine allegedly is the responsible party for not committing to their agreement and for disrupting the local water supplies.
Sina also reported that the state-owned mining & energy company Shenhua Group (中国神华), one of the largest coal-producing companies in the world, has been receiving many questions from investors following the incident. According to Shenhua, the mine in question is not related to them, and belongs to the China Energy Investment Group (国家能源集团), a mining and energy company administrated by the SASAC of China's State Council.
The topic has partly received a lot of attention because it is not exactly clear who can be blamed for this situation and how to resolve it. It is just the coal mine that should take responsibility, what role is played by the local goverment, and what about the responsibilities of higher authorities?
Besides the legal discussions surrounding the topic, Sun has also touched the hearts of many netizens and is being called "a modern-day Yugong" ("当代愚公").
Yugong refers to a well-known fable from Chinese mythology about "the Foolish Old Man who moved mountains." The Chinese idiom (yúgōng yíshān 愚公移山) is about an old man whose family home in a remote village is blocked by mountains. To facilitate movement for himself and his (grand)children, the old man is determined to remove the mountains, shovel by shovel.
After years of hard work, the gods in heaven were so moved by the old man's determination to move the mountain that they carried the mountain away. The story conveys the idea of strong faith being able to move mountains.
Determined to save his vast, sandy land – where he has manually planted trees over the past two decades, – Sun Guoyou is seen as someone who is also an image of perseverence and hard work.
For now, it seems that there is some light at the end of the tunnel for Sun and his family as the first local companies have arrived with huge water tank trucks to supply his land with water.
For this 'modern-day Yugong,' it may not be the gods in heaven but the helpers on social media that are trying to move mountains to save the hard-working man.
Update March 31: Modern-day Yugong or Greedy Wolf? Critical Discussions after Ningxia Land Owner Goes Viral Begging for Water
By Manya Koetse 
Follow What's on Weibo for more updates on this story. Subscribe to our newsletter by becoming a (free) member here.
Get the story behind the hashtag. Subscribe to What's on Weibo here to receive our newsletter and get access to our latest articles:
Spotted a mistake or want to add something? Please let us know in comments below or email us. First-time commenters, please be patient – we will have to manually approve your comment before it appears.
©2023 Whatsonweibo. All rights reserved. Do not reproduce our content without permission – you can contact us at info@whatsonweibo.com.