Meet China's Latest Internet Celebrity: The "Vagrant Shanghai Professor" (上海流浪大师)
He is the latest online sensation in China, but what is this hype really about?
Over the past month, the popular short-video app Douyin flooded with videos of the so-called "Vagrant Shanghai Professor" (上海流浪大师), who has conquered the hearts of millions of Chinese netizens. His fans are determined to make the Shanghai drifter more famous, regardless of his own wishes.
It has been nine years since "Brother Sharp" (犀利哥), a homeless man from Ningbo, became an online hit in China for his fashionable and handsome appearance. Now, another homeless man, this time from Shanghai, has become an internet sensation for his poise, wisdom, and modesty.
It all started about three weeks ago when an online video of a homeless man who eloquently discusses literature and philosophy went viral on Chinese social media, receiving millions of views within a time span of just three days. The man was nicknamed the "Vagrant Shanghai Professor" (上海流浪大师).
Soon, more information about the man's identity started making its rounds on the internet. The "Vagrant Professor" is named Shen Wei (沈巍), a 52-year-old who was born and raised in Shanghai. Shen reportedly once worked as a civil servant at the Shanghai's Xuhui District Audit Bureau, before he took sick leave and started roaming the streets anonymously for more than twenty years.
Persistent rumors started circulating the internet, suggesting that Shen once graduated from the prestigious Fudan University in Shanghai and that he became a vagrant after his wife and daughter had died in a car crash. Despite Shen himself repeatedly denying these claims, the rumors kept appearing in articles and on social media.
Whether he likes it or not, Shen's quiet days of reading books and collecting garbage are now seemingly over. Within a few days after the first video of Shen went viral, hundreds of people began searching for him near Shanghai's Gaoke West Road, the place where he usually stays, hoping to catch a glimpse of the 'Vagrant Professor' and take a selfie with him.
Hundreds of photos and videos of Chen started flooding the internet, all showing the same image: Shen surrounded by people, holding their phones in his face.
Shen became a true social media phenomenon, even receiving attention outside of China, with both BBC and Washington Post reporting about this man's sudden rise to fame.
For Shen, his online celebrity status has come at a price. When the crowds became too big, the Shanghai police had to intervene and escort him out of his shelter. While the police were trying to bring Shen to safety, people were still taking his picture and tried touching him. One woman even held up a cardboard sign saying: "Vagrant Professor, I want to marry you."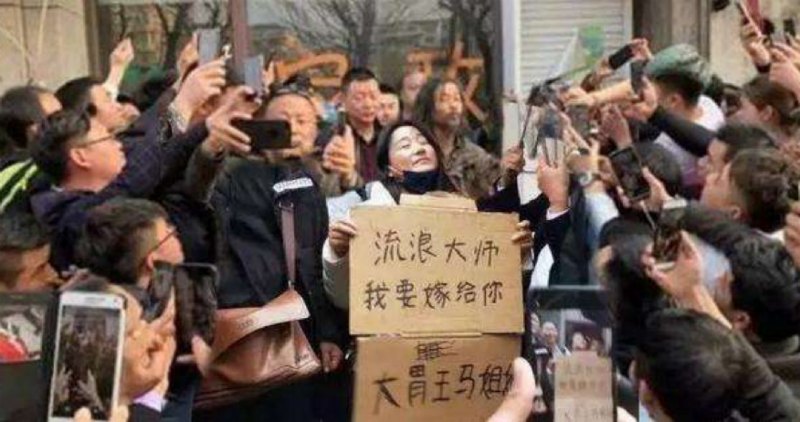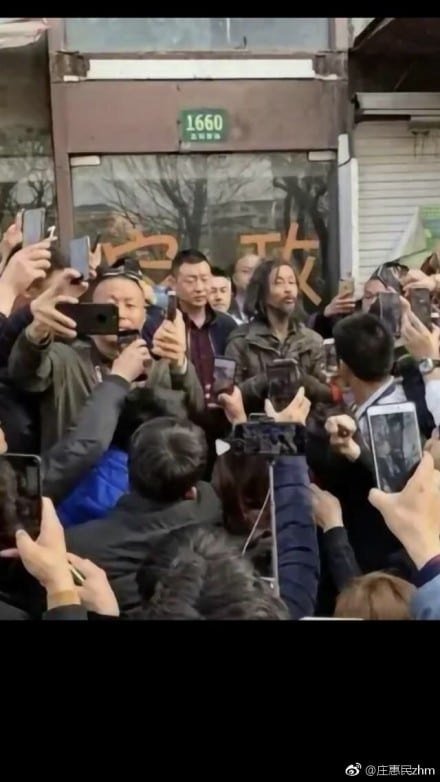 Over the past week, Shen hasn't been seen out in public. Some recent photos of Chen show that he had an apparent makeover when attending a class reunion that was specially organized for him by his former classmates.
As the hype around the 'Vagrant Professor' is slowly quieting down, more critical responses to Chen's sudden fame are surfacing on Chinese social media, asking who this hype really is about in the end.
Many netizens question the invasion of Chen's privacy, saying that this craze was not so much about Chen himself but more about people's needs for a dramatic and touching story, and social media users' greed for more clicks and likes for themselves through Chen. These so-called "like hunters" will try to get as many 'likes' as possible to make them feel good about themselves.
Commenters also point out that if it would have been about Chen himself, his 'fans' should have left him alone as he requested. Instead, they disrupted his life so drastically that he had to leave the streets he once called home.
On Weibo, one person wrote: "This is how I see it: all these people who took his photo are the real beggars, begging for likes."
Other people wrote: "Society has gone mad," and: "Even if you don't want to be famous, they will just make you famous."
The fashionable beggar 'Brother Sharp' who rose to fame in 2009 initially benefited from his overnight stardom. He received help from social workers, but once he looked like a 'regular person' again, people lost interest in him.
According to a recent media report, 'Brother Sharp' has, again, lost contact with his family and might be back on the street, anonymous this time. Perhaps the story of the 'Vagrant Professor' will see a similar ending once the hype has blown over.
By Gabi Verberg, edited by Manya Koetse
Spotted a mistake or want to add something? Please let us know in comments below or email us.
©2019 Whatsonweibo. All rights reserved. Do not reproduce our content without permission – you can contact us at info@whatsonweibo.com
Separated by Fence, These Chinese Students Still Manage to Have Hotpot Together
Social life and entertainment in times of closed-off campuses.
Over the past two weeks, universities across China have welcomed back their students, but campus life is not back to how it was in pre-COVID19 times.
Many universities have implemented strict anti-virus measures, with some promoting 'closed-off management' (封校管理), making it difficult for students to leave campus to go out.
This week, the popular Wechat account "Newsbro" (新闻哥) reported how a student in Baoding, Hebei province, made the best of his fenced-off campus situation by meeting his girlfriend for hotpot through the fence.
A video of the get-together was shared on social media by Fengmian News.
On Weibo, some commenters suggested the scene was "like a prison", while others thought it looked like a "pet owner feeding its pet."
Although some think the hotpot scene is staged, 'Newsbro' reports that there are multiple examples of "love in times of closed-off schools" ("封校时期的爱情"), with the account sharing a photo of another scene where lovebirds hug each other through the school fence.
Newsbro (新闻哥) also shares some gifs of people entertaining themselves at the dorms (see Twitter thread below).
Due to anti-virus measures, some Chinese universities have a 'closed campus', making it hard for students to leave the campus to go out. What to do on a boring night in the dorm? How about turning it into a catwalk! This guy nails it. pic.twitter.com/mvWz4Zyi8y

— Manya Koetse (@manyapan) September 15, 2020
In the article on dorm life in times of COVID19, Newsbro also shows that some people find creative ways to still get a haircut (image below).
Weibo Video also shared a post that showed that parents and new students still keep in touch through the fence. Parents bring their children food, and some families still manage to share dinners through the fence.
It is common for parents to see off their college freshman children at the start of a new semester. The so-called 'tents of love' custom, where parents actually stay on campus to help their children settle into their new life at university, is impossible due to COVID19 measures.
Recent photos and videos on Weibo and Wechat show that, despite the 'new normal' of Chinese campus life, people still find plenty of creative ways to keep their social life and late-night entertainment going.
Also read: The "Tents of Love" Phenomenon: Chinese Parents Sleep in Tents At Their Kids' New University
Read more about COVID19 in China here.
By Manya Koetse and Miranda Barnes
Follow @WhatsOnWeibo
Spotted a mistake or want to add something? Please let us know in comments below or email us. First-time commenters, please be patient – we will have to manually approve your comment before it appears.
©2020 Whatsonweibo. All rights reserved. Do not reproduce our content without permission – you can contact us at info@whatsonweibo.com.
Famous Goubuli Restaurant Calls Police for Getting Roasted Online, Gets Kicked Out of Franchise Group
Goubuli Wangfujing shows how NOT to address a social media crisis.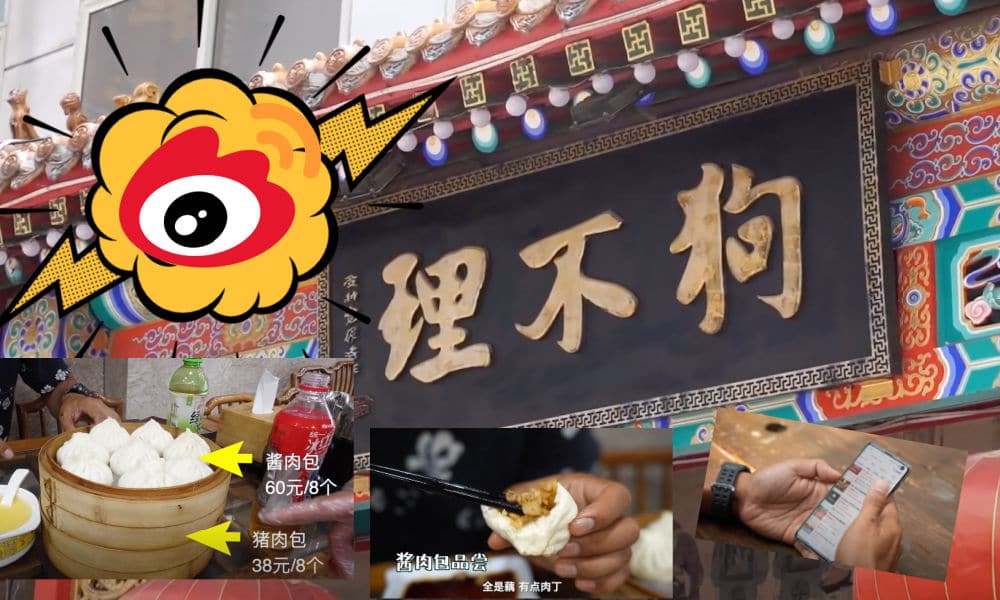 The well-known Goubuli Wangfujing restaurant just got a bit more famous this week. The branch, which specializes in steamed buns, is now not just known as one of Beijing's worst-rated restaurants, but also as a business that shot itself in the foot by handling a social media crisis the wrong way.
The famous Wangfujing main branch of Goubuli Steamed Buns (狗不理包子) is caught up in a social media storm since responding to a blogger's negative video of their restaurant by contacting the police.
The video, Goubuli's response to it, and the following consequences have hit the top trending topic lists on Weibo today.
Goubuli, sometimes transcribed as Go Believe, is a well-known franchise brand of steamed stuffed buns (baozi) from Tianjin that was founded in 1858. The brand now has more than 80 restaurants in mainland China, 12 of them in Beijing. Since Wangfujing is one of Beijing's most famous streets, the Wangfujing branch is popular with both foreign and Chinese visitors.
Gu Yue's "Visiting the Worst-Rated Restaurant" Video
The social media storm started on September 8, when Weibo blogger Gu Yue (谷岳) posted a video titled "Visiting the Worst-Rated Restaurant" ("探访评分最差餐厅"). Gu Yue is a travel blogger with over 1,7 million fans on Weibo.
In the video, Gu Yue starts by explaining he chose to visit Gubouli after searching for the restaurant that receives the lowest ratings in the Beijing Wangfujing and Dongdan areas on the super-popular Chinese mobile food app Dianping.
The blogger found that, out of the 1299 listed restaurants in the area, Wangfujing Goubuli Baozi was the worst-rated place. Ironically, the brand's name Gǒubùlǐ (狗不理) literally means 'dogs don't pay attention,' which makes the name 'Goubuli Baozi' sound like a place with stuffed buns that even dogs would not eat.
Complaining about the service, prices, and quality of food, many Dianping users rated the restaurant with just one out of five stars.
Gu Yue then sets out to visit the restaurant himself to see if Gubouli on Wangfujing really is as bad as Dianping users say. He orders some steamed braised pork dumplings, 60 yuan ($8.7) for 8, and regular pork dumplings, 38 yuan ($5.5) for 8.
The blogger concludes that Gubouli's dumplings are not worth the money: the dumplings are greasy, the dough is too sticky, and they do not have enough filling. Gu Yue's video also suggests that the restaurant's hygienic standards are not up to par, with loud coughing coming from the kitchen.
Gu Yue's video received over 97,000 likes and thousands of responses on Weibo, with many fans praising the idea of the blogger checking out the worst-rated restaurants.
Goubuli's Reaction Starts a Social Media Storm
The Wangfujing branch of Goubuli did not appreciate Gu Yue's video.
In an online statement on September 11, the branch accused the blogger of spreading lies about their restaurant and harming their reputation, and demanded a public apology.
Goubuli Wangfujing called the video "vicious slander" and stated they had contacted the police in relation to the matter.
The hashtag "Wangfujing Goubuli Responds to Netizen's Negative Video" (#王府井狗不理回应网友差评视频#) immediately went viral on Weibo, attracting some 430 million views.
Many Weibo users were outraged about the way the Goubuli branch handled the situation. "Aren't we even allowed to say if something is tasty or not?!" many commenters wondered, with others writing: "You are harming your own reputation!"
"Let's call the police over the quality of your food," others suggested.
There were also many netizens who commented that some Chinese Time-Honored brands, such as Goubuli, often only survive because of their history and fame rather than actually delivering good quality to their customers.
Following the major online backlash on its statement, the restaurant soon removed their post again. But the social media storm did not end there.
On September 15, the Goubuli Group issued a statement saying that it would directly terminate its franchise cooperation with the Goubuli Wangfujing branch over the incident.
With over 280 million views on its hashtag page (#狗不理解除与王府井店加盟方合作#), news of the franchise termination blew up on Weibo.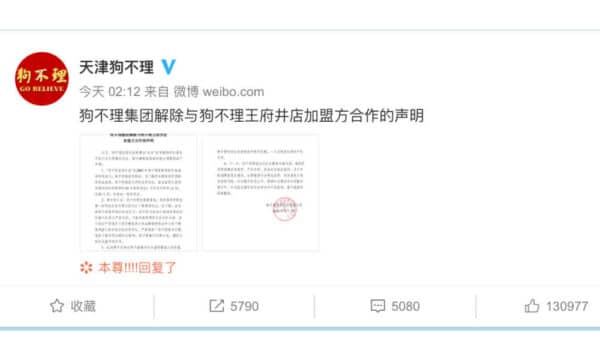 According to the latest Weibo reports on September 15, the Wangfujing Goubuli branch was closed for business on Tuesday (#狗不理包子王府井店门店关闭#).
"This is the power of clout," one person comments: "If it were not for the [Goubuli] restaurant's flawed marketing department, this would not have led to their closure."
"The restaurant has brought this on themselves. There's nothing wrong with posting a bad review."
Another person comments: "This is the first time I've seen a marketing department making something big out of something small, leading to their own closing."
Meanwhile, blogger Gu Yue says that he was not contacted by Goubuli, nor by the police. The social media controversy has only made him more popular.
"Gue Yue single-handedly crushed this restaurant," some say, appreciating how social media has increased the power of Chinese consumers to make or break a business.

Also read: Overview of the Dolce&Gabbana China Marketing Disaster Through Weibo Hashtags

By Manya Koetse
Follow @WhatsOnWeibo
Spotted a mistake or want to add something? Please let us know in comments below or email us. First-time commenters, please be patient – we will have to manually approve your comment before it appears.
©2020 Whatsonweibo. All rights reserved. Do not reproduce our content without permission – you can contact us at info@whatsonweibo.com.