Meet China's Latest Internet Celebrity: The "Vagrant Shanghai Professor" (上海流浪大师)
He is the latest online sensation in China, but what is this hype really about?
Over the past month, the popular short-video app Douyin flooded with videos of the so-called "Vagrant Shanghai Professor" (上海流浪大师), who has conquered the hearts of millions of Chinese netizens. His fans are determined to make the Shanghai drifter more famous, regardless of his own wishes.
It has been nine years since "Brother Sharp" (犀利哥), a homeless man from Ningbo, became an online hit in China for his fashionable and handsome appearance. Now, another homeless man, this time from Shanghai, has become an internet sensation for his poise, wisdom, and modesty.
It all started about three weeks ago when an online video of a homeless man who eloquently discusses literature and philosophy went viral on Chinese social media, receiving millions of views within a time span of just three days. The man was nicknamed the "Vagrant Shanghai Professor" (上海流浪大师).
Soon, more information about the man's identity started making its rounds on the internet. The "Vagrant Professor" is named Shen Wei (沈巍), a 52-year-old who was born and raised in Shanghai. Shen reportedly once worked as a civil servant at the Shanghai's Xuhui District Audit Bureau, before he took sick leave and started roaming the streets anonymously for more than twenty years.
Persistent rumors started circulating the internet, suggesting that Shen once graduated from the prestigious Fudan University in Shanghai and that he became a vagrant after his wife and daughter had died in a car crash. Despite Shen himself repeatedly denying these claims, the rumors kept appearing in articles and on social media.
Whether he likes it or not, Shen's quiet days of reading books and collecting garbage are now seemingly over. Within a few days after the first video of Shen went viral, hundreds of people began searching for him near Shanghai's Gaoke West Road, the place where he usually stays, hoping to catch a glimpse of the 'Vagrant Professor' and take a selfie with him.
Hundreds of photos and videos of Chen started flooding the internet, all showing the same image: Shen surrounded by people, holding their phones in his face.
Shen became a true social media phenomenon, even receiving attention outside of China, with both BBC and Washington Post reporting about this man's sudden rise to fame.
For Shen, his online celebrity status has come at a price. When the crowds became too big, the Shanghai police had to intervene and escort him out of his shelter. While the police were trying to bring Shen to safety, people were still taking his picture and tried touching him. One woman even held up a cardboard sign saying: "Vagrant Professor, I want to marry you."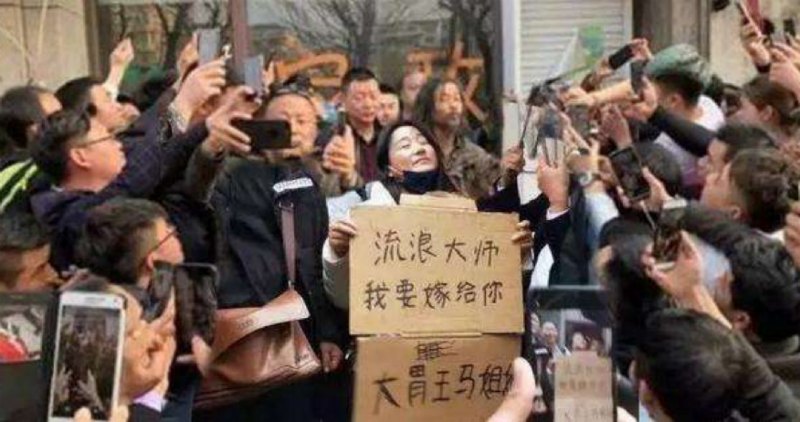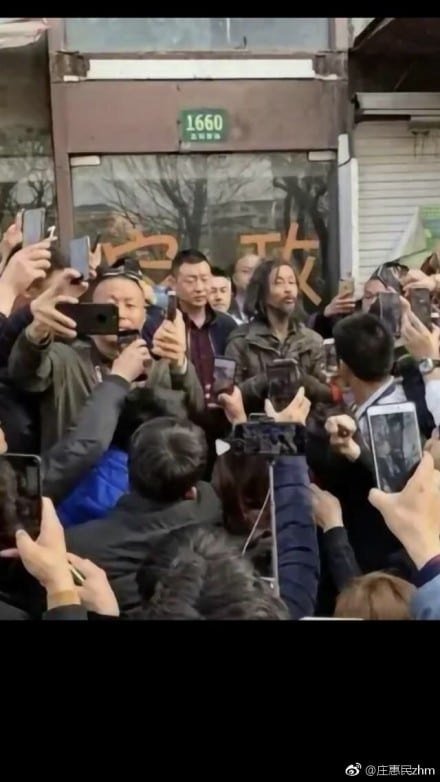 Over the past week, Shen hasn't been seen out in public. Some recent photos of Chen show that he had an apparent makeover when attending a class reunion that was specially organized for him by his former classmates.
As the hype around the 'Vagrant Professor' is slowly quieting down, more critical responses to Chen's sudden fame are surfacing on Chinese social media, asking who this hype really is about in the end.
Many netizens question the invasion of Chen's privacy, saying that this craze was not so much about Chen himself but more about people's needs for a dramatic and touching story, and social media users' greed for more clicks and likes for themselves through Chen. These so-called "like hunters" will try to get as many 'likes' as possible to make them feel good about themselves.
Commenters also point out that if it would have been about Chen himself, his 'fans' should have left him alone as he requested. Instead, they disrupted his life so drastically that he had to leave the streets he once called home.
On Weibo, one person wrote: "This is how I see it: all these people who took his photo are the real beggars, begging for likes."
Other people wrote: "Society has gone mad," and: "Even if you don't want to be famous, they will just make you famous."
The fashionable beggar 'Brother Sharp' who rose to fame in 2009 initially benefited from his overnight stardom. He received help from social workers, but once he looked like a 'regular person' again, people lost interest in him.
According to a recent media report, 'Brother Sharp' has, again, lost contact with his family and might be back on the street, anonymous this time. Perhaps the story of the 'Vagrant Professor' will see a similar ending once the hype has blown over.
By Gabi Verberg, edited by Manya Koetse
Spotted a mistake or want to add something? Please let us know in comments below or email us.
©2019 Whatsonweibo. All rights reserved. Do not reproduce our content without permission – you can contact us at info@whatsonweibo.com
CCTV New Year's Gala 2020 Overview: Highlights and Must-Knows
What is Chinese New Year without the CCTV Spring Gala? What's on Weibo reports the must-knows of the 2020 'Chunwan.'
Chinese social media is dominated by two topics today: the CCTV New Year Gala (Chunwan) and the outbreak of the coronavirus. Watch the livestream of the CCTV Gala here, and we will keep you updated with tonight's highlights and must-knows as we will add more information to this post throughout the night.
As the Year of the Rat is just around the corner, millions of people in China and beyond are starting the countdown to the Chinese New Year by watching the CCTV Spring Festival Gala, commonly abbreviated in Chinese as Chunwan (春晚).
The role of social media in watching the event has become increasingly important throughout the years, with topics relating to the Chunwan becoming trending days before.
Making fun of the show and criticizing it is part of the viewer's experience, although the hashtag used for these kinds of online discussions (such as "Spring Festival Gala Roast" #春晚吐槽#) are sometimes blocked.
The Gala starts at 20.00 China Central Time on January 24. Follow live on Youtube here, or see CCTV livestreaming here.

About the CCTV New Year's Gala

Since its very first airing in 1983, the Spring Festival Gala has captured an audience of millions. In 2010, the live Gala had a viewership of 730 million; in 2014, it had reached a viewership of 900 million, and in 2019, over a billion people watched the Gala on TV and online, making the show much bigger in terms of viewership than, for example, the Super Bowl.
The show lasts a total of four hours, and has around 30 different acts, from dance to singing and acrobatics. The acts that are both most-loved and most-dreaded are the comic sketches (小品) and crosstalk (相声); they are usually the funniest, but also convey the most political messages.
As viewer ratings of the CCTV Gala in the 21st century have skyrocketed, so has the critique on the show – which seems to be growing year-on-year.
According to many viewers, the spectacle generally is often "way too political" with its display of communist nostalgia, including the performance of different revolutionary songs such as "Without the Communist Party, There is No New China" (没有共产党就没有新中国).
To take a look at what was going on during the Spring Gala's previous shows, also see how What's on Weibo covered this event in 2016, in 2017, in 2018, and in 2019.

Live updates

Check for some live updates below. (We might be quiet every now and then, but if you leave this page open you'll hear a ping when we add a new post).
By Manya Koetse and Miranda Barnes
Follow @whatsonweibo
Do you like what we do? You can donate here to keep this site alive & kicking.
Spotted a mistake or want to add something? Please let us know in comments below or email us. First-time commenters, please be patient – we will have to manually approve your comment before it appears.
©2020 Whatsonweibo. All rights reserved. Do not reproduce our content without permission – you can contact us at info@whatsonweibo.com.
Panic over Wuhan Coronavirus Leads to Online Backlash against Consumption of Wild Animals in China
Amid the coronavirus outbreak panic, the majority of Chinese netizens say it's time for wild game to be game over.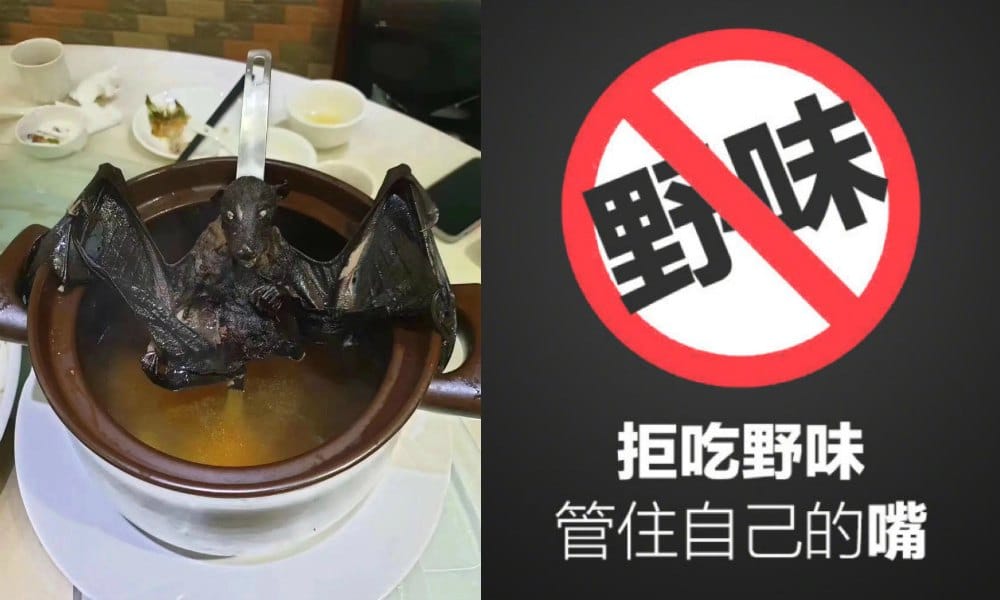 First published
It is by far the number one topic dominating Chinese online media: the coronavirus. The source of the virus is suspected to be an illegal wild animal market in Wuhan. Calls for stricter outlawing of the trafficking and consumption of wild game are dominating Weibo this week.
Fears are mounting over a new strain of coronavirus that first appeared at a wet market in Wuhan in late December and has spread to four countries, killed 17, and infected almost 600 in China, with new cases being reported at time of writing.
The number of infected is expected to balloon as the annual Chinese New Year holiday begins on Friday and hundreds of millions of Chinese travelers move about the country.
The Wuhan coronavirus was first transmitted to humans in a wet market in Wuhan where many kinds of wild animals are sold illegally. While the source has yet to be conclusively identified, coronavirus is typically transmitted to humans via animals such as civet cats and bats. This has led to an outcry online and widespread condemnation of the consumption of wild game in China.
Known as the Wuhan Coronavirus internationally, domestically the virus is simply called "new pneumonia" (新型肺炎) in most Chinese media coverage. It is a type of respiratory illness causing mild to moderate cold-like symptoms that can potentially lead to complications from pneumonia.
So far, the virus seems to be milder than the previous two big global coronavirus outbreaks (SARS and MERS), but health officials caution that not enough is known as of yet, and also that the risk of mutation could mean far greater danger than first anticipated.
As of 10 am today, authorities have sealed off travel to and from Wuhan in an effort to prevent further spread of the disease. News of other cities in Hubei province also halting train operations came in later today, with Ezhou Station and Huangguang station both suspending services as of Thursday.
The Chinese government's response to the Wuhan virus has been markedly different from the coverup of the SARS outbreak in 2003, and authorities have been swift to track the disease and to sequence its genome.
On January 20, Beijing confirmed that the virus can be spread between humans, and on January 22 it announced a full accounting of all cases in China and abroad in a press conference given by the State Council Information Office.
Backlash against the Consumption of Wild Game 
As global and domestic concern mounts about the new virus, it has become the almost exclusive focus of Chinese social media this week, dominating the vast majority of trending topics on Weibo and Wechat.
The Wuhan virus is believed to have originated at the Wuhan Huanan Wholesale Seafood Market (武汉华南海鲜批发市场) and was most likely first transferred to humans from one of the many wild animals being illegal bought and sold there.
The market has since been shut down, but online criticism of such markets has been fierce on social media.
The hashtag "Support the banning of wild game markets" (#支持禁绝野味市场#) was topping the list of trending topics for much of Thursday and was viewed 270 million times.
Another hashtag, "The source of the new coronavirus is wild animals" (#新型冠状病毒来源是野生动物#), topped the list on Wednesday and has been viewed 990 million times.
Online commenters are lambasting the practice of eating illegal wild game such as civet cats, the cause of the 2003 SARS virus, and bats, the suspected cause of the Wuhan coronavirus (snakes have also been suggested as a possible source of the coronavirus outbreak).
"The only outcome of eating wild game is disease! SARS came from civet cats and bats. Ebola came from chimpanzees, monkeys, wild boar, and bats. MERS came from camels. The Avian Flu came from wild birds and poultry. AIDS came from chimps. Is it really that delicious? Is this really the way you want to eat?" one Weibo user questioned.
Comments viciously attacking those who eat wild animals can be seen across a variety of posts and topics.
"Let me say something malicious: Eating wild game is fine, just please remember to kill yourself immediately after," said one much-upvoted commenter on a post about virus facts released by the State Council.
Various photos and a video of people eating bats have been going around WeChat and Weibo these days. The word for 'bat' in Chinese (蝙蝠) is 'bianfu.' The 'fu' sound being the same as 'fu' (福) for 'happiness,' it is believed that superstition is one of the reasons for people to consume bat.
It is by far the number one topic dominating Chinese online media today: the #coronavirus. Since the source of the virus is suspected to be a wild animal market in Wuhan, the majority of Chinese netizens say it's time for wild game to be game over. Read: https://t.co/w3BZS5UfNq pic.twitter.com/gnLTGYDRdy

— What's on Weibo (@WhatsOnWeibo) January 23, 2020
"If humans don't live in harmony with nature, the inevitable consequence is that nature bites back. We need to regulate our hungry mouths!" complained one Weibo user.
Another trending view of the issue is that eating wild game flies in the face of thousands of years of human domestication of animals. Said one Weibo comment: "Our ancestors spent thousands of years domesticating the tastiest, most nutritious, safest poultry and livestock for us, but people are still stupid enough to go and provoke wild animals! I'm so furious I can barely speak. Only human beings can destroy human beings, and it's the worst and most stupid of us who are doing it."
A video circulating on Weibo made by the cast of My Own Swordsman (武林外传) educates viewers on the risks of eating wild animals, breaking the third wall to tell their audience that there's really no nutritional difference between domestic and wild animals, and that wild animals may carry disease because they haven't been subject to the same kinds of hygiene requirements.
One Red Cross volunteer commented on the video: "I recommend that we immediately crackdown on all wild game markets, we cannot allow the cravings of a small group of people to affect our country as a whole. This kind of behavior disrupts the order of the food chain, and the rest of us are paying for the ridiculous and selfish behavior of these people."
Jay Chou, an ambassador for Wild Aid, took the opportunity to reiterate his opposition to eating wild animals, and to repost his video discouraging the consumption of pangolin, highlighting the risk of disease transmission.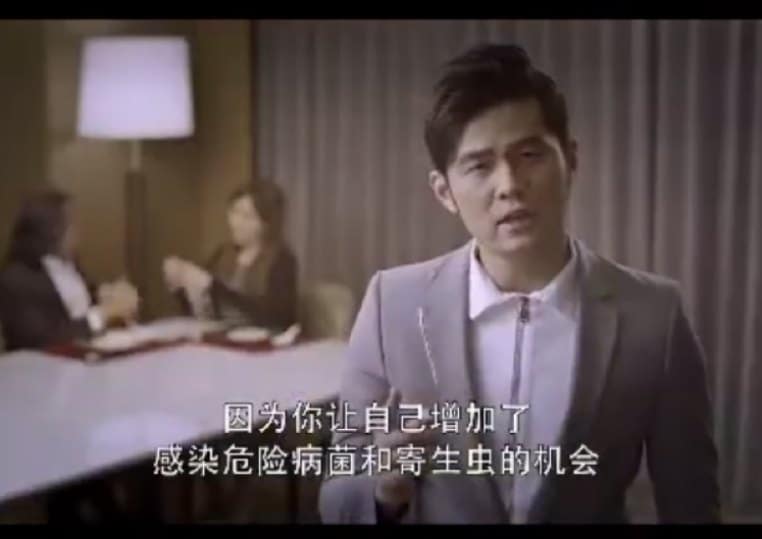 Perhaps the Wuhan Coronavirus will lead to a broader sea change among the Chinese population and their views towards – and tolerance of – the trafficking and consumption of wild animals.
By Jessica Colwell
Follow @whatsonweibo
With contributions from Miranda Barnes
Read more articles by Jessica Colwell here. 
Spotted a mistake or want to add something? Please let us know in comments below or email us. First-time commenters, please be patient – we will have to manually approve your comment before it appears.
©2020 Whatsonweibo. All rights reserved. Do not reproduce our content without permission – you can contact us at info@whatsonweibo.com.