Meet China's Latest Internet Celebrity: The "Vagrant Shanghai Professor" (上海流浪大师)
He is the latest online sensation in China, but what is this hype really about?
Over the past month, the popular short-video app Douyin flooded with videos of the so-called "Vagrant Shanghai Professor" (上海流浪大师), who has conquered the hearts of millions of Chinese netizens. His fans are determined to make the Shanghai drifter more famous, regardless of his own wishes.
It has been nine years since "Brother Sharp" (犀利哥), a homeless man from Ningbo, became an online hit in China for his fashionable and handsome appearance. Now, another homeless man, this time from Shanghai, has become an internet sensation for his poise, wisdom, and modesty.
It all started about three weeks ago when an online video of a homeless man who eloquently discusses literature and philosophy went viral on Chinese social media, receiving millions of views within a time span of just three days. The man was nicknamed the "Vagrant Shanghai Professor" (上海流浪大师).
Soon, more information about the man's identity started making its rounds on the internet. The "Vagrant Professor" is named Shen Wei (沈巍), a 52-year-old who was born and raised in Shanghai. Shen reportedly once worked as a civil servant at the Shanghai's Xuhui District Audit Bureau, before he took sick leave and started roaming the streets anonymously for more than twenty years.
Persistent rumors started circulating the internet, suggesting that Shen once graduated from the prestigious Fudan University in Shanghai and that he became a vagrant after his wife and daughter had died in a car crash. Despite Shen himself repeatedly denying these claims, the rumors kept appearing in articles and on social media.
Whether he likes it or not, Shen's quiet days of reading books and collecting garbage are now seemingly over. Within a few days after the first video of Shen went viral, hundreds of people began searching for him near Shanghai's Gaoke West Road, the place where he usually stays, hoping to catch a glimpse of the 'Vagrant Professor' and take a selfie with him.
Hundreds of photos and videos of Chen started flooding the internet, all showing the same image: Shen surrounded by people, holding their phones in his face.
Shen became a true social media phenomenon, even receiving attention outside of China, with both BBC and Washington Post reporting about this man's sudden rise to fame.
For Shen, his online celebrity status has come at a price. When the crowds became too big, the Shanghai police had to intervene and escort him out of his shelter. While the police were trying to bring Shen to safety, people were still taking his picture and tried touching him. One woman even held up a cardboard sign saying: "Vagrant Professor, I want to marry you."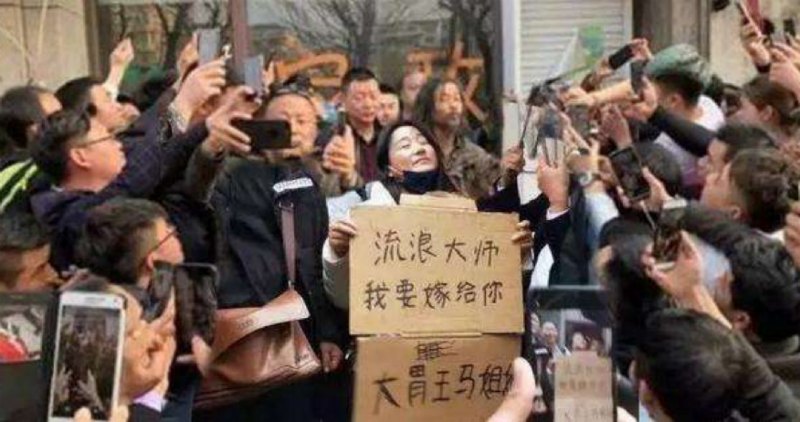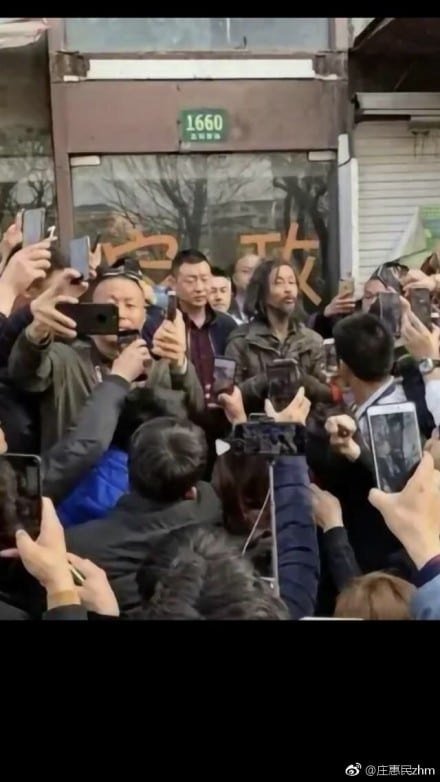 Over the past week, Shen hasn't been seen out in public. Some recent photos of Chen show that he had an apparent makeover when attending a class reunion that was specially organized for him by his former classmates.
As the hype around the 'Vagrant Professor' is slowly quieting down, more critical responses to Chen's sudden fame are surfacing on Chinese social media, asking who this hype really is about in the end.
Many netizens question the invasion of Chen's privacy, saying that this craze was not so much about Chen himself but more about people's needs for a dramatic and touching story, and social media users' greed for more clicks and likes for themselves through Chen. These so-called "like hunters" will try to get as many 'likes' as possible to make them feel good about themselves.
Commenters also point out that if it would have been about Chen himself, his 'fans' should have left him alone as he requested. Instead, they disrupted his life so drastically that he had to leave the streets he once called home.
On Weibo, one person wrote: "This is how I see it: all these people who took his photo are the real beggars, begging for likes."
Other people wrote: "Society has gone mad," and: "Even if you don't want to be famous, they will just make you famous."
The fashionable beggar 'Brother Sharp' who rose to fame in 2009 initially benefited from his overnight stardom. He received help from social workers, but once he looked like a 'regular person' again, people lost interest in him.
According to a recent media report, 'Brother Sharp' has, again, lost contact with his family and might be back on the street, anonymous this time. Perhaps the story of the 'Vagrant Professor' will see a similar ending once the hype has blown over.
By Gabi Verberg, edited by Manya Koetse
Spotted a mistake or want to add something? Please let us know in comments below or email us.
©2019 Whatsonweibo. All rights reserved. Do not reproduce our content without permission – you can contact us at info@whatsonweibo.com
Chinese Shoppers Are Going Absolutely Crazy over UNIQLO x KAWS Collection
Everybody wants KAWS – Chinese shoppers were even spotted fighting in front of a UNIQLO store today.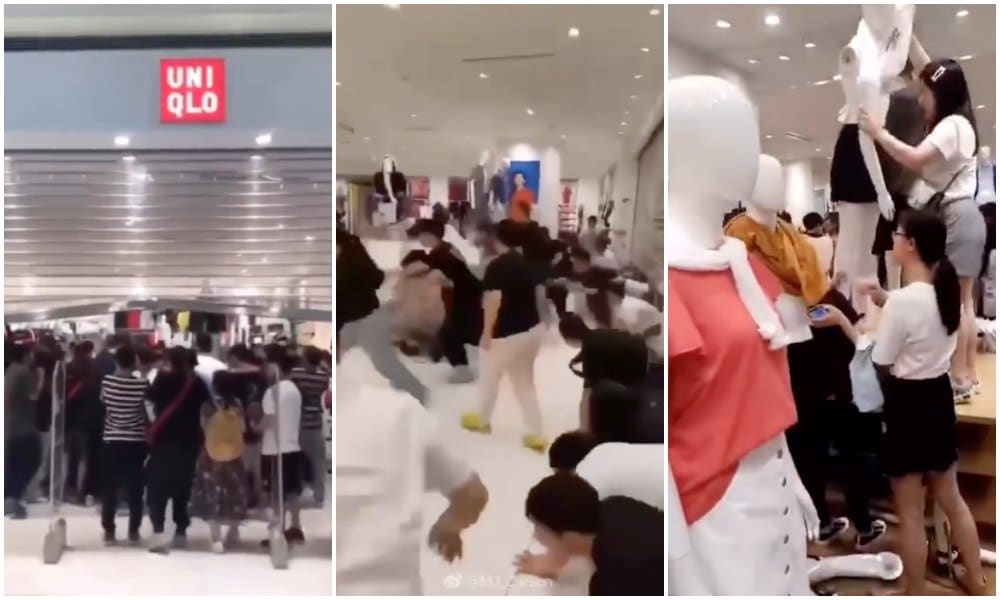 First published
The Chinese sales of the UNIQLO KAWS collection are so crazy that the craze itself has become an online hit. "I don't even like UNIQLO, I just like to compete," some shoppers say.
Chinese shoppers are going completely crazy over the latest collection sold by Japanese fashion company UNIQLO (优衣库) today. The summer collection is a cooperation between UNIQLO and the renowned American artist and designer KAWS (Brian Donnelly).
It is not the first time for the American street artist to partner with the Japanese chain: they previously also collaborated on a Sesame Street-themed collection.
The current collection first started selling in mainland China stores in the early morning of Monday, June 3, and soon became a top trending topic on social media.
The online sales reportedly were sold out in seconds.
Photos and videos circulating on Weibo show people fighting to get into UNIQLO stores, pulling clothes off the shop mannequins, and buying piles of clothes from the stores (see embedded tweet below):
Chinese shoppers are going absolutely crazy over UNIQLO x KAWS collection: https://t.co/DeC9xNgpOk pic.twitter.com/T01gYCAHXB

— Manya Koetse (@manyapan) 3 juni 2019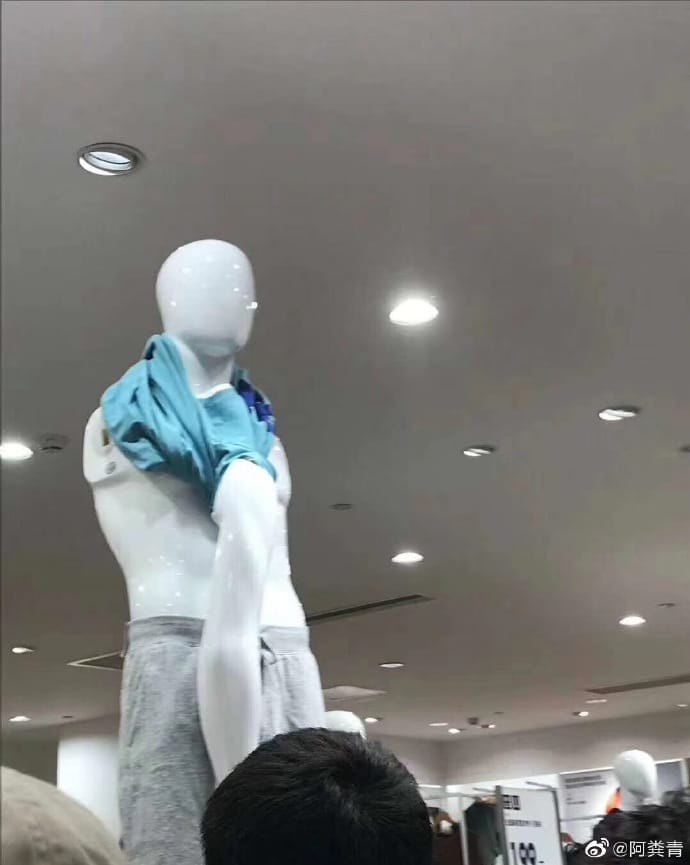 The hashtag "Everybody KAWS" (#全员kaws#) had received 140 million views on Weibo by Monday evening, China time.
Many netizens on Weibo are confused about the big hype surrounding the latest UNIQLO selection, with some wondering who KAWS is, and why people are so eager to wear his design.
Some commenters joke that it actually is not really about the KAWS collection at all, but more about the competition between shoppers on who can score the most clothes from the special product line.
The topic has set off various memes and online jokes, with some people saying: "I don't think there is any need to learn self-defense skills. I only need to wear UNIQLO KAWS clothes, and no one will dare to touch me. They will all know that I can not only fight very well but also run very fast!"
Some memes suggest that KAWS sales have been so successful that everybody on the street or at work will walk around in the same t-shirts this week.
"I finally understand now," one Weibo user writes: "What I love is not UNIQLO, nor KAWS – what I love is to rush and clash with all these people!"
The online sales of the UNIQLO x KAWS collection will start on June 6 in Europe. Its American sales started on Monday 10 AM ET.
Meanwhile, in China, the T-shirts that were bought for RMB 99 ($14) today are being resold online for four-five times their original price.
This is not the first time the Japanese UNIQLO brand becomes a viral hit on Chinese social media, albeit for different reasons. In 2015, the brand became the talk of the week when a naked girl and a man recorded an adult video in the fitting room of their Beijing flag store.
Also read:
* Chinese Kid Destroys Lego Sculpture Within Hour After It Is Displayed
* Kidnappers? Crazy Fans? No, It's Chinese Parents on Their Kids' First Day at School
By Manya Koetse and Miranda Barnes
Follow @whatsonweibo
Spotted a mistake or want to add something? Please let us know in comments below or email us. Please note that your comment below will need to be manually approved if you're a first-time poster here.
©2019 Whatsonweibo. All rights reserved. Do not reproduce our content without permission – you can contact us at info@whatsonweibo.com
Shanghai Disney's Crystal Castle Sold for RMB 1.8 Million
Shanghai Disney's cherished object was sold off to the "dirty rich."
Who'd spend RMB 1.8 million on a small crystal Disney castle? For most Weibo commenters, it's just a castle in the air.
Almost three years after Shanghai Disney first opened its doors, its sparkling 'enchanted storybook' crystal castle has now been sold for RMB 1.8 million ($276.500).
The minitiature bling bling castle has been an eyecatcher and a much-photographed object at the Disney resort.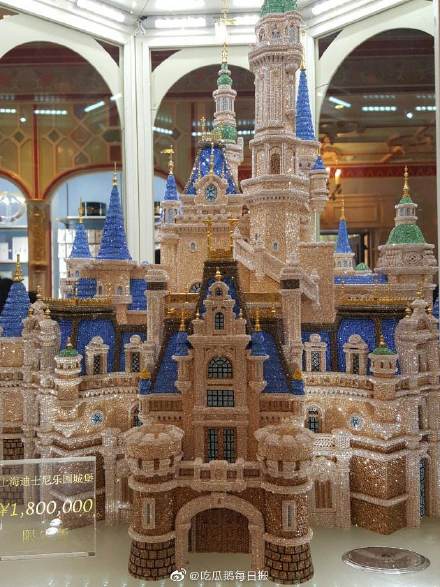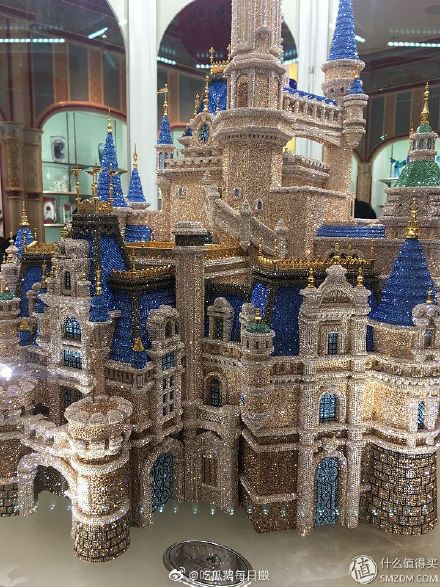 Today, the hashtag "1.8 Million Shanghai Disney Crystal Castle Sold" (#迪士尼180万水晶城堡被买走#) went trending on Sina Weibo with some 180 million views, with many people wondering what kind of person would spend so much money on a decorative crystal castle.
According to a Weibo user, the castle was bought by a "tuhao" (土豪), Chinese slang for a "dirty rich" or extravagantly wealthy person (more info).
"Even if was RMB 180 [$27], I still wouldn't be able to afford it," a popular comment said.
"I went there just some days ago and was joking about whether someone would actually ever buy it – now it's sold!"
"I'm happy I was still able to see it [before it was sold]," many commenters write, with hundreds of people sharing their own photos of the little castle. In 2017 alone, the park attracted 11 million visitors.
For the same price of the small crystal castle, the buyer could have visited the park 3706 times during high season (a peak season entrance ticket is priced at RMB 499/$75).
The display where the crystal palace was shined now shows a bronze statue of Frozen.
By Manya Koetse
Spotted a mistake or want to add something? Please let us know in comments below or email us.
©2019 Whatsonweibo. All rights reserved. Do not reproduce our content without permission – you can contact us at info@whatsonweibo.com