Meet China's Latest Internet Celebrity: The "Vagrant Shanghai Professor" (上海流浪大师)
He is the latest online sensation in China, but what is this hype really about?
Over the past month, the popular short-video app Douyin flooded with videos of the so-called "Vagrant Shanghai Professor" (上海流浪大师), who has conquered the hearts of millions of Chinese netizens. His fans are determined to make the Shanghai drifter more famous, regardless of his own wishes.
It has been nine years since "Brother Sharp" (犀利哥), a homeless man from Ningbo, became an online hit in China for his fashionable and handsome appearance. Now, another homeless man, this time from Shanghai, has become an internet sensation for his poise, wisdom, and modesty.
It all started about three weeks ago when an online video of a homeless man who eloquently discusses literature and philosophy went viral on Chinese social media, receiving millions of views within a time span of just three days. The man was nicknamed the "Vagrant Shanghai Professor" (上海流浪大师).
Soon, more information about the man's identity started making its rounds on the internet. The "Vagrant Professor" is named Shen Wei (沈巍), a 52-year-old who was born and raised in Shanghai. Shen reportedly once worked as a civil servant at the Shanghai's Xuhui District Audit Bureau, before he took sick leave and started roaming the streets anonymously for more than twenty years.
Persistent rumors started circulating the internet, suggesting that Shen once graduated from the prestigious Fudan University in Shanghai and that he became a vagrant after his wife and daughter had died in a car crash. Despite Shen himself repeatedly denying these claims, the rumors kept appearing in articles and on social media.
Whether he likes it or not, Shen's quiet days of reading books and collecting garbage are now seemingly over. Within a few days after the first video of Shen went viral, hundreds of people began searching for him near Shanghai's Gaoke West Road, the place where he usually stays, hoping to catch a glimpse of the 'Vagrant Professor' and take a selfie with him.
Hundreds of photos and videos of Chen started flooding the internet, all showing the same image: Shen surrounded by people, holding their phones in his face.
Shen became a true social media phenomenon, even receiving attention outside of China, with both BBC and Washington Post reporting about this man's sudden rise to fame.
For Shen, his online celebrity status has come at a price. When the crowds became too big, the Shanghai police had to intervene and escort him out of his shelter. While the police were trying to bring Shen to safety, people were still taking his picture and tried touching him. One woman even held up a cardboard sign saying: "Vagrant Professor, I want to marry you."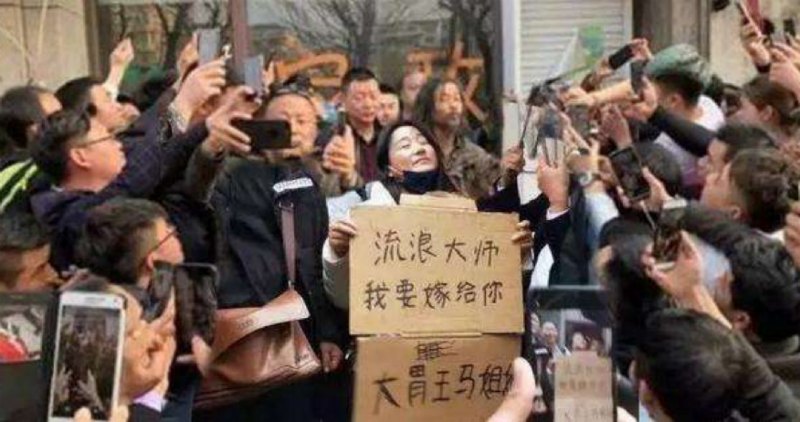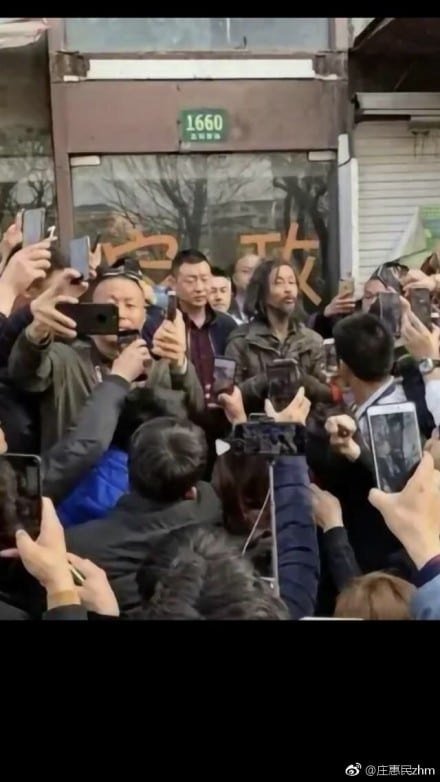 Over the past week, Shen hasn't been seen out in public. Some recent photos of Chen show that he had an apparent makeover when attending a class reunion that was specially organized for him by his former classmates.
As the hype around the 'Vagrant Professor' is slowly quieting down, more critical responses to Chen's sudden fame are surfacing on Chinese social media, asking who this hype really is about in the end.
Many netizens question the invasion of Chen's privacy, saying that this craze was not so much about Chen himself but more about people's needs for a dramatic and touching story, and social media users' greed for more clicks and likes for themselves through Chen. These so-called "like hunters" will try to get as many 'likes' as possible to make them feel good about themselves.
Commenters also point out that if it would have been about Chen himself, his 'fans' should have left him alone as he requested. Instead, they disrupted his life so drastically that he had to leave the streets he once called home.
On Weibo, one person wrote: "This is how I see it: all these people who took his photo are the real beggars, begging for likes."
Other people wrote: "Society has gone mad," and: "Even if you don't want to be famous, they will just make you famous."
The fashionable beggar 'Brother Sharp' who rose to fame in 2009 initially benefited from his overnight stardom. He received help from social workers, but once he looked like a 'regular person' again, people lost interest in him.
According to a recent media report, 'Brother Sharp' has, again, lost contact with his family and might be back on the street, anonymous this time. Perhaps the story of the 'Vagrant Professor' will see a similar ending once the hype has blown over.
By Gabi Verberg, edited by Manya Koetse
Spotted a mistake or want to add something? Please let us know in comments below or email us.
©2019 Whatsonweibo. All rights reserved. Do not reproduce our content without permission – you can contact us at info@whatsonweibo.com
When Weibo Stopped Updating Its Trending Topics List…
..Chinese netizens made the super-popular reality show "Sisters Who Make Waves" go viral anyway.
Sina Weibo stopped updating its trending topics list from June 10 to June 17 in compliance with an order from the Cyberspace Administration of China (CAC) for "disrupting online communication order" and "spreading illegal information."
During the seven day suspension, Weibo users had no access to the list of the most popular search terms and topics, which, similar to Twitter, appears in the feed or sidebar of the user interface.
One new reality show, however, became all the rage among Chinese web users and inspired some trending hashtags.
The popular reality show, titled Sisters Who Make Waves (乘风波浪的姐姐) was produced by Mango TV. The show follows the idea of idol group reality shows such as Youth with You (青春有你) produced by iQIYI.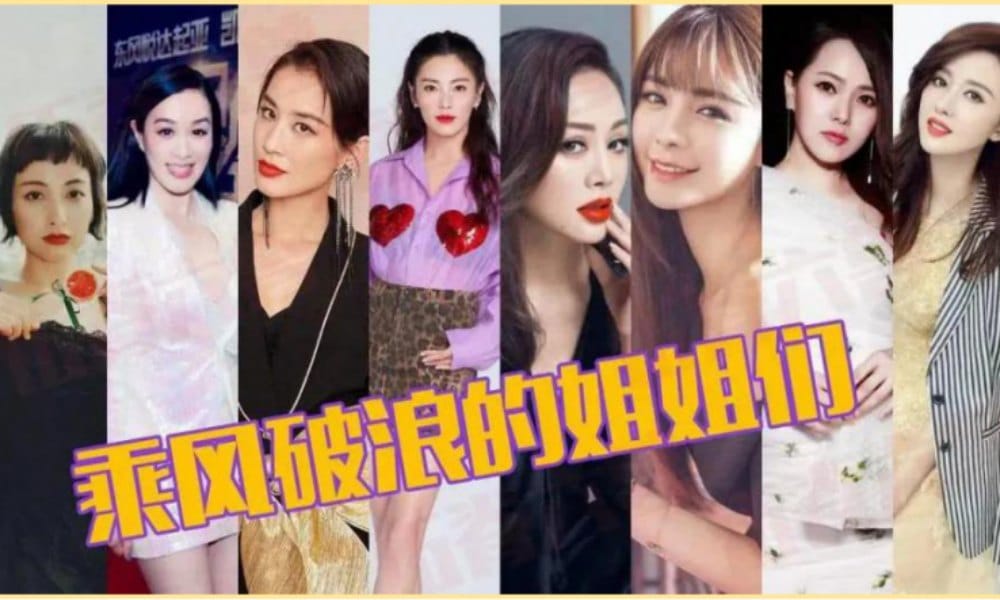 What makes the show different from other Chinese idol reality shows, is that all thirty contestants are familiar faces in the entertainment industry. These thirty 'sisters' are all singers, dancers, and actresses over the age of thirty, with some of them having made their debut a decade ago.
The first episode of the show premiered on June 12 11:50 AM, during Friday's working hours. Though its launch date and time were not even pre-announced on the show's official Weibo account, the premiere still raised heated discussions and soon became 'trending' – but with Weibo's temporary ban on trending lists, the topics were not displayed in any lists on the site.
Netizens found original ways to still show their big interest in this show and make it go viral.
Some Weibo users, for example, made "handwritten lists of 'Sisters Who Make Waves' trends" (#乘风破浪的姐姐手写热搜#). That hashtag alone already received more than 3.2 million views.
All these user-generated handwritten topics are related to some details of the first episode of the show, including quotes by the 'sisters', or the behavior of the show's presenter and judges.
Actor Huang Xiaoming, the official presenter of the final group, garnered more than 130 million views with a hashtag that had his name included. "Huang Xiaoming, the Master of Carrying Water"(#黄晓明端水大师#) went viral, hinting to Huang's behavior during the show; he posted thirty messages to the thirty 'sisters' in alphabetical order on Weibo just before the premiere, and he comforted each one of them by telling them that the show is nothing but "a plus" for them (#黄晓明这是加分项#).
Actress Ning Jing (宁静), one of the thirty sisters who is known for her straightforwardness, responded to the director's request to do an on-camera "self-introduction" by questioning out loud why she still needed to introduce herself at all. After all these of being active years in the industry, she wondered, had it all been for nothing? Her quick and witty response triggered another Weibo hashtag (#宁静 我几十年白干了#).
The hashtag "Sisters Who Make Waves Kick Off" (#乘风破浪的姐姐开播#) has attracted more than 430 million views on Weibo so far, with the hashtag of the show's title (#乘风破浪的姐姐#) receiving more than 7.6 billion views.
One thing is clear –  Sisters Who Make Waves definitely knows how to make waves on Weibo. No matter if Sina Weibo has trending lists or not, Weibo users will make sure that the topics they love go viral anyway.
By Wendy Huang
Follow @whatsonweibo
Spotted a mistake or want to add something? Please let us know in comments below or email us. Please note that your comment below will need to be manually approved if you're a first-time poster here.
©2019 Whatsonweibo. All rights reserved. Do not reproduce our content without permission – you can contact us at info@whatsonweibo.com
Hainan's Anti-Drug Police Team Covers Jay Chou's "Mojito"
Hainan's police have never been cooler.
Jay Chou's new single "Mojito", filmed in Havana, Cuba, has taken China by storm. It has sold more than 4 million copies on QQ Music alone and has even been endorsed by the Embassy of Cuba.
An anti-drug police team from Hainan, an island at the southernmost part of China, have now hopped on the trend.
On June 14, the Hainan Anti-Drug Police released a cover of the song on Weibo, complete with an accompanying music video.
With lyrics like "Could I trouble you to get a mojito for my drug dealer?" and scenes of policemen cruising down the coastline in a buggy, the video has gone viral.
The post has more than 160,000 likes on Weibo. At the time of writing, the hashtags "Anti-Drug Police Cover Mojito" (#禁毒民警翻唱mojito#) and "Hainan Anti-Drug Police Cover Mojito" (#海南禁毒民警版mojito#) have more than 34 million views and 27 million views respectively.
On their Weibo post, the Hainan Anti-Drug Police add: "From the song lyrics, can you get our hint?"
In Jay Chou's music video, he drives along the streets of Havana in a hot pink car, accompanied by a troupe of friends and a Cuban band. Netizens seem to love the Hainan anti-drug police's cover of "Mojito" as much as they love the original, with many commending the police's efforts. 
"Haha, one day to write lyrics, one day to record, and one day to film, this speed is not bad," one comment on Weibo said.
"The small island's anti-drug messaging is getting better and better!! I want to loudly praise you guys!!! Can you hear it!!" another Weibo user wrote.
Another commenter urges: "Please debut, okay?"
The cover has also cemented netizens' love for the original song.
"I suddenly feel that Jay Chou is really awesome. The first time I heard ['Mojito'], I thought it was just normal. After listening for a long time, I feel it's really awesome. Recently there are many versions of this song everywhere. Police 'uncles' (警察叔叔) are amazing," another commenter says.
Many others, including actor Hong Junjia and YouTuber/singer Jeremy Yang, have also covered the popular song.
It seems that the Hainan Anti-Drug Police's efforts have been fruitful. Their cover has been reposted more than 52,000 times on Weibo. Netizens not only praise their musical skills but have also shown support for the video's anti-drug message.
"Reject drugs, everyone has to work together," one comment writes. Another commenter says: "Treasure your life, stay away from drugs!"
Check out the video here.
By Yin Lin Tan
Follow @WhatsOnWeibo
 Spotted a mistake or want to add something? Please let us know in comments below or email us. First-time commenters, please be patient – we will have to manually approve your comment before it appears.
©2020 Whatsonweibo. All rights reserved. Do not reproduce our content without permission – you can contact us at info@whatsonweibo.com.